The Contest is Over, But You Can Still Download and Color the Page! ==> Download the Colouring Page
Win a Fjällräven Kånken Backpack With This Colouring Contest!
We're working with Fjällräven Canada on a colouring contest…all you have to do is download the colouring sheet, colour the  Kånken in the colour you would like to win, and then upload your creation onto Facebook, Twitter or Instagram using the hashtag #colouryourkanken. Posts must be public so we can see your glorious artwork
Read on for more details, or jump to the section you're most interested in:
Our Kånken Story
What Makes the Fjällräven Kånken So Good?
Contest Details, Terms and Conditions (DETAILS ON GETTING A BONUS ENTRY!)
Download the Colouring Page (START YOUR CONTEST ENTRY HERE!)
Share The Contest on Pinterest
Sponsored Post Disclosure
Our Kånken Story
To understand my first encounter with Fjällräven, (Swedish for Arctic Fox…note the logo), we have to take a slightly embarrassing trip through the way back machine to 1997/1998, when I was a high school exchange student at Tørring Amts Gymnasium, just outside Vejle, Denmark.
You see, my brother, Sean, who is 4 years older than me, had been gone for a year or so, backpacking through Europe and the Middle East after graduating from high school and saving all his loonies to travel. And I was insanely jealous of his adventures.
Not one to be held back by details such as school or age, I set about orchestrating my first great travel masterpiece: finding a reputable high school exchange program and convincing my parents to let me move halfway across the world to Denmark at the tender age of 16. Remarkably, they went for it. And that's how I found myself beginning Grade 11 a world away from North Vancouver, in a small town near the middle of the cap perched upon Germany's head that is Danish Jutland.
Arriving in Denmark was very much a we're not in Kansas anymore kind of moment: almost all of my classmates were tall and blonde, and all spoke Danish, a language I had no knowledge of before arriving in their country. To my Canadian self, they had an incredible amount of freedom from their parents: sleepovers at boyfriends', beer and tequila at school dances, clubbing into the wee hours.
Beyond these obvious cultural and genetic differences, I remember thinking my classmates were all incredibly stylish, with a look that mimicked the band Aqua, circa Barbie Girl: slips worn over black pants and chunky platform sandals were the uniform. And, of course, Fjällräven.
It felt as though everyone at my school had one of the iconic Fjällräven Kånken backpacks, except for me and the other exchange students.
And oh, how I secretly wanted a Kånken. Badly.
When I left Denmark 6 months later, I still didn't have a Kånken, continuing to use my perfectly good — but definitely not awesome and Scandinavian — backpack from MEC. I put Kånken out of my mind, and honestly didn't think much about it until Geoff and I were in Helsinki 15 years later, in 2012, where once again, the Kånkens were everywhere.
This time —  as an adult with a job, respectable bank balance, and an impressive ability to convince myself that I truly did need a new backpack – I dragged Geoff straight into the nearest Stockmann, and I bought myself my very first Kånken.
And it was glorious.
Now, I know this post sounds a bit marketing-y. And yes, this post (and the contest, which I swear I'm getting to) was brought to you by Fjällräven Canada. But that doesn't mean all of this isn't completely true, and I think the photo below is the best demonstration I've got of how much I really and truly do love the Kånken.
When I finally bought one in Helsinki in 2012, I was so excited I made Geoff take multiple photos of me with the bag, which I then promptly turned into a photo collage and posted to Facebook with the caption arctic fox. I really, truly was THAT excited about my Kånken.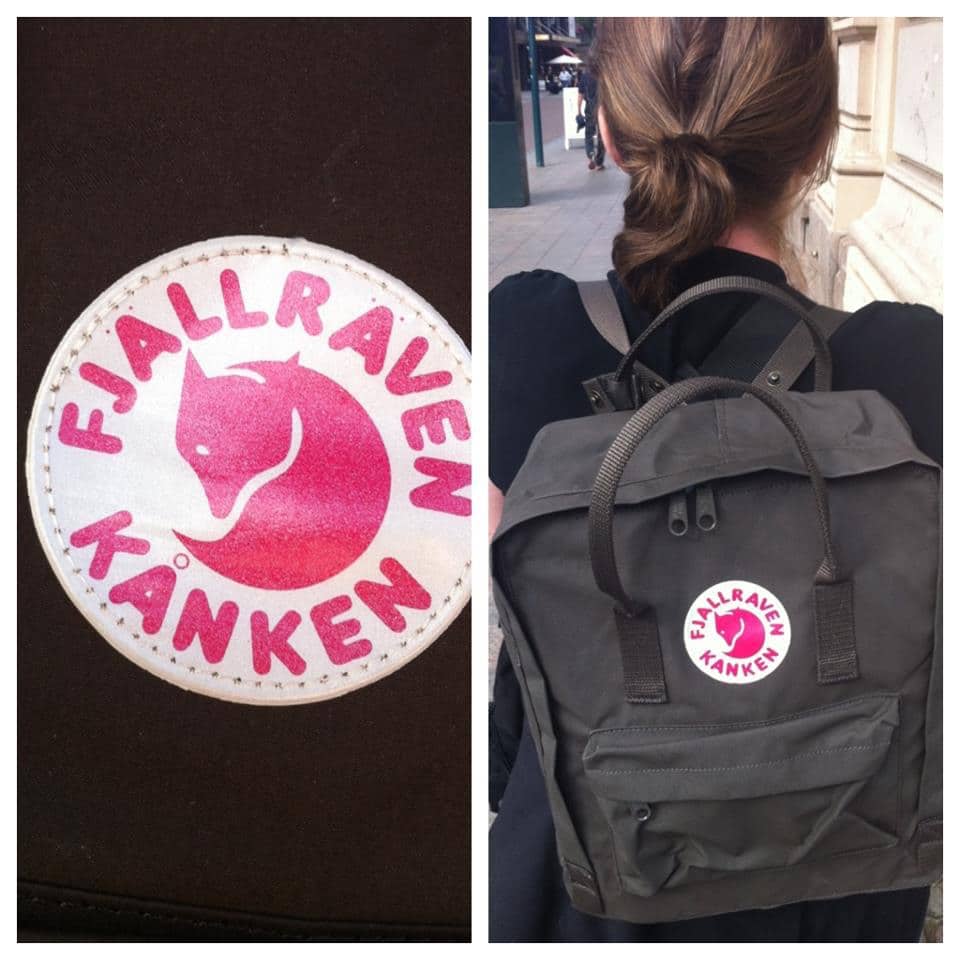 This grey bag, made in Sweden and purchased in Finland, has since travelled with us around the world. And it's not just us who love it. When my brother's first child was born, she got her own Kånken at the tender age of 1, a purple, child-sized version that is known as "Lula's backpack," which has also been taken on great adventures through Canada and the US.
Hashtag Kånken for life.
What Makes the Fjällräven Kånken So Good?
For me, much of the appeal of the Kånken admittedly has to do with nostalgia for the time I spent in Denmark. But the Kånken has wide appeal beyond the "spent part of their youth in Scandinavia" demographic:
As far as I'm concerned, anytime you wear something from Scandinavia, you are instantly more stylish. While Scandinavia is associated with sky high prices, many brands like H&M and Tretorn (which, incidentally, I also use and travel with) offer good design (stylish + functional) at affordable prices. The Kånken fits firmly in that category and has an iconic look, with almost 40 years of history.
It's lightweight, and can pack up tight. On travel days when I don't need our Kånken, I flatten it and put it at the very bottom of my rolling bag. It takes up almost no room and adds almost no weight. We then use it for everything from a gym bag to a grocery bag to a daypack while travelling.
It's designed to save your backs and shoulders. The Kånken was originally introduced for school children in Sweden, who were hunched over and experiencing back problems from carrying their books in shoulder bags. Whether you're starting first grade or a post doc (or taking a semester off to travel, as the case may be), this bag will help you carry what you need to carry, without causing added strain on your body.
It's pretty good in all weather. It's not waterproof, but it does wick the raindrops away quite well in our experience.
Okay…Kånken is Awesome. I Get it. Now Tell Me About This Contest
We've partnered up with Fjällräven Canada to create this Colour Your Kånken colouring page, and the basic idea is to print it, colour the Kånken, share it with the #colouryourkanken hashtag, and enter to win!
Like all our colouring pages, this page is based on a real photograph: me, with our newest mustard-coloured Kånken at Fisherman's Bastion in Budapest.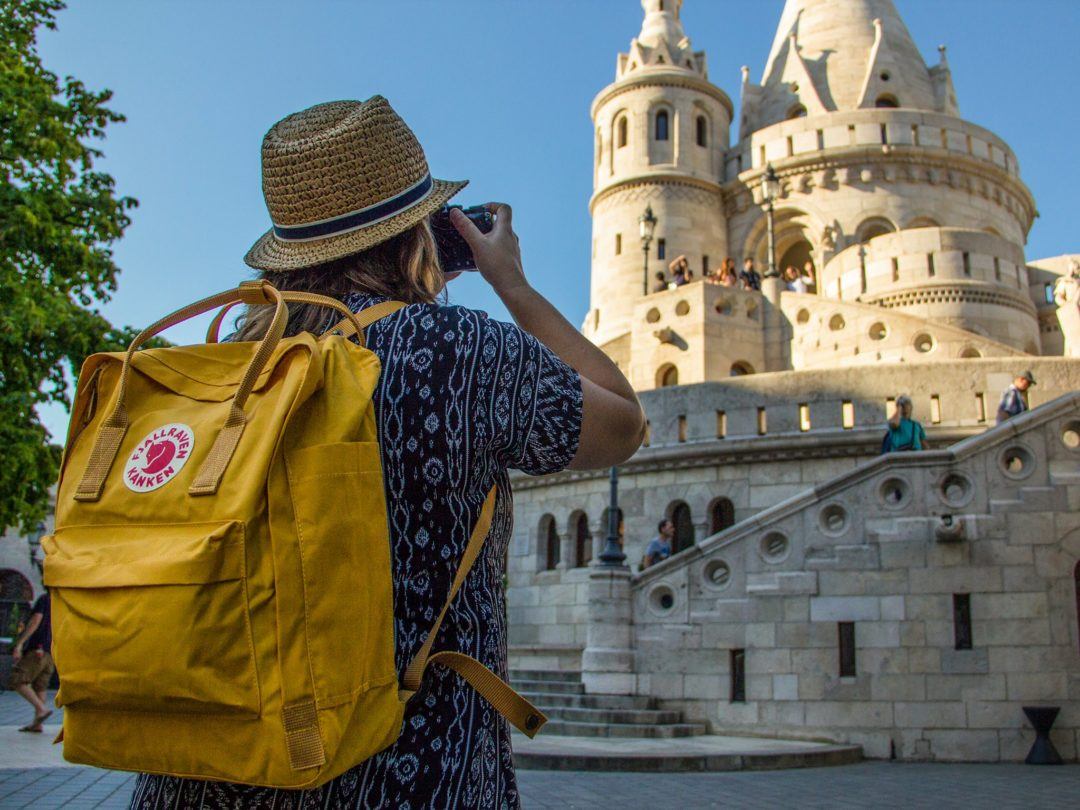 Contest Details, Terms and Conditions
These are the full contest rules and conditions from FjallRaven:
To win, entrants must download the colouring sheet, colour the Kanken in the colour they would like to win, and then upload their creation onto Facebook, Twitter or Instagram using the hashtag #colouryourkanken. Posts must be public. One entry per person – colouring sheets across various social media channels originating from the same person will only count for one entry. For one additional entry, please email your creation to [email protected]. This contest is open to Canadian residents with a Canadian shipping address.
The contest begins on August 15th and will run until midnight on Monday, September 5th, 2016. The winner will be drawn at random on Tuesday, September 6th and notified using a direct message on their social media channels. The winner will have one week to claim their prize before a second winner is selected at random. The same process will continue until a winner is selected and they claim their prize.
Download the Colouring Page
Just use the "download" link below the image to get the colouring page for yourself. When you print it, make sure you fit to page. It should work seamlessly with 8.5 x 11, but if you have A4 paper for some weird reason, you'll need to double check!
Questions? Comments?
We're insanely excited to be running this contest with a brand we know and love, and hope you're excited too. If you have any questions, don't hesitate to ask us in the comments, or send us a tweet or a FB message. We're happy to help…even if it's just what colour Kånken to choose!
Share The Contest on Pinterest
Sponsored Post Disclosure
This blog post (and awesome colouring contest) has been brought to you by FjallRaven Canada. As you can tell from the story in the blog, Katie has been a fan of FjallRaven and the Kanken bag for the past 19 years, since she first laid eyes upon it as a 16-year-old exchange student in small-town Denmark, and knew she had to have one. Since then, we've taken our Kanken around the world, so we were of course thrilled when FjallRaven approached us about a collaboration that involved colouring! All opinions remain our own.