This post contains affiliate links. Learn more here.
So…it's March. Just like that, 60+ days of the year have gone by. Whoa. We started off the year housesitting with Higabee the Maine Coone in Stockholm, Sweden. We got back January 7 and moved into our new apartment in Prague, and things have been getting rather interesting since.
Let's start off with a photo of Higabee: literally the friendliest cat. Ever. Everytime either one of us would pick him up, he'd wrap his front legs around our neck in a massive furry hug.
I've been struggling a lot lately about what to do with this blog. On the one hand, being capital-B Bloggers probably isn't in the cards for us. Over the years, I've developed a pretty clear idea in my mind that the thing I want most is having freedom to travel…but also enough money to do so. I want to work for myself-ish, doing something that involves writing-ish, building a business, or helping other creative and awesome people build a business. And I've got that right now, which is pretty awesome, with even more ideas for the future.
That said, the blogs I love reading the most are the ones that chronicle the writers' lives. Last year, I got utterly and completely addicted to Bumfuzzle. Like neglecting personal hygiene addicted. I spent weeks and weeks of my life, going back to the very beginning of their blog, and reading every single post of their adventure. Every conversation I had somehow came back to the Bumfuzzles. Geoff would start rolling his eyes every time I began a chat with, "This one time, the Bumfuzzles…," and I started to worry about eye strain on his behalf. 
Anyway, my point is that I love how they have this personal chronicle of their insane adventures, and I wish I'd been doing that all along, since about 1997 when I moved to Denmark for 6 months. So I want Wandertooth to be part that.
Also, Geoff has decided to take this amazingly awesome life leap, and has gotten into video editing, which is something he loves and is so great at. Back in Sweden, we started talking about him building an editing business to help bloggers produce videos, which is a helluvalotta work, and since then he's started working with some really cool bloggers and a few others (still a secret) , with some really awesome projects coming up. So Wandertooth will also probably have some sort of role to play in that.
With that in mind, I figured I'd at least get a start on the whole "chronicling our lives" objective by starting monthly roundups. Without further adieu, I give you….February 2015!
Berlin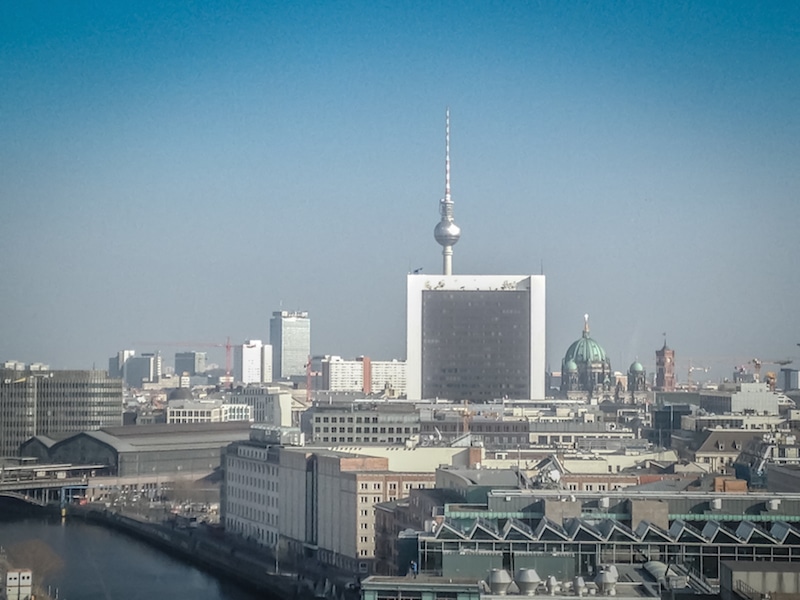 February marked the first time Geoff & I had been apart since…last February. What's up with the second month of the year and Geoff & I travelling separately?
Geoff went to Glasgow, and I felt like a change of scenery. By some magic of the universe — voilà  — a housesit appeared. I got a Trusted Housesitters email alert on a Wednesday morning, and by noon I'd booked my train ticket for the following week to look after Miezi, whom we shall call Moo Cat (she has cow markings).
I stayed in Friedenau, in the southwest of the city, in Moo's gorgeously bright and airy apartment with a long picnic-style table. Each morning, I woke up at 6am, downed multiple coffees, and plucked away at the computer, writing at the picnic table until 2pm or so. Then I'd go for a walk and explore the nearby Schöneberg area, which I'd never been to, before heading home and working for a few more hours.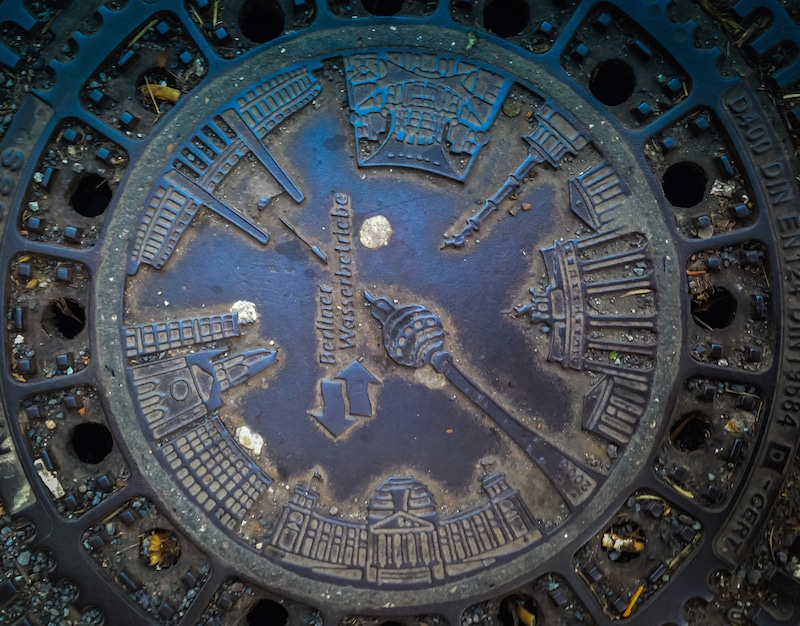 It was an awesome change of scenery. I really love Prague, but it feels almost provincial after being in a mega-city like Berlin. I'm equally energised and exhausted after a few days in Berlin, and this was no exception, although it was nice to have a real flat, rather than stay in a ho(s)tel, to relax in.
We're both back to Berlin this month (March) for a longer stay, so I didn't put too much pressure on myself to see and do much of anything. I set a goal to do 1 new thing, which I accomplished when I went to the Reichstag Dome, and I also found a few shops that sell a brand of paper I really, really, really wanted. I'm a HUGE stationery nerd, and that is definitely a real thing.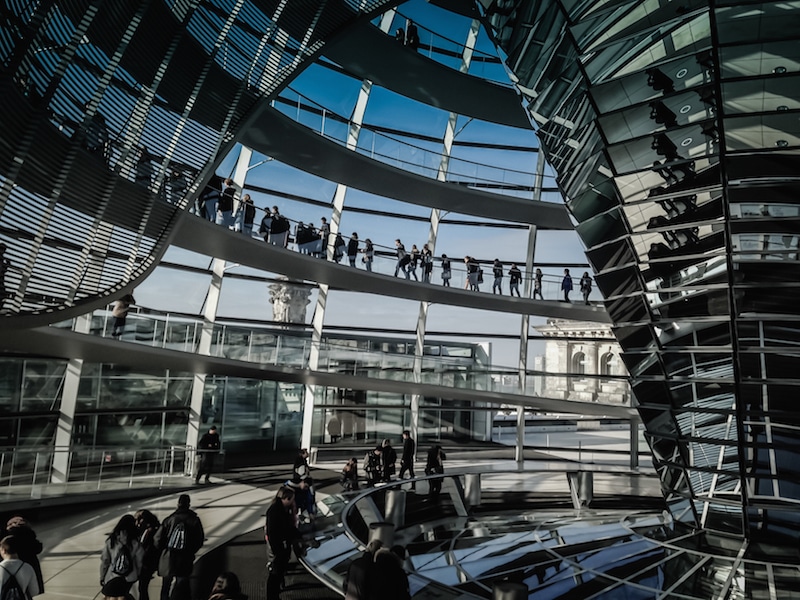 Glasgow
While I was in Berlin, Geoff was in Glasgow hanging out with Nat & Tim from A Cook Not Mad, and the Glasgow City Marketing Bureau. He spent a couple of days sampling and filming the best of Glasgow. To me, the most amazing thing about what he did was this: GEOFF ATE HAGGIS PAKORA. I know what you're thinking: why is she yelling at me? Also, what is Haggis Pakora.
I'm yelling because Geoff is a wimp in the food department. He's actually a super taster, which, like stationery nerd, is totally a thing. It means things taste a million times more intense to him that to you and me and our non-super-tasting peers. Basically, most things are disgusting for Geoff.
Anyway, in Glasgow PEER PRESSURE won the day, and he was forced to taste haggis pakora…and he LIKED it. Which is amazing, and means I will now be dragging him for Indian nights.
In addition to the Haggis, Geoff went to the Glasgow Film Festival, got an awesome People Make Glasgow swag bag that is now my purse, and took a tonne of video footage, which is all coming soon (there's a Glasgow hyperlapse on the Wandertooth Facebook page right now…so go check that out)
Old & New Friends
February was also pretty busy, social calendar wise. Unexpectedly, a guy I went to grad school with came to Prague with his wife on a vacation. We hung out with them a lot, and it was fun to reminisce about the China trip we took as part of school.
In Berlin, I met up with Adam and Cheryl, from Travels of Adam and Cheryl Howard, respectively, and they took me to Cabslam in Berlin's Neukölln neighbourhood for pancakes, which were delicious. If you go back through Adam's Instagrams, you can see MY pancakes, which are now Internet Famous. What more could I ask for in life?
We've got plans to see both of these awesome people again in March up in Berlin.
Back in Prague, we met up with Pete and Dalene from Hecktic Travels. We had a super fun night with them at Café Colore and Anonymous Bar, the strangest moment being when Dalene yelled, "She's drinking out of a volleyball," and was completely correct in her assessment. We discovered we were in South America at the same time back in 2009/2010, and probably crossed in the desert somewhere in Peru, as they were heading north and we were heading south. I hope these guys remain friends for a while, because they're awesome. We wisely cajoled them into making an alcohol-based bet with us, so we've got them on our hook until at least May, when we find out who was right.
Geoff got to hang out with Nat & Tim from A Cook Not Mad in Glasgow (they made him eat cheese, which is generally on Geoff's "Hell No!" list), and then spent a weekend in Edinburgh with some of our bestest-ever friends, Mary & Marco. I've known Mary since grade 6, and we all lived in Taiwan at the same time back in the mid aughts (I've been wanting to use that turn of phrase for a few weeks now). I was big time jealous of that little reunion.
It was great connecting with some awesome fellow travellers this month, and it's a trend we hope continues in March. And that, friends, is the February 2015 round up.