Florida is a heavenly place to visit! Its national parks are living proof of it. Inside the national parks of Florida, you'll find deep caves and diverse gardens, crystal-clear springs, sparkly flowing rivers, and completely untouched islands you can explore all over by foot.
From kayaking through tall marshy mazes to spotting alligators through glass-bottom boats, here's a look into the most unbelievably beautiful national parks in Florida you need to see to believe.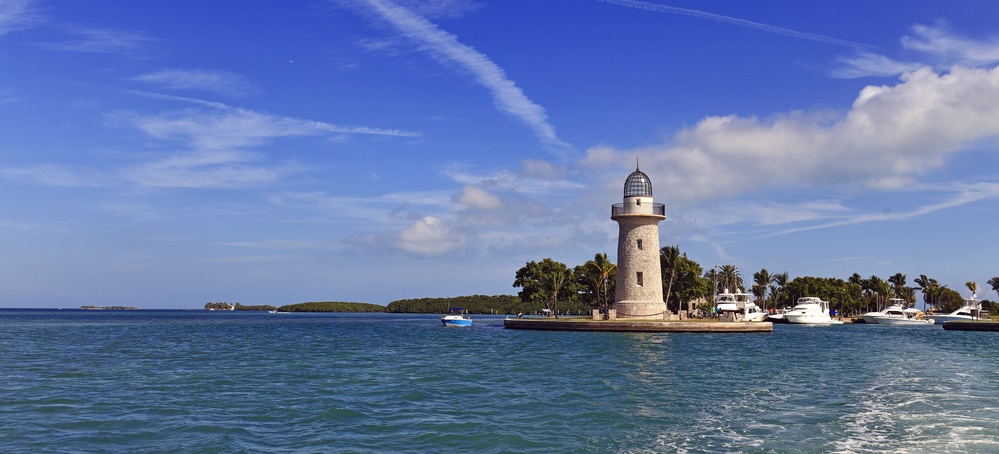 National Parks In Florida to Visit
Biscayne National Park
Biscayne National Park is a sight to see if you're looking for the perfect beach and nature combo! Located in the inviting Florida Keys, Biscayne National Park is set 95% underwater, which means that you'll have to dive into the water and see everything underneath to see the best of the park.
A day spent under the waves, either snorkeling or scuba diving, is the best way to explore everything. However, if you'd rather not get wet, you can also book a glass-bottom boat tour, allowing you to see below the surface without getting wet.
Even though 95% of the park is set underwater, the remaining 5% that's actually set on land is definitely worth seeing! The rest of the park is perfectly comprised of tiny islands spread all over, where you'll find epic hiking trails, unbelievable wildlife sightings, and sunset views so good you wish you could stay forever!
Entry fee: No charge
Best time to visit: December to February for the most pleasant weather
Closest airports: Miami International Airport and Key West International Airport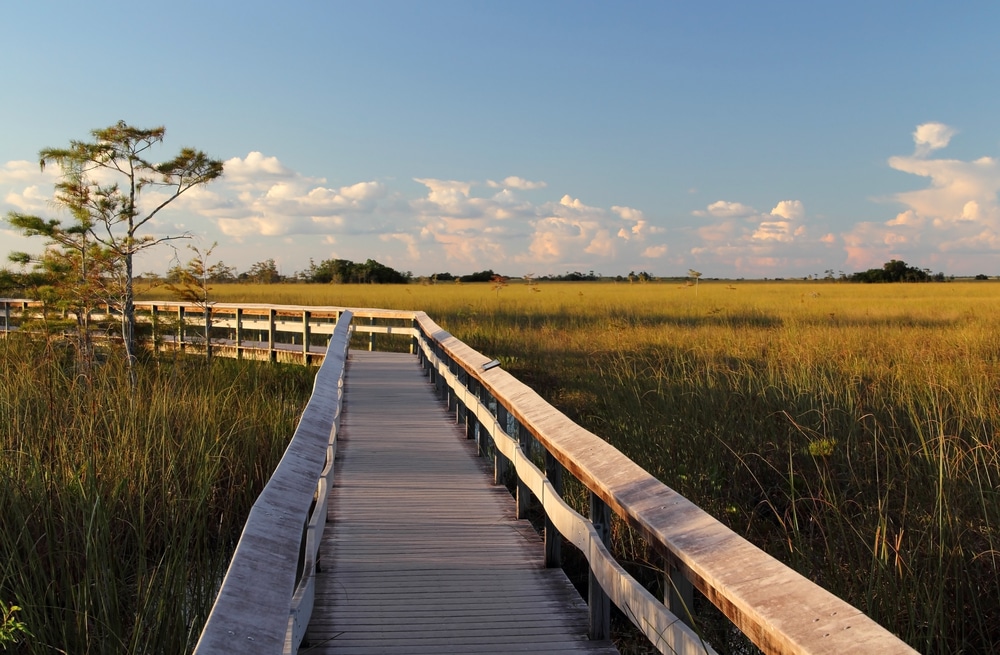 Everglades National Park
Most likely Florida's most famous national park, there's much more to the Everglades than most would think. Home to an insane 15 million acres of pure wilderness, the park boasts a massive array of diverse subtropical ecosystems, including mangroves, marine, and so much more.
Even though alligators are the keystone species of Everglades, the entire park is home to a huge variety of wildlife (an interesting fact for you: the Everglades is the only location on the planet where both species of alligators and crocodiles live peacefully!)
While most people explore the Everglades through a scenic drive, the best way to go beyond the main touristy sights and get up close and personal with the nature around is by either lacing up your hiking boots or hitting a few hiking trails (the Eco Pond Trail is perfect for flamingo sightings and the Anhinga Trail is another great pick if you're brave enough to encounter alligators up close). Another must is to book a boat tour in the Gulf Coast area to get to know the life around Everglade's water, including spotting the wildlife!
The Everglades National Park is a massive tourist destination, and it's easy to see why! But, whatever kind of adventure you're after, the national park has it. A few things to see are Shark Valley, Anhinga Trail, and don't forget your binoculars because the bird sightings are unreal! The Everglades National Park is a beautiful park packed with thrilling adventures. There is wildlife, biodiversity, gorgeous water, beautiful plants, and so much more waiting!
You might spot a few species of wildlife while visiting the Everglades National Parl: manatees, American crocodiles, panthers, and bobcats. In addition, you'll see a few plants while you wander the park: bromeliads, succulents, wild orchids, and hundreds and hundreds of wildflowers. Every part of the park is beautiful and worth exploring.
Entry fee: $30 per vehicle
Best time to visit: November to March is best for wildlife sightings and bird-watching. The water levels are low during these months, making hiking trails and other activities more accessible.
Closest airport: Miami International Airport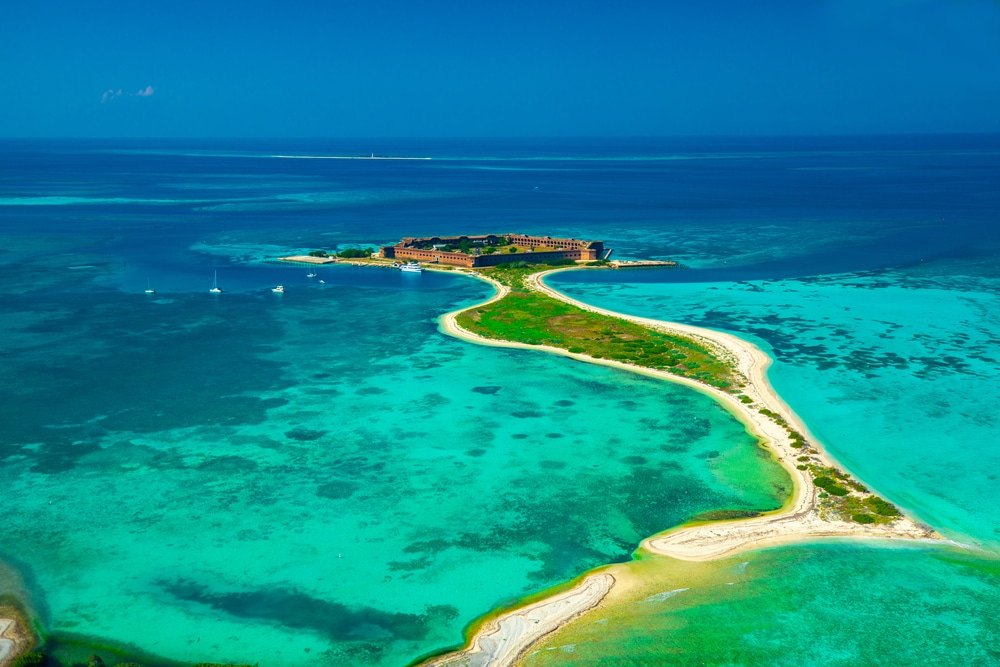 Dry Tortugas National Park
Crystal-clear teal-colored waters and endless white sand shores and palm-fringed beaches? Yes, please! You don't need to jet off to the Maldives or Bora Bora to find paradise-like beaches, and Dry Tortugas National Park is proof of that.
If you've never heard of Dry Tortugas, that's completely fine – even most local Floridians haven't heard of it. Because of its remote location, this national park is one of the least-visited in the country, which makes visiting it a once-in-a-lifetime experience worth boasting about. Dry Tortugas is quite remote and only accessible via ferry or seaplane, and because most people can't be bothered to take on the journey, your chances of getting it all to yourself are pretty good.
Dry Tortugas National Park is 99% water. The remaining 1% of the land is spread over multiple islands. When visiting, you can snorkel in search of breathtaking coral reefs, search for the colors of the rainbow in the sea life, or count how many species of animals you can spot in the depths below (sharks, sea turtles, lobsters, octopus, and tropical reef fishes are a few to keep your eye out for!) Dry Tortugas National Park is comprised of several perfect islands. Garden Key island is where most people spend their time, but the other six islands are also worth exploring. Loggerhead Key promises a beautiful, colorful coral reef, while Garden Key island is home to Fort Jefferson and welcomes many visitors annually.
Entry fee: $15 per person
Best time to visit: May through October. Remember that this is hurricane season, so check the park's official website in case of any closures due to severe weather conditions.
Closest airport: Miami International Airport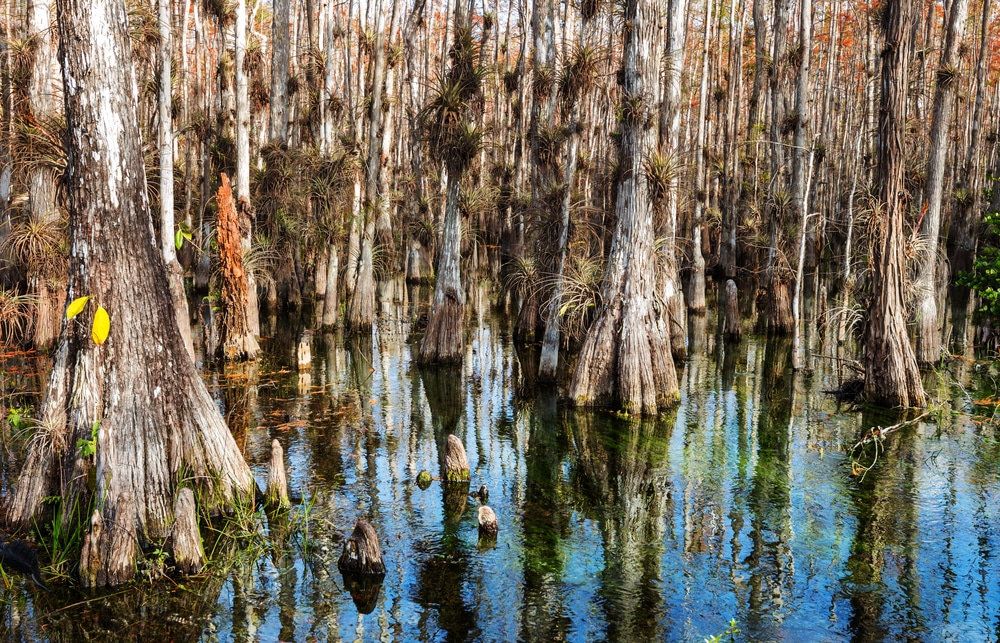 Big Cypress National Preserve
Visitors can find Big Cypress National Preserve only 45 miles west of Miami. The preserve protects approximately 729,000 acres of marshy swamp land. Big Cypress National Preserve was opened in 1974 and houses intriguing historical stories. The preserve has free entry and an abundance to offer visitors. Take a swamp walk, paddle the Turner River or go fishing while you visit! Big Cypress National Preserve is home to lots of wildlife and gorgeous plants. It's a thrilling place to visit regardless of which way you want to explore it.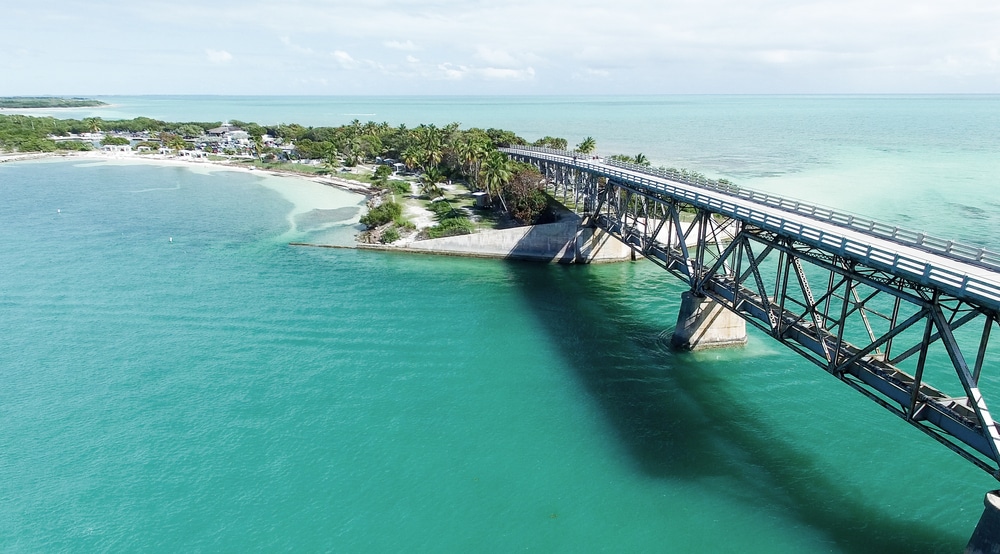 Bahia Honda State Park
Bahia Honda State Park is a tropical oasis where nature tangles with beaches, dances with history, and delivers a truly unique paradisal experience. Visitors can enjoy a massive range of activities both in the water and on land. Test your tenting skills by camping out under the stars or gliding over the waters with a rented kayak. In addition, the park is excellent for cycling, fishing, camping, swimming, and much more!
Gulf Islands National Seashore
Stretching far along the Gulf Coast from western Florida and into Mississippi, this national park encompasses teal-colored beaches with a Mediterranean-like climate paired with a selection of historical forts and sites that tell stories from old Florida way back.
The enchanting beauty of the Florida side of the Gulf Islands can be found in the miles of sugar-sand shores, many of which are entirely unspoiled and uncrowded. Thanks to the place's expansiveness, finding a spot to enjoy the views in complete solitude is a pretty easy task.
Another highlight for those who enjoy exploring by foot is the maze of trails leading to mountain top viewpoints, magical lighthouses, and forts that act as reminders of the First Nations and pioneer past.
Entry fee: $15 per person
Best time to visit: Any time
Closest airport: Pensacola International Airport
We hope this list of incredible national parks in Florida helps you craft the perfect bucket list for your trip! While some are easier to get to than others, each and every single park on this list is quite different from the last and worth visiting even if you already think you've seen it all.
Have you visited these spectacular Florida national parks? Share with us which one was the best and why? Then, let me know the details in the comment section below!