Oslo Facts to Know Before You Go: 7 Random Reasons to Fall in Love with Oslo. Contains Some Potentially Useless (But Also Darn Interesting) Factoids About Norway's Lovely Capital.


Disclosure: This website contains affiliate links. That means we earn a commission when you use the links on this site to book a hotel, buy your travel insurance, etc.. You don't pay anything extra, and it helps support this site. If you'd like to learn more about how this works, you can read more under our Disclaimer page.
Also note, we are co-founders of a Facebook group dedicated to travel in Scandinavia. If you're planning a trip, please join the group, which is great for asking questions and getting help and advice from Scandinavia and Nordics travel experts!!
We meet Matthew on a grey and rainy afternoon in front of the central station. An American grad student here, Matthew is one of several foreigners who volunteers as a guide for the Free Tour Oslo, a gratuity-driven walking tour through the city centre. Introducing himself to our group, Matthew announces this is his first-ever time giving a tour, overcoming his nerves with enthusiasm as he leads us through central Oslo, orienting us to the city and loading our brains with a buffet of random Oslo facts that somehow come together to reveal something about the city's history and character.
As a tourist destination, Oslo seems to have an uphill battle to get the recognition it deserves. When faced with limited vacation time and the sky-high costs of traveling in Norway, most tourists seem to beeline it out of the capital for the dramatic fjords of the west, or the sweeping landscapes of the north. I get it, of course: we all have to make sacrifices when we travel, and it makes sense; in the face of some of the world's most beautiful nature, Norway's cities are first on tourists' itinerary chopping blocks.
But at the same time, we loved our time in this highly-liveable, green and modern city. It felt laid-back and sophisticated at the same time, and like a city that was truly designed for the well-being of its inhabitants. After spending 12 days in the city – still just a blink, but a good deal longer than what most give it – and soaking in all those random Oslo facts Matthew had to tell us, it's clear Oslo to me that deserves more time and attention than it currently gets.
On our Free Tour Oslo walk with Matthew, I was struck by how the random knowledge he shared about his adopted city shed insight into Oslovian and Norwegian culture. And so I thought I'd pass it along:
7 super random Oslo facts that might make you fall in love with Norway's capital…
---
Oslo's Symbol Is A…TIGER?
Continents away from the nearest jungle, this really makes no sense at first glance. But Oslovians seem to love the tiger sculpture outside Oslo Sentralstasjon, and kids seem to be forever hanging off of it.
Turns out, Oslo is known among Norwegians as the tigerstaden, or the tiger city. The nickname comes from Norwegian poet Bjørnstjerne Bjørnson, who described Oslo (over 100 years ago) as a dangerous and shady kind of place, comparing the big bad city to the safe and tranquil countryside. By using the metaphors of a tiger and a horse in his descriptions, Bjørnson forever associated Oslo with the tiger, and Oslovians embraced their animal!
Thankfully, Oslo is no longer the dangerous hellscape Bjørnson seemed to think it was, and in the year 2000, Oslo got the tiger statue for its 1000th birthday.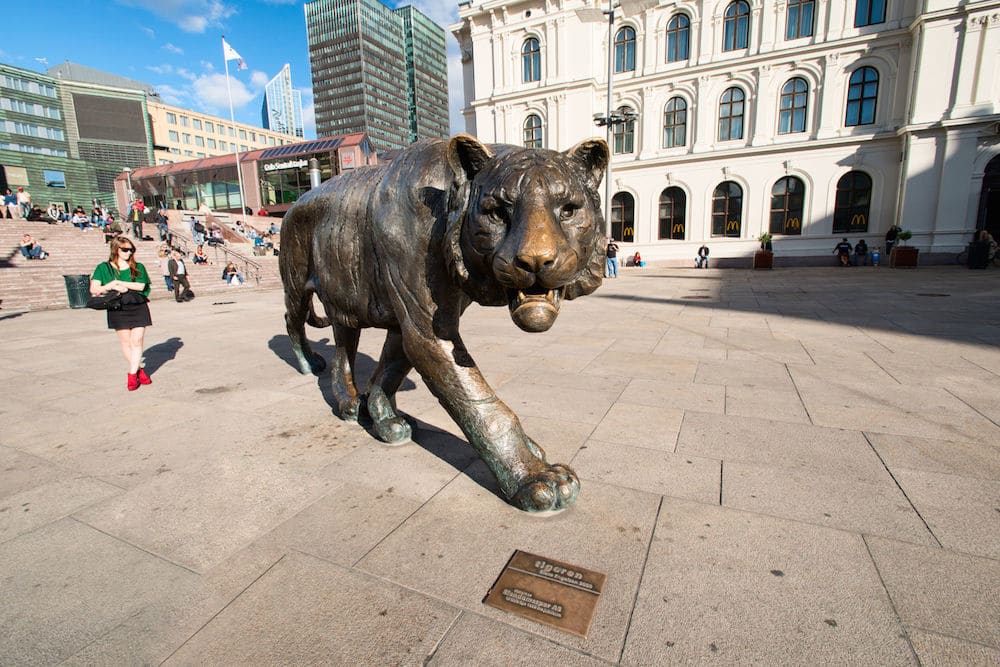 Oslo is One of the Most Pedestrian Friendly Cities in the World
Oslo is serious about making the city center ultra friendly for pedestrians, and has plans to ban private cars from the city center by 2019.
In the meantime, however, it's still a pretty great place to go for a walk. Jaywalking is legal, for example. Even at red lights, when there are no cars around, Oslovians use their common sense, and cross the road.
With all forms of transport (except trams, as Matthew took pains to point out) pedestrians have the right of way in Oslo.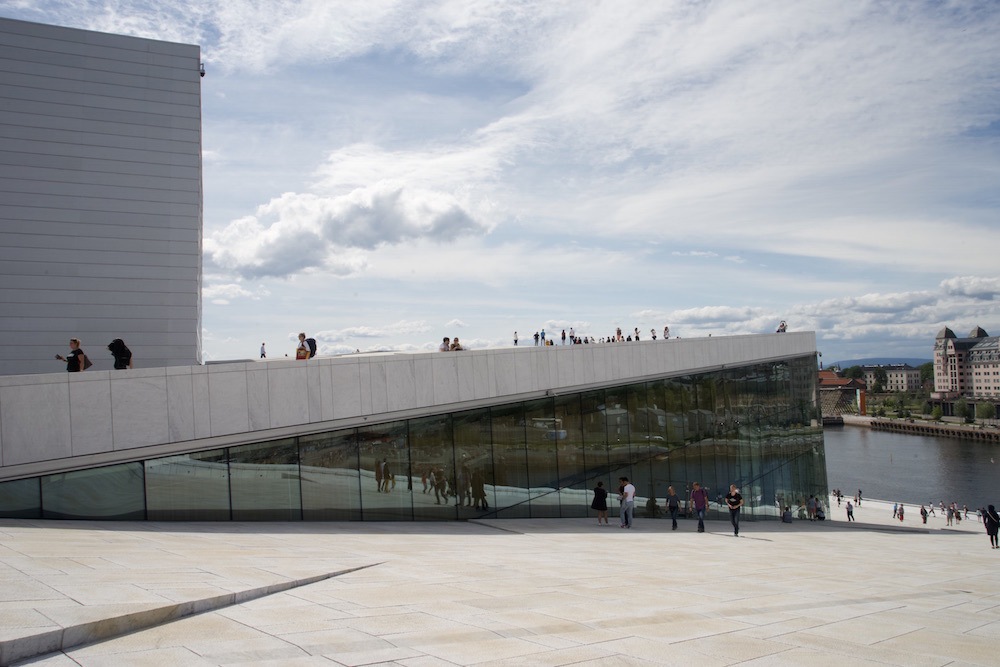 Oslo Doesn't Actually Get THAT Cold in the Winter
Norway in winter has a reputation for being cold…bone rattlingly cold. But Oslo doesn't actually get as cold as many places in North America. With temperatures generally ranging between -5 °C and 5 °C / 41 °F, it's chilly but manageable, and the perfect excuse to spend more time in Oslo's cafés!
While the temperature itself isn't that much of a problem, ice is a problem. As the temperature fluctuates overnight and into the morning, and rain continues throughout the winter, the sidewalks get slippery.
Pack some good winter boots if you visit in winter, and make sure they are nice and grippy on the bottom. Otherwise, do what Matthew tells us the Norwegian grandmas do, and pick up spiked shoe covers to stay upright!
Although we visited in the summer, we'd love to go back and explore Oslo and other parts of Norway in the winter, as well!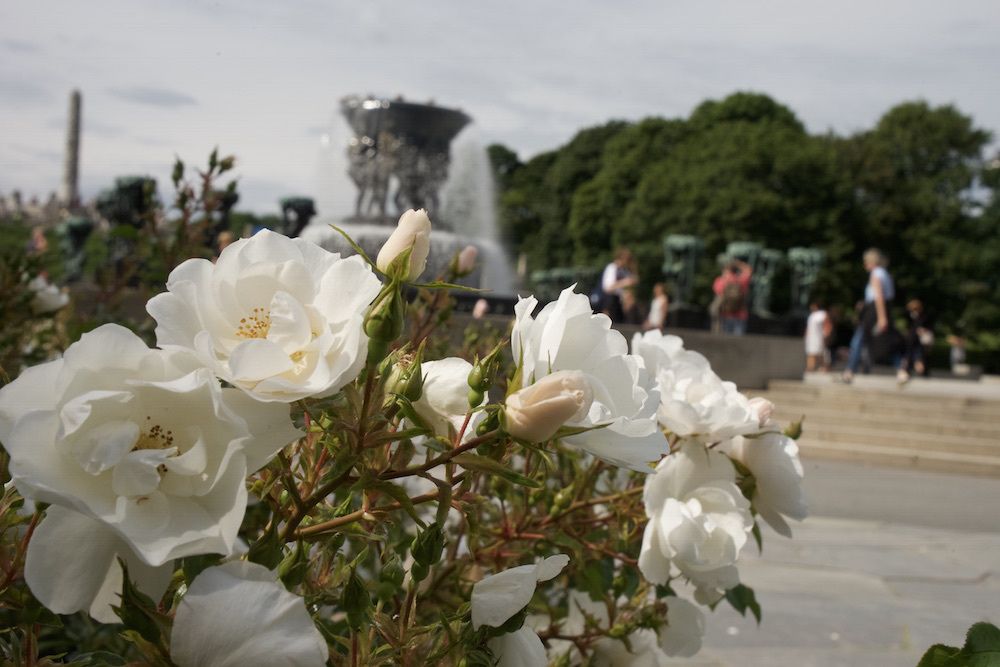 There is a Statue of a Prostitute & Customers Outside Oslo City Hall
This is 100% my favorite of my random Oslo facts, because it speaks to the Oslovian and national culture.
Around the exterior of Oslo's Brutalist City Hall are statues depicting the people served by those inside the building. And one of those statues depicts a prostitute soliciting customers.
I love the message this sends; that even the weakest and most vulnerable in a society are served by the government, and that government should work for all.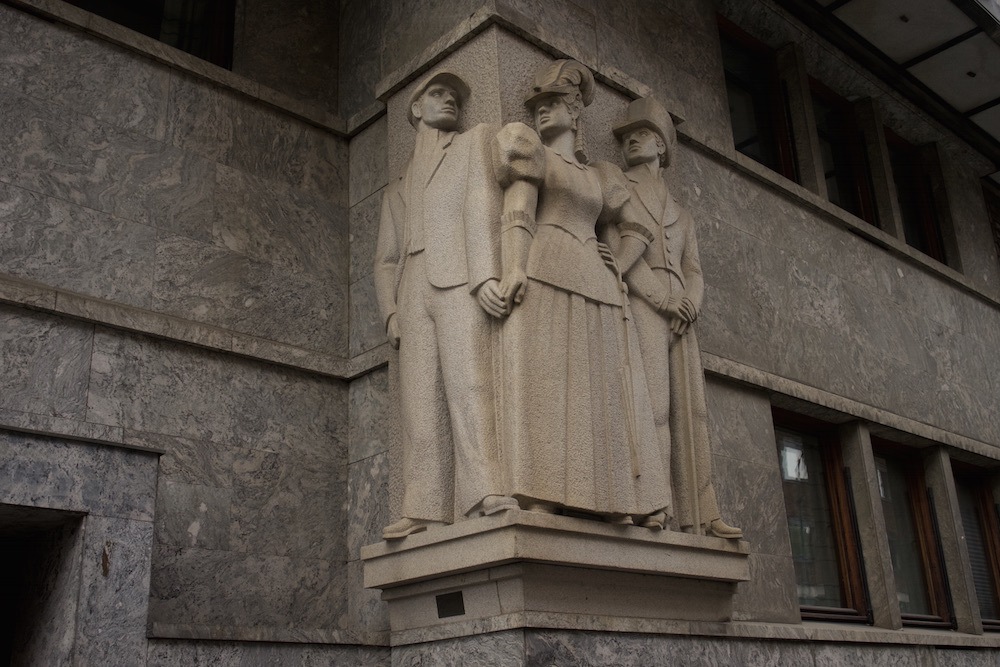 ---
Is The Oslo Card Worth It?
In many cities, city passes are 100% not worth it, bordering on what feels like a money grab from the city, rather than a service to visitors. This is not the case in Oslo.
Perhaps understanding how cost prohibitive Oslo can be for foreign visitors, the tourism board/city has put together a fantastic pass that includes free entrance to pretty much all of the main attractions, free public transport, as well as some discounts. While we were in Oslo, the tourism board gave us each a 72-hour pass to test out, and we got a tonne of value out of them.
Museum tickets in Oslo aren't cheap, and consistently cost between 100 and 120 NOK (around $13 to $16 US). As a rough estimate, we would have spent about $125 each, just on entrance fees, with transit added on top of that. You can get Oslo passes online, prior to your visit, for between $50 and $100, depending on how long you want it to be valid for. It's well worth the cost, and definitely delivered value compared to what we would have spent on transport and museum entries.
---
Speaking of City Hall…the Songs!
In addition to the statues around the exterior of the city hall, the people in charge of this building seem to have a light-heartedness focused on making Oslo a better place for everyone…even if it's just a bit of fun.
The 49 bells in the tower of City Hall go off once per hour, and when they do, they play actual songs…including quite a few from pop culture.
When David Bowie died, they incorporated Bowie into the playlist. Other songs that have been played include Super Mario, Harry Potter and Minecraft theme songs, works by Motörhead, John Lennon, and more.
The program varies seasonally, so if you have a trip to Norway planned, you can look up the playlist ahead of time on the City Hall website, here. (at the time of writing, AC/DC, Linkin Park, Dolly Parton are some of the international acts on the agenda!). The schedule is in Norwegian, but if you use Google's Chrome browser, it will translate the page for you.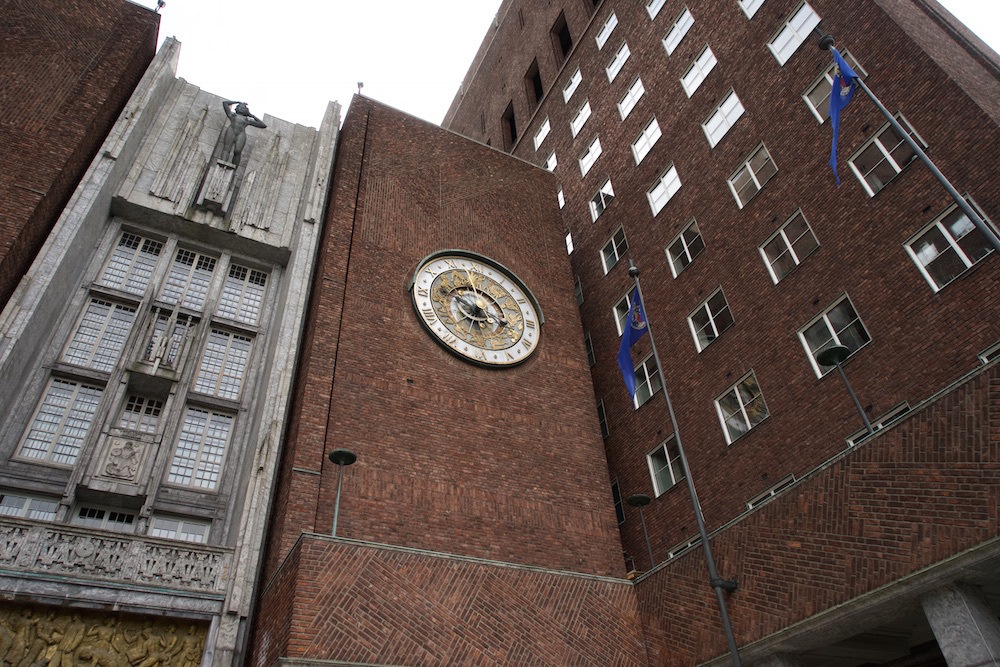 You Can Look Up How Much Any Norwegian Makes Online
Another insight into the Norwegian psyche is the fact that tax returns for everyone have been publicly available information, dating way back to the 1800s. When the internet went mainstream, Norwegians transferred this practice to online, and you can now look up the total earnings and tax paid for anyone in Norway…although you can't do so anonymously.
This might be one of the reasons Norway consistently comes out among top performers in different measures of income equality.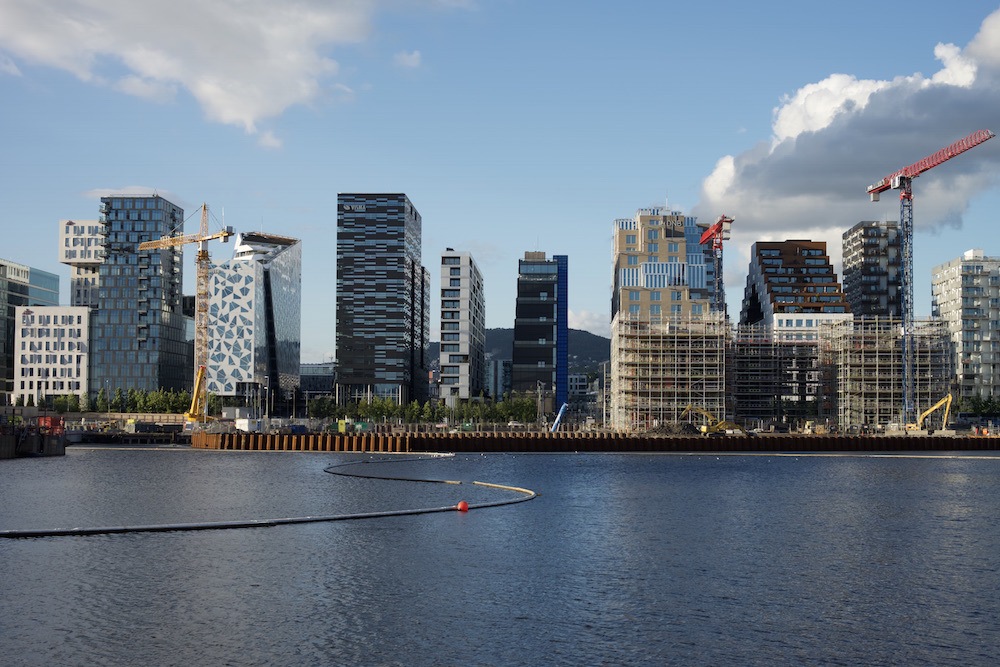 Norwegians Aren't Particularly Nationalistic
According to Matthew, Norwegians are rather muted when it comes to displays of patriotism and nationalism…except for when it comes to cross-country skiing.
The Norwegians are massively proud of their cross-country skiing prowess, a fact confirmed on our visit to the Ski Museum in Oslo, which touted their accomplishments over the decades.
You need look no further than Norway's national day parade to see this muted nationalism in action. Whereas many countries around the world celebrate their national day with a military parade, Norway celebrates with a children's parade, sending the signal that children are the future of the country.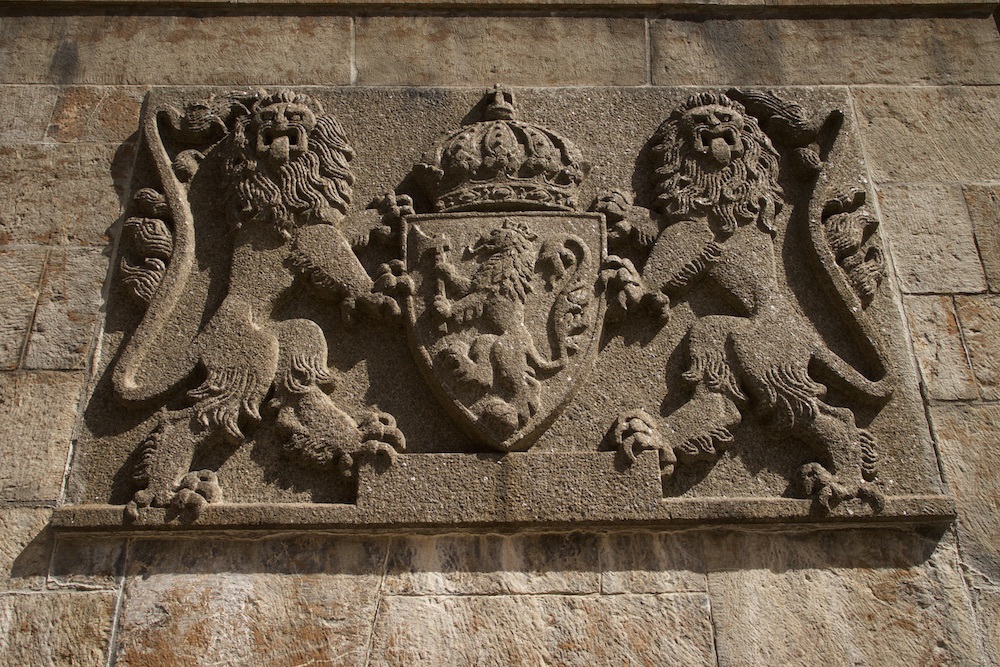 ---
Find More Oslo Tours to Plan Your Trip!
---
Overall, we had a blast in Oslo, and think it deserves more attention as a city destination, and more than a rushed 1-day visit if you're coming to Norway. We hope this guide helps, and encourage you to join our Scandinavia and Nordics Travel group on Facebook if you're planning a trip!
---
Like This Post? Pin It for Later