I gotta say that before I lived on the we(s)t coast I had never really heard much about Portland, or the whole state of Oregon for that matter.  Oregon Trail, Lewis and Clarke – BOOM, there you have it…Oregon.   Portland has come up in so many conversations with friends over the last while, who all swear that we absolutely HAD to go there, and so we succumbed to the IMMENSE pressure and hit the road.  The city is definitely not what I expected in terms of location, I had always associated 'ports' with being on the coast…and now I know, Portland may have a port but it is not actually on the coast, it lies about an hours drive inland where two rivers meet, or fork, or whatever.  The forking rivers to which I refer are the mighty Columbia, which also serves as the border between Washington State and Oregon, and the smaller Willamette which seems to fizzle out further down state.
My immediate impression of Portland upon entering the city was cleanliness.  I have been to many big US cities before ranging from 'meh' to downright awesome but cleanliness has never been the first impression I've gotten, from any city in the world (well, except Tokyo), until now.  It felt laid back, not so "I need absolutely everything right now," not super congested (although it was the weekend) and fairly easily navigable.
Portland is known for it's culture of neighbourhoods, each being unique in it's own little way.  Old houses line the leafy streets, painted bright colours and turned into shops or restaurants and interlaced here and there are quiet little coffee houses with sidewalk tables and murals painted on the side walls.  Locals sit and sip their coffees enjoying the warmth of the Spring sun and quietly talk about weekend plans.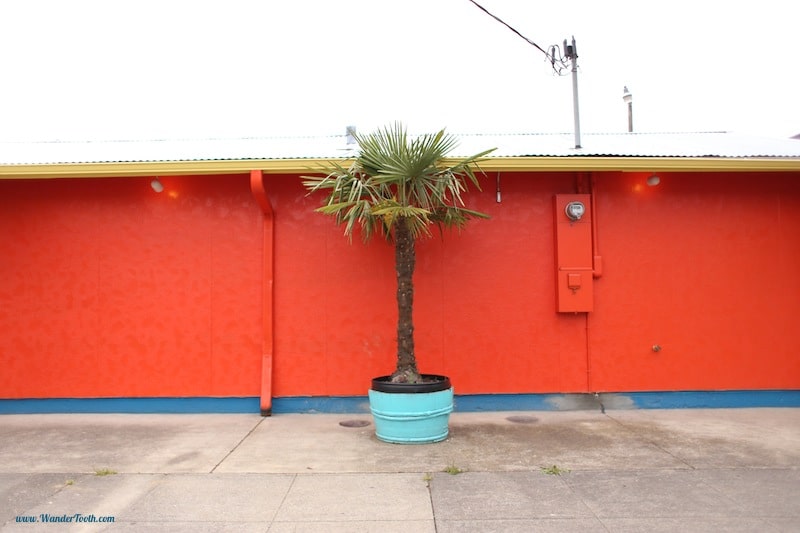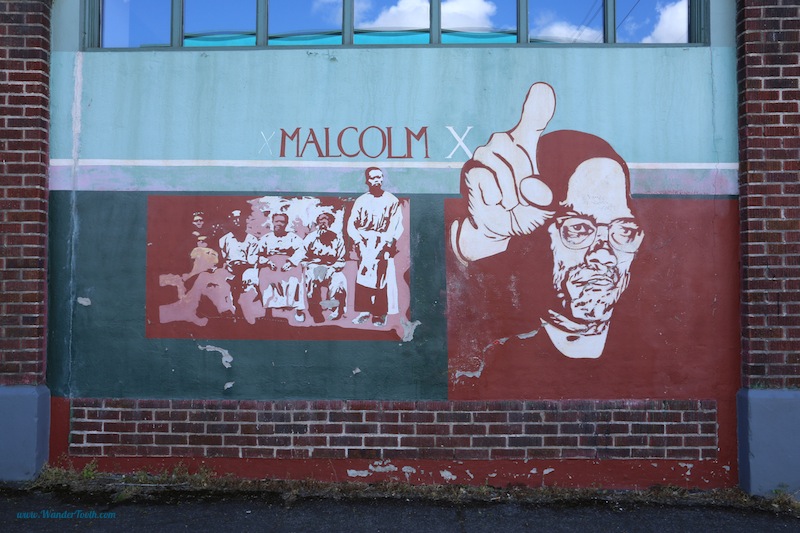 In just about every community here, past the artisan shops and the cafes, you'll find a cluster of individually painted food trucks parked in what appears to be a formerly vacant lot of some kind.  I am not talking the greasy hot dog vendors that we used to know of that only looked good stumbling out of a club at 2am, we're talking crafty, well planned out menu's that seem to serve everyone in the food culture from "Plain Janes" like me, to the "I think I'll have the deep-fried oyster sandwich with goat cheese, please."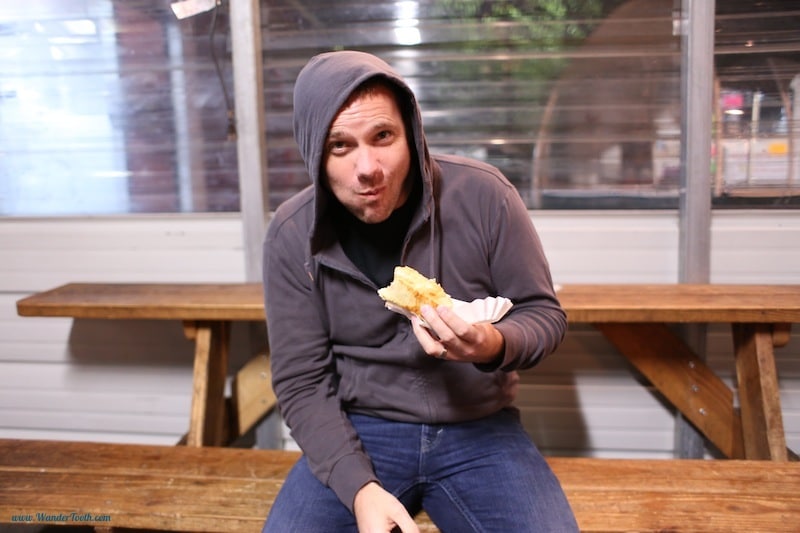 If you want vegan, vegetarian, gluten-free or down right fatty and delicious, you will find it in these food truck clusters to which locals refer to as 'pods.'  The pods themselves range from a group of two or three to as many as ten or twelve, all serving different things like an outdoor, street-corner food court, only way cooler with a side of awesome.  The pods seem to form a 'community within a community' as the trucks encircle a group of picnic tables for you to sit and enjoy a feast while employing a "try 'my this' with 'their that' over there" mentality.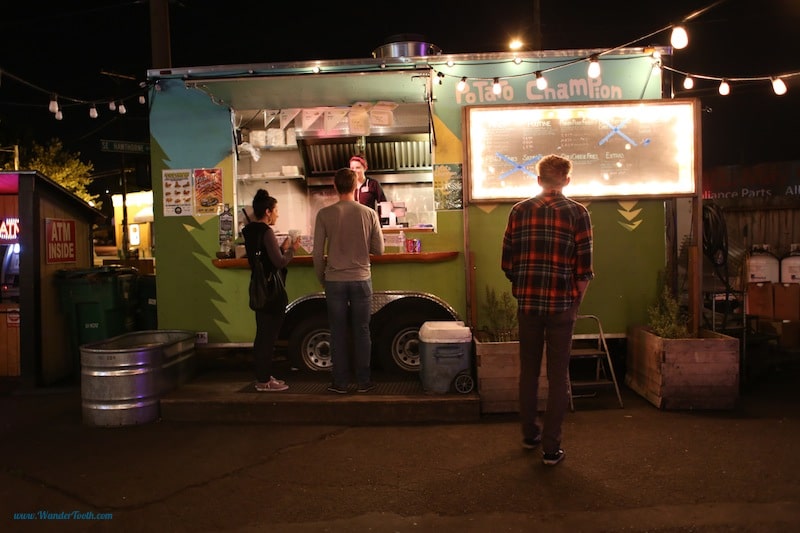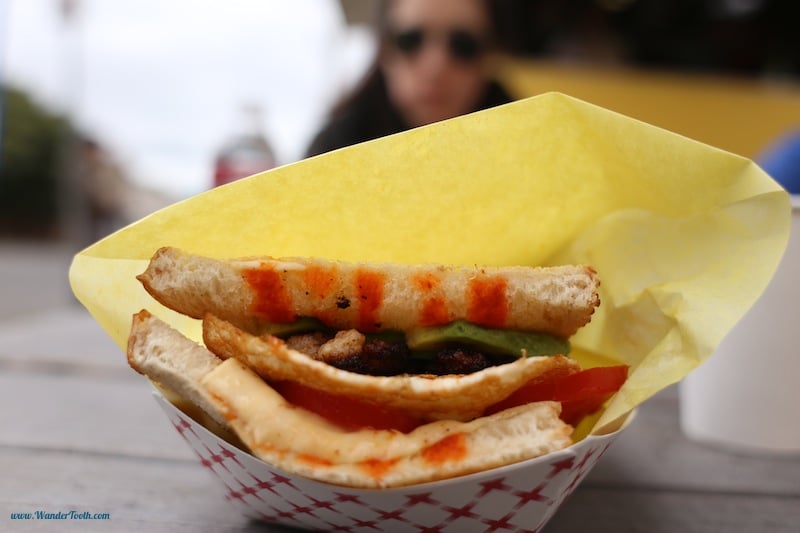 If food trucks aren't your thing and doughnuts are then you, my friend, are in luck.  As long as you don't mind waiting in line for thirty or forty minutes to get one.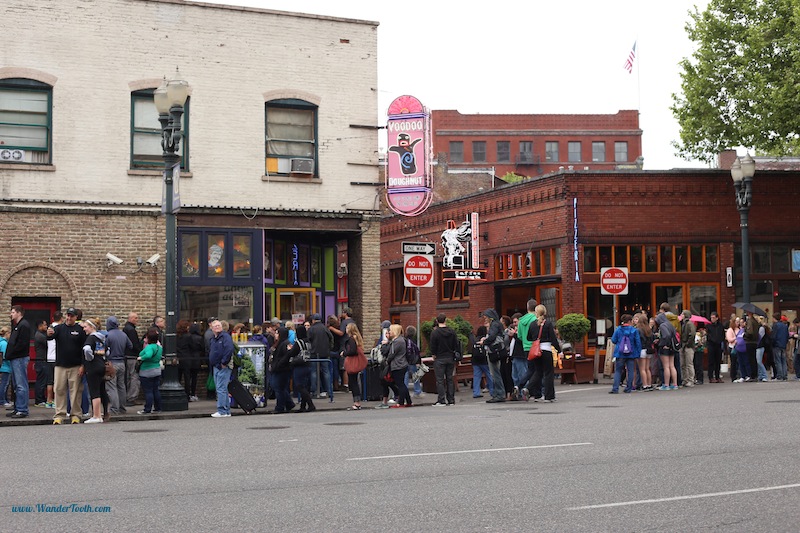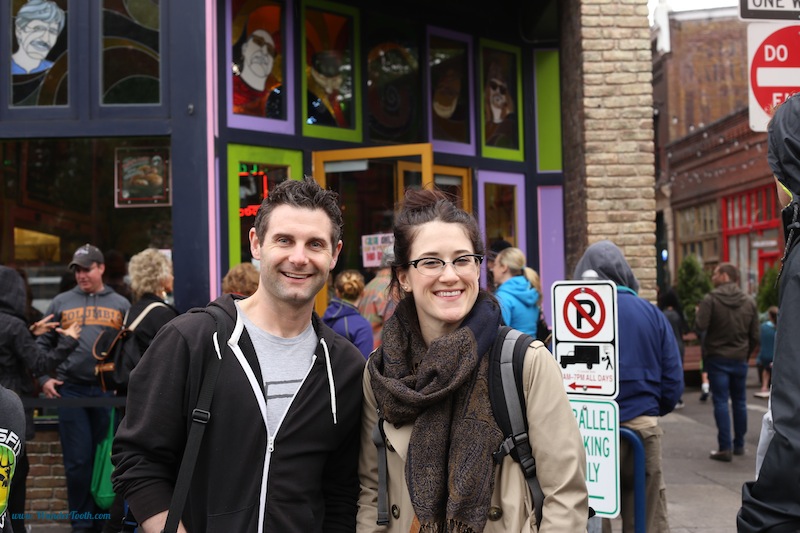 Then you will faced with the challenging decision of which sweet to sample at Voodoo Doughnuts where they boast that 'the magic is in the hole.'  Upon finally entering you will be presented with options such as the Memphis Mafia with chocolate chips, peanuts, cinnamon and banana chunks, or the Gay Bar which is a cream filled doughnut topped with Fruit Loops, or our personal  favourite, the Bacon Maple Bar, yes that's right, bacon…on a doughnut!  It was like a pancake and maple syrup with bacon all rolled into one sweet 'so-many-calories-I-lost-count' treat.  It was like breakfast in a doughnut!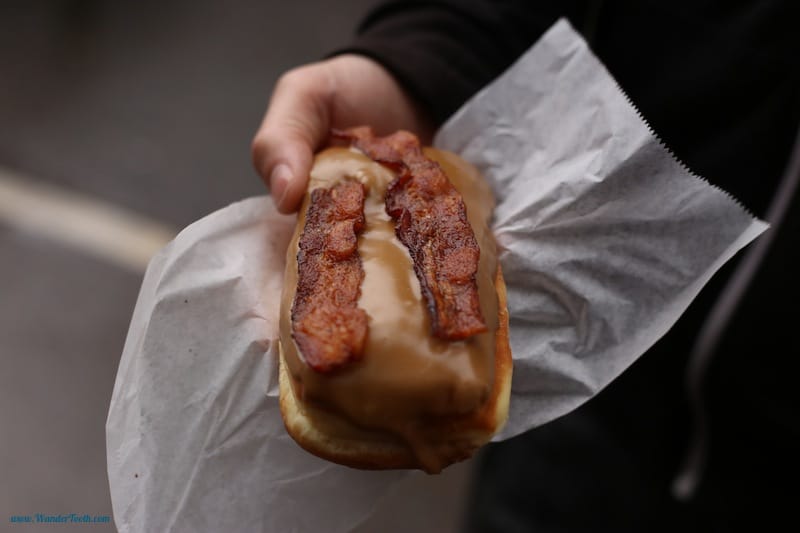 And you're extra in luck if you find yourself here on a Saturday as just a block away is Portland's Saturday Market.  Here you will find all sorts of locally made goods like clothing, soap, souvenirs and yes, food.  Be warned – it's really just for tourists and nothing more.
Craft Beer is another of Portland's celebrated draws.  The city boasts the nickname of the 'micro brew capital of the world' and definitely seemed to live up to this reputation.  Some pubs we visited had fifty and sixty different beers on tap – ON TAP!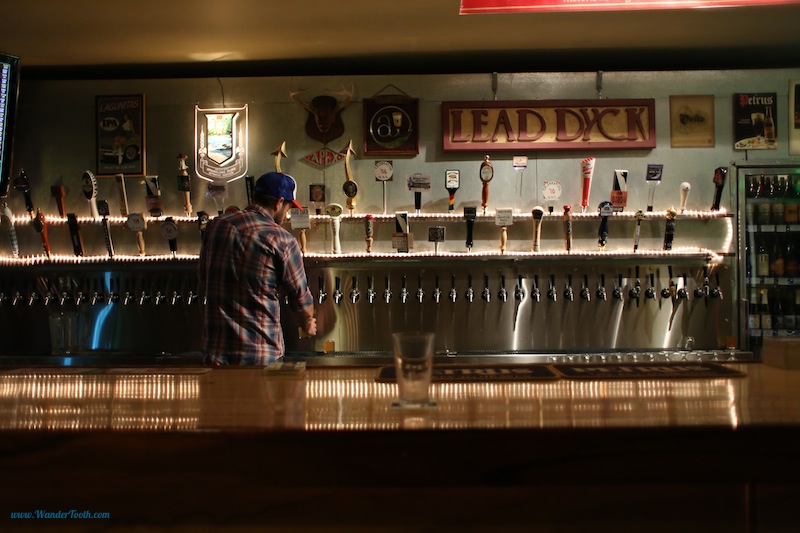 Most are cheap, cheerful and almost always bearing a whimsical name, some will make you laugh out loud but all seemed pretty delicious and refreshing.  Some of our favourites include 21st Amendment Watermelon Wheat Ale, Superfuzz Blood Orange Pale and the mystery tap at a place called the Green Dragon PDX which was a Belgian style beer from Japan.  I would however recommend you skip the Ghost Chili Golden unless you feel like breathing fire for an entire night!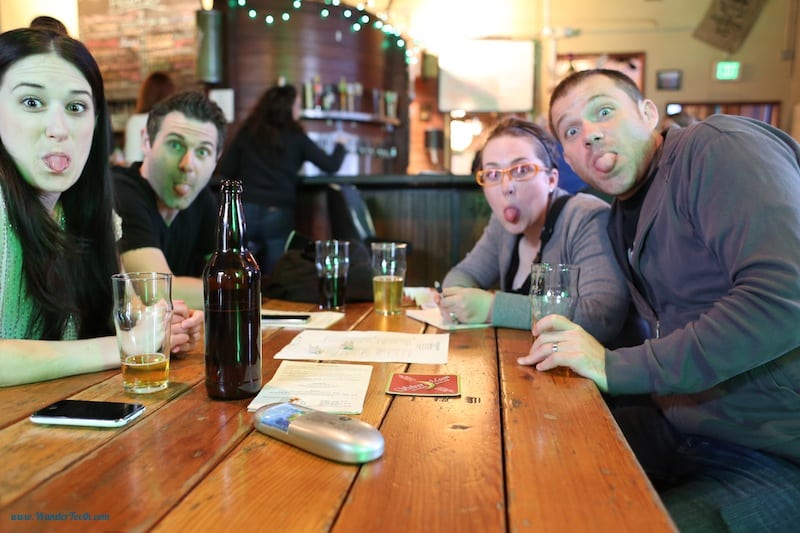 So if you have read this far and are wondering about the title, it has to do with craft beer.  The story is, the brewmaster at Rogue Ales sent a strand or two of his beard hair to a lab in California which identified an extractible yeast strain which they use to make their latest effort called Beard Beer.  An idea like that just has to be tried!
DO: bring your appetite, sample as many food carts as possible, stroll the neighbourhoods and browse through stores as you never know what you'll find – we even found a store selling Mink penis bones!  Skip Starbucks and grab a Latte at one of the many local coffee shops, use the free public transit system and make sure you sip some craft beers before you leave.
DON'T: stay in the downtown core if you can help it and definitely don't ignore the many street performers, some are very talented and if you enjoy it, shell out a buck and help "keep Portland weird!"