Insanely astonishing landscapes, fascinating geological formations that look straight out of this world, unbelievable hiking opportunities, and a lot of desert adventure make a road trip through Utah an absolute must on any traveler's bucket list. Plotting your Utah road trip? There's a good chance you're feeling a bit overwhelmed with all the options. So we've put together a list of the destinations you absolutely cannot miss while you're road-tripping around the state!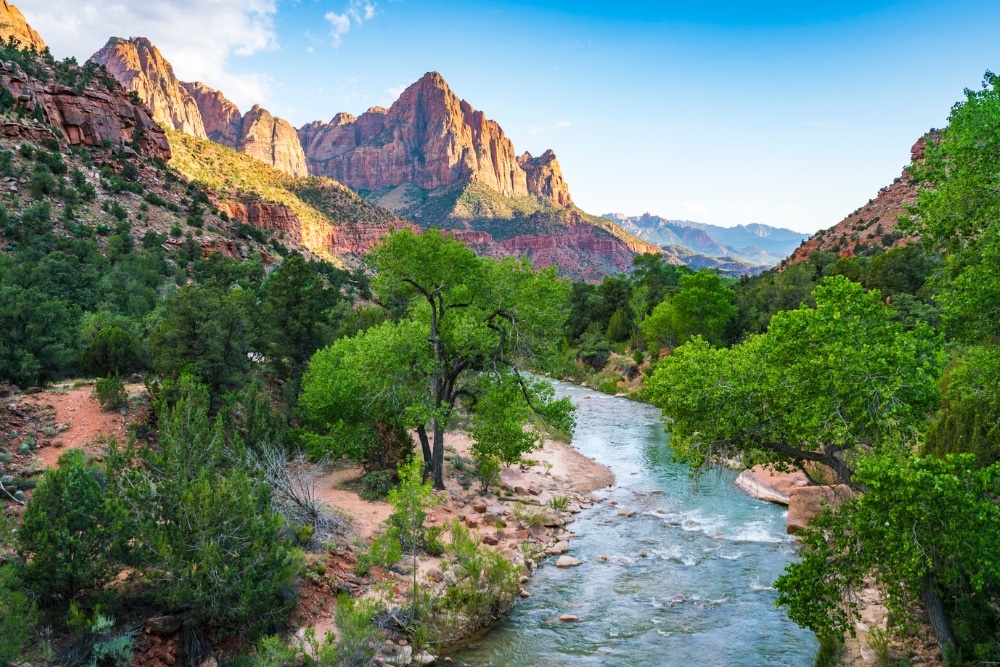 Utah Road Trip Must-Haves
Before diving into the best places to travel through Utah, let's ensure you have everything you need for the best road trip. Ensuring you're packed with everything necessary will help to make your trip much more comfortable and enjoyable. So jot the below list down or bookmark this page to remember the road trip must-haves.
snacks
navigation tools
kleenex/paper towel
headache meds
sunglasses
hat
audio options
gum
water bottle
first aid kit
Stops To Make For A Seriously Epic Road Trip Through Utah
Zion National Park
Multi-colored sandstone cliffs, packs of desert wildlife, and insane views are just a few of what makes Zion National Park a must in your Utah road trip itinerary. What's even better? There's a little something here for everyone. Regardless if you're into excellent hikes, rock climbing, mountain biking, or simply taking iconic Instagram photos, Zion National Park has something to offer, no matter your travel style.
Zion National Park offers breathtaking scenery carved out by the famous Virgin River. While trekking through the park, stop at Canyon Overlook, Lava Point, and drive the Mount Carmel Highway Scenic drive to spot some of the best views. In addition, plan a stop at the Kolob Terrace, Big Bend, and the Court of the Patriarchs. And, before you leave the park, make sure you take the accessible hike to the Emerald Pools. The Emerald Pools trail is quite accessible and offers visitors an unobstructed view of sheer natural beauty. All in all, Zion National Park is spectacular, and promises great adventures and beautiful sights.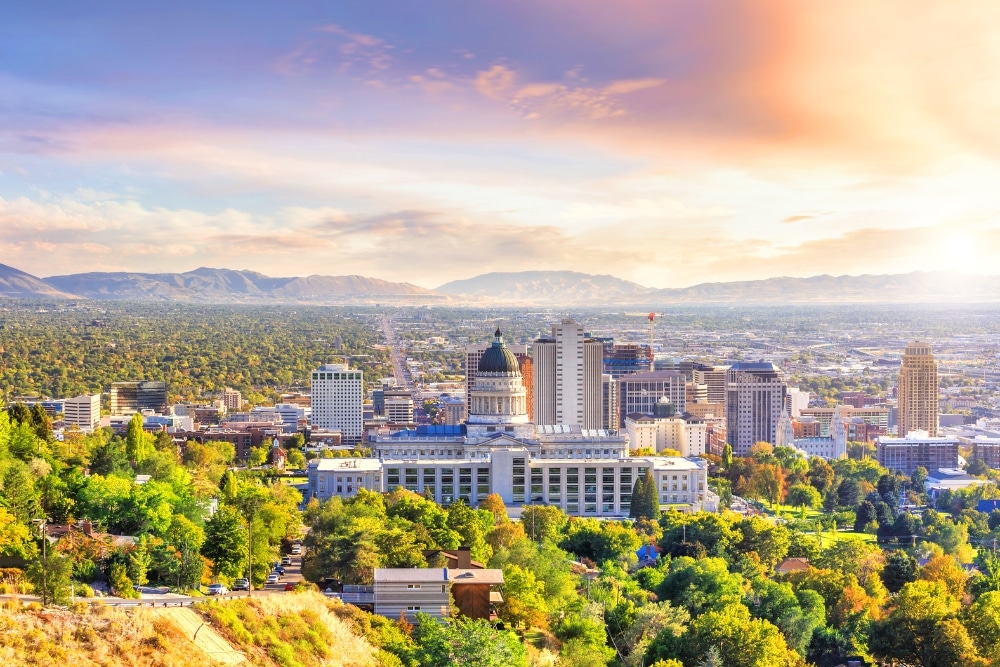 Salt Lake City
Salt Lake City is only four hours from Zion National Park on the I-15N. The city is the capital of Utah and a prominent tourist destination. Salt Lake City is a modern, mountainside city with tons of recreation and outdoor beauty hiding around every corner. There are many amazing locations to visit in Utah's capital city. Begin by exploring the magnificent 35-acre Temple Square. Though still under construction, the Temple Square offers beautiful grounds to stroll through. The area is peaceful, with lush trees, colorful flower beds and mindblowing fountains. If you're traveling with children, be sure to plan a stop at the Natural History Museum of Utah, where there are more than 40,000 square feet of exhibits, artifacts and educational mementoes from long ago. Finally, make sure to see the formerly known Hotel Utah, now Joseph Smith Memorial Building. The building was uniquely built and casts quite the sight once the sun hits. Salt Lake City is an unbelievable place to visit regardless of what kind of recreation you're craving.
Moab
Moab is a city in Utah packed with thrilling adventures. Located less than four hours from Salt Lake City via US-6 E, the city offers epic geological drama, dynamic terrain and sights you need to see to believe. Visitors can enjoy white water rafting, off road adventures, rock climbing, canyoneering, and so much more.
Bryce Canyon National Park
What makes Bryce Canyon so unique? There are Hoodoos! In fact, Bryce Canyon is the home to the world's largest collection, which translates into magnificent views. Aside from the hoodoos, Bryce Canyon is home to unbelievable wildlife, woodland, and interesting caves, making the park a hiker's paradise. Bryce Canyon National Park offers many ways to explore. Try horseback riding, off-roading, or wagon rides to see every angle of the park.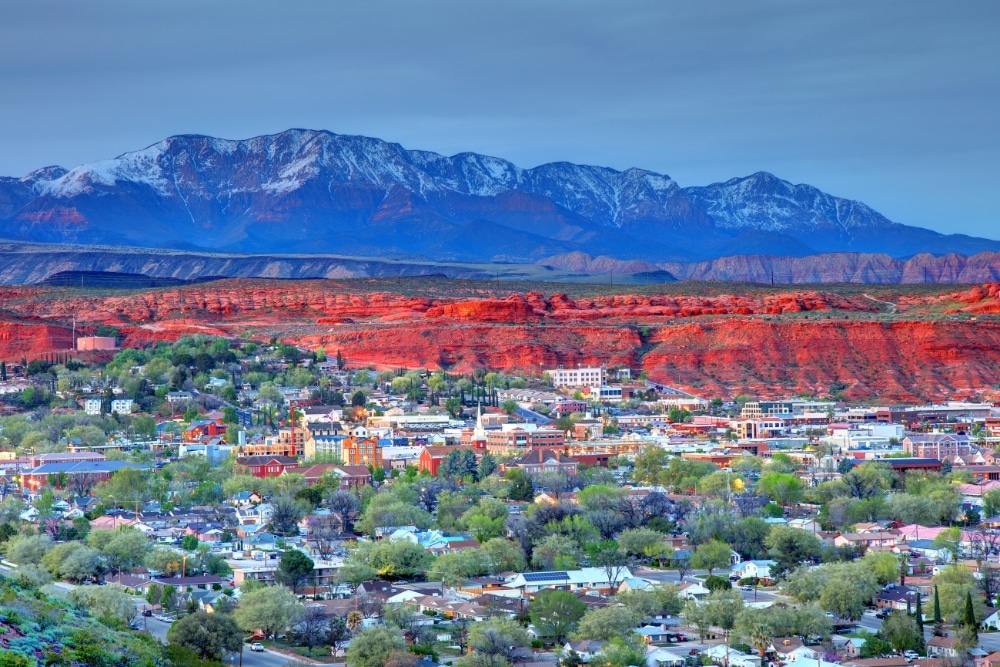 St. George
Found about two hours from Bryce Canyon National Park, you'll stumble upon St. George, Utah. The city is near southern Utah and the Arizona border and offers visitors a terrific climate and warm-ish winters. St. George is less than one hour from Zion National Park and offers visitors exciting recreation. While traveling through St. George, plan a stop at the beautiful St. George Utah Temple. Towering 175 feet tall, the temple houses gorgeous grounds too that visitors can explore and wander through. Pioneer Park is another place to visit in St. George Utah. Picture 52 acres of unique and astonishing red rock formations. Finally, before you jet to the following location, plan some time at the Sand Hollow State Park. The park offers 20,000 acres of attractive exploration opportunities!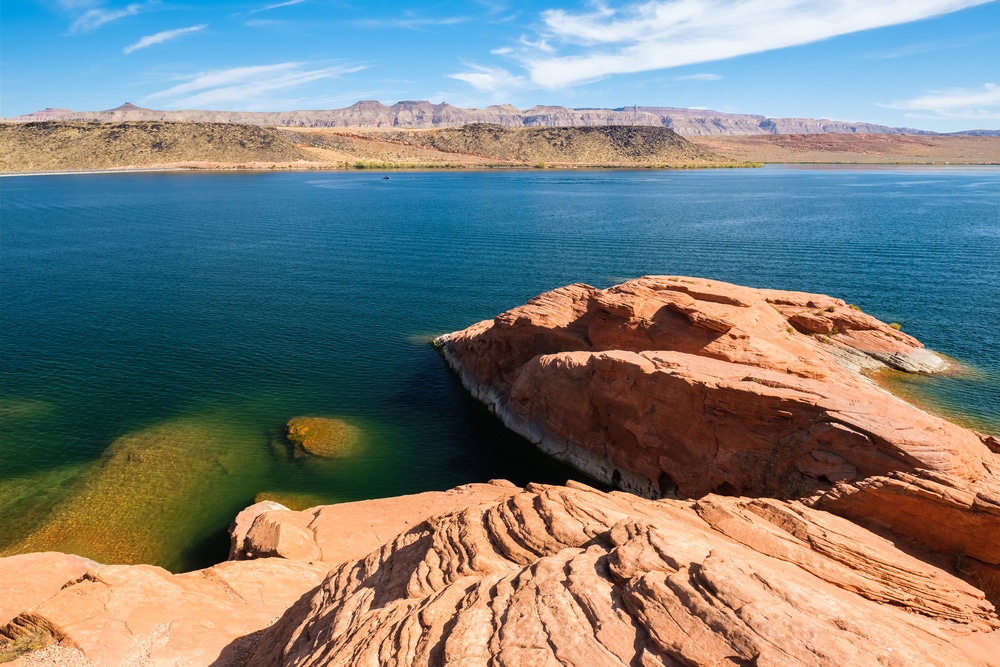 Sand Hollow State Park
If you're craving thrill, adventure and scenery, then a stop at Sand Hollow State Park is a must. Dip your toes in the warm and inviting turquoise waters or take a ride on an off-roading vehicle and see the park in a way you could have never imagined! Sand Hollow State Park is great for paddleboarding, kayaking, boating, jet skiing, scuba diving, camping, cliff jumping, and more. The possibilities are endless at Sand Hollow State Park!
Scenic Byway 12
When you're on an insanely amazing road trip through Utah, drive the Scenic Byway 12. The road is nestled into massive, jagged red rock formations throughout the entire 124-mile route. Furthermore, there are plenty of amazing and gorgeous stops to make along the road.
Places to see:
Larb Hollow Overlook
Boulder Mountain
Anasazi State Park and Museum
The Hogback Area
Lower Calf Creek Falls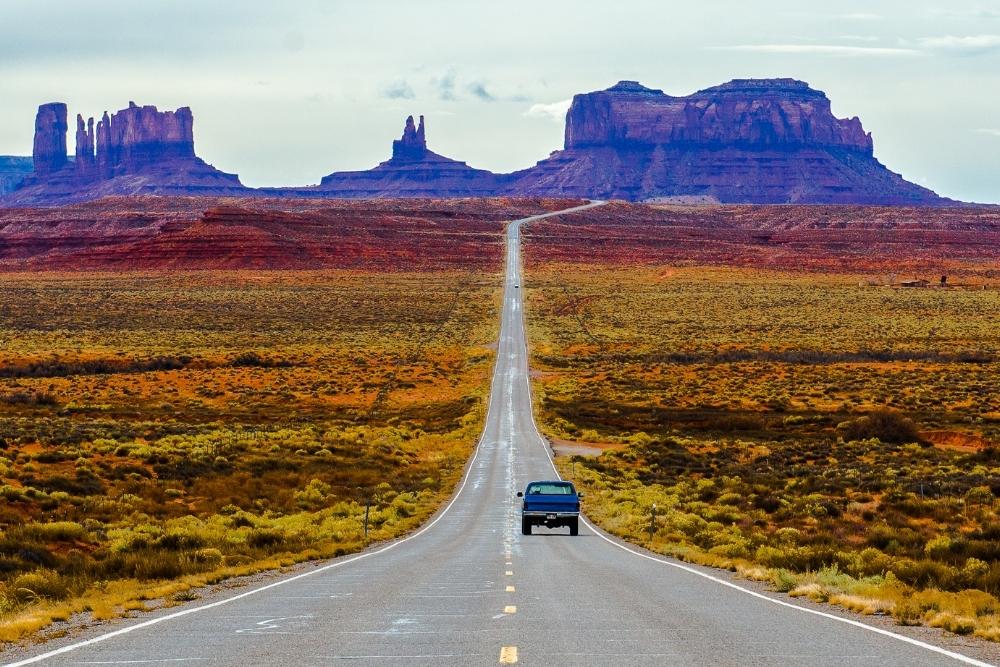 Monument Valley
Monument Valley is packed with Native American and Old West history, adding value to its iconic beauty. In addition, the region is known for its sandstone buttes, mesmerizing and challenging hiking trails, and horse riding opportunities, which will make you feel as though you've stepped inside a Western film!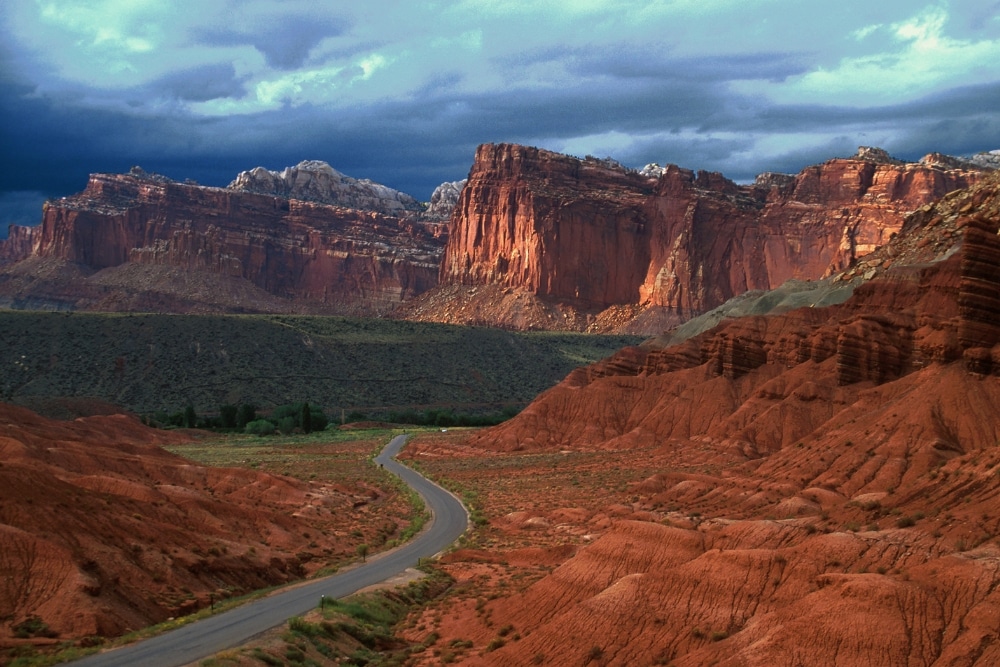 Capitol Reef National Park
While Capitol Reef isn't as well-known as Utah's other national parks, visiting it is still a must on your itinerary, especially if you're into backcountry hiking trails, rock climbing, and insane mountaineering. If you're not up for exerting that much energy, though, a few roads cover all three areas of the park, so there isn't an excuse not to visit this gem of a park to check out its highlights!
What makes the landscape of Capitol Reef so unique is the Waterpocket Fold. This was formed millions of years ago and created a rocky-looking landscape that looks like it comes straight out of another planet. Moreover, the park is also home to a massive natural arch, ancient petroglyphs, and an array of wildlife you wouldn't typically expect to find in the desert.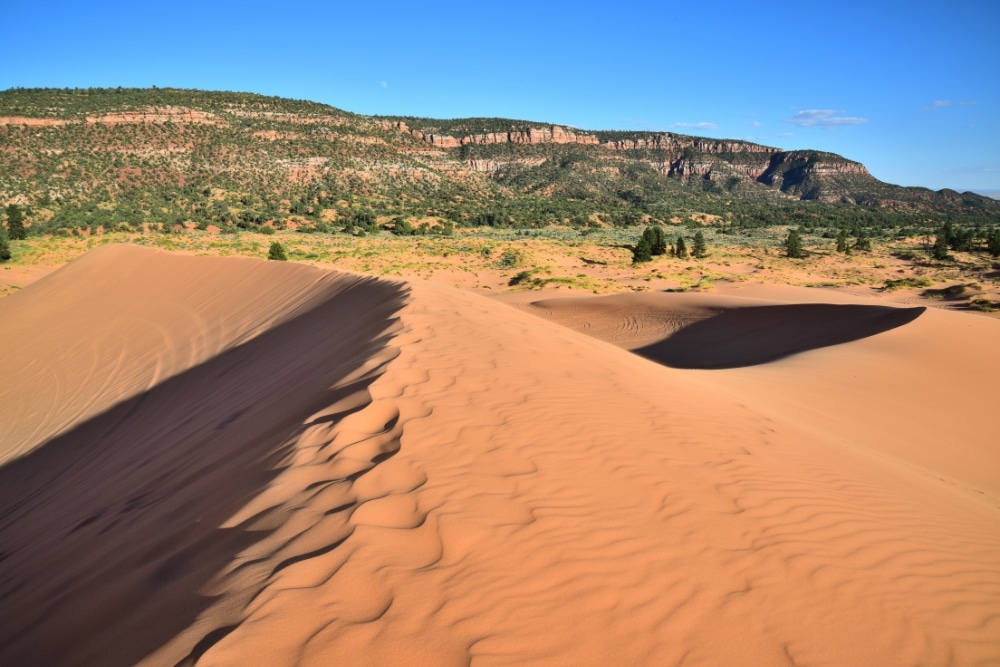 Coral Pink Sand Dunes State Park
Cast your eyes on the unusually colored coral-pink dunes at the spectacular Coral Pink Sand Dunes State Park. The park covers an area of 1,200 acres and offers unique opportunities for exploration and adventures. Children (and adults, of course) are welcome and even invited to climb and play on the pink sand dunes! If you love a good sight, then catch the sand dunes at sunrise or sunset for a truly spectacular sight.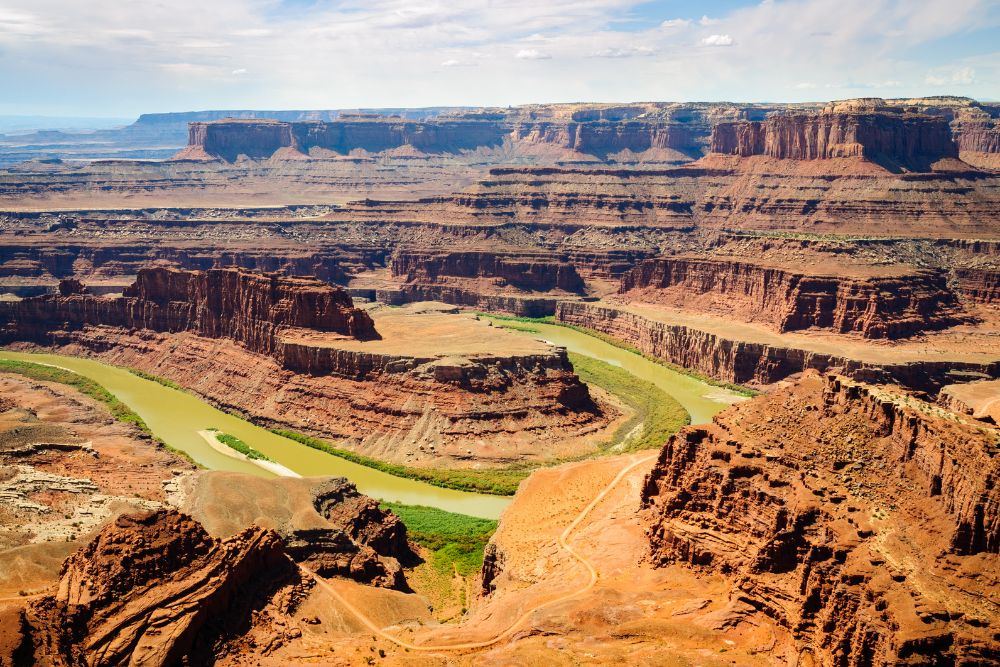 Dead Horse Point State Park
Looking to feel as though you're a character in an old Western film? Dead Horse Point State Park is your go-to. In fact, 1991's Thelma and Louise's final scene was shot here, which should be enough to convince you to visit this epic state park, don't you agree?
Dead Horse Point is what could be described as a collection of grand overlooks. Plus, the fact that it neighbors the more famous Arches and Canyonlands national parks means it's the best destination to get unparalleled desert views while avoiding the hoards of tourists.
Moreover, plenty of activities are offered here, including hiking, mountain biking, and cave exploring.
Arches National Park
Sweeping desert views and natural redstone arches are the staples of Arches National Park, which make it a must in any Utah travel itinerary.
With more than 2000 natural arches and a variety of strange and unusual rock formations, there's no shortage of awe-inspiring and breathtaking sights at Arches, and the fact that it's relatively small makes it easy to make sure you see the entire park!
Whether you're up for an incredible desert hike or would much prefer to view the highlights from the comfort of your car, both are great options to get an introduction to this magical desert oasis.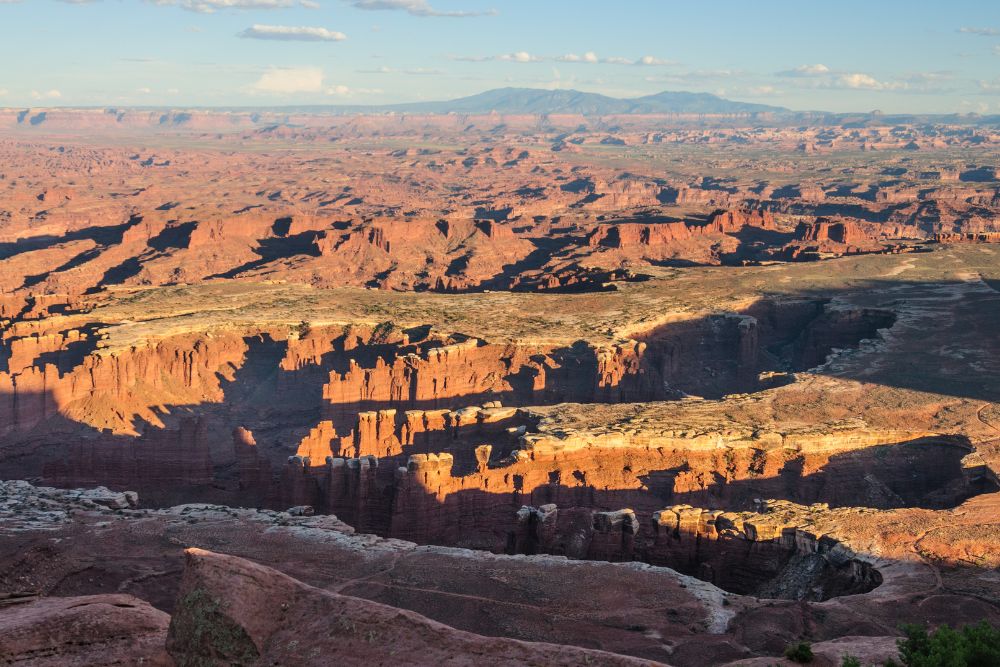 Canyonlands National Park
Vast views of canyons, sweeping desert views, and strange red rock formations lining the sky make Canyonlands National Park a unique destination. Because this national park is giant, you could devote an entire year to exploring it and never really get to do the same things twice, so make sure you spend at least a few days exploring its highlights!
Canyonlands are divided into three areas: Island in the Sky, The Needles, and The Maze. Suppose you're limited on time or are not very experienced in hiking in the desert; Island in the Sky is the best place to start exploring Canyonlands. The trails are relatively short and easy. If you're craving more challenging hikes and would rather have the sights pretty much all to yourself, the Needles is sure the place for you. Finally, for those who are really, really outdoorsy travelers and don't mind roughing it up, The Maze is a thrilling adventure (it's even considered one of the most remote locations in the country!)
I hope this list of the best places in Utah has helped you plan out the perfect road trip! When it comes to ticking things off items on your bucket list, Utah makes things tough because there's seriously SO much to do in this great state. These destinations, however, are probably the most iconic and the ideal way to get a pretty damn good introduction to the region.
Have you ever been to Utah? What are some other incredible spots to add to a Utah road trip route? Let us know your favorites in the comment section below!