We stopped in Amsterdam on our recent trip to Estonia, Latvia, and Lithuania by timing our flights to have a 10-hour layover.
On our way there. This was a bad call, and not something you should do. Here's why.
Having never been to the city, we jumped at the chance to spend a layover in Amsterdam, not really considering we'd be coming off a 9-hour trans-Contilantic (trans-contilantic = trans-continental + trans-Atlantic), compounded by a nine hour time difference. Sometimes we're I'm stupid like that.
The city is set-up for layovers, so theoretically a layover in Amsterdam shouldn't be a problem. Our bags were checked through all the way through to Tallinn, but we wanted to ditch some of our carry-on items, not seeing much reason to carry around our inflatable pillows and the latest edition of Real Simple magazine. Once we cleared immigration and customs, we stored our superfluous items in a locker and set out, still bright eyed with the excitement that comes with exploring a new place, and unaware of the fogginess and ineptitude that would hit our tired brains an hour later.
Amsterdam city centre is about a 20 minute train ride from Schipole, and you can buy your tickets before or after clearing customs — if you do it before, press the "more options" button, or it will force you into a first class ticket, which isn't unaffordable at 7 Euros, but is unnecessary for a 15 minute train ride.
We reached Amsterdam Centraal and followed the throngs of people south to Dam Square. At least I think it was Dam Square, I really have no idea.
From there we took a left and walked toward Amsterdam's famous canals. I stopped to take a picture, and was promptly crapped on by a passing bird.
Not wanting to be obvious about the bird crap, I took a few more photos and then walked over and had Geoff confirm my suspicions. For some reason, we decided to ignore the bird crap for a while and continue our exploration, which allowed me to take several more underexposed canal and street scene photos.
What I never realized about Amsterdam was just how many canals there are. I'd heard people talk about the canals — plural — of Amsterdam, but had for some reason always imagined it to be like Ottawa, with one single canal running through the centre. But no! They are everywhere!
And really quite lovely, although we imagined them to be rather hazardous to the numerous drunken revelers who roam the city at night (and during the day), as there aren't any safety rails.
We wandered unexpectedly into Amsterdam's red light district, which was rather quiet being 10 am on a Sunday morning, but still contained enough plastic surgery gone awry to shock me awake, if only temporarily. I found the red light district kind of…NASTY. I'm a huge leftie: I think controlled prostitution would do wonders to reducing the spread of STDs and violence against the (mostly) women who often have no other choice but to sell their bodies, but seeing it up close? It grossed my prudish Canadian self out. And the swarms of people — many of whom were already sucking back Heineken — walking by and gawking at them? It gave me the no feeling (And yes, I understand the irony of that sentence, given that WE were also gawking).
After our very brief introduction to the pros and cons of sex tourism, we decided it was finally time to wash the bird crap off my dress, and wandered aimlessly and increasingly deliriously through the streets until a cafe chair ran into us, forcing us to sit. The abundance of cafes in Amsterdam certainly belongs in the pros category (along with canals, bicycles, and punny signs).
The cafe we found was canal side, and it was a magical place with strong cheese and pancakes dusted in powdered sugar.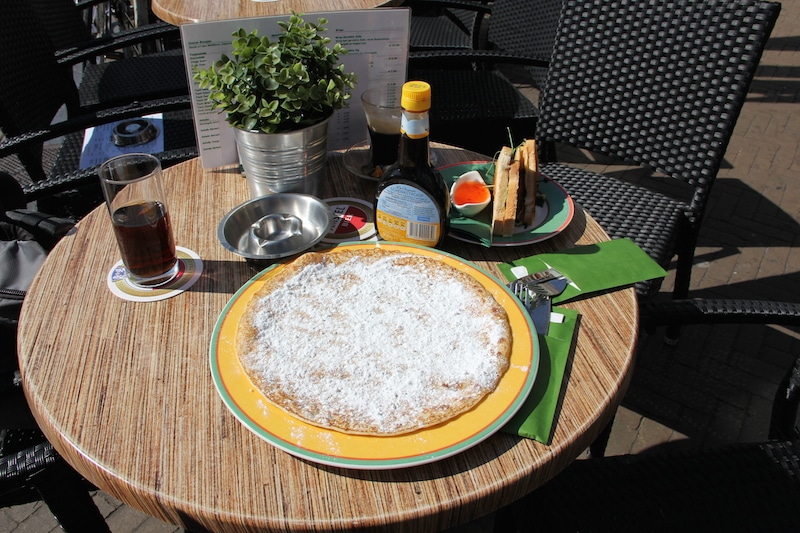 At this point, I started to feel so tired that breathing seemed to be too much of an effort, and so we wandered until we found a patch of grass, and passed out for two solid hours.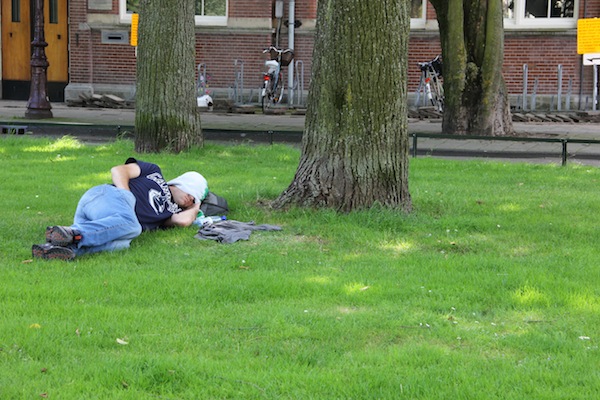 And that, my friends, is pretty much the entire story of our stopover in Amsterdam: bird crap, pancakes, and naps. After this photo was taken, we hobbled our way to the afore pictured cafe for a coffee, and then back to Amsterdam Centraal, where we caught a train to Schipole. Thankfully, I got a blissful hour of undisturbed sleep, stretched out across 5 seats at the gate before our flight to Tallinn.
Would I do an Amsterdam stopover again? In a heart beat. But next time, I'll schedule it for the way home, after we've already adjusted to the time difference.
Did you like this post about Amsterdam? Remember that sharing is caring! Be a doll and share this post on Facebook, Twitter, or whatever other new fangled social media network you belong to.