In vino veritas is a Latin phrase meaning in wine there is truth. After a long drought, I taste my first mug of mulled wine, and wonder if perhaps it is true…
It's around 11 AM on the morning of Christmas Eve, and we've just arrived in Stuttgart, Germany. It was a long night of travel: first from Milan in an overnight car to Munich – a night spent crossing Austria – and then a quick switch to Stuttgart.  We need to be in Stuttgart's French sibling, Strasbourg, in the evening, but have a few hours to spare, and so decide to wander briefly through this city perched north of the Black Forest and looking more modern than its geographical position might suggest, although not its history. Despite being located  in exactly the place you'd expect to find gingerbread house-like buildings,  Stuttgart is mostly modern. Over 50% of Stuttgart's buildings were either destroyed or almost destroyed during 53 air raids that took place in 1944 and 1945, rendering the city almost unrecognizable after World War II.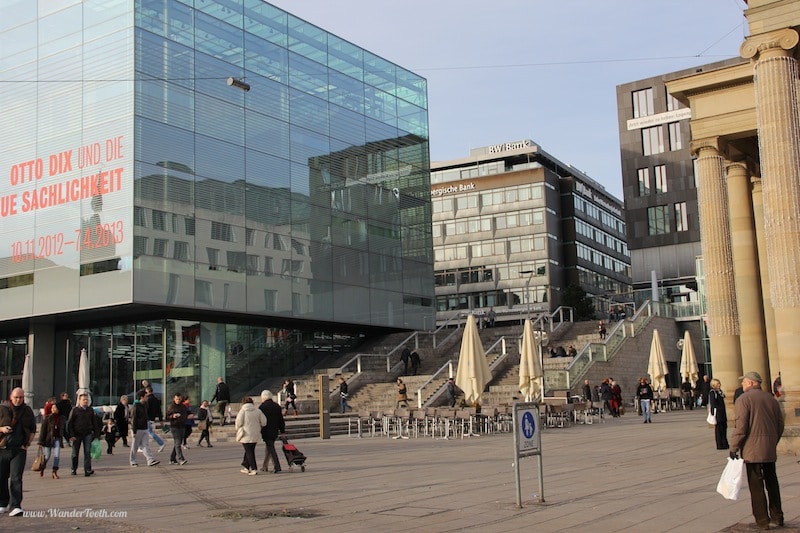 The city is filled with people getting ready for Christmas. Christmas Eve in North America is like the day before your birthday as a kid – exciting, but only because of its proximity to the main event and the associated anticipation. But in Germany and France and most, if not all, of Europe, Christmas Eve dinner is the centerpiece of the holiday, and people are out getting ready for their dinner. The Christmas market is open as we stroll along the main pedestrian Straße. All of the tourist attractions are closed for the holidays, and so walking around and people watching are really our only option. The main pedestrian street – like an English high street – is lined on each side with shops frequented  by last-minute gift buyers. Along the center of the street is a market: a seemingly unending row of vendors selling all the accoutrements of a wonderful Christmas dinner: bunches of leafy green vegetables vibrant enough to be their own centerpiece; huge, autumn-coloured gourds;  fresh,  unrefrigerated eggs; and bundles of decorative greenery including pine and fir branches, mistletoe, berries, and of course, bows of holly.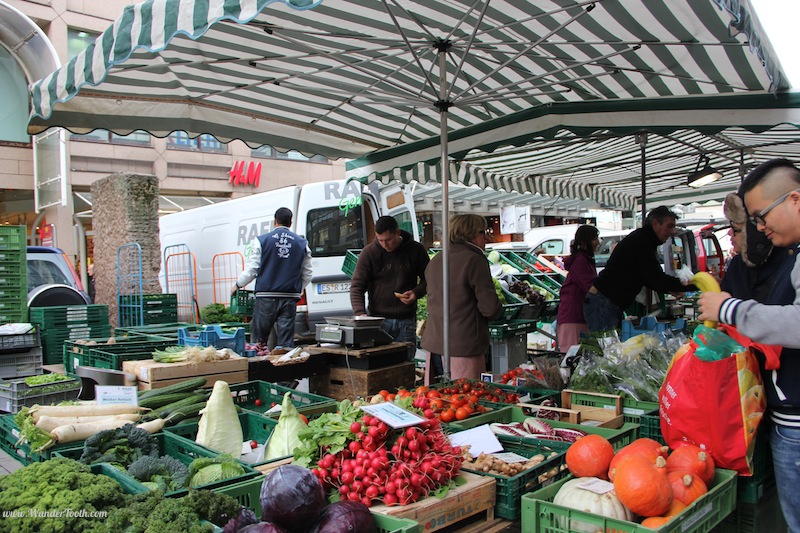 People aren't in a rush, even though I'm sure they need to be home soon enough to begin preparing the Christmas feast. Instead, they seem to chat cordially with the vendors about the food and decorations. It feels relaxed and joyous, and completely opposite to a shopping mall or Safeway at home on December 24, which I can only describe as panicked mayhem. There is a square at one end of the market lined with all the trimmings of a typical German Christmas market: the wooden huts selling chocolates and treats, Christmas decorations and, Glögg, or mulled wine.
***
I fell in love with mulled wine 16 years ago. I was 16 years old, and living in Denmark as an exchange student. Lord knows the Danes like their drink. Gløgg, as it's known in Danish, was a Christmastime staple, the warmth of it easing away the cold of a Scandinavian winter and the gentle buzz of the wine making my first Christmas away from home —  the shocking confusion of feeling like an alien in a strange place – more comfortable.  To my 16-year-old self, the mulled wine was an acquired taste, but as time passed it took on associations of nostalgia: the excitement and fear, but mostly excitement, of being 16 and alone in a foreign country. Freedom. My dad took me along on a business trip to Munich a few winters later, and I remember arriving at the Munich Christmas Market and beelining it for the Glögg hut, just to see if it tasted how I remembered. It did. To me, mulled wine tastes of freedom and adventure.
***
I spot the Glögg stand in Stuttgart, and although it's barely after noon, I notice I'm not the only one ready for a mug. Fuck it. This is a vacation, after all.  It takes less than a minute of rationalizing before I'm in line at the stand, ordering a souvenir mug of the sweet and spicy mixture.  It is typical in Germany, and much of Europe, to order the mulled wine in a souvenir mug. For an extra Euro or so,  you can avoid the dissonance that would no doubt be caused by drinking it from a thin, disposable plastic cup, and before this trip is over, I'll have collected mugs from cities across Germany, France, Luxembourg, and Belgium.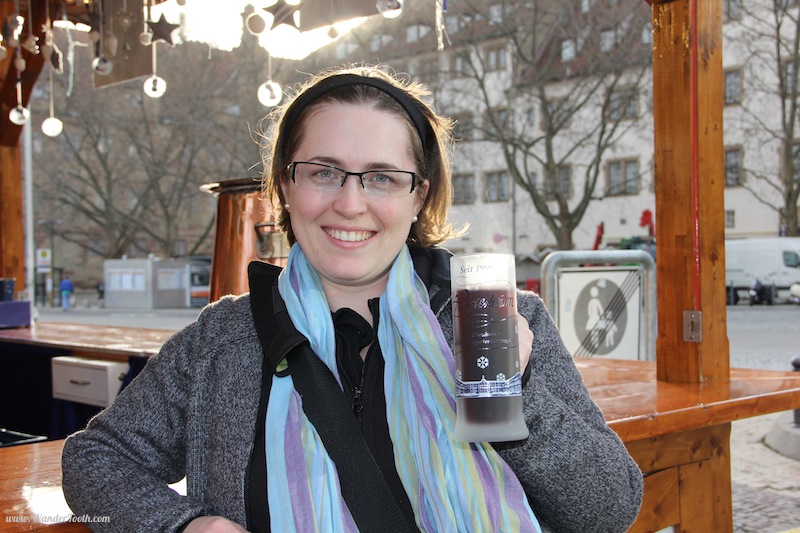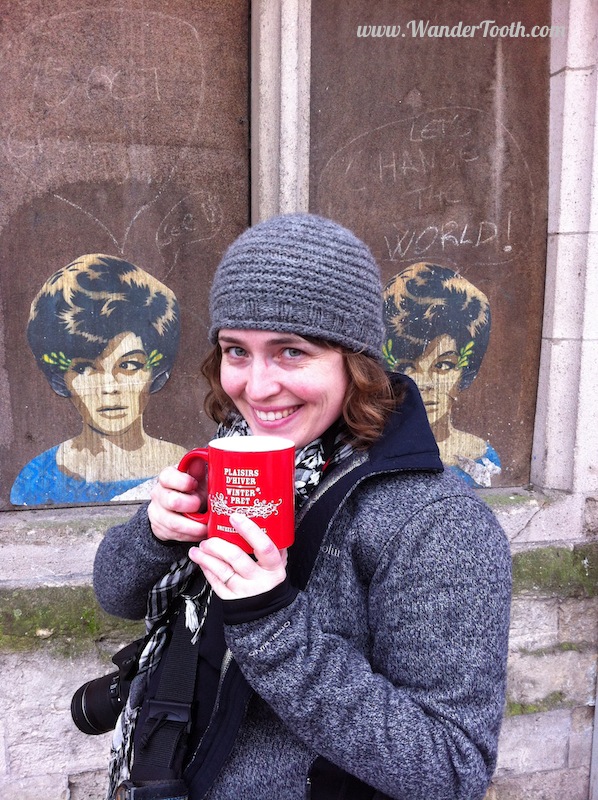 I take a sip, and feel unexpectedly giddy; it tastes exactly how I remember it being almost 16 years ago. A emotion-laden taste from the past; hot, spicy, and oh so intoxicating. Freedom and adventure. Being alone and away in a place I didn't know or understand.
Except this time, it tastes better than anything I was capable of tasting 16 years ago. There's a Salman Rushdie quote I love, but can never quite remember, that summarizes how I feel in particular moments: idealized by the anxiety of exile, or something like that. This taste of mulled wine is not one of those moments, because while I know I can never go back to my 16-year-old self — a self filled with impatience that bordered on desperation to explore the world — we're no longer held back by "have tos" that need to be completed before moving on and fulfilling the dream to wander. No high school to complete, no more university…just the possibilities brought forth by doing anything we want. We're free to have as many adventures as we crave, to sate our wandertooth, to wander aimlessly and indefinitely if we chose. And all it took for me to realize it was a glass of mulled wine; a taste from my past.
My friend Kristen's favorite quote is the Latin, In vino veritas; in wine, there is truth. Today, I finally begin to understand what she means, and am reminded of another favorite Salman Rushdie-ism: The truth leaks out in our dreams; alone in our beds…we soar, we fly, we flee.