Things to Do in Oslo: A Round-Up of All The Things We Loved About Oslo, Norway, from Our 10 Days Exploring the City!


Disclosure: This website contains affiliate links. That means we earn a commission when you use the links on this site to book a hotel, buy your travel insurance, etc.. If you'd like to learn more about how this works, you can read more under our Disclaimer page. Please note, we received a free Oslo Pass from the Visit Oslo tourism board during our stay, and were able to do many of these experiences for free.
Also note, we are co-founders of a Facebook group dedicated to travel in Scandinavia. If you're planning a trip, please join the group, which is great for asking questions and getting help and advice from Scandinavia and Nordics travel experts!!
Norway has been on our travel wish list for a while now, so when the opportunity came up to spend 10 days housesitting in Oslo this summer, we figured it was the perfect excuse to finally visit a country we've wanted to explore for years.
We ended up spending 2.5 weeks in Norway, splitting our time between Oslo for the housesit (we looked after a very sweet Norwegian Forest Cat!), and then exploring some of the country via a Rail Europe / Eurail pass for the rest of the time. While we loved exploring some of Norway's fantastic nature, we also really love cities, and were excited to spend enough time in Norway's capital to get a feel for it.
Oslo actually reminds me a lot of Vancouver, where I'm from; so much so, I actually found myself getting pangs of homesickness while in Oslo! The landscape feels very similar, given they are both coastal cities that have both sea and mountains to explore. And while the older part of the city doesn't much look like Vancouver, the new developments – namely the Bar Code, Sorengkaia, and Aker Brygge areas — really remind me of Vancouver's Olympic Village and Coal Harbour areas. It felt so nice to be back in a city on the ocean, and we tried to soak it in as much as possible.
Overall, we both really liked Oslo, and left with the feeling that it doesn't get enough attention from visitors. While we get the impetus to try to "do" Oslo in one day before heading north or west to explore the best of Norway outside the capital, we also now know it means you miss out on exploring a really cool city that is both laid-back and sophisticated at the same time.
Indeed, Oslo deserves more than a rushed run through. Two or three full days in the city will give you more of a taste for what it's really like.
Here's what we loved about Norway's capital, and some ideas on the best things to do in Oslo during your visit…
---
Things to Do in Oslo: Visit the New Downtown Developments of Sorengkaia, Bar Code, & Aker Brygge
Sorengkaia is a pier area that juts out into the ocean and faces the Bar Code area. Along the pier, you'll find bars and restaurants and cafés, along with one or two grocery stores. A set of stairs takes you down to the water, and at the far end of the pier, there's an ocean swimming pool.
We visited Sorengkaia on a weekday evening, and the area was packed with locals. That's one of the things we loved about this area…we felt like we'd discovered a bit of a secret spot, even though it was well within view of the Oslo Opera House, a tourist highlight.
On the stairs, groups of friends hung out in street clothes or bathing suits, some people jumped off the edge into Oslo Fjord for a swim, and lots of people had a 6 pack of beer or a bottle of wine and some snacks.
Basically, this is an awesome spot to hang out or enjoy a very casual oceanfront picnic.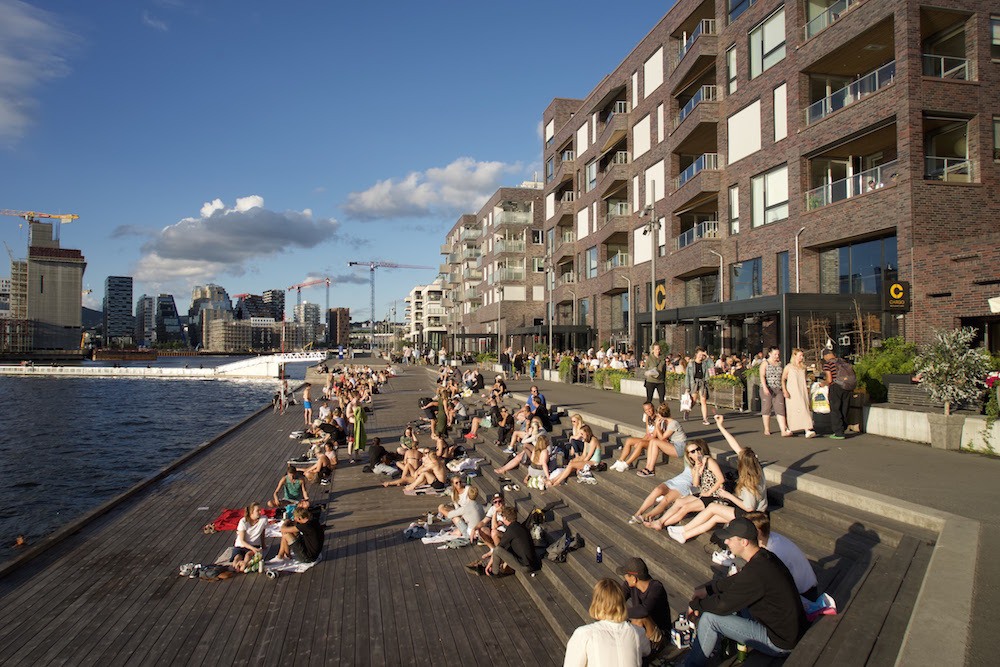 Oslo's Sorengkaia area was full of people socializing over snacks and supermarket-bought beer and wine on a sunny summer evening.

The Bar Code is an area to the east of the Opera House in central Oslo. It's name comes from its architecture, and the way all the modern buildings come together to resemble a bar code. Currently, the Bar Code area still feels a bit sleepy – it's not yet booming. However, we feel like if we came back in a year or two, when a lot of the construction is finished, it'd be a totally different story.
For now, Barcode is worth a quick walk through, to get a feeling for how Oslo is changing and where it's going. We were absolutely blown away by the sheer volume of construction that's happening in the city right now: cranes everywhere!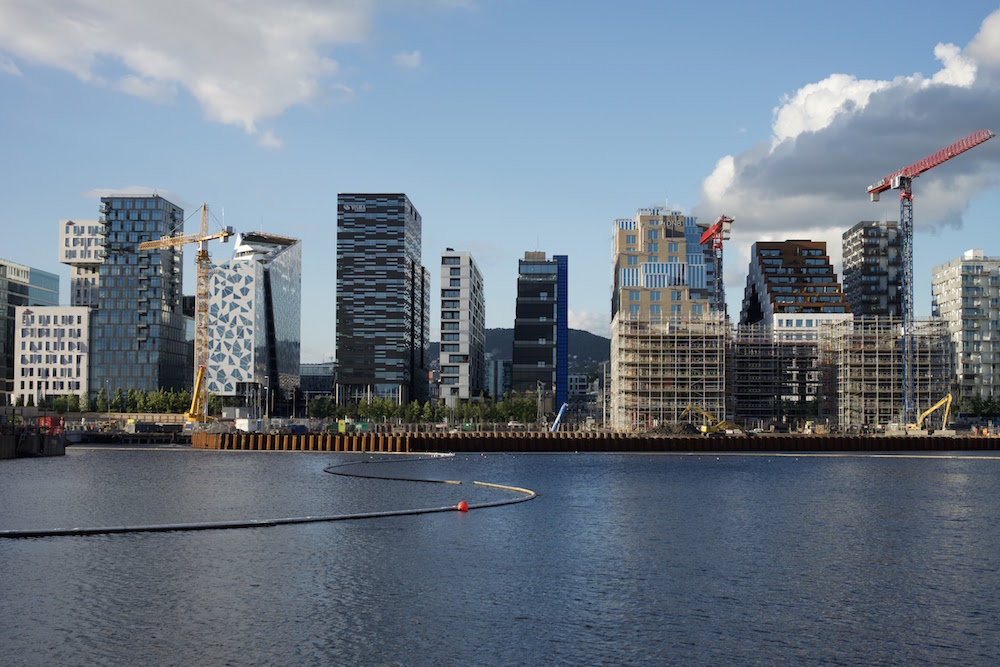 The Bar Code area of Oslo is named for the unique architecture of the neighborhood
Aker Brygge is also full of modern architecture, although it is fully developed and full of people. High-end shopping, restaurants, and coffee shops dominate Aker Brygge, and people fill up the outdoor terraces that face the harbour.
Beyond being a nice area to hang out in and grab a coffee, Aker Brygge also has a few attractions. Both the Nobel Peace Museum and the Astrup Fearnley Museum are in Aker Brygge. City Hall is also in the area, and well worth a visit. Aker Brygge is also where the public ferries leave from for trips in the Oslo Fjord, shuttling passengers to and from Oslo's islands…more on that next.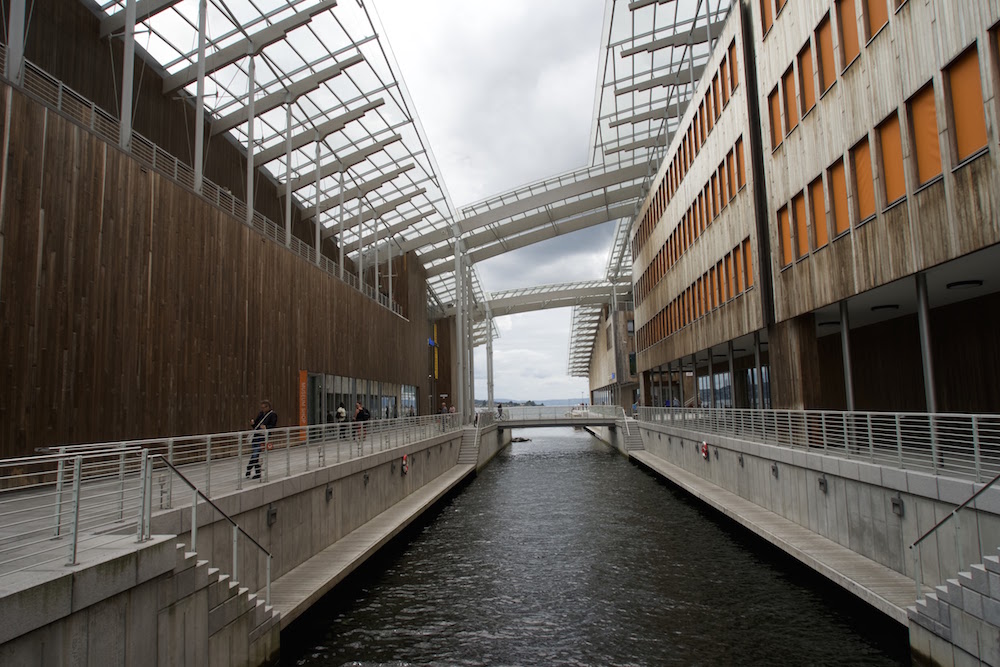 Two Buildings of the Astrup Fearnley Modern Art Gallery in the Aker Brygge Area of Oslo
Things to Do in Oslo: Use the Public Ferries to Explore Oslo Fjord
One of the best things about Oslo is how filled with nature it is. It's a very livable city, and there are loads of ways to get outside and enjoy its abundance of natural beauty. Taking the public ferries into the Oslo Fjord – either as a means for getting to the islands, or simply to enjoy a boat ride – makes for a fun morning or afternoon.
Fantastically, most of the ferries to Oslo's islands are included in the public transport network, and therefore free if you have a transit ticket or an Oslo Pass (which is absolutely worth it, if you plan on visiting a few museums).
Use the ferries for an ultra cheap fjord tour, or spend an entire day island hopping!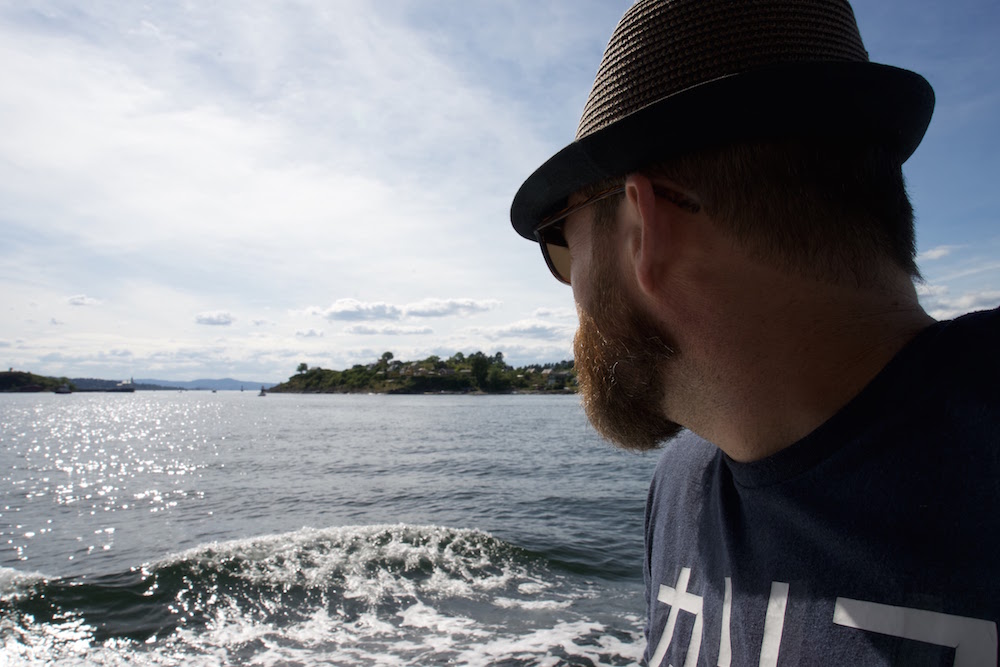 Geoff, enjoying Oslo Fjord via the public ferry…which was FREE with our Oslo pass!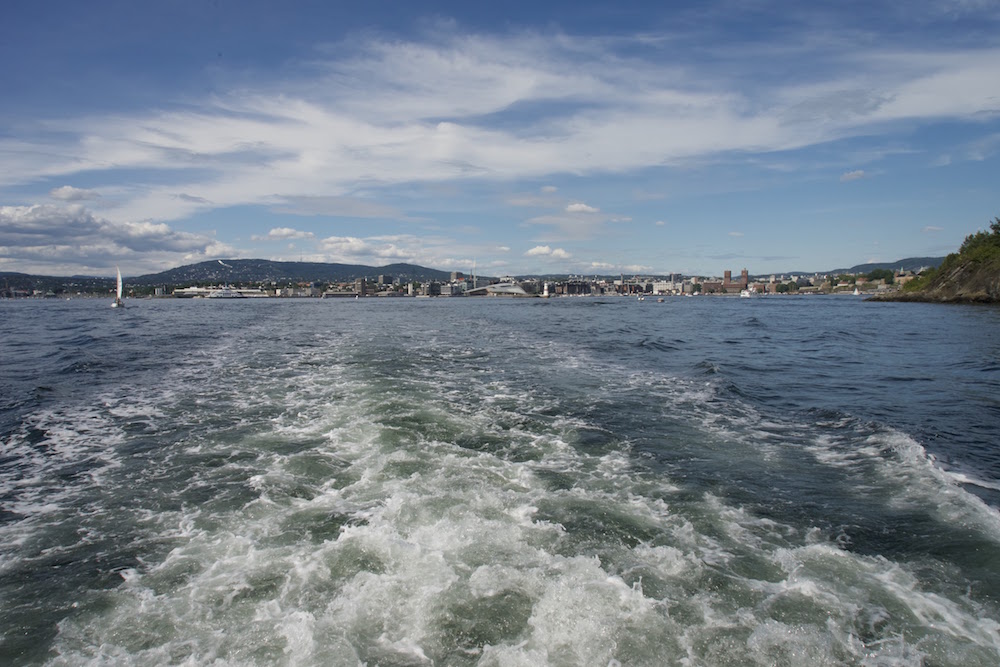 Oslo, seen from the ferry
Things to Do in Oslo: Visit SO MANY Museums
Oslo does a lot of things well, but its museums are one of the things it does spectacularly well. Seriously, there are just so many great museums worth visiting.
We visited 10 musuems, or museum-ish spots, during our time in Oslo – way more than we'd typically do on a city trip, but almost all of them were great, and we got into all of them for FREE with the Oslo Pass.
The Viking Ship Museum
The Kon-Tiki Museum
The Fram Museum
The Nobel Peace Center
The Astrup Fearnley Museum
The Norwegian Folk Culture Museum
The Munch Museum
The National Gallery
The Ski Jump and Ski Museum
Vigeland Sculpture Park
Of these 10, the Viking Ship Museum, the Kon-Tiki Museum, the Nobel Peace Center, and the Astrup Fearnley Museum were my favorites (Geoff, however, didn't really like Astrup Fearnley, which is to be expected as he isn't a fan of modern art).
The Viking Ship Museum is actually pretty small, and it doesn't take that much time to visit. We probably spent about 45 minutes in there, before continuing on to the Kontiki Museum and the Fram Museum.
Just because it's small, however, doesn't mean it's not worth visiting. The museum consists of three really well-preserved Viking ships, dating back as far as the 9th and 10th centuries, as well as artifacts found in and around the ships, and in other Viking discoveries.
It was fascinating to see the ships and think about people using them to sail from Norway as far as Iceland 1200 odd years ago. Very cool to see such well preserved ships from that time, and we definitely started watching Vikings on Netflix after this museum!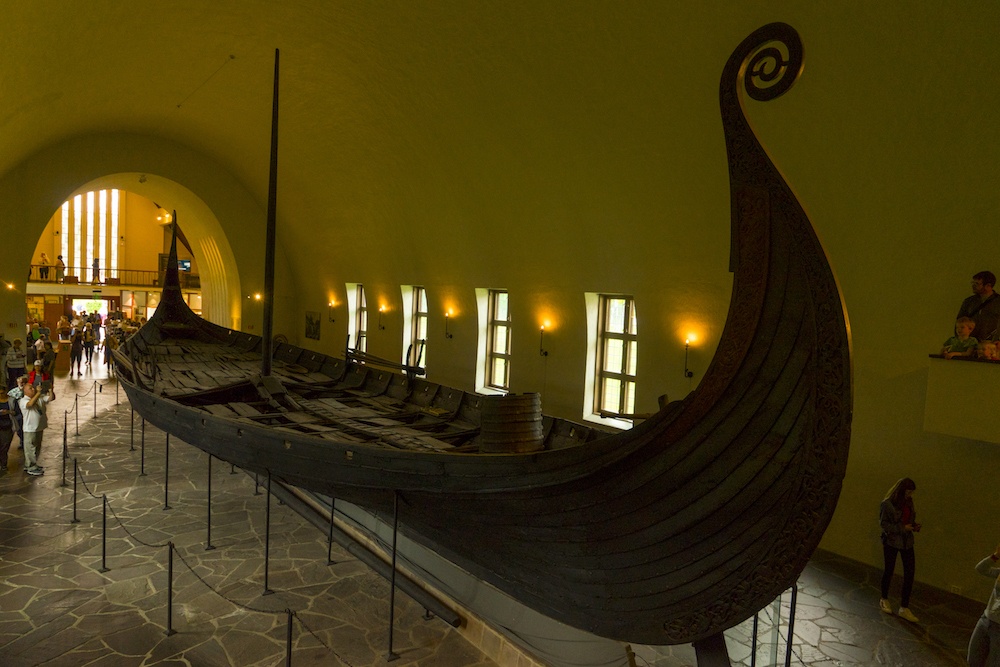 Turns out Viking ships are very impressive when you see them up close and personal
The Kon-Tiki Museum was a surprise hit among Oslo's Museums. We went to the museum with absolutely zero knowledge of the Kon-Tiki and Thor Heyerdahl, but had heard from others it was worth a visit. As it is free to visit with The Oslo Pass, there weren't really any downsides to visiting this unknown museum, beyond wasting an hour or two if we didn't like it
It. Was. Awesome. The Kon-Tiki turned out to be my favorite museum in Oslo, and it was actually quite moving learning about Thor Heyerdahl, and his mission to sail across the Pacific on a balsawood raft (the Kon-Tiki) in the 1940s, against the advice of pretty much everyone. The Kon-Tiki story is inspiring, fascinating, and filled with twists, turns, and adversity…all the makings of a great tale.
If you only have time to visit two museums in Oslo, I'd recommend the Viking Ship and Kon-Tiki Museums, both of which are free with an Oslo Pass.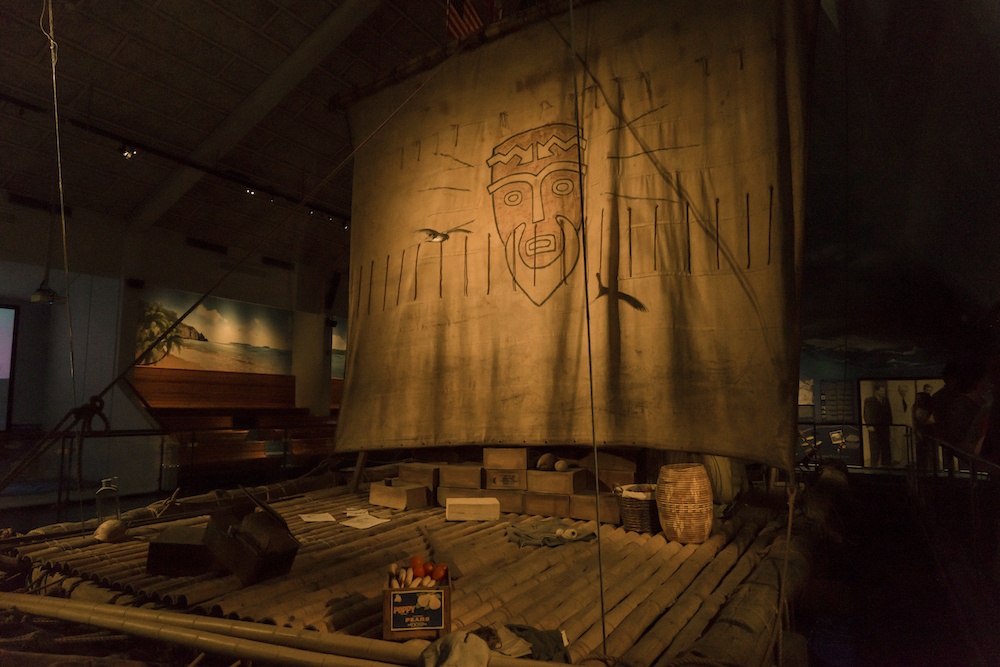 Heyerdahl's success sailing the Kon-Tiki raft across the Pacific proved ancient Polynesian and South American cultures had the capacity to cross oceans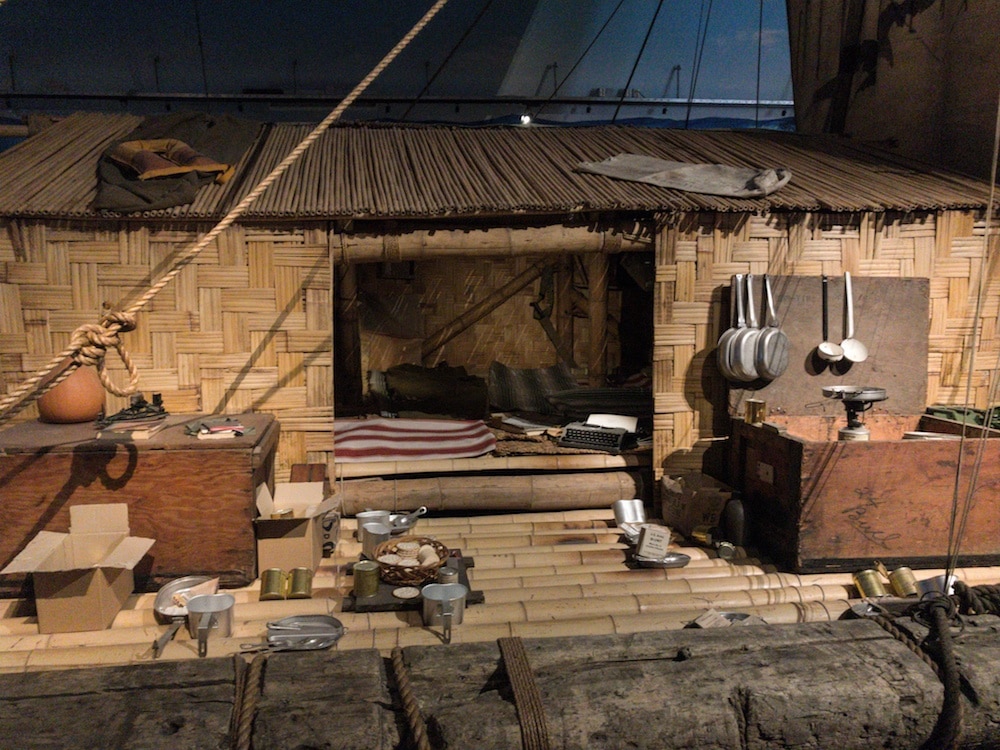 Heyerdahl and crew spent 101 days on board the Kon-Tiki raft, successfully sailing from Peru to the Polynesian islands of the South Pacific
The Nobel Peace Center in Aker Brygge tells the stories of different Nobel Peace Laureates, with temporary exhibits spotlighting some in more detail. When we visited, the annual exhibit focused on Colombian President Juan Manuel Santos for his role in achieving the FARC peace treaty, and helping to transition Colombia away from decades of conflict with FARC.
I enjoyed learning about the laureates, but found another one of the temporary exhibitions, Detours, about forced displacement and life as a refugee, to be particularly poignant. Both of us had an emotional response to this part of the Center, and were almost in tears reading the stories of everyday people who had their lives turned upside down, and want nothing more than to go back to their home country (in this case Syria) and get on with their lives.
Highly recommend a visit here, which is 100 NOK for adults, or free with the Oslo Pass.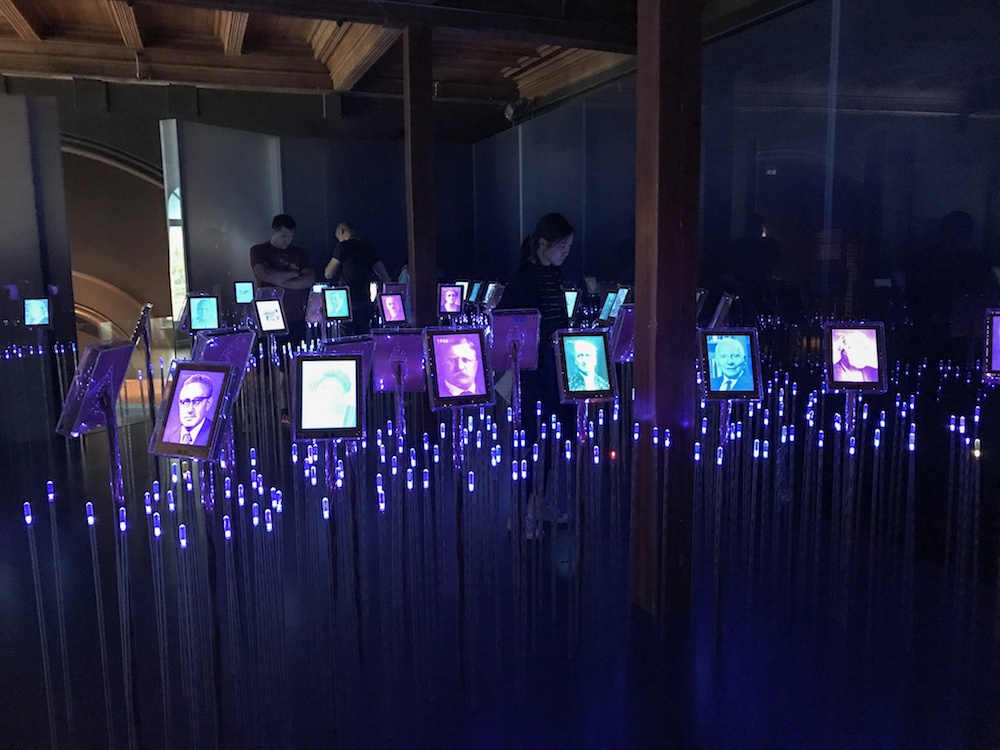 An interactive display at the Nobel Peace Center, focused on learning about past recipients of the prize
The Astrup Fearnley Museum is a modern art museum, and you really have to like modern art to appreciate this one. Geoff was not a fan, but I loved it. If you embrace a 'the more bizarre, the better' mentality toward modern art, and find the socio-cultural-political context in which art is created to be interesting, this is a great gallery. If, like Geoff, you're more of Dutch Masters kind of art lover, you may want to give this one a miss, as the halved cow and statue of a chocolate fountain may not be your cup of tea!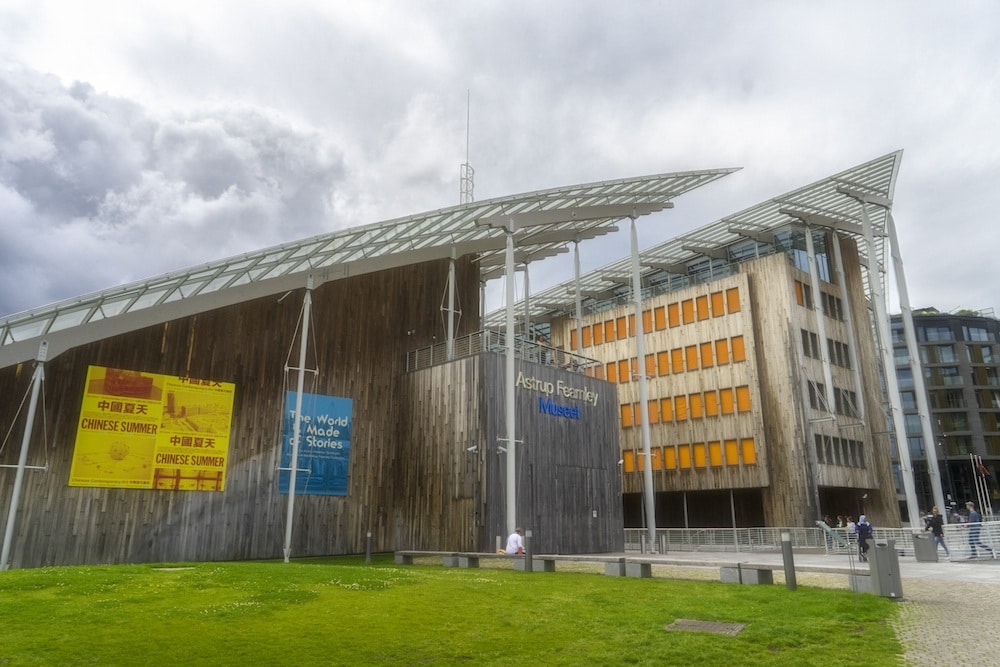 The Astrup Fearnley Musuem in Oslo
It's worth noting that the other museums we visited, it's not that we DIDN'T like them, it's just they fell lower down on our list of preferences and favorites.
The Vigeland Sculpture Park is well worth a wonder on a sunny day, if nothing else than to appreciate how prolific Vigeland was in his work. While I didn't love the Norwegian Folk Culture Museum (except the Stave Church, which is pretty awesome to see), Geoff loved seeing how people used to live.
As for the Fram Museum, we visited it last on a day full of museums (we visited the Folk Culture, Viking Ship, Kon-Tiki and Fram Musuems all on the same day). By the time we reached the Fram Museum, we were simply exhausted, and didn't have the mental bandwidth to really appreciate all the stories told here. If I were to re-do it, I'd suggest visiting this museum, which is full of information, first, and the Norwegian Folk Museum, which doesn't require as much reading, last.
It's also worth noting that Edvard Much's The Scream painting is not in the Munch Museum, but in the National Gallery.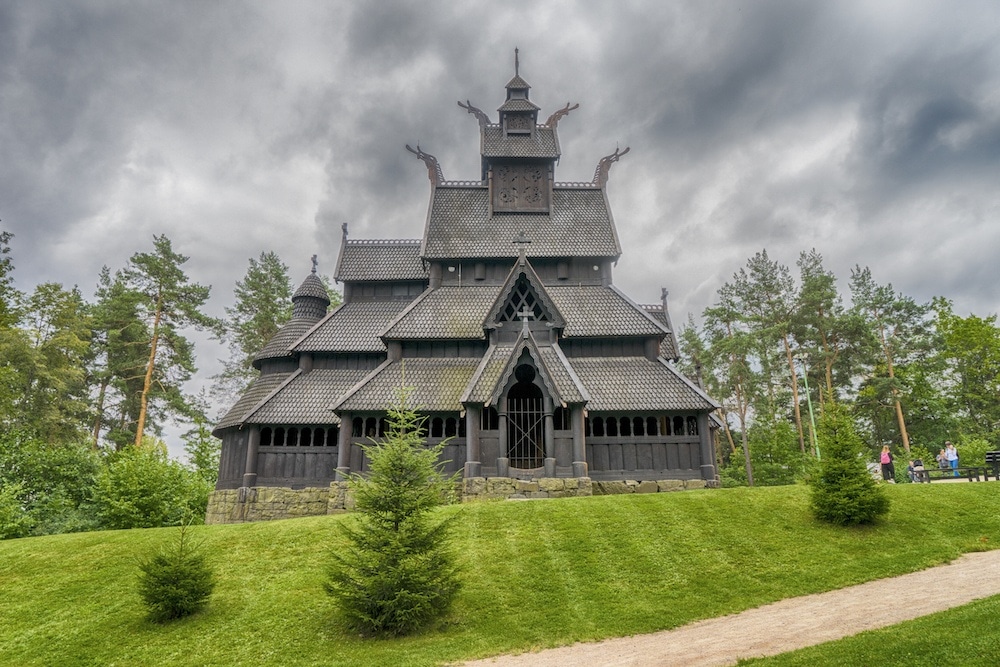 The Stave Church at the Norwegian Folk Museum dates back to around 1200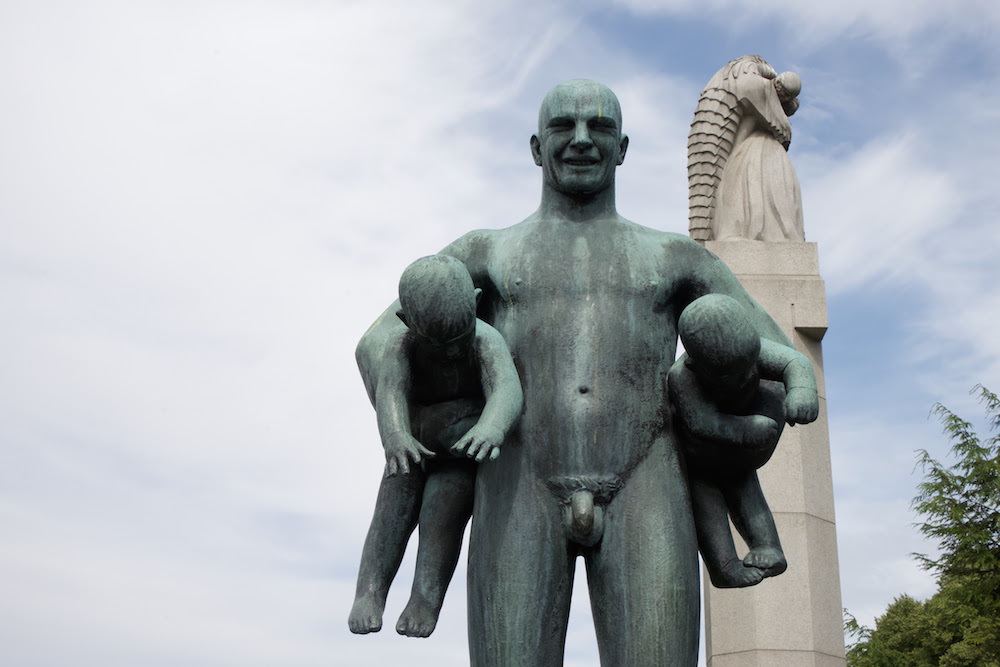 One of MANY sculptures at the Vigeland Sculpture Park
Things to Do in Oslo: Enjoy the Views
Surrounded by hills, you can get some great views of the city by heading for higher ground. The two best views we found were from Ekeberg Park and the Oslo Ski Jump.
Fun fact about the Ekeberg Park view: this is the same view that inspired Munch to paint The Scream. While it looks different now, compared to when Munch spotted it back in the late 19th century, it's still a gorgeous place from which to enjoy Oslo.
The Oslo Ski Jump is also worth a visit. It's outside the downtown core, but is easy to access via the metro. You can take a sloped elevator to the top of the jump, from which you can enjoy views of the entire city. The Ski Museum at the base of the jump is also worth a look through if you have the time. Both are free with the Oslo Pass.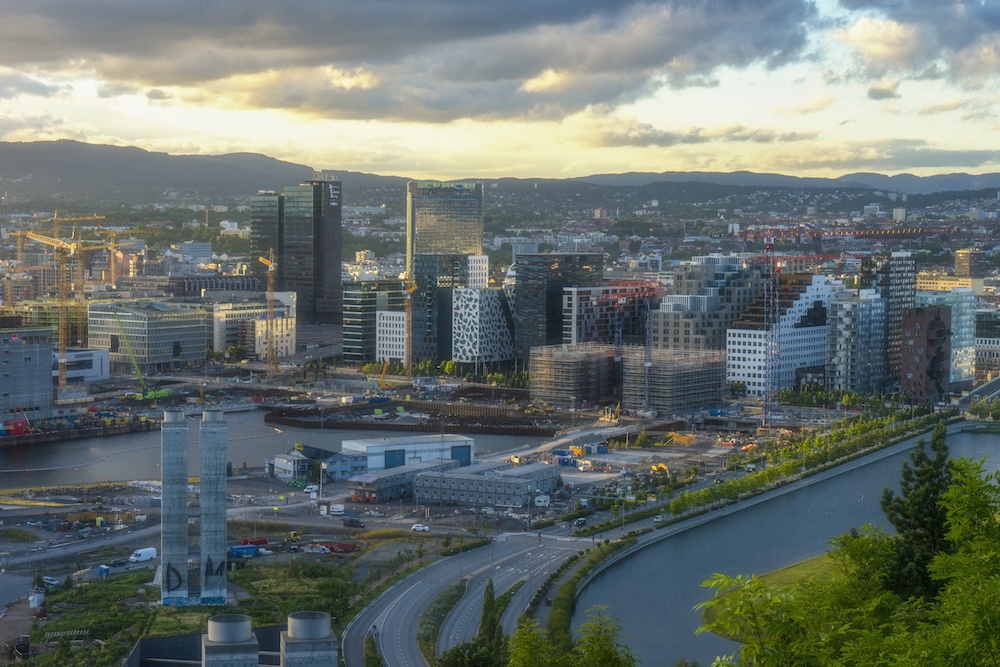 A great view of Oslo from Ekeberg Park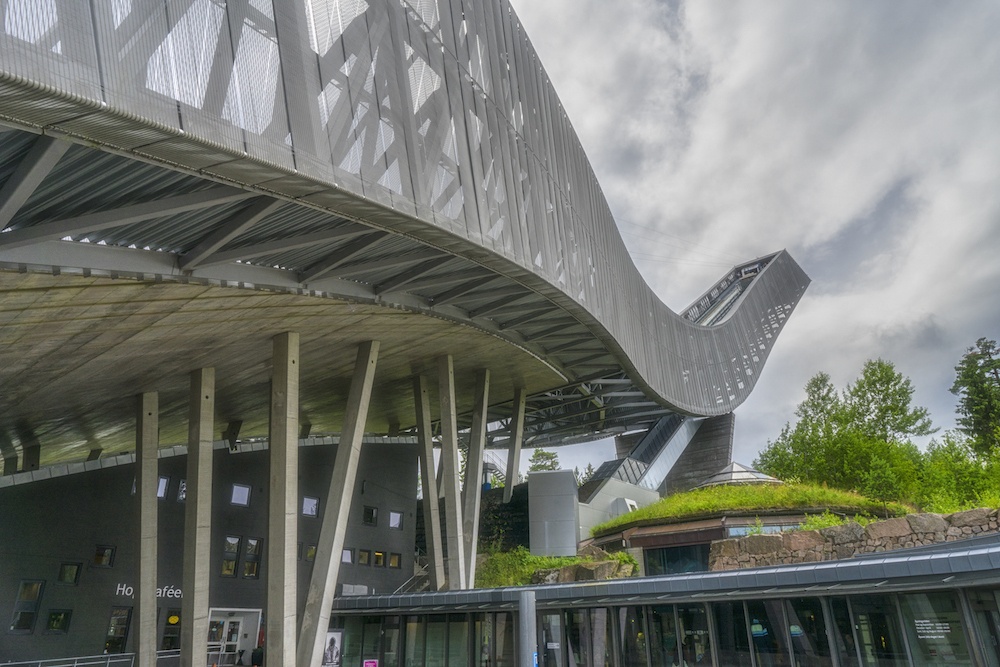 The Ski Jump in Oslo
Things to Do in Oslo: Eat Some Freia Chocolate
I always find it interesting to hear locals tell visitors what their cities are famous for. Nine times out of ten, we've never heard of whatever it is they're referring to. So was the case in Oslo, when our tour guide on the Oslo Free Walking Tour told us about the famous Norwegian chocolate brand, Freia.
Now that we've tried Freia, however, we're pretty sure it should be famous. It's a grocery store brand that you can also find in Freia boutiques, but you can get the basic options in pretty much any supermarket or convenience store in Norway.
And did we ever get it at every supermarket or convenience store we stopped at!
When we're at home, we generally don't buy chocolate, as I have no self control and it's best to simply remove the temptation. But in Oslo, I caved an picked up some Freia 'melkerull' in the supermarket one day. Once we started, we couldn't stop. Freia became our constant companion in Oslo, and carried on with us when we left the city to travel around the Fjord region.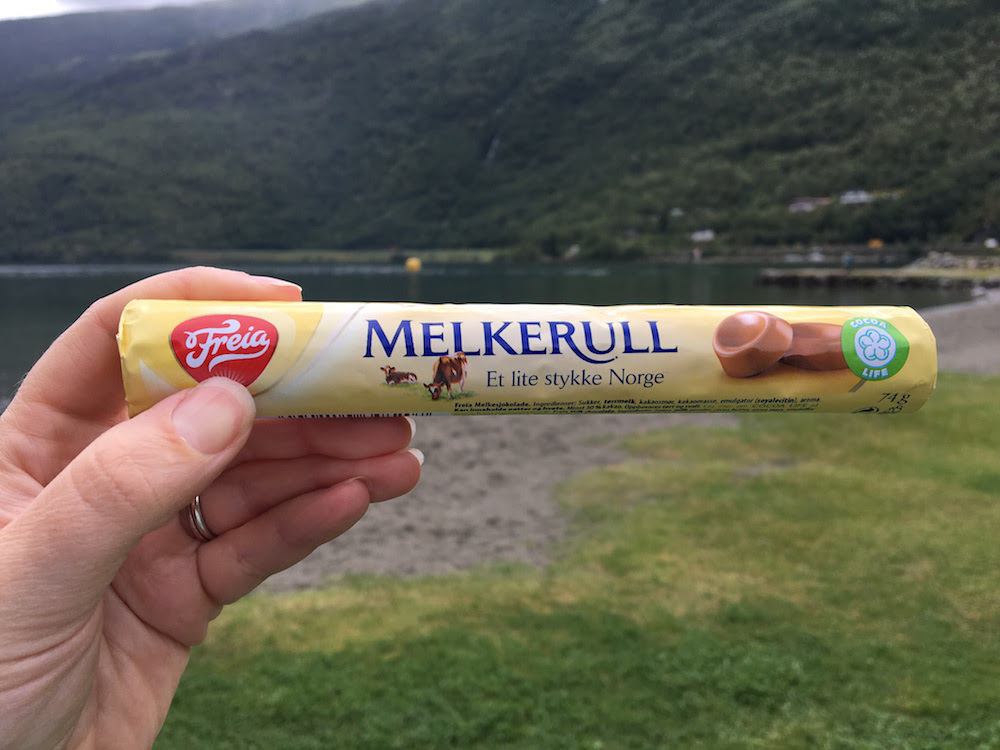 Our sweet travelling companion!
Things to Do in Oslo: Climb the Oslo Opera House
Last, but certainly not least, is the Oslo Opera House. I LOVED this building, both for the architecture and for the statement it makes by allowing people to walk on the roof.
I have no idea if this was the architects' intent, but to me it felt very egalitarian to allow people to walk on, sit on, picnic on, and just generally use a place of high culture for everyday enjoyment…for free. To me, the statement made by this buildings is that great culture should be accessible to all, even if you can't afford a ticket inside the opera house, which seems very Norwegian.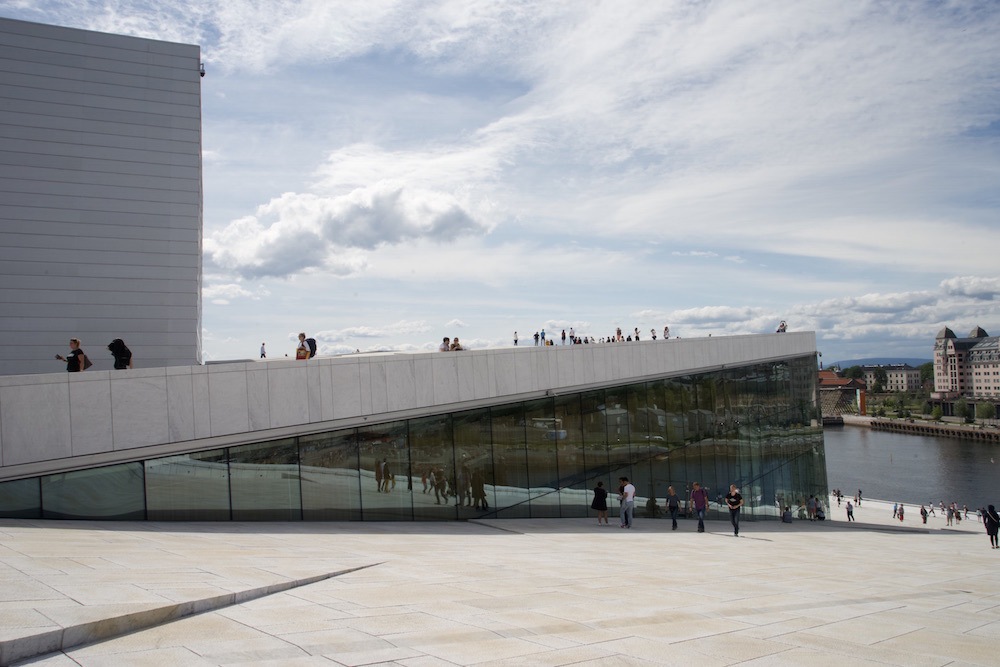 A view of the Oslo Opera House. Note all the people on the roof!
---
Is The Oslo Card Worth It?
In a lot of cities, we find the city passes are 100% not worth it, and feel more like a money grab than a service to visitors. This is not the case in Oslo.
Perhaps understanding how cost prohibitive Oslo can be for foreign visitors, the tourism board/city has put together a fantastic pass that includes free entrance to pretty much all of the main attractions, free public transport, as well as some discounts.
We each had a 72-hour pass, and we got more than enough value out of them. Museum tickets in Oslo aren't cheap, and consistently cost between 100 and 120 NOK (around $13 to $16 US). As a rough estimate, we would have spent about $125 each, just on entrance fees, with transit as an added cost on top of that. You can get Oslo passes online, prior to your visit, for between $50 and $100, depending on how long you want it to be valid for. It's well worth the cost, and definitely delivered value compared to what we would have spent on transport and museum entries.
Click Here for More Info and To Check Oslo Pass Prices
---
Overall, we had a blast in Oslo, and think it deserves more attention as a city destination, and more than a rushed 1-day visit if you're coming to Norway. We hope this guide helps, and encourage you to join our Scandinavia and Nordics Travel group on Facebook if you're planning a trip!
---
Like This Post? Pin It for Later