Bratislava ended up being a failure of a stopover. People had warned us that it was kind of…how do I say this politely…boring; they had tried to convince us that, given our limited time, we should give it a miss and head straight on until morning (or Prague, whichever came first). But we wanted to check it out for ourselves. And so we decided we'd take the train from Budapest to Bratislava, and decide when we got there whether to stay or not.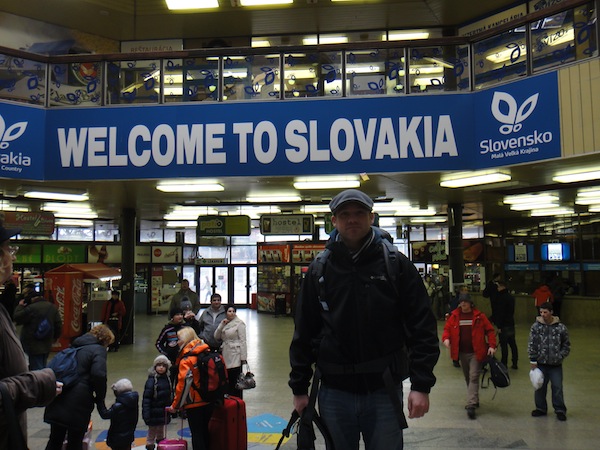 We decided to store our backpacks at the train station, and head into town to get a lay of the land. I suggested we take the bus; unfortunately, we followed my general policy when it comes to bus transport, and ended up staying on the bus until the end of the line, bypassing our destination and getting a front row tour of Bratislava's rather expansive suburbs as we went. As it turns out, Slovakian Tesco looks unremarkably the same as every other Tesco I've seen. By the time we managed to get ourselves back to the historic centre, we'd lost more than an hour, and we were both starving, so we did what any reasonable person would do, and we got ourselves some schnitzel and a beer.
Other than that, we didn't do much of…um…anything in Bratislava. We kind of got off on the wrong foot with Slovakia, and after wandering aimlessly for a few hours, decided to catch an evening train to Prague. So I don't really have anything to write about. No hostel tips. No only somewhat useful google maps laying out itineraries.
But I do have some photos! And despite what I perceived to be Bratislava's failings, it is a pretty little place. So here are a few photos to distract you from our absolute failure to inform you about Bratislava, Slovakia. Enjoy, and I promise may try better next time.