Visit Leiden Netherlands, so close yet seemingly so far away from the hype and bustle of Amsterdam. Here are some things to do in Leiden, points of interest, and our top reasons to visit this pretty Dutch city on your next Netherlands holiday.
This is a guest post by Constance from The Adventures of Panda Bear


[box type="shadow"]
Disclosure: This Leiden Netherlands travel guide contains affiliate links. That means we earn a commission when you use the links on this site to book a hotel, buy your travel insurance, shop for travel essentials, etc.. You don't pay anything extra. If you'd like to learn more about how this works, you can read more under our Disclaimer page.
[/box]
[dropcap]T[/dropcap]he city of Leiden is just a short 25 minute train ride from
Amsterdam
, it's definitely off the beaten path in terms of popularity amongst tourists. For a cute university town, Leiden has a surprising amount to offer!
These are my 7 reasons to visit Leiden Netherlands
1. Visit Leiden Netherlands for the Street Market
The Leiden Street Market is where the locals go, and the best place to hang out and grab a few bites. The stalls peddle clothing, knick knacks and, best of all, delicious street food and snacks. Some of my favorite eats here are stroopwafel, poffertjes (Dutch pancakes), kibbeling (fried cod), and Dutch haring (pickled herring).
You can also grab some fresh fish, meat, fruit, veggies, and cheese for all of your cooking needs – awesome if you choose to stay in an Airbnb or holiday apartment. There are also baked goods stalls that have freshly baked bread and more.
The street market is open on Wednesdays and Saturdays. The Saturday market is typically much larger, with more stalls than on Wednesdays so make sure you don't miss out on one of the top things to do in Leiden Netherlands.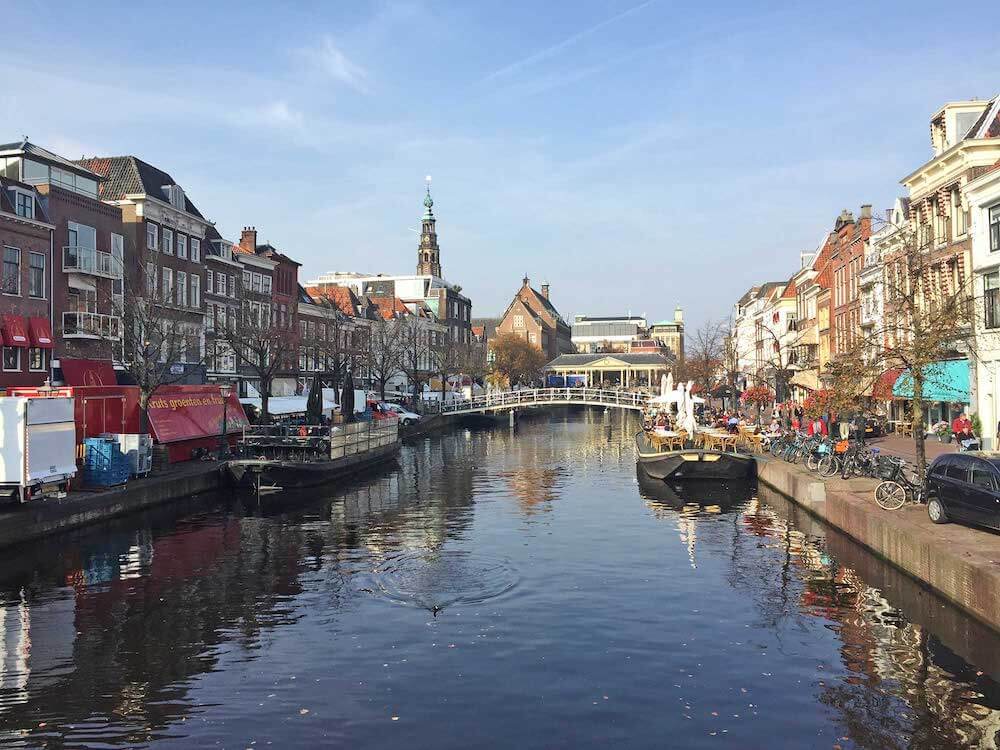 2.Visit Leiden Netherlands for the Museums
Leiden has some of the best museums in the country outside of Amsterdam, including the Royal Antiquities Museum (Rijksmuseum van Oudheden), Naturalis Biodiversity Center, National Museum of Ethnology (Museum Volkenkunde), and Museum de Lakenhal.
The Royal Antiquities Museum (Rijksmuseum van Oudheden) is one of my personal favorites because of its large collection of Greek, Roman, and Egyptian art. The beautiful Egyptian and Roman sarcophagi in particular are amazing. There is also a temple in the lobby that was moved, brick by brick, straight from Egypt.
If smaller museums are more your thing, check out the Leiden American Pilgrim Museum where you can see how the Pilgrims used to live. Or there's the Museum Boerhaave, with displays of historical medical artifacts and devices on exhibit – don't worry, nothing gross here. It's a great spot especially with kids and looking for interesting things to do in Leiden Netherlands.
3. Learn about Leiden's Colorful History
Leiden was involved in some of the most important sieges in Dutch history, including the Dutch revolt against the Spanish in 1574. This was the beginning of Dutch independence from the Spanish Hapsburg Empire.
To commemorate the city's bravery and sacrifice, The Relief of Leiden (Leiden Ontzet) Festival is celebrated annually on October 3. The entire city center comes out for a fun fair, live music, and parties. There is also a local tradition where free herring and white bread are passed out to festival-goers.
In addition to the siege, the festival also commemorates William of Orange's founding of the local Leiden University.
4. See the Medieval Moat and Old City Gates
The city of Leiden has one of the most intact moat fortification systems in Europe. Dating back to the 17th century, it surrounds the entire city center, and one of the more obvious points of interest in Leiden Netherlands.
There are two city gates remaining in the original city walls, Morspoort and Zijlspoort. Morspoort is located in the western part of the city with red and white brick. Zijlspoort, in primarily red brick, is located east of the city center. Both of these have bridges taking folks over the moat and into the city. To learn more, take a 2 hour walking tour of Leiden.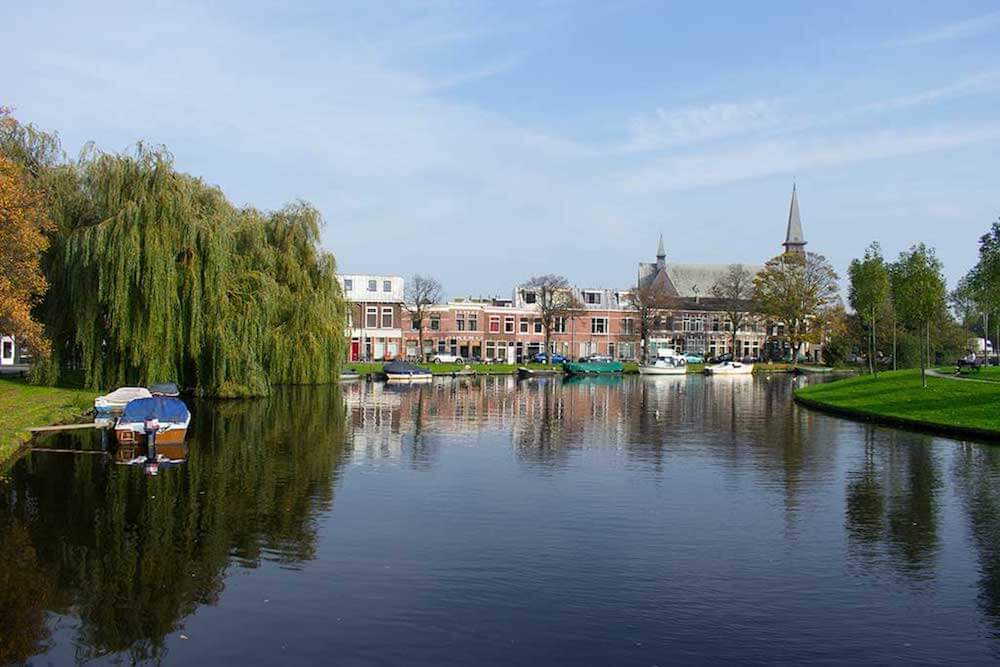 5. See Leiden From Above (from the Burcht van Leiden)
For an amazing and FREE view of the city, check out Burcht van Leiden. This was originally a castle used for defending the city, but today it's a public park where people can climb the ramparts and see the city from above.
It is an amazing place to relax and allows you to get a nice of the rooftops of the city centre.
6. Stroll Along the Canals
Like most Dutch cities, Leiden also has its own system of canals. The most unique part about these canals is that they are all surrounded by the moat!
The moat is also known as Maresingel and loops nearly 7 kilometers around the entire city center. The smaller canals, such as Oude Vest, Oude Rijn, and Nieuwe Rijn are also picturesque. Some of them even have beautiful flower arrangements, with flower baskets on the bridges as well as hanging flower pots.
If you're feeling a bit tired and not up for a stroll, one of the best things to do in Leiden Netherlands is to take a canal boat tour and get a different perspective of the city. The tours typically last 50 minutes and you can cruise around all of Leiden.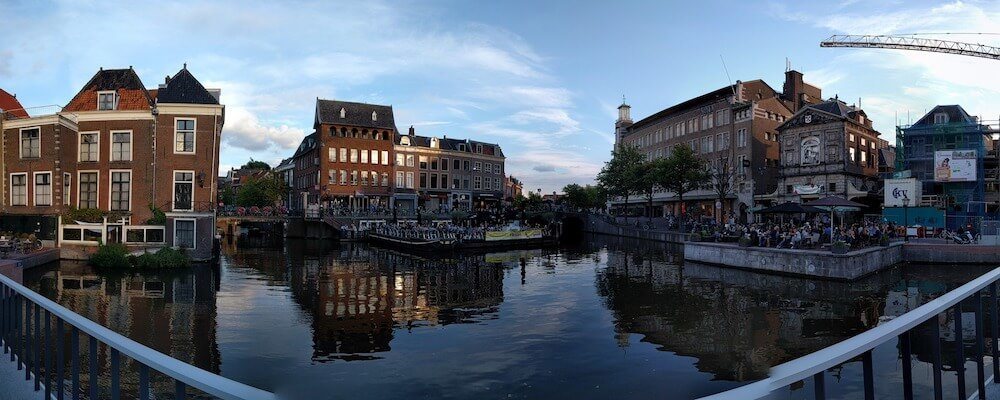 7.Visit Leiden Netherlands for the Windmills
Leiden's historic city center has two windmills, Molen de Put and Molen de Valk. Molen de Put is the smaller of the two and has limited hours so be sure to check in advance to see if it's open. But even if it isn't open, it is cute and it's a great photo op!
Molen de Valk, on the other hand, is a working flour mill and museum. With paid admission, you will get to check out the entire windmill. Stairs are involved and Dutch stairs are narrow and steep, so keep in mind when visiting. You will get to see how millers lived, check out how flour is ground, and you'll even get to walk on the platform outside and see the sails billowing in the wind. One of my favorite parts of Molen de Valk is also the amazing view of Leiden. It's a different viewpoint than the Burcht, but it's beautiful nonetheless!
Hopefully my top 7 reasons to visit Leiden has inspired you to give the cute Dutch town a chance and explore all it has to offer. Being so close to Amsterdam, you can visit Leiden in a day or two.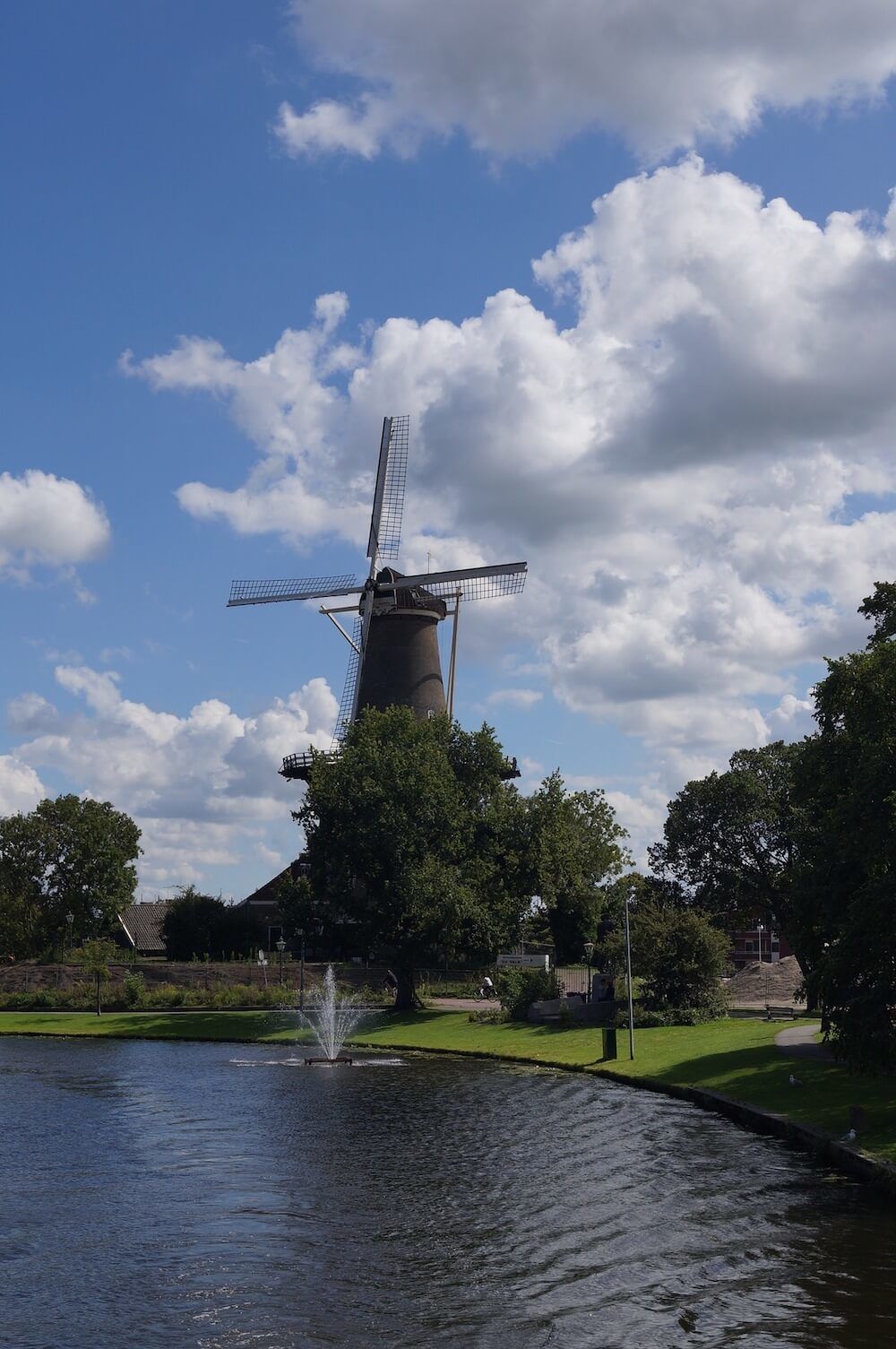 Where to Stay in Leiden Netherlands
3-star Hotels in Leiden
4-star Hotels in Leiden
---
Like This Leiden Netherlands Post? Pin it for Later!