Want to spend a weekend in Miami? We don't blame you! Miami is a perfect food, sun, and culture getaway. This post shares how to spend the perfect weekend or city break in sunny Miami Florida!


Disclosure: This post contains affiliate links. That means we earn a commission when you use the links on this site to book a hotel, buy your travel insurance, etc.. If you'd like to learn more about how this works, you can read more under our Disclaimer page.
This is a guest post by Julien Casanova from Cultures Traveled
***
A trip to Miami had always intrigued me, while also feeling a bit daunting at the same time! For years, I put it off for a special occasion or until I had more money to spend. And then, when I was planning my trip to Colombia, South America, most of the flight options included a long layover in Miami. My friends had just announced they were moving to Miami the day before, so I took that as a sign and quickly looked up tickets that would allow me to spend a weekend in Miami. I'm glad I did!
Your Weekend in Miami Starts Here
When I started researching my Miami trip, I discovered a vibrant accessible city with lots of waterfront and a strong Latin personality. I knew trip planning wouldn't be a matter of finding enough fun things to do in Miami, but choosing what to do in Miami. The city loves to sleep-in, but once it awakens there are a multitude of cultural events, more neighborhoods to discover beyond Little Havana, and the entire stretch of Miami Beach. Which by the way, is where you should stay in Miami if you're dreaming of lifeguards…I mean…lounging on the beach.
Once I arrived in the city, I realized you can make your Miami vacation as lavish or as frugal as your budget allows. It's an international city with a tropical vibe and a diverse population.
Use this guide to create your own weekend in Miami, whether you're going for a special celebration or just because!
Weekend in Miami Vacation Itinerary: Friday
Explore the Art Deco District in Miami Beach
Miami Beach is known for having the world's largest collection of Art Deco architecture. These geometric buildings are slender and sleek, with bold colors that add visual drama to the area of South Beach surrounding Ocean Drive. And thanks to The Miami Design Preservation League, these architectural gems from the 1920s, 30s, and 40s have been restored and preserved.
The heart of Miami Beach's Art Deco District is located at Ocean Drive and 10th street, where the Miami Design Preservation League offers an Art Deco tour every day at 10:30 am for $25 per person. The tour offers insights into the history of Art Deco in Miami.
If the price does not fit into your Miami vacation budget or you're simply not a tour person, you can easily explore the buildings on your own. Check out the self-guided Art Deco tour I created below.
Admiring the architecture is one of my favorite things to do in Miami!
Self-Guided Art Deco Tour
Start this Miami Art Deco tour at the corner of Collins Avenue and 18th street. It's hard to miss the Art Deco flair in The Raleigh Hotel and Shelborne South Beach.
Walk south on Collins Avenue towards 17th Street to admire the Delano and Sagamore hotels, of which the former displays an impressive collection of modern art in the lobby.
Continue on Collins Avenue to the corner of Espanola Way, where you'll find the former Hoffman's Cafeteria. Built in 1939, this iconic building has gone through a series of transformations and was a corner of South Beach debauchery in the 1990s.
Turn right on Espanola Way towards Washington Avenue. If your stomach is beginning to rumble with hunger, make a slight detour (to the right) and visit Charlotte Bakery for some of the best Argentinian empanadas in Miami!
Or, continue walking south on Washington Avenue to 13th street where you'll find a beautifully curvy US Post Office in all its Art Deco glory. Venture inside to admire the gorgeous domed ceiling and marble tables.
Next, turn left on 13th street, towards Collins Avenue and walk all the way to Ocean Drive – one of the most distinctive streets of Miami's Art Deco scene. To fully take in the architecture, cross the street so that you're walking along Lummus Park, which is situated between Ocean Drive and the beach.
Turn left to see the streamlined shapes and bright facade of The Cavalier, and then continue south on Ocean Drive where you'll see numerous iconic Art Deco buildings, including The Carlyle, The Leslie, and The Clevelander.
At this point, you can choose to stop for a libation or continue along Ocean Drive to appreciate more of the Art Deco buildings. This stretch of iconic Miami Beach is full of stunning Art Deco architecture.
If the sound of crashing waves just beyond the park is calling your name, you're in luck. You've slowly been walking towards one of the best beaches in Miami!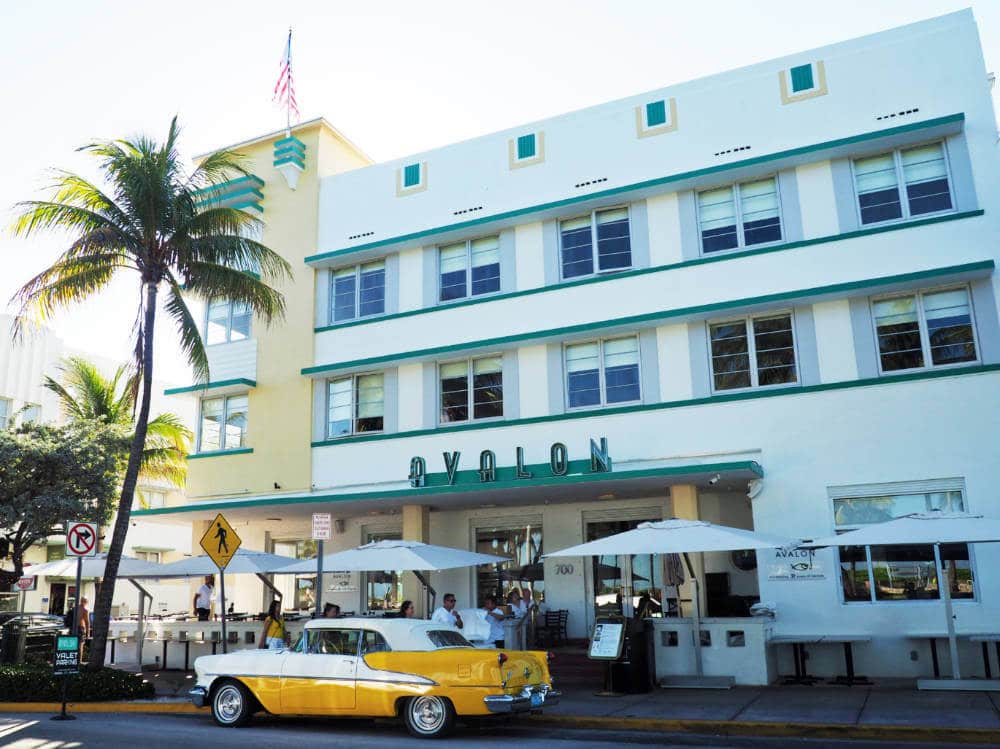 Soak Up the Sun at one of Miami's Best Beaches
The beach along Ocean Drive mirrors the atmosphere on the street – crowds of people indulging in their Miami vacation. But if you walk just south of the main strip, you'll find a less crowded Miami beach with the same inviting elements – sandy beaches with sparkling water and colorful lifeguard stands.
Lummus Park ends at 5th street where the area called SoFi (South of Fifth) begins. This southern tip of South Beach began its transition from a shady area to a vibrant destination in the early 2000s. It's more residential than other parts of South Beach and, as a result, the beaches from 1st to 5th streets have fewer crowds, making it one of the best beaches in Miami.
TIP: If you aren't thrilled with the idea of spending hours at the beach, or you simply want a break from the intense Miami sun, check out the Miami Beach Botanical Gardens. The gardens are small but interesting and shaded with plenty of space to rest. Best of all, entrance is free.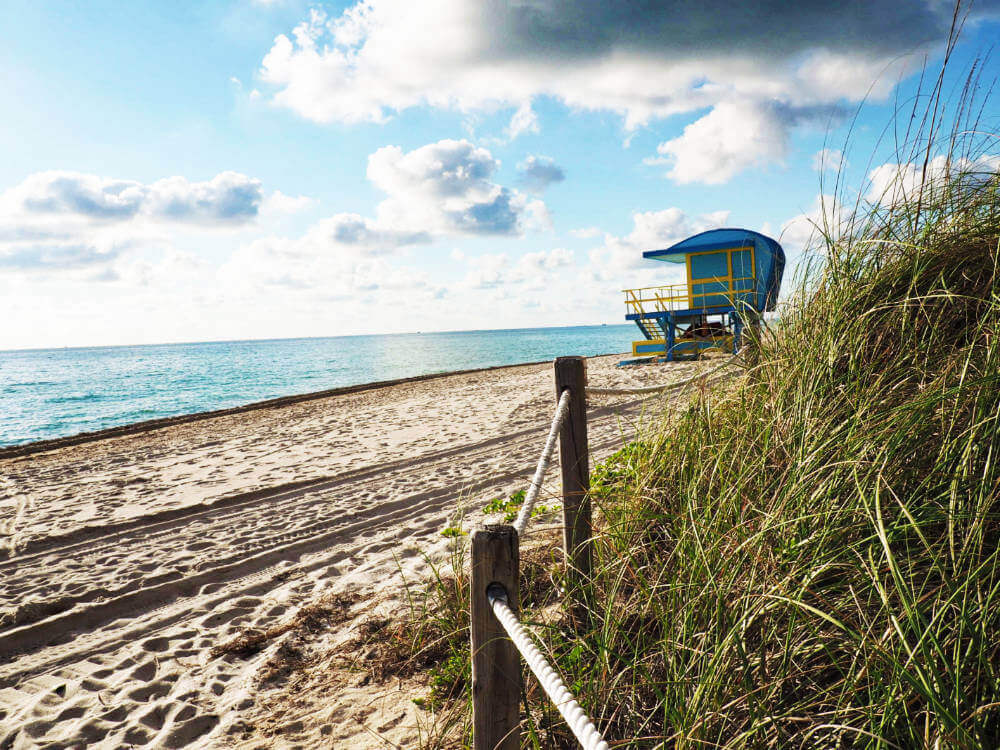 Monty's Happy Hour (M-F 4-8pm)
When I mentioned wanting to eat oysters one last time before traveling to Colombia, my friends immediately planned for Friday night happy hour at Monty's.
There are two waterfront locations in Miami, both of which offer happy hour specials Monday through Friday from 4-8 pm. With half-priced cocktails and oysters for $1 each, it wasn't hard to convince me. It's a popular Miami happy hour, especially on a Friday night, so I recommend arriving by 5 pm to get a good table.
Wolfsonian-FIU Museum
This impressive Art Deco building was built in 1927 and is now a museum. There are a variety of items on display from the Industrial Revolution, as well as modern art and design from around the world, including a large collection of Art Deco items.
It's free on Friday nights from 6-9 pm. After happy hour at Monty's South Beach location, it's a short walk to the museum, located in the heart of the Art Deco historic district. Plan to spend one or two hours here to view the exhibits.
Free Fridays 6-9pm, otherwise $12
Monday, Tuesday, Thursday, Saturday 10 am–6 pm, Wednesday closed, Friday 10 am–9 pm (free 6–9 pm), Sunday 12 pm–6 pm
Ocean Drive at Night
While I don't usually make it a point to go to the same destination twice when I travel, Ocean Drive in South Beach is an exception. The iconic Art Deco buildings you admired during the day take on an entirely new look after the sun goes down and the neon lights glow.
You could also argue Ocean Drive itself takes on a new atmosphere after the sun goes down. With plenty of party and plenty of people watching, you may decide this is the place you want to spend your Friday night in Miami.
Weekend in Miami Vacation Itinerary: Saturday
Rent a bike in Miami Beach
Start your Saturday with an invigorating bike ride along the boardwalk that runs parallel to the ocean. Using the Miami bike rental app, you can easily find pick up and drop off points near the boardwalk throughout North and South Beach. I chose to rent a bike for an hour, and it was the perfect amount of time to enjoy the ocean view and feel the burn in my thighs. It's also a great way to arrive at one of the next things to do in Miami.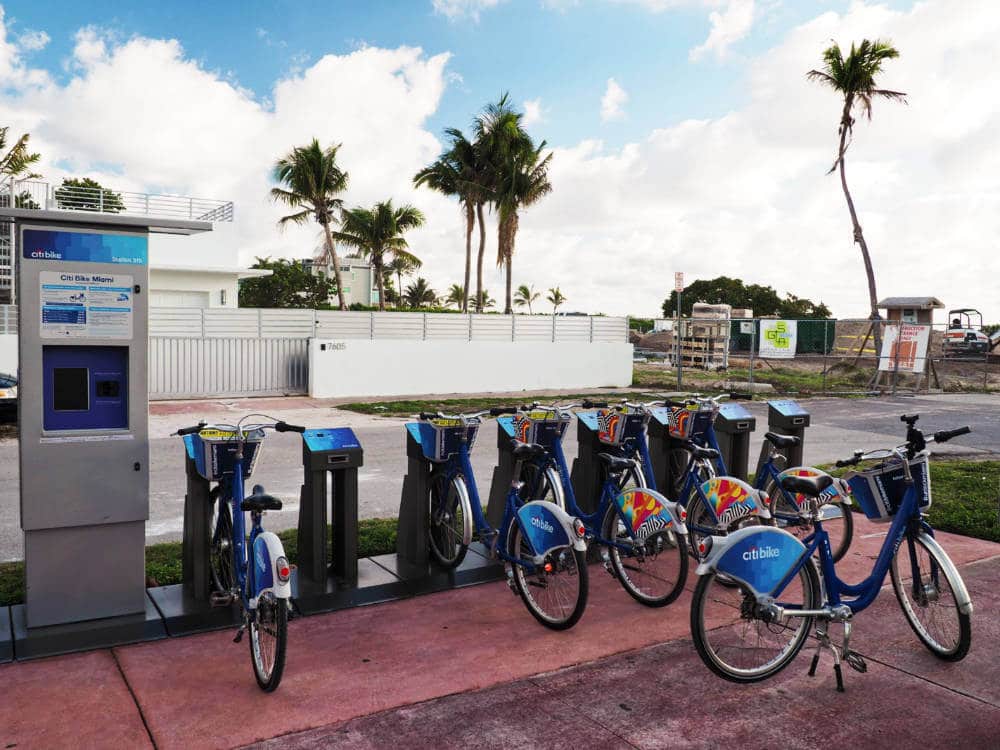 Admire the Mansions on Biscayne Bay
As your hour bike ride is coming to an end, check the Miami bike app for a bike return point. If you've timed it right, you'll be at the stretch between North and South Beach called Biscayne Bay.
The homes on Biscayne Bay range from ultra-modern Miami architecture to Italian-esque estates.
For the best pictures, arrive around 10 am when the east facing houses catch the sparkle of the mid-morning sun.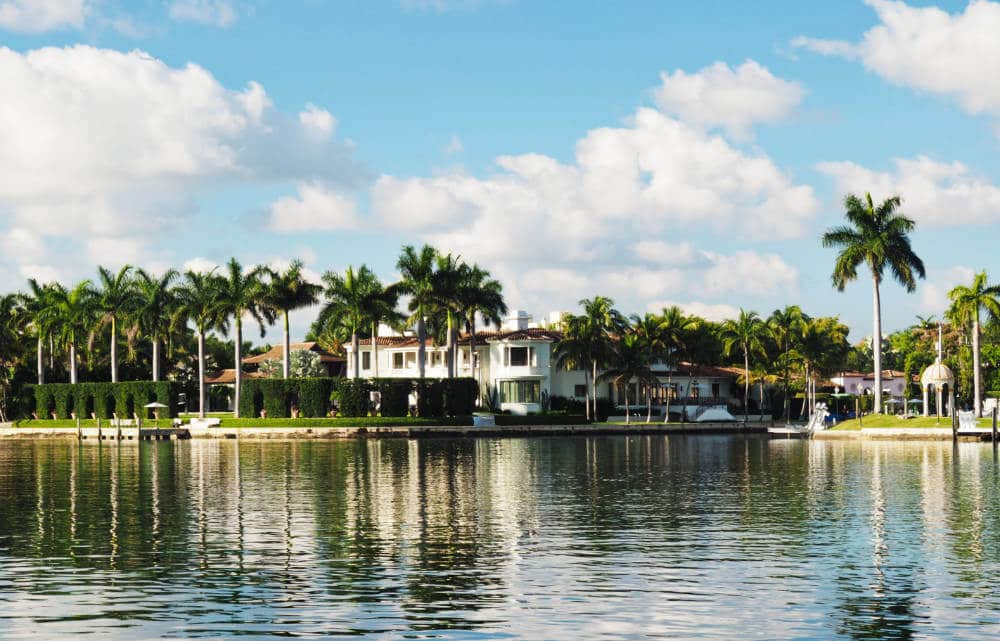 Little Havana
Little Havana is perhaps Miami's most famous neighborhood, and while it is a tourist destination, there are a few highlights worth visiting.
The center of it all is Calle Ocho. Start with a visit to the Bay of Pigs Museum to learn about the failed Cuban invasion to overthrow Fidel Castro. The museum is run by veterans, with free entrance based on donations.
Your next stop in Little Havana should be Maximo Gomez Park, where you'll find men gathered at circular tables for a friendly afternoon of dominos. Next door to the park, sip on an authentic mojito at Old's Havana Cuban Bar & Cocina while listening to live music. Each mojito is served with a long slice of sugar cane. You can opt for the classic mojito or flavors such as mango and coconut. If Cuban cigars are your thing, I noticed several intriguing authentic smoke shops on Calle Ocho to round out your Little Havana tour.
TIP: On the third Friday of the month, there is a cultural festival in Little Havana. Best of all is Dr. Paul George's free Little Havana walking tour on the same night. The meeting point is in front of the Tower Theater at 7 pm. You can learn more information here.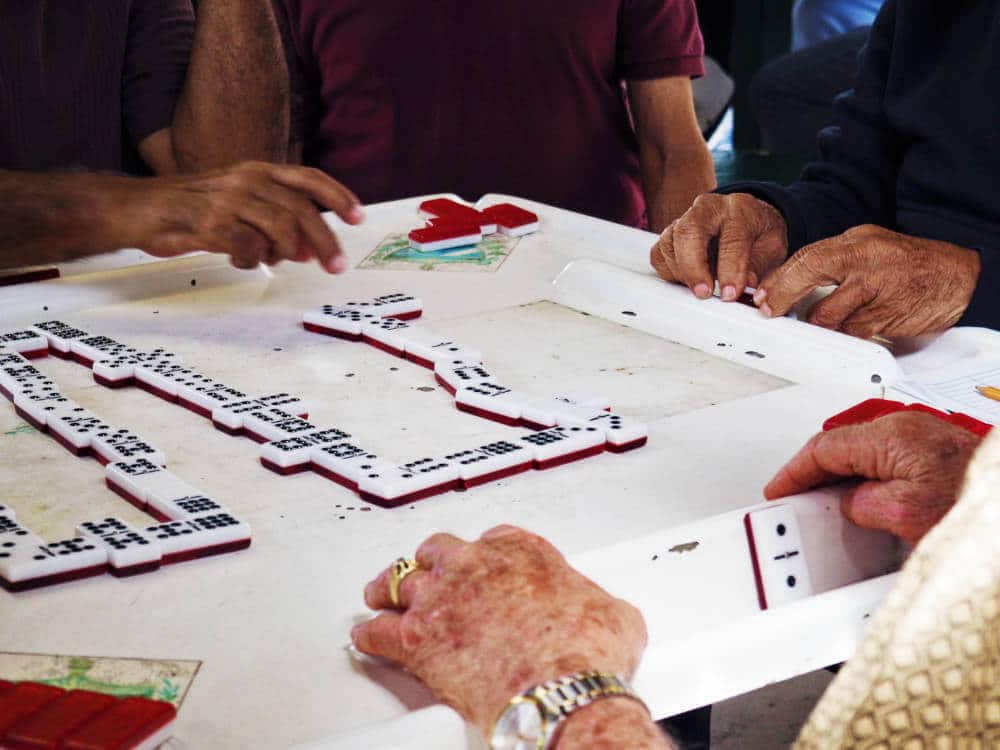 Explore Wynwood
Colorful street art dominates the large warehouse buildings in the neighborhood of Wynwood, just North of downtown Miami. In the center of it all, the Wynwood Walls were created as an open-air gallery that assisted in developing the area into the art district it is today.
Every Saturday evening is a lively time to explore Wynwood, but on the second Saturday of each month, there is an art walk where galleries open their doors after hours and transform the area into a large block party.
Restaurants and breweries have naturally played a role in the transformation of Wynwood, and you'll find establishments infused with the creativity that surrounds them. I love a good food hall and 1-800-Lucky is an Asian food hall that does not disappoint. You'll find a range of restaurants serving sushi, dim sum, poke bowls, and even whole roasted Peking duck. For dessert, treat yourself to Taiyaki ice cream which, true to its Japanese roots, is served in a fish-shaped waffle cone with a surprise of mung beans at the bottom. Ice cream flavors include green tea, black sesame, and the usual vanilla and chocolate.
TIP: Arrive an hour or two before sunset to explore the Wynwood street art and galleries before dark. Then circle back to the Wynwood Walls which are well lit and social in the evenings.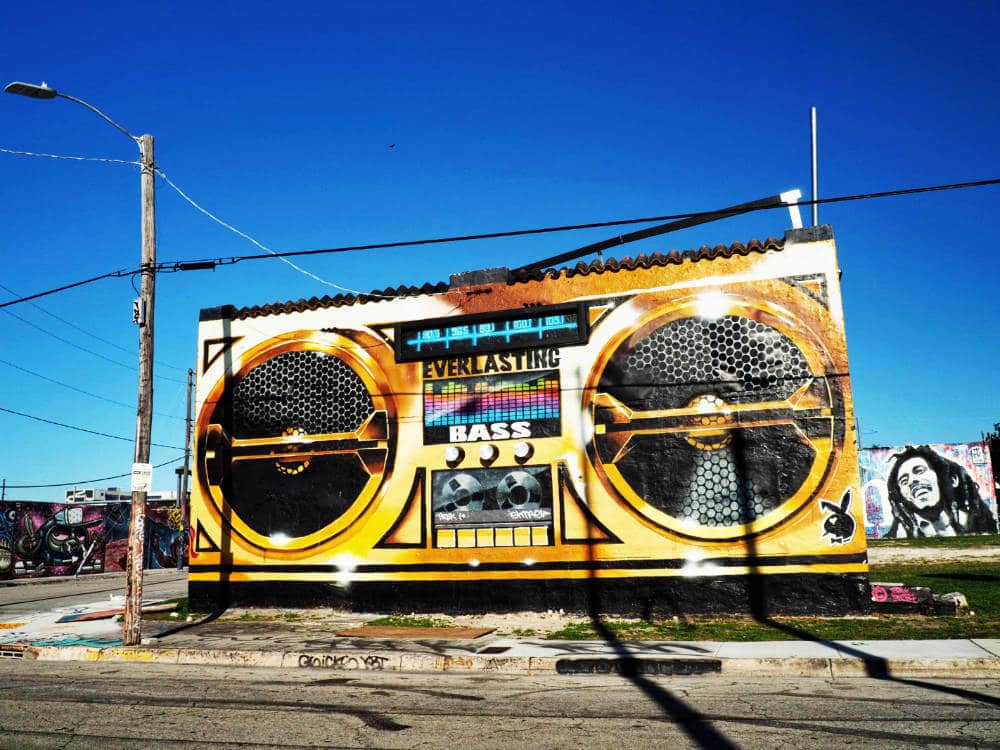 Weekend in Miami Vacation Itinerary: Sunday
Drive through Coconut Grove
Who doesn't love a Sunday morning drive? Even though it's technically in the city of Miami, Coconut Grove is a tropical oasis of tranquil tree-lined streets and free-roaming peacocks with some of the most beautiful Banyan trees in the city. Plan to spend about 20 minutes driving through the streets located around 17th and 22nd Avenues near Dixie Highway. Make sure you include Seminole Street, one of the most beautiful streets in Coconut Grove. And of course, keep your eyes open for peacocks!
Vizcaya Museum + Gardens
This opulent home and gardens turned museum will transport you to a life of Miami luxury. Vizcaya was built in the early 1900s as the winter estate of Chicago businessman, James Deering. The home was built to look older than it is and contains one of the largest collections of Italian antiques and furniture in the United States. One of the expansive gardens features a fountain that previously supplied drinking water to a small town in Italy.
Expect to spend about two to three hours at Vizcaya to tour the home and gardens at a moderate pace. I recommend arriving by 10 am to explore the gardens before the Miami sun gets too hot, and then cool down as you tour the house. I found the gardens more interesting than the house itself so I also enjoyed taking my time wandering through the gardens.
Cost: $22 admission for adults Hours: Wednesday – Monday 9:30 am – 4:30 pm. Closed Tuesdays, Thanksgiving and Christmas Day.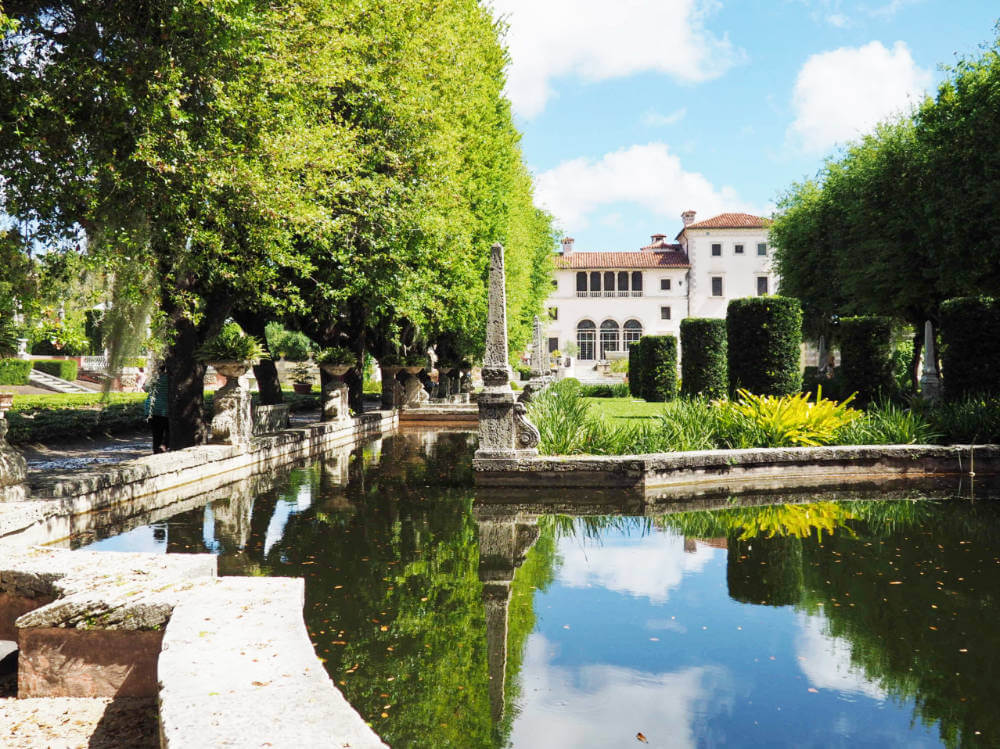 Key Biscayne
The perfect way to round out your Miami trip is at Crandon Park on Key Biscayne. While this is a popular beach in Miami, there is plenty of room to spread out. Be prepared to spend $5-7 per car to park depending on the day of the week.
You'll find some shade along the back of the beach where people hang hammocks under the palms. Or you may want to splurge and rent an umbrella with chairs for $25. There are also cabanas for rent, but they are located too far from the ocean to enjoy both at the same time.
TIP: For a delicious and inexpensive lunch on the way to the beach, make a stop at Pita Pockets. It's located on Key Biscayne, just past Crandon Park, so you'll have to backtrack slightly but it's totally worth it!
---
Where to Stay in Miami
Where to Eat in Miami
One thing I love about visiting a big city is the variety of restaurants. From Latin to Caribbean influences, the best restaurants in Miami don't disappoint. And surprisingly, you don't have to break the bank.
Katana Sushi
This unique restaurant has some of the best sushi in Miami for an incredibly affordable price. Plates of fresh sushi float on mini Japanese boats as they meander down the river of water around the sushi bar and past your hungry eyes. You'll quickly learn when you see a plate you want, you grab it. Fast – before your neighbor does!
The color-coded plates range in price from $1.90-$3.90 and are counted up at the end to determine your bill. I also found the large Japanese beers and sake to be quite affordable ($5-6).
So what's the catch? This Miami sushi restaurant is small. With just 14 bar seats and 3 tables of four, there is a line down the sidewalk every night of the week before they open at 6 pm. I suggest arriving 30-45 minutes early to make the cut for the first seating. If you arrive when it's full, pull a ticket from the dispenser just inside the door and plan to wait while drooling over the constant stream of sushi rolls.
Latin Bakeries
After traveling and living in Latin America, I still swoon at the smell of freshly baked bread wafting from the bakeries at every corner. So it was no surprise to find the same baked treats at the Latin bakeries in Miami Beach. In addition to Charlotte's bakery mentioned above in the Art Deco tour section, I enjoyed tasty treats from Buenos Aires Bakery and Moises Bakery in North Beach. While my favorite are the baked empanadas, there are a ton of other snacks, beautiful desserts, and fresh coffee.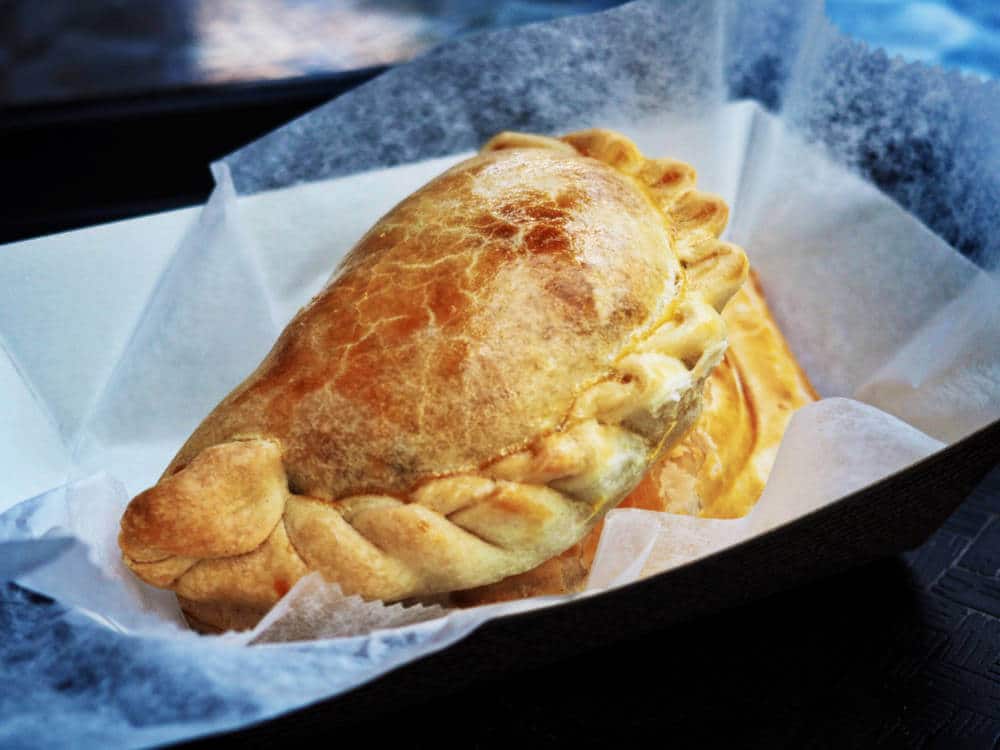 Puerto Sagua
This is a classic Cuban diner that has been serving the Miami area since 1968. Try the oxtail stew or classic Cuban sandwich. With affordable prices and large portions, it's no wonder this restaurant continues to be a favorite for Cuban fare.
11th Street Diner
Serving breakfast all day in a vintage railroad car, this restaurant sparkles under the Miami sun. The vibrancy continues inside with vivid artwork complimenting the colorful diner seating. The range of food on the menu is impressive. In addition to a full breakfast menu, they offer over 40 types of burgers and sandwiches, a variety of salads, and homestyle plates which are served with two sides. Plus, they have 26 flavors of milkshakes and a handful of spiked milkshakes are available! This has become a staple Miami Beach restaurant, especially on the weekends when they are open 24 hours.
---
Miami Transportation
Surprisingly there is a lot of free transportation in Miami. And of course, both Uber and Lyft are available as well. Here's a quick guide to the free and cheap transportation in Miami as well as a very useful parking app for Miami.
Freebee
These elongated golf carts offer free transport within Coconut Grove, Coral Gables, Key Biscayne, and Miami Beach. While they don't offer long routes, each ride can be customized to exactly where you're going without the extra stops of public transportation. Best of all they are electric vehicles so you're supporting South Florida's climate plan. You can check the hours for each service area on their website and download the app.
Miami Trolleys
There are several trolley routes that offer free transportation in Miami. The largest trolley line connects downtown Miami with Brickell and now Wynwood and the Design District. Find trolley maps and more information here.
The Miami Beach trolley consists of three loops – South Beach, Mid Beach, and North Beach as well as the Collins Express route that connects all three. The free app works great and shows you where the trolley is in real time.
Miami Parking – Pay by Phone
If you plan to drive during your Miami vacation, this app is essential to make paying for parking easy. You can use your credit card to pay and even add extra time from your cell phone while you are exploring the city. Visit the website to sign up for an account and download the app.
Pin This Miami Guide!