Everyone knows that some of the most beautiful beaches in the world can be found in Hawaii. However, some of the best ones in the Aloha State are located in Oahu, a great place to stay for first-timers to Hawaii. 
Suppose you're currently plotting your escape to the idyllic Oahu. In that case, there's a good chance you're feeling a bit overwhelmed trying to decide which beach to head to first. I mean, how do you even choose? The truth is that the entire island is hugged by a tranquil coastline, which means you can't go wrong when you're choosing a beautiful coastline to spend the day in.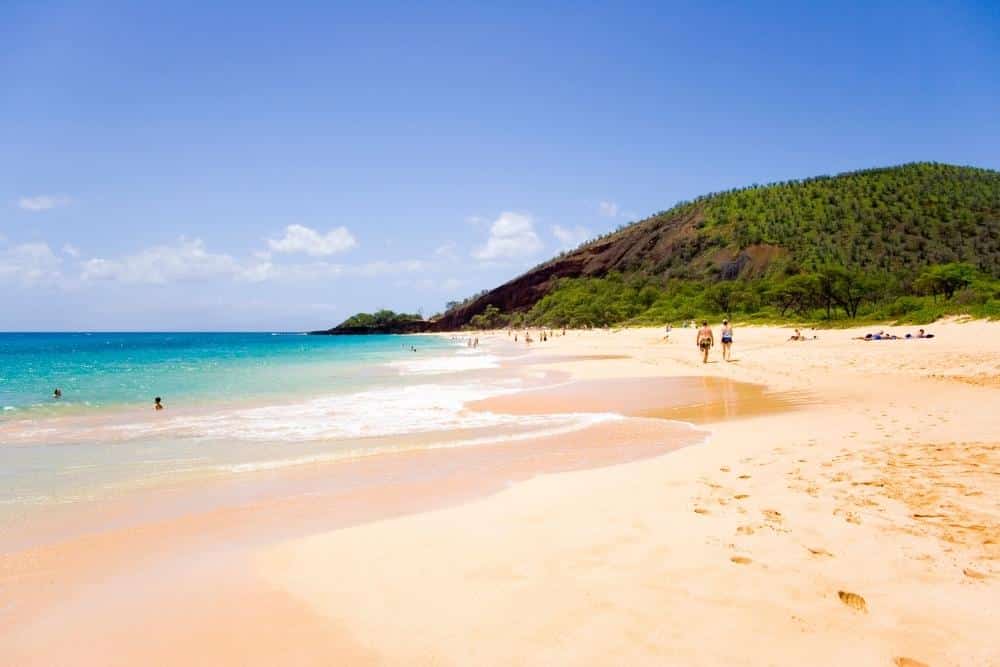 With that said, the best way to plan your itinerary is to consider your interests and what kind of activities you're craving! Therefore, I decided to list the best beaches on Hawaii's Oahu island for every type of traveler! Whether you're putting together an epic game of beach frisbee or volleyball, going seashell hunting, building a sand castle, or just sunbathing and people watch, the Aloha state is the perfect place to unwind. On the other hand, suppose you're visiting with kids, looking for unspoiled shores in the middle of nature, or simply want to spend a day being a bit of a beach bum without planning much ahead. In that case, this list is bound to have the perfect spot for you!
Few Tips To Keep In Mind When You Visit
Before I share the most beautiful beaches in Hawaii, I first want to make sure you know a few safety rules to make your trip that much better. First, always watch the beach flags and warnings, and make sure you follow them. The ocean can be surprising, and its waves can be strong and knock a person right off their toes and sweep them into the water. When packing sunscreen, only bring reef-safe products. This is to help keep marine animals and plants safe and healthy. Make sure not to touch wildlife, no matter how cute they are. Finally, clean up after yourself in every environment, and respect all the parking rules.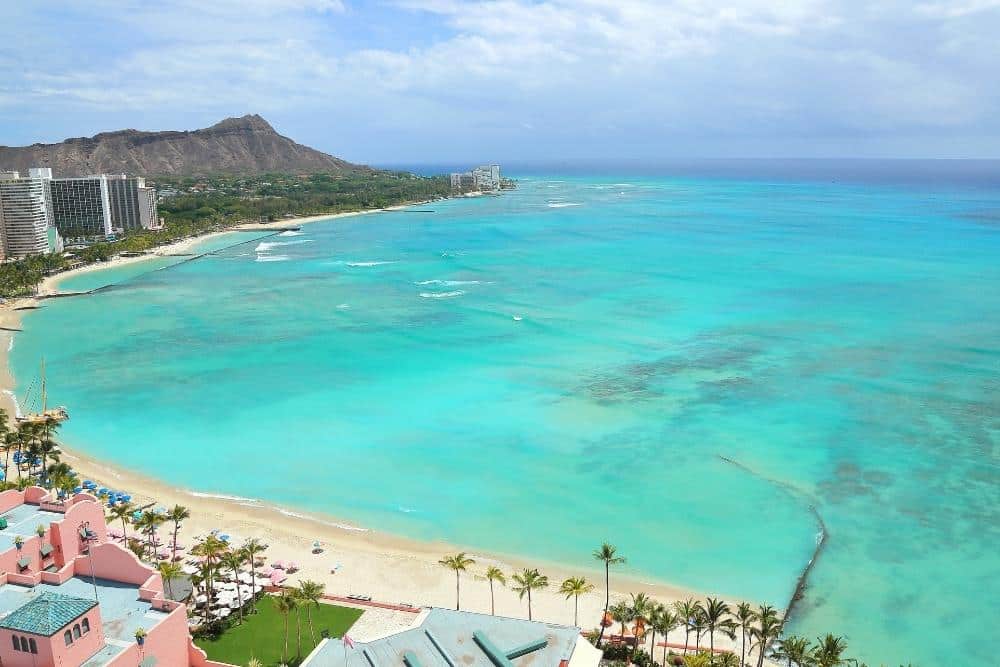 Waikiki Beach
Located right on the coast of Honolulu, Waikiki is arguably the trendiest beach on the island of Oahu for both locals and tourists. Waikiki Beach is for you if you're into bustling locations, soft white sand, and waters that are perfect for nearly any activity.
Furthermore, Waikiki's tranquil waves are ideal for beginner's surfing lessons! So, if learning how to catch some waves has always been on your bucket list, go ahead and start planning your trip to Waikiki Beach because it's pretty much perfect. Waikiki Beach is a great place to catch some idyllic sunsets and enjoy a peaceful evening dipping your toes into the soft, fine sand.
After a lovely day spent basking in the sun, you can enjoy the cosmopolitan ambiance of Honolulu, which is set just a stone's throw away! Honolulu is full of entertainment, cultural events, delicious food, incredible exotic drinks, and performing arts. If you're a nature lover, explore Manoa Falls and enjoy the gorgeous 150 ft waterfall tucked away in the tropical forest. Visitors will enjoy walking under a canopy of lush leaves, gigantic trees, and gorgeous glistening rock pools. Not only is the entire landscape captivating, but it's also quite iconic! It's been featured in many movies and shows.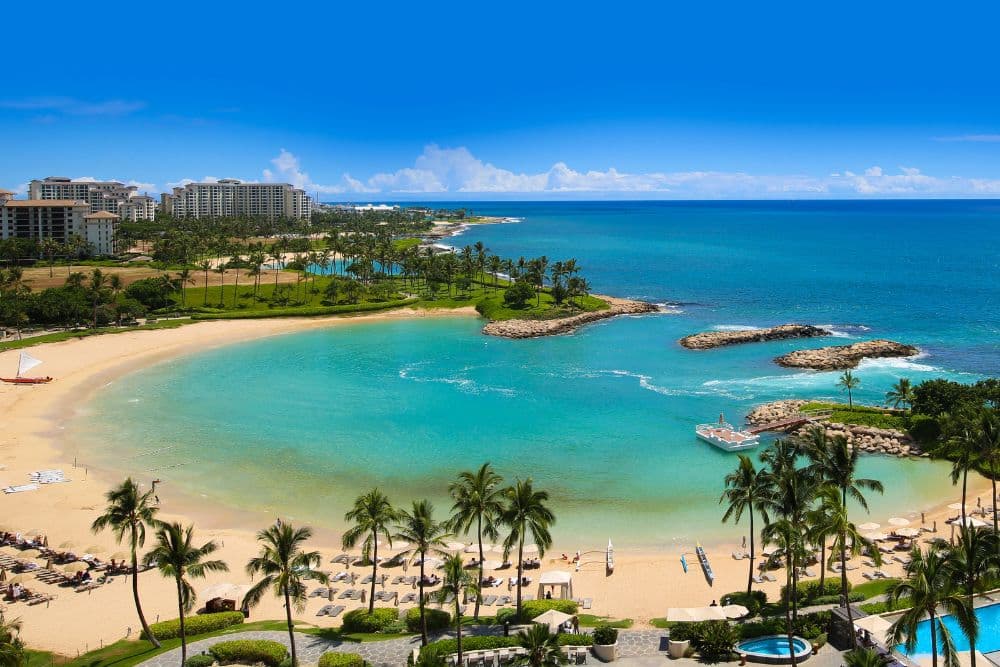 Ko Olina Beach
Ko Olina Beach is as pretty as a postcard. It is a well-cared-for resort area and home to several upscale and luxury hotels. In addition, there are several restaurants, golf courses, and beautiful walking paths. Ko Olina Beach was once a vacation spot for Hawaiian royalty, so you can expect all the emphasis on details. The beach is beautiful, with four lagoons to explore. Each lagoon has its own flag system to warn of potential water danger, so ensure you notice as you explore. Ko Olina Beach offers visitors many shady spots to escape the warm sunshine, open green spaces, restaurants, and snack shops. It's a fabulous beach to visit for any type of activity!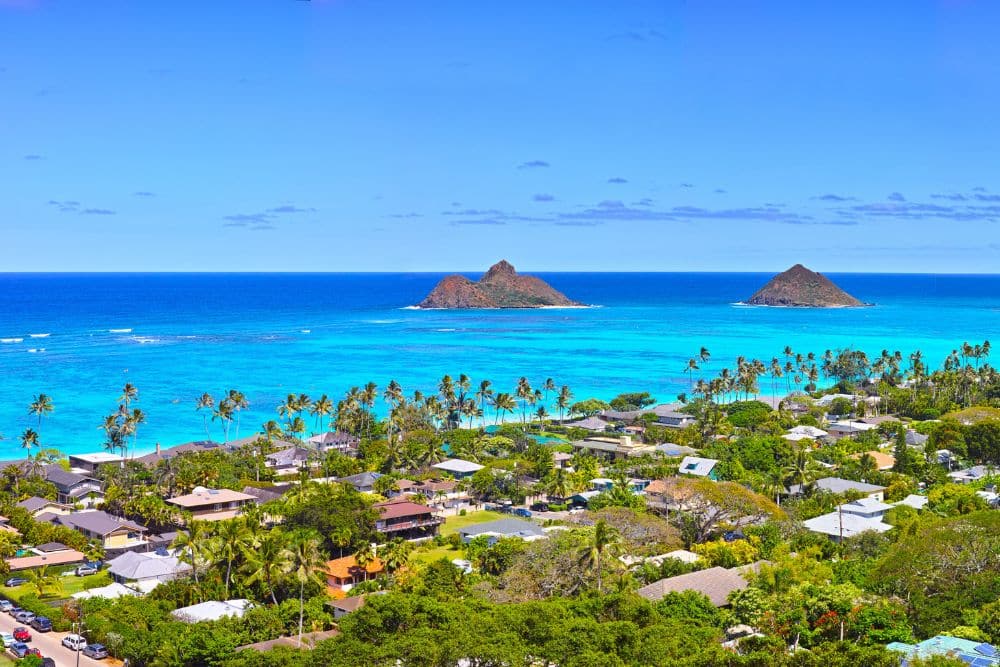 Lanikai Beach
In an entirely unspoiled land on the island's Windward Coast, Lanikai is home to some of the softest sand and the truest and bluest waters on the island.
And, just in case you needed more evidence that Lanikai Beach is a must-see, it also features two insanely beautiful offshore islets. Nā Mokulua (but more commonly called "the Mokes") can easily get to on a kayak! So you can spend the whole day swimming and relaxing under the sun. However, if you're in the mood for adventure, you can hike to the Lanikai Pillbox Trail to catch some of Oahu's best views!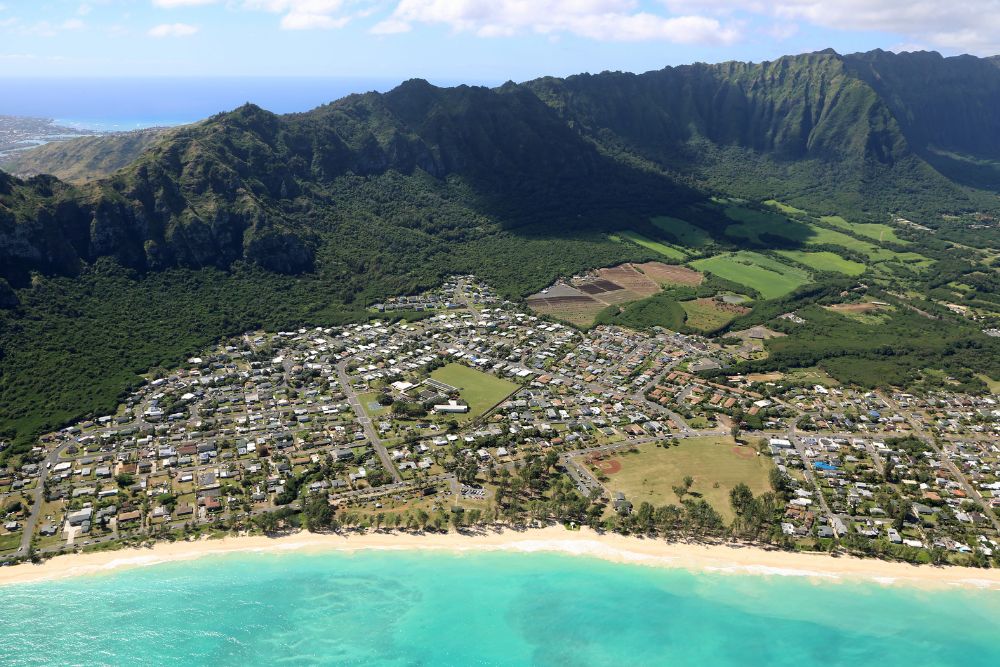 Waimanalo Beach
Waimanalo Beach is a beautiful beach to plan a long walk. The terrain is filled with soft, white sand, brilliant blue waters, and tons of shade thank to the gigantic trees. Waimanalo Beach is a great place to relax, explore and sunbathe.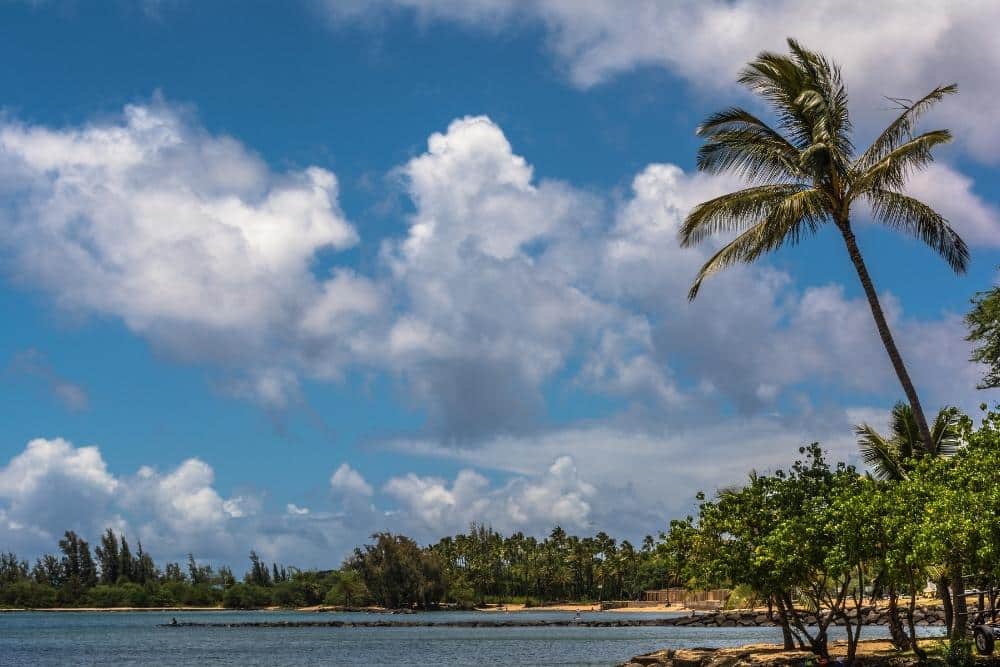 Haleiwa
Hidden behind a grove of fragrant Pride Indian Trees, Haleiwa Beach is located about an hour's drive from Honolulu in the North Shore area of the island. A relaxed surfer town, Haleiwa oozes country flavor and local charm. Of course, a must while here is to enjoy the beach and all its goodness, but you can also take a few hours to explore the town itself, with small art galleries and local boutiques to do some serious shopping in are two of the favorite activities for visitors. For history lovers, the old Emerson Mission homestead and the ruins of Waialua's Female Seminary tell the tale of the days when missionary work was dominant in the region.
Be aware that Haleiwa is not great for swimming due to its shallow and rocky ocean bottom. However, Haleiwa is your jam if you're into canoeing, surfing, kayaking, and even boat racing!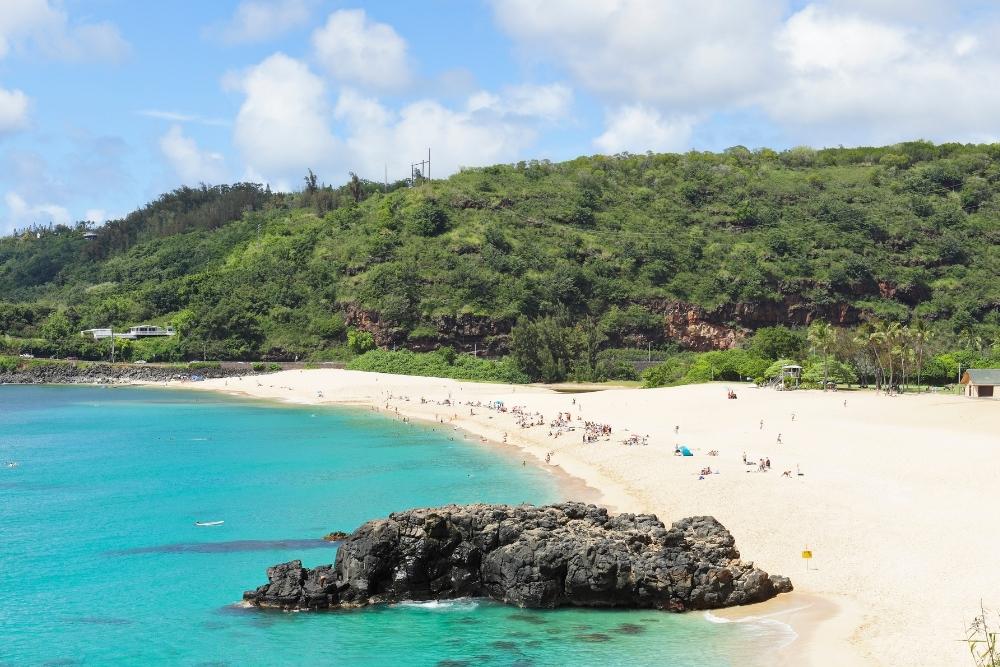 Waimea Bay
Nestled in the North Shore area of Oahu, Waimea is famous for its humongous winter waves, reaching up to 30 feet! This gorgeous bay is a favorite for hardcore surfers, making it a must in your itinerary if you're keen to explore Oahu's surf lifestyle while watching surfers brave the seemingly sky-high tide during this season.
Come summer, the water calms, and Waimea becomes an excellent destination for swimming, bodyboarding, snorkeling, fishing, or simply relaxing, with views of brilliant sapphire blue waters keeping you company. But remember to always follow the warning flags on the beach.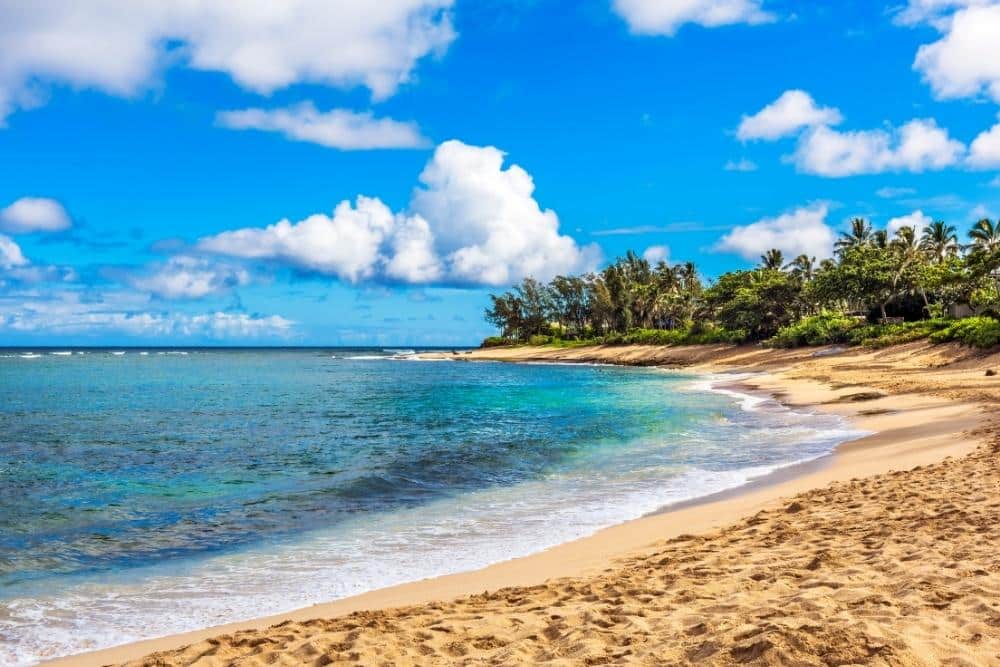 Sunset Beach
Outside of Haleiwa Town, Sunset Beach is another must-see heaven on the island of Oahu, especially if you're looking for a family-friendly beach ideal for everything during summer! As its name suggests, sunsets here are something truly magical, so make sure you linger just enough to witness them at least once during your visit to the island!
When the winter season arrives, it becomes a surfers' paradise as it is considered the longest stretch of rideable surf globally! Several surfing events occur here, including the iconic Vans Triple Crown of Surfing, so ensure you consider it when planning to visit so you can catch some epic surfers!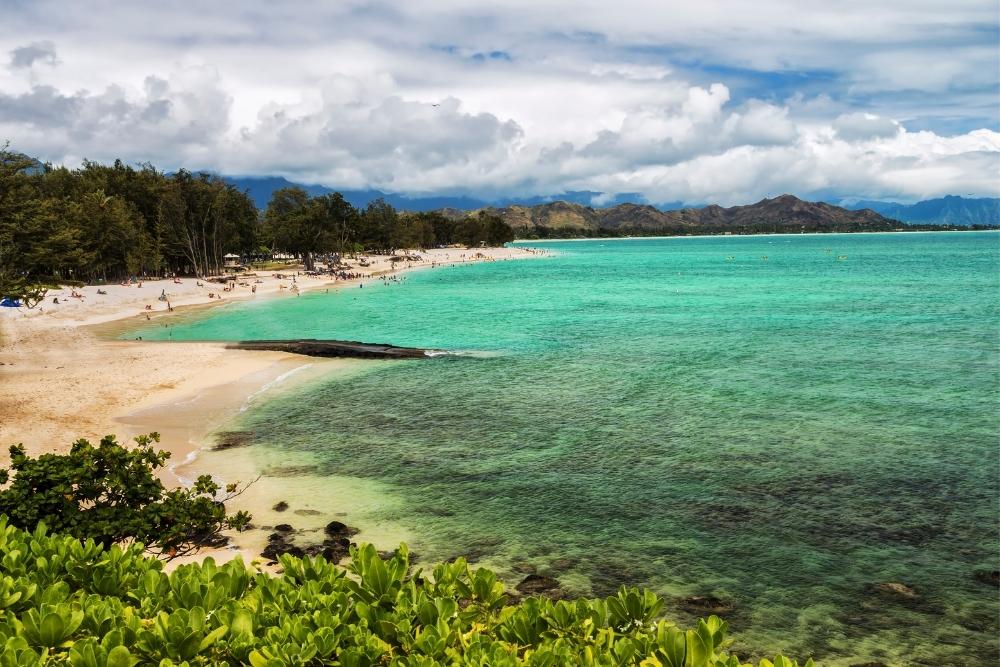 Kailua Beach Park
Kailua Beach Park is another postcard-perfect beach park boasting white sands, low waves, and all the amenities you may need, making it your go-to if you're after a relaxing beach day.
This beach is popular with families traveling with kids, windsurfers, and sailboard enthusiasts. There are many things for you to do here, including frolicking in the light-colored sand, swimming in azure waters, or just spending the day enjoying the park setting, picnic areas, and volleyball court.
If water adventures are your jam, this beach park has a boat ramp where you can rent watersport equipment. Finally, if you get hungry, you can hop over to nearby Kailua, a wonderful beachside town boasting many restaurants and shopping ops.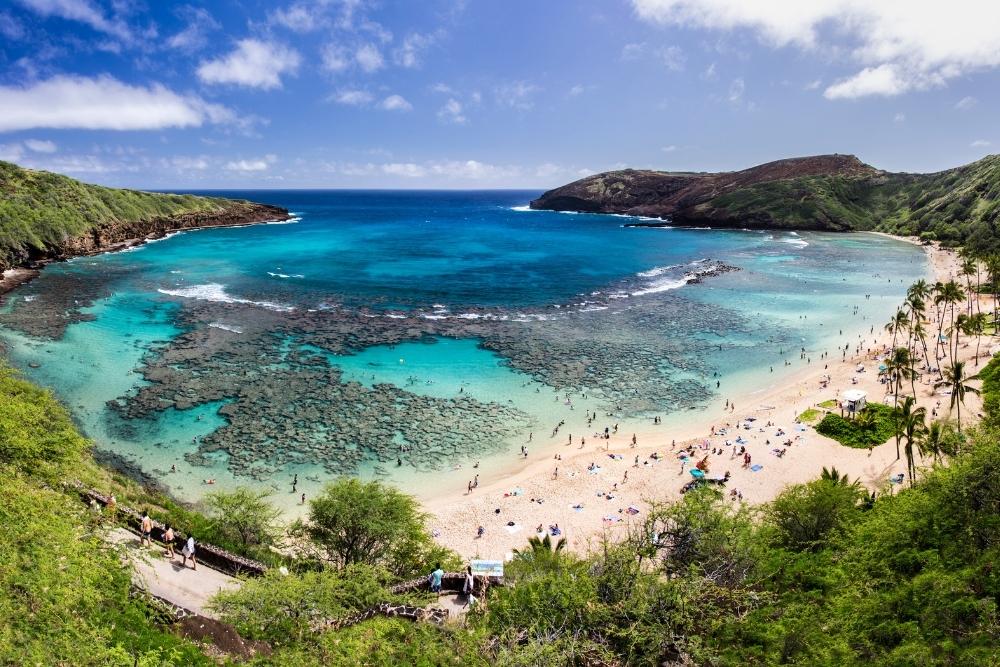 Hanauma Bay Nature Preserve
If what you're after is a quiet location amid nature, Hanauma Bay is just the place you're after. Set at a mere 30-minute drive from Honolulu, this beautiful bay is famed for its wine glass shape and that it makes visitors feel worlds away from the business and noisiness of the city! It is a perfect escape if a day in nature sounds like your jam.
The star activity here is snorkeling, with hundreds of species inhabiting the area, including tons of honus. These green sea turtles call the shores of Hanauma their home! However, suppose you're up for some hiking. In that case, the Koko Bay Trail to a crater deserves a spot in your itinerary, especially if you're keen to explore the velvety hills that hug the bay and the unbelievable views that come with it.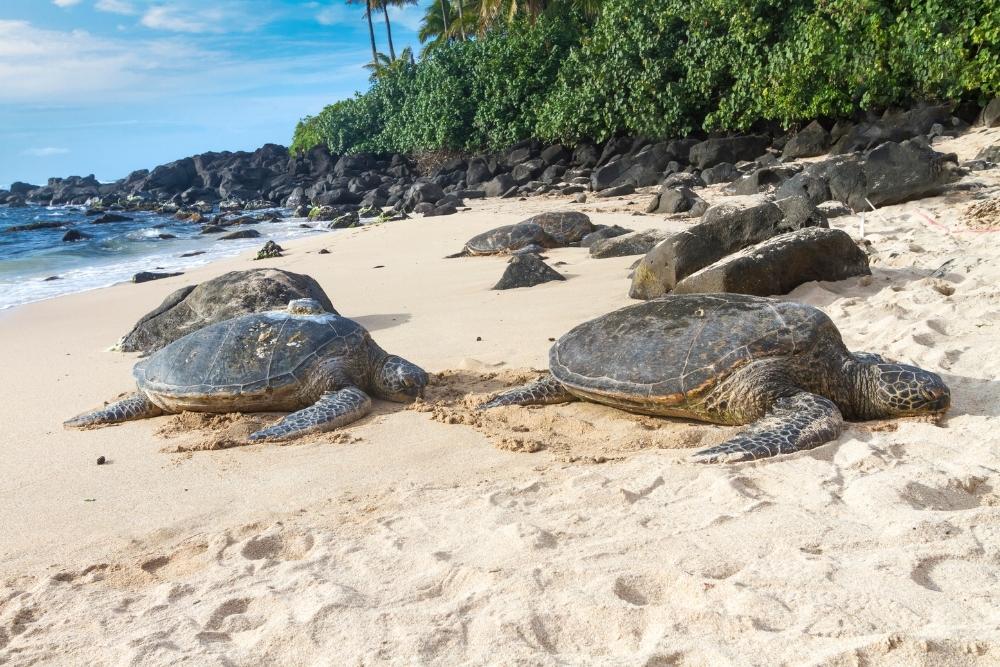 Laniakea Beach – Turtle Beach
Laniakea means "wide sky"; it is simple to see why this extensive beach was given that name if you go past the first 30 yards where most people hang out. Aside from its beauty, the focal point at Laniakea is the giant green turtles that inhabit the area. Seriously, it's packed with them! They used to be on the endangered species list. Still, today, thanks to the protection efforts of both the government and island volunteers, they can be easily spotted swimming happily around the island. This is also a prime location for big surfing waves during the winter months.
It's easy to see why Hawaii is such a popular tourist destination. Whether it's a trip or relocation, the island offers an abundance to every walk of life. I know it can be overwhelming to plan a travel experience to Hawaii, so I wrote this post! You can readily embrace the Aloha lifestyle, satisfying food, impressive cultural centers, and gorgeous beaches.
Have you ever visited the island of Oahu in Hawaii? Which beaches in Hawaii were your most loved? Share them in the comment section below!