Oahu is one of the largest islands in Hawaii. Its paradise-like beaches characterize it create the perfect backdrop to a beach vacation. But, here's a little secret: it's also a wonderful place if you love other types of thrilling recreation surrounding adventuring outdoors!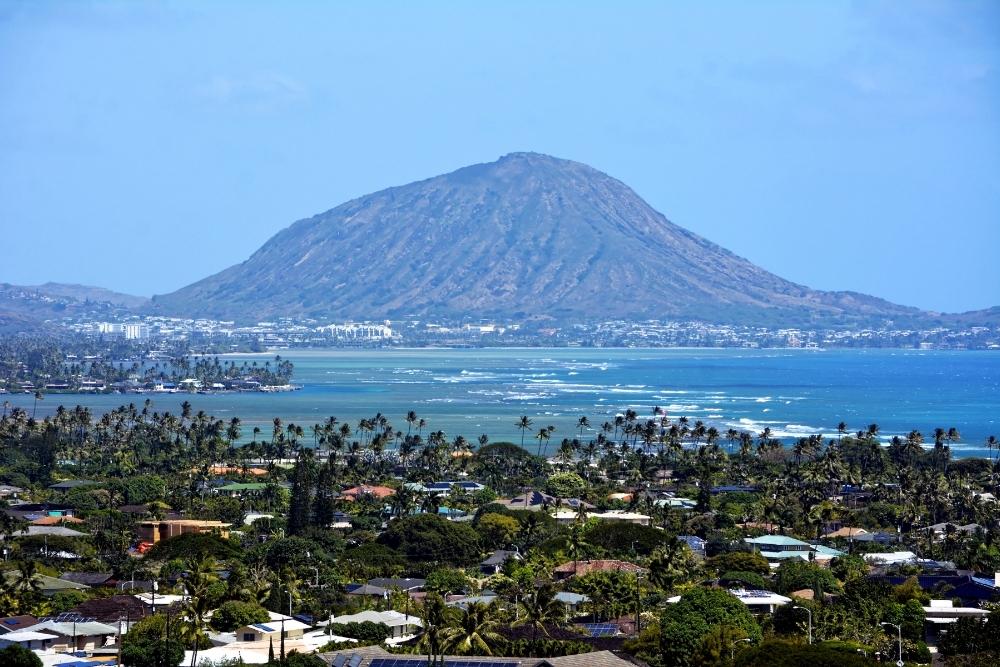 Even though most visitors who flock to Hawaii tend to craft an itinerary filled with days spent lazily lounging at the beach, the island of Oahu is also a paradise for escapes out in nature. So if you're looking to see the Aloha State beyond its striking white sands, or you're simply looking for a vacation that combines the best of both worlds, here's the ultimate Oahu bucket list for nature lovers!
Things To Do In Oahu, Hawaii
 Diamond Head
Quite likely, the most iconic volcanic formation in Hawaii, Diamond Head, is located on the island of Oahu, soaring high above Waikiki and serving as a stunning backdrop to Honolulu's skyline.
If you're ready for a unique adventure but don't necessarily want to go too far from the busy city, the Diamond Head Summit trail is a beautiful way to do that. The 1.6-mile hike will take all the way up to the summit of the volcano, and while the distance is relatively short, the quick elevation gain and lack of shade make it a true challenge.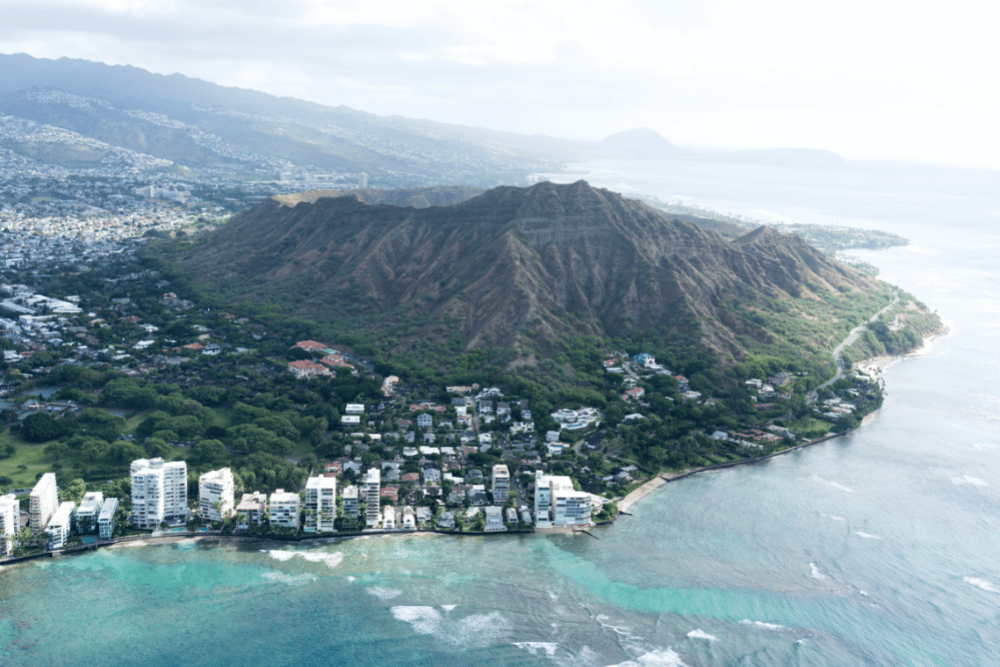 Still, don't let that fact deter you if you're not super skilled at hiking. The trail is paved the entire way, and the steepest parts have stairs to climb on, which makes this hike pretty safe and perfect if you're a newbie! Moreover, there are benches and many lookout points along the way, giving you plenty of excuses to stop and catch your breath.
Visitors will become entrenched in the interesting geological and cultural history of Diamond Head. It's estimated to be at least 400,000 years old and has an intensely multifaceted history. Diamond Head has been a place of worship and a place for religious ceremonies and sacrifices. Its intriguing history between the miraculousness of geology and the old Hawaii way of life makes Diamond Head a must-visit place for everyone, but especially nature lovers. You'll fall in love with the raw terrain, incredible views, and history that is held by the surrounding environment.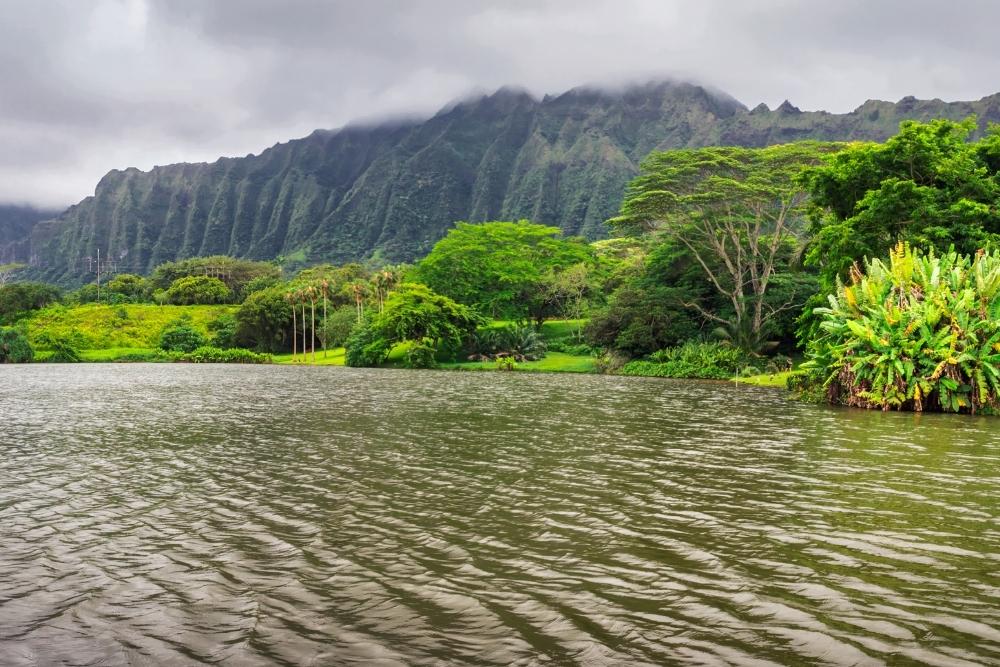 Hoomaluhia Botanical Gardens
Maybe you have a love for nature but don't necessarily want to go right in. If you're looking to get close and personal with Hawaii's flora, Hoomaluhia Botanical Gardens is a fantastic choice. Home to gorgeous, fragrant trees and plants from all over, the location is backdropped by the magnificent Koolau mountain range and a mystifying lake that branches out into several streams and walking trails. The Hoomaluhia Botanical Gardens are open daily (with a few exceptions) without charge. It was initially designed and built to provide flood protection. In the gardens, you'll find every shade of green possible throughout the millions of plants and flora.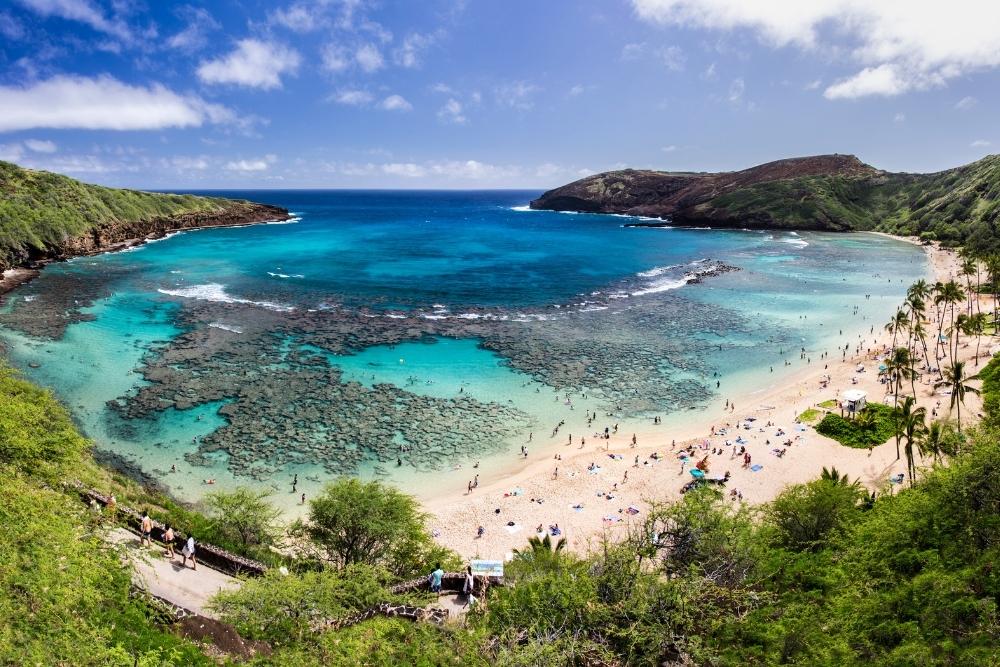 Hanauma Bay Nature Preserve
Famed for being naturally shaped like a wine glass, Hanauma Bay Nature Preserve is located on the southeastern side of Oahu, right inside the Koko Head volcanic region of the island. Though the bay is only 30 minutes from the busy city of Honolulu, its secluded environment paired with tranquil vibes makes it feel like you're entering into an entirely different world. This stunning bay is cocooned by flourishing green hills, making it a perfect beach + nature combo destination if you want to explore the best of Hawaii's nature!
Snorkeling is a dream here, with hundreds of species of fish swimming around the bay's shores and different species of endemic marine life. But make sure to watch out for the honus, which are green sea turtles that call Hanauma their home!
Hiking is another well-loved activity on the bay, with tons of lush plants to look at and gorgeous bay vistas acting as a backdrop for a splendid experience. Suppose you're a newbie at hiking. The Makapu'u  Lighthouse Trail is ideal for beginners, while the Koko Head Crater trail is ideal for those with experience.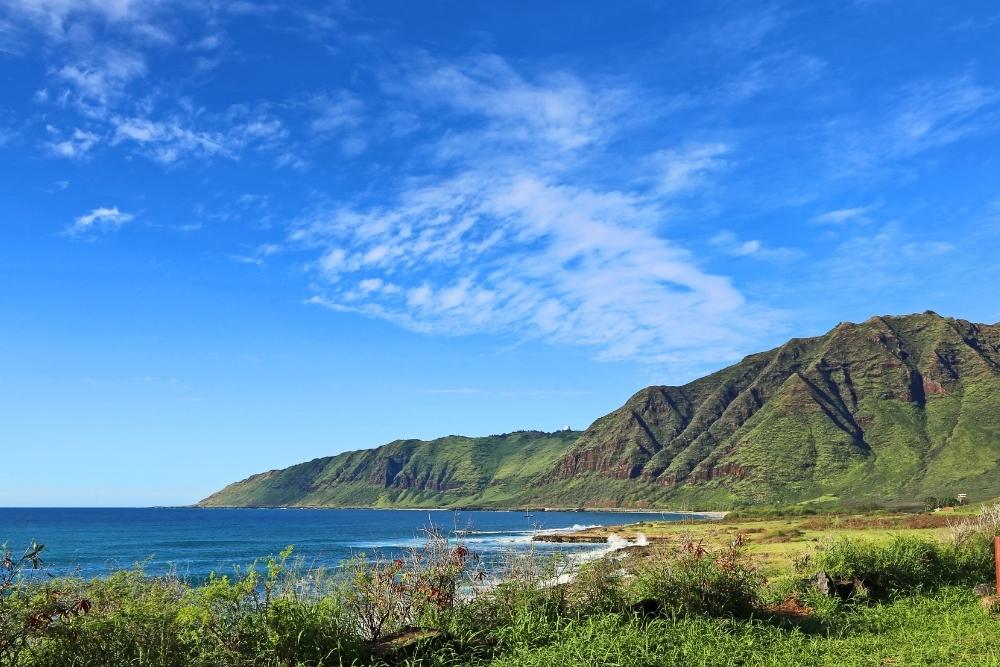 Ka'ena Point State Park
Set on Mokuleia, at the westernmost tip of Oahu, Ka'ena Point State Park is another amazing location in Hawaii and a must-see on any nature lover's itinerary. 
With a rocky, jagged coastline, this park is home to some of the most fabulous views on the island, with plenty of hiking trails available to tackle to get more acquainted with the area and catch amazing sights. The Kaʻena Point Trail is a five-mile-long hike that will take you along the volcanic coast, where you'll pass alongside tide pools, fantastic views of the Pacific Ocean, and tons of wildlife encounters!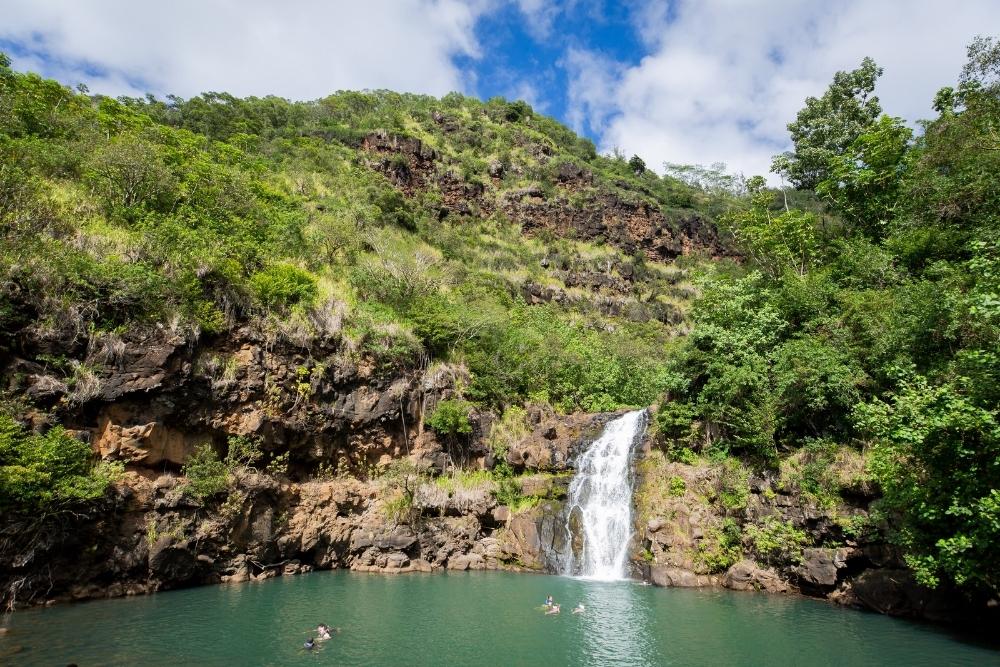 Waimea Falls Park
Have you ever been intrigued about what it'd be like to walk inside a Jurassic Park setting? While going back in time to when dinosaurs were alive isn't  possible, hiking to Waimea Falls will almost have you wondering if velociraptors are about to jump down from the walls!
Set on the North Shore of Oahu, Waimea Falls is known as one of the best hikes on the entire island. The trail is short and accessible, making it a perfect adventure regardless of your experience level. Featuring thick, lush botanical gardens that lead right to a striking 45-foot waterfall that drips down into a pool. Besides hiking, a favorite activity here is swimming to cool off after the walk!
Furthermore, Waimea Falls Park offers in-depth educational presentations, exhibitions, and workshops on Hawaiian culture and history. This is a wonderful place to visit if you're keen to learn about the importance of nature to the people of Oahu.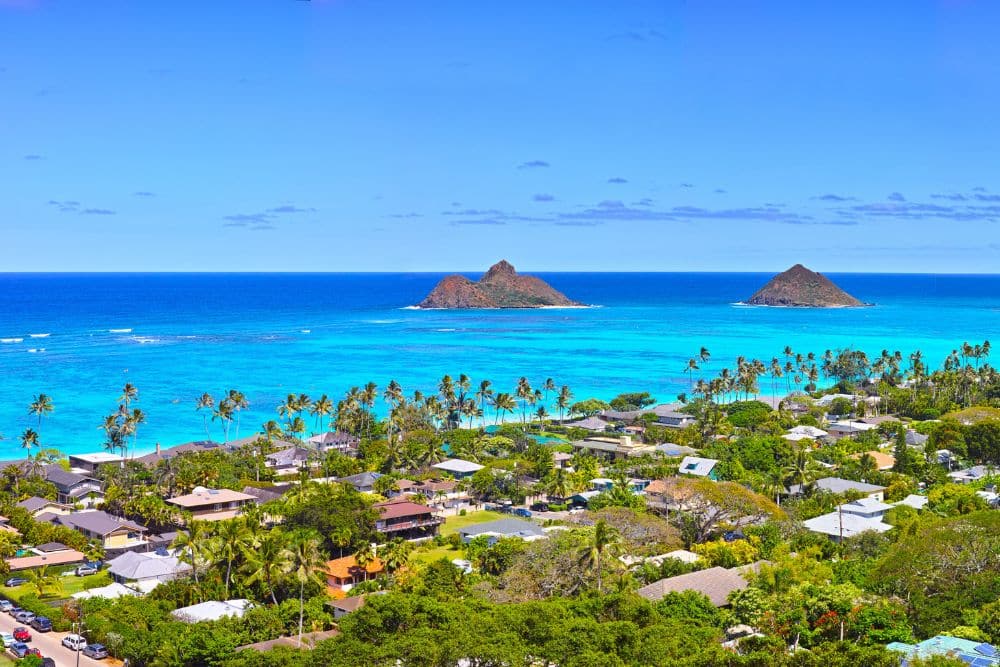 Lanikai
If you're looking to step your toes into one of the most gorgeous beaches, then a visit to Lanikai beach is a must. The water is beautiful with its perfect blue-turquoise hues, and the sand is also quite dreamy. Soft, fine, and perfect, the sand is exactly what you want to sink your feet into on a hot day. In addition, Lanikai beach is family-friendly, so pack a picnic lunch and get ready for an experience of a lifetime!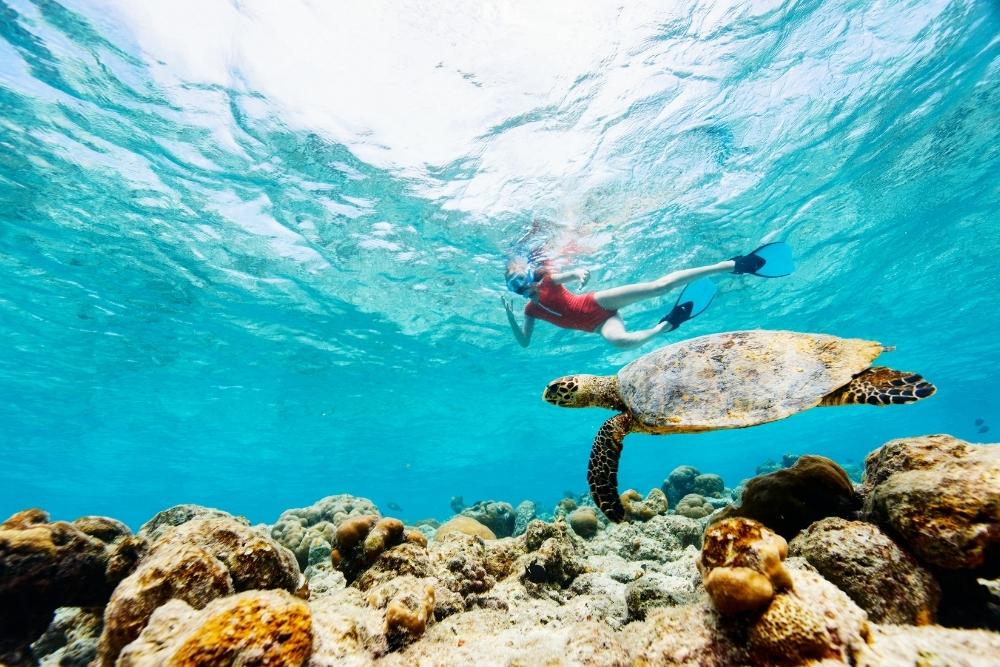 A Few More Exciting Experiences:
Turtle Canyon Snorkeling Cruise
Enjoy a scenic helicopter tour
Manoa Falls
Whale watching
Parasailing
Enjoy a Luau show
I hope this list of the most beautiful places for nature lovers in Oahu provided some inspiration for your bucket list! Even though the entire island is packed with incredible places to see, these spots are truly unique. They are worth plotting into your itinerary, especially if you're looking to get more personal with Hawaii's nature far beyond its beaches during your visit! 
Have you planned out your Oahu bucket list? Have you been to any of these nature locations on the beautiful island of Oahu? Then, please share it in the comment section below!