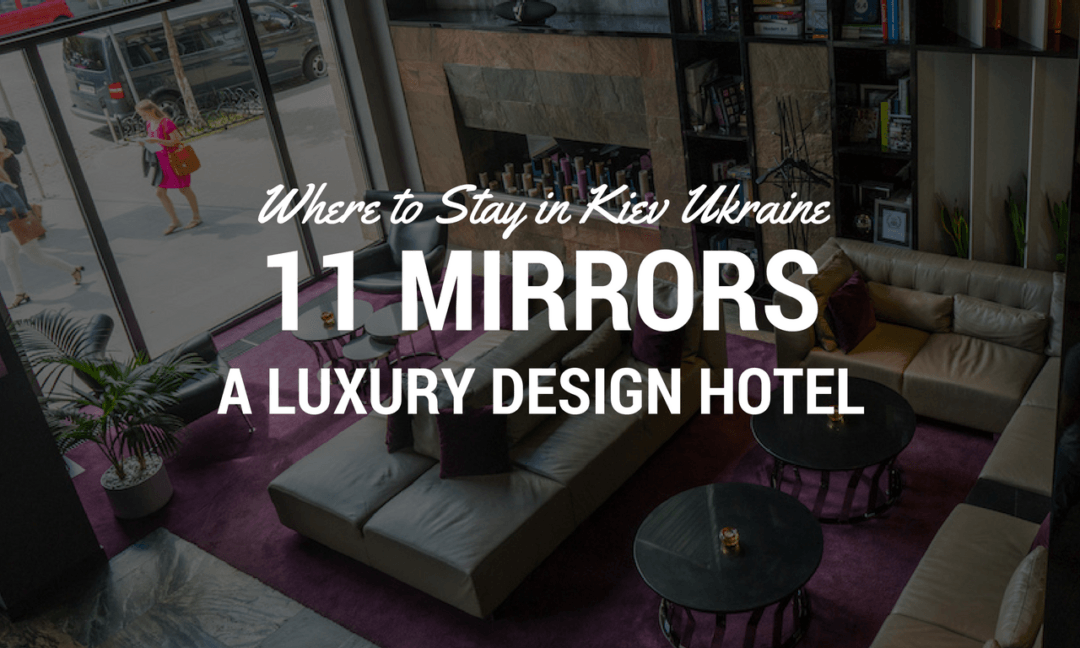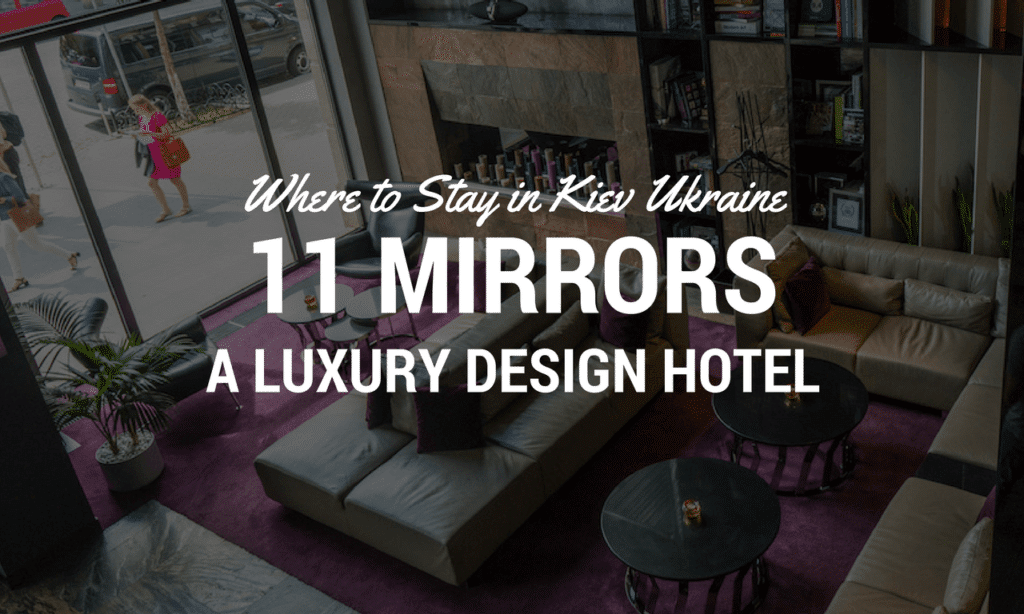 After a few weeks in Budapest, we were excited to get a move on and explore a new country neither of us had been to before: Ukraine!
To be honest, we had no idea what to expect of Kiev, and felt a mostly comfortable mix of nervous-excitement the night before our flight. On the one hand, most of the media coverage we North Americans hear about Ukraine these days is the country's conflict with Russia in Crimea and the east. And while it's important this conflict stays in the news to keep up public awareness and pressure, it means the rest of Ukraine is kind of neglected, and is really just lumped into "warzone" in the collective consciousness of many Canadians and Americans. (More reading: Is Ukraine Safe for Travelers?)
After being in Ukraine for about a month, we can say Ukraine is a safe and lovely place to travel. Kiev was amazing, and we're absolutely loving Lviv (a smallish city in the west). Geoff made a beautiful one-minute video about Kiev that's worth a watch if you're interested in what Kiev looks like, and what we got up to:
Anyway – we flew into Kiev feeling ever-so-slightly nervous about the trip, and we decided to assuage this nervousness by finding the very best hotel in town, and staying there: 11 Mirrors Design Hotel.
11 Mirrors Hotel Review
(What You Can Expect If You Stay At 11 Mirrors)
---
So what makes 11 Mirrors Design Hotel special?
For one, the hotel is more-or-less designed around a muse: Ukranian professional boxer Wladimir Klitschko. 11 Mirrors is, in fact, Klitschko's brainchild, but he's also the avatar of their target traveler: luxury business and leisure travelers who spend a lot of time in hotels and living out of a suitcase, know what they want, and expect extra touches and luxury.
If I had to define who 11 Mirrors Design Hotel is for, I'd say it's for luxury travelers, business travelers, and – I'm not even joking here – international jet setters. While we were staying there, so was Karim Rashid, the internationally-acclaimed industrial/product/interior designer who pretty much personifies international jet-setter.
#Celebrities choose #11Mirrors: one of the most creative designers in the world – @karimrashid pic.twitter.com/s5r1I2JaoC

— 11 Mirrors (@11mirrors) August 15, 2016
During our stay, the guests we came across were a mix of business travelers, special event travelers (there were one or two wedding parties staying there during our visit), and a few tourists. 11 Mirrors is an awesome base in Kiev for adventurous travelers who want to explore a vastly under-visited European capital (Kiev…seriously, you should go) in style.
First Impressions of 11 Mirrors Design Hotel
---
We stayed at 11 Mirrors for 4 nights in August 2016, spending all 4 nights in the Signature Premium Room (type 2), which included a king-sized bed, a work area, a sofa for relaxing, and a massive bathroom with a separate 2-person rain shower, a 2-person tub (with 2 rubber duckies), a toilet area, and a double-sink vanity. Oh, and a sweet in-room bar!
Location — 11 Mirrors is right in the center of Kiev, just a block away from the Kiev Opera House and within walking distance to Maidan square, St. Sophia's and St. Michael's Cathedrals, and the metro stops Zoloti vorota and Teatralna. Many of the attractions in Kiev are a bit spread out, but the metro is very easy to use (and cheap!) and, if you don't feel like navigating public transit, Uber is ridiculously cheap: I don't think we ever spent more than $3 or $4 Canadian per ride, and all the drivers were incredibly friendly, and generally very excited that we were visiting Kiev as tourists.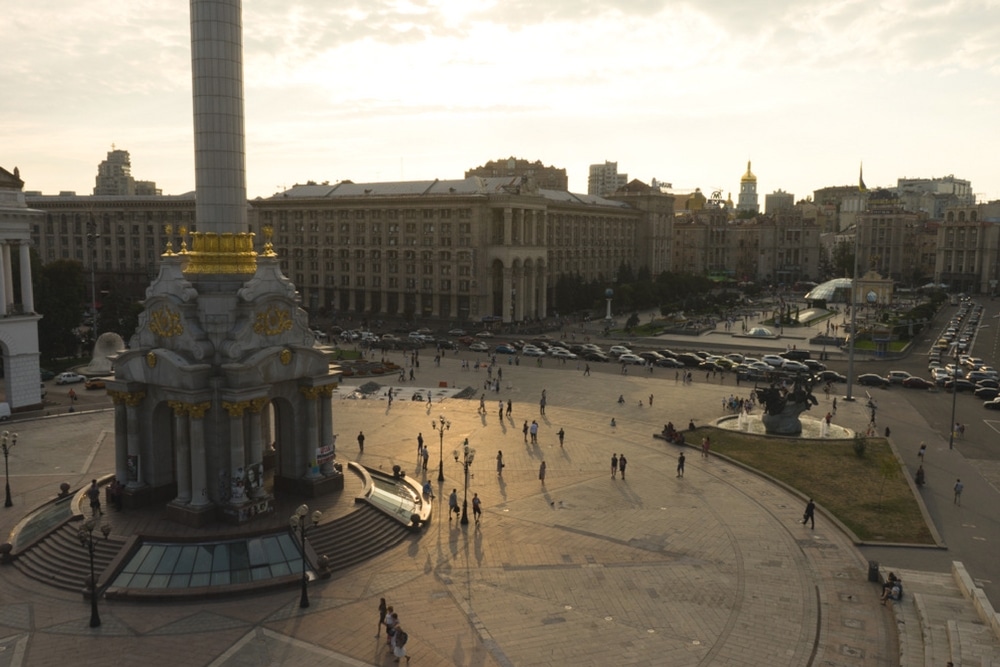 We were able to walk to Maidan Square from the hotel
Reception & Staff — Staff can completely make or break a hotel experience. We've fallen in love with places and stayed far longer than we expected simply because of the people we met, and we've absolutely loathed a few places because of the staff.
At 11 Mirrors, the staff really are top notch, and it goes beyond simply being helpful and genuinely friendly.
As you'd expect with a 5-star hotel, the front-desk staff was, of course, attentive and helpful. They let us know what to see and where to eat (and, equally important, where NOT to eat), offered to call taxis for us whenever we needed (we always declined on this, as Uber is fantastic in Kiev), and insisted on loaning us umbrellas whenever we went out in bad weather.
They were also helpful beyond these basics, however. For example, we needed to book a train ticket to Lviv (our next stop), and couldn't figure out how to do it online. When we asked a front desk staff where we needed to go, she insisted on helping us, and we managed to get it done right then and there with her help and persistence (we had to try a few times, as the Ukrainian Rail website is temperamental with international card payments).
Example #2 – The night before we arrived in Kiev, we started researching how to get from the airport to the hotel at about 11pm at night Budapest time (midnight in Kiev). When we realized the airport taxi situation in Kiev is a bit of a disaster, I emailed the hotel asking about airport transfers, without really expecting there was much they could do being less than 12 hours before we needed a ride and the fact that it was after midnight. Instead, we heard back from them within 5 minutes, had a car arranged within 10 minutes, and arrived in Kiev to a courteous driver, a clean and comfortable car, and the peace of mind of not having to haggle really, really hard to get a taxi.
Finally, as we were packing up to leave the hotel we got to chatting with one of the doormen, telling him we were off to Lviv. His face lit up, he was so pleased to hear we were going to continue traveling through Ukraine. And when we told him we also planned to visit another city in the west — which happened to be his hometown — he told us the exact building his parents lived in and suggested we go check it out. Seriously friendly stuff.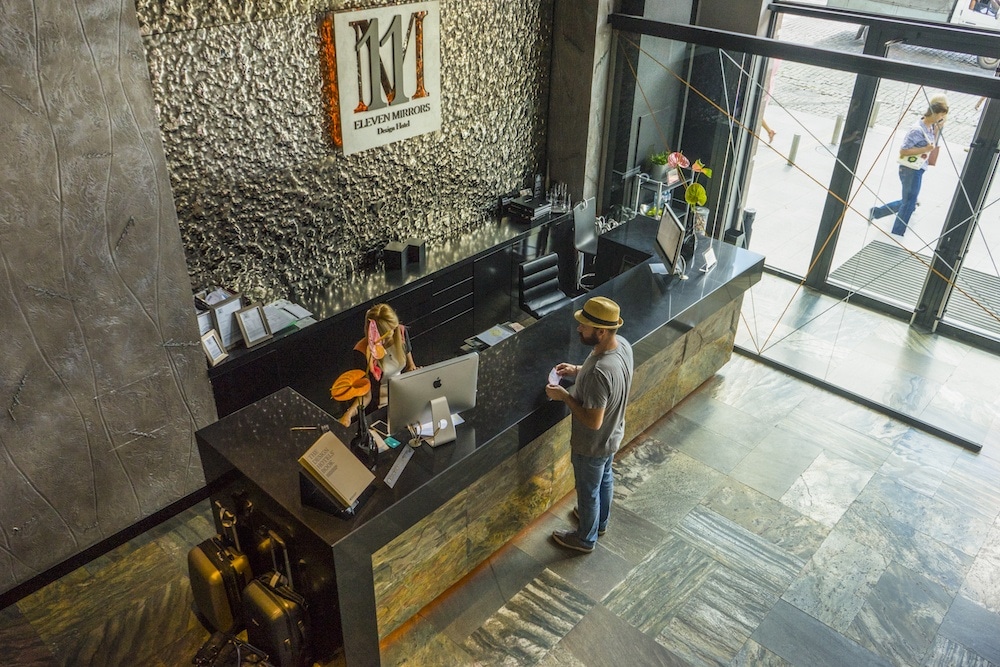 Architecture & Design — As a Design Hotel, design, architecture, and decor is obviously a priority at 11 Mirrors, and they've done a great job. The building is typical of the street — a narrow, mid-rise building with 11 storeys — with a granite and mirrored façade that carries over to the inside. The interior mixes shiny, industrial elements (glass, mirror, stainless steel), natural stone, and plush, comfortable fabrics. It's contemporary bordering on minimalistic, but with a nice nod to the shininess of the city's mirrored, fairytale domes.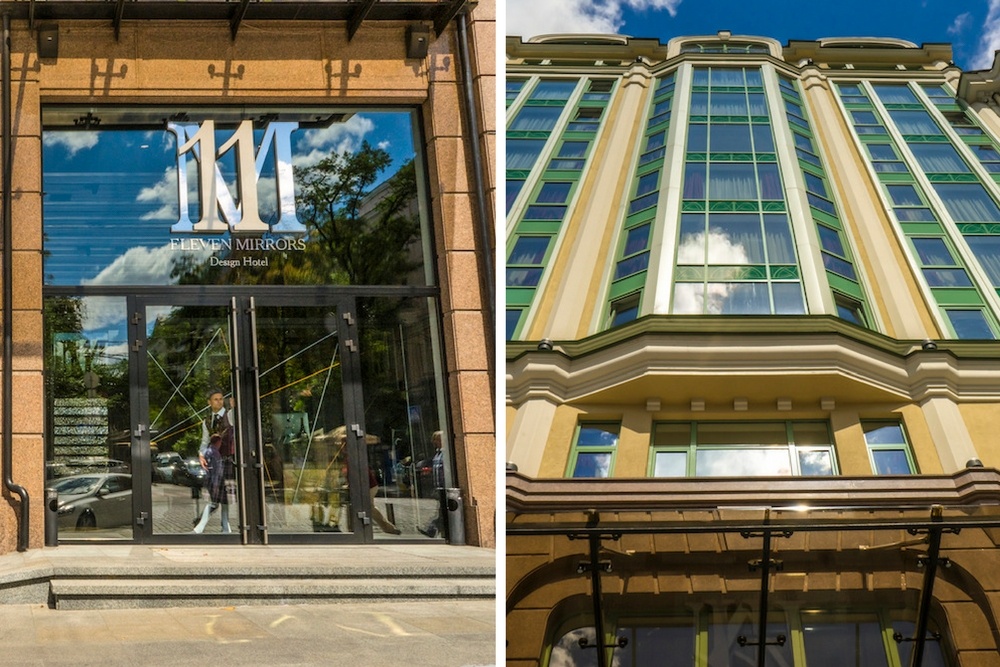 11 Mirrors Design Hotel Rooms & Common Area
---
11 Mirrors is a mid-sized hotel with 49 rooms, but it feels smaller than it is (in a good way) because of the tall, narrow nature of the building: each floor can only accommodate a handful of rooms, so you never feel like you're in a big hotel.
The room we stayed in was one of the Signature Premium Rooms (there are two layouts for this room, and we stayed in Type 2). The room was bright and airy, with a lovely view of the domes of St. Volodymyr's Cathedral, which we could see from bed and from the bath! The room included a wonderful king-sized bed, a work area, a sofa for relaxing, and a massive bathroom with a separate 2-person rain shower, a 2-person tub, a toilet area, and a double-sink vanity. There was also a well-stocked fridge, and a separate in-room bar stocked with pretty much any tipple you feel like indulging in.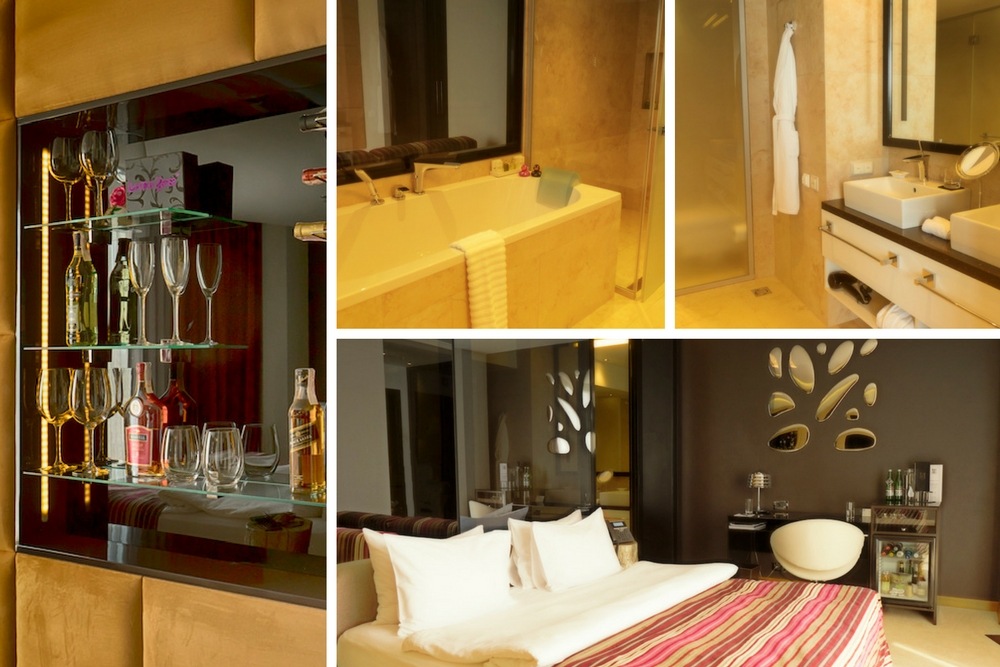 11 Mirrors has other room styles as well – there are 4 main room configurations, including 2 more basic room styles, and 2 executive suites if you really want to splurge.
In terms of common areas, the hotel has been well-designed for socialising and meeting, with a comfortable lounge area in the lobby where you can grab a coffee or cocktail, socialise, or do some work/hold a meeting.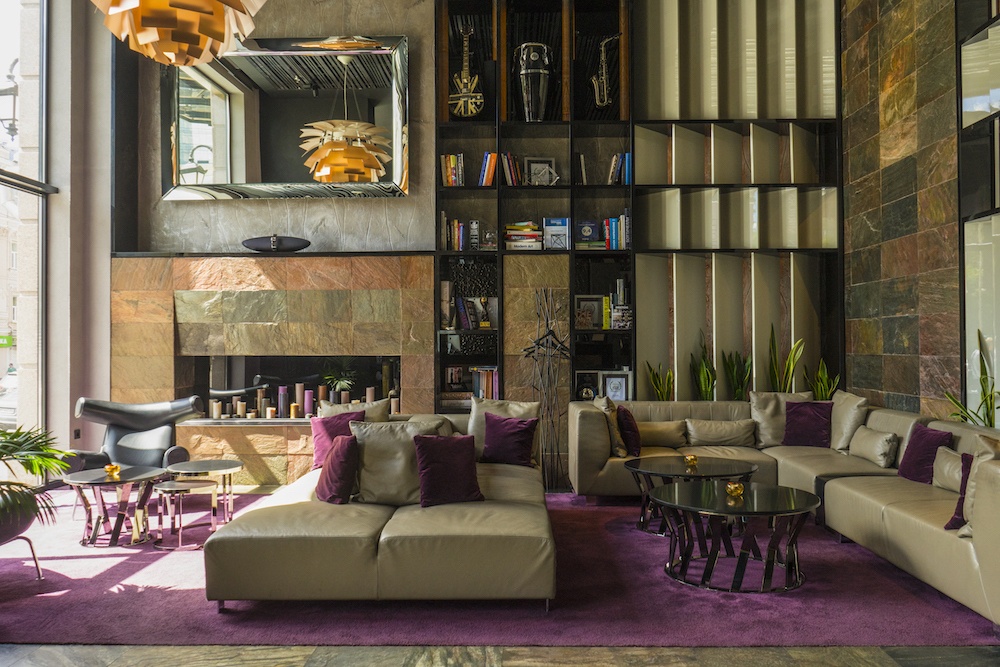 11 Mirrors Hotel Amenities
---
Wifi — There is free wifi throughout 11 Mirrors, and it was good. We were able to upload video while on the Wifi, which is always the ultimate test as far as we're concerned.
Breakfast — A massive buffet breakfast is included in the room, which includes espresso drinks, freshly-squeezed fruit juice, fruit and Mediterranean veggie salads, pastries and bakery items, cereal and yogurt, and hot items (sausage, eggs, bacon, etc.). You can opt to have your breakfast in bed for a small and very reasonable service fee, or on the mezzanine-level restaurant.
Clean Tap Water – Unfortunately, the tap water across Ukraine is of mixed quality. At best, it doesn't taste particularly good due to mineral additives, and at worst, it's not safe to drink. The hotel has installed a top-of-the-line water filtration system allowing you to drink the tap water throughout, and the water quality has been independently verified by a German company.
Gym/Spa — The hotel has an arrangement with a nearby gym/spa facility, so you want to to workout, go for a steam, etc., you can for a fee. We didn't give this a try, as we were mostly out enjoying the city!

11 Mirrors Hotel Awards
---
Of course, it's not just us who think this place is the bees knees. It's regularly recognized as the best hotel in Kiev, the reviews are fantastic, and it's got a growing list of awards to its name:
TripExpert Choice Award 2016
TripAdvisor Traveler's Choice Award 2016
TripAdvisor Top 25 Best-Rated Luxury Hotels in Europe
2016 Haute Grandeur Hotel Award Shortlist
2015 'Sexiest hotel in Ukraine' (!!!) by L'Officiel, a French fashion magazine
---
Don't Take Our Word For It…Check Out The Exceptional Reviews on TripAdvisor!
---
Final Thoughts
We loved our time staying at 11 Mirrors Design Hotel in Kiev. So much so, we made excuses several times to stay and hang out in the hotel, rather than going out to explore the city (the weather wasn't awesome during our visit, which made us feel less guilty about this!).
If you're planning a trip to Kiev, we'd suggest a minimum of three days, if possible. This will give you time to explore the city's highlights, while also enjoying the hotel to the fullest!
Check Availability
---
We were guests of 11 Mirrors Design Hotel, and want to extend a huge thanks to them for hosting us — we had such a relaxing trip, and truly enjoyed our experience in Kiev. If you have any questions about Kiev or 11 Mirrors Design Hotel, don't hesitate to get in touch with us…we're happy to help! Also note that some of the links in this post are affiliate links.
Pin it for Later