Where to Stay in Budapest: Advice from a travel blogger about the best neighborhoods to stay in Budapest, Hungary! Includes recommendations for 28 places to stay in Budapest.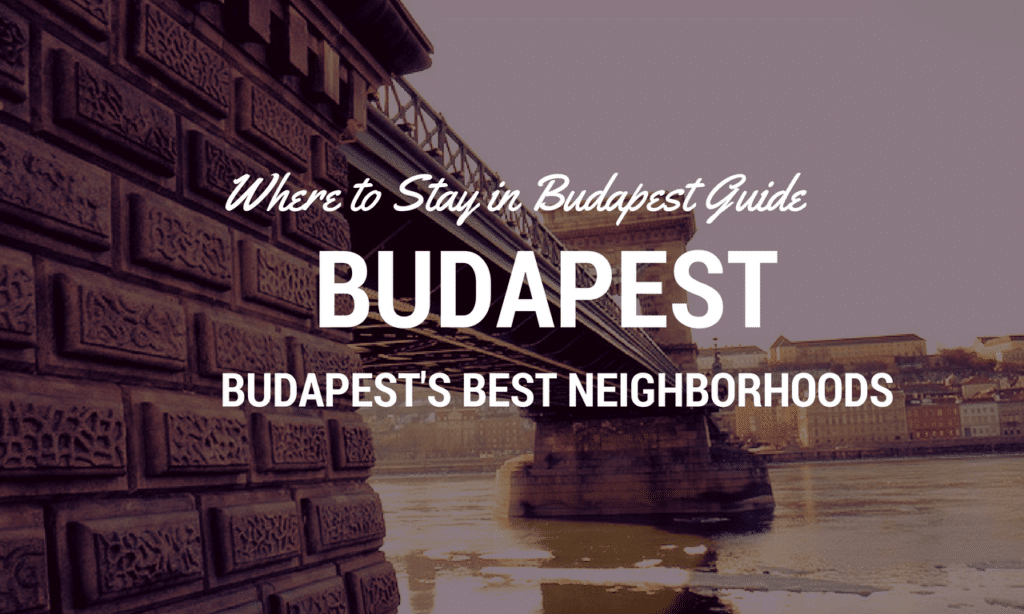 Where to Stay in Budapest: Our Story
Before our first trip to the heart of Europe back in 2012, I remember spending hours on the Internet, trying to figure out where to stay in Budapest…and finding it oh so very confusing. Our first instinct was to stay near the castle, thinking that would be in the centre of the action, or at least the centre of tourism and the things we wanted to see. But as we dug into it a bit deeper, we realized Buda Castle District has a tranquil, romantic vibe, whereas Pest, on the other side of the Danube, has a 'centre of all the action' feel to it.
We ended up staying in a pretty cool place in Pest called Lavender Circus, and had a fantastic time exploring what's since become one of our favorite European cities over the course of a few days. Of course, a few days is nowhere near enough time to get to know a city, so when the opportunity came up to return to Budapest in summer 2016 for three weeks, we jumped at the chance. Plus, we had a local friend in Budapest — our friend Sinead, who we met in Prague a few years ago and has since relocated to Budapest — to recommend the best areas and spots to check out.
Knowing that many of our readers combine a trip to Budapest with their travels in Prague, and given the overwhelmingly fantastic feedback and responses we've received from our where to stay in Prague guide, we travelled to Budapest with a mission to get to know the city in depth and write a Where to Stay in Budapest guide (as well as some more content, which will be coming out over the next couple of months).
We hope it helps, and you enjoy Budapest as much as we did!
Where to Stay in Budapest: Start Here For A Quick Look At The Best Area to Stay in Budapest
If you're looking for quick answer about the best areas to stay in Budapest, start here! We've included detailed Budapest neighborhood outlines for the best places to stay in Budapest below, but I also wanted to provide an at-a-glance summary to help you choose where to stay in Budapest quickly and painlessly, just in case detailed research isn't your thing.
First off, I've included our top 9 hotel Picks in the Inner City (3 mid-range boutiques, 3 luxury, and 3 budget): in our opinion, these are the best places to stay in Budapest if you're after convenience! If you don't find what you're looking for there, you can click through to 5 of the best neighborhoods to stay in Budapest to get an overview of each area, pros and cons, and some hotel recommendations in each. If you're coming to Budapest as the first or last stop on a Danube River Cruise, I'd recommend staying in either the Castle District or the Inner City, as these will be most convenient for accessing the ships, which dock (more or less) between the Chain Bridge and Elizabeth either bank of the Danube.
Overall, stay in Budapest Castle District if you're looking for somewhere quiet and tranquil. The Inner City is the best location to stay in Budapest if you want to be in a convenient, albeit touristic area. Stay in Budapest VI for central, but high-value accommodations. Budapest VII is the best part of Budapest to stay if you want lively nightlife. Budapest IX is the best district to stay in Budapest if you want to try an up-and-coming area. More details:
Where to Stay in Budapest: Budapest's Numbering and District System
The first thing to understand when you're picking the best place to stay in Budapest is that Budapest actually used to be two separate cities: Buda and Pest (the "s" sound in Pest is pronounced like an English "sh" sound). It wasn't until the mid-19th century, when the Chain Bridge was built across the Danube in 1849, that the two sides were even connected to one another.
The "Buda" part of the city is relatively self-explanatory, at least when it comes to choosing the best area to stay in Budapest. The Buda Castle District at the top of Castle Hill is really the only area you'll likely consider if you're visiting Budapest as a tourist. Pest, however, is a different ballgame; there are far more desirable areas to choose from, along with a massive selection of hotels.
Budapest is organized by districts, and locals regularly refer to their neighborhood by number: Budapest VI is the sixth, Budapest IX is the ninth, etc. While there are 23 districts in Budapest total, only a handful of them will be of interest as a visitor to the city. As a rule of thumb, the lower the number, the closer the district is to the city center. The districts (sort of) spiral out, clockwise, from the center. That said, it is far from a perfect spiral.
The 5th (V) is considered the city center. The 6th (VI) and 7th (VII) are also very popular and convenient areas to stay. The 9th (IX) is considered an up-and-coming area; it is still a bit rough around the edges, but it is the center of Budapest's craft beer scene and is considered the 'beer district.'
Where To Stay in Budapest Castle District
Many visitors stay in the Budapest Castle District, and with good reason: some of Budapest's best attractions (and views) are right at your doorstep.
The pros of Budapest Castle District are the proximity to some of Budapest's most beautiful attractions, the gorgeous views, good restaurants, and a cozy, romantic and QUIET atmosphere. If you don't want to be bothered by stag parties and drunken revelers, the Castle District is a great area to stay in Budapest. It's also relatively convenient – to get into Pest, there are frequent buses that are easy to use, and cheap.
If you stay in Budapest Castle District, your experience will be very much that of a tourist. Convenient, but more expensive. Busy, but with most of the life coming from government workers and tourists.
We stayed in Budapest Castle district for a few nights in August 2016, and thoroughly enjoyed the experience. It was so nice to come home at the end of the night to a really pretty, quiet area, and wander through the streets and enjoy views from Fisherman's Bastion with hardly anyone around. However, on the one night we met up with a friend in Budapest IX (for craft beer, of course), we ended up missing the last bus and had a rather long walk to find our way home.
If someone I knew was going to the city for a few days looking for a quiet experience while also being well located to see the main sites, I'd suggest the consider staying in Budapest Castle District. However, if I had a friend going to Budapest to experience the nightlife, I'd tell them to stay across the river in Pest.
5-Star Luxury
St. George Residence — If you fancy some major luxury, check out this property, which screams 'old world royalty' in the best possible way. Large, ultra-luxurious rooms decorated in an aristocratic, Austro-Hungarian style, a beautiful garden restaurant, and a great location in the heart of the castle district. What's not to like? Reviews are pretty much fantastic, across the board.
Check Availability & Prices on
Booking.com
Budget Friendly
Burg Hotel — One of the few budget-friendly option in the heart of Budapest's Castle District, this property gets great reviews (8.4/10 on Booking.com and 4/5 on TripAdvisor). Out-dated, decor wise, it nonetheless looks like a solid option, getting mentions in the reviews for the location (steps away from Matthias Church, Fisherman's Bastion and public transportation) and the comfort.
Check Availability & Prices on
Booking.com
Where to Stay in Budapest VI (6) – Terézváros
Butting up against the northern half of Budapest V, and running east-west up to Hero's Square, District VI is another very popular spot to stay in Pest, and mixes touristy with residential, giving you a taste of what life in Budapest is like for residents while still being easy to navigate as a visitor.
Budapest V can be split up further, with the lovely tree-lined thoroughfare of Andrássy Avenue, and the streets around it, having a more upmarket feel, and the streets closer to Nyugati station (and running south, through that western/central section of the district) mixing budget travelers with holiday apartment rentals and residents. Slightly outside of the Inner City, but still very convenient, you can also get great value for your dollars in this area.
I've picked out a few different hotels below, but if you're looking for an apartment rental, there are loads of options. We'd suggest checking out HomeAway, VRBO, and – of course – Airbnb.
Affordable Boutique
Casati Budapest Hotel Superior — A 3-start boutique hotel that looks more like a 4-star, this place gets rave reviews from past guests and has a really funky look and feel to it, with pop-art inspired colors and decorations combined with muted furnishings, a sauna and fitness room, an on-site bar, included breakfast. Great location one block off of Andrassy Ave. This is another property I'd love to stay in.
Check Availability & Prices on
Booking.com
Affordable Boutique
Carat Boutique Hotel — A 4-star boutique hotel in a super central location close to Deák Ferenc tér, a main transportation hub where the M1, M2, and M2 metro lines all converge. You can easily walk to some of the main sites and inner city area from here, the hotel itself gets great reviews, with a contemporary, boutique-inspired look, a jacuzzi and gym on site, buffet breakfast, and airport transportation.
Check Availability & Prices on
Booking.com
Historical Luxury
Hotel Moments Budapest — Located in a historical building that's been beautifully renovated, steps from the Opera on Budapest's fanciest street (Andrassy Ave.), this hotel looks absolutely beautiful. Mixing old-world decorations with contemporary touches, the overall appearance is elegant and sumptuous. Fantastic reviews from past guests…I want to stay here next time we're in Budapest!
Check Availability & Prices on
Booking.com
Budget Friendly
Radisson Blu Béke Hotel — A solid middle-of-the-road option, it's on a main boulevard  relatively close to the Opera, a few blocks off of Andrassy Ave. Pricing is a bit less than what I'd expect from a Raddison Blu, likely because it's quite out-dated. Cosmetics aside, it seems like a fine option, especially for the price, with reviews indicating it's been well-maintained despite its 'throw back to the 1980s' looks and decor.
Check Availability & Prices on
Booking.com
5-Star Convenience
Hilton City Center — a 5-star property that can be had for a 4-star price, the Hilton is attached to a modern shopping center and Nyugati train station. Honestly, it's far from the best location in the city. However, it's really not bad, is connected to transit, and is only about a 10-minute walk from a more vibrant area. What it lacks in location, it makes up for on the property, and you get great value for money.
Check Availability & Prices on
Booking.com
Budget Friendly
Silver Hotel Budapest City Center — A good value pick very close to the Terror House Museum, rooms at Silver Hotel look basic and clean, with no bells and whistles – as you'd expect from the price (rooms can be had for less that $40 in off season – which is pretty unheard of in most European capitals). Reviews are mostly positive, and it seems to offer good value for price, but certainly don't expect luxury.
Check Availability & Prices on
Booking.com
Need some ideas for things to do in Budapest?
We have some (honestly pretty old) posts that break down our day-by-day in Budapest into a full 2.5 day itinerary. You can find Day 1 (half day), Day 2, and Day 3 by following the links. If you're looking for more ideas, there are some other posts out there on the interweb you should check out! Vicki from Make Time to See the World has a a super easy-to-follow 48 hours in Budapest guide that includes all the highlights, and Barbara (a Budapest local) has a round-up of the best things to do in Budapest.
Where to Stay in Budapest VII (7th) – Erzsébetváros
Budapest VII is the heart of hip, young Budapest, and is the best area to stay in Budapest if you want a lively atmosphere and the best night life (ruin pubs included). It's also Budapest's Jewish quarter, home to the Great Synagogue – the largest in Europe, and certainly one of the most beautiful. Don't come to Budapest VII looking for peace and quiet – come for the vibrance! If you love nightlife and history, this is the best place to stay in Budapest!
Cheap, Cheerful and Really Cool
Roombach Hotel Budapest — Another one of those "I want to stay here" hotels, this is probably where I'd stay if I wanted a lively Budapest experience, and was watching my spending. This place looks awesome.  The rooms have a boutique-hotel feel, and the common areas of the hotel look like they'd be cool to socialize in before heading out to explore in the evenings. Great location – appears to be a solid budget to mid-range choice.
Check Availability & Prices on
Booking.com
Affordable Boutique
Continental Hotel Zara Budapest — Built on the site of a former art nouveau spa, the hotel has kept touches of the spa today in the glass arched roof and wonderful restoration. The rooms are modern, and have a boutique hotel feel. There's a rooftop pool, a sauna and hot tub, a fitness room, and a traditional café and restaurant on site. Reviews are fabulous, including shout-outs from repeat guests, which is always a good sign.
Check Availability & Prices on
Booking.com
Old World Luxury
Hotel Corinthia — If I had to choose one word to describe this 5-star property, it'd be "grand." It gets consistently exceptional reviews, and is located near the eastern edge of Budapest VII, closer to the aristocratic Andrassy Utca than the nightlife-focused Kazinczy utca. Beautiful rooms in a beautiful building, an on-site spa, comfortable beds – this looks like a wonderful luxury choice in Budapest. Good transportation connections, and within walking distance to restaurants.
Check Availability & Prices on
Booking.com
Where to Stay in Budapest IX (9) – Ferencváros
If you're looking to get off the tourist track a bit, and are open to a 'cool, but kinda rough around the edges' vibe, consider staying in Budapest IX. Mostly residential, with only a smattering of hotels, this is the best neighborhood in Budapest to experience a mix of young locals and expats, loads of relaxed pubs with Budapest's best craft beer on tap, and an artistic vibe. And we're not the only ones who feel the 9th is a nice place to hang your hat while you're in Budapest – according to The Guardian, "the 9th is emerging as the best alternative to the crowded and mainstream tourist areas of District VII or downtown."
(Again, there aren't a lot of hotels in this area. So if you want to stay in the IX but can't find a suitable hotel you love, it might be worth checking out some holiday apartment sites like HomeAway, VRBO, and Airbnb.)
Cheap & Cheerful
Ibis Styles Budapest City — A stylish 3-star property located a little out of the center, it's perfectly located for jumping on the tram to arrive in the inner city quickly, and for exploring a less touristy neighborhood filled with craft beer. It's also close to the river, with some of the rooms offering river views. Fun and very quirky bicycle decor throughout.
Check Availability & Prices on
Booking.com
Cozy 3-Star Inn
Inn Side Hotel Kalvin House — A relatively cozy-looking inn with rooms in a lovely, old-fashioned house, this property is well-located on the northern border of Budapest IX, near Kálvin tér metro and just around the corner from the Central Market Hall. Past guests mention the friendly staff, location, and old-fashioned house itself – overall great value!
Check Availability & Prices on
Booking.com
Mid-Range Chain
Leonardo Hotel Budapest — In our experience, the Leonardo chain of hotels are consistently decent. While we haven't stayed in this one, it looks like a good value option in the beer district, only a few blocks from Élesztő, Budapest's mother of craft beer bars. Less than 10 minutes' walk from Corvin-negyed metro and some good cafés nearby.
Check Availability & Prices on
Booking.com
Where to Stay in Budapest if You're After Something Unique
Spa Hotels on Margaret Island
At the northern tip of Margaret Island (a large island and park in the center of the Danube), there are two spa-themed hotels focused on typical wellness regimes in central and eastern Europe: the healing powers of salt and thermal waters. Under the same ownership, the Danubius Health Spa Resort Margitsziget and the Danubius Grand Hotel Margitsziget are a bit outdated, to be honest (they oddly remind me of the resort from Dirty Dancing), but are in a lovely, tranquil location, and have loads of relaxation activities to help you unwind. There is bus access to the city during the day, but be warned: it's less convenient at nights and weekends.
Danubius Health Spa Resort Margitsziget Availability & Prices: Booking.com I Read Reviews on TripAdvisor
Danubius Grand Hotel Margitsziget Availability & Prices: Booking.com I Read Reviews on TripAdvisor
So Where Should You Stay in Budapest?
If you're still wondering where is the best place to stay in Budapest, we've summed it up as best we can below!
If I had friends coming to stay in Budapest for only a few days up to a week, I'd recommend they stay in the Inner City (convenient and close to everything) or Budapest VII (lively and a lot of fun).
If you want to know which area to stay in Budapest for couples or for a romantic holiday, look no further than quaint, quiet and cozy Pest!
For older (or more mature!) travellers, Pest, the Inner City, and Budapest VI are your best bets for convenient and sophisticated options. For younger travellers interested in more of a hip, local and lively vibe, Budapest VII and and IX are the best areas to stay in Budapest.
Consider Staying Near a Metro Station
Public transport in Budapest is excellent, with 4 metro lines, trams and buses to get you anywhere and everywhere you need to go, when you aren't simply walking. It's also quite easy to use – you can buy multi-day passes, or single-use tickets. For the single-use tickets, you need to use a new ticket each time you transfer, and you need to validate them with the orange stamp box at the entrance to the metro, or on the bus/tram.
The metro stop Deák Ferenc tér is really the most convenient transportation hub in the city, as it's the only station where the city's three busiest metro lines (M1, M2 and M2) intersect for transfers. The M3 and M4 intersect one stop over, at Kálvin tér.
When you're choosing the best place to stay in Budapest, check the location out on a map, and ideally stay close to a metro station. The following metro stops are relatively central:
M1: The M1 more or less runs along Andrássy Ut., starting at Vörösmarty tér on one end, close to the river, and continuing past Hero's Square and Széchenyi Baths. Any of the stops between Vörösmarty tér and Oktogon/Vörösmarty utca will be convenient. Personally, I wouldn't want to stay any further along Andrássy Ut. and I certainly would go beyond Hősök tere (Hero's Square).
M2: The M2 runs east-west. At the eastern end, I wouldn't go beyond Budapest-Keleti Pályaudvar (and probably more like Blaha Lujza tér). At the western end, Kossuth Lajos tér is the last stop before it crosses the Danube to Buda.
M3: At the north end, the M3 starts out running directly south into the city center, and then veers eastward into Budapest IX and beyond. One the north end, Nyugati pályaudvar would be convenient (attached to a modern shopping center and train station), and then going south I wouldn't stay much beyond Corvin-negyed.
M4: The M4 doesn't have huge utility for tourists, other than taking you to Szent Gellért tér and the nearby Gellért thermal baths.
More Where to Stay Guides
A Note About Our Hotel Recommendations In This Budapest Neighbourhood Guide
We get emails almost every day from readers asking about which hotels are the best options for their needs, what area to stay in Budapest, etc., and we're happy to respond and help the best we can. But here's the thing: we can't possibly stay in all of the hotels in any given city! As we know from personal experience it can be confusing trying to figure out where to stay in Budapest, we've included hotel suggestions in these guides. The recommendations are based on what we'd suggest to friends with different budgets if they were coming to Budapest. We haven't personally been to most of these hotels, so the recommendations are based on our knowledge of the city, and standard concerns: Is it in a good area that seems safe? Is it convenient for enjoying Budapest? Have other travelers left decent reviews of the place? Would I tell my best friend or my mother-in-law that this is a good place to consider? What are the best neighborhoods in Budapest?
If it meets these criteria, I've added it to the list. Now – to be fair, not ALL properties that meet these criteria have been added. There are plenty of good hotels in Budapest that aren't on this list, of course. And there's no fancy methodology here…basically, I have spent hours (seriously – this guide took me about 18 hours to make!) researching each recommended property via the hotel booking sites we actually use ourselves (HotelsCombined, Booking.com and Trip Advisor), and added what I thought looked good.
Ultimately, our goal is to help you have a great visit to Hungary's capital, and to do so without having to spend hours choosing the best place to stay in Budapest! Hopefully we've succeeded!
Did You Know? Hotel referrals are a primary source of income for this website. By making your hotel bookings using the links in this website, you support our continued efforts to bring you the best travel information. It's as easy as booking your hotel through Booking.com or TripAdvisor … and it doesn't cost you anything extra!
Like this Post? Pin it For Later!