Suppose you adventure a little bit from Florida's main tourist hotspots like Orlando or Miami. In that case, you'll find a wonderland of quaint, picturesque towns bursting with natural beauty, exciting adventures, and magical historic charm.
Abundant with unspoiled landscapes, palm-fringed beaches, and an infectious laid-back beachy vibe, these Florida towns are the best place to escape the busy tourist-drenched cities. So rather than the busy hustle and bustle, relax and unwind in these small, enchanting towns.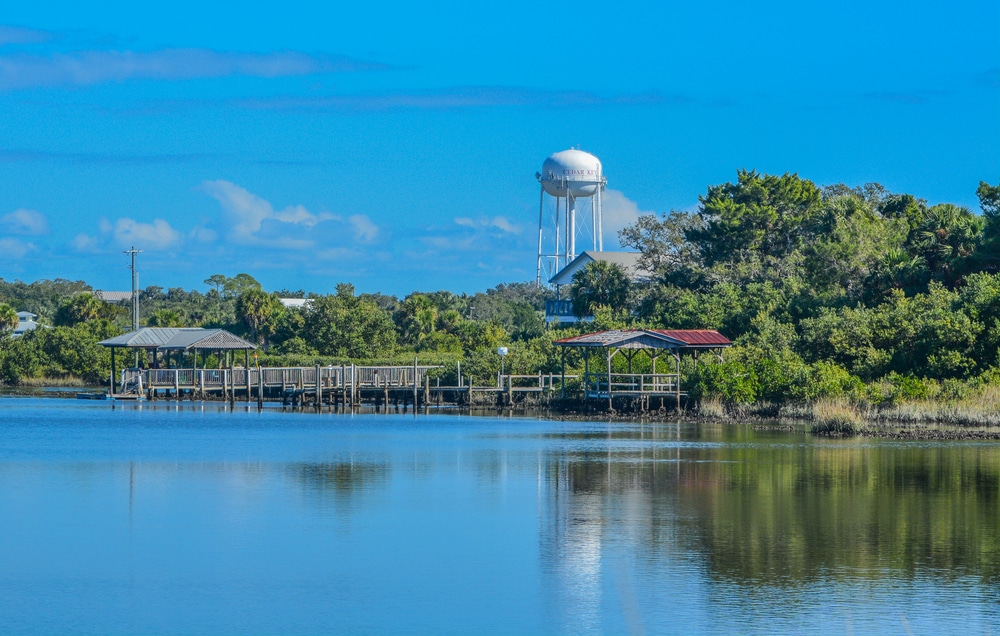 Before diving into these quintessential Florida towns, I want to ensure you have everything you need to explore comfortably. Below are the must-haves for exploring these little Florida towns.
Comfortable walking shoes
Drinking water
Camera (or phone – whatever type of photographer you strive to be)
A light sweater
Sunglasses
Sunscreen
Hat
These small towns are charming; it's easy to see why people adore them. Small towns offer a slower, more relaxed pace of life, friendly, contagious hospitality, fun, quirky traditions, and a bright community spirit. Visiting a small town is less busy and chaotic than the tourist hot spots. Spend your days wandering the streets, admiring the art, exploring festivities, and embracing small-town spirit when you visit these Florida towns.
Unique Florida Towns You Need to See
Cedar Key
Cedar Key is a small cluster of islands near the main shore of Florida. It holds a fascinating history and is filled with old buildings awaiting you to explore. Cedar Key was founded in the 1850s and resembles an old historic fishing village. The town is remote, packed with art, unique boutiques, and interesting history.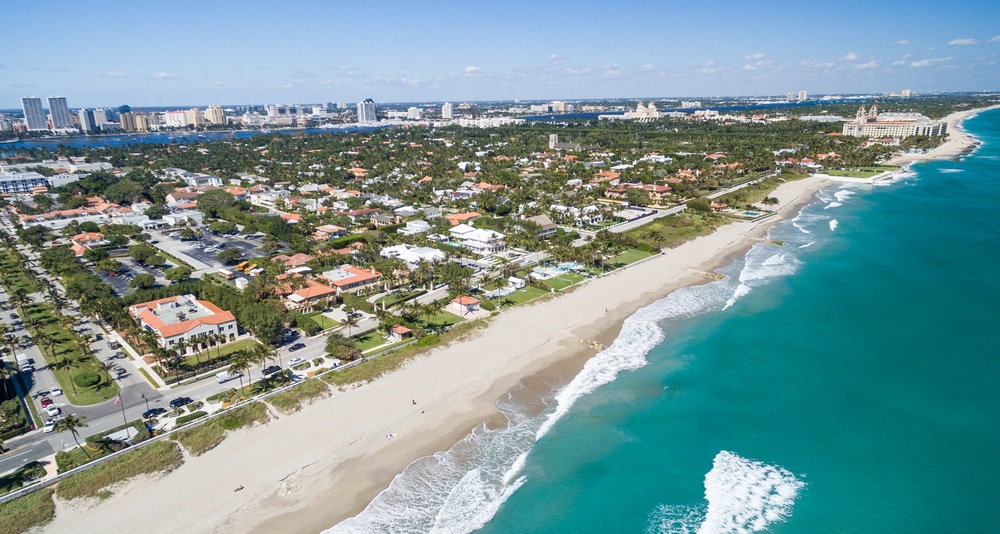 Palm Beach
Home to a picture-perfect waterfront, incredible entertainment, and vibrant neighborhoods, Palm Beach is a hidden gem in South Florida that is worth visiting if what you're after is a bit of a luxury vibe and an incredible and unique art scene. Shop at the designer boutiques along Worth Avenue, dine at trendy Instagram-worthy restaurants, or grab your bike and cycle along the Lake Trail for a glimpse of the island's sprawling estates.
Tip: Don't forget to check out what festivals are in town during your visit!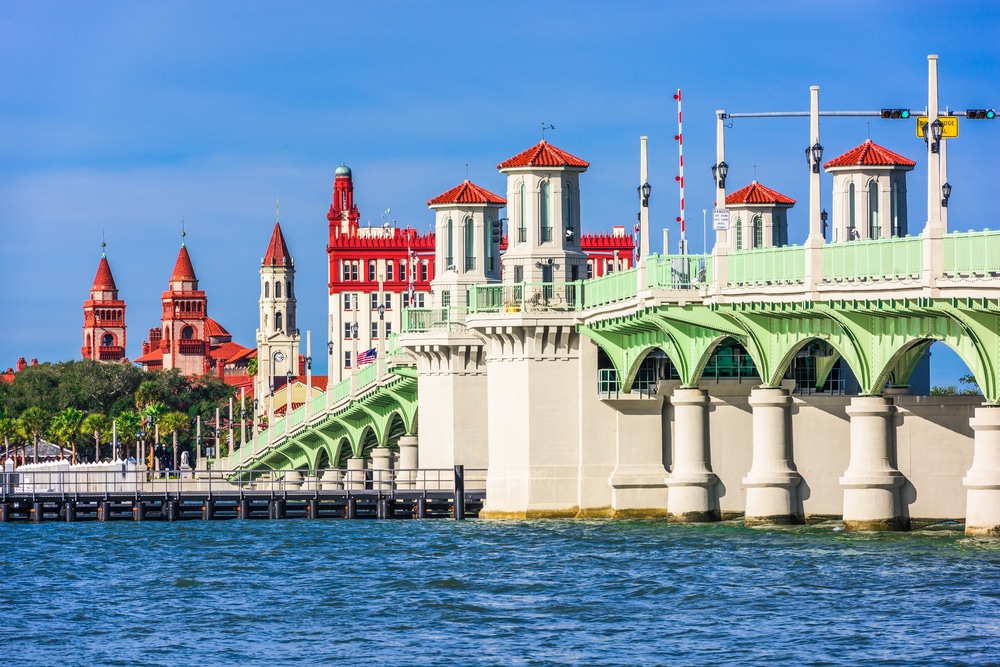 St. Augustine
St. Augustine is a charming European vibe town. It's charming and packed with interesting pirate history. St Augustine comprises brick-lined streets, historic buildings, European flair, and gorgeous sights.
St. Augustine's quirky streets and attractions bring to life the history of Florida while also featuring modern entertainment and lots of beach waters for those who like to mix things up. Think cobblestone streets, romantic squares drenched in charming cafés, and many historical sights to explore throughout the day.
Start the day with a lovely breakfast at the many quaint coffee shops in the city center, explore the history, check out a few museums, climb to the top of St. Augustine Lighthouse, or simply spend the day relaxing at the white sandy beaches that span the city. St. Augustine is a pretty town with plenty of picture opportunities awaiting!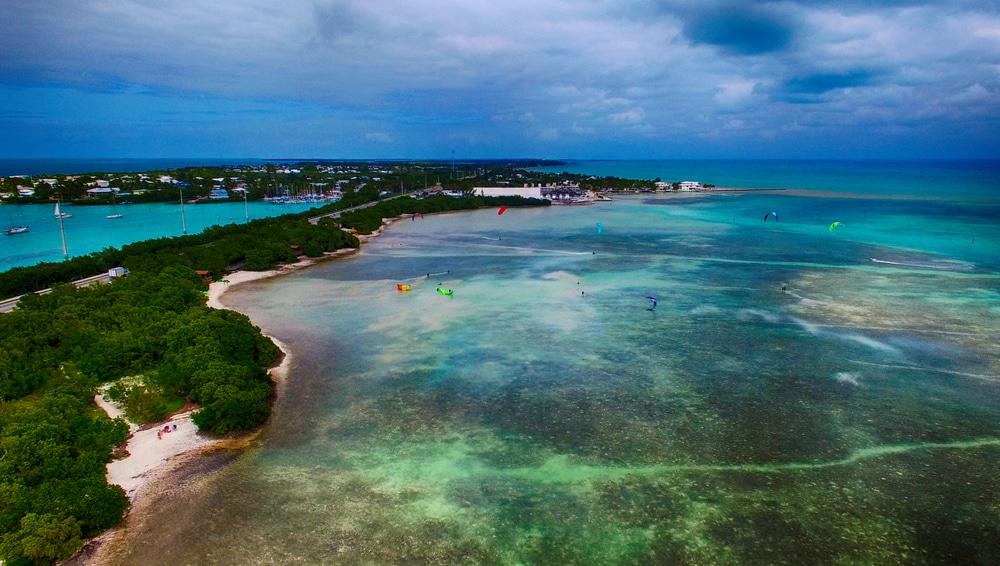 Islamorada
Quite possibly, the most famous island in the Florida Keys, Islamorada, can be found where barrier reefs, saltwater, and the nature of Everglades National Park meet.
The island is known for some of the best fishing in the world, but if fishing isn't your thing, there's plenty more to explore! Of course, ocean adventures are the best here (think snorkeling, sailing, and diving). Still, you'll also find plenty of shopping, fine dining (fresh, delicious seafood, I see you), and entertainment to keep you lingering a while longer (all with the prettiest views of white sand beaches acting as a backdrop, of course!).
Cassadaga
If you're into spirituality, then Cassadaga is a town you need to see. The 57-acre small town is packed with stories of spirits and ghosts. It is home to a spiritual camp that visitors can enroll in with plenty of activities. When you visit Cassadaga, be sure to get a medium reading! Cassadaga is packed with paranormal adventures. Visitors can embrace spirituality in every way in the town.
Matlacha
One of Florida's best-kept secrets, Matlacha is a picturesque little town bursting with candy-colored buildings and coastal village charm. Like Old Florida but with a dash of colors splashing every scene, the main thing to do at Matlacha is to stroll its streets in search of artsy treasures, fresh seafood, and infectious laid-back beachy vibes. A few wonderful things to do in the town are a tour of The Museum of the Islands, lunch at Capt'n Con's Fish House, and finish with a night cocktail at the Yucatan Waterfront Bar and Grill.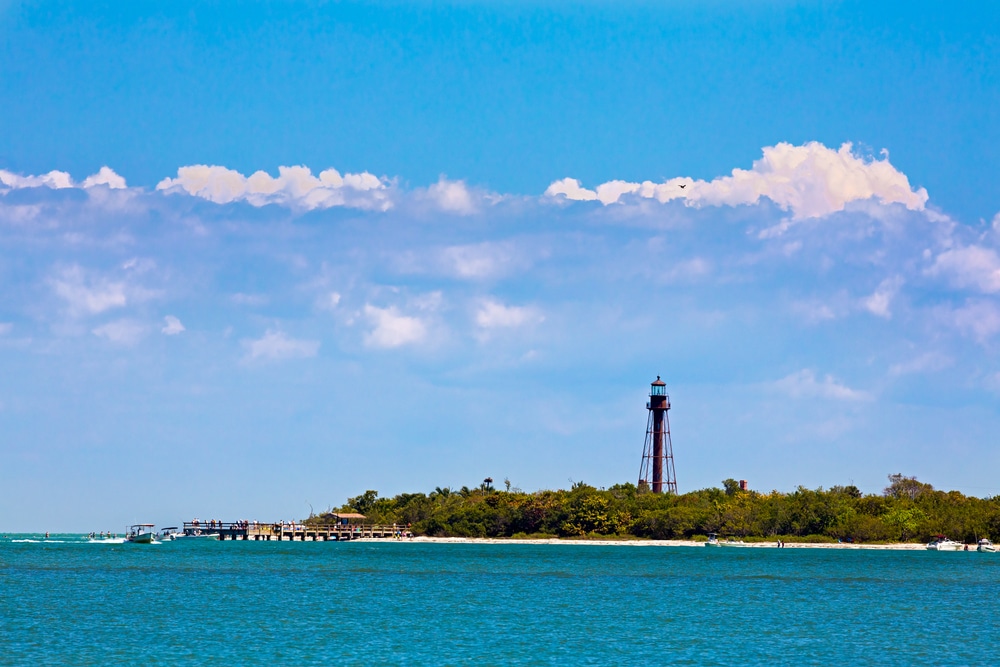 Sanibel Island
Sanibel Island may be small, but what it lacks in size, it makes up for with plenty of exciting things to do during your visit!
Thanks to the combination of gorgeous aquamarine beaches, a national wildlife refuge, and hiking trails weaving and winding through marshes, Sanibel is your go-to if you're into tranquil vacations and a mix of beach fun and nature. Moreover, its downtown's funky chic vibes and casual style will have you wishing you could stay just a little longer. A few fantastic things to do are shell hunting at Bowman's Beach, shopping at Periwinkle Way, and touring the Bailey-Matthews Shell Museum.
Sanibel's beaches are painted in shells. In fact, shell-collecting has become the island's claim to fame, and joining a "Sanibel Stoop" (as the locals call the act of shelling) is a must-do activity here.
Amelia Island
Located in the Jacksonville area, Amelia Island is one of the most beautiful islands. While you're here, explore the island's slightly glamorous vibes by walking through Fernandina Beach's charming Old Town district, checking out historic shops, and trying the island's fantastic food scene at the trendy restaurants that line the streets.
The island is packed with nature activities and thriving wildlife, which you can get to know on foot, kayak, paddleboard, or boat! Amelia Island is a paradise. While you visit, stop in at one of the many spas and treat yourself! Visit the Fort George Island Cultural State Park, take a ghost tour, and visit the maritime museum when you're there! Amelia Island is a treat!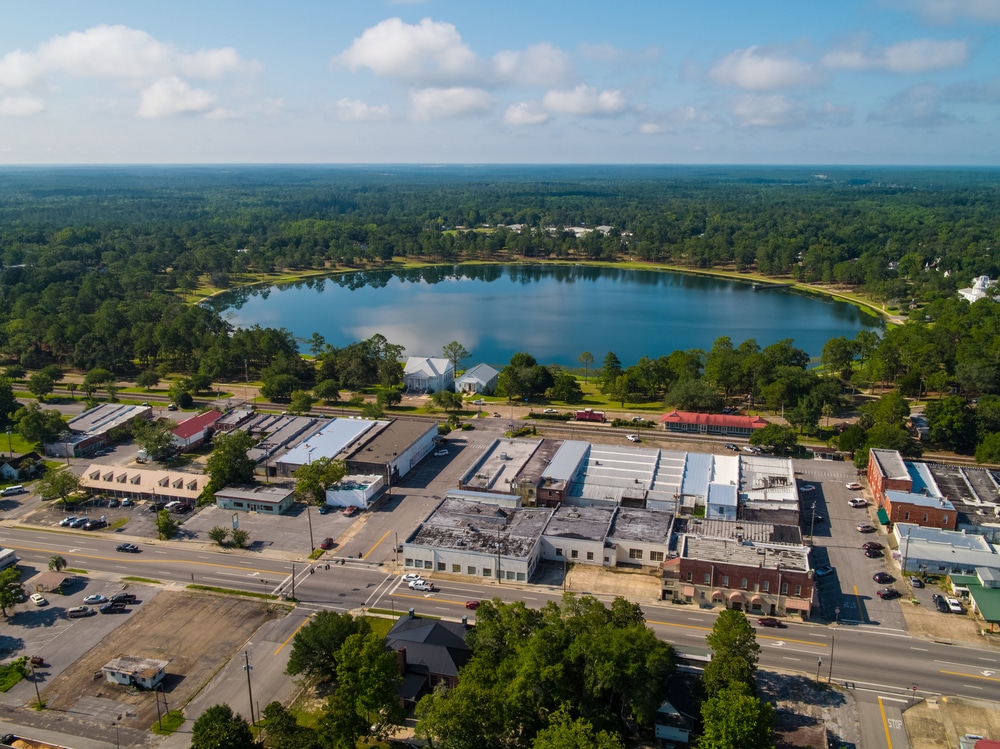 DeFuniak Springs
Victorian vibes are familiar at DeFuniak Springs. While there's not an abundance to do here, this cozy little town is perfect for a quiet vacation, especially if you're into serious old-world charm, beauty, and nature. Seriously, you could easily dedicate a few days just to admiring this town's enchanting architecture that has stood the test of time – grab your bike and travel to Circle Drive Historical Center in search of stunning homes!
DeFuniak Springs has a pretty unusual claim to fame: it surrounds a perfectly circular spring-fed lake, which is one of only two perfectly symmetrical lakes in the world (the other one is set in Switzerland). The lake is freckled by tall pine trees and exquisite Victorian homes, making the entire scene look straight from a fairytale.
Micanopy
Micanopy is located in Alachua County, Florida. Though it is small, it doesn't lack adventure or historical charm! Micanopy houses a historic downtown, many antique stores, delicious restaurants, and a quaint post office. The town takes visitors on a trip through time! It's a must-visit in Florida.
Anna Maria
If you're looking to journey to what Florida was like in the past, visiting the town of Anna Maria is a must. The town is only 20 minutes from Bradenton and is home to seven miles of perfect white sand shore. Anna Maria is a very historic town with plenty of delightful seafood restaurants awaiting you!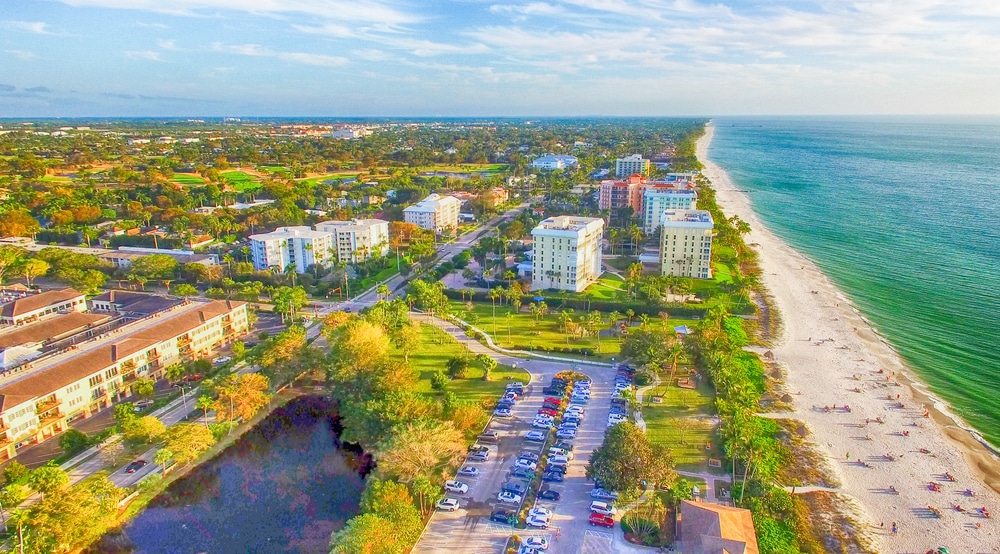 Naples
Looking for some new shoes? What about a designer bag? Then visiting Naples is a must! Naples is located right on the Gulf and has many high-end shopping destinations. Naples is home to world-class golf, white sand beaches, and incredible tourist spots that we're sure you'll love. Visit Naples Botanical Garden and be mesmerized by the diverse plants and flowers, or the Naples Pier and watch the crystal blue waters. In addition, the Naples Zoo and Bird Gardens are terrific places to visit!
Boca Grande
Boca Grande is on Gasparilla Island. It has a slow, peaceful vibe and is as beautiful as a postcard. Boca Grande is surrounded by gorgeous aquamarine waters and has a historic downtown with unique shops and boutiques. Boca Grande is also known for its excellent fishing.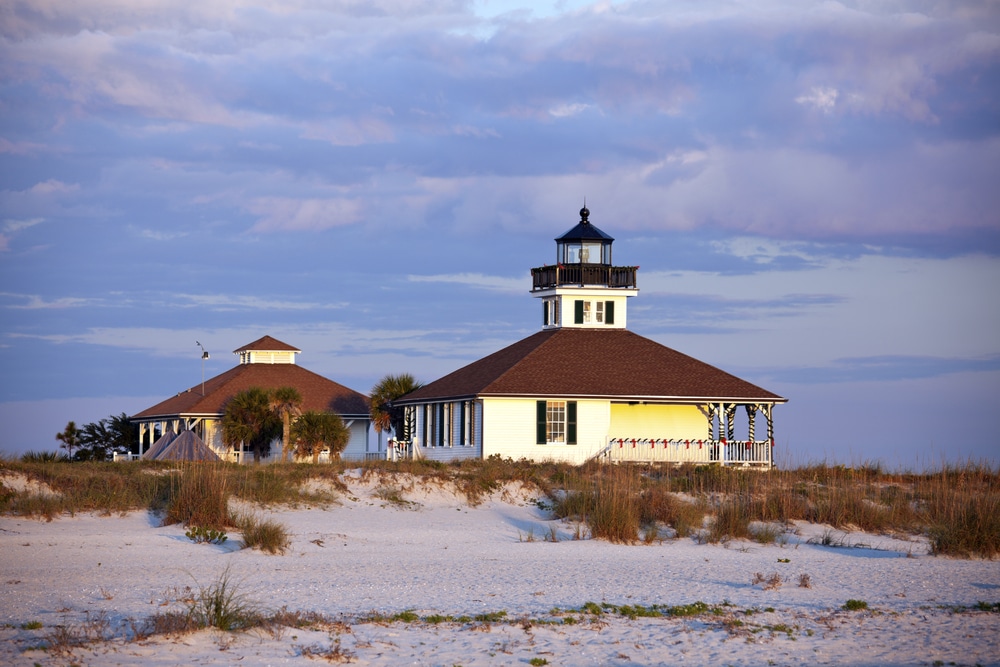 Grayton Beach
Grayton Beach is a must-see. The magical beach town is as quirky as it is beautiful. Visitors can find excellent seafood restaurants, soft white sand, and perfect glistening waters. Grayton Beach is a heavenly oasis filled with really neat things to see, an exciting art scene, and miles and miles of perfect waters.
Mount Dora
Mount Dora has a lot of country charm, terrific cuisine, and beachside cafes. It is a quiet town that offers visitors outstanding sights. Mount Dora is a great place to find antiques and other treasures!
We hope this list of the cutest Florida towns helped you choose a destination for your next escape! Even though some are more popular, they all guarantee a fantastic time split between the beach, entertainment, and beautiful nature.
Have you ever visited any of these fabulous towns in Florida? What are some other destinations in the state worth checking out?