Taking a trip to Portugal? Chances are Porto is part of your itinerary. Here's how to get the most of 2 days in Porto Portugal!
This is a guest post by Joe of JKGO

Disclosure: This 2 Days in Porto Portugal travel guide contains affiliate links. That means we earn a commission when you use the links on this site to book a hotel, buy your travel insurance, shop for travel essentials, etc.. You don't pay anything extra. If you'd like to learn more about how this works, you can read more under our Disclaimer page.
***
Porto, the second largest city in Portugal after Lisbon, is a great option for a short European getaway. There is history, tradition, and culture to be found around every corner of its cobbled streets.
This guide will help you make the most of your first visit to Porto!

2 Days in Porto Portugal: What to See in Porto in 2 Days
What to See in Porto, Portugal
What to Do in Porto, Portugal
What to Eat in Porto, Portugal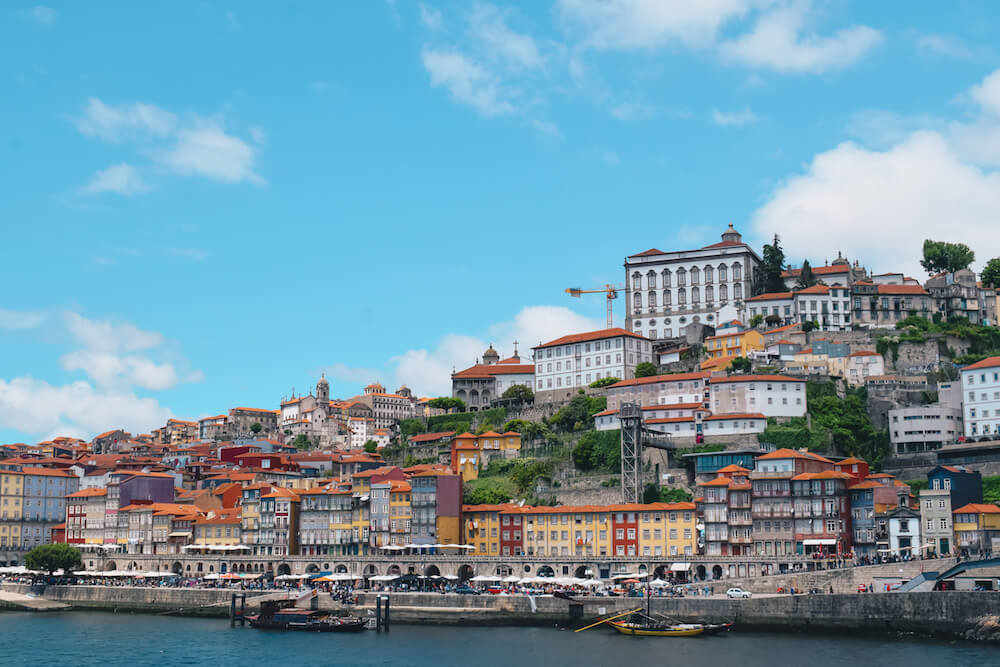 Must See in Porto: The Best Things to See in Porto Portugal When You're Short on Time
Dom Luis I Bridge
Dom Luis I Bridge is one of the most famous sights in Porto.
Connecting the two cities of Porto and Vila Nova de Gaia, the bridge spans majestically across the Douro River. A double-decker arch bridge, there's a road for cars to cross on the lower deck, and a Porto metro line on the top. Both levels also have pedestrian walkways.
At the time of construction, Dom Luis I Bridge was the longest bridge of its type in the world. It shares visual similarities to the Dona Maria Pia Bridge, further down the Douro River, which was designed by Gustave Eiffel, most famous for designing – you guessed it – the Eiffel Tower in Paris.
Stroll across the top deck for panoramic views of the city. You can see many of Porto's other historic landmarks, including Porto Cathedral and the Torre Des Clérigos, and watch as the boats pass by beneath you.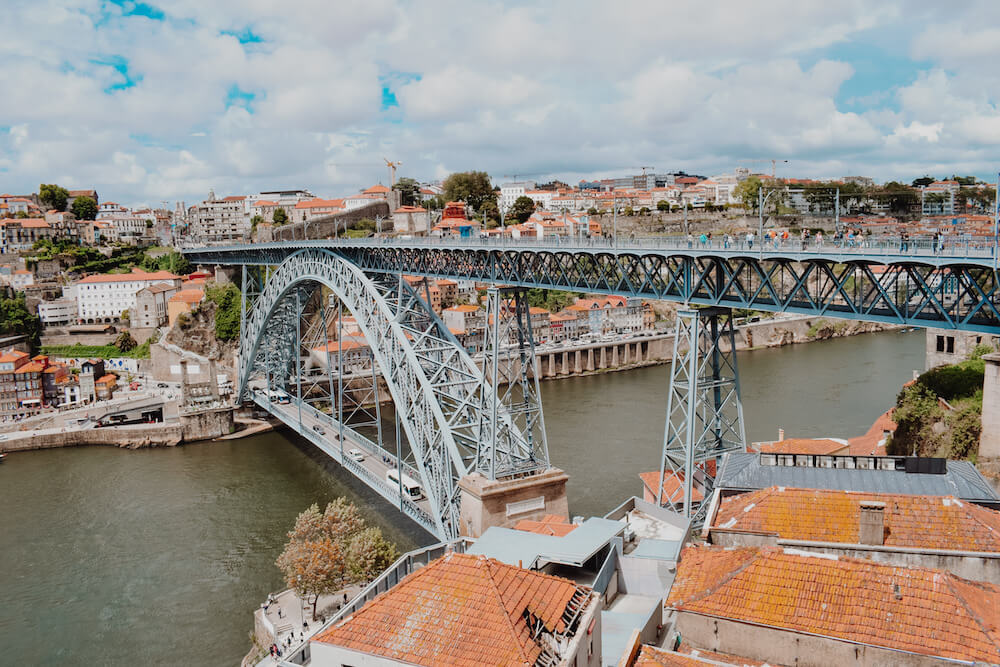 Porto Cathedral
Porto Cathedral, also known as the Sé Cathedral, is one of the city's oldest monuments. A Roman Catholic Church built in the 12th century, it is considered one of the most impeccable embodiments of the Romanesque style.
Since then it has been restored and rebuilt many times, with each addition reflecting a different age in Porto's history. The Gothic cloister was added in the 14th century, the attached Chapel of St Vincent in the 16th century, and finally the northern facade in the 18th century.
The cathedral sits on a square with a column in the middle, with excellent views of the city and the Douro River below.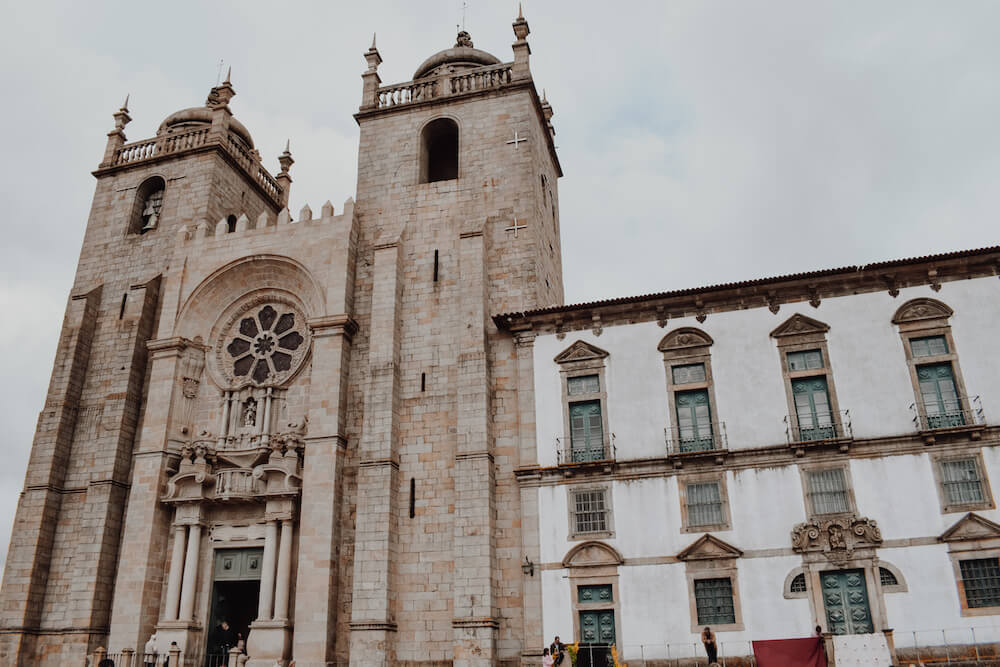 São Bento Train Station
São Bento train station, built in 1902, is still in use today as a fully functioning railway station.
It is a gorgeous example of Portuguese architecture. The walls in the grand hall are lined with azulejos – magnificent scenes depicting Portugal's defining historic moments, created by some 20,000 blue and white tiles.
If you arrive in Porto by train from Lisbon, you're most likely to arrive at São Bento train station.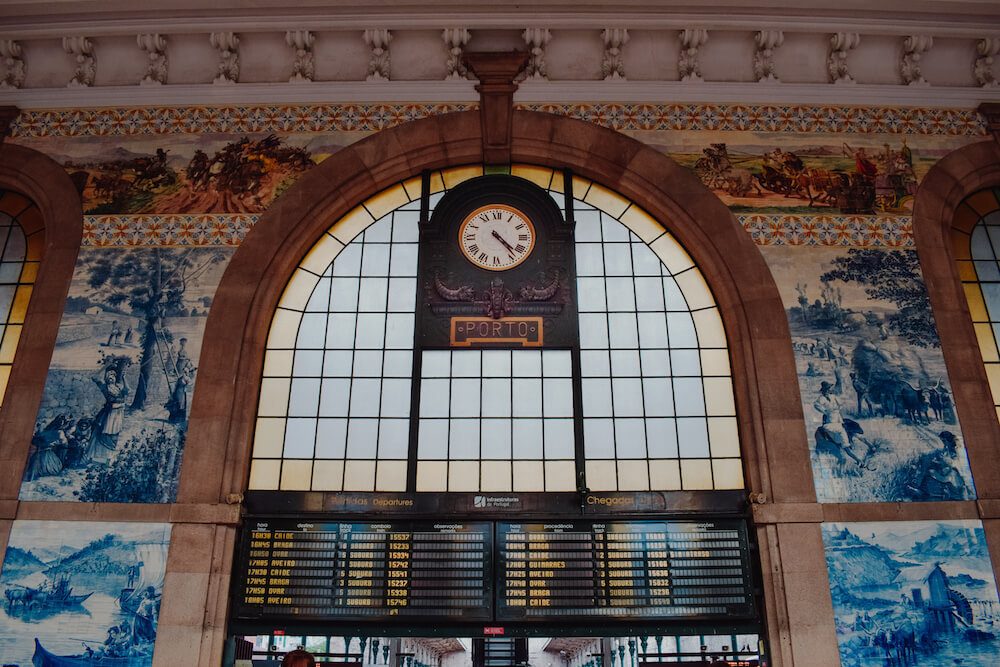 Torre dos Clérigos
The tower of the Church of Clérigos is one of the defining landmarks of Porto. Standing at 76 metres (250 feet) high, it's the tallest bell tower in all of Portugal. It's instantly recognisable by its intricate Baroque architecture and its spherical clock face.
If you wish to climb the clocktower, entry is just €3 and you will be rewarded with spectacular panoramic views of all of Porto. At the top you will come across 49 bells which form a large carillion. Keep an eye on the time, because if they ring while you are in the tower they may give you quite a fright!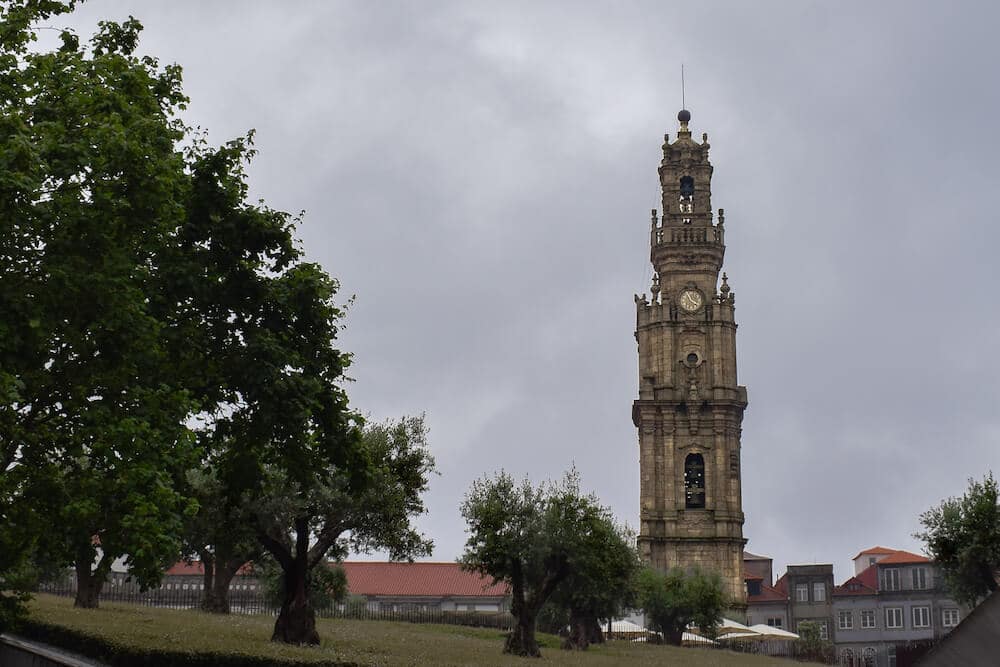 Livraria Lello Bookstore
Livraria Lello is one of the most beautiful bookstores you will ever set foot in. It has ornate wooden carvings, a magnificent spiral staircase, and a stained glass window that illuminates the whole place. There is a €5 entry fee, but you can redeem your ticket as a voucher against the cost of a book in the store.
The store was regularly visited by JK Rowling, the author of Harry Potter books, when she lived in Porto. It is said the store inspired her depiction of the magical Hogwarts School of Witchcraft and Wizardry.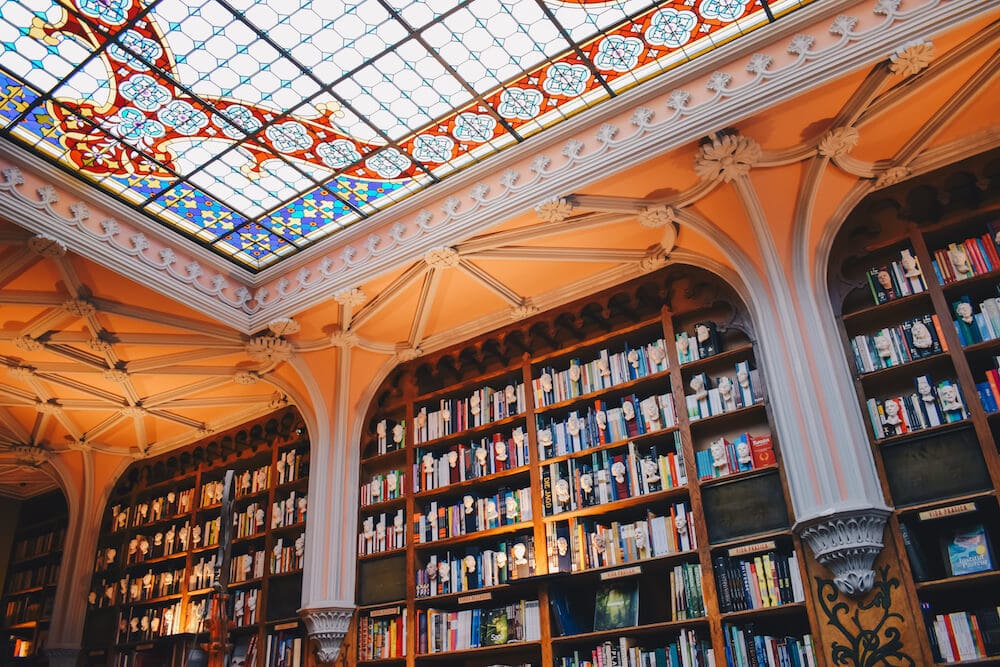 ---
Activities in Porto: The Best Things to Do in Porto on a Short Visit
To make the most of your time in Porto, we recommend this package that includes two days of access to a hop-on hop-off bus tour, a river cruise, and one port wine cellar tour and tasting. It's excellent value starting from around US $30 per person, and includes the highlights of the city!

Bus Tour
We love to do a bus tour anytime we visit a new city. They're a great way to get your bearings and decide what you want to go back to visit in more depth during your trip.
Porto is a relatively small city, so the bus tour doesn't take long. You'll also get an audio guide, which is a great way to learn about more of the city's history and culture.
In Porto there are two bus tour routes; one that stops at the main attractions in the city and one that goes further out to some nearby beaches. One ticket allows you to go on both routes, and it's a great way to save money on public transport.

River Cruise
As well as the Dom Luis I Bridge, there are several other impressive bridges to see along the Douro River. A river cruise is an excellent way to see them all and learn about their design and backgrounds.
You can also admire the skylines of the cities of Porto and Vila Nova de Gaia, which sits opposite Porto on the other side of the river, from the boat. Boats depart regularly during the day.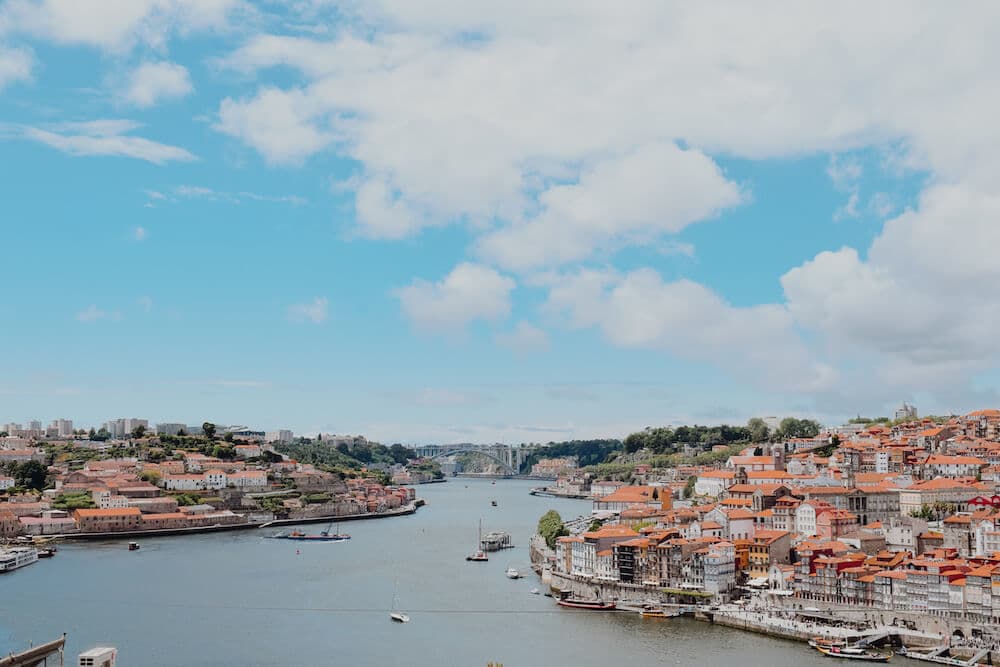 Port Wine Tasting
One of Porto's finest exports is port wine, a sweet and smooth wine that has been fortified with brandy. All of the port wine cellars are actually in Vila Nova de Gaia, just on the other side of the Douro River, and many of them offer tours and tasting sessions.
If you opt for the bus tour, river cruise, and wine tasting package, you'll be able to explore the Cálem wine cellars, some of the most famous and most visited in Porto. There is an interactive museum, a guided tour of the cellars, and a tasting session that includes two glasses of excellent port wine.
Take a look at our guide to port wine in Porto for more on how port wine is made, its history, and the best places to drink it.
---
Eating in Porto: What to Eat with 2 Days in Porto Portugal
Pastel de nata
A pastel de nata is a delicious Portuguese custard tart with crispy, flaky pastry and a creamy custard filling. There are plenty of excellent bakeries in Porto to sample these rich treats. Two of the best ones are Confeitaria do Bolhão and Manteigaria – but you can find them in almost any bakery or coffee shop in the city, and the standard is usually pretty high!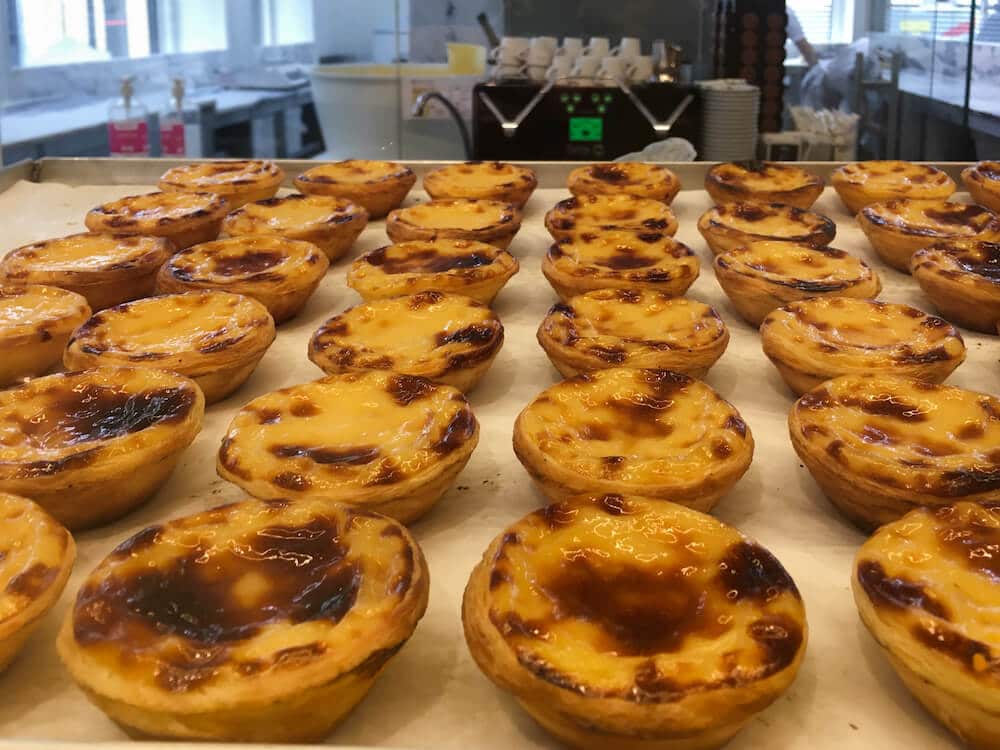 Francesinha
A Francesinha is a traditional Portuguese sandwich. It's a selection of assorted meats between two slices of bread, covered in tomato sauce, melted cheese, and an egg. They're usually inexpensive, filling, and delicious – although the quality can vary depending on where you go.
Try Francesinha Cafe, Yuko, or Lado B for some of the best Francesinha that the city has to offer.
---
Travel Tips for Porto Portugal
Porto is a relatively small city, and if you enjoy walking it's a great way to see the winding streets and alleys that make the city so unique. There are several steep hills and steps, so some level of fitness and mobility is required, and you should plan on wearing good quality shoes during your visit.
Porto also has a great public transportation system. You can purchase a rechargeable 'Andante Azul' ticket that will let you on the Porto Metro and public buses. Each journey costs between €1 and €2 depending on the distance, or you can purchase a 24-hour pass for €6.
Getting from the Airport to Porto City Center
The Porto airport is connected via the metro and several bus lines, and you can use your Andante Azul ticket to and from there. Alternatively, Uber is quite cheap in Porto. A journey from the airport for up to four people costs around €11, compared to a traditional taxi that would cost €20 to €30.
---
Author Bio
Joe Saw is a travel blogger at JKGO. He truly believes that travelling to new places and experiencing new cultures can change your life. JKGO's goal is to inspire you to travel more and help you travel better.
Like this 2 Days in Port Portugal Guide? Pin it For Later!