Alfama Lisbon and Mouraria neighborhood guide. Insider tips to make the most of your time in Old Town Lisbon popular, including where to eat, drink, stay and shop.


Disclosure: This Mouraria and Alfama Lisbon district guide contains affiliate links. That means we earn a commission when you use the links on this site to book a hotel, buy your travel insurance, shop for travel essentials, etc.. You don't pay anything extra. If you'd like to learn more about how this works, you can read more under our Disclaimer page.
***
Alfama and Mouraria are neighboring historical districts of old town Lisbon. Mouraria is the old Moorish ghetto on the north side of the castle, and Alfama on the south side to the water. Both neighborhoods consist of lovely narrow cobblestone streets winding their way up to the top of the hill with Castelo de São Jorge overlooking the city. Making your way upwards can be a steep climb, so take plenty of water and wear comfortable shoes. When you reach the top, you will be met with numerous beautiful patios and miradouros (lookouts), and have the opportunity to take in the panoramic view of the city from the Castle.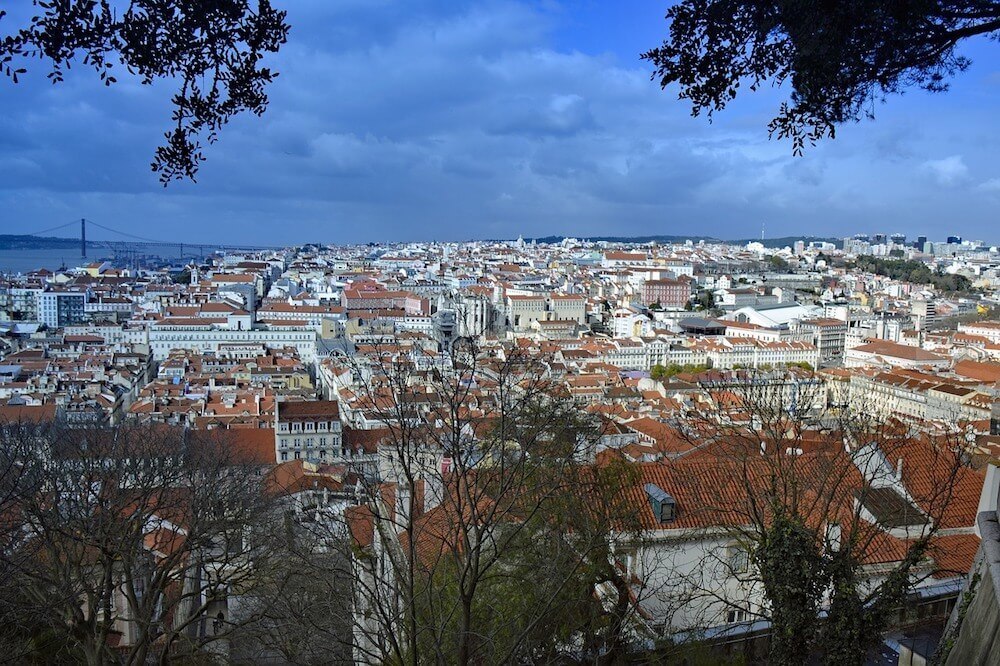 The main attraction is the district itself and the Moorish Castle overlooking the city. Alfama Lisbon used to be a sketchy sailor part of town before the 1755 earthquake, nowadays it is the historic neighborhood that is home to Fado signing and sardine-cooking taverns.
Get lost in the streets of Alfama Lisbon and engage in some culture on your way: the Museu do Fado (Largo do Chafariz de Dentro, 1) is a great place to familiarize yourself with the soulful Fado music. Fundação José Saramago is housed in the quirky, Italian Renaissance inspired Casa dos Bicos (Rua dos Bacalhoeiros). For most, the building's facade is the attraction itself, but if you're interested, it houses a private collection of José Saramago, who was a Nobel Prize winning Portuguese author and award winning novelist.
Take Rua Augusto Rosa to climb past 12th century Lisbon cathedral, or Sé de Lisboa, (Largo da Sé, 1100-585 Lisboa) and reach Miradouro Santa Luzia (Largo de Santa Luzia, 1100-487) for the iconic view of Alfama. It is connected to the beautiful Portas de Sol where you will have a view of the 17th century Igreja de São Vicente de Fora (Largo de São Vicente, 1100-572 Lisboa) and the Pantheon (Panteão Nacional Campo de Santa Clara).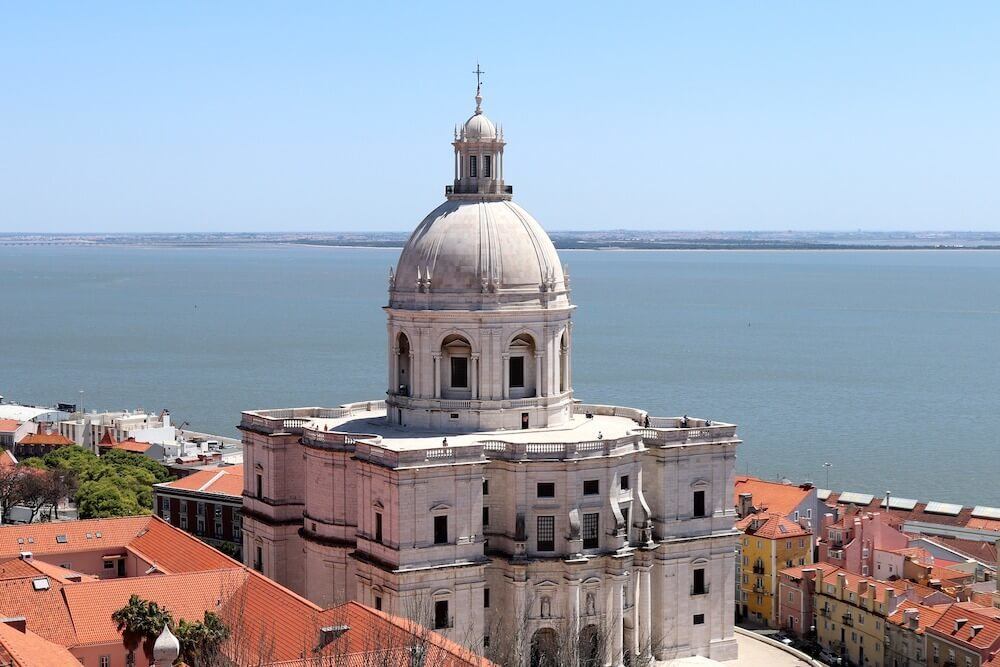 Walk through the Castle district and reach Mouraria Lisbon, and the 'walled' city that once surrounded the castle on the hilltop. On your way, be sure to hike up to another amazing viewpoint, the Miradouro da Senhora do Monte, the highest viewpoint of Lisbon. From here there are great views of the Castelo de São Jorge and the Ponte 25 de Abril bridge, as well as the other side of Lisbon across the river.
---
Check out this Top Rated Lisbon Tour
The Lisbon Essential Tour is rated 4.8/5 from almost 2000 reviews. The tour covers Bairro Alto, Chiado, Alfama, the best viewpoints and even a ride on the infamous Tram 28!
---
Accessibility to Other Sites
Alfama Lisbon and Mouraria are mostly pedestrian districts, although the famous tram #28 and (bus #737 to Castelo) do wind through. Be aware that they can become quite crowded and you may have to wait in line to get on. There are, however, a couple of little secrets that Lisboetas enjoy if you're not up for the crowds. For example, you can use a combination of two elevators to get from the Baixa district to the top of the hill and visit Castelo de São Jorge. The elevator on Rua dos Fanqueiros, 170 is called Santa Maria Maior and the Elevador Castelo is situated across the street from the exit, just next to the supermarket called Pingo Doce (Largo do Chão do Loureiro, 1100-145 Lisboa). Be sure to drop in to the Pingo Doce at the Castelo Elevador site, and stock up on snacks and water as everything upwards from there will become more and more expensive.
You can climb the hill by following the path of tram 28. This is a great walk down more so than uphill. Be sure to take note of the decorative calçada designs in the pavement found throughout old town Lisbon.
The metro stations Santa Apolonia and Terreiro do Paço on the blue line serve the Alfalma district, it connects through Baixa-Chaido and runs north/south along the Avenida da Liberdade. Martim Moniz station on the green line is the closest metro stop to Mouraria, it also connects through Baixa-Chiado.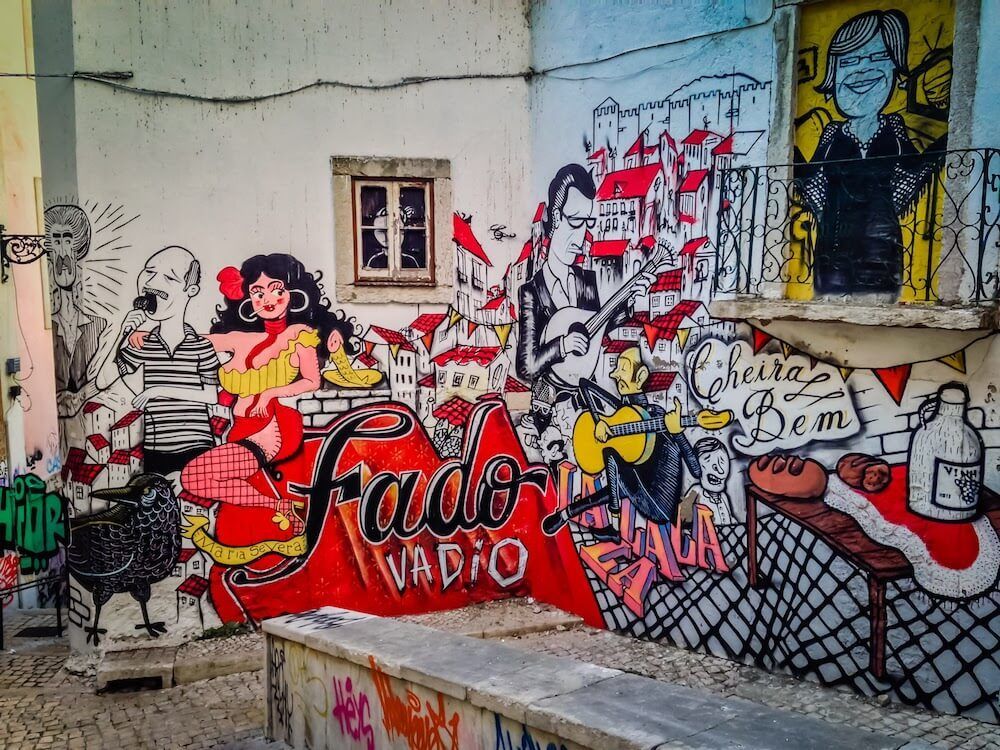 What to Do in Mouraria and Alfama Lisbon
The Old town Lisbon districts are a combination of charming small streets that flow around the Castle in a cascading motion. You can either stock up on souvenirs or take in the views of the miradouros, either way the atmosphere of the place is amazing and rich with culture. Don't be shy to engage with locals, they can tell you many stories if you are willing to listen. Above all, listen to Fado, or better yet, go to a live Fado show. The experience is best enjoyed with a glass of wine, not during dinner, so respect the tradition of this saudade induced place and let the night sky provide the rest.
See a live Fado performance
Take in the stunning views from the multiple lookouts
Stock up on souvenirs
Visit the Pantheon
Visit the Sé de Lisboa
Wander the castle grounds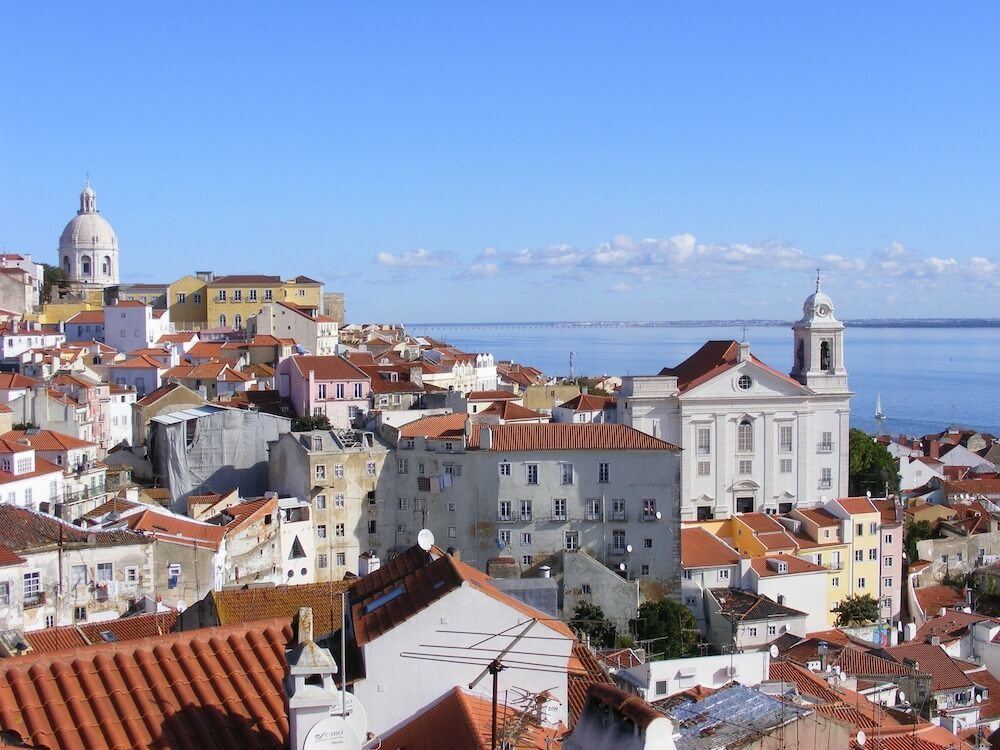 ---
Our Travel Coloring Book Features Lisbon!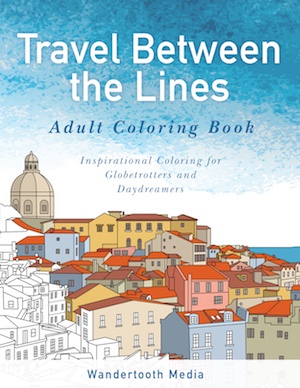 The view from the Miradouro das Portas do Sol just happens to be a coloring page, and cover, of our very own travel themed adult coloring book! Check it out here.
---
Shopping Guide to Alfama and Mouraria Lisbon Neighborhoods
You certainly won't find a better variety of souvenir shops anywhere else in Lisbon than in the Alfama district. You can get anything from cheap knick-knacks to elaborate home decor and jewelry. Make sure to bargain, it would be impolite not to!
No Lisbon old city tour is complete without a tour of the flea markets. The best one in Lisbon, Feira da Ladra, happens on Tuesday and Saturday mornings right next to Pantheon on Campo de Santa Clara. In recent years, the market has become more and more varied. You can still find unique pieces for your interior design, and some postcards from the past that will make a great piece in your collection.
Where (and What) to Eat in Alfama and Mouraria
The Lisbon old quarter is literally packed with the best Lisbon restaurants. While most people decide to eat somewhere next to Se de Lisboa cathedral, we suggest climbing higher up to the Miradouro da Graça and sample some modern versions of Portuguese cuisine at A Janela da Voz do Operário (R. da Voz do Operário 13).
If you decided to stroll into Mouraria for lunch or dinner, make sure to stop by vegetarian Bruta Flor ( Largo Severa 7A/B) and taste the portobello burger. A very nice traditional Portuguese option, try a pair of restaurants, O Trigueirinho ( Largo dos Trigueiros, 17) and O Corvo (Largo dos Trigueiros, 15A). The locals will be waiting for their reservation at Ze da Mouraria (R. João do Outeiro, 24).
Nightlife in the Alfama District
Nightlife in Alfama is mainly concentrated around Portas do Sol with live music playing into the night. Because it's a neighborhood largely populated by older people, they are respectful and all restaurants close shortly after midnight. If you are adamant to get the night going, we suggest strolling down to Alfama's quay, closer to Santa Apolonia and get some drinks on a patio. Start at Damas (Rua da Voz do Operário, 60) for some live music and delicious cocktails. End your night at Ferroviario (Rua de Santa Apolónia 59) for a lively pub atmosphere, or Lux Fragil (Avenida Infante Dom Henrique) for some clubbing.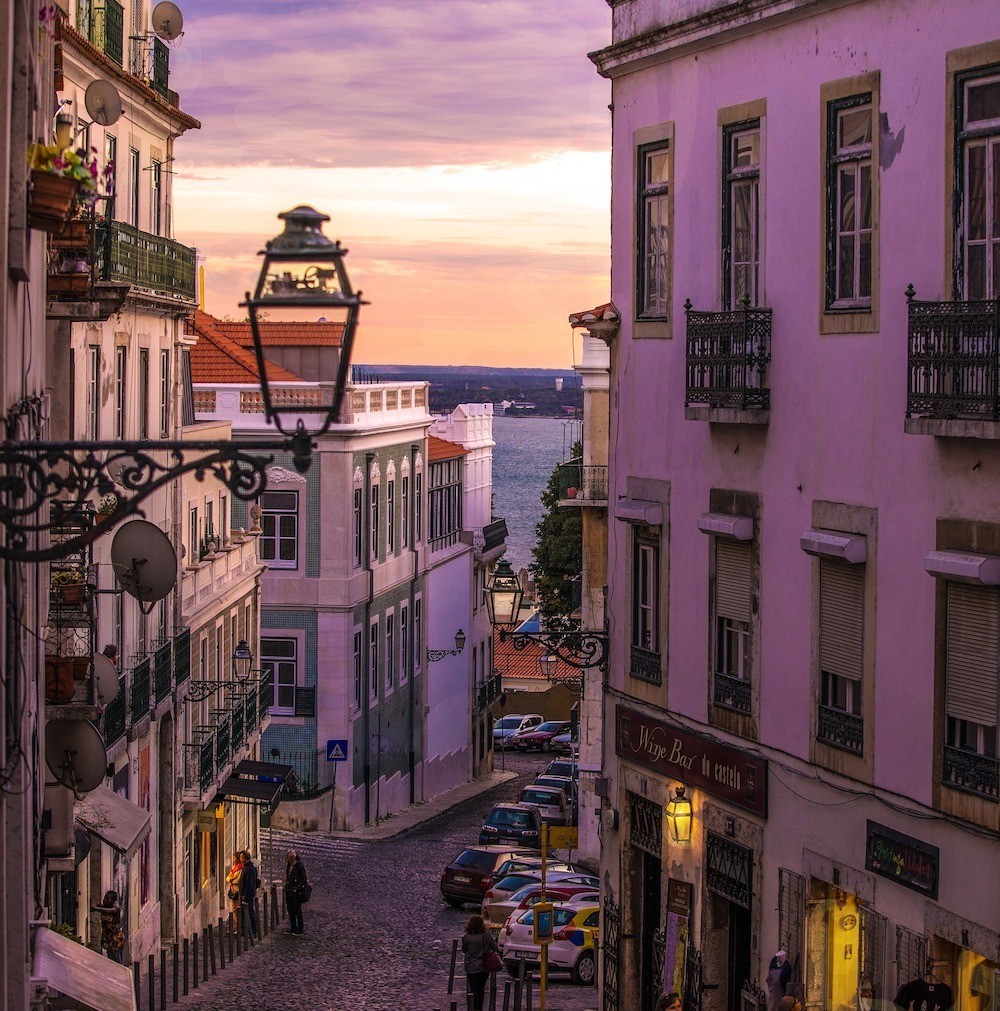 Who Should Stay in Alfama Lisbon (And Who Shouldn't)
Alfama and Mouraria is great for couples, one folks on a fun city break. With a variety of cafes and restaurants to choose from, the stunning views and Fado signing from every corner, you are bound to have a romantic weekend.
So who should stay in Lisbon's Mouraria and Alfama District?
Travelers who plan to stay in a luxury hotel in a city center location
Couples without kids visiting for a food and drink-themed city break
Couples that are looking for a romantic holiday spot with easy access to the city's attractions
If you have mobility issues, the steep hills of Alfama will present a challenge so it's best to consider a more 'flat' neighborhood in Lisbon.
Pros and Cons of Staying in Lisbon's Old Quarter
Pros:
Very central & close to the main attractions
Variety of bars and restaurants
Lots of historical landmarks
Busy, with a lot of people on the street and a constant police presence in the more crowded spots
Cons:
Very touristy & can get quite crowded
Not the best access for public transport
Where to Stay in Alfama and Mouraria
Alfama in particular is packed with Airbnbs and holiday apartment rentals, so pick one with access to a sunroof or a balcony and you will be able to tan without ever going to the beach.
Hotels in Alfama Lisbon:
3-star Hotels in Alfama District
4-Star Hotels in Alfama District
5-Star Hotels in Alfama District
Budget Option for Alfama and Mouraria
Safety Tips for Lisbon's Mouraria and Alfama District
Take care of your belongings especially on tram #28. The tram ride up can get very bumpy and that's when pickpockets like to strike.
---
Like this Alfama Lisbon Guide? Pin it For Later!