2016 Travel Gift Guide for Women: 22 Christmas Gift Ideas for Creative Women Who Love to Travel
Note, this post contains Amazon affiliate links. That means we earn a small commission when you click through and buy something. You don't pay anything extra. Affiliate links are one of the ways we make money from this blog (our travel-inspired adult coloring books are another way) to keep the laptops humming!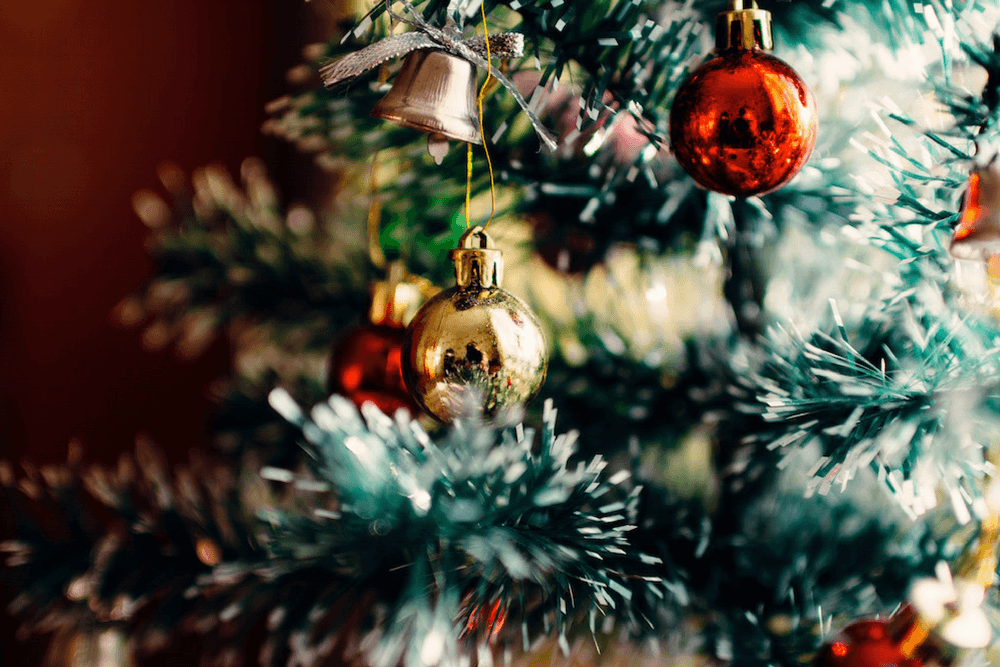 2015 was the Christmas we all went collectively bananas for adult coloring, causing mass panic at pencil crayon factories the world over as supply chain and factory managers attempted to keep up with our never-ending demand for every pencil shade imaginable, and bookstores, gift stores, supermarkets and everyone else stuffed as many coloring products as they could fit on their shelves, lest they miss out on the frenzy.
It's also the year Geoff and I launched our travel-inspired coloring book business, creating adult coloring books from our travel photographs by having each photo hand-traced to show a real time and place around the world. It's hard to believe we're coming up on a year later — our first Travel Between the Lines book was published Dec. 18, 2015 — and we now have a library of 3 books (we've added Coloring Mexico and Coloring Rome to the mix!), as well as a growing collection of free coloring pages you can download.
It's been a fun year, and one of the best parts has been hearing how many people LOVE coloring and travel. But here's the thing…travel coloring isn't the only creative travel-themed product Geoff and I have considered making over the years.
Truth is, I'm a huge stationery and craft nerd. Back when we lived in Taiwan — the capital of the most amazing stationery products in the world, and yes I HAVE been to Japan — I mailed no less than 10 overstuffed padded envelopes filled with pop-up greeting cards, stickers and decorative tape home to Canada, knowing that I'd struggle to live without a glorious abundance of stationery products once back in Canada.
As a 27-year-old adult woman, my also-adult friend Emily and I went through a phase where we collected stickers, meeting up on weekend afternoons to shop for stickers, and then going to the bar to drink beer while arranging our best stickers in our — wait for it — sticker albums.
Whenever we go to a new country, I quickly source the craft and stationery stores and silently judge the entire country based on the quality of their greeting cards, stickers and notepads. Japan = fantastic. Taiwan = the best. Mexico = decent party supplies but needs improvement on stationery. Romania = all-round abysmal (just on the stationery front…I love Romania!)
I know I'm not the only one like me out there. I know there are other creative, crafty, travelling lady nerds (and also, I'm sure, man nerds, but I don't pretend to know what they like) out there, and so I thought I'd curate a collection of gift ideas that are both fun and practical.
If you're shopping for a creative travel-loving woman this year, look no further than our 2016 Travel Gift Guide for Women (and yes, many of these are affiliate links)…
Travel Between the Lines Adult Coloring Books
Obviously, I recommend our books — not only because we made them, and we make money when you buy them (which – let's be honest – is always nice), but because I love them.
This past year, we returned to Lisbon, Portugal, and walked up to a lookout, near the castle, with our first book in my bag. And we both got insanely excited by seeing our book in its "natural habitat."
We did the same thing in Mexico. We printed out some pages from Coloring Mexico before our day trip to San Miguel de Allende, and happily wandered around the city with our very patient friend, Backpack with Brock, finding the original scenes that Pete and Dalene had shot for the book.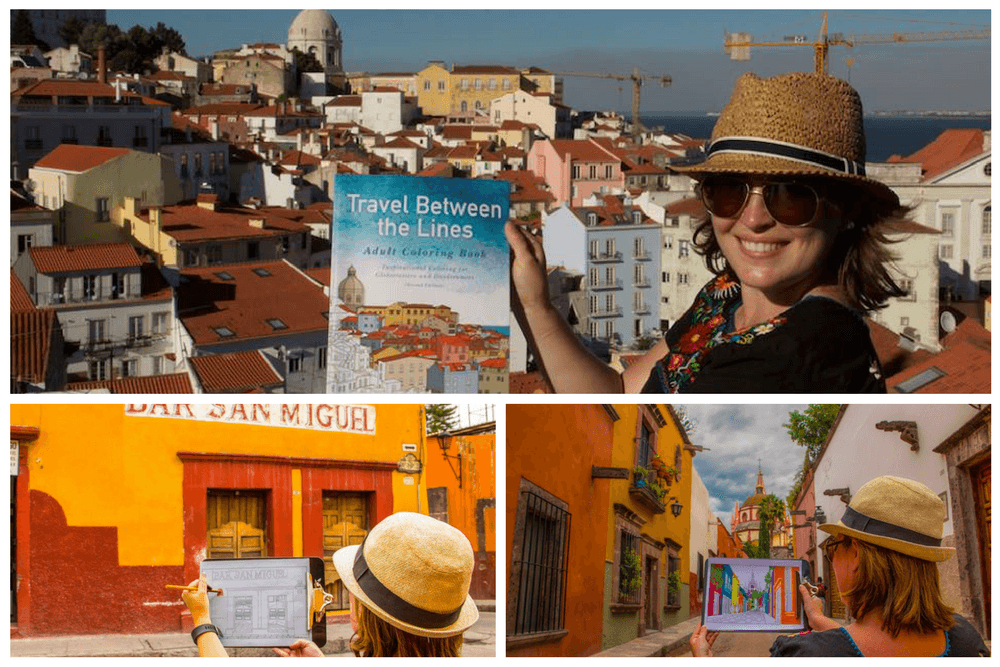 My point being, we think our books are great, and we love being able to show a real place and time in the world. So Travel Between the Lines adult coloring books should probably be at the top of your Christmas shopping list!
But what do you get the traveler who already has all three Travel Between the Lines books????
To no one's disappointment more than my own, we did not invent travel-themed coloring books, and there are others out there. To be honest, many of them look like complete rubbish (in my humble opinion). But there are a few that look absolutely awesome…these are the travel-themed coloring books that are on my wish list…the ones that take you on a round-the world journey that doesn't even require you to get off your couch.
Fantastic Cities: Amazing Places Real and Imagined – Created by fellow Canadian Steve McDonald, this book features beautiful architectural-inspired illustrations of global cities as diverse as New York, Istanbul, Guatelejara, Amsterdam and more.
City Maps: A coloring book for adults – If you've got a map-lover on your list (and let's face it, most travelers also love maps), this is a good bet. It's got a mix of 40 different map styles, all from a bird's eye perspective, of cities near and far.
Lonely Planet Ultimate Travel Coloring Book – Whereas Travel Between the Lines has precise lines created from real life, the Lonley Planet book has more of a sketchbook style, taking you on a journey to 100 locations near and far.
Splendid Cities: Color Your Way to Calm – This book looks lovely and draws more on the imagination than our Travel Between the Lines books. I particularly am interested in the birds-eye/aerial illustrations, and the Eastern Orthodox-inspired 'onion domes.'
Getting beyond travel-inspired coloring books, I'd like to talk about a vastly underrated and oh-so-satisfying form of crafty entertainment. I'm talking, of course, about stickers.
Fun fact: for the first 2 years of our nomadic existence, I carried around a tin of vintage travel-inspired stickers, because somehow, I thought I might need vintage travel stickers whilst traveling.
Surprisingly, we never faced a situation where vintage-inspired, travel-themed stickers were required, and I decided to leave them in the safety of my mom's place last time we were in Vancouver.
So while stickers may not be the most practical take them with you on a round-the-world-trip kind of gift, that doesn't get around the fact that stickers rule and make a great gift or stocking stuffer.
Cavallini Decorative Stickers Destinations
I feel it's safe to say anything by Cavallini & Co will go over very well among the crafty-travelling set. I personally love these stickers, and have several decorating my e-reader and laptop cases. They come in a nice tin – perfect stocking stuffer.
US $13.34 on Amazon
Passport Stamp Sticker Sheets
These stickers aren't perfect, but I'm still drawn to them. Each sheet contains multiple copies of the same stamp, meaning you get 20 copies each of 12 different stamps…plenty of options for spreading the stickers around. Definitely made for children, but still cool. Hard to beat for USD $5.00.
Vintage Travel Poster Stickers
Vintage travel posters, in sticker form. These come in a sheet, with each sticker measuring 2.5″x3.5". I personally like these Europe ones, but there are multiple versions to choose from…just match the destination to the traveler on your gift list. Cheap as chips at $2.99.
---
Our friend Jodi from Legal Nomads has been slowly rolling out a line of typographic food map products, and they're lovely. She currently offers posters, tote bags and t-shirts (for men and women) featuring the food of Mexico, Italy, Portugal, Thailand and Vietnam. Great for someone who's looking to add a little something from their favourite destination to their home or (in the case of the bags), their daily routine.
Jump on over to Jodi's Legal Nomads Store to pick out your favorite.

Food Map Poster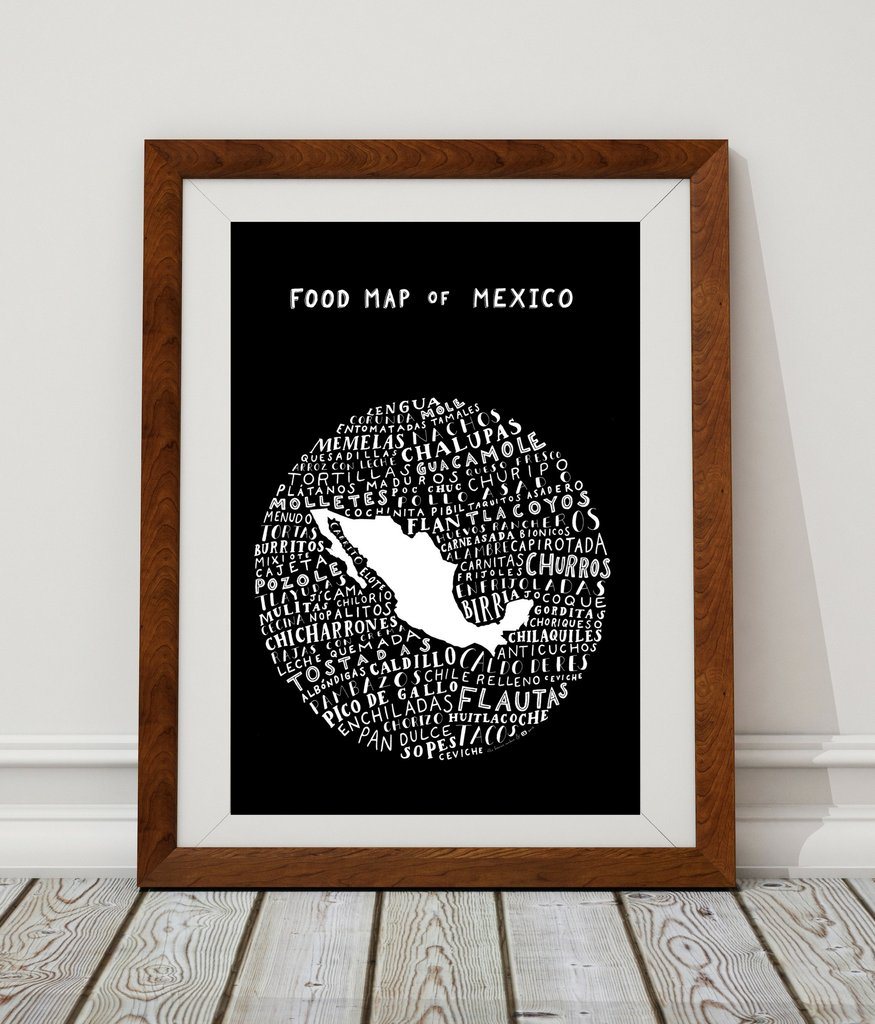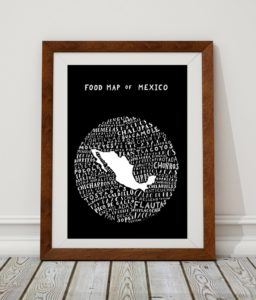 Food Map T-Shirts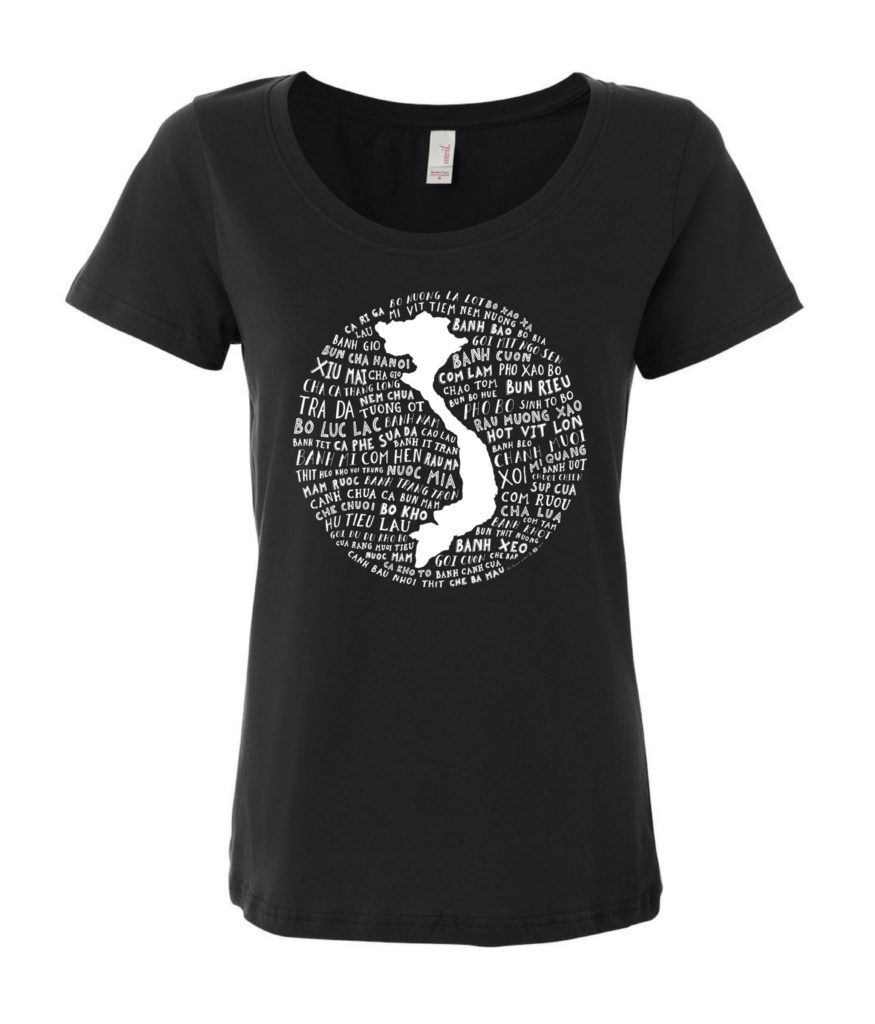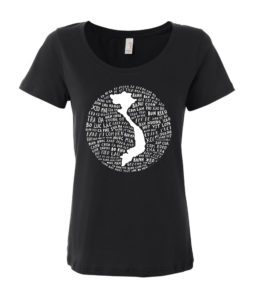 Food Map Tote Bag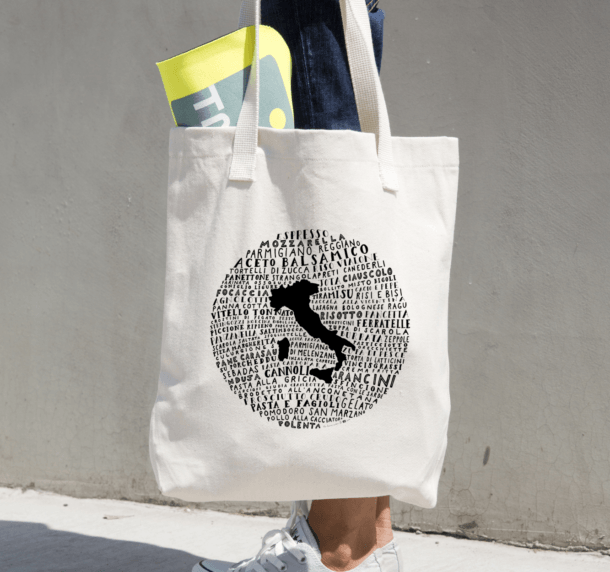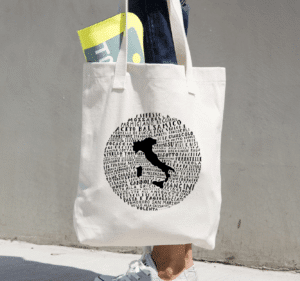 Shop on Jodi's Legal Nomads Store
---
Most travellers we know tend to also be interested at least somewhat in photography so they can capture great memories from their trip. That's how I got into photography 13 years ago, when I picked up a fully manual used Canon from a second-hand shop in Japan. It took developing about 10 blank roles of film before I finally figured out how to load the film properly, but I eventually figured the camera out, and have great photos from Japan and my subsequent travels through Asia. Ever since then, I've made sure I have the equipment I need to get decent photos on our travels. While on occasion, the photos don't work how I want them to, I know that's always human error rather than the equipment that's at fault :)
olloclip for iPhone Clip-On Lenses
An olloclip is a really fun little iPhone accessorythat gives your phone more range and creativity. I had a fisheye one when we first left to go travelling three years ago, and had a blast taking creative photos throughout Portugal. I've since changed phones, and have to pick up a new one, but the 4-in-1 lens is high on my list of fun accessories for my phone!
Battery Phone Case
I just got this battery case for my iPhone 6S, and I can't believe I ever lived without it. On normal days when I'm mostly working or out and about running errands, I rarely have to charge my actual phone – I just charge the case. When we're out all day exploring a city or taking a road trip, the case drains first before switching to the phone's battery, and I basically get double the usage time. Serious love for this little accessory.
Mirrorless DSLR Camera
Definitely, a bigger ticket item, but if a great travel camera is on the list, this one is a very nice option. It's also the camera I'm currently using, after my Canon 6D was stolen in Mexico. I like the Sony because it's mirrorless, making it smaller and lighter than mirrored DSLR cameras. It's also wifi enabled, meaning I'm able to post great photos to social media, straight from my iPhone.
Everyday Gifts
---
If you've got someone on your list who is currently saving for that big trip, why not get them something they can use everyday that reminds them of their goal and helps them stay motivated…even if that beach in Thailand seems a bit far away at the moment.
Travel Inspired Travel Mugs
Society6 is one of those websites where artists can add their own creations to a range of products, and you can pick up some really cool and creative items that way. I like this watercolour world map travel mug for morning coffee on the go, but they have loads of different designs!
Vintage Map of the World Bedding
I would have lost my mind with excitement if I'd had a duvet cover like this back when we had a home. And you can bet the next time we do find a base, we'll try to furnish the place with travel-inspired items like this vintage world map duvet cover, also via Society6.
Airportag Throw Pillow
Airportag makes a range of travel-inspired and custom housewares, t-shirts and other gear, most of which is themed around your favorite airport code. Since we're Berlin lovers, this TXL throw pillow is on my wish list, but it's certainly not the only thing available from Airportag.
Packing Gifts
---
While bedding and stickers are FUN, they're also not the most practical gifts for the women in your life who are heading off on a trip soon. With that in mind, I thought I'd cap our 2016 Travel Gift Guide for Women with a few practical gifts, with a focus on the products I actually use (and one that is on my wish list, too).
The Best Travel Suitcase (Ever)
I've been using this Osprey Meridian luggage for about 8 months now, and I absolutely love it. It is admittedly not the cheapest, but I do think it's some of the best out there for the kind of travel we do. Things I love: it converts to a backpack, which I use when we book a hotel on the 6th floor with no elevator (super common in Europe); it has really sturdy wheels; it has a lifetime, no questions asked warranty (Osprey is famous for this); it opens up completely so you can find things easily; and it has a top liquid pouch to contain the damage on in-flight shampoo explosions.
Packing Cubes
We just ordered these, and are excited to try them out. Friends have been telling us about the virtues of packing cubes for years, and I honestly don't know why we didn't try them sooner. We'll be giving them a test run at the end of this week when we pack for a trip to Barcelona, and I have high expectations. Even though I haven't tried these ones out personally yet, I don't have any hesitation recommending packing cubes based on the simple fact that everyone I know who uses them, swears by them!
Briggs & Riley Tote
This is a wish-list item for me. Briggs & Riley has a fantastic reputation for making high-end, buy once and you'll never need another bag again travel gear, and this bag gets rave reviews from frequent travelers as the ultimate carry-on. Space for everything you'd need to bring on-board in a long-lasting bag with a lifetime guarantee. It's an investment, for sure, but one most people who've made it don't seem to be disappointed in.
Like this Gift List? Share it on Pinterest
---