20 Christmas Stocking Stuffers for Travellers: Travel-themed gift ideas for everyone on your Christmas list. Stocking Stuffers & Secret Santa Gift Ideas.
Note, this post contains affiliate links. See full disclosure here.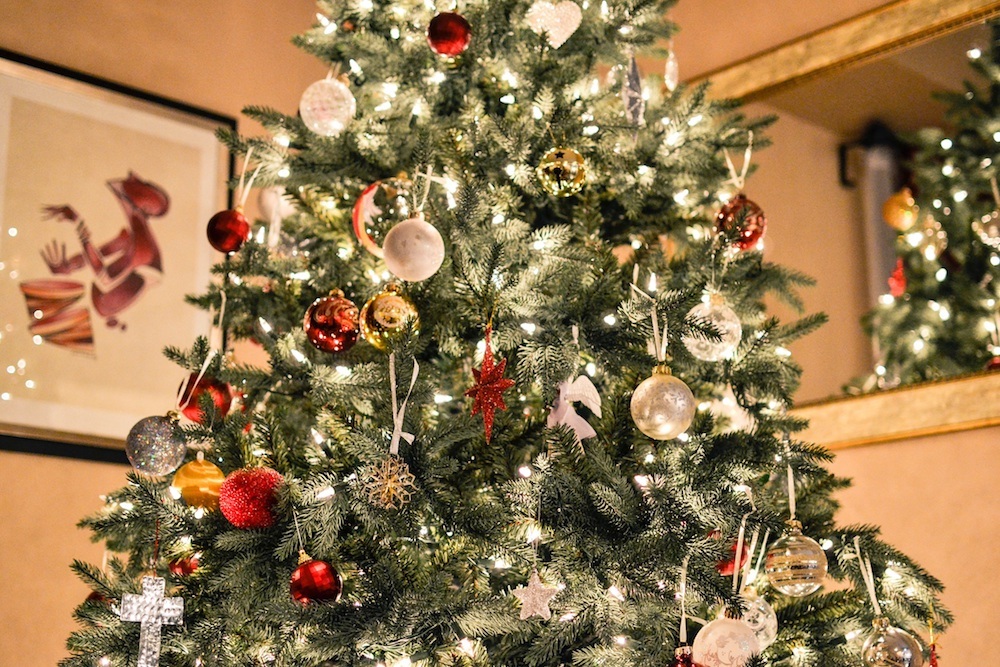 Happy Holidays! The build-up to Christmas is my favourite time of the year. I love the nostalgia of it, the memories of childhood excitement, the decorations, the smell of fireplaces and smoke escaping through chimneys, and the freshly baked goodies. I love making plans with friends, sharing stories and exchanging gifts.
But I hate the shopping for gifts part of Christmas. I find it quite challenging, especially trying to find ideas for stocking stuffers, as you don't want to break the bank, and you don't want to fill stockings with useless items either. Travellers can also be tricky to shop for because they need practical items that are light, small, and easy to pack. At the time of writing, every item on this list was under $30.00US and things we have either use ourselves, or wish we had while travelling. Use this guide for the traveller in your life, stocking stuffers or 'Secret Santa's.'
Without further adieu, here is our curated list of 20 totally awesome stocking stuffers for travellers…
Petzl Tikkina Headlamp
Having an LED headlamp beside our bed makes it easy to find the bathroom in the middle of the night without flipping the lights on. So often we find ourselves if hotels, Airbnbs or hostels with poor lighting. It also makes cozy night time reading more enjoyable for the others in the room trying to sleep, and we don't have to fumble around to try and find the switch to turn the lights off.
2. Unbreakable Travel Wine Glasses
Did you say unbreakable? Why yes, yes I did! Take them to the beach, down to the river, camping, even fulfil that dream of sharing a bottle of wine under the Eiffel Tower! These rubber wine glasses squish up and fit easily into your luggage or daypack, heck even your pocket. They're BPA free and dishwasher safe.
3. Boomerang Corkscrew with Retractable Foil Cutter
Well you can't have one without the other! You've got to have a corkscrew when you're travelling, especially if you've got the unbreakable wine glasses. The Boomerang corkscrew has a retractable foil cutter and bottle opener to meet all of our ever-changing drinking moods.
4. AusKit Reusable Gear Twist Ties (12 Pcs)
One word: handy. There are so many uses for reusable twist ties it's unbelievable! We use these to fasten accessories to our camera tripod, hang things from our bunks in hostels, or just keeping cords organized. We are constantly trying to find ways of keeping our things more organized and love little reusable solutions like this.
5. Tile Mate "Anything Finder"
Tile Mate lets you keep track of where your things are. Travellers like us constantly worry about what would happen if we lost our phone or tablet. Even our wallets or our backpacks can be tracked. If something's lost, simply "call" the item with a smartphone, or if it's the phone that's missing, call it with a push of a button on Tile Mate itself.
6. TSA-Approved Security Lock With Two Steel Cables
This Lewis N. Clark TSA approved combination security lock is perfect for train travel, or for locking both sets of zippers together. It's not just about locking your suitcase or backpack, but locking it TO something. Many trains have luggage compartments at the front or back of the carriage and we always worry about our luggage when we can't keep it in sight, so being able to lock the zipper with one end and the lock the back to the steel rack is huge plus. With two steel cables travellers will be able to rest comfortably on the train or bus knowing their bag is secure.
7. Aloksak Waterproof Storage Bags
Electronics are expensive to replace and we don't usually do enough to protect them. Aloksak bags from Loksak are waterproof, leakproof solutions for your iPad, camera, phone, just about anything you don't want to get wet. A nice feature is that you can still use almost all of your stuff while they're in the bags. How cool is that?
8. Digital Hanging Luggage Scale
There have been so many times where we wish we had a digital luggage scale along with us. It would have saved a lot of stress, let alone some cash. With airlines squeezing every dollar these days for weight, travellers will definitely love a compact scale so they know how much room they've got for all those gifts! [/et_pb_text][et_pb_divider color="#ffffff" show_divider="off" height="5″ divider_style="solid" divider_position="top" hide_on_mobile="on" disabled_on="on|on|off" /]
9. Wanderlust Air Travel Premium Compression Socks
Unisex Wanderlust compression socks are a frequent flier companion! If you know someone gearing up for a long flight this holiday season, throw a pair of these in their stocking, they will absolutely appreciate it. Feet and calves get a bit swollen on long flights, it's uncomfortable at best and painful at worst, so having something hug your lower legs for the whole flight feels pretty darn nice!
10. Ohropax Wax Ear Plugs
I (Geoff) am a light sleeper, and really annoyed at unwanted sound. Ohropax Wax Ear Plugs are simply the best ear plugs I have found. I love them because they completely seal my ears but are still comfortable and stay in the whole night. If you know someone who is a light sleeper, or someone who can't stand noise from the street or coming in from thin walls, make sure they get a packet of these!
11. Zero Grid Travel Umbrella with Flashlight
Cloud tears, sky juice, rain, whatever you call it, wet weather is going to happen whether we like it or not. Including a compact umbrella isn't top of mind when we're packing for a trip, and it never fails, we seem to always get caught in the rain. We have even had a restaurant cut holes in garbage bags so we could attempt to stay dry while we ran back to our hotel. This small travel umbrella closes with a push of a button and has a flashlight!
12. 'Not All Who Wander Are Lost' Cell Phone Case
We love this quote! There is a reason why this quote is so dear to travellers: it's perfect. Help the traveller in your life keep it close with this wanderlust inspired cell phone case. It's Available for most Samsung or iPhone devices and models. We just love having inspirational quotes that help us keep moving forward, and we can't think of a better place to have it than something we look at habitually constantly!
13. Lewis N. Clark No-Jet-Lag Homeopathic Tablets
My mother gave me a package of Lewis N. Clark No-Jet-Lag tablets right before my first long-haul flight from Calgary to Kaohsiung, Taiwan years ago. It's hard to say how much is legitimate, and how much is psychological, but they are refreshing when sitting on a stale steel tube in the sky breathing recycled air for many hours, I can say that! They are all-natural, chewable and tasteless with no side effects other than feeling fresher and more alert!
14. Foldable Travel Utensil Set
A Foldable utensil set, now this might seem a bit quirky but we can't tell you how many times we've been caught without utensils. We bring back left-overs to our hotels room all the time and then have no way of eating it. We've been in hostels where there weren't enough forks and knives for everyone, and we've even been in Airbnb's without proper utensils as well. This will come in handy.
15. Society6 World Atlas 12oz Travel Mug
We're suckers for anything map related, and it's usually a good bet for a gift for travellers. This is a cool map/atlas ceramic travel coffee mug from Society6. The wrap around art has all the countries of the world in the design of a world map, a suction lid help prevent spills and every purchase helps out the artist! They have many different travel related designs to choose from.
16. Cord Tacos (Set of 5) From This Is Ground
Cord Tacos from This is Ground, the name alone is brilliant but the idea itself is great for travellers. We pack a lot of gear around with us and it all has to be charged, so everything comes with a cord. Sometimes we can't tell one from the other so these are a perfect little addition!
17. Cavallini "World Travels" Journal
We always travel with a notebook. We love jotting thoughts down or mapping out our plans for world domination with good old fashioned pen and paper. It somehow feels more meaningful than tapping into our phones. Help the traveller in your life keep track of all the memories. Cavallini Notebooks make a great looking world map travel journal that will make a wonderful stocking stuffer.
18. Pass the Pigs
No joke – we've been travelling with this game for years! Pass the Pigs is simple, easy to learn, easy to play, quirky and fun for everyone. The best part is there is really is no limit to how many can play at once, 2 or more! And it's small and easy to keep with us.
19. Standard Playing Cards from Bicycle
This is a staple for any traveller. While travel is exciting, there are always those times where you just want to grab a bottle of wine and be lazy with your parter or friends. Everyone knows at least one card game so a simple deck of cards can be a welcome addition to the luggage. This is one of those items where if you know a traveller, they should have a deck of cards, if they already have a deck of cards, they probably need to be replaced by now.
20. Cards Against Humanity
For those who appreciate a more vulgar type of card game, Cards Against Humanity is sure to bring tears of laughter. Never will we forget the New Years Eve when this game was tabled! We definitely don't recommend playing this game with close family members if there is any chance of awkwardness.
WARNING: When we say vulgar, we mean vulgar. If there is any chance the person you're considering buying this for would be even slightly offended at foul language, best to consider #13 or #14. However, if like us, you appreciate the spicier side of humor, then all bets are off!
A very Honourable Mention…
[/et_pb_blurb][/et_pb_column]
We have created a series of travel themed adult colouring books. There make great and unique gift for anyone who loves to travel, nervous fliers, or anyone who wants to unwind and let their imagination go. The pages in our books are created from photos we have taken around the world which are hand traced to make them nearly identical. Travel Between the Lines will take the colourist from the streets of Buenos Aires to Tallinn, Estonia, and under monuments like the Eiffel Tower, past Golden Buddha statues in Taiwan and cliffs overlooking Kotor Bay in Montenegro. Travel Between the Lines Coloring Mexico will have the colourist exploring the lively streets of Valladolid, and some of the country's 'Magic Towns' like Izamal and Tapijulapa.
We are also excited to announce the release of our third adult coloring book, Travel Between the Lines Coloring Rome created in collaboration with Context Travel and inspired by locations seen and experienced on their unique and informative walking tours of the city. This is a great gift for anyone who has or will be travelling to Rome.
*Suggestion! Give the book and a tour to the traveller as a package gift!
Like this post? Spread the Love on Pinterest