Florida is abundant with magnificent views from every point, but a couple of drives absolutely take the cake. While most travelers visit Florida in search of relaxing blue waters, there's no better way to get to know the state than by driving from one side to the other. And lucky for you, I'm sharing the best scenic drives in Florida you absolutely have to take when visiting this popular vacation destination!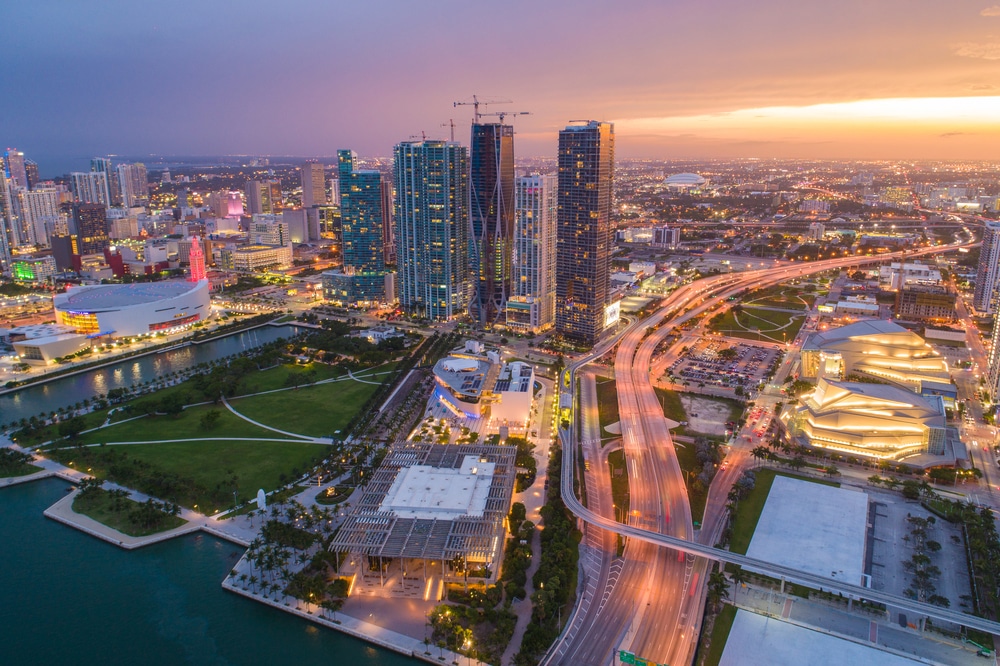 Regardless of your travel style, you're sure to find a route that amazes and inspires you with its sheer beauty. From nature so spectacular that you'll have to pinch yourself to quirky little towns drenched in colors and spectacular beaches so beautiful you'll wonder if you're awake or in a tropical dream, these are the incredible drives you simply must take.
Beautiful Sights In Florida
Before diving into the stunning drives you must take in the state, I first want to share some incredible sights with you. These outdoor sights are incredible and a must-see for anyone traveling to Florida.
Key West
Everglades National Park
Vero Beach
Sanibel Island
Molasses Reef
Before diving into these beautiful drives, let's ensure you pack the essentials for a road trip. Whether you're going for several weeks or just a few hours, it's crucial to have the necessities.
Road Trip Must-Haves
Phone mount to avoid handling it while driving
Flexible tripod for easy roadside photo opportunities
Portable phone charger
Emergency roadside kit
First aid kit
Atlas
Snacks
Blanket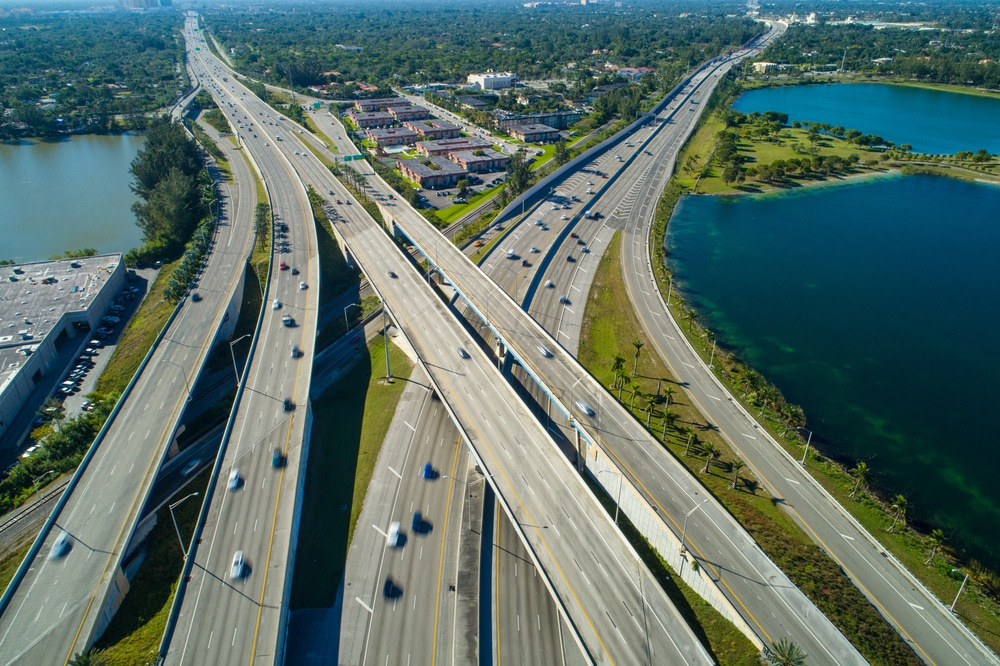 Stunning Scenic Drives You Must Take in Florida
A1A Scenic & Historic Coastal Byway
Arguably one of Florida's most gorgeous drives, the A1A guides you with stunning views and fun stops to make along the way. Throughout the drive, you'll be treated to views of colorful beach houses and unspoiled beaches. In addition, you'll be able to step back in time to old Spanish forts and enjoy a range of fun and exciting outdoor recreation and sports.
Even though it can be enjoyed in a single day, a thrilling way to really get the real experience is by treating it as a road trip. Make a point of stopping at some towns, landmarks, and beaches scattered along the way. A few remarkable experiences along the drive include admiring the charm of St. Augustine, falling in love with the character of Flagler town, and trying your hand at outdoor sports at Ponte Vedra Beach.
In addition, the entire drive is so beautiful and packed with exciting history and landmarks. There are a ton of hiking trails, boating opportunities, and excellent fishing.
Green Mountain Scenic Highway
The Green Mountain Scenic Highway is a beautiful drive. It's filled with rolling hills and winding roads with lush trees blanketing the land. There are many exotic and endangered plants that grow wild along the drive. The Green Mountain Scenic Highway starts and ends in enchanting little towns. The drive usually treats motorists to exciting wildlife along with beautiful landscapes.
Gainesville Springs
Crystal-clear blue springs are a Florida staple. This road trip through Gainesville springs is an absolute must for those searching for these lush tropical paradises. Driving from the city of Orlando, this fabulous road trip will weave you through many state parks and hiking trails. The hiking trails are so lush you'll feel as though the Amazon rainforest surrounds you! You'll find crystal clear springs in striking shades of aquamarine blues and emerald-teal greens.
Your first stop must be Blue Springs, State Park. Here you'll find one of Florida's most magical natural springs that will invite you and your kayak through the water in search of manatees!
Next, head over to Devil's Millhopper State Park. The park is a fantastic site with an extraordinary 120-feet sinkhole home to a miniature rainforest. Finally, if you're an avid hiker, you must stop by the nearby Paynes Prairie State Park. Here you'll find long trails boasting fabulous views of wild-roaming bison and horses.
Spend the next few days dipping your toes in as many springs as possible. Set yourself up in the town of Alachua. Use it as a home base to drive to some of the most impressive springs in northern Florida.
Old Florida Heritage Highway
The Old Florida Heritage Highway is the perfect trip for history lovers. It's an old system of roads that showcases what driving through Florida used to be like. Travel down state highway 441 and various state roads and be enchanted by the natural beauty that exists along the road. The entire trip is roughly 47 miles, but I'd suggest slowing down and genuinely exploring each road. Then, pull over, park the car, and indulge in the thick, velvety landscapes.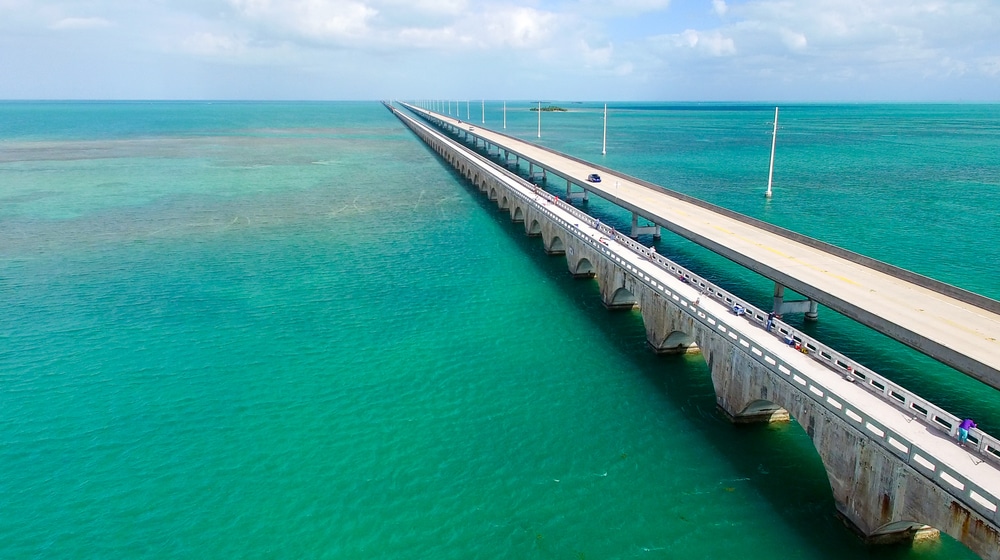 Miami to Key West
The Miami to Key West is more than just a scenic drive – it's iconic. This 113-mile stretch will bring you from the glitz and glam of Miami right down to a beautiful paradise, the Florida Keys, passing through panoramic views of breathtaking perfect beaches.
Suppose you're searching for the most beautiful drive in all of Florida. In that case, the Overseas Highway south is one you must experience. The reason is the incredible 40 bridges that allow you to drive from the mainland to the islands! It's a truly unforgettable and unique experience.
The drive is roughly three-and-a-half hours. However, I recommend taking it easy. Have your camera in hand, and make a few pit stops to experience the route truly. John Pennekamp Coral Reef State Park and Bahia Honda State Park are both terrific places to stop. In addition, you will find plenty of delicious restaurants and chic bars while you drive!
Into the Everglades Tamiami Trail and Loop Road
The gorgeous drive offers several worthy stops on the way. A few stops to consider spending some time are the Shark Valley entrance to the Everglades, a tiny post office, Clyde Butcher's gallery, and several picnic areas and boardwalks. In addition, you can also drive Loop Road, a 24-mile road that is part of the Big Cypress National Wildlife Refuge. This road is packed with wildlife all year long, including alligators, otters, and deer. You might see a rare and breathtaking Florida panther if you're lucky.
Although Loop Road is not entirely paved, it is still worth your time if you are in the mood for a scenic hike abundant with fantastic scenery! You'll even see Pinecrest; a seemingly ghostly town still houses a few inhabitants.
Ormond Scenic Loop
If you're traveling in northern Florida, the Ormond Scenic Loop is one of the most beautiful roads in the state. This scenic route includes spectacular ocean vistas and lush sections filled with live oaks and Spanish moss, forming a cathedral-like ceiling! In addition, the road features a roof made of intertwining branches with lush, thick greenery.
The area has many state parks. It also has many interesting historic sites and stunning landscapes that blanket the route. A must-see park for all beach-lovers is the North Peninsula State Park. You can spend the day at this park swimming, fishing, birdwatching, and even spotting migrating whales if you visit during winter. It's also a perfect place to see leatherback turtles.
Another stop you mustn't miss out on is Burlow Creek, State Park. You'll find one of the gigantic live oak forests on Florida's east coast and hiking trails that invite the chance to spot plenty of wildlife, including white-tailed deer, barred owls, and more!

Suncoast Scenic Parkway
The Suncoast Scenic Parkway features 42 miles of gorgeous scenery. The route has been intricately engineered to flow seamlessly through nature. The Suncoast Scenic Parkway promises a magnificent experience with outstanding photo opportunities.
Big Bend Scenic Highway
This spectacular drive is tranquil, lacks traffic, and is absolutely beautiful. There are many wonderful places to rest and see the dolphins playing in the distance and the miles and miles of soft sandy shore. Big Bend Scenic Highway links three state parks and three historic lighthouses together. It's a terrific stretch of undeveloped Florida land, with much of it hugging the shore and treating you to unobstructed ocean views.
Have you ever driven any of these stunning scenic drives in Florida? Share all about your experience in the comment section below!