If you're planning a trip to Iceland, you probably already have the famous Blue Lagoon on your to do list. It's one of Iceland's most popular tourist attractions and a unique experience that can't be missed. We recently had a chance to visit on a family vacation with our seven year old – here's our guide to visiting the Blue Lagoon with kids!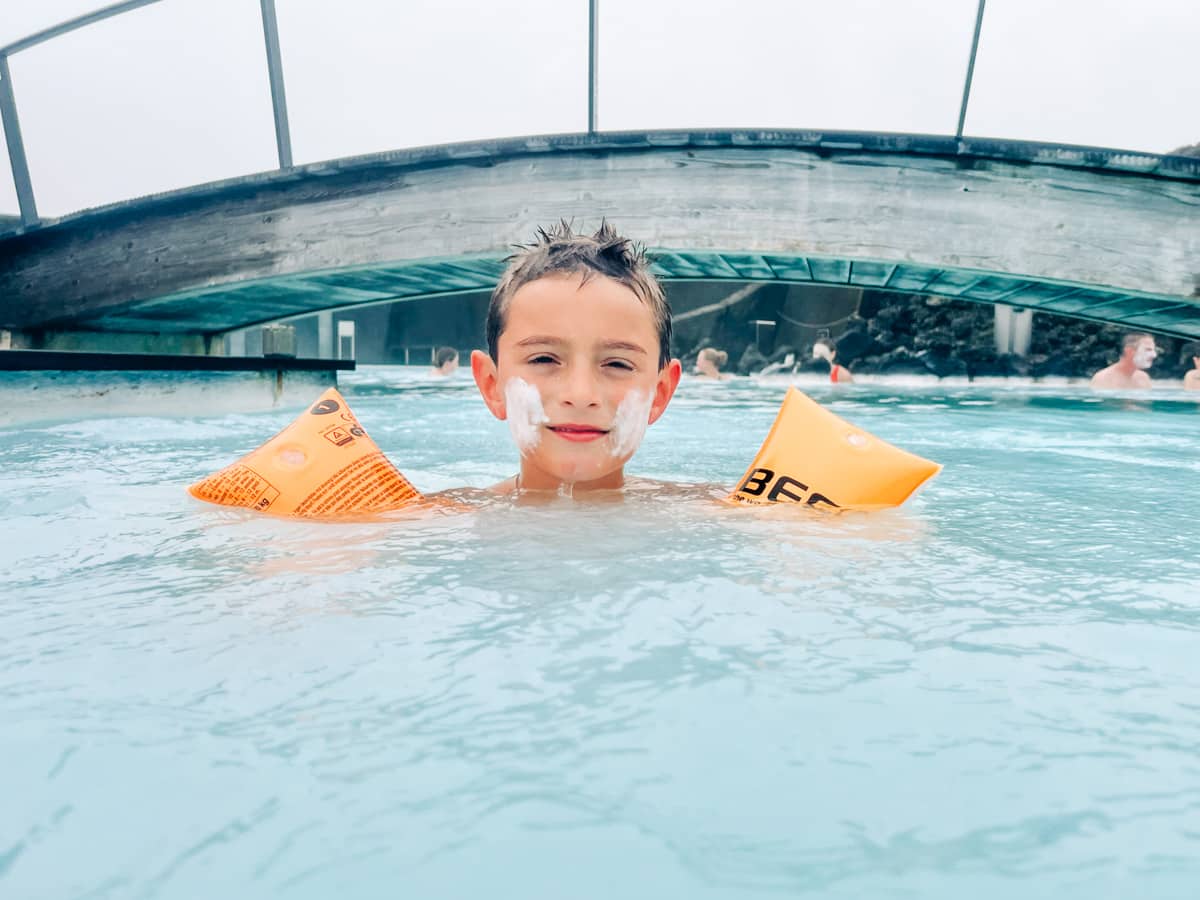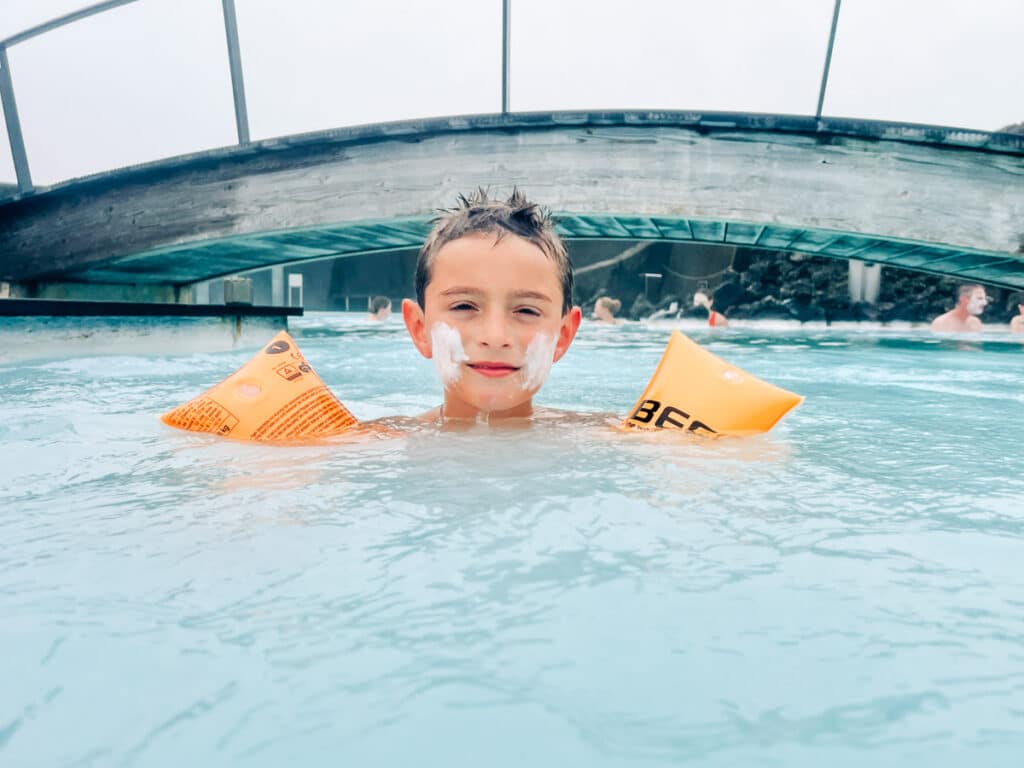 Iceland's Blue Lagoon
The Blue Lagoon is a beautiful lagoon filled with warm mineral-rich blue water, that has become one of Iceland's most popular tourist attractions. It was even named as one of the top wonders of the world by National Geographic!
The lagoon can be found in southern Iceland on the Reykjanes Peninsula, about a 40 minute drive from Downtown Reykjavik. It's also just a 20 minute drive from Keflavik International Airport, making it a popular first or last stop on many Iceland itineraries.
Despite often being called a natural wonder, the Blue Lagoon is actually not a natural occurrence. It's the result of runoff from the nearby geothermal power plant. The power plant drills into the ground below to access the hot water and steam, creating runoff that feeds the lagoon.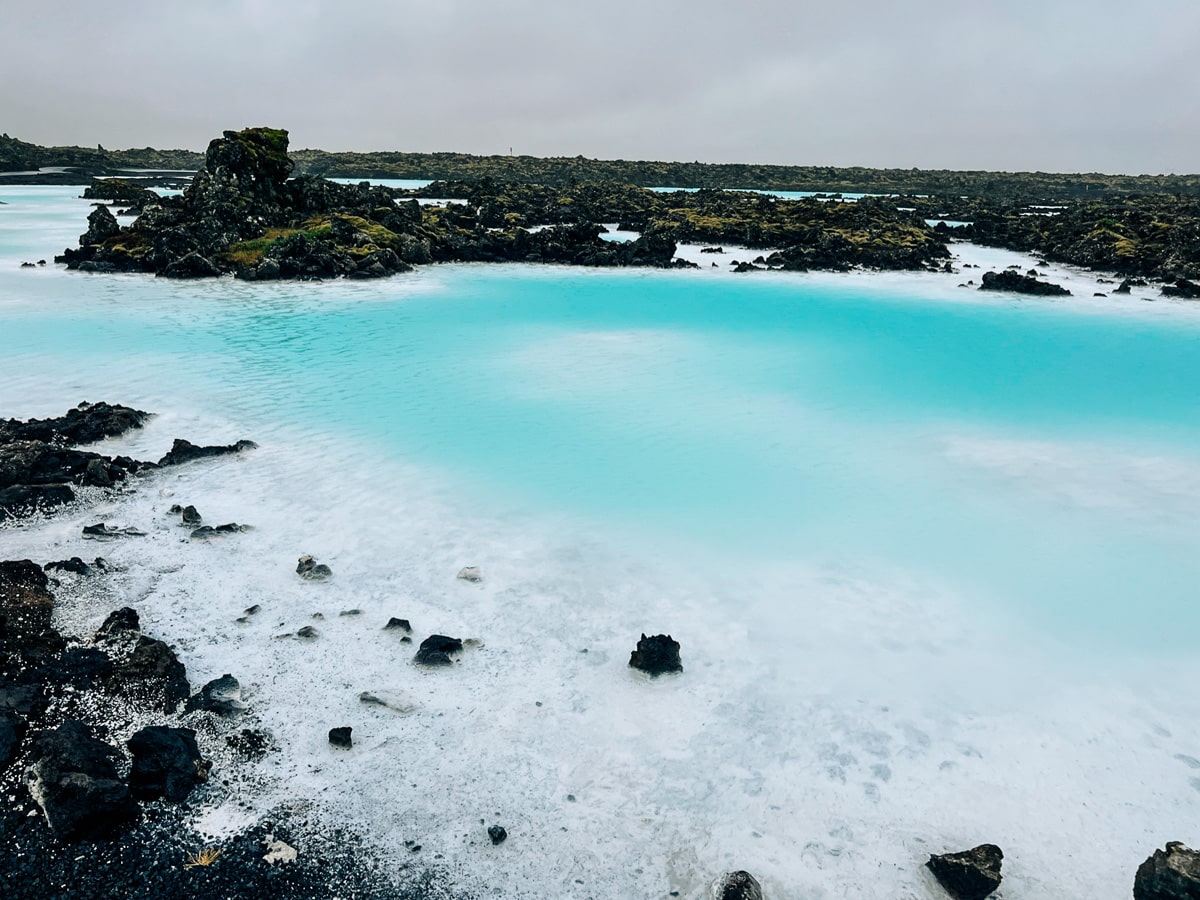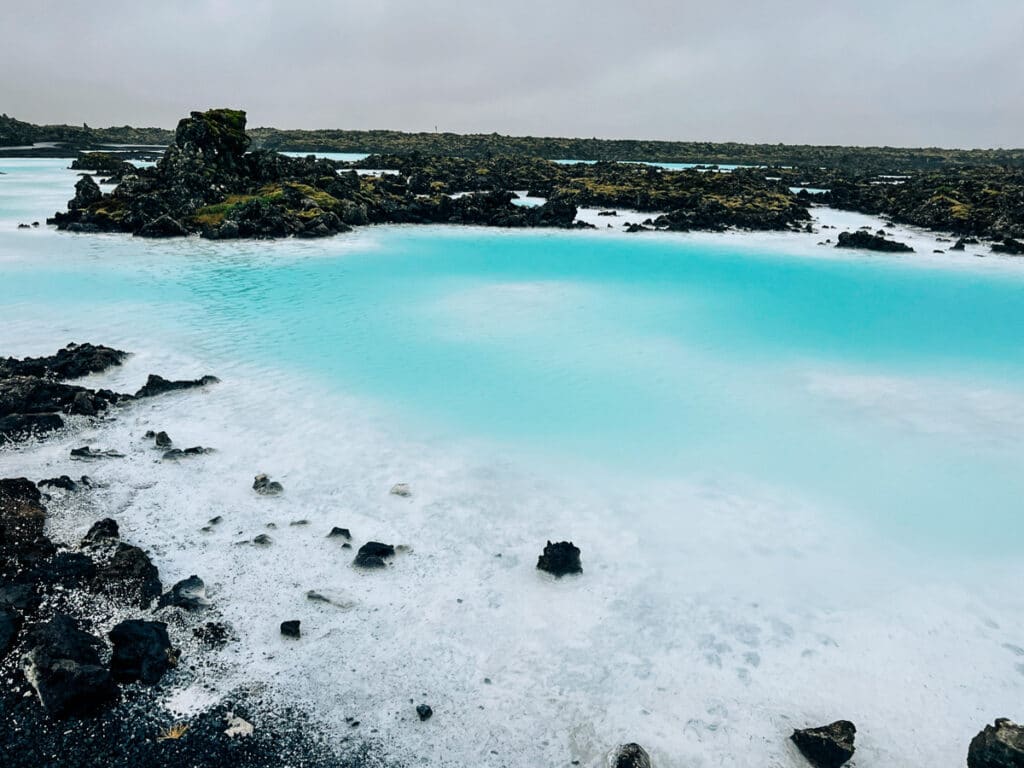 But that geothermal water is of course natural, and completely clean. There are no chemicals added at the power plant, and the warm geothermal water of the lagoon is rich with minerals such as silica, that are thought to be beneficial to your skin.
After the power plant was constructed in 1981, locals began to bathe in the warm waters and quickly noticed all the benefits to their skin, claiming it cured conditions like psoriasis! It quickly become a popular attraction, and some enterprising Icelanders built up the massive Blue Lagoon Complex that exists today.
The landscape surrounding the lagoon is unique and interesting as well, as it sits within a massive lava field which is the result of an eruption back in 1226!
Visiting the Blue Lagoon
When you arrive at the Blue Lagoon, you'll queue up to check in at your entry time. We were lucky to arrive when there was no line, as it can get quite crowded if you arrive alongside a large tour group. It took us only a few minutes to get checked in with the friendly front desk staff.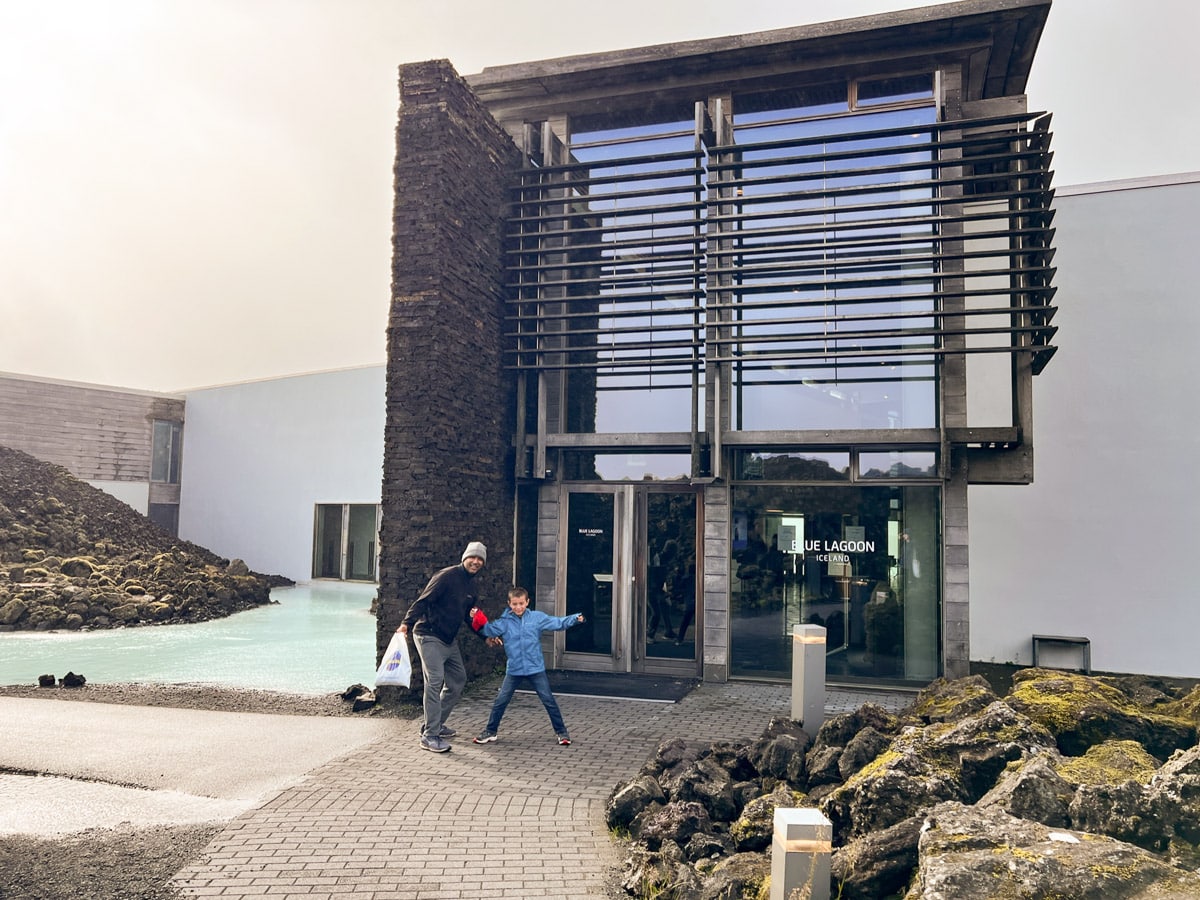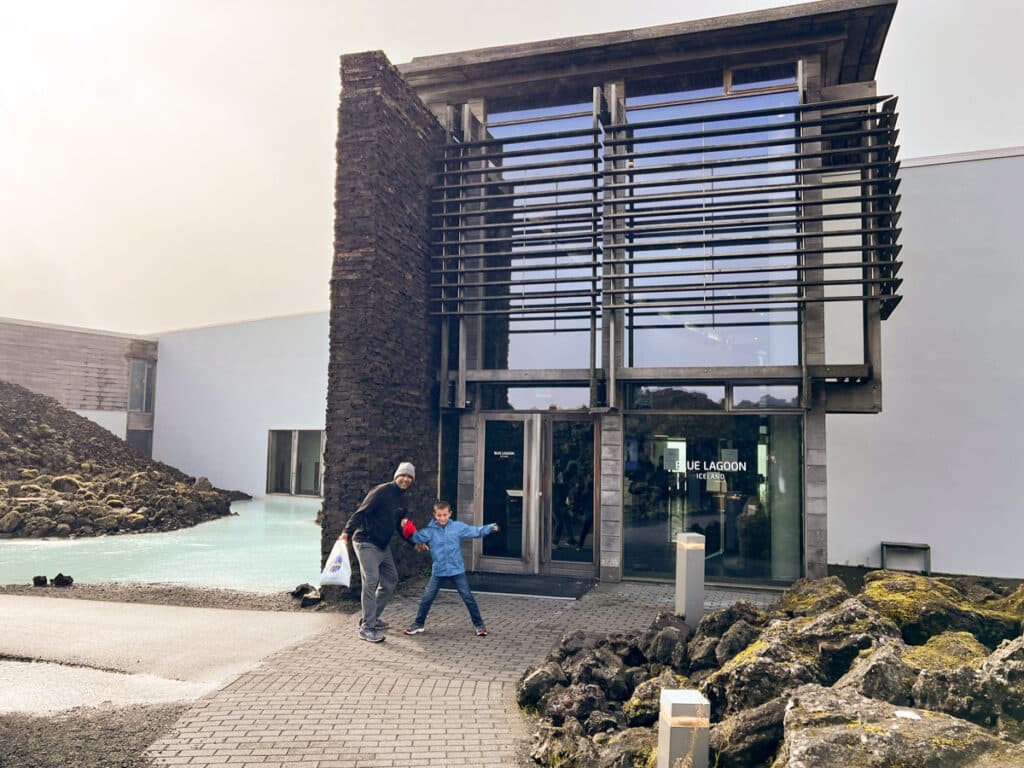 You'll be given an electronic wristband to wear for your stay. The wristband is actually a pretty slick idea. It can be used to lock and open the lockers in the changing area, and can also be used to make purchases (like drinks!) during your visit. You simply scan your band and then pay at the end of your visit.
From there, we headed up to the locker areas. We were given bathrobes when we checked in, including a kid sized one for my seven year old, which were included with our premium entry package (more on the package options below).
It took me a few minutes to figure out the locker system, but it's actually quite simple. You just place your stuff into a locker, close the door, and then quickly scan your wristband in front of the screen. The locker number will flash on the screen, indicating that the locker is now locked with your wristband. Just scan again to open it back up!
I took a quick shower (be sure to read my note on showering below), changed into my swimsuit, and wrapped up in my warm robe. Then headed down to the lagoon entrance, where I met back up with my husband and son.
There are places at the lagoon entrance to hang up your robes and leave your sandals (if you've worn any), and then you can enter the warm water of the lagoon through the inside entry. It's sort of like a little indoor pool that you step into, and then open a door to the outside and path through. So you never have to walk outside into the freezing cold air. Genius!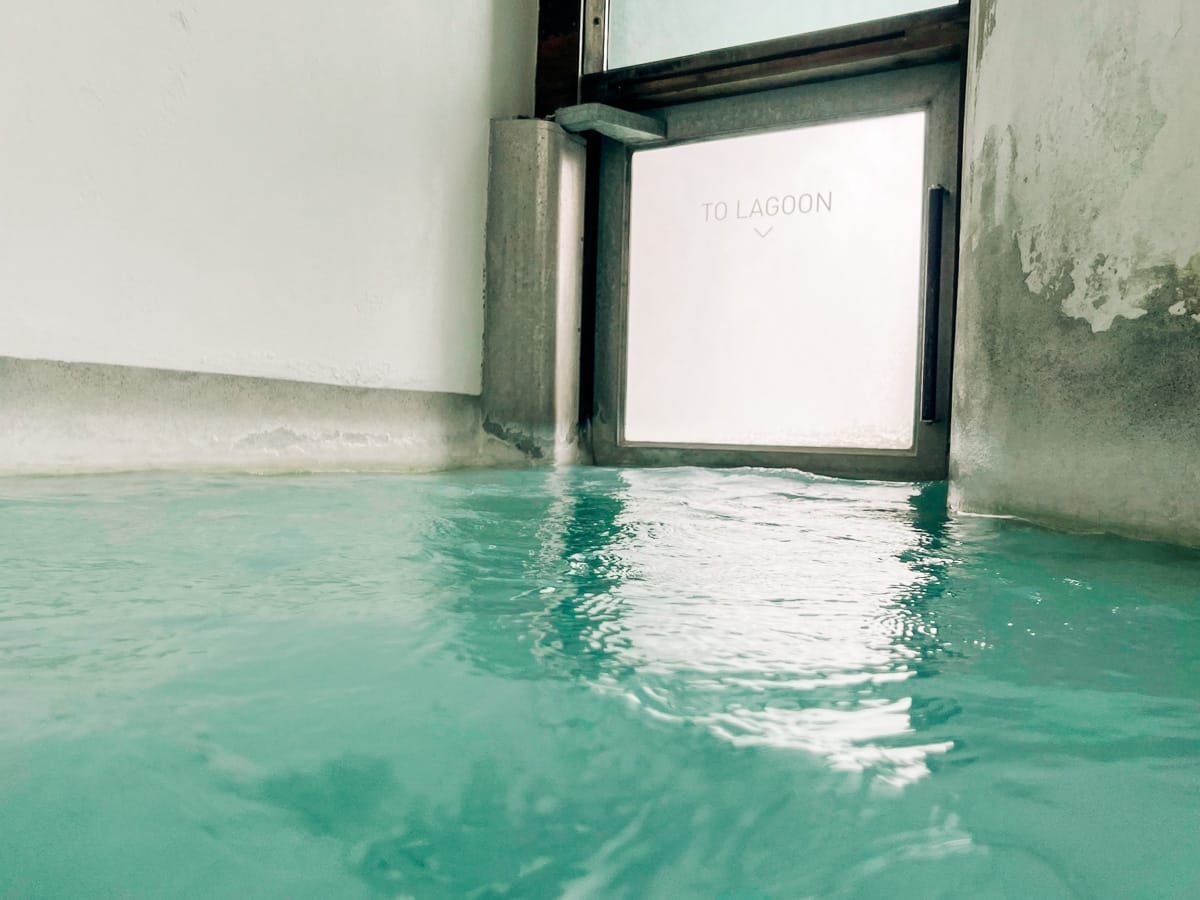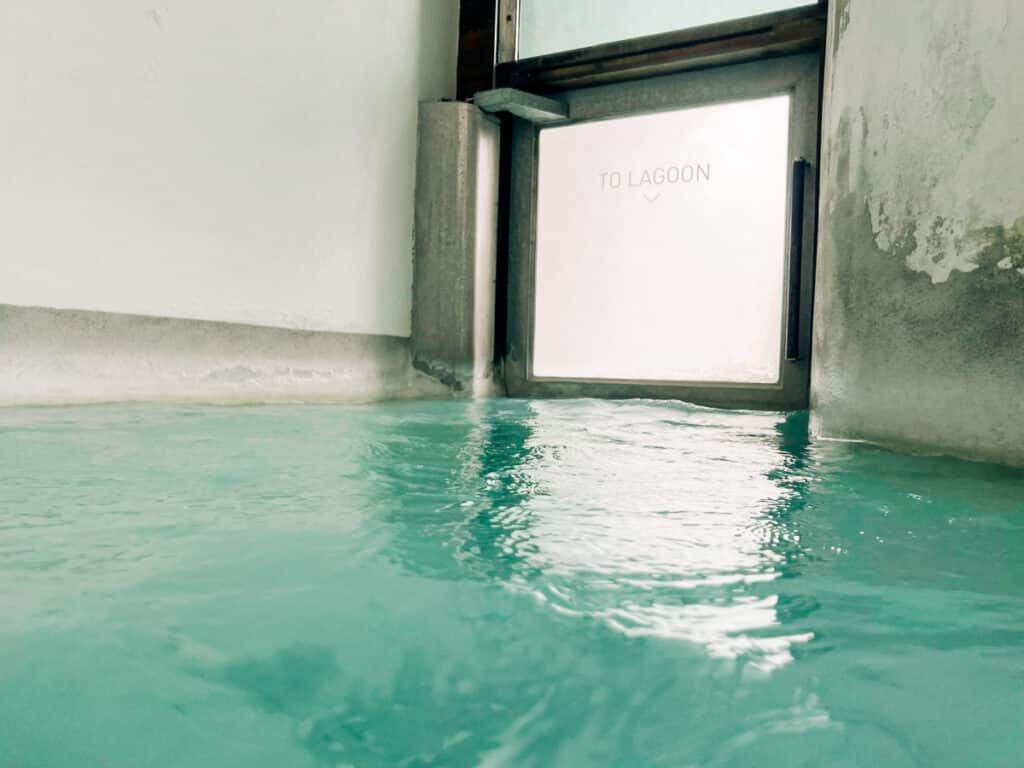 Once you enter the lagoon, you can swim and lounge for as long as you like. There's no time limit. The lagoon itself is absolutely massive. Just when you think you've seen the whole thing, you discover a whole new area tucked away. My son loved exploring inside the little caves and under the bridges.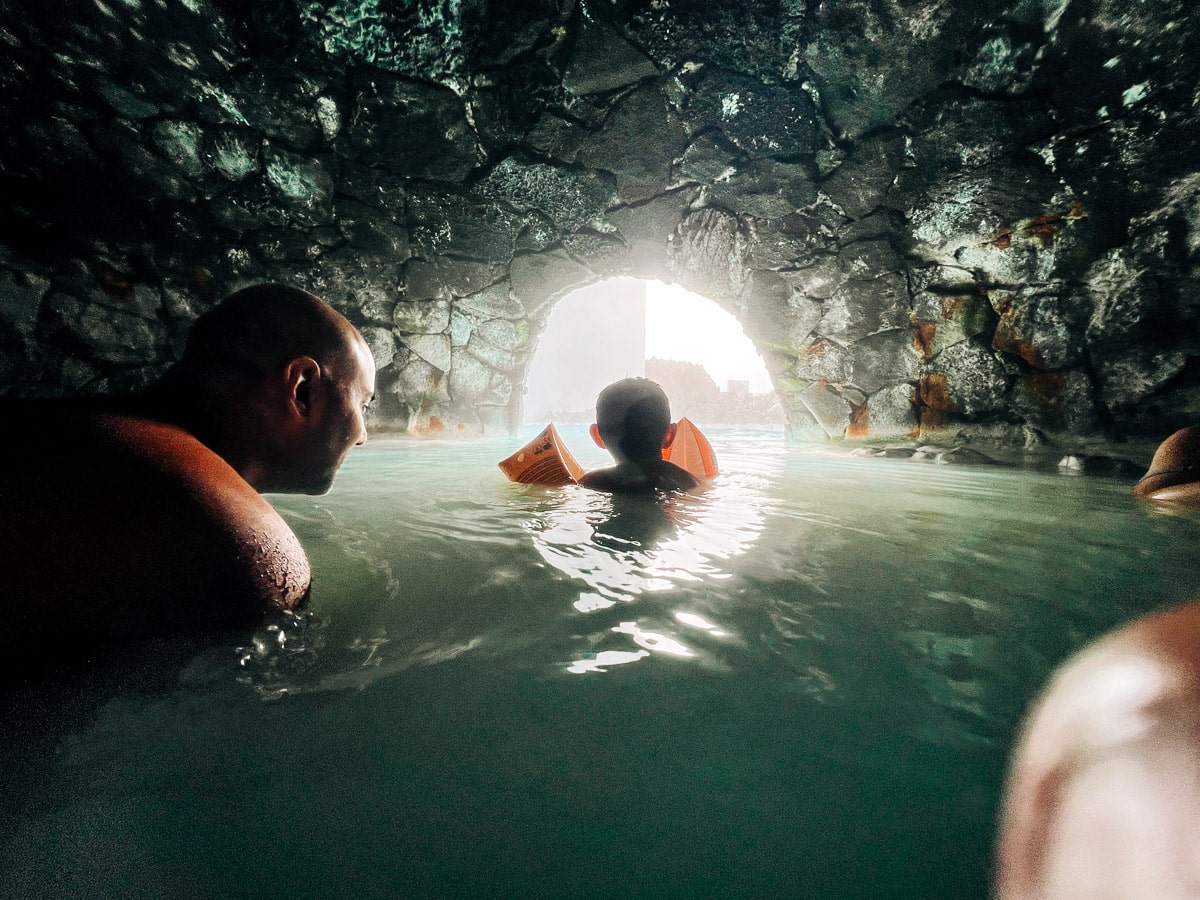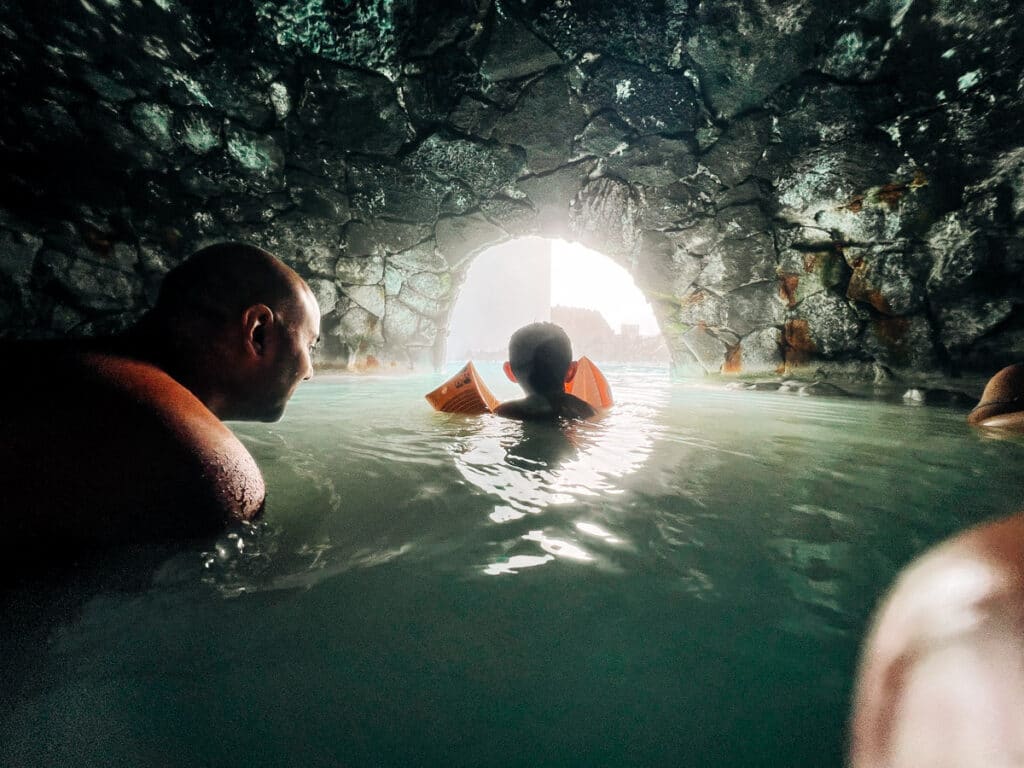 You'll definitely want to make your way over to the swim up bar for some refreshments. Our entry package included a free drink each. There was beer and wine, and they even had non-alcoholic frozen drinks for the kids!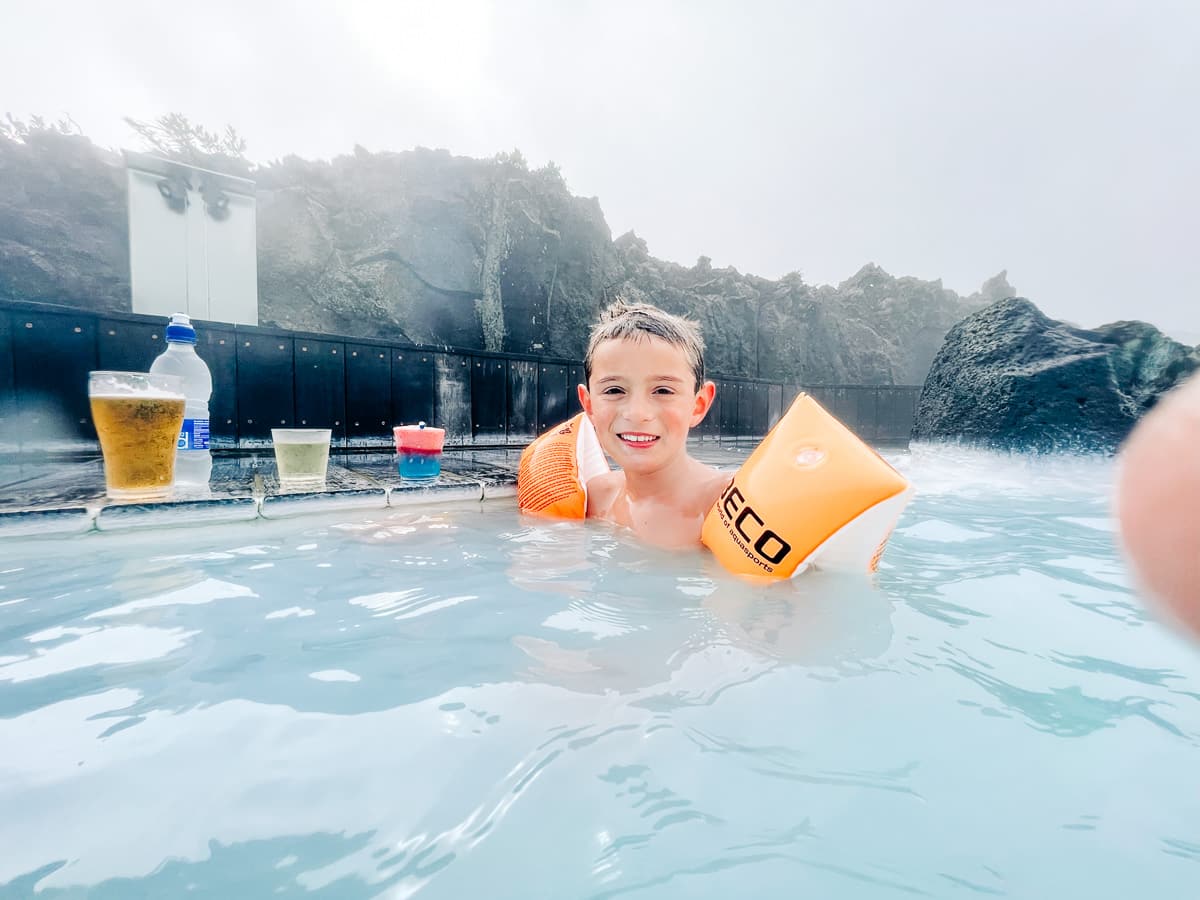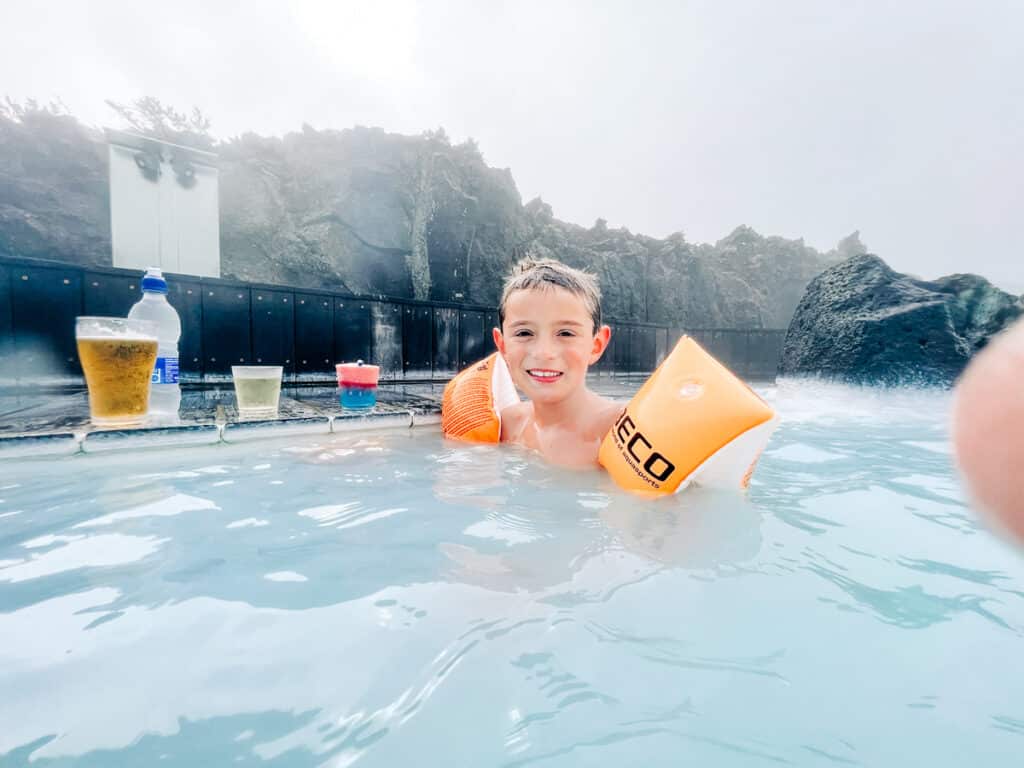 Another things to check out is the mask stand. They have really run with the whole spa experience/skin benefits thing and have a variety of face masks that you can try out. Some are included and some are at an additional cost, depending on your package. Our package included all three masks, but we only ended up trying two as the novelty wore off after that. ;)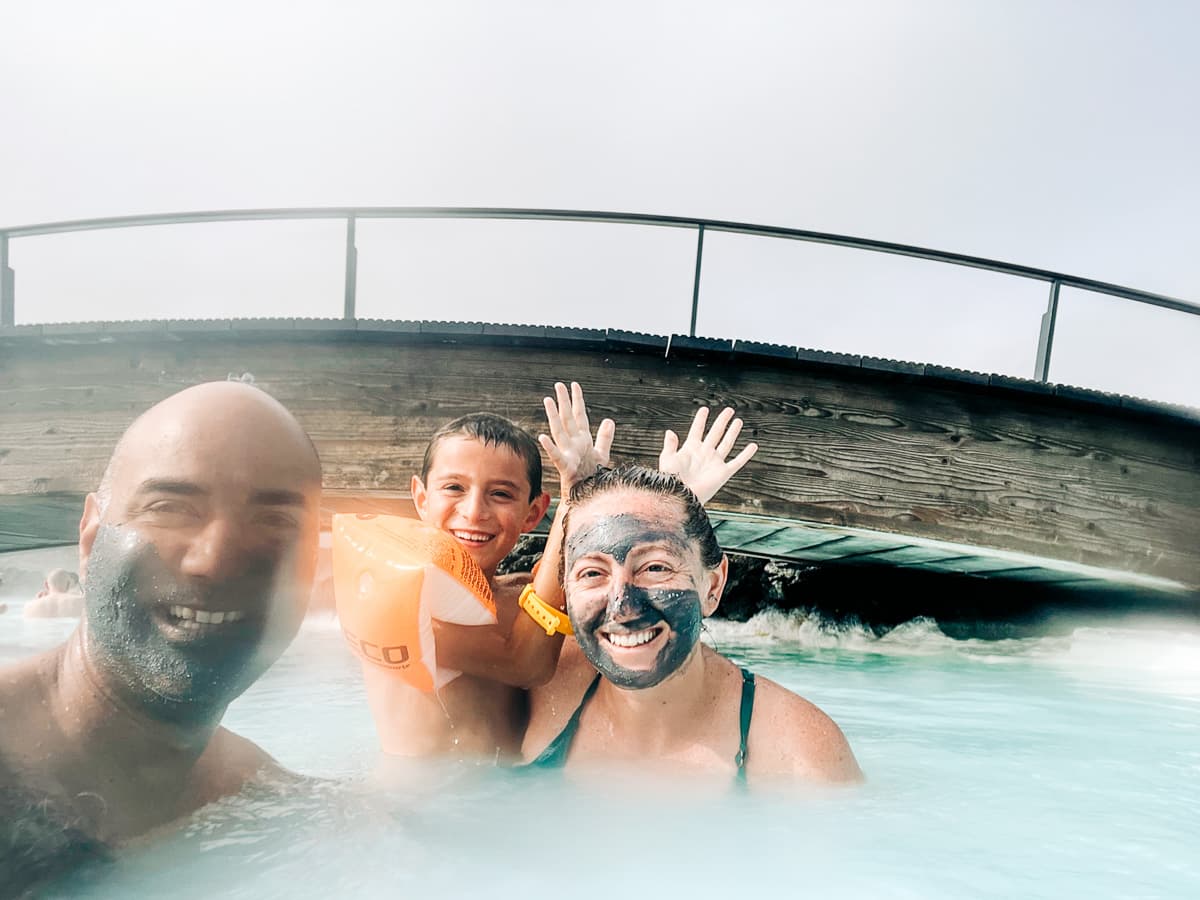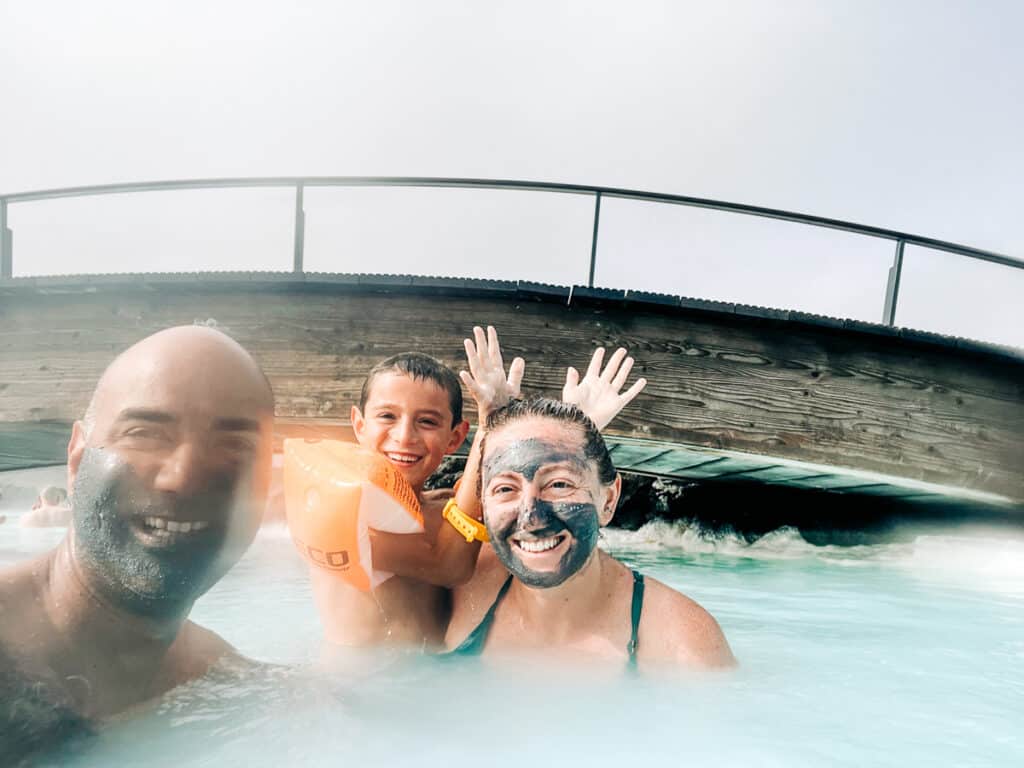 We spent about 1 1/2 hours total in the lagoon, exploring all the different areas and just relaxing as a family. When you're finished, you just exit the same way you came in. There are plenty of fresh towels available to grab as you head back to the locker rooms to change.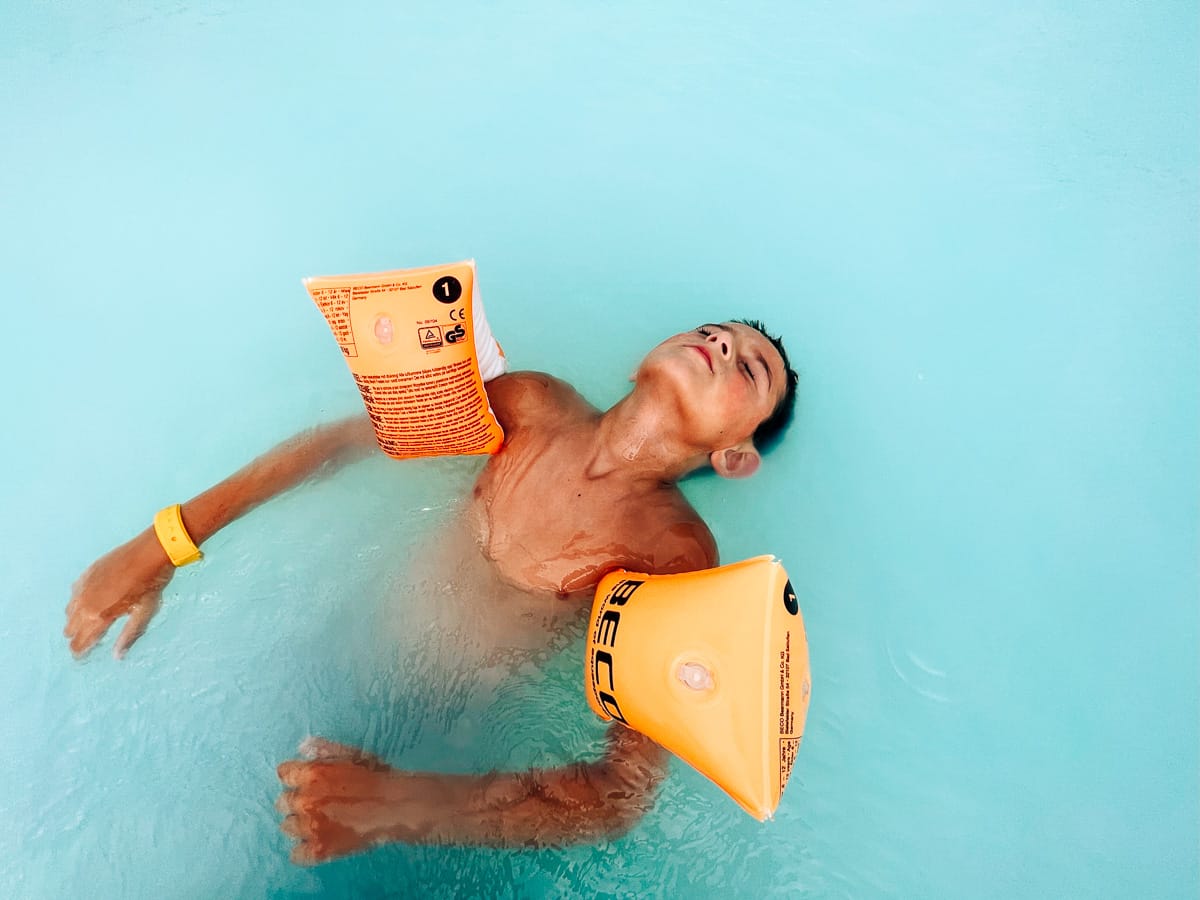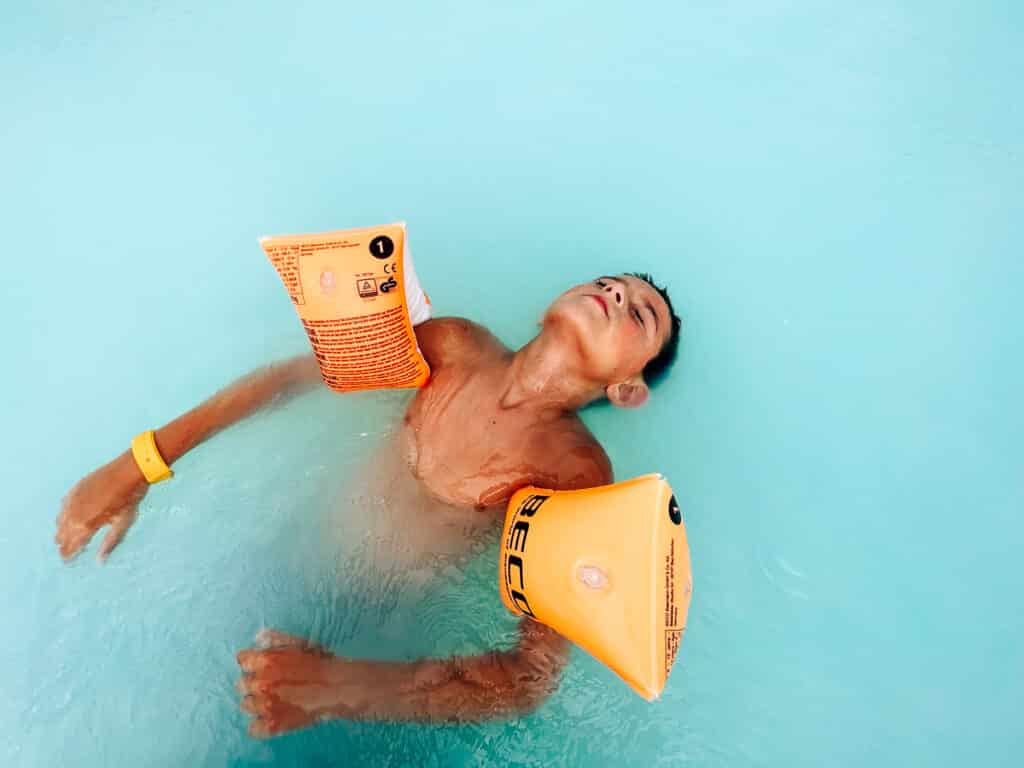 Comfort vs Premium Entry
There are two different ticket options at the Blue Lagoon. Regardless of which you choose, you'll want to book your visit in advance. There are limited entry tickets to the lagoon each day and they can book up weeks in advance during the summer busy season.
The two ticket options are Comfort and Premium. Both include entrance to the lagoon for as long as you wish, one silica mud mask, a towel, and one free drink for the adults. The Premium entry will also get you the use of a bathrobe, a total of three different mud masks, and you'll get a free glass of wine at Lava Restaurant if you choose to dine there.
Which Blue Lagoon ticket you should get? If you're visiting with kids, I would honestly just go with the Comfort package. We had the Premium package because it came with our stay at Silica Hotel, but I wouldn't have paid extra for it. We only really wore the robes for a few minutes going from the locker rooms to the lagoon, we did try two masks but one would have been just fine, and we didn't end up dining at Lava because it was easier to get something faster at the café with kids.
So I would save a few bucks and go with the comfort package on this one.
I also recommend booking your tickets through a service like Get Your Guide (this is what I use). That's because they typically offer a more generous cancellation and refund policy than booking directly. That way you have more flexibility if you need to change your plans.
For a more premium experience, they also offer the Retreat Spa option. This is a super fancy option that gets you five hours of access with a private changing area and access to the fancy spa and its restaurant. But it has a minimum age limit of 12. And let's be honest – this is really not meant for families with kids. And you're kids don't want to do that anyway. ;)
Showering at the Blue Lagoon
Ok, for some reason showering at Iceland's geothermal pools has become a hot topic on the internet. Why? Well I guess because they actually expect you to shower. And yes, they do expect you to shower naked and then put on your swim suit.
This might seem odd to some folks, especially us Americans who just don't generally strip down in locker rooms. But please keep in mind that these pools are heated with natural geothermal water and chemicals are not added. So while your local public pool may be pumped full of chlorine, these are not. And so everyone needs to shower before entering to keep them clean.
So just do it. I can't speak for the men's locker room, but the women's locker room had plenty of private shower stalls with doors that you could use and a few private changing rooms as well if you'd like to don your swimwear in private. I promise this is not a big deal.
Arm Floats for Kids
And since this is a guide about visiting the Blue Lagoon with kids, we also need to talk about the arm floaties for a minute. Your kids might be surprised to find out that all children under nine years old are required to wear floaties in the lagoon. Yep, floaties. Like these giant 80s style arm floaties. You know the ones.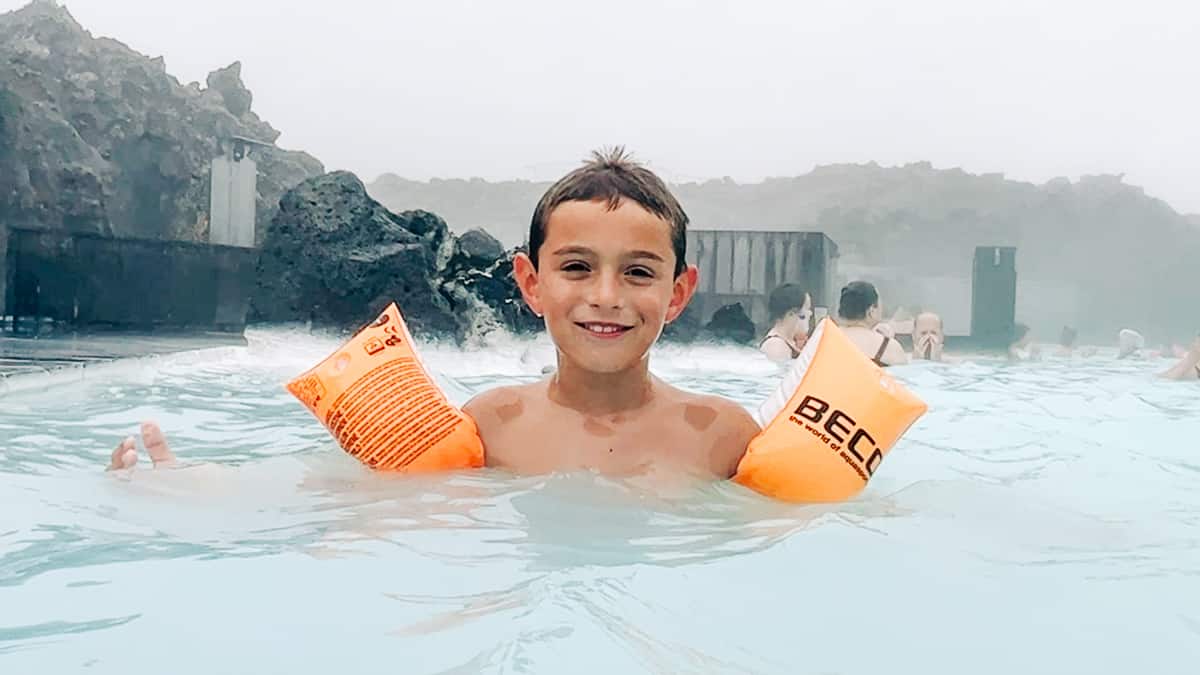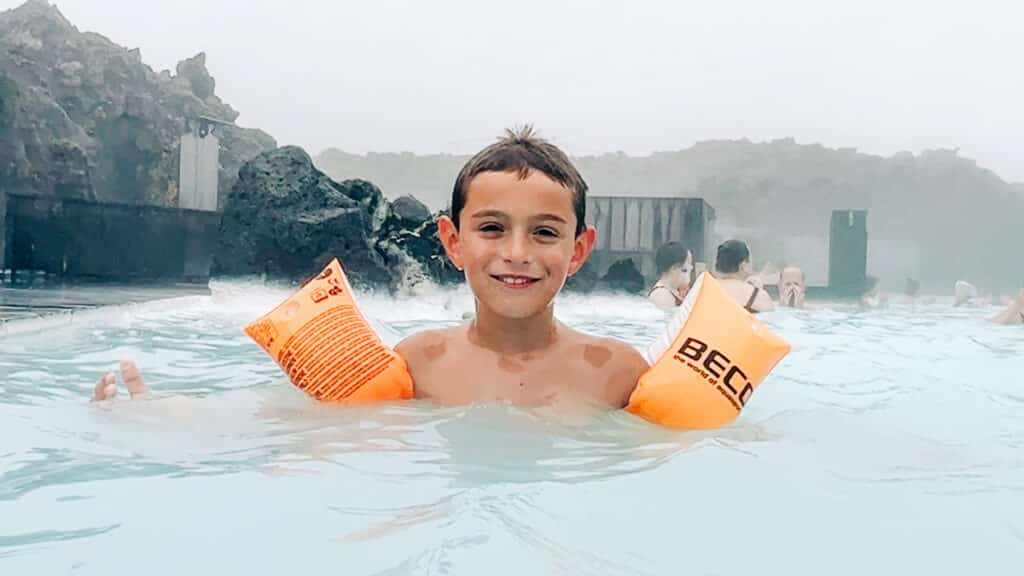 My initial reaction to that was laughter. I mean, eight year olds in arm floaties? As a Floridian, where kids spend half their childhoods in the water and swim independently by kindergarten, this sounds ridiculous.
But… once I got there I could kind of see why they have this rule. The Blue Lagoon's website states that the floaties are for visibility. And that kind of makes sense. The milky blue waters are pretty much opaque. You would definitely not be able to clearly spot a small kid in there if they went under.
In addition, we had some crazy weather during our visit. The wind was so intense that were quite literally waves in the lagoon. It turned out to be kind of fun for my seven year old to have the floaties – letting me pull him around in the water while he floated on his back, letting him "ride the waves" in the deeper parts of the lagoon, etc. So just go with it.
FAQs about the Blue Lagoon
Eating at the Blue Lagoon
If you're spending the day at Blue Lagoon, you'll likely find yourself wanting a bite to eat. You have a few options.
Lava Restaurant – Lava is Blue Lagoon's fine dining option, and if you wish to eat here you should book a table in advance. There is a kids menu and families are very welcome here. And you can even dine in your bathrobe fresh from the lagoon during the lunch service. But to be honest – my kid was not interested. We made a reservation here, but found none of us were in the mood for a long sit down meal, so we grabbed lunch at the smaller café area instead.
Blue Lagoon Bar and Grill – This is my recommendation if you're visiting with kids. It's a small café area in the main lobby, with many decent grab-and-go style options for lunch. There were sandwiches, sushi, yogurts, and drinks. You could also get coffees, beer, and wine. Then sit in the casual café area and eat with a view of the lagoon.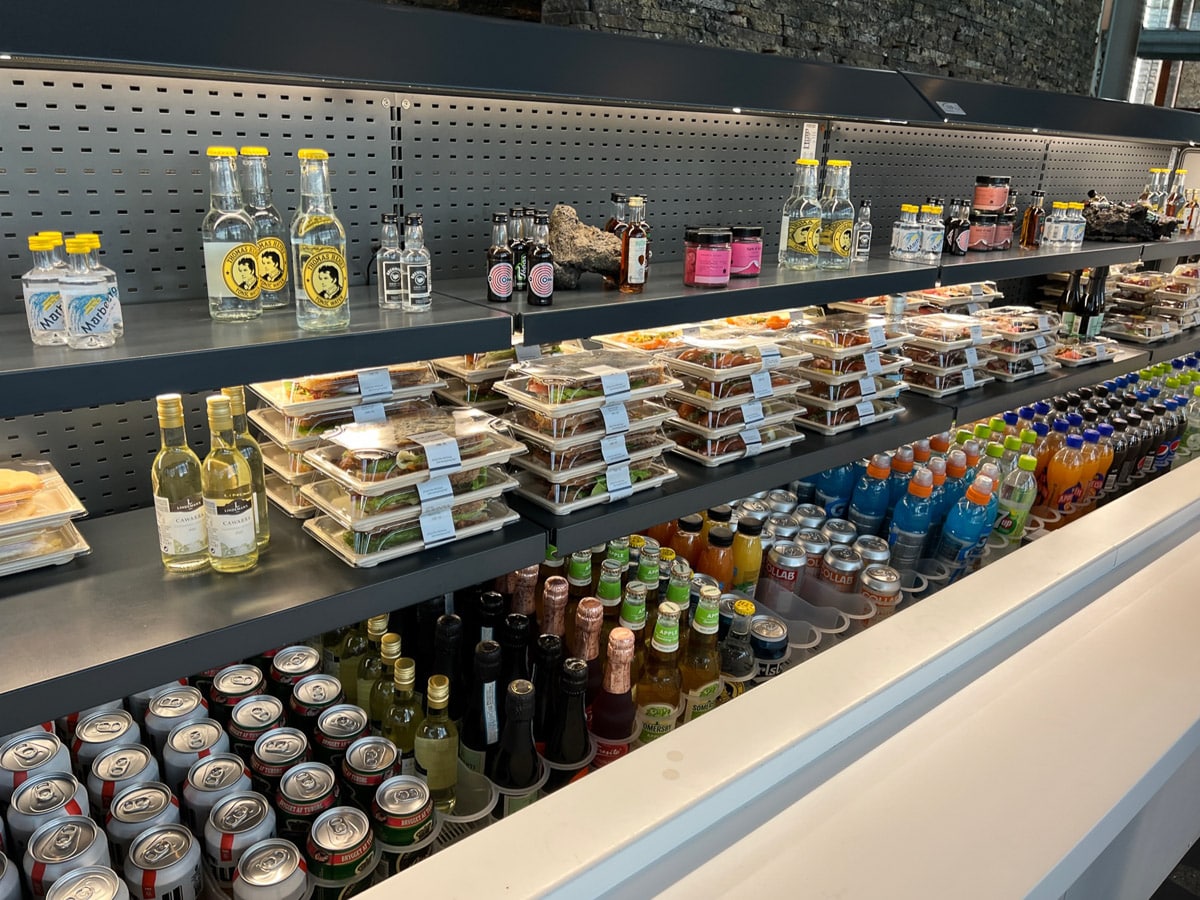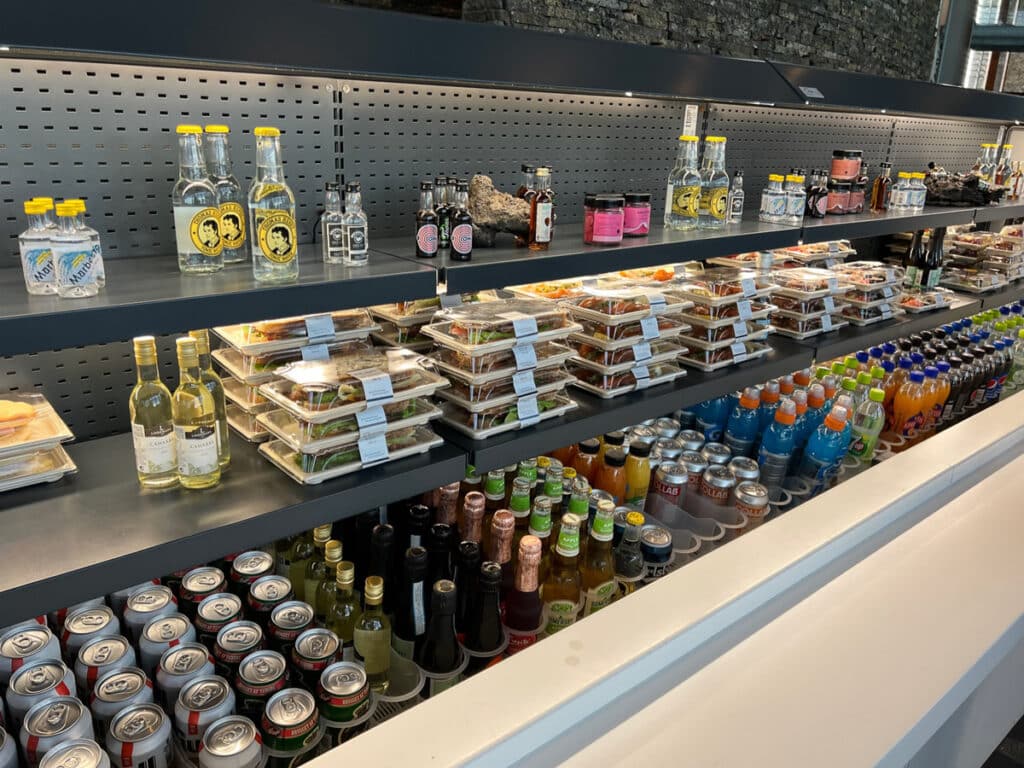 If you're exploring the area around Blue Lagoon, you could also check out the popular restaurant at Max's Northern Lights Inn or head into the town of Grindavik for a delicious lunch at Café Bryggjan with a view of the fishing boats.
Where to Stay at Blue Lagoon
If you're looking for the ultimate Blue Lagoon experience, you can't go wrong staying at their beautiful Silica Hotel. The 35 room hotel feels very high end, but is still very welcoming to families. And the best part? You get access to their private Silica Lagoon, which is just for hotel guests. We stayed here for the final two nights of our Iceland trip, and it was a truly amazing experience.
There is also a five star hotel, The Retreat Hotel, but that one has a minimum age of 12 years and isn't very family friendly.
More Iceland Trip Planning Resources
If you're planning the ultimate trip to Iceland, be sure to check out these other helpful articles: