If you're looking for a convenient place to stay near the famous Jokulsarlon Glacier Lagoon in Iceland, Fosshotel Glacier Lagoon is sure to be on your list. We had a chance to stay here on our recent trip and check out all the amenities – here's our full review!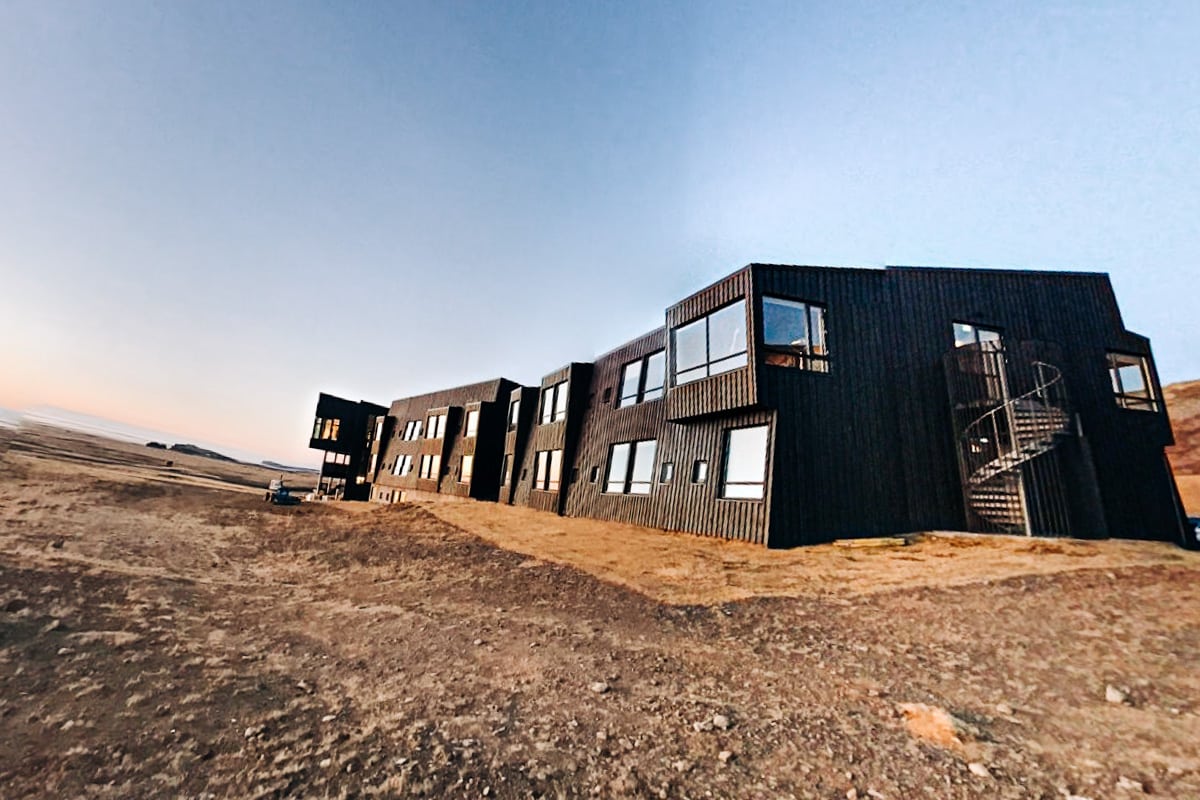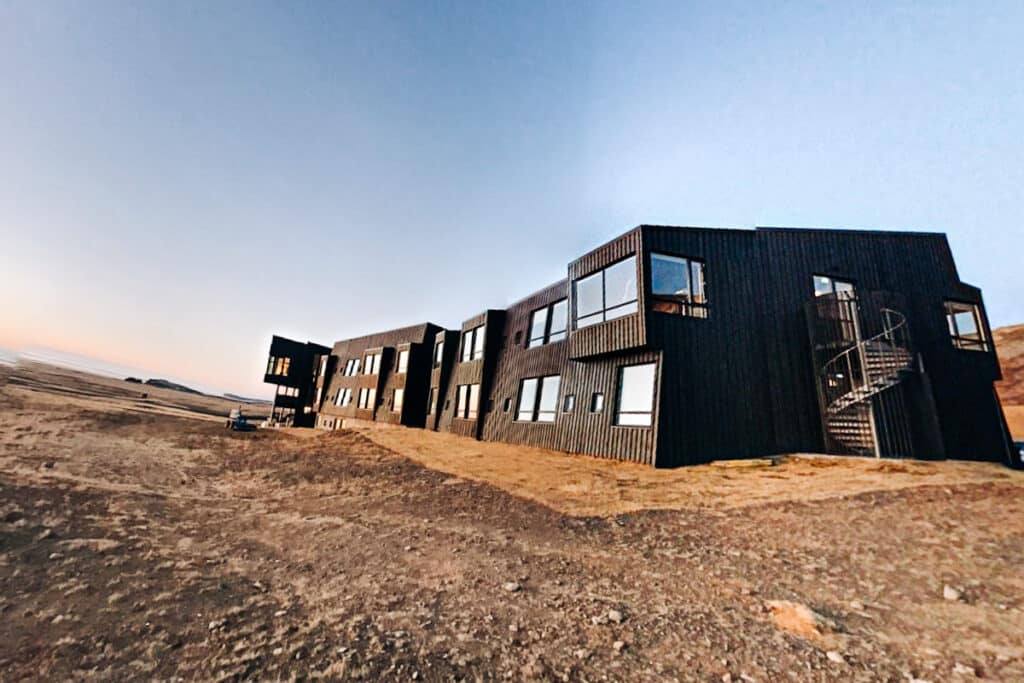 Location
If you're looking to be in close proximity to the popular Jokulsarlon Glacier Lagoon and Diamond Beach, it doesn't get much more convenient than the Fosshotel Glacier Lagoon. It's only a 15-20 minute drive south from these famous tourist attractions. It's also only 10 minutes from the meeting point for the incredible Ingolfshofdi Puffin Tour.
In fact, the location is the main draw for this hotel, being one of the only large hotel properties on this part of the southern coast.
Rooms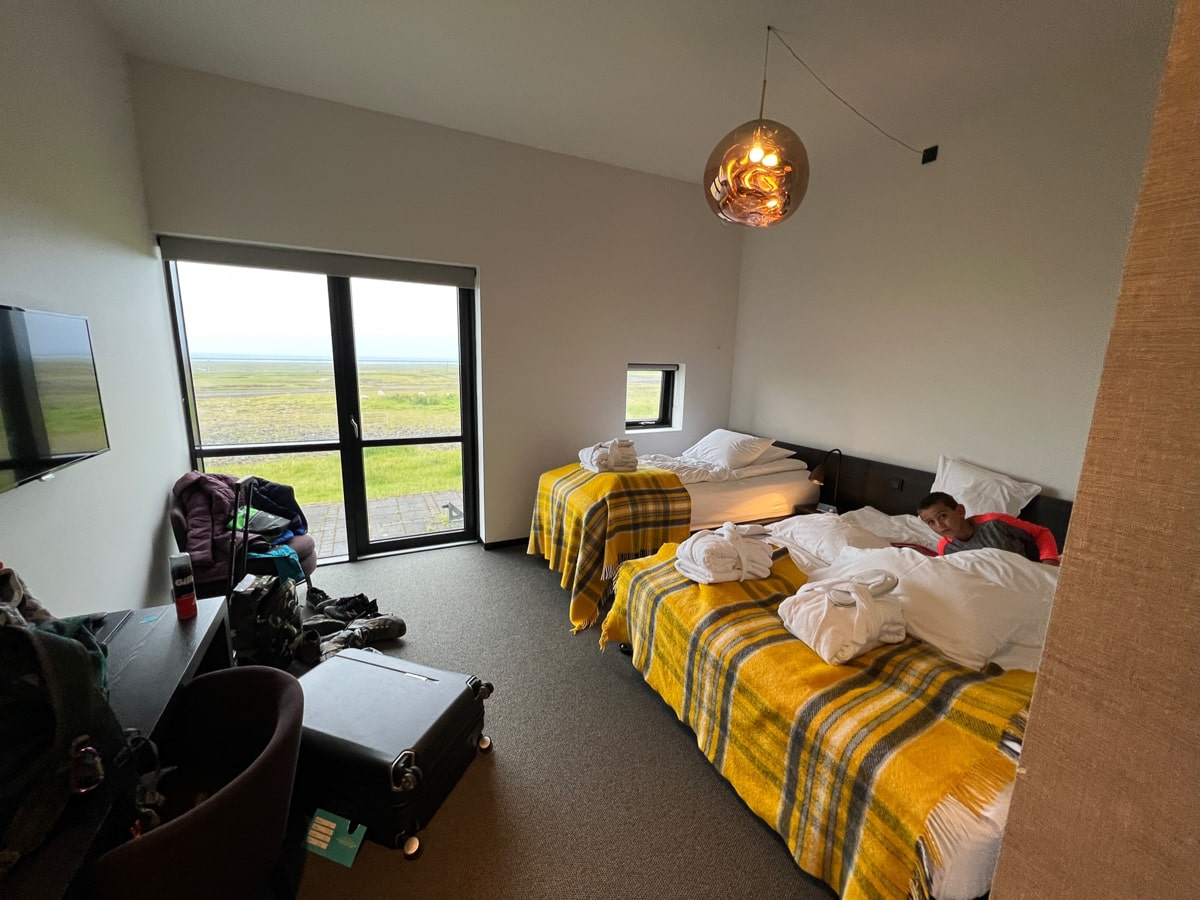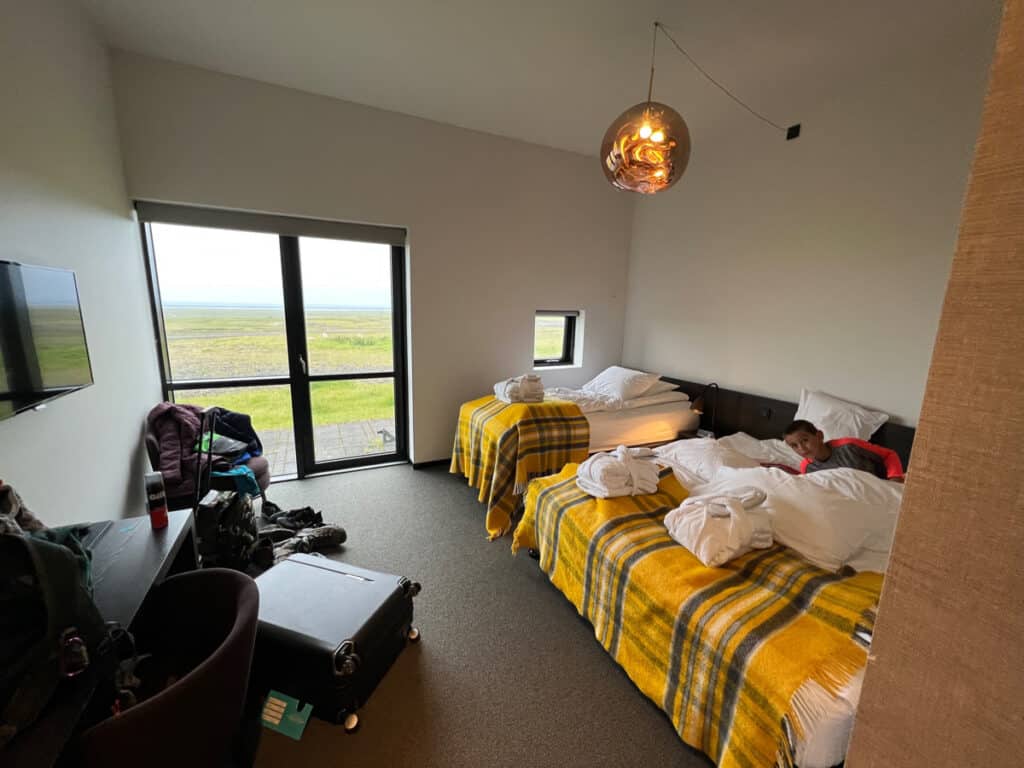 The rooms here were somewhat dated in comparison to the other hotels we stayed at along the south coast. They were just lacking a lot of the creature comforts that we have come to expect in modern hotels.
Small things. No outlets near the beds for charging phones at night. No counter space in the bathroom. No shelf in the shower for toiletries. Cheaper toiletries, like the combo shampoo-conditioned mixture that is really just shampoo. A hair dryer with the button you have to hold down the whole time you use it. That kind of stuff.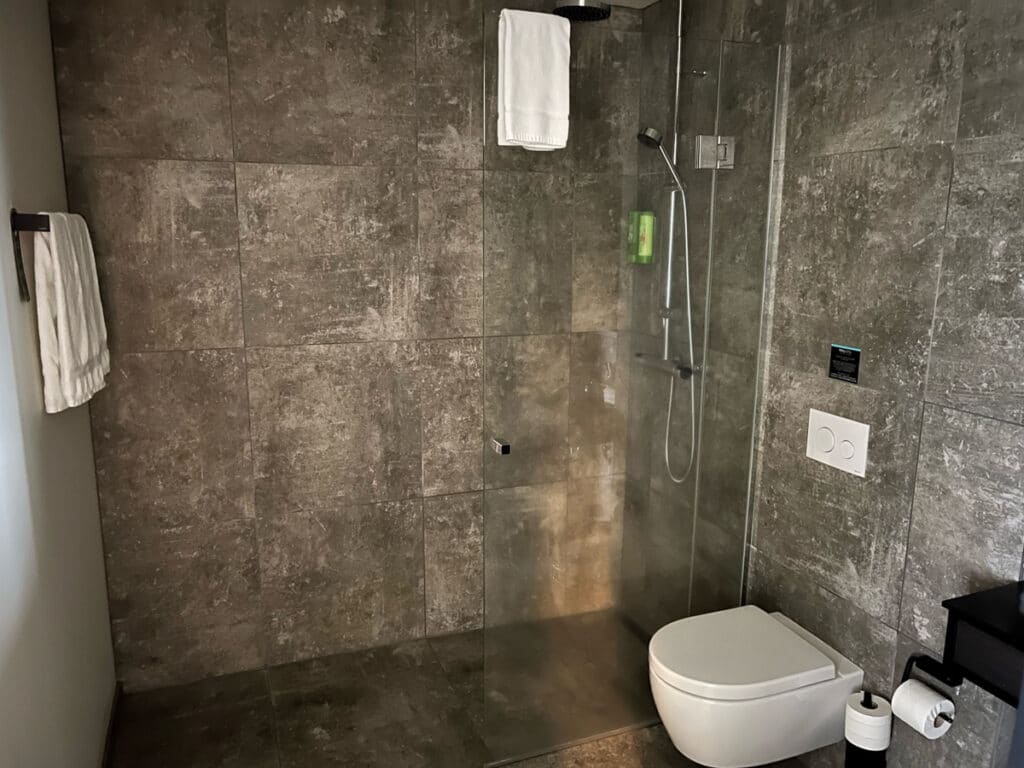 However, the room was clean and very spacious. We booked a triple room and there was plenty of space, and the third bed was set up and waiting for us when we arrived.
I also really liked that it had a door to a small patio. There was a decent view to the coastline, with some sheep wandering around, which was a fun little treat.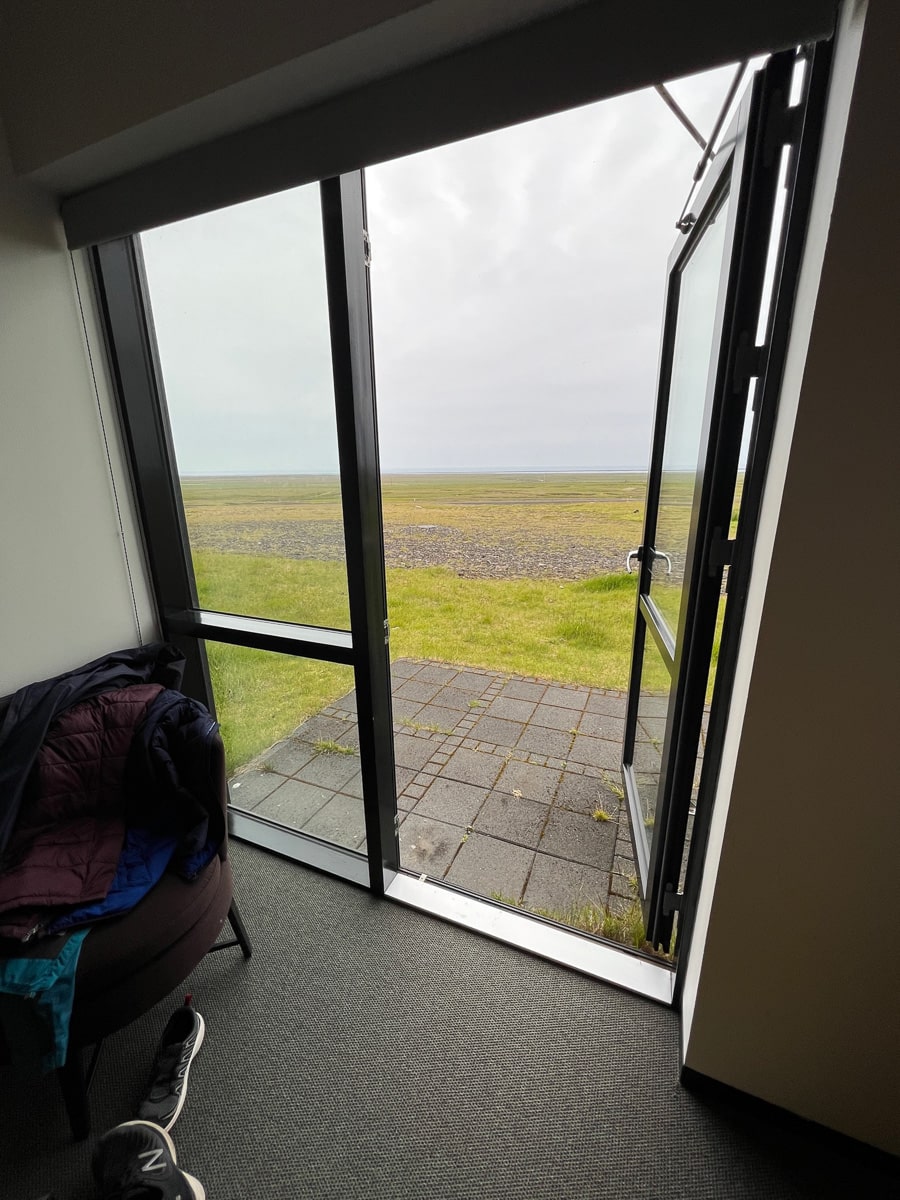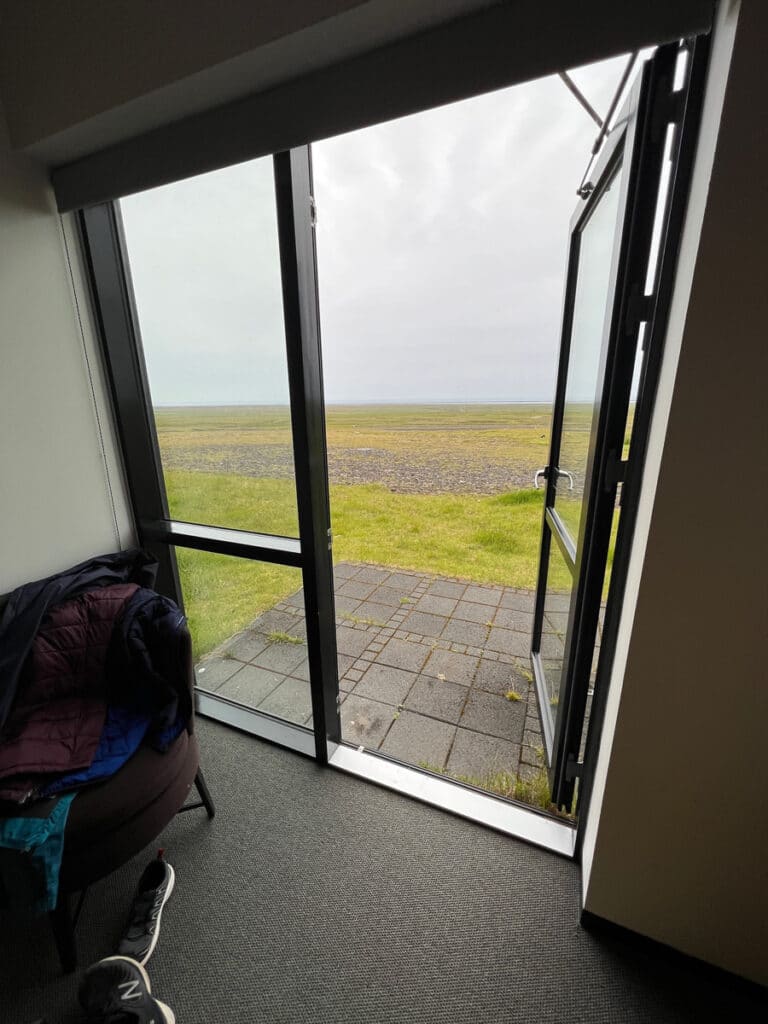 If the view is important to you, make sure you choose wisely. There are many reports of the "mountain view" rooms overlooking the parking lot, which makes sense if you look at the hotel layout. I would go with "ocean view" so you know you are facing the coast. But be aware that your coastal view will be from across a road anyway.
Service
Ok, so here's where things start to get a little sideways. From the moment we arrived to check in to the moment we left, every staff member here seemed to be in state of complete chaos and confusion. No one has any idea what is going on at this place.
It was apparent that they had some large tour groups at the property, and were completely understaffed to manage the volume of people. Checking in took quite a while, despite there not being any line. Then they asked us if we wanted to make a dinner reservation at the restaurant. I let her know that we had already done so, but asked if we could move the time up by a half hour.
This caused so much confusion, I was instantly sorry I asked. :-D Now I listened in as this young lady called the restaurant and had the longest and most confusing conversation ever about available times. Now seriously, they could have just said they were booked up and couldn't move the time. That would have been just fine. But instead these staff members argued with one another for ten minutes, and then let me know that the time was indeed moved up by 30 minutes.
Ok…. strange start. But we'll go with it. So how did that work out?
The Restaurant
Well, that worked out badly. As I half expected at this point, when we showed up at the restaurant they had never adjusted that reservation time. The place was absolutely overrun with people and everyone appeared to be in a tizzy.
Since now they didn't have a table for us, they offered to seat the three of us at a two-top. A bit cramped, but no big deal. Things happen. So we said sure and squeezed in.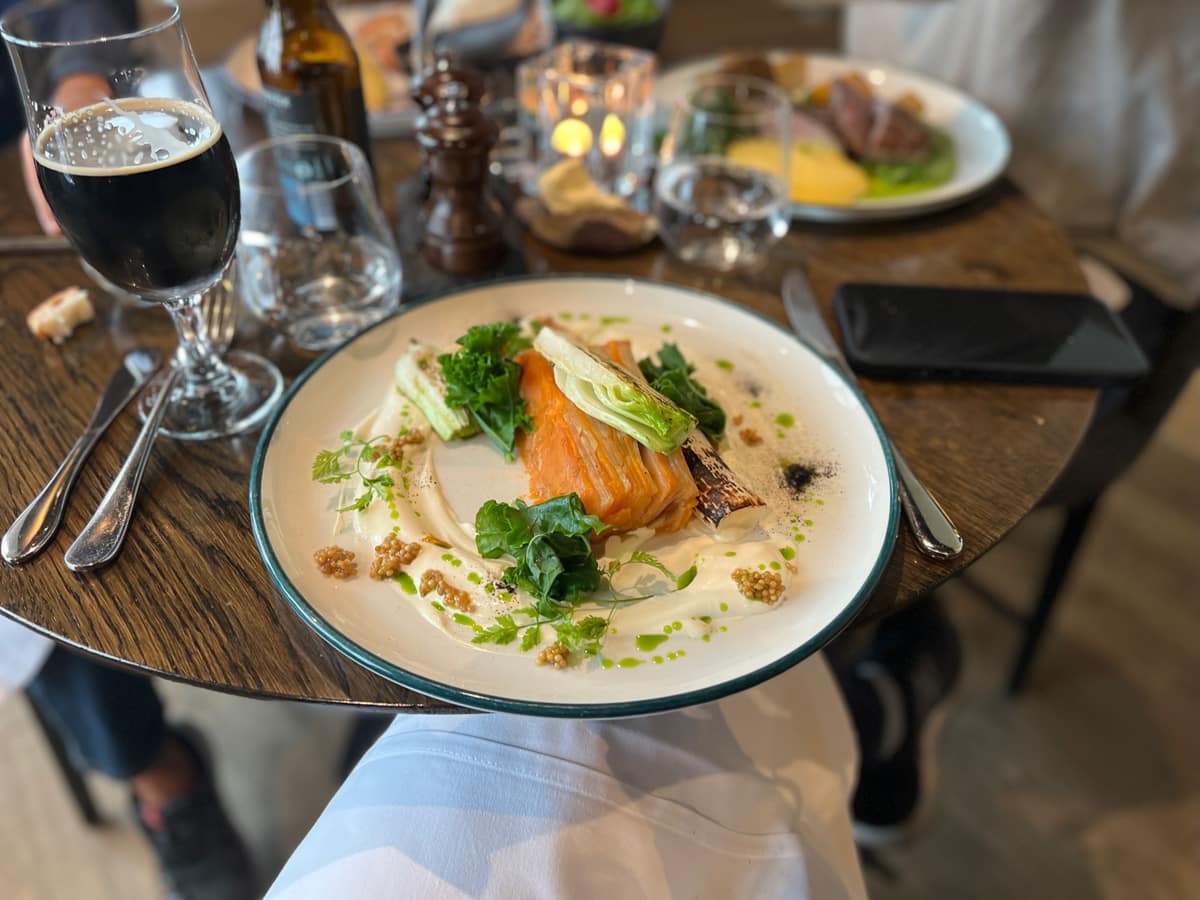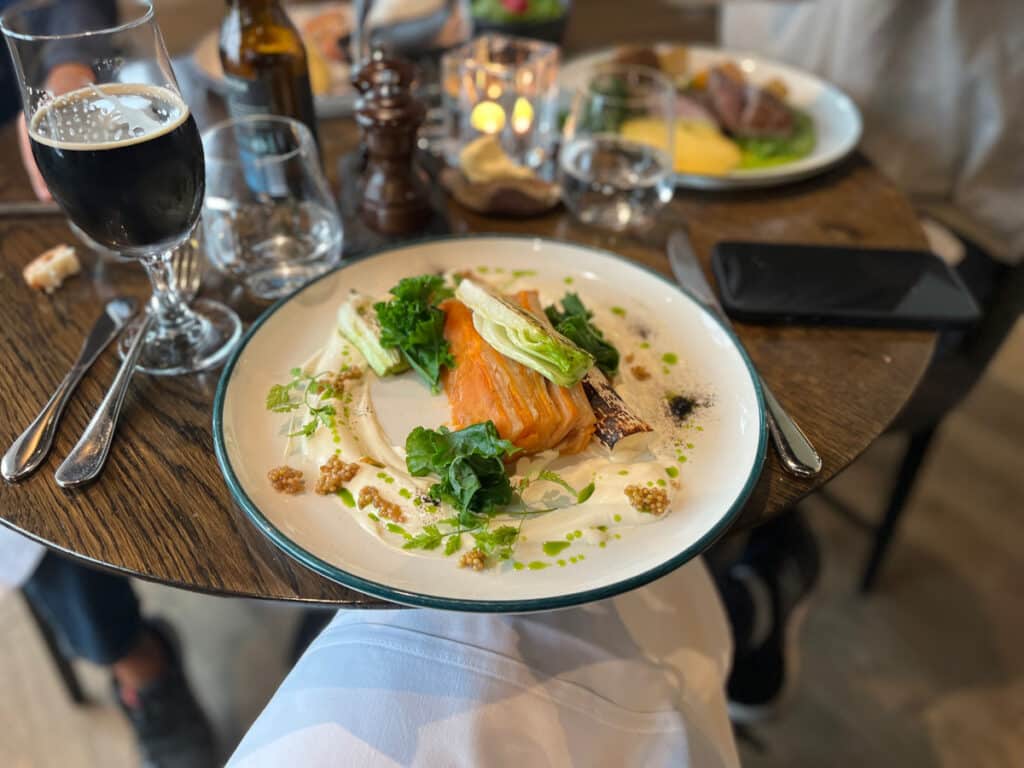 And that would not have even been notable if the rest of the meal had gone well. But sadly, nope. We started off ordering drinks (standard draft beer and glass of wine). Well those didn't show up until we were done with our meals. Yep, completely done. We'll get to that in a minute.
At this point, we have realized this is not going to be the fine dining experience that they tried to portray. We ordered our meals, carefully avoiding seafood based on the strong smell. I could literally smell the fish in the second floor restaurant from the first floor of the hotel. Not a great sign for freshness.
The kids menu was the worst we encountered on the trip – fish, lamb, breaded chicken cutlets, or a ham sandwich.
We ordered and ate. The food was fine, but nothing to write home about. And then those drinks finally showed up. While they were literally clearing away our plates from dinner. There was no offer to take these off our bill at this point, so I guess we are still paying for them. So obviously we are going to sit a few more minutes and have them, right?
The server comes by and we ask to order some ice cream for the kiddo since now we have to sit here and drink these drinks. And he literally asks us if we want to take it to go. I almost laughed out loud. Like I get that this place is swamped and you want to turn the table. But you are the one that just served us our before dinner drinks as dessert – so don't try to rush me out now while I have the drinks you are charging me for.
I have never been so glad to be in a country where tipping is not required. :-D
All the tables around us were having an equally bad experience. Drinks not coming up until the end of their meals. Orders being delivered wrong. I saw at least one family just up and leave without eating.
So yeah, don't eat at this restaurant. Perhaps they do better when they don't have any tour groups around, and their reviews seem to suggest that is the case. But there's no way to know that in advance of your stay, so just avoid it altogether. You would be much better off just getting dinner at the food trucks at the lagoon! (The food was better from the food trucks too.)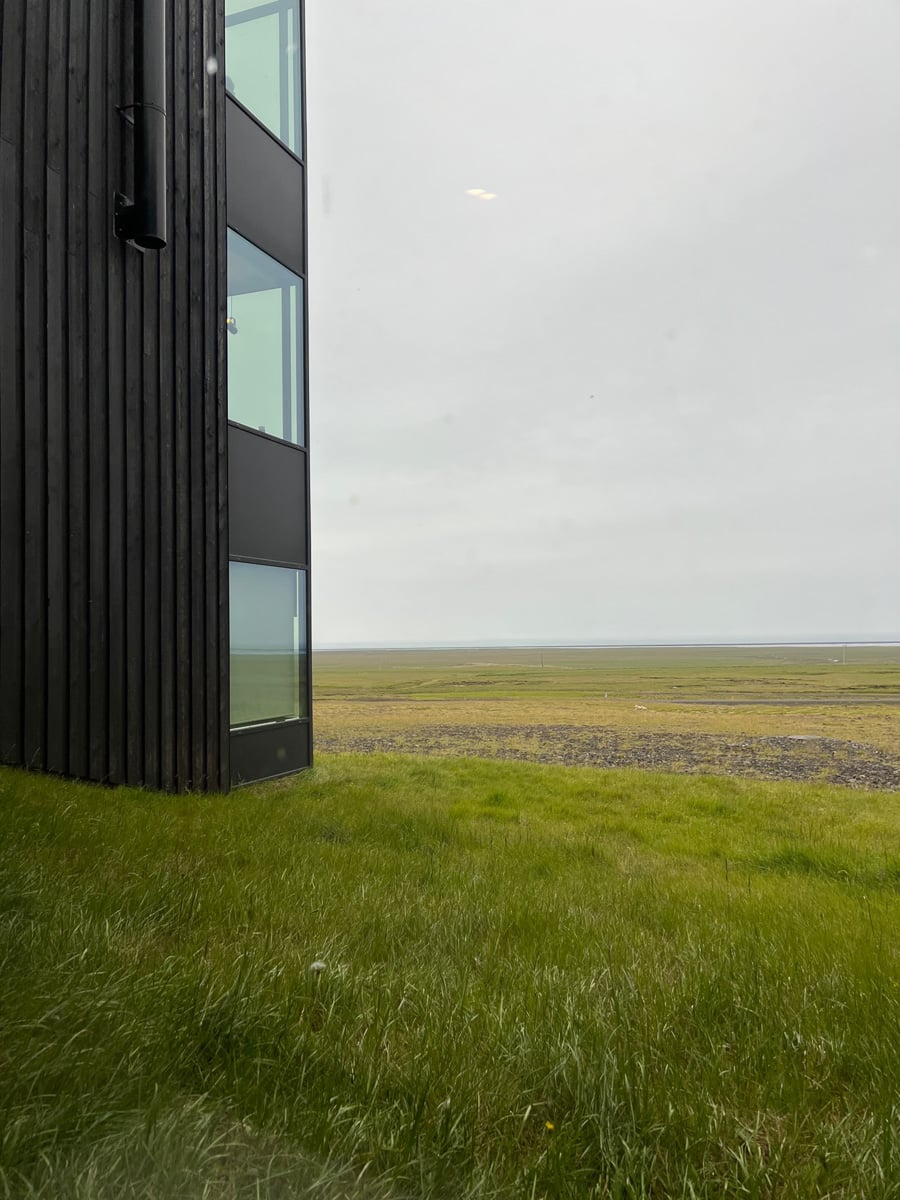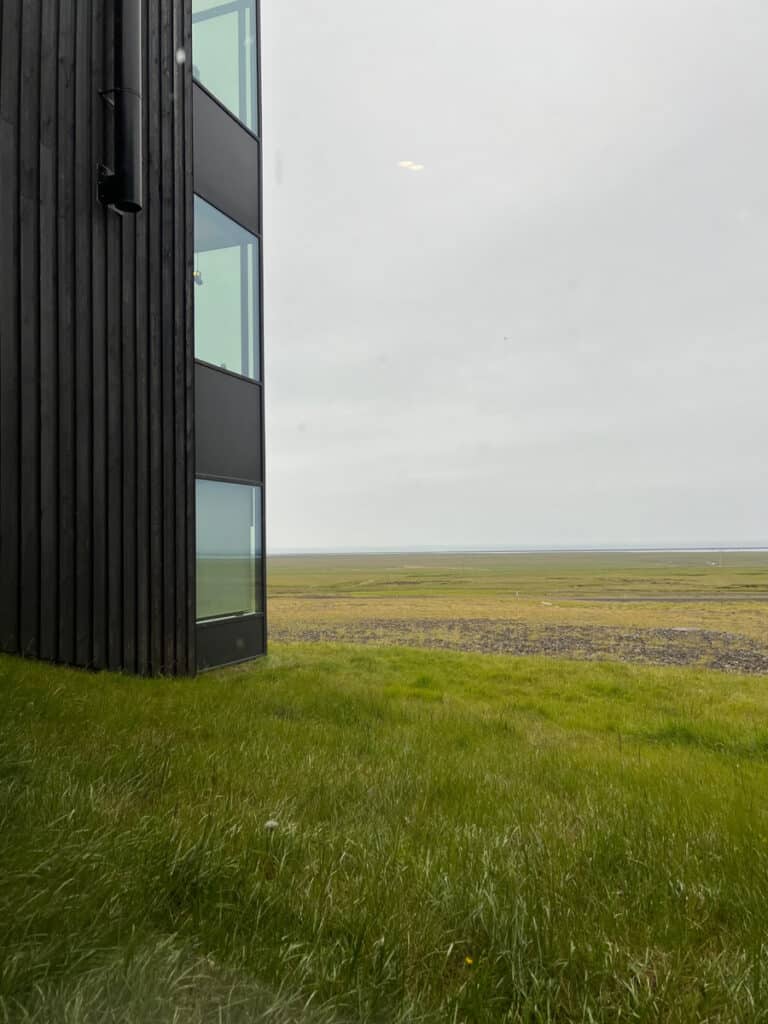 Other Amenities
In addition to the restaurant, there was a bar and lounge area. While it looked nice, it was so insanely crowded with tour bus groups that one couldn't even consider trying to get a drink there. So we gave it a pass.
Breakfast was included and the spread was decent. It was served up in the same restaurant, buffet style, and they definitely seemed less chaotic in the morning time. Of course, we were there early and there were no large groups at breakfast when we stopped by.
They also had some saunas and hot tubs that were available to use. They are by reservation only and you can't make a reservation until you arrive at the hotel. So not really something you can plan for. We didn't have time to check this out, but that could be a nice way to escape the crowds here if you can get a reservation.
There is plenty of free parking in their large parking lot – so at least that's a plus!
Would we stay here again?
No, we wouldn't stay here again. We had the chance to stay at seven different hotel properties on our Iceland trip, and this is the only one that I can't wholeheartedly recommend.
If visiting this part of the south coast again, I would plan to stay a bit north of the glacier lagoon. Some other options there are Hali Country Hotel or Hotel Ekra. Or I would plan to visit the lagoon earlier in the day and make my way back west towards Vik instead of staying right by the lagoon.
Check Availability & Rates
We book our rooms via Booking.com whenever possible and the reason is simple – they have much more flexible cancellation and refund policies than you'll find when booking direct at most places. In this case, I wasn't charged until just a few days before our trip and I could have cancelled with no penalty up until then. Very important with international travel – you never know what will happen.
You can check availability and rates for Fosshotel Glacier Lagoon here.
More Iceland Trip Planning Resources
If you're planning the ultimate trip to Iceland, be sure to check out these other helpful articles: