The runs, the bends, the trots…whatever you call it, it's bound to happen to everyone, especially during extended travel to strange and unfamiliar regions. Usually, it comes and goes without any cause for concern. Less common are visits to the hospital. There are many countries in the world where I'm comfortable with the standard of healthcare, but Bolivia — and the Bolivian hospital — is not one of them. About seven weeks into a South American journey, I started getting that uh-oh feeling as we prepared to leave Peru and enter Bolivia. No big deal, I thought. I probably ate something ify…it's probably just traveller's diarrhea.  The days passed and my energy depleted rapidly, but I insisted we push on, convinced it would pass. I started to become acutely aware of where the nearest toilet was and tried not to venture too far away from my porcelain friend.
It never even crossed my mind that I would have one of the scariest moments of my life in a Bolivian hospital!
As my weeks with a leaky…ahem…continued, we descended upon the small city of Sucre, Bolivia, our arrival coinciding with the start of Carnival. The period of time (supposedly three days, but here lasting over a week) before lent, Carnival is a time to let your inhibitions go, and the Bolivians seem to get as many legal sins out of their system as they can before their religious hiatus. Katie, for example, went to a traditional male stripper show which seemed to be attended by every woman in Sucre. The city turns into one massive, drunken water fight, and the whole thing is a rather messy affair. Throughout the week, water balloons come at you from everywhere while walking through the town centre, and the throwers don't discriminate against young and old. Street parties start early, with every corner stinking of fresh urine, and both young and old drunk bodies passed out pretty much everywhere and anywhere they can find.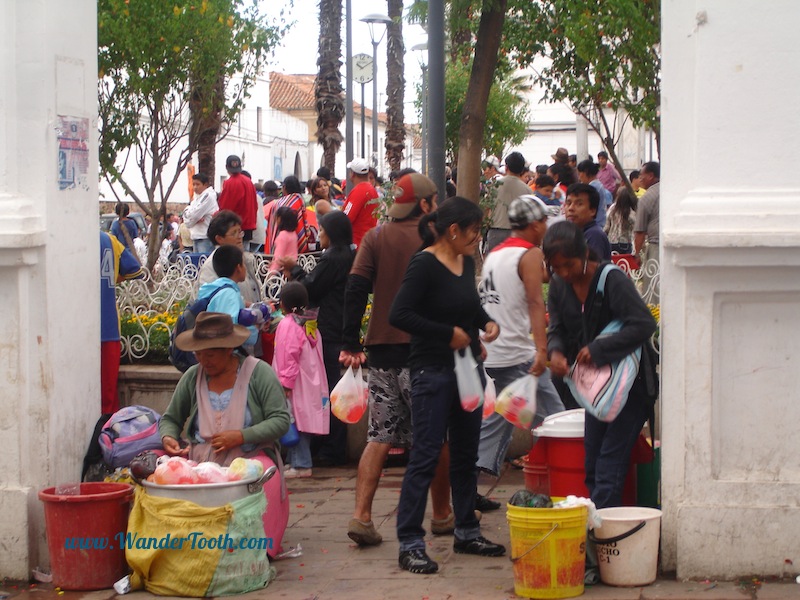 But this was not a time to celebrate for me. On about the eighth or ninth day of my worsening ify-ness, I awoke with a fever. It became pretty apparent that it wasn't just questionable food that put me in this position, but something else. I was weak, had cold sweats and generally just felt awful; it was time to get myself to a doctor's clinic. Both clinics within walking distance of our 'hole-tel' were closed, as the staff were out enjoying Carnival festivities, so it was off to the Bolivian hospital, which was a long, slow, water balloon-filled walk away (nothing like being pelted in the face with Bolivian tap water-filled balloons when you're feeling ill!). This was no place for a traveler with a fever, a traveler stricken with the fear of not knowing how many steps away from a toilet I was.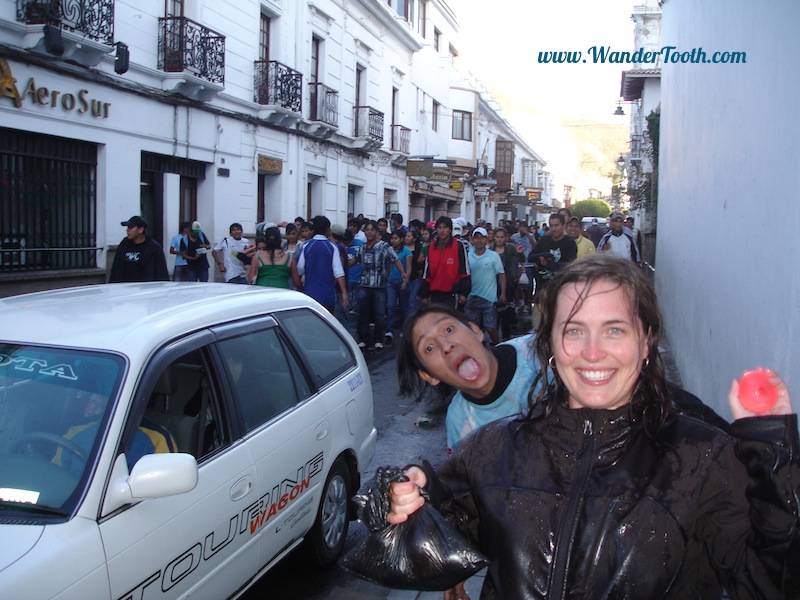 The process of admitting oneself to a Bolivian hospital is not clear but, like any hospital, it involves a good deal of sitting and waiting. Once in front of the doctor, I was able to fight through my limited Spanish. With the use of an English-Spanish dictionary, I was able to describe my condition. He gave me a prescription note and directed us to the on-site pharmacy. I purchased my drugs and noticed that they came with a syringe and needle. Hmmm, okay. This wasn't what I was expecting, but I was eager to get better so I followed the pharmacist to the nurse's station, where I awaited to have my injection administered.
Most of my injection experiences thus far in my life have been quick: in and out in just a few minutes. This was not going to be one of those experiences.  I sat in the appointed chair and held out my arm so they could prepare it, and find a vein.  My Bolivian hospital nightmare begins here.  With the needle now in my arm, the nurse started asking questions like, "do you feel okay? Do you feel warm?"
I was feeling the same: feverish, but not warm.  It seemed to be taking a while, and the nurse just kept asking over and over, "Do you feel warm or hot?"
"NO, just get this going," I thought.
The nurse then started moving the needle around while it was still jabbed into my arm. This seemed unusual, but more importantly it hurt like hell.  When the fluid was almost fully injected, my fingers started to involuntarily twitch.  Pins and needles started in my finger tips and crept up into my wrists, moving higher up my arm.  She removed the needle and a sudden hot sweat flashed across my brow.  Maybe that is what she meant.  "I feel hot," I tell her in Spanish.
She told me to relax, that this was normal. When the feeling of pins and needles reached elbow height, a numbness started started to set in. My hands and fingers seemed stuck together; I couldn't spread them apart. I started to panic a bit, and held up my hands for her to see. She again indicated for me to relax. Then, I watched horrified as my hands involuntarily clenched into fists. They seemed to keep clenching even though they couldn't go any further.  I started to hyperventilate and told the nurse something wasn't right.  My arms were completely numb and my hands were so tightly clenched that it was painful. It was a strange feeling because it felt so painfully uncomfortable, even though I really couldn't feel…anything.
The pins and needles feeling that had started in my hands started to creep in behind my eyes.  Tears welled up, and eventually flowed, as I began to shout my discomfort. The nurse ran to get the doctor.  The doctor barged in with a colleague that spoke one or two words of English — all the Spanish I had spent a year learning escaped me at this moment — and he helped me lay down on a gurney. And then, HE BEGAN PREPARING ANOTHER INJECTION! After my reaction to the first one, there was no way I was getting another mysterious injection at the Bolivian hospital! Katie jumped to defend me against the needle.
By this point, my arms felt like dead blocks of wood, and my hands were clenched so tightly that Katie couldn't pry my gnarled fingers apart.  The pins and needles that had started behind my eyes began to flicker, and it became difficult to move my eyes!
Katie tried to remain calm, but I was terrified that I was having some kind of reaction, and the worst was yet to come. I was going to be paralyzed – or worse – from my trip to the Bolivian hospital!
The doctor conceded to our protests, and gave me a pill to swallow instead of another injection. They placed a pillow behind my head, and I tried to relax back into it, all the while wondering what body part might go numb next. I lay there with tears and sweat dried to my face. A nurse, the sort-of-English-speaking orderly, and Katie used warm water and massaged my fingers apart for the better part of an hour, and eventually my body began to relax. The numbness faded in a similar way to how, hours after being at a dentist, the freezing starts to wear off. My Bolivian hospital nightmare was over.
When my grogginess and numbness subsided enough to start looking for an exit, the doctor had one parting shot. As he had already prepared the second injection, we were going to have to pay for it. He made such a big deal about it, we thought it was going to be expensive; I cared, but I didn't care – I just wanted to get out of there.  Seven Bolivianos later (about one Canadian dollar!), Katie had the good sense to find the nurse and ask for the discarded package of whatever mystery juice they injected me with; we would look that up later. We fought our way back through Operation Water Balloon that is Bolivian Carnival to our hotel, where I remained burrowed in on a rice and clear liquid diet for five more days before feeling well enough to continue on our trip.  Katie, meanwhile, rejoined the party, and — despite the fact that I still felt like crap — made me pose for ridiculous photos: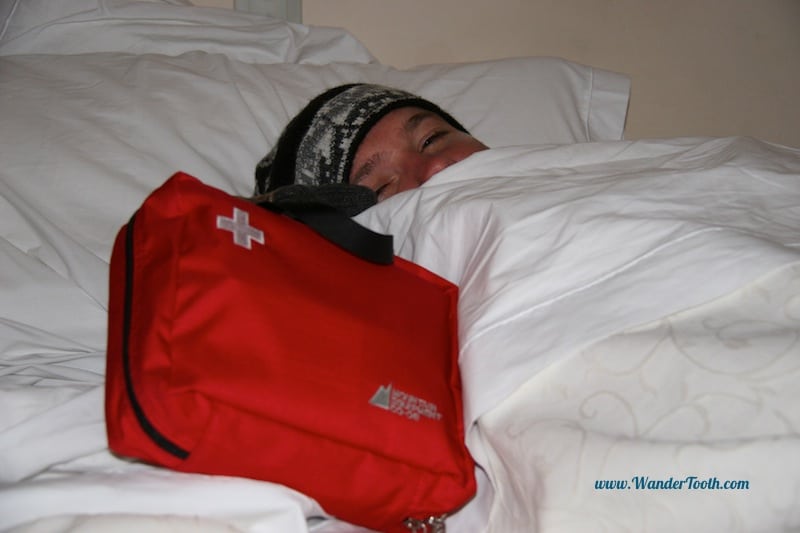 I may have been ready a day or two sooner, but the next leg was a 12-hour bus ride on a dirt road to the town of Uyuni, followed 72 hours in the back of a Land Cruiser across the Bolivian Salt Flats, which are 5000 meters above sea level, into northern Chile.  If you're not all good under hood before that trip, you're in for a tough ride!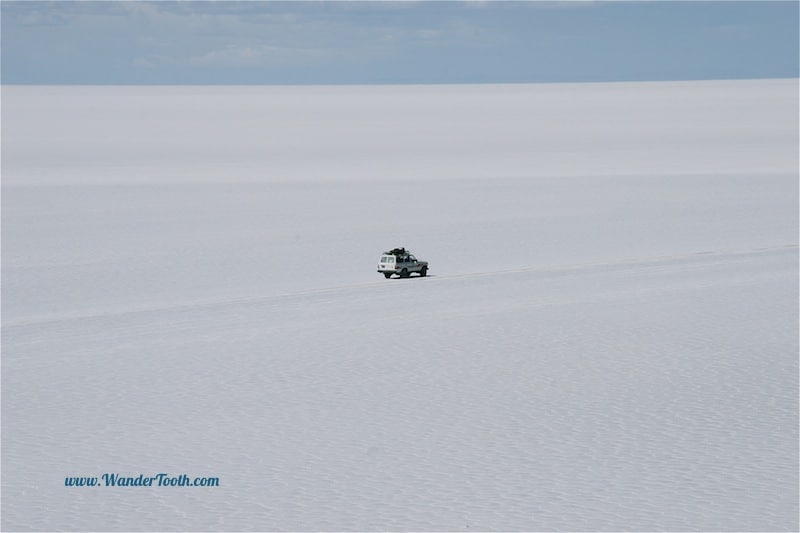 Take it from me, future travelers to Bolivia: if you start to become ill, and if at all possible, jump the border into Argentina or Chile if you can. Or at the very least try to get to La Paz. While Bolivia is no place to be ill, it is stunningly beautiful. We were short of breath and light headed the whole time due to the altitude, but there are post card worthy scenes at every turn.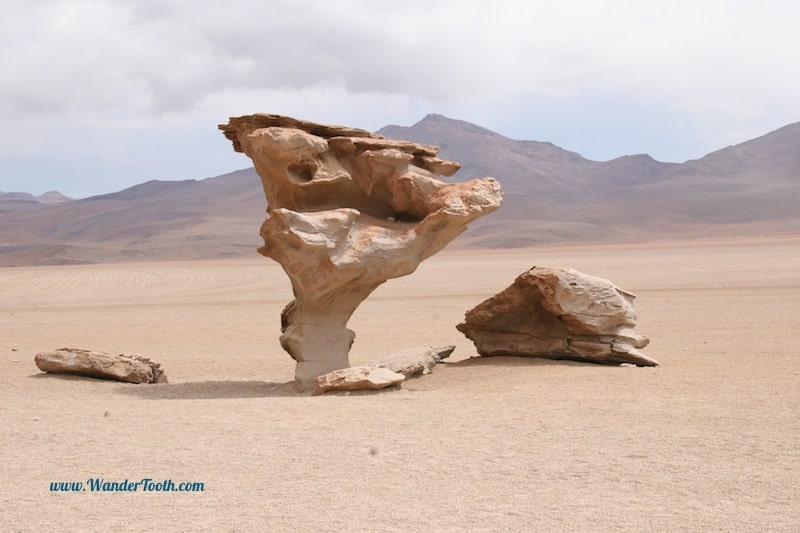 Once it was all over, and we arrived in Chile and started descending 3500 meters in just 40 minutes, oxygen started to fill our blood again, and we were glad we went to Bolivia — despite our Bolivian hospital snafu — and glad we took so many pictures!  Even though I was feeling terrible, the snaps from Bolivia continue to be my favorites.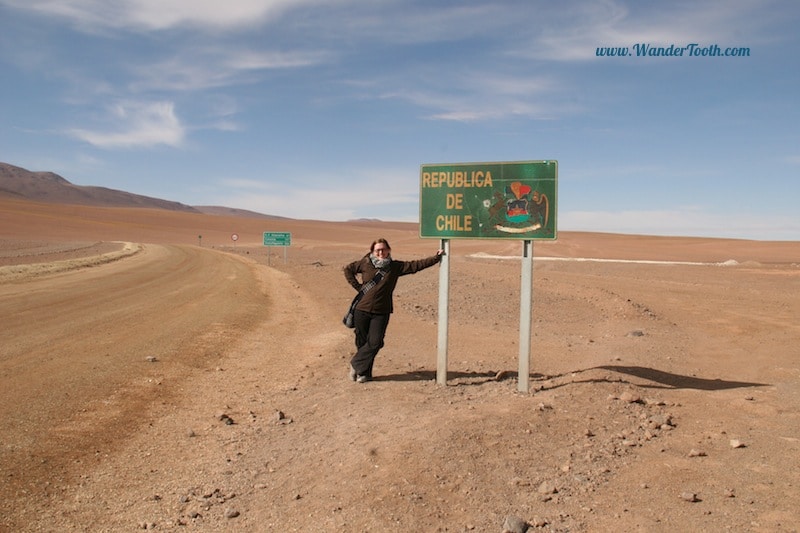 Do you have any Bolivia stories, or Bolivian hospital stories?  How about any travel tales involving hospital visits in any country?  Share your stories in the comments below!