How to Get from Timisoara Romania to Belgrade Serbia by Train: Step-by-step Instructions that can be reversed if you're travelling from Belgrade to Timisoara. This information is still correct as of June 2017, as per reader comments and emails from people who've recently made this trip, but you should verify the train service is still running before you make your trip.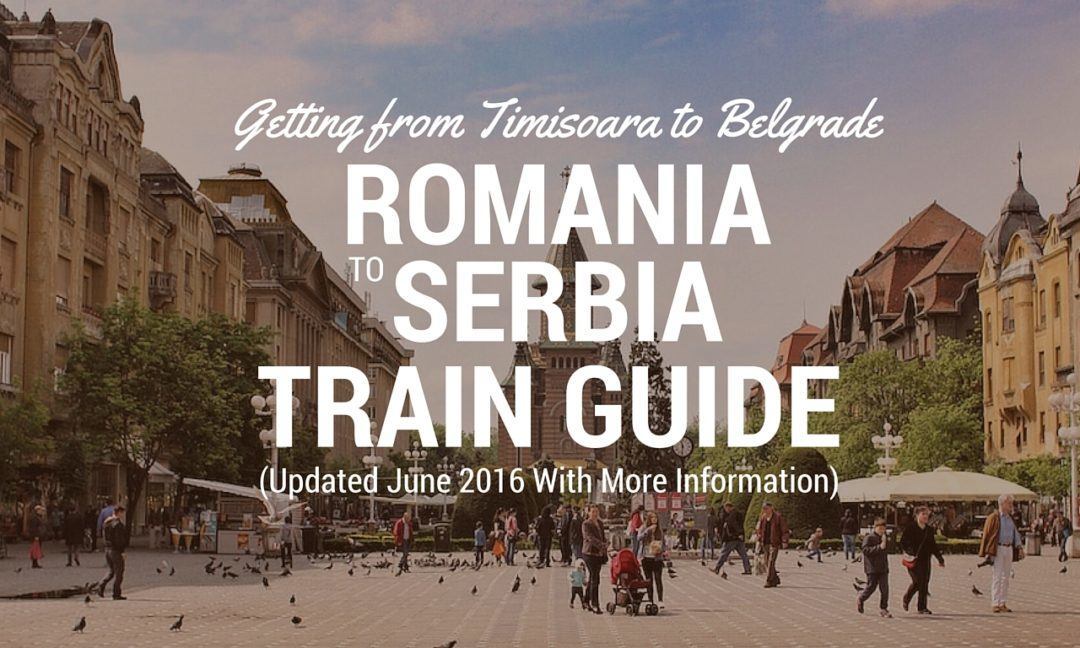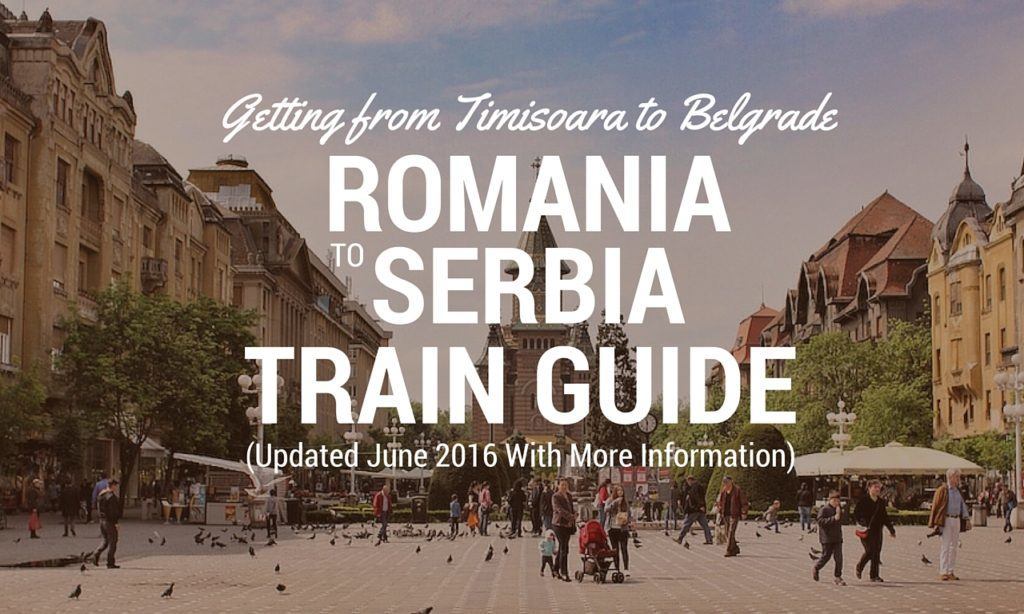 Disclosure: This website contains affiliate links. That means we earn a commission when you use the links on this site to book a hotel, buy your travel insurance, etc.. If you'd like to learn more about how this works, you can read more under our Disclaimer page.
***
Back in April, 2014, we took the train from Timisoara, Romania to Belgrade, Serbia. And it was a bit of a nightmare.
For some reason, there doesn't seem to be a lot of information about getting from Timisoara to Belgrade — and many websites incorrectly state there is no train or that the train was discontinued. That's where this blog post came from…I figured I'd write up how we did it, so you can follow in our footsteps.
Of course, if you want to travel from Belgrade to Timisoara, that's also possible. You just need to reverse the steps :)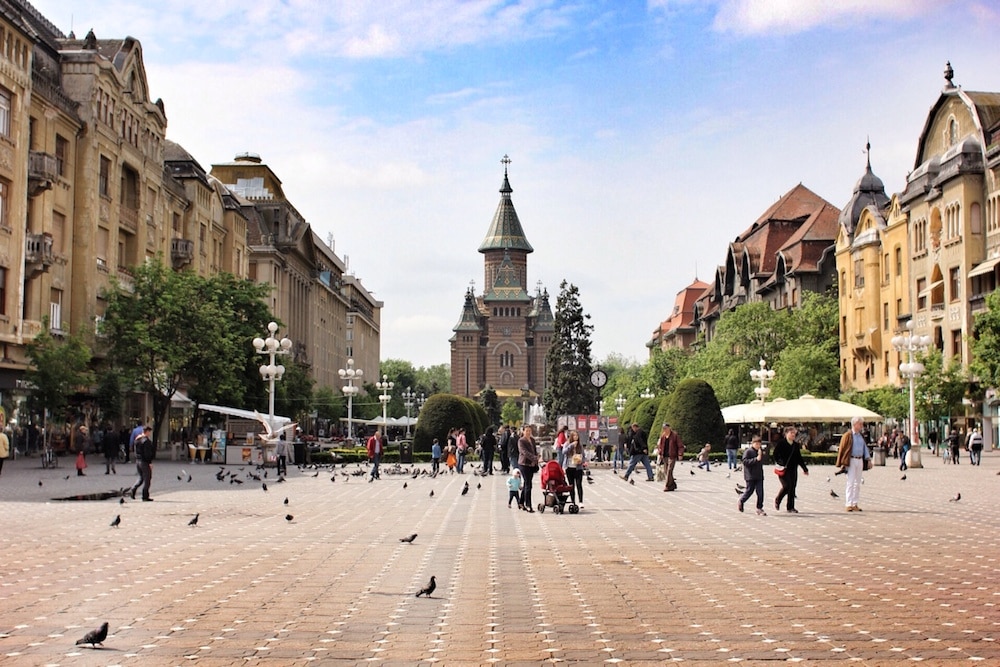 First, some resources for planning a trip through Romania and Serbia
In case you haven't left your home country yet, it's worth checking out the Eurail website, to see if it can be of any help in terms of saving money and convenience.
For example, Eurail has a Romania One Country Pass starting at 60 Euros. Unfortunately, there isn't a Serbia One Country Pass, but you can get a 2-Country Pass for bordering countries (i.e. Romania and Serbia) that might be worthwhile, depending on how much train travel you plan to do.
For more info, Eurail has both Serbia by Train and Romania by Train pages that might give you additional help!
Note: It's now 2019, and I've been told that some of these train routes are not currently running. However, I've also been told this is temporary so will leave the details here, in hopes that operations will be restored. In the meantime, check out the comments from other readers at the bottom for alternative transportation suggestions!
Here are the step-by-step instructions for getting from Timisoara to Belgrade by train.
Go to the Serbian Railways website and search for trains from Timisoara to Vršac, which is just across the border in Serbia. If you try to search for a train directly from Timisoara to Belgrade, it will come up empty.
Figure out what time you want to go to Vršac. At the time of writing, there were two trains per day: one at 06:48 and one at 15:13.

Times are listed in Serbian time

, which is one hour behind Romanian time. So the 06:48 train goes at 07:48 Timisoara time, and the 15:13 train goes at 16:13 Timisoara time. The key here is that train times are listed on the Serbian Railways website, not the Romanian Rail website (CFR).
Next, do a second search on the Serbian Railways website to check trains from Vršac to Belgrade (Beograd). At the time of writing, the trains were timed to ensure you have enough time, including border formalities, that you can arrive in Vršac in time to make a quick switch to a train bound for Beograd. If, for some reason, you miss the train from Vršac to Belgrade, there are multiple buses going to Belgrade, which is less than two hours away, so missing the train isn't a huge deal. However, you'd need some currency — either Serbian Dinar or Euros — to get yourself to a bus station and buy a ticket. We didn't notice whether there was an ATM in the Vršac railway station.
Buy your tickets. Although you need to find the train you want to take on the Serbian Railways website, you need to purchase your tickets from Romanian Railways. In Timisoara, you can either buy your tickets at the train station (Timisoara Nord) or at a CFR office near Victory Square. The office is on Strada Dr. Nicolae Paulescu near the fountain. You can purchase a ticket all the way to Belgrade, but you will have to change trains in Vršac. We were worried the train might sell out, but we were the only people who seemed to have that concern, so you're probably fine to show up at the train station 30 minutes before your train and get the tickets there.
Take the train from Timisoara to Vršac. After about one hour, you'll arrive at the Romanian border to receive an exit stamp in your passport. The border guard will board the train, take everyone's passport, and return them after 15 to 20 minutes with stamps. You won't have to get off the train.
After leaving Romania, the train continues all the way to Vršac. When you arrive at the Vršac train station, the Serbian border guards will board the train and let all the Serbians off. Foreigners again will need to hand over their passports and wait for the guards to return their passports with the entry stamp.
Switch trains. The train to Belgrade should already be waiting in the station. Vršac is a tiny train station – you basically just walk across the tracks and board the other train. There was no "Belgrade/Beograd" sign on the train, so we had to get on and ask another passenger.
Arrive in Belgrade about 1 hour and 40 minutes later. The train goes to Beograd Dunav station.
Have fun in Belgrade! Seriously, it's a great city and many people are blown away by how much fun they have. Beyond the Kelemegdan Fortress and the Saint Sava Church (two of the most popular things to do in Belgrade), it's a great city for walking around and chilling.
Again, depending on where else you're travelling, it may be worth looking into a Eurail Pass. The ones that are most useful for this area of Europe include:
Having Fun in Belgrade
Once you get to Belgrade, you need to understand: it's really, really fun. We actually made a critical error by staying in an Airbnb, about 20 minutes out of the downtown core, and feel like we missed out a bit on all the city has to offer.
If we were going to do it again, we'd probably stay in a hotel or hostel that's more central. These are three places I'd consider staying if we were going to go back to Belgrade…each is a different price range depending on your budget.
Hostel Bongo (Super Budget!)
Hostel Bongo — This hostel in Belgrade's Old Town (Stari Grad) gets consistently awesome reviews. It offers both dorms and privates, and is walking distance to everything you might need…including the train station for arrivals and departures. Click to see the best price for your dates.
Check Availability & Reviews on
Booking.com / Trip Advisor
Hotel Srbija Garni (Budget to Mid Range)
Hotel Srbija Garni — This place looks really cute, especially for the price, and seems to get a solid "8+" rating across the board. So not fantastic, but a great deal if you can get a room on the lower end of their price spectrum (when I looked, I saw prices starting around $62, but obviously that will depend on dates). Click here to check prices for your specific dates.
Check Availability & Reviews on
Booking.com / Trip Advisor
Belgrade Art Hotel (Mid Range)
Belgrade Art Hotel — A 4-star with a boutique feel right in central Belgrade, this place gets "superb" reviews from past guests, and is less than $100 per night (depends on your dates, of course!). Click to check prices and see more info.
Check Availability & Reviews on
Booking.com / Trip Advisor
Besides finding a place to stay, figuring out what to do is the other part of the whole "have fun in Belgrade" equation. We actually weren't in an awesome place when we were in the city…we were burnt out, tired of travelling, and trying to figure out what our next step would be (as it turned out, we moved to Prague!).
If you're only in Belgrade for a day or two, or just want someone to take care of everything for you, these Viator tours look like they're worth checking out.
Great Belgrade Tours
Yugo Tour
Drive a Yugo Private Tour — This looks kind of awesome. Yugos, for the uninitiated, are the old beater cars that were the only option back in the communist Yugoslavia days. AND YOU CAN DRIVE ONE in this tour. *Kicks self for not learning of this earlier*
Belgrade City Tour
Belgrade Private City Tour — A 4-hour city tour around Belgrade with a private guide, for a pretty reasonable price under $40 USD. Honestly, there aren't a tonne of tours in Belgrade, and this looks relatively new, BUT the reviews it has so far are good. Also, Belgrade has such an rich, tangled modern history, with Yugoslavia, the NATO bombing of the city, and it's rise in recent years to becoming a capital of cool. This seems like a great chance to ask questions, and delve into it more deeply to understand the city and its people.
---
Hopefully all this info helps! If you have any updates to the route, or questions, leave a comment below!!!