I have been avoiding writing this post. When it started out — this little idea in my head — it seemed like such a good idea. Something unique and different and offering a totally different perspective on a city we'd never been to. Good intentions and enthusiasm quickly turned to grumpiness, walking on eggshells, and a rush to get it over with. And so, I've been avoiding the post.
It all started with a NYT article. We were going to be in Helsinki during its reign as the World Design Capital for 2012; as part of this honor, there was a whole slew of activities and special events going on throughout the city. One of these activities was the Font Walk, which the article described as a "quirky walking expedition highlighting unusual (and usually overlooked) graphic design details on buildings in the area."
Quirky? Unusual graphic design? I was powerless to resist. I announced to The Geoff this was the ONE thing I wanted to make sure we did while in Helsinki. I wrote down the name and address of the shop where we could pick up our free map. I daydreamed of the awesomeness we would experience while exploring the 2012 world design capital's frigging design district, appreciating and discussing some nice frigging typography. I imagined the organic progression of our conversations from mundane to delightfully pedantic and designy and intellectualish:
"I feel the designer's choice to use a sans-serif font honours the nature of that building," says The Geoff.
"Huh hummmm," I offer a guttural snort in return. "Although I would have preferred something more classic" And the conversation would go on like that, and so-and-so and what-not. It was going to be awesome.
What actually happened was more like this…
On our first night in the city, we unwittingly found ourself in the design district, and stopped by the WDC Pavilion (or Paviljonki…as it turns out, Finnish is also awesome!). The ultra-hip scarf-wearing gentleman manning the information booth had no clue what I was going on about.
"TYPE," I screamed at him! "Typography! Univers! Helvetica! Maps",  I hollered until The Geoff dragged me away. We wandered into a nearby grocery store, and my delightfully practical husband bought me a can of Carlsberg in an effort to placate, or at the very least distract me, until we could figure out what to do next. We walked through Helsinki, beers in hand, until we accidentally found ourselves in front of the very store that offered the free Font Walk maps. It was closed, but we decided we'd go back the next day.
The next day, after a few boring hours spent wandering around Suomenlinna Island (seriously – do not go there), we found ourselves back at Napa Gallery, home of the Font Walk map, only to discover THEY HAD RUN OUT of Font Walk Maps. The woman running the shop told me I could access it all online, and so we wandered around until we found free wifi (which is most awesomely pronounced wee-fee in much of Europe), and I diligently began copying the addresses and distinguishing features, such as"look for letter T on gate of house," of all 31 stops in the font walk into my notebook. Looking back at the notes I wrote, I really should have realized then and there that this was going to be a disastrous activity, but I was so jazzed about seeming me some Helvetica, I couldn't think straight, and so I soldiered on. The problem with my handwritten notes is they didn't include any directions, so we pulled up the actual font walk map on my iPhone, and as weefee flickered in and out (the Baltic states and Helsinki are all incredibly connected in terms of wifi), we followed as best we could.
I should mention at this point we were pretty much starving. The Geoff was grumpy, I was determined to complete the font walk, and our blood sugar was declining rapidly. But we continued on, mostly out of my own stubbornness, and  boy am I glad we did, because otherwise we wouldn't have seen type like this: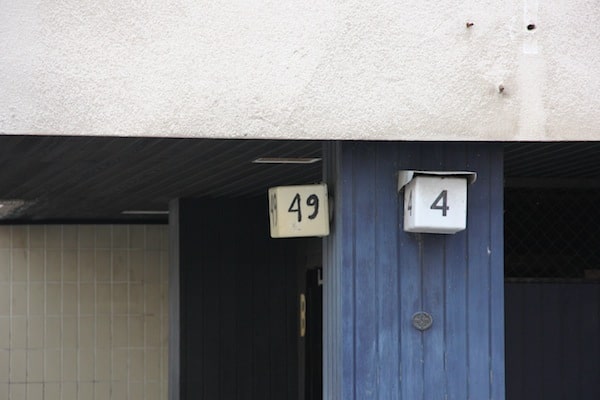 And also this: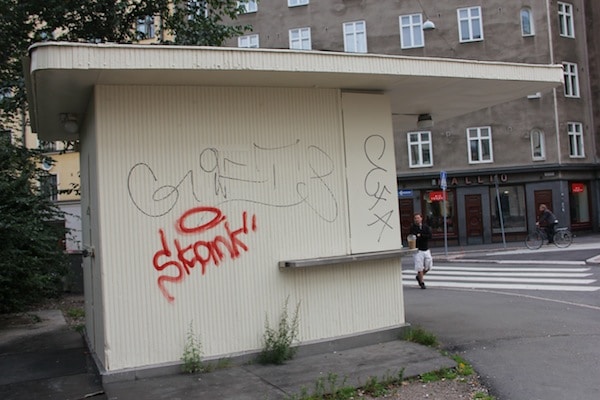 I'm actually surprised The Geoff didn't throw my notebook on the floor at this point and demand we go find a coffee and a sandwich. With tourist attractions like these…The canopy has a semi-interesting story though. These were built throughout the 1940s and 1950s, and have since seen many messages scrawled across their sides. Like this one: Skånk, which Google translate seems to think is Swedish for "sideboard." Okay, maybe that isn't interesting after all.
Luckily, there were SOME interesting-looking fonts and buildings, and more importantly, some interestingish stories as well. Without further ado, here are the few highlights of the Helsinki Font Walk.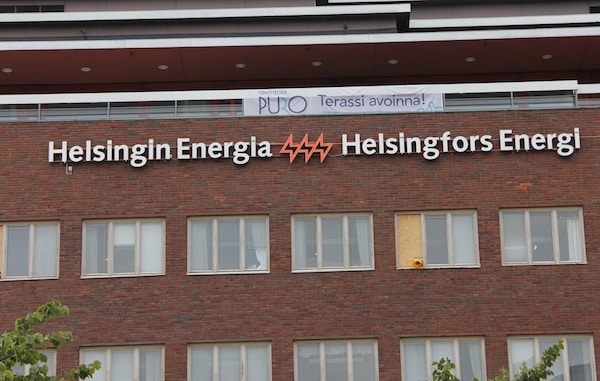 The Helsinki Energy logo was originally designed in the 1960s by Helsinki architect Martti Mykkänen; in 1995, Varis & Ojala updated the logo, choosing the Hans Meier-designed Syntax typeface.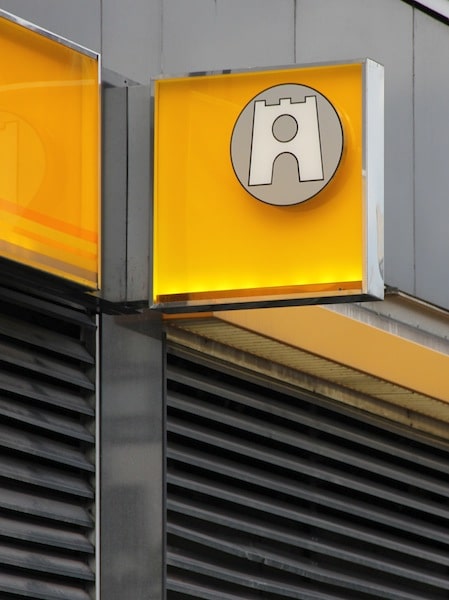 Kela is the Finnish social security program. The original logo was designed by Matti Visanti in 1938, and then updated in 2004 by Pekka Loiri. Pekka also updated the font, choosing the sans-serif font Meta. And here the font walk offers an interesting story about Meta: created by Erik Spiekermann in the 1980s, it was actually originally meant to be for the West German post office, but they never used it for that. Lucky for us, amiright?
Let's take a closer look at Meta, shall we?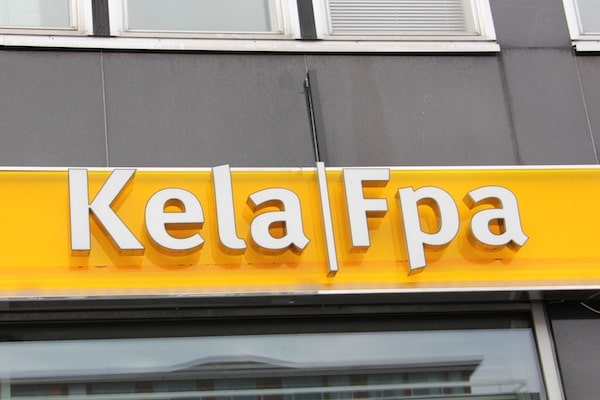 In the older neighborhoods in Helsinki, the street signs are affectionately referred to as street jewel plaques for their "beauty". The font is Cheltenham, which was designed in 1896 by architect Bertram Goodhue.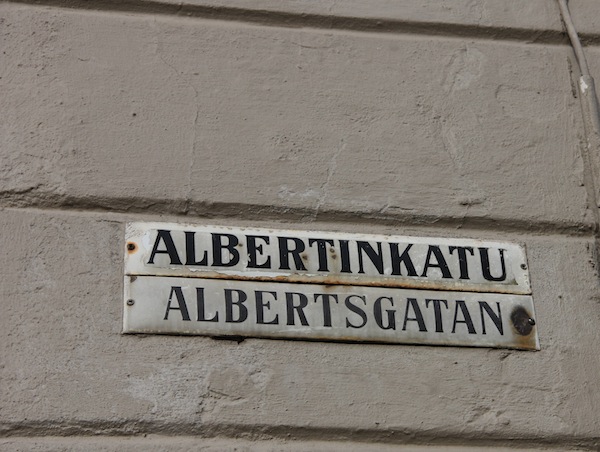 The Hope Alto building is also know as the silver house. The sign is a combination of different typefaces; according to the font walk map, it was inspired by the modernism of the 1920s, "like futura." I'm note really sure what they meant with that futura reference.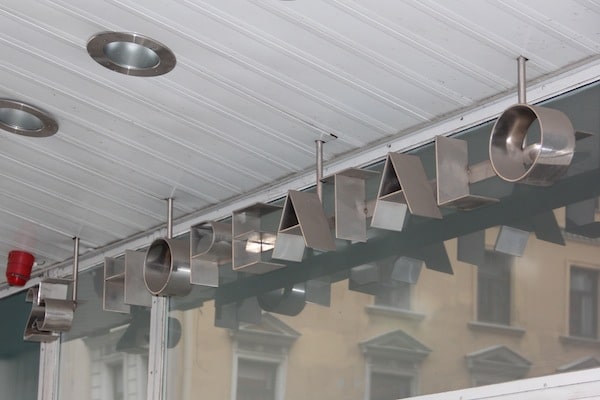 And finally, the Helsinki Metro sign: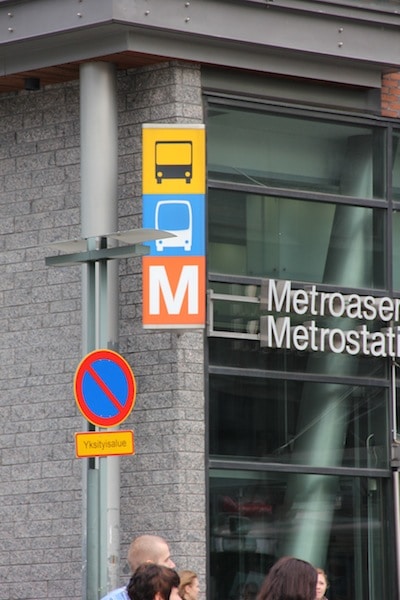 And THAT is all she wrote on the Helsinki Font Walk.