When in Berlin a month or so ago, we visited what is colloquially known as that Holocaust Memorial in Berlin. Officially, it is the Memorial to the Murdered Jews of Europe: a confusing, concrete, and rather hostile collection of over 2,500 concrete blocks, all arranged in neat rows.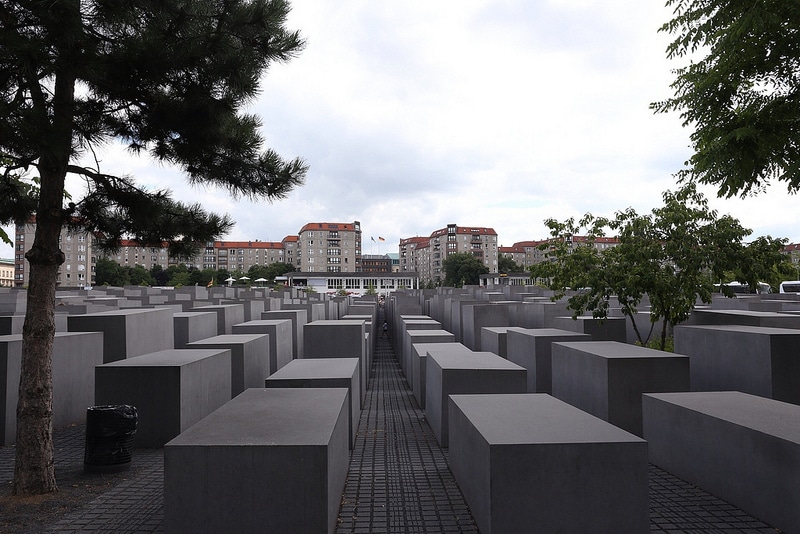 Designed by Peter Eisenman, an American architect, the holocaust memorial, according to Eisenman, is meant to represent an "ordered system that has lost touch with human reason."
A little back story about Eisenman: he is something of a controversial figure and seems to me like he'd be one helluva cocktailing partner (from the verb, to cocktail ). You know: a through-and-through academic-artiste. In 1982, he collaborated with Jacques-freaking-Derrida on a design for Paris' Parc de la Villette (it wasn't chosen). At the risk of sounding like a rube, semiotic analysis and architecture just don't seem like natural bedfellows to me, but to architects like Eisenman (see also: Rem Koolhaus and Frank Gehry), who have become associated with the deconstructive movement, it works. And while I don't totally get the connection, I am happy to admit that Eisenman is probably vibrating on a whole 'nother level. And that's cool.
Back to the controversy. Eisenman was the architect behind Ohio State University's Wexner Centre for the Arts, which is cited by the Interwebs as a damn fine example of deconstructive architecture, albeit one with questionable functionality. This is what I think is so interesting about Eisenman and the memorial he built: he seems totally highbrow, an architect unburdened by the earthly concerns of functionality. While some have criticized him as being post-humanist — a designer who designs things that are hostile to its human guests — I like to think Wexner himself would take that as a compliment.
Case-in-point? When the Wexner Centre was built, rumours started flying that the building's design made visitors NAUSEOUS. Eventually, the rumours were traced back to Eisenman himself: he was apparently building-up the reputation of the building by spreading rumours of its hostility (source).
This is a guy who isn't afraid to build multimillion dollar things that will make you puke, people! If that's not interesting, I don't know what is.
***
Getting back to the holocaust memorial in Berlin. As we approached the memorial, we both fell silent as we neared what – to me – looked like a concrete graveyard immediately following a tragedy: 2,500 concrete coffins all lined up in neat rows, just waiting to be lowered below the ground. This is an interactive memorial, and so we began walking among the concrete coffins. As we walked from the perimeter towards the centre of the memorial, the boxes grew; suddenly they weren't coffins anymore, but the walls of a prison, towering around us on every side, to the point that the sun struggled to break through to where we stood.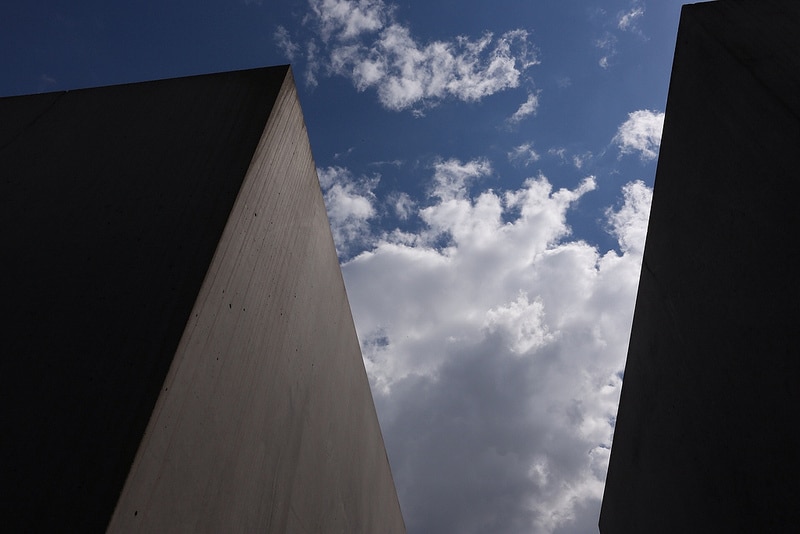 As we moved closer, we were no longer spectators looking at coffins post-tragedy, but rather prisoners in an ongoing tragedy. At the very centre, it's cold and grey, and it's easy to imagine that spending too long inside this prison would be much like coming too close to a Dementor: "Get too near a Dementor and every good feeling, every happy memory will be sucked out of you…you will be left with nothing but the worst experiences of your life."—Remus Lupin
***
This is precisely what I loved about the holocaust memorial in Berlin. It was designed by a man who isn't afraid to build something that's hostile, to make people feel uncomfortable and nauseous, to be post-humanist. And isn't that perfectly appropriate as a memorial to the holocaust, an event which surely was post-humanist — beyond our understanding of humanity — by its very nature?
Walking among the 2,500 concrete blocks — Eisenman, by the way, has never said what they represent — it made me think not only about the holocaust, but also about post-humananess as a modern state of being. Suddenly, it doesn't seem so crazy that architects, who are artists after all, would want to collectively nudge us toward understanding the collective madness in the world by first making us feel sick, lost and imprisoned.
When it comes to the holocaust and other contemporary atrocities, it seems to me there really isn't any other way to feel.