I'm sitting on the train from Prague to Berlin, in one of those stuffy 6-person compartments Czech Rail seems to love. I'm with Geoff, his sister Jenn, and her husband Terry, and we're headed to Germany's capital for a few days of sightseeing before Jenn and Terry head back to their life, kids, and jobs in Alberta. They're joking around…Jenn has a glass of red wine from one of those mini airplane-sized bottles, and I can sense the excitement that comes with visiting a new country, a storied city in recent history.
While Geoff catches up with his sister and brother-in-law, I have my headphones in. I'm trying to finish an article I promised to a client, am blasting a Spotify concentration playlist to stay focused, and am crossing my fingers I can enjoy a long weekend with family that has traveled across most of a continent and the Pacific Ocean to see us.
Try as I might, it doesn't happen, and I end up lugging my laptop with me around most of Berlin. Instead of managing to take a few days off as I'd planned, I end up trying to finish the article in a Starbucks across from Checkpoint Charlie, at the top of the Reichstag building while the others visit the dome, and on Saturday evening at St. Oberholz, the de facto digital nomad HQ of Berlin.
By the end of their trip, I've managed to get in some quality visiting time, but it's not enough by a long shot. And I feel like a complete ass because of it.
It's hard to write this post without sounding like a complete whiner…that's certainly not my intention. But I was recently asked to write an article that brought my thoughts about all of this — quit your job, get some freelance clients, and travel the world making money from your laptop — to the surface.
And here's what I think: that dream, which a lot of people make money from by selling the concept through their blogs, social media, and with actual products and coaching services, was for me, a steaming pile of BS. Like our friend Adam said, maybe freedom is a myth.
I wish I could say that train ride to Berlin was the first time, in our two-plus years of full-time travel, that my freelance work completely took over our lives, but the reality is it happened all the time. Despite the abundance of FOMO-inducing stock photography showing people happily typing away in the most improbable situations — at the beach, on a mountain top, right before jumping into a canoe — our trip to Berlin is a way more accurate picture of what my life has been like as a freelancer traveling the world.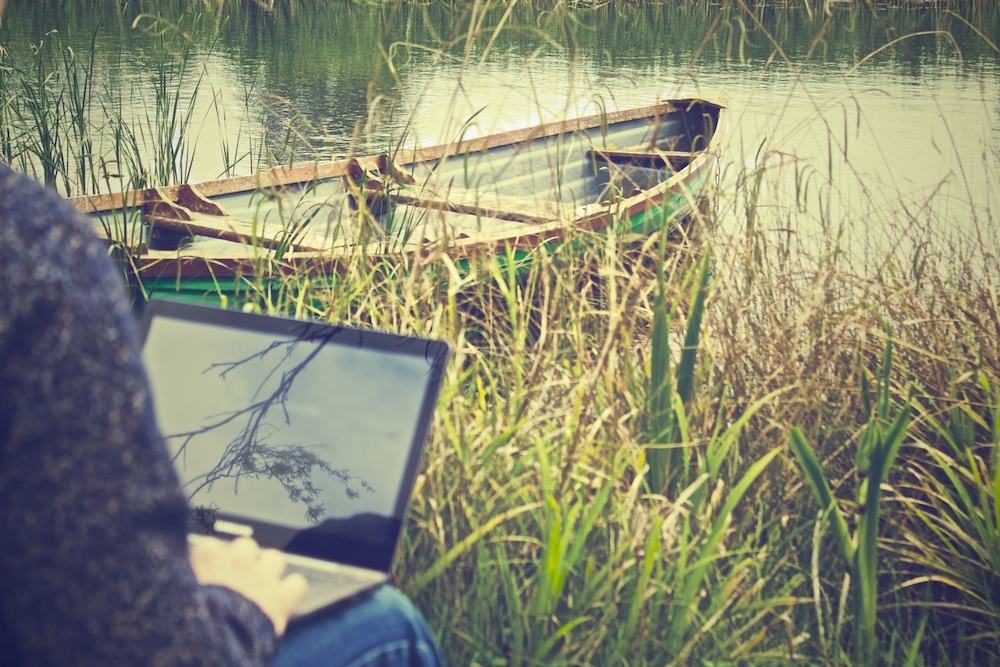 The whole point of this exercise, and I would expect of anyone who wants to quit their jobs and travel the world, was to have more freedom and control over our lives.
Not being able to spend time with family who'd flown across an ocean to be with us does not qualify as freedom, and neither does seeing little more than the inside of a café in every city you visit.
***
Before we left Canada, people would ask me why we were leaving: why trade good careers, secure income, and a nice apartment for the risk and uncertainty of permanent travel and an unknown path to earning an income.
My answer back then was that of someone who hadn't done it before, but it still stands. I  am massively privileged to have been born who and when I was. Canadian women are no longer limited to bank teller, teacher, nurse, librarian or secretary, like many in my mom's generation were. Through no effort of my own, I was born in a country with free basic education, healthcare, and one of the most readily-accepted passports in the world. Through dumb luck, I was born to educated parents with steady jobs, with no abusive or addictive tendencies, who filled my childhood with sports, art, encouragement, and extracurricular activities. I grew up trusting the police, not experiencing racism or prejudice because of my sexuality or religion, and not having to worry more than any other woman does about physical safety and sexual assault. And then to top off all of that, the Internet became a thing during my life, and Wifi became widespread enough that it became actually possible for the first time in history for many people to work remotely.
That's a long-winded backstory to my answer, which is this: for someone who's always had an adventurous and wandering spirit, has marketable skills that can be done remotely, and is interested in entrepreneurship: why wouldn't I?
Honestly, it seemed like a waste of all that dumb luck and good fortune to not take advantage, and try to become a digital nomad.
While I can't speak for Geoff, two years later I'd probably make the same decision to leave, but I also have an answer to the "why wouldn't we" response I had back then: because it's really damn hard.
There's a big group of digital nomads and bloggers in Oaxaca right now, and we've been having a great time with them, connecting over street food, drinks, and coffee-work dates, and talking about life, politics, travel and – yes – business. One friend mentioned she's often asked by readers what her advice is for people who want to do what she does: travel constantly, build a digital nomad business, that kind of thing. And her response didn't really surprise me: don't.
Going to an office everyday and letting someone else worry about revenue, taxes, computers, registrations and lawyers…that would have been way easier. Better? From my perspective, over 800 days in on this journey, I'd say probably not. But I know Geoff would probably think long and hard before giving the same answer, and I often worry that I'm dragging him along on this journey.
There's a lot about this life of ours that I genuinely, wholeheartedly love. I don't actually mind that we work more now than I ever did back in Canada. I like working. But freelancing while travelling, at least the way I was doing it, was not at all what I expected, and it certainly wasn't living the dream as it's often made out to be.
While I'd never tell people not to do it, if that's what they really want, I would caution anyone to think long and hard before making the leap into the freelancing digital nomad lifestyle, because it really is pretty hard to make enough money, to balance life with work, to find good clients, and to do all that while planning housesits, flights, and Airbnb stays around the world.