Ever since we got our first housesitting job, looking after a home, a dog, and two cats in Portugal's beautiful Algarve region, people have been asking us how we do it. It is probably the most common reason people email us. When we are staying in hostels and tell other travelers about the wonders of housesitting, people always reach for a pen and a notebook and ask us which websites we use to procure these dream assignments!
Although we love introducing people to the wonders of house sitting, it is hard to people all there is to say in a short email or conversation. With that in mind, we figured we'd gather all the information in one place: a one-stop guide to house sitting, with links to additional resources if you're interested.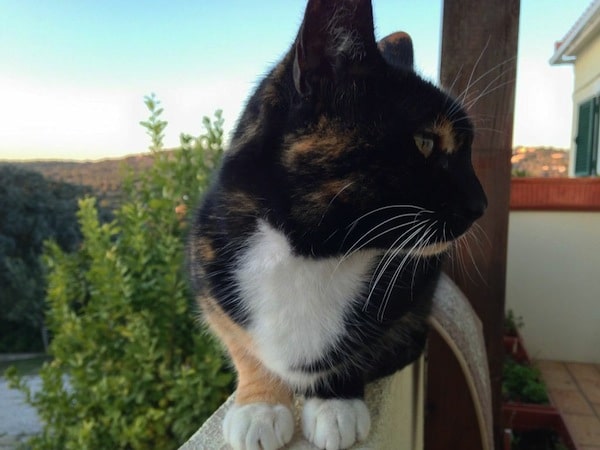 What is House Sitting?
Many people know about home exchanges — that's where you, a home owner, trade your home with that of another home owner for a pre-determined amount of time. However, fewer people have heard of house sitting. With house sitting, you fall into one of two categories: a homeowner who needs someone to look after their home and/or animals, or a house sitter who wants to look after a home and/or animals.
Typically, house sitters offer their services in exchange for free accommodation. Sometimes homeowners will ask the house sitter to cover the cost of utilities for the course of the assignment, but more than often the homeowners continue to pay the bills for their home. Sometimes homeowners will pay for house sitting services, but this is the exception to the rule. We don't look for paid house sitting assignments, as we think free accommodation is payment enough, and we are big fans of this style of exchange.
Different assignments involve different responsibilities and benefits: the assignments are as diverse as the home owners. For example, some assignments include the use of a car, whereas others do not. Some assignments involve caring for animals, others do not. Some are in the city, some are at the beach, and some are in the countryside: you get the idea.
Why On Earth do People Hire Strangers to Stay in Their Home?
Homeowners hire house sitters for a variety of reasons. For one, many people have fluffy friends that need love and care when their humans go away. In Portugal, we cared for one dog and two cats, and in Edinburgh, we looked after one cat. Because animals can get quite stressed in kennels, many homeowners look to a house sitters as an alternative to ensure their pets are loved and cared for while they are away. Of course, people have pets other than cats and dogs: some assignments require caring for snakes, turtles, hedgehogs, or ferrets!
Other times, homeowners have plants or a yard/garden that needs caring for, or they have farm animals. It is not uncommon to see house sitting assignments that involve looking after chickens, horses, or even llamas. Of course, it is up to you whether you feel comfortable looking after animals, and this will determine which house sitting assignments you apply for.
Finally, some home owners want to have a presence in their house to discourage burglars, or need someone to be in their home for insurance purposes. There are many reasons homeowners invite house sitters into their home!
Where can I house sit?
In theory, you can house sit anywhere in the world! However, assignments are certainly more common in some parts of the world than others: Canada, the US, Western Europe, the UK, Australia and New Zealand have many assignments. They usually involve taking care of someone's primary residence while they go on vacation.
There are also many assignments in places where there are a lot of expats: think  the Caribbean or the South Pacific. In these cases, the assignments often involve caring for a home while the residents go on vacation or return to their home country.
Who can house sit?
Anyone! There are no limits on who can apply to house sitting jobs, but it is up to the home owner to choose who, among applicants, gets the job. Some house sitting assignments are very competitive (i.e. three weeks in central London), and others are less so. Because they can be competitive, you want to present yourself in the best possible light by building a strong profile, getting a variety of references that can attest that you're a trustworthy and responsible person, and possibly having a police check completed to prove you're not a criminal. None of these things are mandatory, but each will help the homeowner feel more comfortable with you.
We spent the better half of a day writing our profile and filming a video for our profile which you can see below, if you're interested in an example.
Where Can I Find and Apply for Housesitting Assignments?
There are several websites that post house sitting assignments. For the most part, you can review the assignments for free. However, if you want to apply for an assignment, you'll need to sign up as a member. In our opinion, the cost of membership is well worth it: an initial investment of between $25 and $90 could save you hundreds or thousands of dollars in accommodation costs!
Trusted Housesitters — This is probably the biggest and most popular site. At CAD $90 for a one year membership, it is also the most expensive. However, membership means you have access to assignments 24 hours before non-members. As the most popular assignments are usually gone within 24 hours, membership allows you to get in early.
Mind My House – We landed our first house sitting assignment through Mind My House, so we're fans! It is quite inexpensive — only $20 per year for house sitters — which is another check in the "plus" category. We also found it to be less competitive than Trusted Housesitters. On the downside, it doesn't have as many assignments as Trusted Housesitters.
House Carers – We've yet to land an assignment through House Carers, but we have come close. At US$50 per year, we think it is worth keeping our membership active.
We are also a member of Luxury House Sitting, but found most of the assignments listed on this website to be in the United States, which isn't interesting to us at this time. As such, we haven't really used it.
Other house sitting websites we've heard of, but are not members of, include House Sit Match and House Sit World.
Where Can I Learn More?
We have completed two house sitting assignments so far: one in Portugal and one in Edinburgh. With those two assignments, we've saved about $3000 in accommodation costs, and that is being conservative (multiplying the cheapest dorm bed in the city by the number of nights we house sat for). That said, we are far from experts!
Canadians Dalene and Pete Heck of Hecktic Travels have completed 12 jobs in 8 countries, and estimate they have saved $40,000 in accommodation costs by doing so! They have literally written the book on the subject: their How to Become a House-Sitter e-book is a great resource for anyone who wants to get started with housesitting, and will take you from total newbie all the way through your first assignment.
We'll be updating this page as we complete more house sitting assignments, but for now, that's all we've got. We'd love to hear your thoughts in the comments: would you ever consider house sitting?
Disclosure: This page contains several affiliate links along with normal/non-affiliate links. If you click on one of the links and end up buying something (i.e. a membership to a house sitting website), we will earn a commission. You won't pay any more by making your purchase through an affiliate link.