A Guide to Koh Lipe Thailand, an unforgettable paradise in the stunning clear waters of the Andaman Sea. With amazing landscapes and pristine beaches largely undiscovered by tourists, Koh Lipe island is a unique and tranquil getaway. Here is everything you need to know for your Koh Lipe visit.
This is a guest post by Alyssa Loring of Feathers and Stripes


Disclosure: This Koh Lipe Thailand travel guide contains affiliate links. That means we earn a commission when you use the links on this site to book a hotel, buy your travel insurance, shop for travel essentials, etc.. You don't pay anything extra. If you'd like to learn more about how this works, you can read more under our Disclaimer page.
***
Thailand is a fascinating destination that is simply unforgettable. It has grown in popularity over the years and tourists flock to popular beach destinations like Koh Phi Phi, Phuket and bustling cities like Bangkok. Luckily, the country is full of pristine beaches and islands to serve just about every vacation appetite from beach bums to nature enthusiasts and everyone in between. Koh, sometimes spelled Ko, means island in Thai, and Koh Lipe Thailand is something of an undiscovered island paradise waiting to be explored.
Why You'll Love Koh Lipe Thailand
Koh Lipe Thailand is often referred to as "the Maldives of Thailand." While I can't promise that's the truth (having never been to the Maldives), it is a gorgeous place. You'll feel a bit like you're on an undiscovered island, but in a good way. Koh Lipe beach, of which there are three main ones, are beautiful, the people are friendly, and the food is good: What more could you ask for?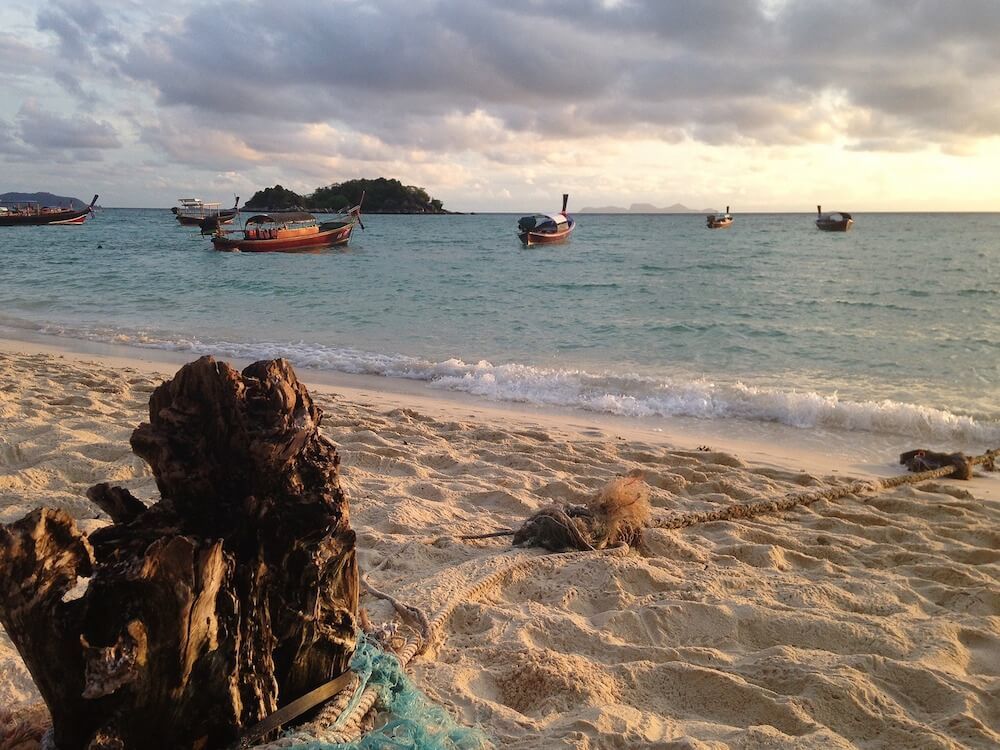 How Long You Need to Spend in Koh Lipe
How long you need to spend on Koh Lipe island depends on what you like to do. We were there 4 nights/5 days, and it was a perfect amount of time for relaxation and a beach vacation before heading to Bangkok. Resources are somewhat limited, so make sure you pack everything you need.
In Koh Lipe, diving and snorkelling are popular as the reefs and walls offer some of the best in the country. There are enough spots for diving in Koh Lipe to appease everyone from beginner to expert. The most popular dive sites are Stonehenge, known for barracudas, yellow snappers, seahorses, stonefish and more, and 8 Mile Rock where you might find a whale shark or two!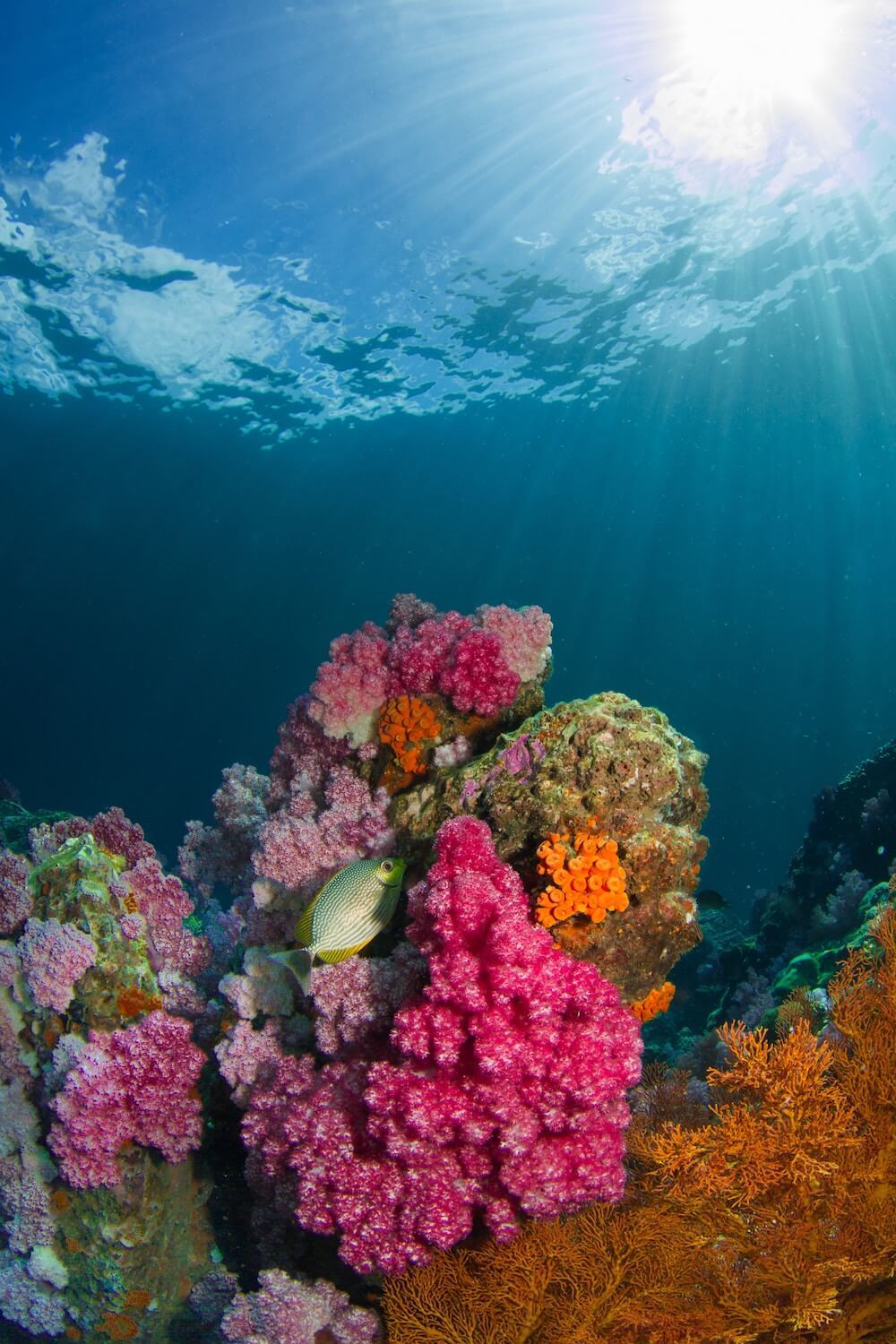 How to Get to Koh Lipe Thailand
Koh Lipe is on the west coast of Thailand. The closest international airport is Hat Yai, on the mainland. To get from Hat Yai to Koh Lipe is about a two hour drive to Pak Bara pier on the coast, where you catch a ferry. A high-speed ferry from Pak Bara pier costs 650 baht per adult (~$20.00US) to a floating dock in front of Pattaya Beach on Koh Lipe island. The ferry ride from Pak Bara to Koh Lipe is about 1 ½ hours. From here, a longtail boat can take you wherever you want to go on the island.
You can find the ferry schedule here. There are many ferry boats from Pak Bara in the high season, as well as connections in Koh Phi Phi and other islands. Low season has a more limited schedule.
Pro Tip: The ferry we took was a 4-engine speed boat, packed with passengers. Try to sit closer to the front to avoid the smell of gasoline fumes. If you don't want to get wet, sit closer to the inside of the boat versus around the sides.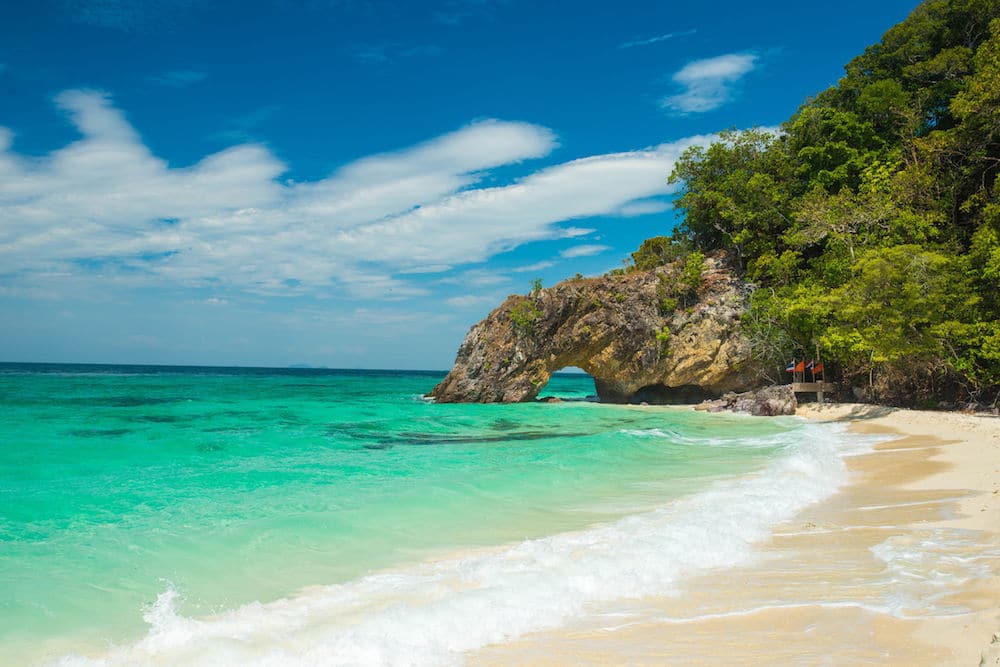 Koh Lipe Thailand – photo by Aphisorn Limruangrong via 123rf
Related: Find Where to Stay in Bangkok with our detailed Neighborhood Guide
What to Do in Koh Lipe
Koh Lipe Diving and Snorkelling: Koh Lipe Thailand is perfect for rest and relaxation, beach time, and water sports like diving and snorkelling. There is a dive shop on the main road (called the Walking Street), and they will take you out via longtail boat for diving excursions. The snorkelling is also top notch, so spend a day with snorkel gear if you aren't a diver. Also on the Walking Street are little beach shops in case you need an extra swimsuit or cover up. Just a word of caution: If you are going to try anything on, shake it out well first. I saw the biggest spider of my life on a beach cover up in a store!
Enjoy the Sunrises and Sunsets: Head to a serene Koh Lipe beach – Visit Sunset Beach for sunset and Sunrise Beach for sunrise. They have these names for a reason, and the colors in the sky are insanely beautiful!
Pamper Yourself: Massages! Depending on where you stay, you can get a massage therapist to come right to your room for a traditional Thai massage. (Just don't book a massage if you have a sunburn!)
Island Hop: Take a longtail boat to explore the nearby islands, where you can hike, visit a waterfall, or just check out the scenery.
Where to Eat in Koh Lipe and Where to Drink
Elephant Bar: The Walking Street has many places to eat and drink. One of our favorites was Elephant Bar, which offers a very relaxed vibe and board games. They often have live music in the bar. Elephant is owned by an American woman from San Francisco, so the food and drinks are more of a Western variety.
The Pancake Lady: Get roti (a dessert crepe with condensed milk) and mango and sticky rice anywhere along the Walking Street. The Pancake Lady on the Walking Street has some amazing roti – try it with egg!
Nee Papaya: Known for having great, cheap food. Try the fried chicken with garlic and pepper, and for dessert the mango and sticky rice, which should run you a total of 250 baht (or just under $10 USD).
The Cove: We frequently ate at The Cove because it is the hotel restaurant at Idyllic, where we stayed. The breakfast spread was large, and you can get snacks and drinks at the pool bar. They have everything from traditional Thai dishes to pizza and chocolate ice cream.
Koh Lipe nightlife is casual with bars and outdoor restaurants closing most nights around 10 or 11pm. Check out Reggae Bar or Happy Vibe Bar for a cocktail on the beach.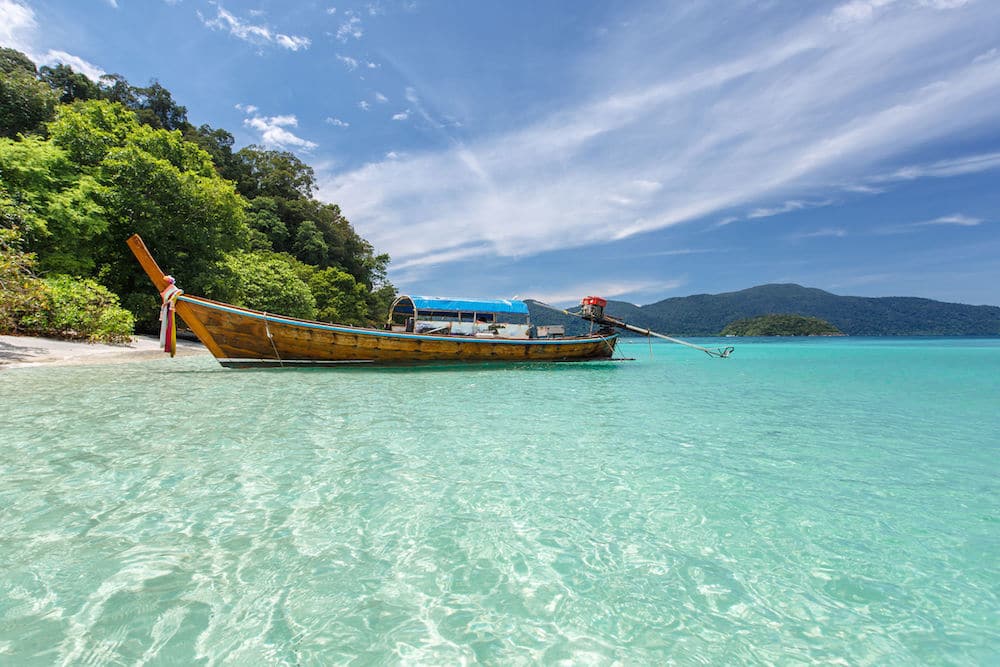 Longtail boat on crystal clear sea in Koh Lipe Thailand – photo by Kittikhun Prakrajang via 123rf
Where to Stay in Koh Lipe
Koh Lipe Thailand is full of eco resorts, but if you need a/c, or are more of a luxury traveler, head to Idyllic Concept Resort. Idyllic is a wonderful Koh Lipe resort located on Sunrise Beach, so make sure you get up at least one morning for the sunrise! They offer different room types and price ranges starting from around $90 USD per night. We stayed in an iBreeze room, right on the beach, and the views were well worth the room upgrade. Other hotels on the island run around $40 USD per night to $100 USD per night.
Here are some other options for where to stay in Koh Lipe:
3-star Koh Lipe Hotels:
4-star Koh Lipe Hotels:
If you're travelling on a budget and looking for a Koh Lipe hostel, try these:
Koh Lipe Thailand Tips: How much you'll spend, safety, ATMs and credit cards, Driving and renting scooters, etc.
Health & Safety: Koh Lipe Island has one small medical station on the Walking Street, and is closed during the low season. There is also a hospital just off of Sunrise Beach. I didn't visit either, but I'm told that the doctors speak English. There are also a couple of pharmacies on the Walking Street.
Internet: Internet is slow at both hotels and internet cafes. Buy a SIM card and use 3G.
Water: Stop at the 7-11 for your bottled water and other necessities.
Power: Bring a flashlight or a headlamp! Koh Lipe is a very small island, and oftentimes you might be returning from dinner out in complete darkness.
Prices: Because Koh Lipe is an island, things will be a little more expensive than on the mainland. For example, a bottle of water cost 60 baht ($1.80US) vs. the 15 baht ($0.45US) in Bangkok. We spent about $50 USD per day for 2 people. That included lunch, dinner, drinks, and activities. Breakfast was included at our hotel, and we spent a lot of time on the beach, reading, playing cards, and just hanging out.Obviously count on spending more for activities like diving and island hopping.
ATMs: There are ATMs on the island – 2 near the Walking Street. Most places take cash and some will take credit cards with a minimum spend, but don't count on it, cash is preferred.
Driving: You don't need to drive on the island, as it is so small. If you are carrying luggage to a hotel, you can get a scooter to take you (some have side cars) for a fixed 50 baht per person rate. And, you can always take a longtail boat, too.
Animals: There are many cats and dogs on the island. If you ignore them, they'll ignore you. If you feed them, they will be your best friend. Many bars don't mind the dogs coming in and out… they tend to just lie around and don't bother anyone, but be careful.
About the Author
Alyssa Loring is a frequent traveler and mom who blogs about life, travel, and motherhood at feathersandstripes.com.
---
Like this Koh Lipe Island Guide? Pin it For Later!