Explore the real Italy in the boot! Here is a little teaser of some of the many things to do in Puglia Italy. A less visited, often overlooked region bursting with life and culture. Here's what you need to know for your Puglia holiday.
This is a guest post by Chontelle from Mum's Little Explorers


Disclosure: This Puglia Holiday guide contains affiliate links. That means we earn a commission when you use the links on this site to book a hotel, buy your travel insurance, shop for travel essentials, etc.. You don't pay anything extra. If you'd like to learn more about how this works, you can read more under our Disclaimer page.
Italy is shaped like a big boot, and down on the heel of that boot you'll find the Puglia region – a hidden gem often overlooked by most who are planning their south Italy itinerary. While many travellers boast about Tuscany, shopping or the culture in Milan and Rome, or Florence – Puglia is your little taste of "real Italy" largely untouched by many tourists. With so many gorgeous towns to visit, beaches, and things to do in Puglia, it will capture the hearts of all different types of travelers. Here's why we think you should be planning a Puglia holiday.
---
Heading to Sicily next? Don't miss the Island of Lipari!
---
The Puglia region is for those travelers looking to go off the beaten track and get away from the more common destinations. Of course, when you visit Italy, you want to take a gondola in Venice, or explore the Colosseum, but if you really want to dive into the Italian culture and see what Italy is all about, then a visit to Puglia is a must.
Beaches Help Make a Perfect Puglia Holiday
The beaches in Southern Italy are absolutely stunning. In fact, between Puglia and Calabria, I would go as far to say they are some of the best beaches in Italy. After exploring all the things to do in Puglia, a little rest and relaxation might be in order. The beaches here are pristine and the water is crystal clear making it the cherry topping for your Puglia holiday.
Torre Dell'Orso, Melendugno – Famous for the "two sisters" this twin rock has been blessed with powdery white sand and wonderfully clear water. Surrounded by rock cliffs, this is one of the most beautiful beaches in the region.
Polignano a Mare – Known for its pebble beaches, Polignano is a small beach surrounded by limestone cliffs. Arguably one of the most romantic spots in Puglia, the town is also a great place to explore and try the local cuisine.
Percolouse – Known for its shallow waters, Percolouse is perfect for families. Located in the south of Puglia, this beach is excellent for long walks with a 5km coastline.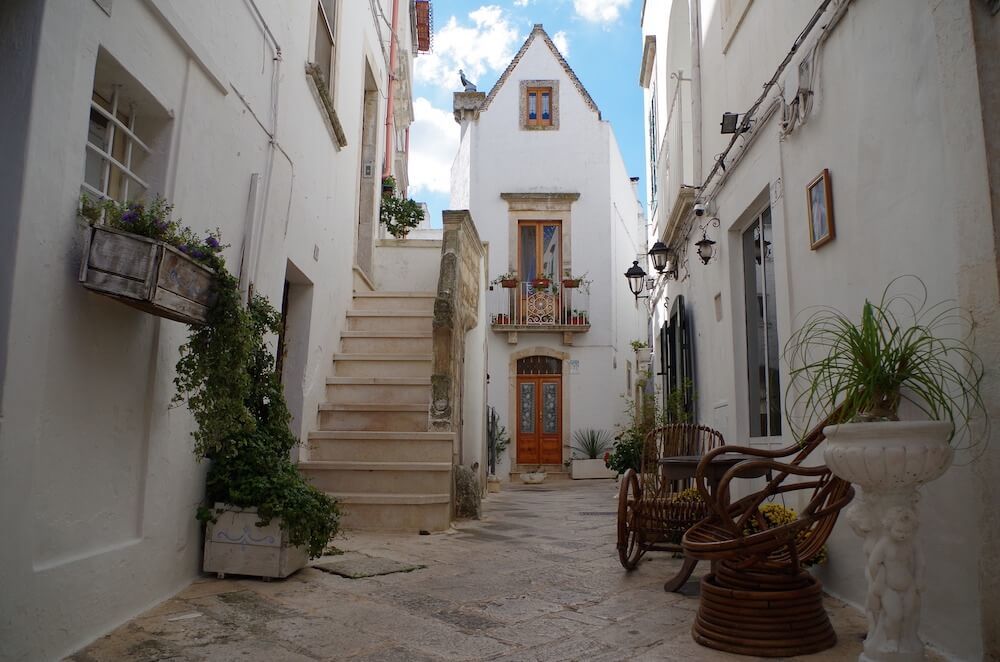 Visit Puglia Italy For The Culture
For a small region, there is a lot of cultural things to see and do in Puglia that you can't see anywhere else in the world. The tiny towns are bursting with Italian culture and the wonderful people make a huge difference in your Puglia holiday as they are some of the nicest, and most generous you will ever meet. A couple of notable sites to make sure you add to your Puglia itinerary are…
Trulli Houses – The town of Alberobello is one of the 50 UNESCO World Heritage Sites in Italy, and the Trulli houses are one of Puglia's top tourist attractions. These gorgeous white washed limestone houses with coned roofs dating back to the 14th century. You can actually rent one out if you plan to stay the night. When we stayed in Alberobello, our Trullo was like a studio, self contained with two levels and a terrace that overlooked the town. You can also find many Trulli B&bs if you want breakfast included. They are a great way to have an authentic cultural experience.
Castellana Caves – The Grotte di Castellana are a popular attraction for those visiting the south. Formed about 90 Million years ago, these limestone caves have an enormous entrance 60 meters long that paves the way to an incredible landscape within.
Discovering The Food Is One of The Best Things to Do in Puglia
Italian cuisine is famous all over the world, but southern Italy where you will find the best. Puglia's specialties include the Orecchiette pasta, which is shaped like a little ear. The literal translation is actually 'little ear.' Cuisine in Puglia is also famous for chickpeas, olive oil, and of course seafood, being on the coast.
Most foodies on a Puglia holiday head to the well known charming seaside Grotta Palazzese restaurant. Set on a limestone cliff, the location is the perfect setting for an authentic meal with an incredible view. The restaurant books up quickly during the summer, especially tables with the best views, so make sure you book in advance.
The People of Puglia Italy
The people in Puglia are very traditional. While most of northern Italy has modernized, the Pugliese seem frozen in time.
You will see people sitting outside their apartments just people watching in the evenings, chatting to people as they pass by. Kids playing football in the main squares until late in the evening. Everyone seems to know everyone!
The generosity and kindness of the people I met in Puglia was second to none.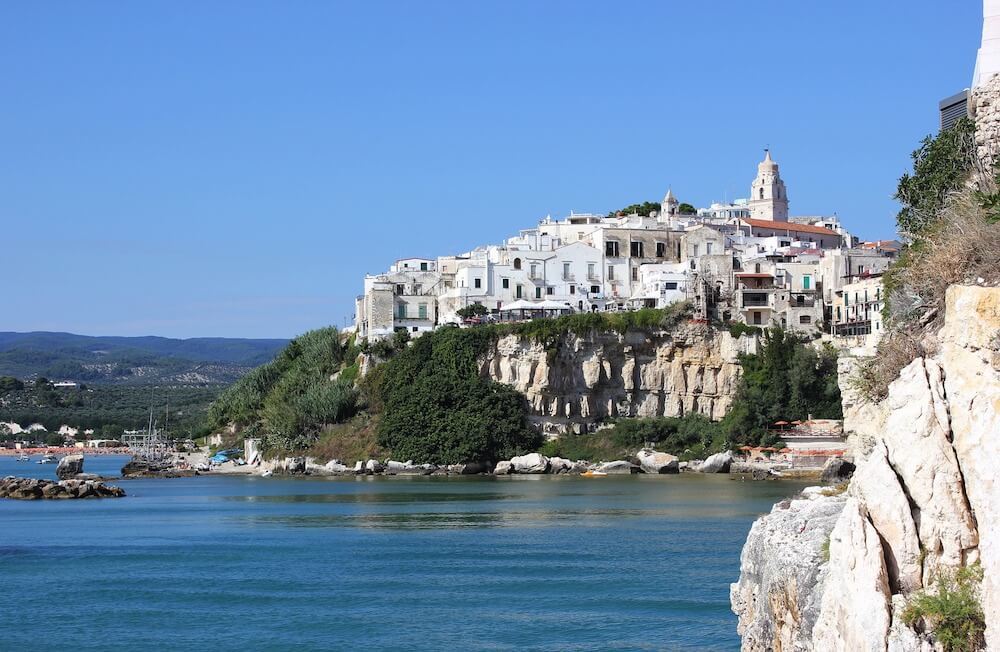 Puglia Italy Weather
The region has a gorgeous Mediterranean climate which is very pleasant and comfortable any time of the year further making a Puglia holiday a great choice.
Puglia in Spring: Around March and Easter is usually sunny and warm with temperatures in the low 70s F (20's celcius) for the most part.
Puglia in Summer: Between the end of May and start of September, the weather in Puglia is consistently hot, but certainly bearable and perfect for the beach. Around 85F (30c) average highs with a nice water temperature of 70F (20c) in July and August.
Puglia in Fall: End of September to late November is still a nice time to visit. Gorgeous autumn colors on the leaves all around, and temperatures dipping into the low 60sF (mid-teens Celsius) later in the season.
Puglia in Winter: It starts to cool down in December with January and February being the coldest months. Temperatures can drop to the low 50s (10-12c), and you can see a bit of rain, but it is still a gorgeous time to visit.
Where to Stay in Puglia
Top Puglia Italy Hotels:
If you are looking for a taste of the real Italian culture, you definitely need to add Puglia to your south Italy itinerary. Rather than boast about seeing places that everyone else has seen, go somewhere still yet to be fully explored and marvel in the beauty of 'real Italy.'
About the Author
Chontelle Bonfiglio is an Aussie who lived and travelled overseas for over 12 years. She has lived in 6 countries, travelled to over 50, worked as a tour leader through Italy and Western Europe, and is now a mother who loves to travel with her own family. Chontelle writes at Mum's Little Explorers. You can find her on Facebook and Instagram.
---
Like this Puglia Holiday Guide? Pin it for Later!