"How far away do you think that is?" I ask Geoff.
We're standing in the front garden of the Church of Santo Domingo, in Oaxaca de Juarez, Oaxaca, Mexico, and Geoff is refusing to give me a straight answer.
"Yeah…that's definitely not a safe distance," he finally responds, just as another row of red, white and green fireworks are launched from mere metres away into the sky directly above us. They explode with a boom, a sea of white, flinty-smelling smoke swimming around us as the fiesta continues and the crowd cheers in anticipation of more explosions.
It was our second night in Oaxaca, and we'd heard the unmistakable sounds of a party while eating dinner just up the road. At first, we assumed it had something to do with Mexico's Independence Day, which had taken place just a few days earlier: traditionally-dressed women with baskets of fruit and flowers balanced on their heads whirled around in a coordinated dance, like dervishes reimagined in a Frida painting; crowds danced to the live band; and one corner of the square consisted entirely of people holding candlelit paper lanterns, one of which caught fire and was tossed into the xeriscaped garden before being stamped out by a bystander.
And then we saw the gigantes — a pair of stilted papier-mâché bride and groom giants, dancing at the head of the party — and realized we were at a wedding celebration.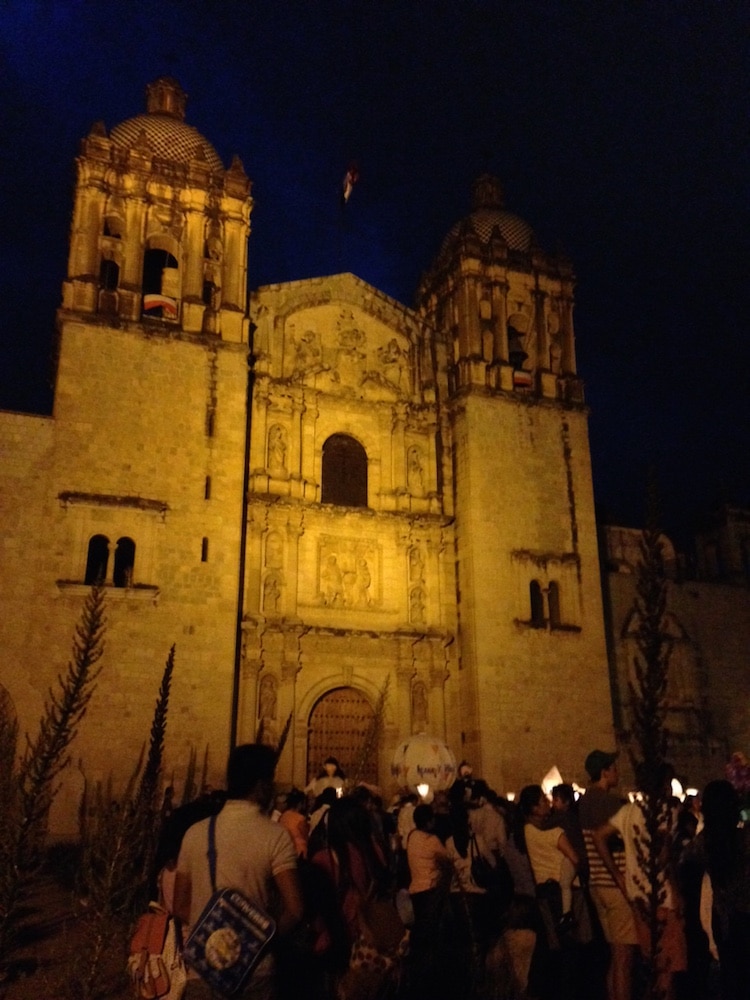 "I think they're going to shoot bottle rockets out of that," Geoff said, pointing at a metal tower, standing 30 feet above the crowd, and steadied by thick rope held taught by men with the no-need-to-translate pirotécnico written on the back of their shirts.
As one song ended, the gigantic bride and groom halted their dances, the men erupted into a chorus of "Arriba, arriba," and the crowd turned to face the tower.
***
From Oaxaca's tiny regional airport, we took a collectivo to the apartment we'd rented sight unseen from a friend of an acquaintance, dropping our bags just over 32 hours after leaving our hotel room in Maastricht, the Netherlands.
Key learning: don't rent apartments sight unseen. No, that's a joke: the apartment is exactly what we expected it to be, based on the photos we saw and conversations we had. Basic, but fine. Plus, it seems that Oaxaca is well-stocked with party supply stores, so I foresee some quirky decorations in our future.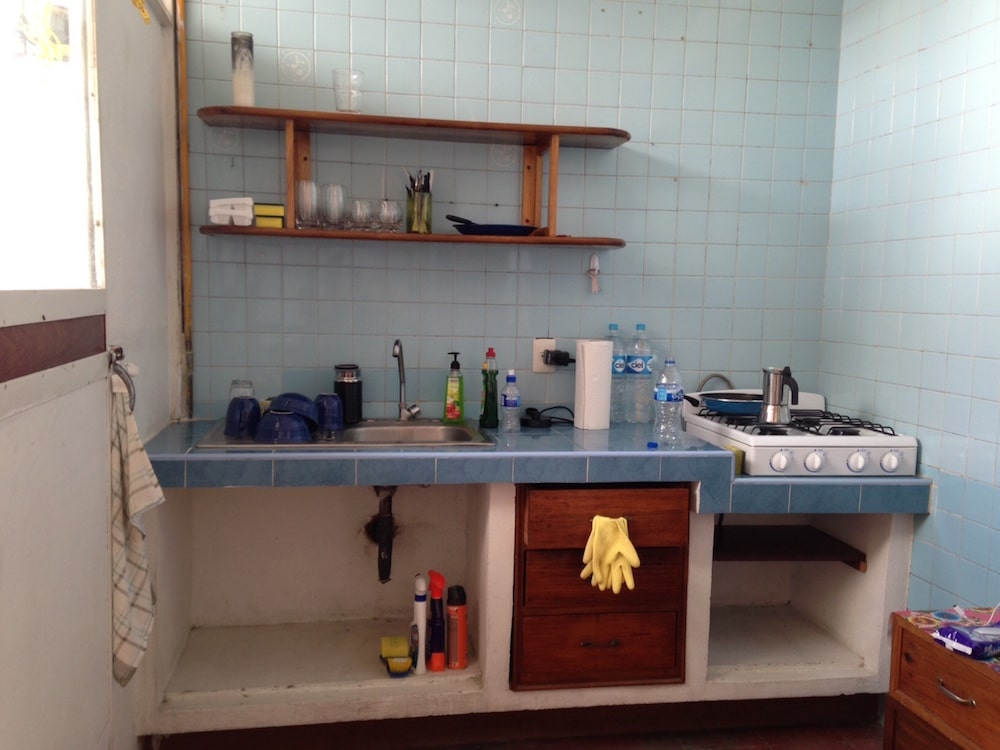 Except for the ants.
It wasn't until the first evening we discovered we have a massive ant infestation. And by massive, I mean both in quantity — there are a lot of them — and size; if you can spot the individual body parts of an ant with your naked eye, standing at full height, I think it's fair to call them large.
As they were crawling on the floor, up the walls, and on the ceiling, we figured our best course of action was to get a vacuum, and we spent our first evening in Oaxaca hoovering the suckers into oblivion. Once we'd taken care of the bulk of the existing population, we hit the shops in search of Raid, which seems to have mostly done the trick: we're down to about 5 ant spottings per day.
***
If the apartment's interior is basic, there are some huge upsides. At $4,300 pesos per month (~$260 USD, at current rates), it's certainly affordable, even factoring in the cost of buying basics, like towels and frying pans. We're approaching it as a challenge, trying to get things in local shops instead of the Walmart. Today's win was finding pillows, which only took 5 hours, including one coffee break, one bakery stop, and one jugo de naranja stop. After walking all over the city, the best place to buy pillows turned out to be 3 blocks from our place. Figures.
The location is also hard to beat. We're about 5 blocks from the Zócalo, the heart and soul of most Mexican cities, although in Oaxaca it competes with El Llano, a park about 10 blocks north that seems to be constantly filled with markets and people.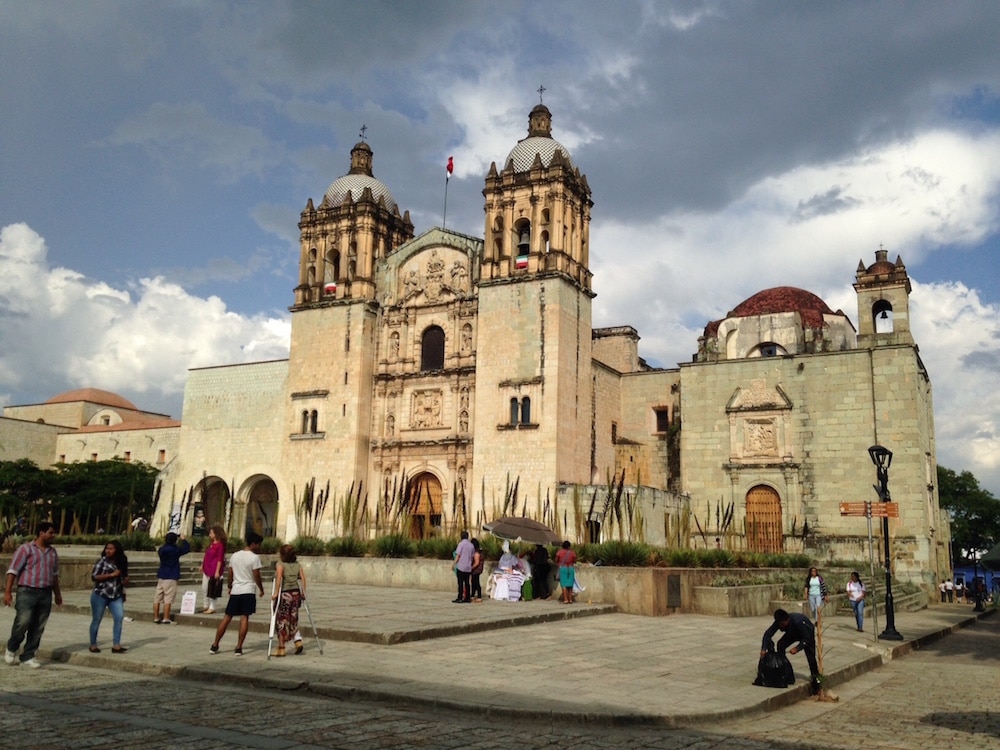 We're also just around the corner from El Pochote (Calle Rayon 411), an organic market introduced to us by an American woman living here, although I later noticed it made That Gay Backpacker's list of things to do in Oaxaca, which I've been using as a bit of a compass to get started with life here. Huevos rancheros at the market — two fried eggs on a crispy fried corn tortilla, slathered in lightly cooked tomatoes and onions, and paired with frijoles and a grab-bag of salsas — has become a late morning staple.  
***
The tower crackles to life as a large outer wheel and 3 inner pinwheels begin to turn, frantically spewing fireworks before erupting in a faux finale that prompts the crowd to take a collective step backward. Ten-seconds later, we hear the unmistakable sizzle of fireworks being lit a few metres to our left, transforming the sky into a pyrotechnic version of the Mexican flag, before the tower erupted for a final time, spelling out congratulations for the newlyweds — Felicidades Alana y Marcelo  — in fireworks.
After celebrating Alana y Marcelo's future, we took our leave, wandering back to the Zócalo, which is currently dressed up for Independence Day (or month, really) with red, white and green lights, and stages featuring dancers and musicians. We found a spot around the edge to sip on a beer and snack on peanuts covered in lime and salt, and roasted garlic right from the bulb.
After 2 years in Europe, Mexico feels like putting our faces in cold water; uncomfortable, but refreshing. Only 3 days since moving to Oaxaca, and there are already so many signs we're not in Prague anymore: the man who stood next to us at the self-serve flight checkin kiosk with 20 boxes of live, cock-a-doodle-doing roosters; the alarmingly wide selection of anti-scorpion spray available in the shops; never knowing whether we can flush toilet paper. But also the life: people spilling onto sidewalks in the evenings; markets filled with almost anything you could imagine; fruits I've never heard of.
All in all, I think we're in for a fun ride.