The Scotch Whisky Experience in Edinburgh: A review, practical information and FAQs for those considering visiting the Scotch Whisky Experience in Edinburgh. Includes tips for enjoying whisky in Edinburgh and tips for a whisky trip in Scotland.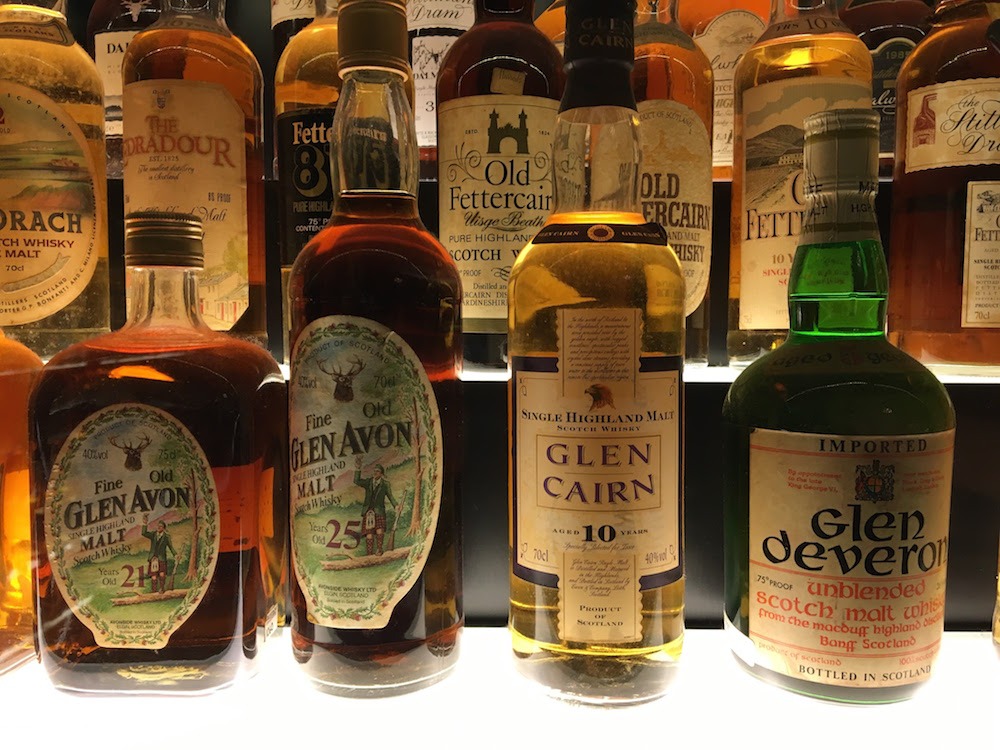 Disclosure: This post contains affiliate links. That means we earn a commission when you use the links on this site to book a hotel, buy your travel insurance, etc. We should also note we received free entry to the Scotch Whisky Experience via Visit Scotland, with no guarantees of editorial coverage.
***
It's no secret that we love tasting the local tipple wherever we go. From vodka in Poland to beer in Belgium, we enjoy trying to understand places and their people through…drinking.
And so when we found ourselves in Edinburgh for the entire month of November, we didn't hesitate to add a trip to the Scotch Whisky Experience to our agenda.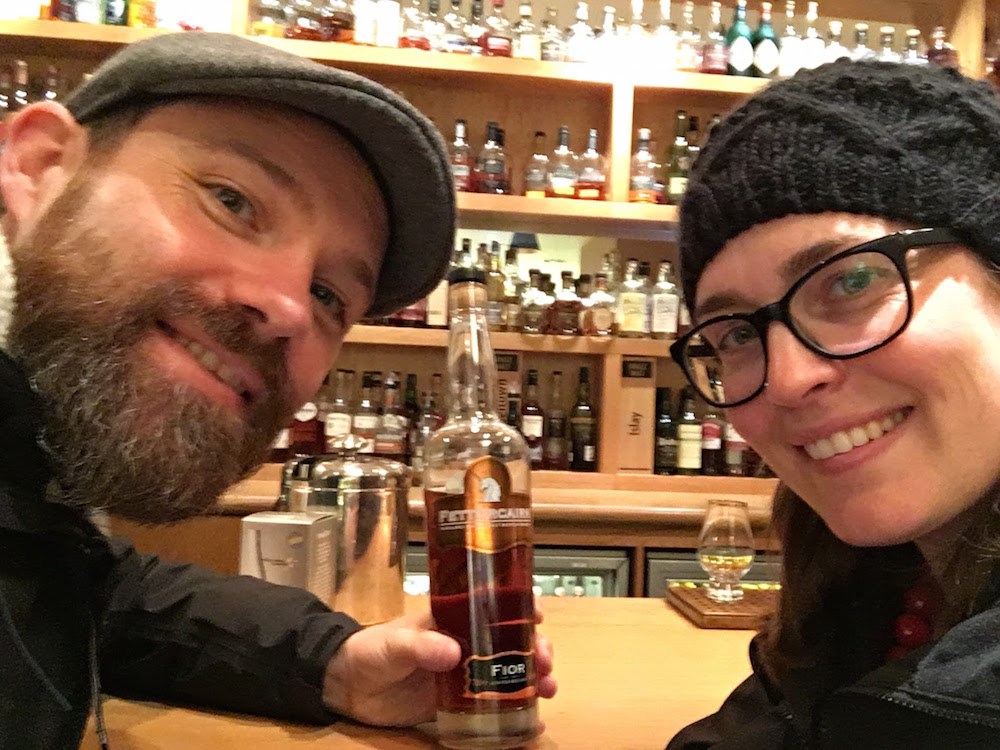 First Impressions
Walking through the front doors of the Scotch Whisky Experience, we couldn't help feel as though we'd walked through the doors of a sacred space.
It's glitzy, yes. And commercial, for sure. Describing it as the Disneyland of Whisky wouldn't be totally inaccurate, especially considering it has a ride (yes! a ride!), and a massive shop full of glittering whisky bottles and accessories.
And yet, the feeling we got wasn't unlike the feeling you get in an art gallery or a museum: a place so wholly dedicated to a singular thing — an art form in many ways.
As we visited in off-season, and we were interested in trying out the basic tour (Silver), we didn't book in advance, and just stopped by after a visit to Edinburgh Castle. We had to wait about 20 minutes, but had no problem joining a tour of about 10 to 15 people.
The Barrel Ride
All of the tours, expect for the Masterclass, start with a 'Barrel Ride,' which involves jumping into a (clean!) "whisky barrel," and riding your way through the production stages in a "whisky distillery."
If this sounds a bit hokey to you, fear not: I was worried, too. After experiencing the barrel ride, however, I've come to the conclusion that it's a fun and rather clever addition to the main event (tasting the actual whisky).
For one, it adds to the family-friendliness of the tours. When travelling as a family with young kids or teens, I expect it'd be difficult to strike a balance in finding things that both adults and kids like, but the Scotch Whisky Experience manages to do just that: adults enjoy the drinks, and kids enjoy the ride!
More relevant for us, however, is the fact that the Scotch Whisky Experience has invested in presenting what is ultimately rather dry information (the production process) in a new and interesting way. I can't tell you how many distillery and brewery tours I've been on that have included explanations that were drier than week-old bread. If you are into drinks tourism, you've probably experienced the same.
At the Scotch Whisky Experience, they've integrated the background information into a ride, using video and sound to drive home the key information of each stage, in a very clever way, and it did hold my attention much better than a typical speech from a tour guide.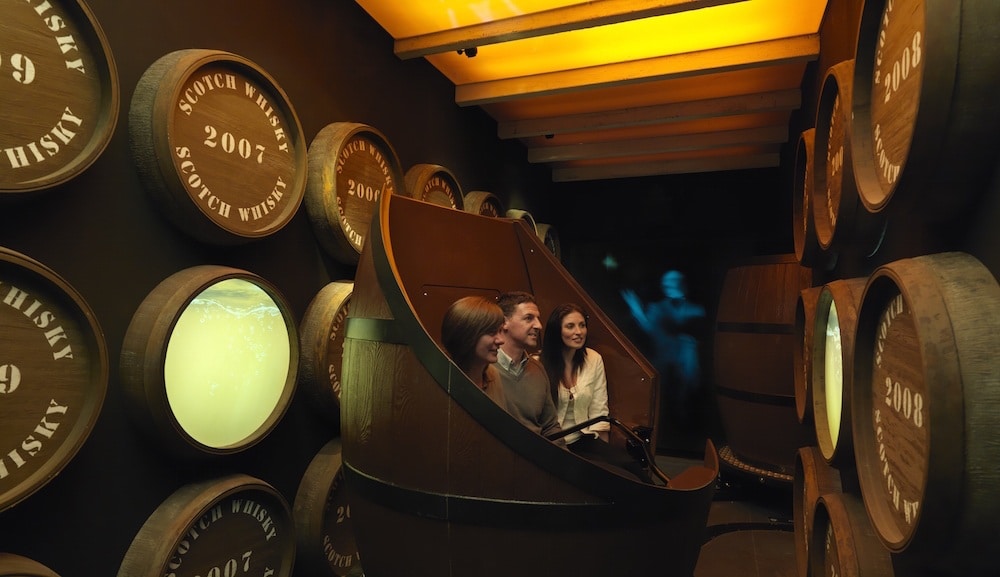 Nosing
Once the ride is over, the group moves into a guided nosing and tasting area for an introduction to the five Scotch producing regions — Highlands, Lowlands, Speyside, Islay, and Campbeltown, and to work at discerning the differences between each in terms of taste and aroma.
Step one is scratch and sniff!
This is another example of how the Scotch Whisky Experience does a great job at making the tour inclusive: if you're going with kids, if you don't like whisky, or if you don't drink, this part of the tour would still be interesting, as you're able to participate without drinking.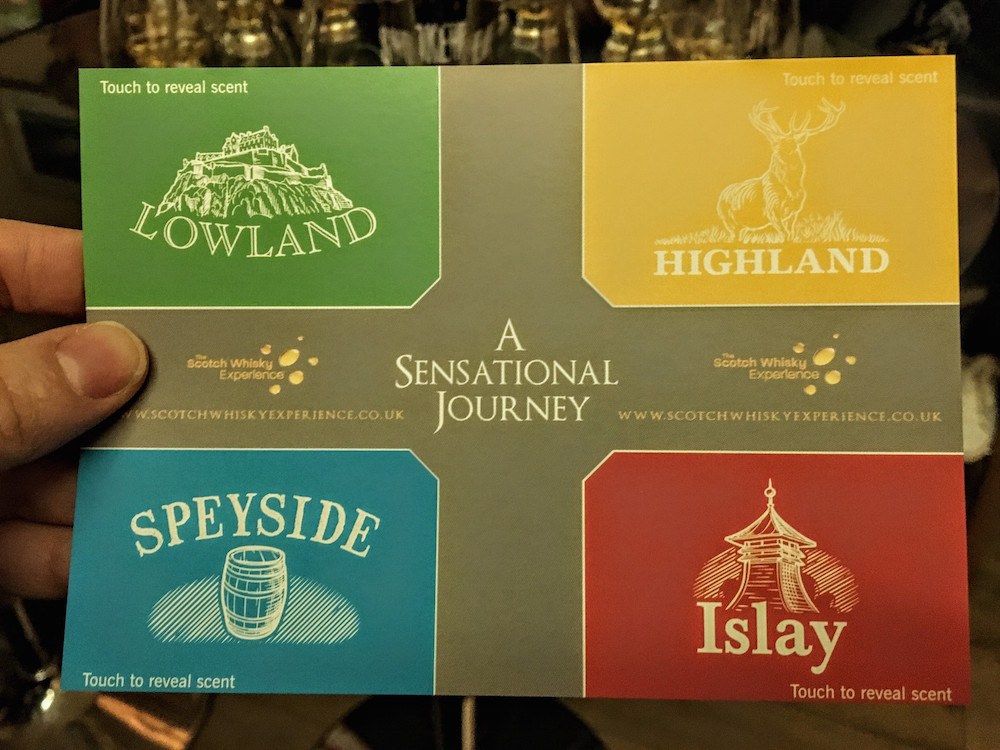 Our guide introduced us to the four main regions, and helped us through the aromas using the scratch and sniff card — and some actual whisky — as a guide.
For example, we learned whisky from the Lowlands is milder in aroma, and lighter in character, and you can expect aromas of citrus, biscuits, toast, corn, and malt. Whisky from the Highlands is diverse, and while it is typically sweet and heathery, in the west of the region, you'll find peaty, salty, and smoky characteristics as well.
While I enjoyed learning about the actual whisky and what makes one different from another, I also enjoyed getting a bit of historical context. For example, Campbeltown is Scotland's fifth Scotch whisky region, and was once home to 34 distilleries. Today, it only has three, after the producers made a near-fatal error during the American prohibition years when they chose to prioritize volume (to meet massive demand) over quality.
One of the things we find personally interesting on our travels is learning how seemingly small decisions by politicians and business owners make a massive impact on an economy and region/country over the course of decades, and this was a new example of that.
---
Check Out Our Self-Guided Whisky Tour From 2014
When we were last in Edinburgh in 2014, we went to one of the city's most historical pubs — The Last Drop Tavern (in Grassmarket) — for a DIY whisky tour through the regions. If you want a quick intro to Scotch whisky before visiting the Scotch Whisky Experience, check out the video we made about the experience.
---
Tasting
After the nosing, it's time for the part most people are waiting for — tasting the Scotch.
We took the silver tour, which included the chance to taste one dram of whisky (~3.7 ml, or 1/8 of a fluid ounce). Our guide split our taster over two different types of whisky: Smokehead, a single-malt from Islay, and Strathisla, a Speyside whisky.
Neither Geoff nor I are huge whisky fans — really the only time we drink it is when we're on a distillery tour — but we were able to pick out the differences between an Islay and a Speyside Scotch, and our preferences for lighter and fruiter Scotch held. The smoky just doesn't do it for either of us.
Sláinte Mhath!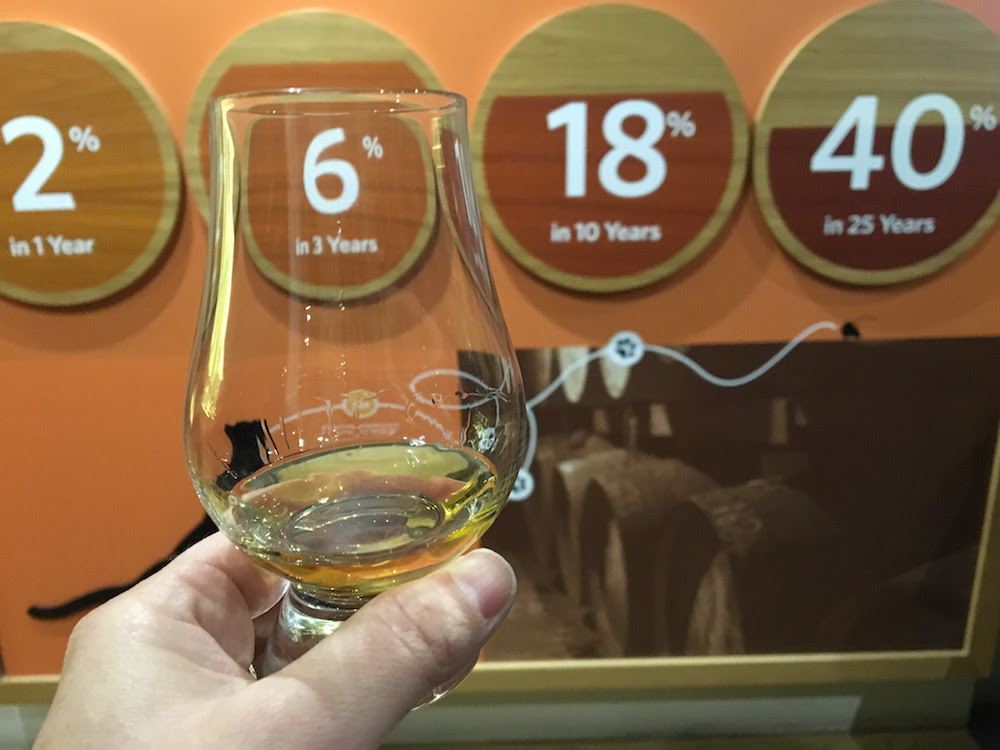 World's Largest Whisky Collection
Beyond learning about and tasting different Scotch whiskies, the other highlight of any tour is seeing the whisky collection.
The Scotch Whisky Experience in Edinburgh houses the world's largest collection of whisky, and on all of the tours you can view each of the 3,384 bottles in the collection.
Started in the 1970s by a Brazilian whisky lover, the collection moved to Scotland in 2006 after Diageo (the distiller behind massive brands like Johnnie Walker and Captain Morgan) bought it with a commitment to preserve it and share it with the public.
None of the bottles have ever been drank from, and some are already less than half-full from poor bottling and evaporation. In a way, it was sad to see the whiskies, as they'll never fulfill their purpose of being tasted. The room, however, is so beautiful it's hard to feel too badly.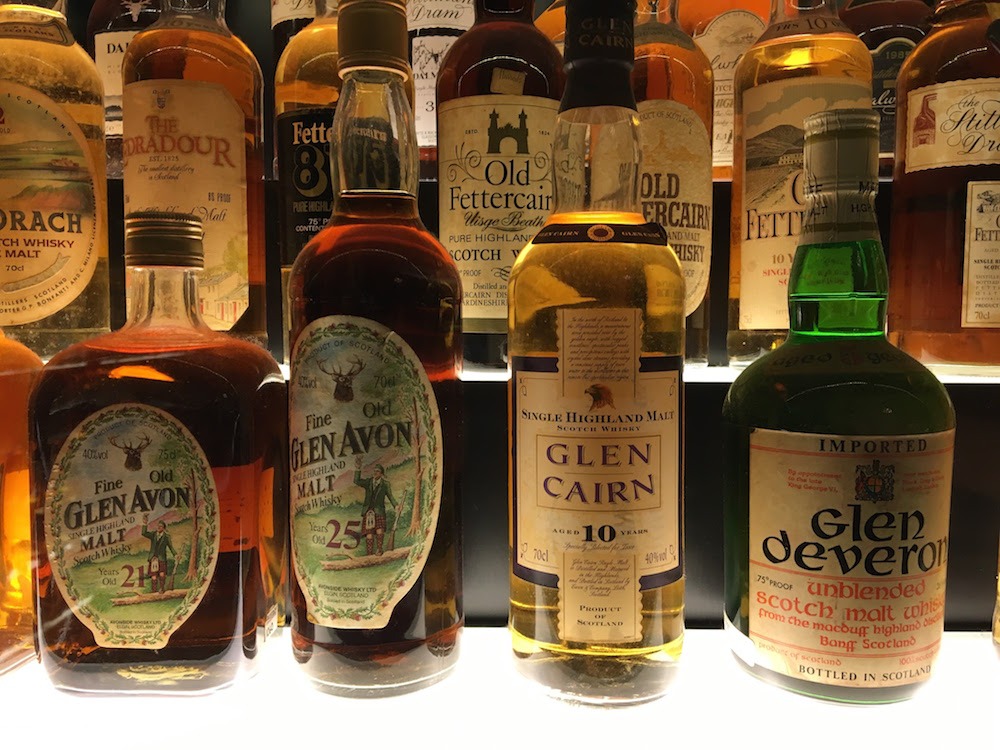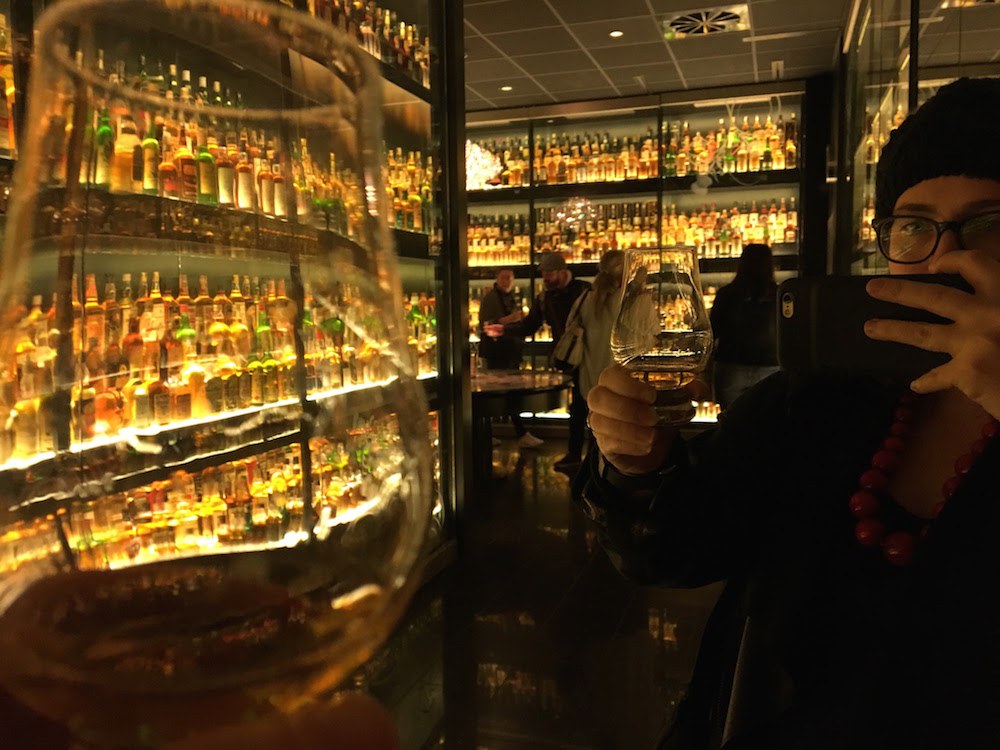 Again, the Scotch Whisky Experience has taken care to include something for kids to do at this stage of the tour, as there are bottles shaped like dogs, monks, a bull, books, a seal, and an eagle hidden amongst the more traditionally-shaped bottles – a quick treasure hunt!

Want More Whisky? (Don't Answer That…Of Course You Do)
If you're interested in visiting some of the whisky distilleries and regions around Scotland, we'd suggest you start at the Scotch Whisky Experience for your "whisky 101" baseline of knowledge, and then strike out on one of the many whiskey tours offered.
The Bar
Our Scotch Whisky Experience ended in a tasting room/bar, and if you booked the Silver tour, you're free to either purchase more samples, or head on your way (if you booked the Gold tour, you'll be given vouchers for your additional tastings to use in the tasting room).
We had planned to leave after the tour, but while in the world's largest whisky collection room, we saw a bottle of Fettercairn whisky, which has personal significance because once of Geoff's ancestors was a malt man at that distillery. And so, of course we ordered a dram of Fettercairn Whisky, and chatted with the bar staff and other visitors sitting at the bar – a perfect end to the visit!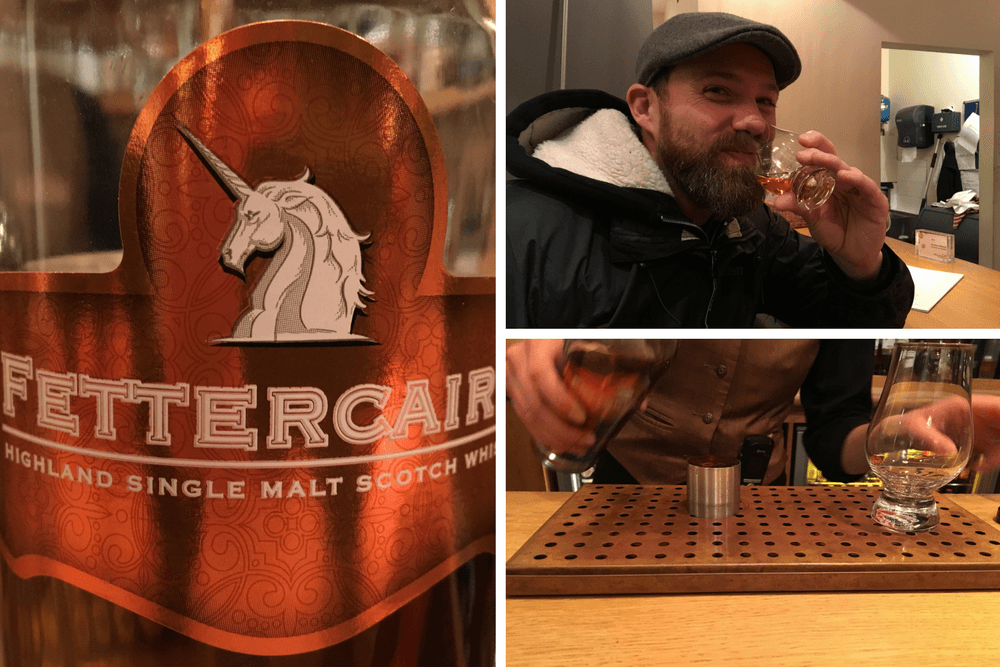 Final Thoughts
We enjoyed the Scotch Whisky Experience, and would recommend it to anyone interested in learning a little more about whisky, and a little more about Scotland.
I think the Silver tour is most suited to adults who enjoy whisky, but don't have a baseline of knowledge (and are interested in filling that gap). However, it's also interesting for adults who think they don't like whisky — there are so many different flavours, you might find yourself actually enjoying some of the flavours.
If you are a whisky aficionado, I'd suggest upgrading beyond the Silver or Gold tours, and booking one of the more in-depth experiences offered (see below).
---
Frequently Asked Questions About the Scotch Whisky Experience
How Much Are Tickets to the Scotch Whisky Experience?
Tickets to the Scotch Whisky Experience vary between £14.50 and £65.00 (as of writing this article!), depending on which tour you choose. There are five different tour packages at the Scotch Whisky Experience, plus an additional sixth option for school groups. I've done a really quick comparison between the different tour options below. Information is current at the time of writing, but know that things can change at any moment, and this is intended as a rough guideline only.
Is the Scotch Whisky Experience Worth the Price?
In our opinion, yes, the Scotch Whisky Experience is worth the price.
We did the Silver tour, so that's the only one I can comment on (although the Gold tour is the same as the Silver version, but with more whisky to drink), but it was quite a bit of fun, and we walked away with a slightly higher appreciation for and knowledge of whisky.
We always like to taste the local tipples when we go to a new place, and it's nice to combine that with a bit of background information and context, when possible – the Scotch Whisky Experience offers both.
Happily, we're not the only ones who think a visit to the Scotch Whisky Experience is worth it — overall, it gets excellent reviews on Trip Advisor.
Is the Scotch Whisky Experience Suitable for Families?
Yes, the silver tour at the Scotch Whisky Experience is suitable for adults and children. I've tried to outline the parts of the tour that would be interesting for children and underage teens above, but in sum:
The barrel ride at the beginning of the tour would be interesting for children. There is a hologram whisky distiller who guides you along the ride who *might* be a bit scary for children under 3 or 4.
The scratch and sniff part of the nosing process would be interesting for children and non-drinkers.
The world's largest whisky collection includes some shaped bottles (animals, books, etc) that would be fun to search for while viewing the collection.
There is signage near ground level throughout the tour geared toward children. Look for the black cat "tour guide."
I Hate Whisky…Will I Enjoy the Scotch Whisky Experience?
Maybe – it really depends on you. Neither Geoff nor I love whisky, but we enjoyed picking out how different the different whiskies are, depending on what region they are from. If you go into it expecting to hate it, you'll probably hate it. But if you're open to having your preconceptions about whisky challenged, then you'll probably have fun.
What Are Some Other Whisky Experiences I Should Try While in Scotland?
I've outlined some Rabbie's tours above (use this link to jump back up) that range from one-day whisky day trips from Edinburgh to 4-day Whisky Coast tours through the region of Islay — those are a great starting point if you're planning a whisky trip to Scotland.
Marketing Edinburgh has a listing of the Best Whisky Bars in Edinburgh, if you want to explore whisky on your own while exploring the city. You may also want to check out the Edinburgh Whisky Blog which has semi-frequent updates of whisky event listings.
---
Like this Post? Pin it for Later