Happy Monday! To celebrate the beginning of this week, I've decided it's time to launch a new series: Around the World in 80 Drinks! We're not really going to drink 80 beverages: we'll have far more than that! Not at the same time or anything…no, we would never do that. It's just a name, you guys! Jeez. A clever play on the book. You know? The one about the guy, who does those things? Yes! THAT book. But I digress…
Around the World in 80 drinks will take us on a drunken whirlwind of adventure around our planet. Except it won't really take us on an adventure. Blogs can't do that: you need aeroplanes and autobuses and camels and all sorts of other types of transportation to actually go around the world. But we'll go on the adventure – a drunken whirlwind of adventure, if you will – and then we'll come back and tell you about it. And it won't always be drunken, because sometimes we'll talk about delicious non-alcoholic drinks. Wodka in Poland? Check. Bubble tea in Taiwan? Also check.
And you know what else? Now we can call ourselves food bloggers! Food AND travel bloggers! And with that, our fanciness factor just went up about 10 points! And I don't care what you say: "Vodka isn't a food," you protest. To which I say, it IS if you add it to Jello. Argument solved.
Without further ado, I bring you the first installment of Around the World in 80 Drinks (which will be posted on whenever I remember or have something of value to say).
There are a lot of good things about Poland: Pierogies, salt mines, and Krakow, to name but a few. Plus the fact that people from Poland are called Poles, which is awesome. But today I want to focus on another great thing about Poland: the alcohol. We did ourselves some good drinking in Poland. But before I start on about that, I should probably point out what is probably the most awesomest word in the Polish language: Alkohole.
I love it mostly because it works on so many levels: it sounds like an insult! It makes me think of going into a hole filled with booze. Is it a liquor shop? A bar? It's an alkohole! It's pretty much a linguistic superhero.
Now that we've got that out of the way, let's get back to the vodka. Or the Wodka, as the Poles like to say. We drank us some wodka in Poland.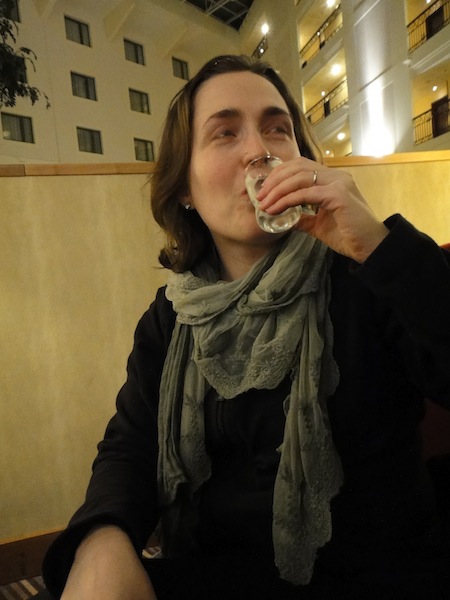 Sometimes I get just slightly fixated on things I need to do in new countries. Like font walks and rock churches, for example. In Poland, I was fixated on vodka and salt mines (more on that coming up soon). In the days leading up to our arrival in Poland, our conversations often went back to me telling Geoff that we couldn't NOT go to a vodka bar in Poland. It would be like living in Japan for a year and not visiting Tokyo or going to Peru and not seeing Machu Picchu (which, notably, I am guilty of on both counts).
And so I systematically researched and found us a vodka bar, and dragged Geoff on one of the grumpier walks we've had (probably even grumpier than the font walk) to the Qube bar. To be fair, Geoff had every right to be grumpy – it was near the end of a ridiculously busy 10 days of traveling from Budapest to Warsaw. Seriously, who the eff tries to pack a Budapest-to-Warsaw trip into 10 days? As the pictures can attest (notice the gigantic bags under our eyes), we were exhausted.
Qube bar was in the lobby of the Sheraton, and lacked even a single iota of ambiance. But what they lacked in atmosphere, they more than made up for in vodka!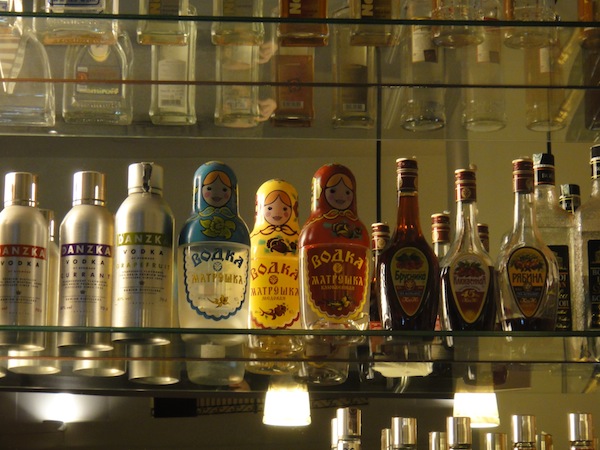 Geoff ordered a shot of honey flavored vodka, which is actually quite popular in Poland, and I worked my way through a grapefruit and espresso flavored shot (that's two different shots, not a single grapefruit-espresso combo). The honey shot was sickeningly sweet, like the cough syrup of my childhood. Neither of us could finish it, and Geoff wisely decided to switch it up to beer.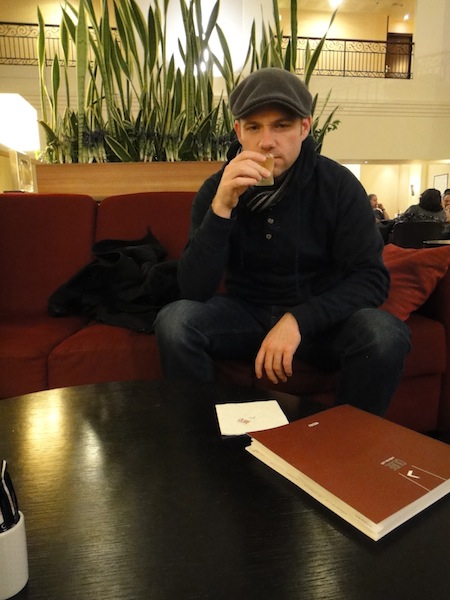 I had the grapefruit next, which was a vast improvement on the honey. And then the espresso, which was amazing.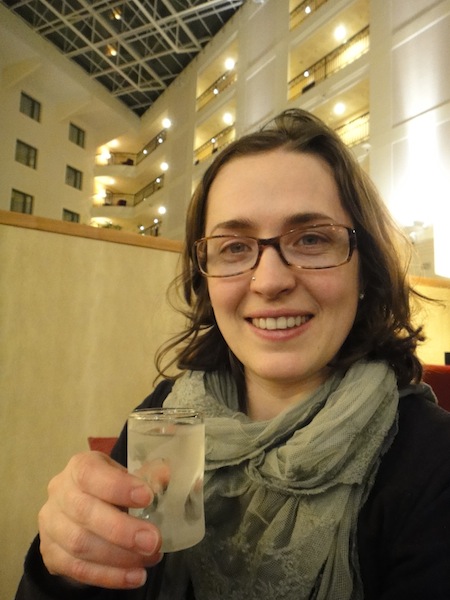 And then we decided we needed something with a little more ambience, and so we fought our way through the frigid Polish winter to the Jewish quarter, which is a vibrant district filled with amazing little cafes and bars, like Alchemia, a place where the price of our beers decreased every time we ordered, as the bartender got to know Geoff!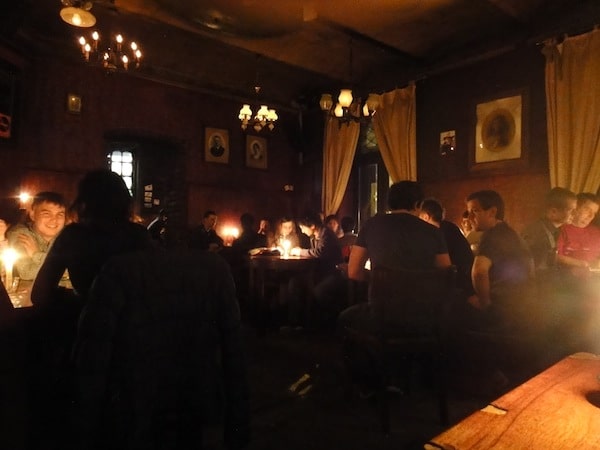 In the spirit of this new series, why not tell us about some of your favorite drinks or beverage-related experiences from abroad?