Here is the funny thing about travel: despite the fact that we'd been so bagged in Amsterdam that we literally NEEDED to sleep in a park, our exhaustion vanished upon our arrival in Tallinn, Estonia. Perhaps it was the newness or exoticness of Estonia, a place I'd wanted to visit since I first learned of its existence back in…oh…1996, when I met an Estonian while I was an exchange student in Denmark. Or perhaps we were so tired that our bodies had decided it was time for adrenaline to run the show. Either way, when we arrived in Tallinn at 11pm on a Sunday night, a little Bombardier carrying us the several hours from Amsterdam, we wanted nothing more than to go out to Tallinn's old town and find our first pint of Estonian beer.
After checking in at the Feel Good Hostel, we wandered into the common room to ask where we might find a drink at midnight on a Sunday. Aigar, a fellow hostel guest visiting from southern Estonia, stepped up and offered to show us a spot. We wandered out in the darkness, across a narrow greenbelt and into Tallinn's old town. Most of the spots Aigar had in mind were closed, but we kept wandering through the old town until we found Taco Express, a strange hybrid of a place offering tacos and burgers and pizza and Duff beer.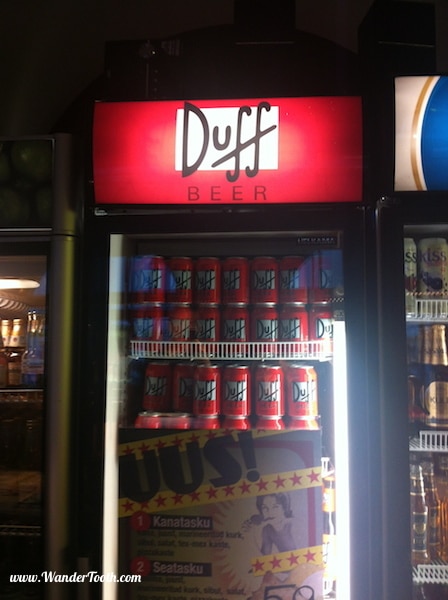 Geoff bought three pints of Saku, northern Estonians' beer of choice (A. le Coq is the southerners' beer of choice), and we grilled Aigar about his country, from highlights to culture to the economy and cost of living. We had a few pints each, and Aigar urged us to follow him out into the night. It was about 1 am by this point, and I was exhausted and tipsy and not sure where he was taking us. At first I assumed we were going to another bar for more drinking, but instead he took us though the beautiful and abandoned streets and alleyways of Tallinn's old town.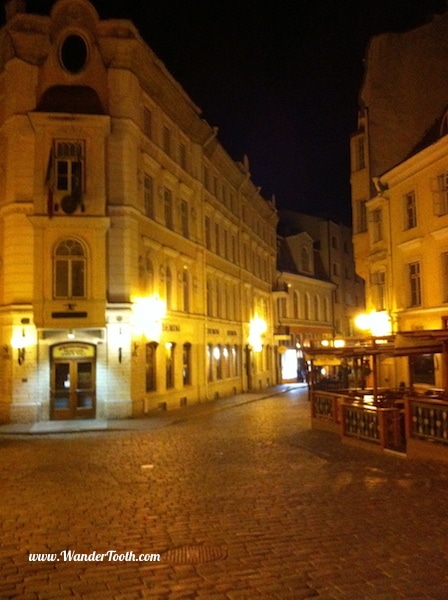 Tallinn's old town seems as though it was meant to be experienced at night — the cobbled streets and pastel buildings are all bathed in a warm golden glow, making you feel all cozy and ancient and stuff. Wandering through the abandoned streets, I felt somewhat sinister, like Lord Varys carrying a secret message through King's Landing at midnight (seriously, what is up with that guy? Is he good? Is he evil?). Devoid of the throngs of tourists that populate Tallinn's old town during the day, it felt authentic, like we were experiencing what Tallinn would have looked like in its heyday, as an important trading town and part of the Hanseatic League.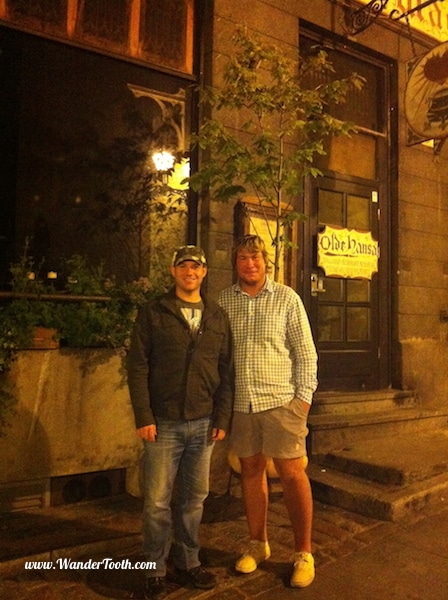 We wandered for an hour or more through tiny unpopulated alleys and past magnificent churches, until Aigar decided to take us to the two viewpoints overlooking the old town. It was probably 2 am or later, and despite the obvious magicalness of tipsily wandering through Tallinn's empty medieval old town, I was getting tired and really had to pee. As we wound our way up to the view points — along Short Leg Street, past the onion-domed cathedral — and further away from Tallinn's old town centre, where at least some life still stirred, I began to wonder if Aigar was actually taking us somewhere quiet to rob or murder us. Yes, he was a successful self-employed draftsman, not some unemployed loner (or so he said). And yes, the hostel staff knew we were all going out together, which would have made him suspect number one in the murder-mystery-turned-television-movie that would be our legacy. But still, the suspicion, combined with the alcohol and the overwhelming need to pee, made me skeptical.
Which brings me to the other thing about travel: trusting strangers is hard, but often leads to the most wonderful experiences. Sometimes it's just necessary. Despite my worries and skepticism, which arise every single time a seemingly kind stranger offers to show me around their town or offer me a new food or whatever other generous thing they happen to offer, I've yet to regret it. These experiences have enriched my experiences abroad. At the very least, strangers have helped us to find a hostel or catch a bus when we really needed the help. And while this trait of mine may be a good thing — perhaps it has even saved us from situations that never unfolded — sometimes you really just have to say "yes" to strangers. Because if you don't, you'll be missing out on nights like this one.