Need a way to scratch that travel itch until your next adventure. Check out these awesome travel podcasts. From helpful travel tips to interesting stories from around the world – there's a little something for everyone.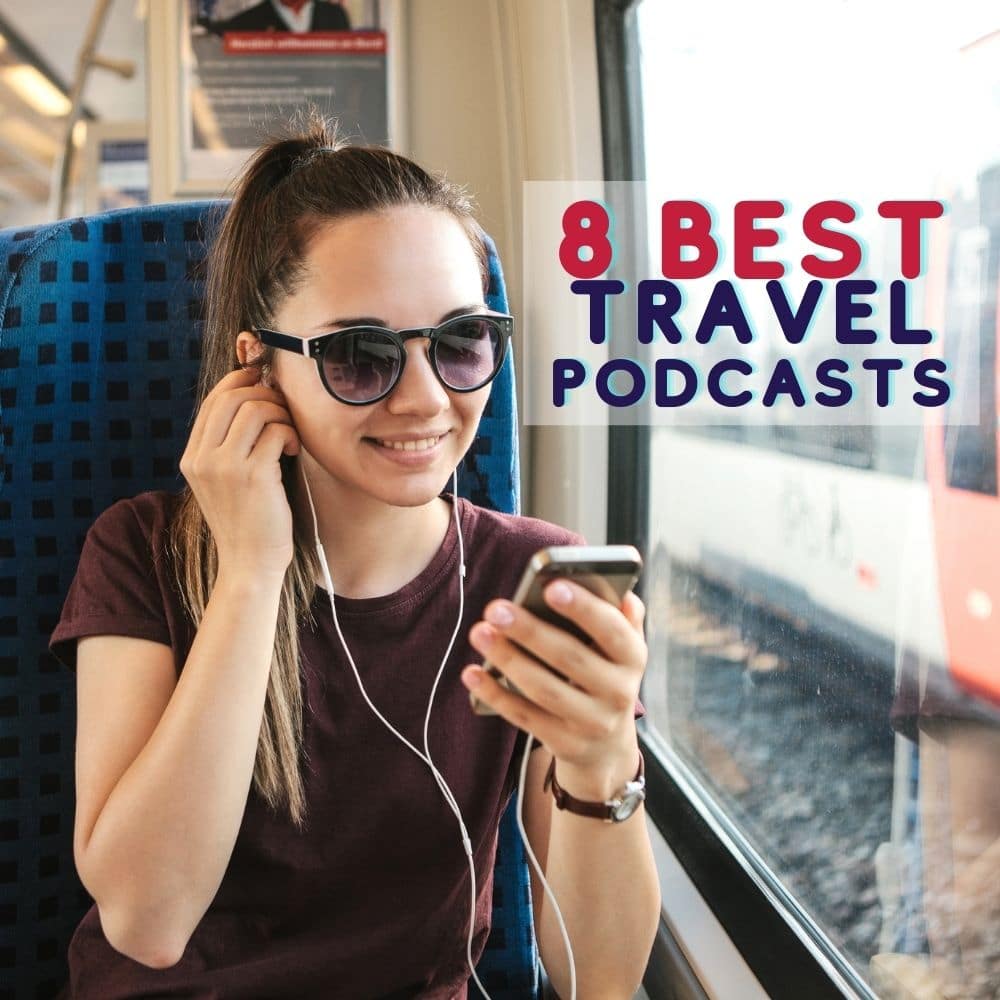 Dying to quench your thirst for wanderlust? You're not alone! The current situation has changed travel as we know it. While more and more states are starting to reopen again, we still don't know what travel will look like for a while.
Luckily, there are some incredible travel podcasts to get you going while you await your next big adventure.
These travel podcasts offer amazing insight on exotic destinations and a peek into the local culture from different parts of the world.
So here are the best travel podcasts you need to add to your playlist right now.
1 – JUMP
Jackie Nourse, also known as "Traveling Jackie" shares personal accounts, POVs from people from all over the world, guest stories, and delves deep into the traveling lifestyle. Jackie seeks to motivate others to get out there and explore the world. Want to visit the Grand Canyon or go mountaineering in the Himalayans? Like Jackie says, it's up to YOU to take the leap! Check it out here.
2 – Zero to Travel
Why do we travel? Why do so many people feel the need to get away? Are they running away from something or are they expanding their worlds? Well, host Jason Moore delves into the reasons why we do it and how we can get better at traveling through a series of interviews with travel experts in his podcast, Zero to Travel. Prepare to get inspired! Check it out here.
3 – Wild Ideas Worth Living
Journalist Shelby Stanger shares the stories of travelers, adventurers, and nomads who set out on a journey to explore the world around them. Shelby interviews people who have made their wildest dreams come true, such as Kailey Kornhauser, a body positive cyclist who despite struggling with her weight, proved that cycling is for everybody. Check it out here.
4 – Out Travel the System
Expedia's podcast host Nisreene Atassi invites travel industry experts to her podcast "Out Travel the System," to share traveling tips and hacks to make vacation planning a lot easier and way more fun. Some of the travel podcast topics including: "Helping You Get to Hawaii," "All About Flights and Accommodations," "The Best Time to Book a Vacation" and "Hack the Reverse Road Trip for Major Savings". Check it out here.
5 – Flight of Fancy
On the podcast "Flight of Fancy," travel journalist Ben Groundwater provides useful travel tips that come in handy when you run into a problem abroad. He talks about the best places to try Australian cuisine, the best travel adventures to experience post pandemic, and which countries will be open to tourists first. Plus, Ben also interviews travel experts to provide listeners with insights and valuable tips. Check it out here.
6 – A Girls Guide to Travelling Alone
Gemma Thompson created a podcast and blog dedicated entirely to solo female traveling. From answering tough questions such how to stay safe while traveling while black, to camping out in the wilderness by yourself, to how to save money to travel, you can find all kinds of perspectives in this informative travel podcast. Check it out here.
7 – You Should Have Been There
Travel correspondent Simon Calder and former BBC producer Mick Webb join forces to chat about travel in a relaxed way that's super easy to follow. Some of the topics they cover include talking about the strangest beers they've had abroad, the most embarrassing travel moments they've experienced, and the difference between being a tourist and a true traveler. Check it out here.
8 – She Explores
Hosted by Gale Straub, "She Explores" provides a collective sharing experience full of listener submissions, interviews, and POVs about all sorts of topics such as how motherhood and feminism affect their traveling adventures and the need for inclusive plus size snow apparel that fit a variety of body types. Check it out here.
More Travel Entertainment
If you love these podcasts, you can find more travel-related entertainment here: