Valentine's Day Gifts For People Who Travel: Our picks for the best Valentine's Day gifts for people who travel! A Valentine's Day gift guide for the traveler you love!


Disclosure: This website contains affiliate links. That means we earn a commission when you use the links on this site to book a tour, book a hotel, buy your travel insurance, etc.. You don't pay anything extra. If you'd like to learn more about how this works, you can read more under our Disclaimer page.
If you're anything like us, Valentine's Day clichés like cheesy movies, cheesy teddy bears, and the predictable dozen red roses seems overdone and too forced to feel genuine. And while we're the first to admit a night of champagne and chocolate does indeed sound great, we also think Valentine's Day is a great time to show your loved one you care about them…by getting them something they'll actually use, and that reflects their interests. For us (and we're guessing for you too, since you're reading this post), that's travel. Which is why we thought we'd put together a wish list of Valentine's Day gifts for people who travel, based things we'd be happy to give or receive ourselves.
Since Valentine's Day falls so soon after Christmas, and wallets may a little lighter than usual, we thought we'd curate a range of Valentine's Day gift ideas, from cheap & cheerful and definitely useful, to splurge-level gifts at a few hundred dollars.
Pin This Post and Spread the Love!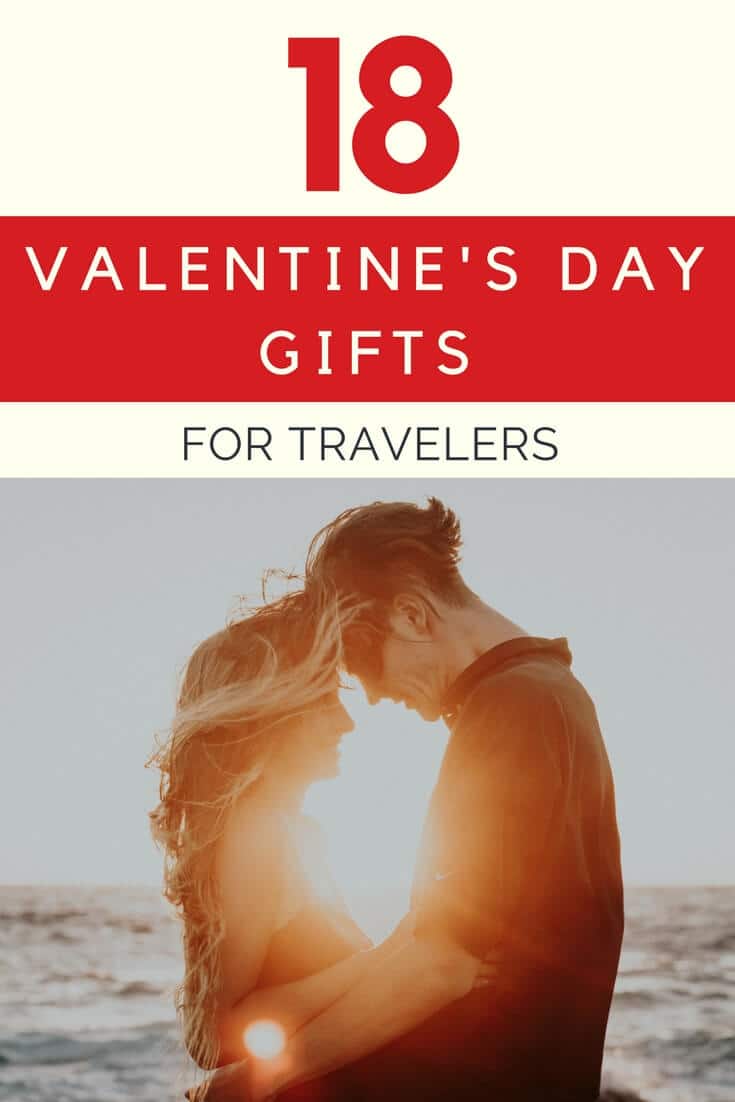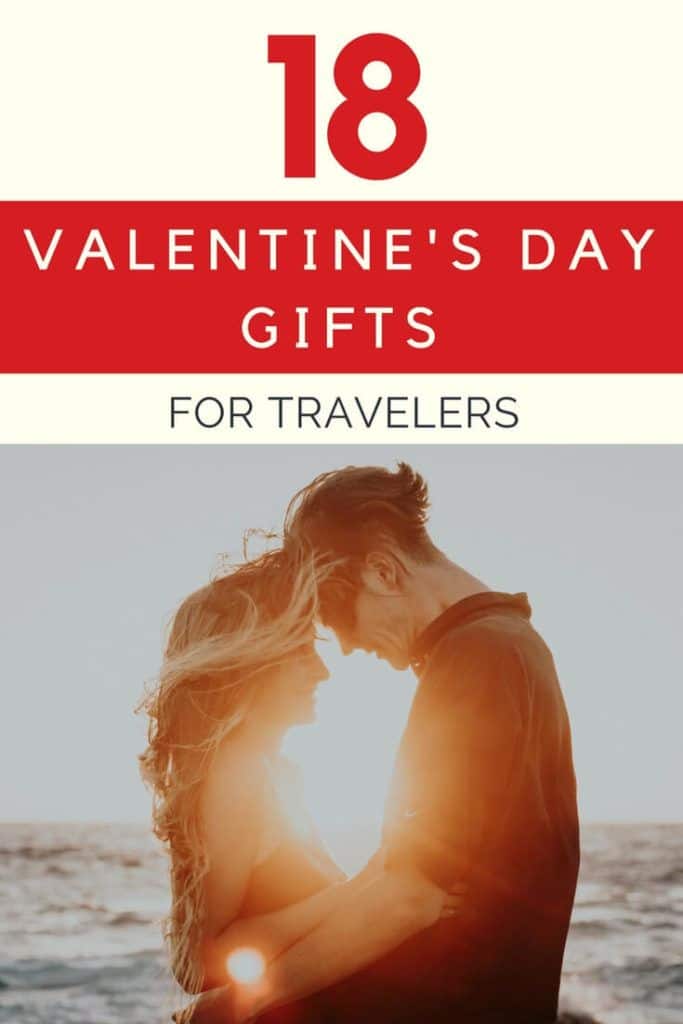 18 Valentine's Day Gift Ideas for Travelers
---
HP Sprocket Portable Photo Printer
A super slim and light portable photo printer that will let your loved one print their travel photos on the go. About the size of a smart phone, others can also connect their phones to the printer via Bluetooth, so travel companions can share in the memories. The printer is very easy to use and quick, too – we've watched a friend print out pictures over beers in a Budapest pub before! This is a great gift for a memorable Valentine's Day and for upcoming travel plans. And it makes for a fun way to stay in touch if one of you is on a solo trip – by mailing home actual pictures to share a trip with a loved one. Bonus: the printer works with high-quality glossy paper that has a sticky back, so you have the option of turning the photos into stickers as well. Add a photo paper refill here. [/et_pb_blurb][et_pb_text admin_label="HP Printer Link Button" _builder_version="3.0.93″ background_layout="light"]
---
H2O Plus Oasis Hydrating Eye Balm
Planning a long flight? Heading to a different time-zone? Give your face a fighting chance of beating the jet lag look with this eye balm, and plan to arrive looking refreshed and energized. Something both men and women can equally enjoy, it's paraben-free and water based, so it's not oily or greasy. If starting your romantic holiday without dark circles and puffiness sounds good, pick up this eye balm and enjoy a deep, cooling refreshment together.
---
Neither Here Nor There: Travels in Europe by Bill Bryson
If you're not familiar with Bill Bryson, prepare yourself for some laugh-out-loud-might-spit-your-drink-out humour. A must read, especially if your loved one is planning a trip to Europe, or loves to reminisce about their past adventures around the continent. Bryson spins unique, dry and witty humour throughout this collection of hilarious memories of his travels through Europe. Also makes an excellent airplane read.
---
Mini Cork Globe with Push Pins
Help plan your love's next adventure or vacation, or let them show off where they've been. The globe stands about 7″ (18cm) tall and is a great addition to a desk, living room, or anywhere they want some travel inspiration. There is a larger size available, as well.
---
Hoodie Travel Pillow
Admittedly not the most romantic, this gift is infinitely practical. A neck pillow that lets you shut out light and reduce sounds, while upping your comfort on a flight or long train/bus ride, travel neck pillows are always a great addition to your carry-on. This one has the added comfort of memory foam, while the hoodie functions to reduce unwanted lights and sounds.
---
ONA Camera Bag
These bags have been on Katie's wish list ever since we saw these bags at a photography shop in Oslo and she had to pick her jaw up off the floor. These bags are beautiful, do the job of protecting your gear, and don't look at all like a camera bag. We love this, as it makes you less of a target for thieves. If you have a travel photographer on your Valentine's Day gift list, they'll love you even more for this gift. Fair warning: these bags do fall within the splurge category.
---
Travel Between the Lines Adult Coloring Books
How could we not include our very own series of Travel Between the Lines adult coloring books? We dare say they would make a fantastic Valentine's Day gift for any traveler in your life. The product shown is our fist book which includes scenes from around the world. All are hand tracings from actual photos taken. We then collaborated with Hecktic Travels for our Mexico coloring book, and with Context Tours for our Rome coloring book. Check out Coloring Mexico, and Coloring Rome!
---
Bose QuietComfort 20 Noise Cancelling Headphones
We'd put noise-cancelling headphones firmly within the "must have" category of travel accessories these days. So if your loved one doesn't have a pair yet, be the hero they never knew they needed and pick up a pair as a Valentine's Day gift. Annoying clicks and beeps, strange plane sounds that make your mind wander to worse-case scenarios, and obnoxious chatter from that drunk lady in 2D can be finally drowned out, making for a flying experience that, while not quite pure #bliss, will at least get your loved one a step closer. Also works on buses and trains! Available for both iOS and Android devices.
---
Villeroy & Boch New Wave Caffe Cities Of Europe Mug
Striking the perfect combo for the travel AND coffee lover, these mugs are perfect for some travel reminiscing over morning coffee. If your love has a favorite city they've travelled to, a city they dream of traveling to, these mugs will be much appreciated. Give the gift of dreaming about far away destinations with every cup of coffee, and choose from a range of awesome cities, including Paris, Rome, Rio, New York City, Tokyo, and more.
---
Ailuner Travel Adapter
Nothing says love like making sure your loved one never has to deal with a dead device battery. This travel power adaptor is the last one your loved one will ever need, as it works to convert USA and Canada to UK, Europe and Australia, and vice versa. As an added bonus, it also has two USB charge ports. Awesome since most tablets, phones and cameras have USB charge capabilities, and this way you can charge multiple things at the same time. Bonus that it's available in lots of fun colors – we recommend a bright one, so you can find it in your bag easily. Note: this only converts the plugs, not the electrical current. Most devices these days work with a broad range of currents, but best to double check beforehand. Katie has definitely fried a few hairdryers in her day by making this mistake.
---
Fit Bit
Help your favorite traveler track the health benefits of travel this Valentine's Day. Monitor heart rate, daily steps, calories burnt, and sleep patterns with a FitBit. We find the FitBit to be an awesome little travel buddy, and love seeing how many steps we take and kilometres we walk in each city. A thoughtful Valentine's Day gift for a traveler, and one they can use both at home and on the road.
---
Fujifilm's Instax Camera
A fun addition to a traveler's day pack, especially anyone who loves all things analogue. This camera lets you print and share photos on the spot…and by "share" we mean in the physical, not the digital sense of the word! We had one of these cameras at our destination wedding in Mexico, and it was a ton of fun. It takes AA batteries, and is available in multiple colors.
---
Burt's Bees Travel Set
Oh, how we love Burt's Bees. A great Valentine's Day gift for people who travel, especially if they have a long-ish flight or drive coming up on their calendar. Nothing feels better than cleaning and moisturizing your face during a long flight or trip, and good quality moisturizers make all the difference when you're exposed to extra-drying airplane air. All natural, eco-friendly products, made in the USA. Note: The TSA restricts carry-on liquids to 3.4 ounces per container, and all of these containers fit comfortably under that threshold.
---
Kindle E-Reader
Katie swears by her e-reader, and while I haven't yet made the switch from paper, I'm admittedly jealous she doesn't have to wait for Amazon to ship her a book, or go searching in always-expensive foreign language bookstores around the world. Plus, No traveler wants to lug around bulky and heavy books, but a good book is essential for long flights and rainy days on the road. This Kindle is lightweight, glare-free, 300dpi resolution, and hold thousands of books in one little device. You can also increase the size of the font so your loved one's eyes won't get so tired…all the better for gazing into your eyes. This Valentine's Day, treat your love to this hassle-free travel 'must have.'
---
Shake Set of 4 Packing Cubes
Everyone knows there's nothing sexier than a super organized suitcase. Okay…maybe that's not entirely true, but you have to admit an organized suitcase is pretty damn satisfying. Since switching to packing cubes ourselves (we use the ZeroGrid brand, which unfortunately is only available in the United States), we now wonder how we ever traveled without packing cubes? Seriously, if you've never tried them before, there's no time like the present. Everything is so much more organized, folded items stay folded, and the reduced clutter is so refreshing when you open your bag at the end of a long journey to find everything in nice order. For backpackers, it's a great space saver, and weight distribution makes a big difference. For those staying in hotels and using a suitcase, they keep things so much more organized and easy to find.
---
GoPro Hero 5 Session
One of the saddest moments for us in 2017 was when our brand new GoPro accidentally went overboard in Dingle Bay, Ireland, deciding to spend the rest of its life with the fish. Having a GoPro was sooooo much fun; they're so simple to use, take great, high-resolution photos and video, and are super small and light. There are also lots of great accessories to add on over time – if you're new to the whole GoPro thing, this is a great accessory to start with…perfect for capturing epic vacation selfies with your love!
---
Marvis Toothpaste
I know toothpaste as a Valentine's Day gift sounds strange, and yet here we are, recommending you buy your loved on toothpaste this February 14th. First off, Marvis is a fancy Italian brand of toothpaste, making it a great gift idea for the Italophile in your life (Italian toothpaste is the new Italian wine?). Second of all, this seven-pack of different flavours are all travel-sized, meaning your loved one can throw it in their carry-on for their next weekend away. We picked up a tube of Jasmine Mint flavour the last time we were in Italy, and will definitely be stocking up on more next time we find ourselves in lo stivale. And if those reasons aren't good enough, you have to admit fancy Italian toothpaste makes a unique Valentine's Day gift, if nothing else!
---
Book an Amazing Experience or a Fun Tour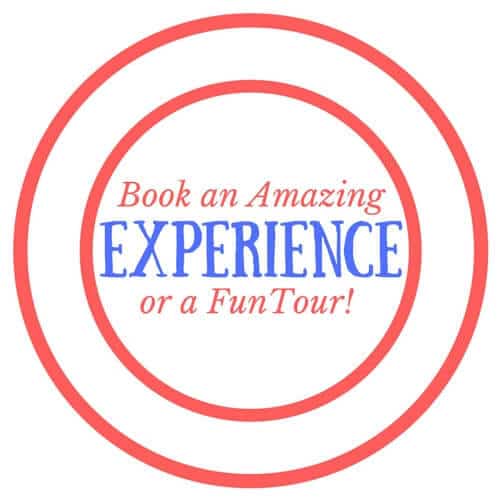 Wherever you happened to be this Valentine's Day, an experience, a fun tour, or a dinner cruise will make a great Valentine's Day gift both of you can enjoy. If you have no upcoming travel plans, take your loved on out for a day of being a tourist in your own city. Simply type in the name of your city and search through the options.
Search for Your Experience or Tour Here
---
That's it for our ideas of Valentine's Day gifts for people who travel…we hope it inspires you to surprise your loved one with something a bit unique this year! If we're missing anything, drop a comment below and add your own ideas!
Pin This Post!