A Local's Guide to the Budapest Castle District: Where to Eat and Stay, Plus The Best Things to Do in the Budapest Castle District. Includes Recommendations for Getting There and Tours.


Disclosure: This Budapest Castle District guide contains affiliate links. That means we earn a commission when you use the links on this site to book a tour, book a hotel, buy your travel insurance, etc.. You don't pay anything extra. If you'd like to learn more about how this works, you can read more under our Disclaimer page.
Pin this Post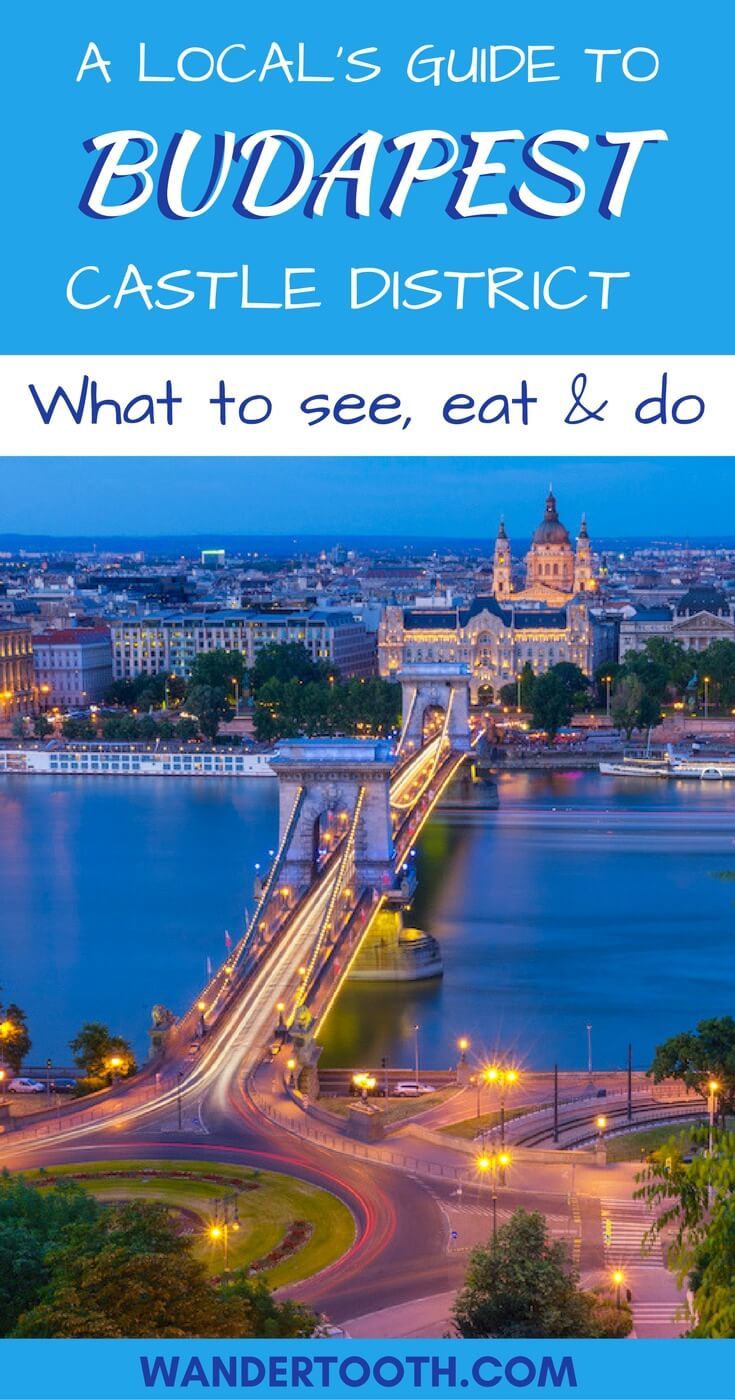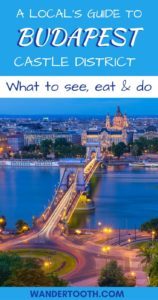 Introduction to the Budapest Castle District
If Budapest is a crown, then the Budapest Castle District is like the jewel on top. In a city full of splendors, the Castle District stands out for its quaint streets and colorful buildings, jaw-dropping views of the city below, overall cozy and romantic vibe, and selection of best-in-class attractions.
As no visit to the city is complete without a visit to the Budapest Castle District (part of Budapest I, in official parlance), we figured we'd help you plan your visit with this Budapest Castle District neighborhood guide. We've included our favorite things and places to eat, do, see, and stay around Buda Castle, and hope it helps with your trip to Budapest!
And if you need more help planning your trip, be sure to check out our Budapest neighborhood guide, too.
In This Post
---
Looking for more ideas in Budapest? Start with our Where to Stay in Budapest Guide to find the best neighborhood to stay in for your trip, and download our Free Budapest Itinerary. Our Hungary Home Page will show you all the articles we've written about Hungary.
---
Getting to the Budapest Castle District
✓ Public Transit ✓ Castle Funicular ✓ Walking ✓ Castle Gardens Escalator
If you choose to stay in Pest – Budapest's buzzing city centre on the opposite side of the Danube – you'll need to navigate public transit, take the touristy-yet-fun funicular, stretch your legs with an uphill walk, or take the escalator from the Castle Gardens to get to the Castle District.
Public Transit to Budapest Castle District
For public transit, your easiest bet is to take bus #16 from Deák Ferenc tér in the city centre (Pest). The bus leaves from outside the Ritz Carlton Hotel, and crosses the Chain Bridge, stopping at Clark Ádám tér (from which you can catch the funicular, if you'd prefer) before driving up Castle Hill. For the Castle, disembark at Dísz tér, or keep going one more stop to Szentháromság tér for Fisherman's Bastion and St. Matthias Church.
Alternatively, you can take Tram #4 or #6, or take metro line 2 (red) to Széll Kálmán tér, and then catch bus #16 or #16A, which will take you up a different side of Castle Hill. From Széll Kálmán tér, you need to walk a bit: once you've exited the metro station and you're at street-level, look for the stairs and escalators up to a second, higher street level. Take that, cross the street and turn left, walking up the street to the bus stop, where both #16 and #16A stop.
When taking public transit in Budapest, be aware that you need to use one single ticket per ride (unless you're switching metro lines). That means if you take the metro and then switch to a bus, you'll need to use two single tickets. Also note, you need to validate the tickets on board, or else you could be fined. You can check transit schedules at bkk.hu.
The Funicular to Budapest Castle District
If you want to try something a little more touristy, the Funicular is a fun and scenic way to get up to Budapest Castle District. The funicular goes from Clark Ádám tér on the Buda side of the famous chain bridge up to Buda Castle, and has been doing so since 1870!
It's open from 7.30 am to 10 pm, 7 days a week, and costs HUF 1,200 one-way, or 1,800 return for adults, and HUF 700 one-way, 1100 return for children aged 3 to 14. For those under 3, this ride is free.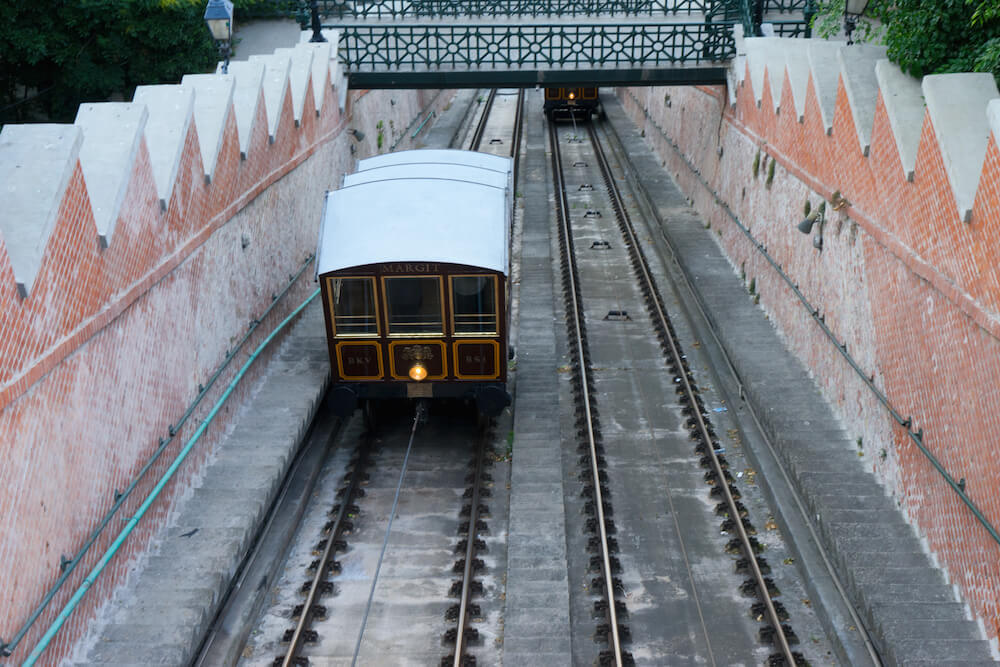 Walking Up to Budapest Castle District
If you'd prefer to get a bit of exercise, you can also get up to the Castle District using the power of your own two feet, but be warned it is an uphill walk!
If you combine it with a walk over the Chain Bridge (Széchenyi Lánchíd), continue towards the tunnel when you've reached the Buda side of the bridge and take a hard right, walking up the hill. Keep going long enough, and you'll find yourself at the base of Fisherman's Bastion. From there, you can take the stairs up, and you'll find yourself at Fisherman's Bastion and St. Matthias Church.

Taking the Escalator from the Castle Gardens to Budapest Castle District
While we haven't personally tried this option, it's worth mentioning there's an escalator that will take you from the bottom of the hill, at the Castle Gardens (Várkert bazár) up to the Castle. Admission to the gardens is free, although there are various permanent and temporary exhibitions on within the garden buildings that require a ticket.
---
Things to Do in the Budapest Castle District
✓ Budapest Castle ✓ Matthias Church ✓ Fisherman's Bastion ✓ Hospital in the Rock ✓ Other Ideas
The Budapest Castle District isn't large, and it's possible to explore the area at a relaxed pace in half-a-day to a full day, without missing out on any of the major attractions. Probably 90% of the tourists who visit this part of Budapest simply wander between Budapest Castle, Matthias Church and Fisherman's Bastion over a morning or afternoon. That approach will let you see the 3 main highlights (4, if you include the view) at a leisurely pace. That said, there are also some interesting museums for those with special interests, and some good cafés and restaurants worth seeking out in the area. Below are the best things to do in Budapest Castle District.
Budapest Castle
Budapest Castle has been built and destroyed many, many times over its multi-century existence. In its current form, it dates back to the post-WWII years. The building sustained massive damage during the war, and was left in ruins by the communist government until locals demanded their royal palace be rebuilt.
In all honesty, the Castle is best admired from the outside, rather than the inside, which reflects a 20th-century communist aesthetic. Our recommendation is to enjoy walking through the gardens and enjoying the views, but if you want to dig deeper, the Castle is home to the Budapest History Museum (which is quite in depth), the Hungarian National Gallery, which features secular and religious art from throughout Hungary's history, and the Széchenyi National Library.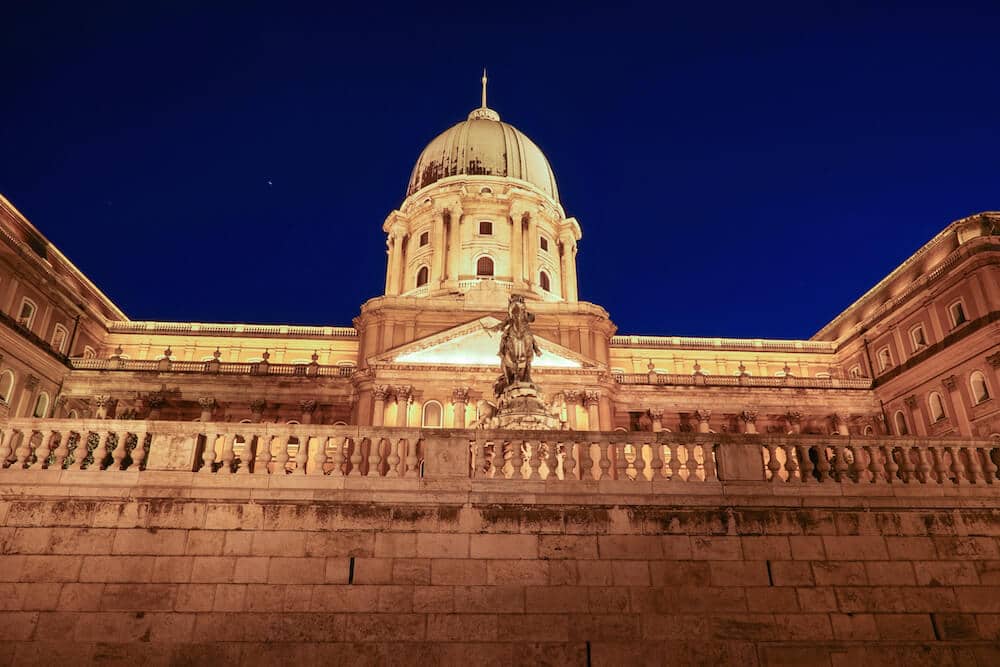 Matthias Church
About 10 minutes' walk from Budapest Castle, you'll find Matthias Church and Fisherman's Bastion at Szentháromság tér.
Matthias Church dates back to somewhere between the years 1015 and 1247, and has played an important role in Hungarian history, hosting multiple coronations to Hungarian kings over the years, turning into a mosque during the years of Ottoman rule over Hungary.
Matthias Church is beautiful from the outside, but you can also go inside and – if you time it right – up the 197 steps to the tower (groups leave at the top of the hour between 10am and 5pm).
Out front of the church, in the centre of Szentháromság tér, you'll notice a statue of a man on a horse. That statue features St. Stephen, the first King of Hungary.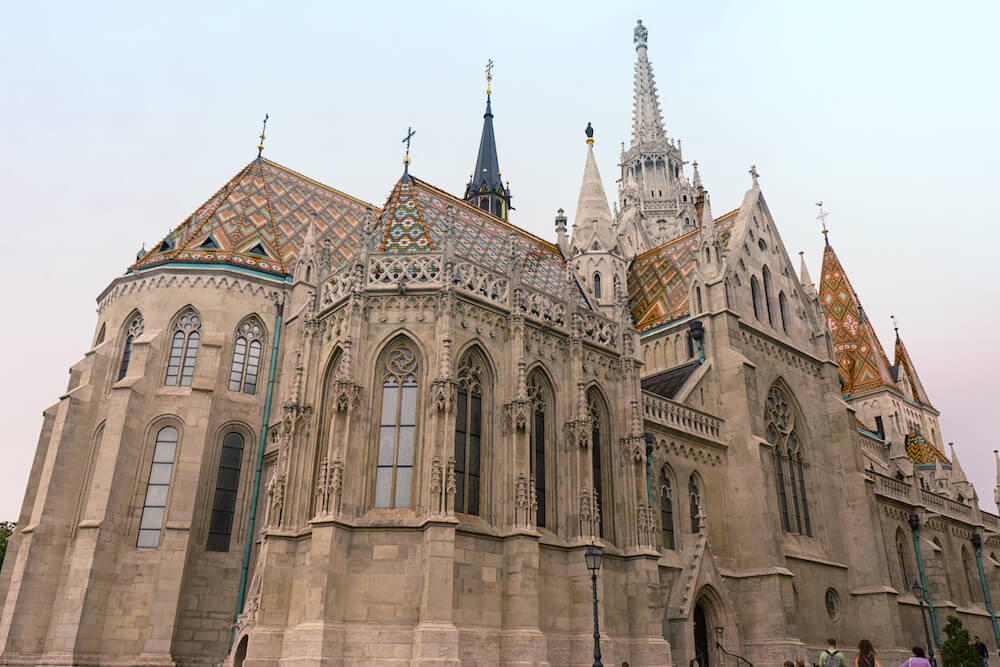 Fisherman's Bastion
Compared to Buda Castle and Matthias Church, Fisherman's Bastion is a new structure, dating back to the Millenium building frenzy that took place in Budapest at the end of the 19th century, and beginning of the 20th century, to mark and celebrate 1000 years of the Hungarian state.
Fisherman's Bastion has always been intended as a decorative structure, and it serves this purpose with aplomb. It's a great spot for views over the Danube and Pest, across the river, and offers a spectacular view of the Hungarian parliament building as well.
Enjoying Fisherman's Bastion from the street level is free, but to visit the top balconies you need to pay an entrance fee. There's also a café within the far tower (closest to Starbucks); while it's expectedly overpriced, a drink here probably won't break the bank, and that balcony attached to that café has some of the best views in Budapest!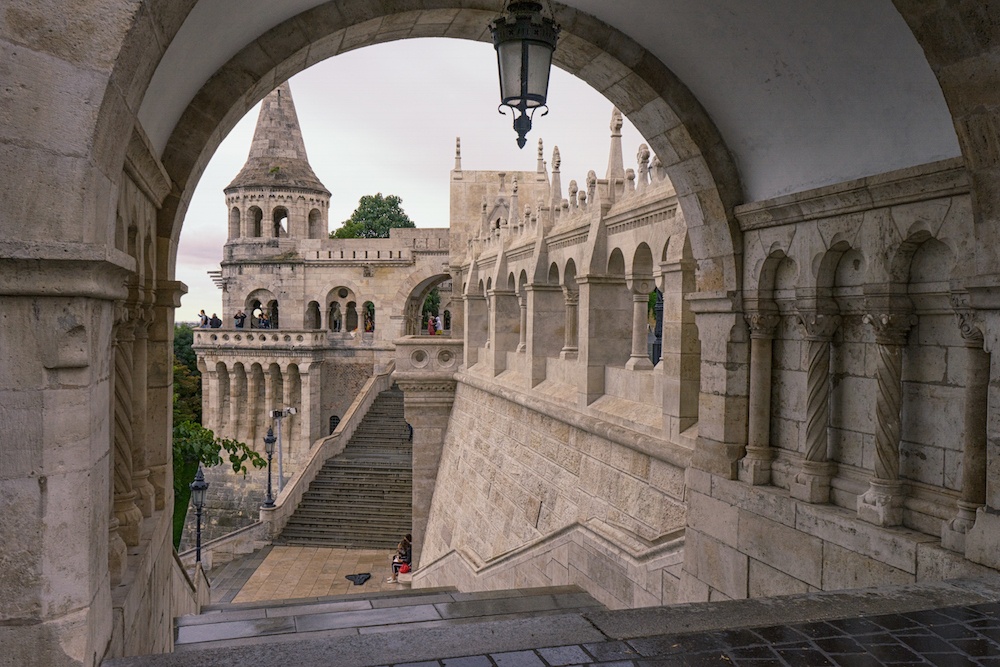 Hospital in the Rock
A bit of a niche attraction, this one is still worth mentioning due to its unique and pretty cool history. Budapest actually has a fairly extensive cave network under the city, and some of these caves were put to use during WWII as a makeshift hospital: the Hospital in the Rock.
Starting life as an emergency air raid hospital between 1939 and 1945, the Hospital in the Rock evolved over the years to deliver care during the 1956 Hungarian revolution, and to serve as a nuclear bunker during the Cold War, fitted to be able to accept and treat survivors of a nuclear or chemical attack.
You can only visit on a guided tour, which lasts one hour and departs at the top of every hour from 10am to 7pm, 7 days a week (in high season, tours run every 30 minutes between noon and 5pm).
What Are Some Other Things to Do in Budapest Castle District?
Golden Eagle Pharmacy Museum

– We ended up here on a cold February day, in need of a break from the winter temperatures for a bit. While not a must-see, it is an interesting stop with info and examples of medieval medicine and alchemy.

Wander the Quaint and Quiet Streets

– The Budapest Castle District functions largely as a government quarter, and doesn't have the same hustle and bustle as you'll find over in Pest. That makes it great for strolling down the cobbled streets, which are lined with well-preserved and colorful old buildings. It's a very pretty part of the city.

Sandor Palace – Near the Buda Castle, you'll probably notice a large white building guarded by military in front. This is the Hungarian president's residence, and there's a changing of the guard that's worth watching if you find yourself in the area at the top of the hour, from 9am to 5pm.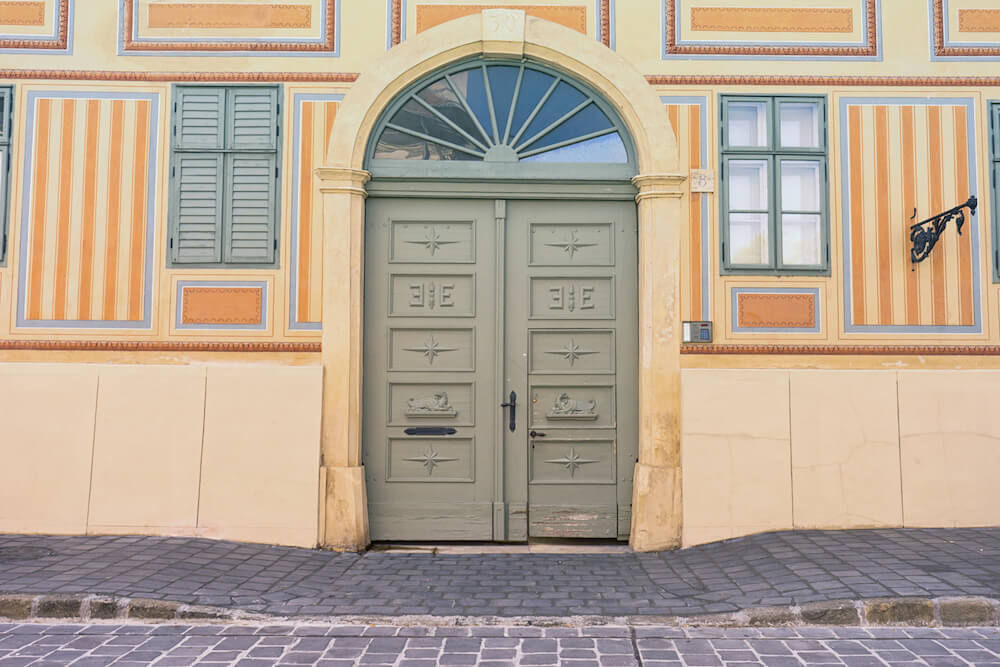 ---
Tours of the Budapest Castle District
✓ Recommended Tour Operators ✓ Budapest Card ✓ History & Myths Tour ✓ Context Travel Tour ✓ Taste Hungary Tours ✓ Urban Adventures Tour
The Castle District is easy enough to wander around on your own, and you can see everything you need to within a half-day to a day, depending on whether you stop for meals and museums. Admittedly, this is our favorite way to explore this area: with a loose plan, while also keeping things flexible. That said, this option doesn't give you much chance to dig into the details and history of the area. And if that's important, it's worth joining a group tour or hiring a private guide to lead the way.
We've outlined a smattering of the many, many tours that are available for the Budapest Castle District below. We've chosen them based on our knowledge of the area, price, and reviews from past guests. Hopefully this is helpful.

A Note on Tour Operators
Most of the tours listed are available through Get Your Guide, a tour aggregator (much like Booking.com or Hotels.com is an aggregator of hotels, Get Your Guide is an aggregator of tours). The reviews on Get Your Guide are verified, so you should get a pretty good idea of whether a tour is rated well overall, or not.
A few of the tours listed don't have reviews on GetYourGuide. Normally, we wouldn't include it based on that. However, in this case the tours that don't have reviews are organized by pretty reputable tour companies (Taste Hungary and Urban Adventures) so we decided to keep them in our list. We also recommend Context Travel for tours. Their tours aren't available on GetYourGuide, but you can book directly through their website. We've tried their tours in Rome and Budapest (we even made an adult coloring book with them), and have nothing but good things to say. All their tour guides ('Docents') are PhD or Masters-level experts in their field, meaning these tours go far beyond the typical surface-level info, and can really delve into the topic. The ones we've done have almost felt like a university lecture while on the go.
---
Looking for More Things to Do?
Search for More Budapest Tours
---
Where to Eat & Drink in the Budapest Castle District
✓ Ruszwurm Confectionery ✓ Walzer Café ✓ Budapest Terrace ✓ Pierrot ✓ Pest-Buda Bistro ✓ Jamie's Italian ✓ Spiler Biergarten
When you're finished exploring, or if you need a break from the heat (in summer) or the cold (in winter), Budapest Castle District has quite a few options for food and drink, from casual to fancy. Most of the places in this area are quite traditional, so it's good part of the city to try out some local bites.
Ruszwurm Confectionery (Szentháromság u. 7)
Definitely touristy, but still worth a stop in for one of Ruszwurm's signature cakes and the traditional old-timey ambience.
This café has stood here since 1827, and is best known for krémes (a Hungarian cream cake) and the layered dobos torte (a layered cake filled with chocolate cream).
Walzer Café (Táncsics Mihály u. 12.)
A good option for coffee, sandwiches, and cakes, this is another spot with a homey and cozy feel to it. Good choice for a quick and casual lunch.
Budapest Terrace (Budavári Palace (Budapest Castle – in the gardens overlooking the Danube)
We've yet to make it here, but everytime we walk by, we make a note to come back, next time we have out-of-town guests for beer or glass of wine.
It's worth saying this place gets pretty terrible reviews on TripAdvisor, so we don't recommend it for anything more than a drink with a view, with the expectation it will be pricier than other spots in the city. But seriously…the view over Pest is spectacular. It seems hard to go wrong ordering a glass of wine and enjoying this terrace as the sun goes down.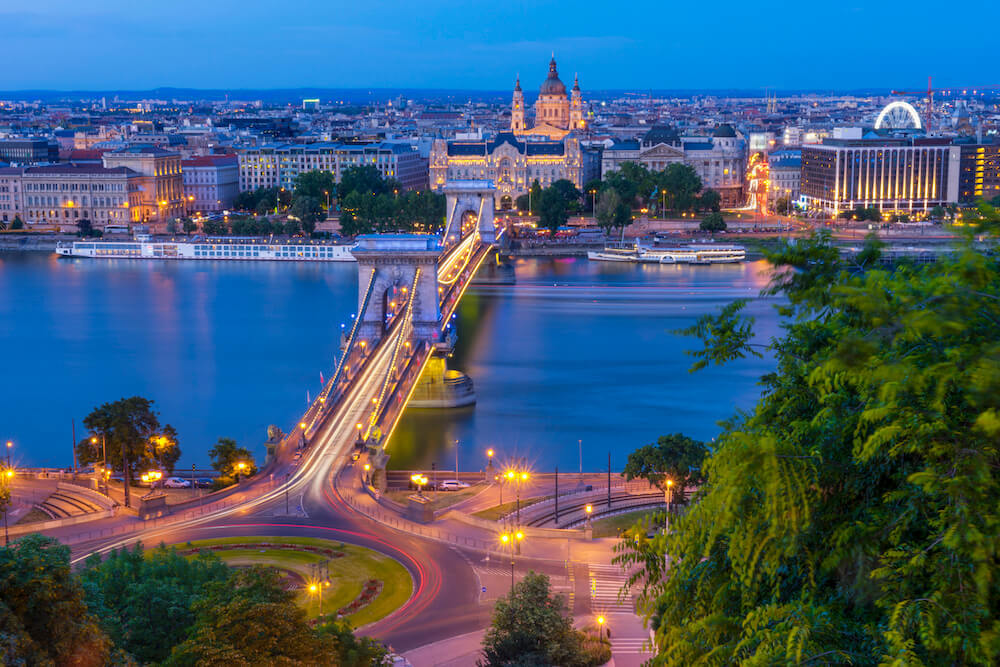 Pierrot (Fortuna utca 14)
If you want a bit of a higher-end dining option in the Budapest Castle District, Pierrot is a good bet. With great ambience in a 13th-century bakery building, and a lovely garden for summer dining al fresco, they focus on Hungarian food and wine in an upscale setting. Reservations are a good idea.
Pest-Buda Bistro (Fortuna u. 3)
Below the boutique hotel of the same name, Pest-Buda has a Hungarian bistro feel to it, with a menu full of Hungarian comfort food in large portions. In the summer, they have a nice patio just down the street with a great view of Matthias Church.
Jamie's Italian (Szentháromság utca 9-11)
If you want something totally different and casual, or are traveling with kids who'd prefer something more familiar, the Jamie Oliver chain is a convenient and cozy option for pizza, pasta and other Italian favorites.
Spiler Biergarten (Karpisztrán tér)
If you want to dig into Budapest's burgeoning craft beer scene, the Buda Castle District isn't the place to do it (head to Budapest VII or IX instead). That said, if you're ready for a cold beer after hot day of sightseeing, and want to see at least a few local craft beers on the menu, Spiler could be what you need.
Don't go here expecting a traditional German-looking beer garden. Despite the name, it's more like a nice outdoor patio bar (it's only open middle of April to middle of October). But, it's still a nice spot for a cold one, and they offer a few Hungarian craft beers by the bottle to get your research started, as well as a few draft beers and a short wine list.
(If you need more ideas, you can find a pretty good list of the best Hungarian restaurants in Budapest here).
---
Safety Considerations and Scams Around the Budapest Castle District
Overall, we find Budapest to be very safe. We've lived here for a year now, and have seen one purse-snatching and a few drunken bachelor parties / stag do fights…that's it. That said, as with any large, touristy city, there are a few things to watch out for:
Pickpockets: The Budapest Castle District is one of the most touristed areas of the city, making it an attractive target for pickpockets and petty theft. Keep a keen eye on your belongings, and keep phones, wallets and other valuables in a front pocket, a zippered pocket, or secured in a bag that can't easily be grabbed off your body. If you want some more suggestions, check out our tips for preventing pick pockets in Europe.
Evenings

: This area of the city is busy during the day, primarily with government workers and tourists. In the evenings, it's still pretty busy with all the restaurants in the area, but at night it's pretty abandoned. We've never heard of people having problems in this area, but use common sense, and don't walk down abandoned streets by yourself. If you find yourself here late at night, stick to main, well-lit streets.

Costs

: This isn't scam per se, but it's worth noting the prices in this part of the city can be quite inflated, especially when buying small things, like a bottle of water or a coke, from a shop. Try to bring your own water with you, or wait until you're back in Pest to get these sorts of things. Restaurant prices will be slightly more in this part of this city as well, but that's to be expected given the ambience.
---
Where to Stay in the Budapest Castle District
✓ Boutique Hotels ✓ Luxury Hotels ✓ Affordable Hotels
Most of the hotels in this area screw toward the higher end of things, although there are a few budget options, too. If you are in Budapest for a quiet or romantic holiday, and aren't interested in the city's nightlife, then the Budapest Castle District is a perfect (and beautiful) spot to stay. If, however, you want to be in the thick of it, exploring a lively city scene, then you'll likely find the Castle District to be too sleepy.
---
Boutique Hotels in the Budapest Castle District
For an upscale boutique hotel experience, check out either Pest-Buda Hotel or Balthazar, both owned by the same family business. Both are beautiful, and have struck a great balance between high-end (not quite luxury, but very nice) and eclectic quirkiness.
Check Prices & Availability for Pest-Buda Hotel
Booking.com I Hotels.com
Check Prices & Availability for Balthazar Hotel
Booking.com I Hotels.com
---
Luxury Hotels in the Budapest Castle District
If you're looking for a luxury hotel, St. George Residence is a good bet. It gets consistently good reviews, and has an aristocratic, old-world lux vibe to it. Alternatively, the Hilton in this area has a great location, and all the amenities you'd expect of the chain.
Check Prices & Availability for St. George Residence
Booking.com I Hotels.com
Check Prices & Availability for The Hilton
Booking.com I Hotels.com
---
Affordable Hotels in the Budapest Castle District
Finally, for something in the affordable category, Burg Hotel gets good reviews and is well-located within this area. While it's a bit outdated looking, past guests seem to appreciate the value for money.
Check Prices & Availability for Burg Hotel
Booking.com I Hotels.com
---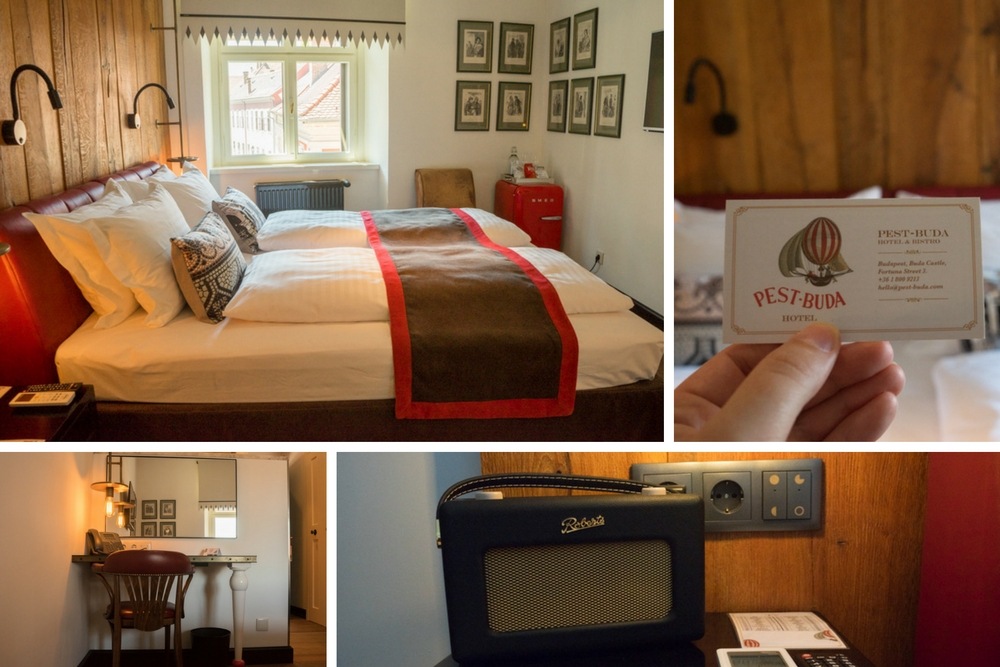 ---
Further Reading to Help You Plan Your Budapest Trip
---
Pin This Post & Spread The Love!