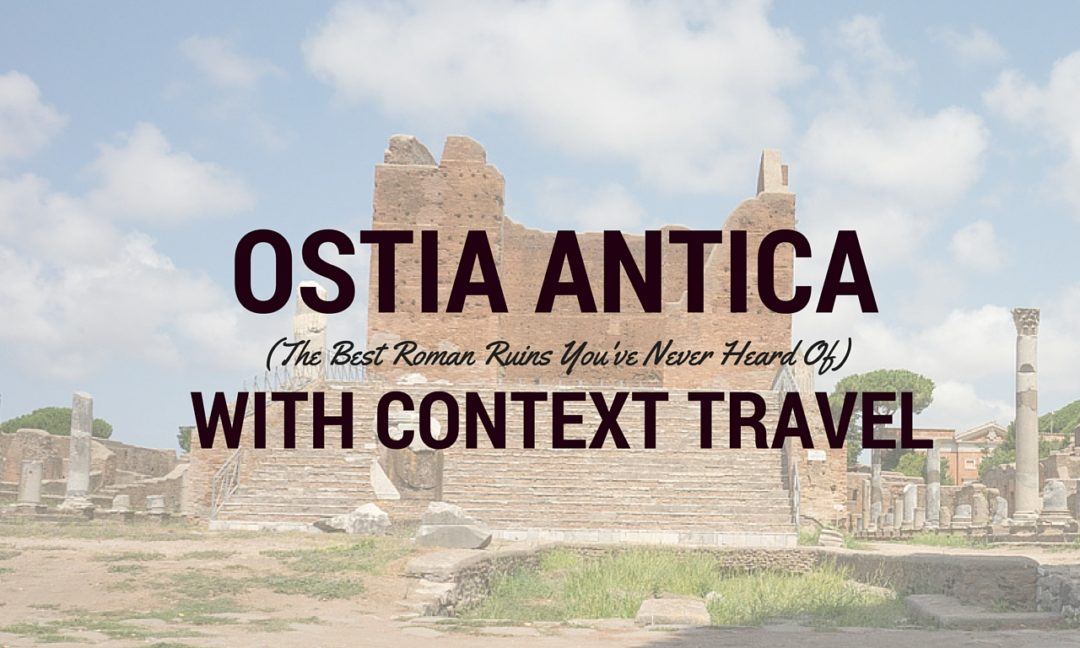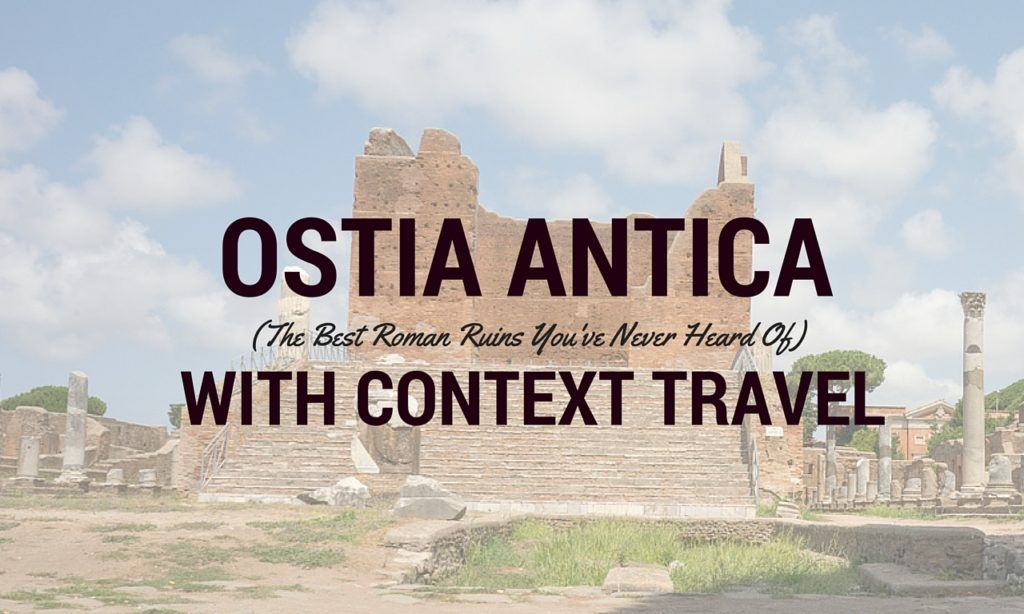 Patrizia's voice breaks with excitement, and the four of us instinctively move closer, tightening the semi-circle around her to hear what she's going to say.
She's crouched in the necropolis at Ostia Antica — an ancient Roman port city that's overlooked by most visitors to Rome — and she's explaining the meaning of the word, necropolis, and the writing chiselled deeply and carefully into what could very well be 3,000-year-old marble.
Her enthusiasm for the archaeology of it all — for the tiny fragments of a jigsaw puzzle that promise to unveil what life was like for the people of Ancient Rome, and Ostia Antica in particular — spreads amongst us.
With Patrizia as our guide, it's damn near impossible not to get excited about Ostia Antica, so palpable is her passion for her profession, work as an archaeologist, and the site itself.
We angle our bodies a little closer and turn our heads just a little to better hear what she's going to say about this particular piece of history, which on the surface seems like nothing special. Running her hand across the marble, she reads the Latin inscription out loud, translating from the ancient language to modern English without missing a beat, thus unveiling who is buried here.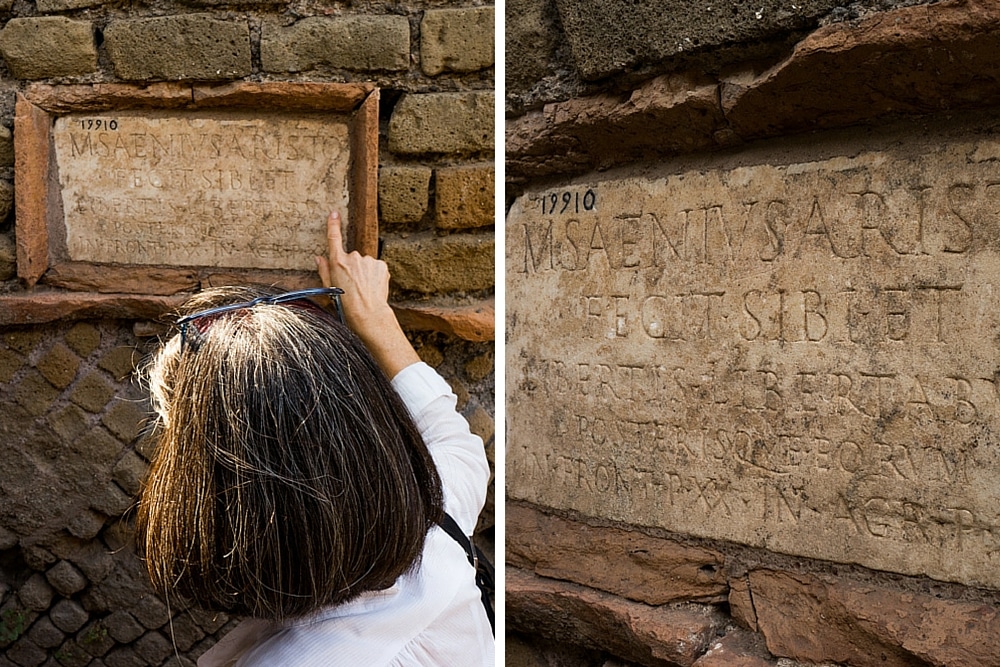 From the marble plaque marking the sarcophagus of a wealthy libertus, the former slaves who were freed by their owners, Patrizia stands and explains some of the basics we'll need to understand Ostia.
And the first point she makes — one she'll drive home, over and over — is that in Ostia Antica, you see real life.
Rome is all about scale, beauty, grandness, she explains. But in Ostia Antica, you can see things you can't see in Rome, and can come to understand them.
The everyday lives of the people that lived in those times — the people that built and served Ancient Rome — that's what a trip to Ostia Antica with Patrizia is all about.
What is Ostia Antica?
---
If you've never heard of Ostia Antica, you're certainly not alone. We hadn't either, and would probably still be ignorant of its existence if not for Context Travel encouraging us to go on the tour.
Ostia Antica was an ancient Roman city, much like Pompeii.
Like Pompeii, Ostia Antica had a sophisticated water system, an amphitheatre, and heated bath houses. Also like Pompeii, Ostia Antica is extraordinarily well preserved. While Pompeii was covered in volcanic ash that protected the buildings and mosaics, Ostia Antica was covered in silt from the nearby Tiber, which also had a protective effect.
Despite the similarities, Ostia Antica was far larger than Pompeii, with the population peaking at 100,000 people, as compared to Pompeii's 10,000. It was also far more important to Rome and empire than Pompeii, serving as the gateway and port to the capital, through which all food, resources, and wealth for the city passed.
Without Ostia Antica, Rome would have starved.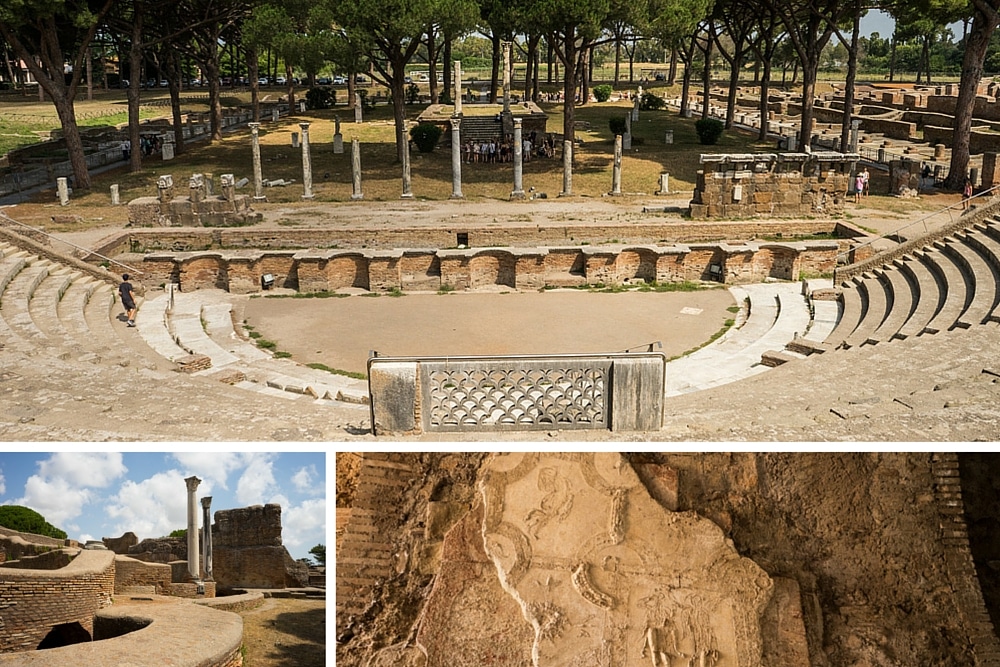 Visiting Ostia Antica On A Tour
---
Geoff and I have never been "tour people," to be honest. The idea of mindlessly following a guide around a site, listening to a rehearsed script and fighting to ask questions among a group of 20 others holds zero appeal. We've always cherished the independence we've enjoyed wandering new cities on our own, exploring ancient sites like Angkor Wat at our own pace.
Our experience visiting Rome with Context Travel, however, has caused us to reevaluate that opinion, and it began with this tour with Patrizia.
Don't get me wrong: listening to rote repetition of a dry script of facts and figures still sounds awful. And we still love being able to explore cities on our own, focusing on understanding the people and life more than the seeing of sites.
But touring an archaeological site with an actual archaeologist who can shape the discussion and pivot based on the group's questions and interests? Someone who can bring the site alive, and add meaning, so the experience goes far beyond what is essentially looking at a pile of old bricks?
Heck yes.
After the tour, on our way out of the Ostia Antica site, while walking back to the train as a group, a tourist stopped us and asked for directions to the Ostia Antica entrance. Patrizia politely pointed her in the correct direction, and as we walked away I joked,
"you might want to take an archaeologist with you, though."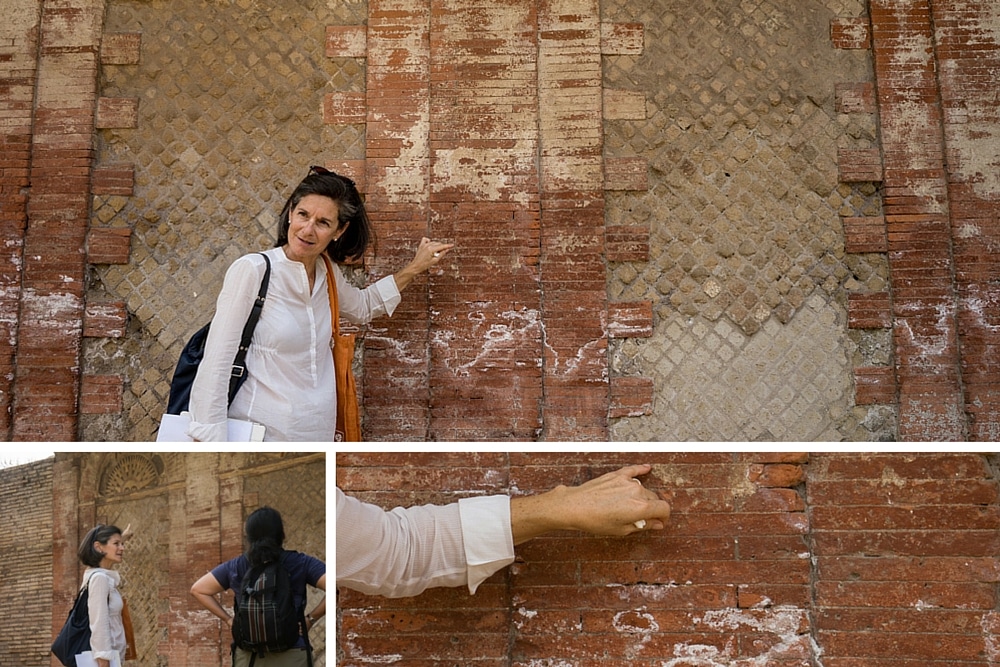 Who Should Visit Ostia Antica?
---
Don't come to Ostia Antica expecting extraordinary beauty or levels of preservation. If you want to experience Roman monuments that have survived more-or-less intact for centuries, stay in the city and focus your time on the Colosseum, the Pantheon, and all the other impressive monuments the city has to offer.
Rather, come to Ostia Antica to learn about the ancient people, about how things worked, and how Rome got the food it needed to survive. Come to Ostia Antica to learn how things were done, and how ordinary people lived, and the details of everyday life in Ancient Rome.
At archaeological sites…sometimes what you see is not beautiful, Patrizia explained to us after the tour.
As an archaeologist, I deal with fragments and small shards of walls, vases, glasses. We deal with layers of fragments. For people with a different background, and without a guide that draws their attention, those pieces won't hold much interest. But for me, I see the whole world. I piece together a pot, and I see the guy who used the wheel to make the pot. I want to learn everything about that guy! If I find the fingerprints, I cry because I see him. That's what I love Ostia Antica, because I do see the people.
Highlights of Ostia Antica
---
For us, the number one takeaway we left Ostia Antica with was just how similar life was back then to our modern lives today. In many ways, we realized we haven't actually advanced that much further than the Ancient Romans had, at least in terms of the basics of city-building: civil engineering, plumbing, heating….
We left the tour with a new appreciation for just how advanced the Ancient Romans were, technologically speaking, and how much of the knowledge we benefit from today, we owe to them.
For us, the cafe and restaurant, the baths, and the mosaics were the highlights we saw at Ostia Antica.
1. The Café and Restaurant
Just like modern life in many (all?) countries around the world, Ancient Rome was a place of restaurants and cafés. Sitting right on the main street near the theatre, there's a café that people would have stopped at the enjoy a drink or small snack over the course of their day.
As Ostia's height was somewhere around the 2nd and 3rd centuries and coffee didn't arrive in Europe until 17th century, it wasn't coffee they enjoyed, but rather what was probably an awful tasting version of wine.
Similarly, there's a well-preserved ancient restaurant, which includes a terrace garden where people would've eaten their meals outdoors.
Standing on the remarkably well-preserved restaurant terrace, it was easy to imagine the tables and chairs, and picture people sitting and eating on this restaurant terrace on a hot summer evening.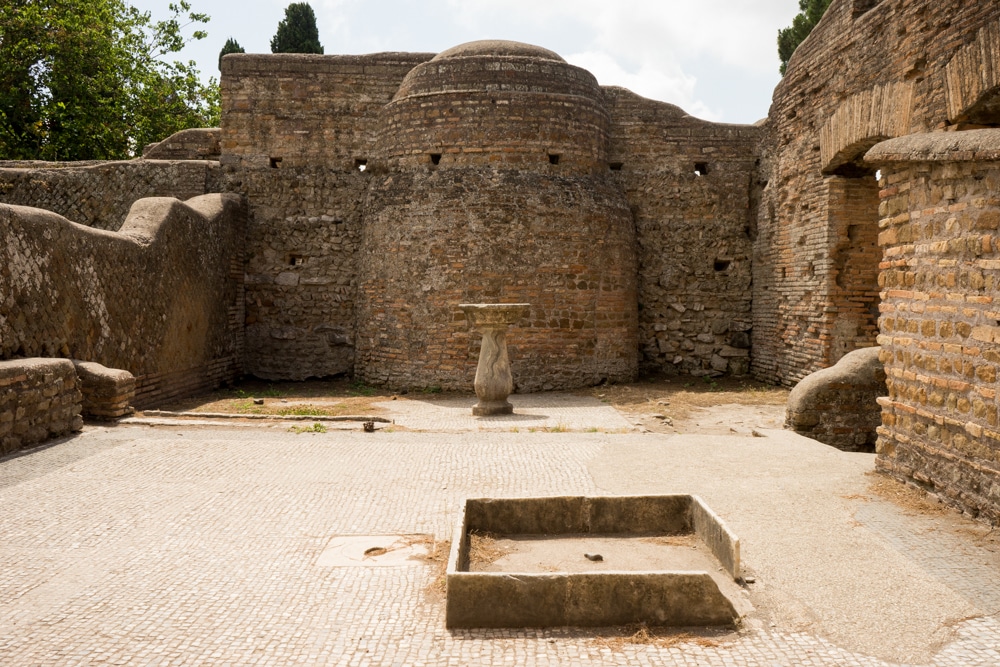 In Ancient Rome, life was more or less the same in many ways.
2. The Baths
The bathhouse is probably the area we most appreciated having Patrizia with us to explain everything, because she knew to climb underneath the bathhouse, and show us first-hand how the engineering and heating of it all worked. A trip to the bathhouse gave a tangible example of how spectacularly stratified the society was, as free Romans enjoyed the exercise, hot and cool rooms within a bathhouse that was 100% dependent on slaves working in deplorable conditions underneath.
Once we'd seen the bowels of the bathhouse, we wandered around the ground level structure, taking a look at how Romans used the facility, and how they would have moved from one room to another over the course of their visit.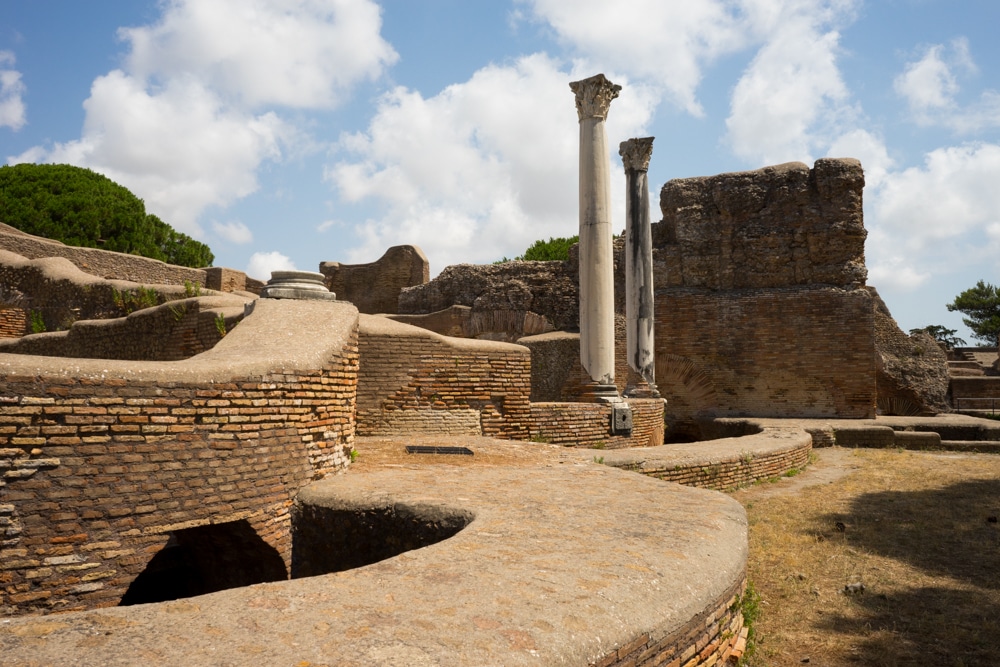 2. The Mosaics in the Forum of Corporations
Beyond the theatre, there are well-preserved mosaics on what would have been the office floors of merchants and traders. It was fascinating to have Patrizia with us to read and interpret the Latin writing and images themselves: ships indicated ship building merchants; exotic animals indicated importers or traders with the African colonies of the empire.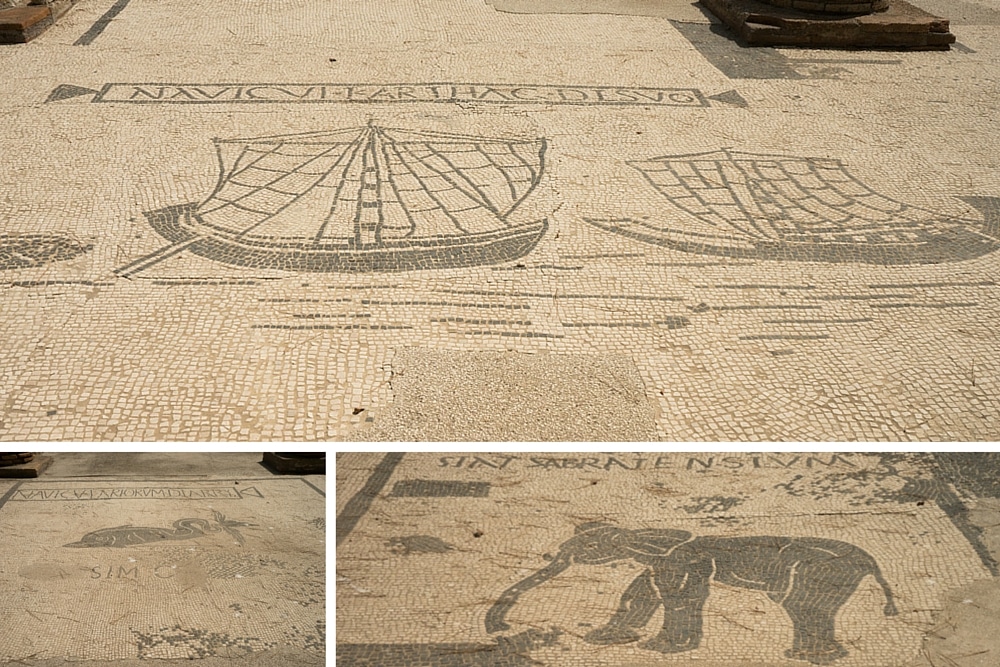 ---
Heading to Rome? Check Out Our Rome Adult Coloring Book to Stay Busy on the Flight!
In addition to writing this travel blog, and helping you plan your vacation, Geoff and I (Katie) made travel-themed adult coloring books! All the books are based on our travel photographs, which we have hand-traced to create really beautiful line drawings showing a time and place around the world (they are realistic, not imaginative).
In summer 2016, we teamed up with Context Travel to make a Rome-themed book. We spent 10 days in the city, taking as many of their tours as we could fit in, and photographing a portrait of Rome that served as a base for our book.
You can see all the photos that made it into our Rome adult coloring book here, and read a bit more about why we decided to make travel-themed adult coloring books here.
And if you need something to do while you're on the long flight to Rome, you can pick up a copy of Travel Between the Lines Coloring Rome on Amazon.
---
Go There Yourself
---
This post was brought to you by Context Travel, which offers very small group tours led by scholar experts for intellectually curious travelers. We were guests of Context in Rome, and experienced 4 different Context Tours during our 10 days in the city: Ostia Antica, Caesar and Empire, The Fall and Rise of Rome, and Evening Vatican Tour — all of which we found to be excellent.
You can book with Context Travel on their website, or check out TripAdvisor Reviews here (affiliate link).
I think it's worth noting that on our tour to Ostia, we shared Patrizia with L. and K., an American aunt and 13-year-old nephew on a grand European summer tour.
L. has been on this exact tour before, last summer and with a different nephew. That nephew was so blown away by it all that when K. had the chance to choose where his aunt was going to take him this summer, and specify what they were going to do, Ostia Antica made the list.
We asked L. if we could mention this in our blog, and her response was this:
"Please tell everyone about this place and this company."
We couldn't agree more!