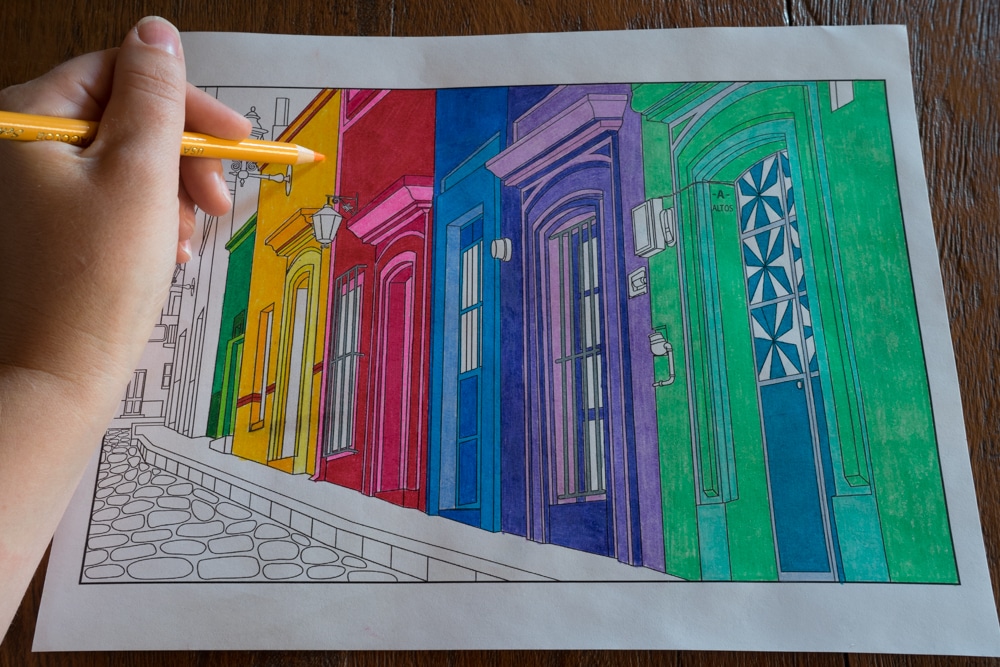 Without fail, the most common question we get after telling people about our adult coloring books for travelers is, how on earth did you think of that?
And to be honest, I never know how to answer that question.
But I'm going to try now. Here's the best story; the one I tell most often…
Back in 2013, when we quit our jobs to travel (for the second time), I stopped by an art supply store in North Vancouver right before we left to pick up a tin of fancy pencil crayons, and a sketch pad.
I had this dream — one I don't think is particularly uncommon — that as we traveled, I'd spend time sketching the places we went.
You know: sitting in front of the Eiffel Tower on a sunny afternoon, capturing the unique scene on the day you're there; spending a week on the Cinque Terre, painting the scene in watercolor.
I had grand visions of creating beautiful sketched art, but as it turned out, none of this happened.
Thing is, I completely neglected two rather important bits of information:
One, I was way too busy freelancing in various cafés and hostels so we could afford to keep traveling, and most certainly didn't have the time to spend a week watercolor sketching the Cinque Terre.
And two, I'm not actually all that talented as an illustrator, and that's being kind.
When I was in the moment, and really thought about sitting down to sketch something, my mind immediately jumped into "not good enough" mode.
"I'll never be able to make it look the way I want it to, so why even bother?"
Often in life, "not good enough" mode is your enemy; it prevents you from moving ahead with goals in life and career. For the most part, it's a thought that should be consistently squashed, beaten back, and ignored.
But in this case…well…it's actually pretty accurate. I really do lack talent as an illustrator, and while I'm sure I could have developed my skills if I really put my mind to it, it was far from being a priority.
At the time, I was trying to build a freelance writing career, have a life, and enjoy our travels. Becoming a master sketch artist passable sketch artist seemed like a bit much to add to my plate, on top of everything else.
And so we traveled for two full years, and I never once opened the tin of fancy pencil crayons.
But here's the thing: despite accepting that I'd never be a master sketch artist, I also refused to give up on the idea of sketching our travels, and refused to give up the pencil crayons. I carried them the entire time — and still have them today.
Those pencil crayons survived multiple ruthless cullings of random things in my backpack, when things were getting too heavy and I had to cut down on items to lighten the load.
When it came to the pencil crayons — and what they represented — I just couldn't let go.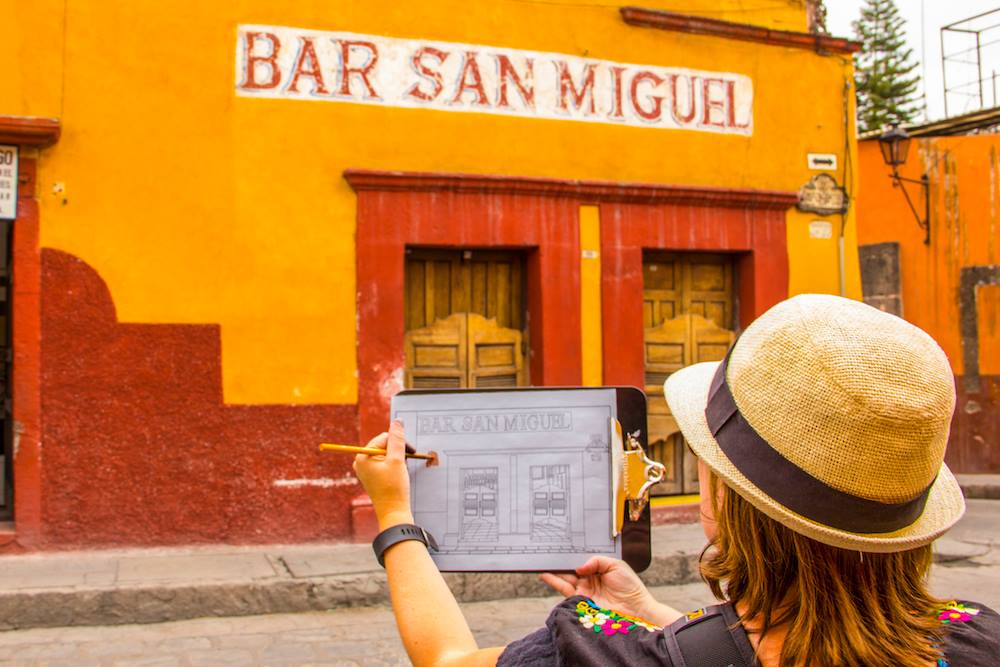 Fast Forward
In the fall of 2015, Geoff and I found ourselves in Oaxaca, Mexico, and were using it as a base for a few months.
We'd both been freelancing for awhile, but realized it wasn't a long-term plan for us: it met our needs most months to cover our travels, but there was nothing left over for savings, which is important to us. Being at the whims of client deadlines made travel planning more challenging. And we found we spent far too much time in front of our computers when compared to the financial return we were getting.
We were spending all of our days building other people's businesses when what we really wanted was to work on building our own.
When we set out to travel in 2013, the plan was always to build a business we could manage while traveling, that would meet our needs financially, and in terms of challenge and interest.
And by the time 2015 rolled around, we realized freelancing wasn't that business, which left us with a big question mark: if not freelancing, then what?
It was our go big, or (literally) go home moment, and we set about trying to answer the question of what we wanted to do. We wanted to build a business where we weren't trading our time for money, and we were willing to dip into our remaining travel fund to either buy something or build something.
Enter Adult Coloring Books
When we realized we were ready to finally take the leap, we invested pretty much all our efforts, outside of existing client work, into figuring out what, exactly, that business would be.
At first, we started looking at websites for sale on Flippa.com, a website marketplace where you can bid on and buy existing websites in various states of monetization.
We briefly considered buying a niche dating website and a stationary subscription website, and somewhat seriously considered buying a beard oil business, despite knowing nothing about beards, or beard grooming, and not really being part of beard culture.
(Well…that's not entirely true. I know Geoff looks pretty darn tootin' good with a beard. Smashing is the word that comes to mind)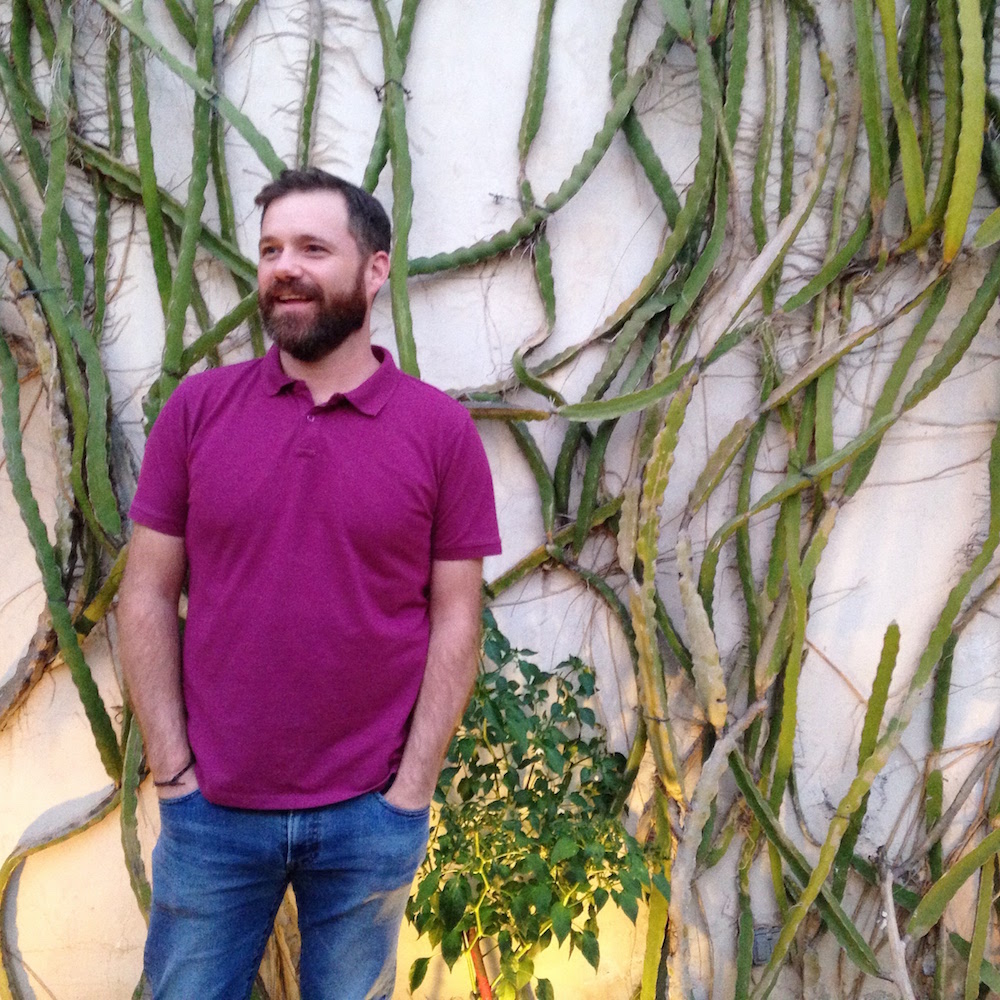 Then we gave our heads a shake.
After building this website for more than three years, and building a network of relationships in the travel industry, we realised we had a massive asset already, in the form of this website and our experience.
And so we decided to focus on building a business that's related to travel.
We came up with a list of criteria for a business: incorporate travel; include products, rather than time-for-money services; and not be terrible for the world (no selling useless garbage).
It was within this frame of mind that we arrived at adult coloring books. One day, it just sort of came to me: tracing our travel photos to make adult coloring pages and adult coloring books.
It checked all the boxes on our mental business criteria list, and I'd finally get to use those fancy pencil crayons.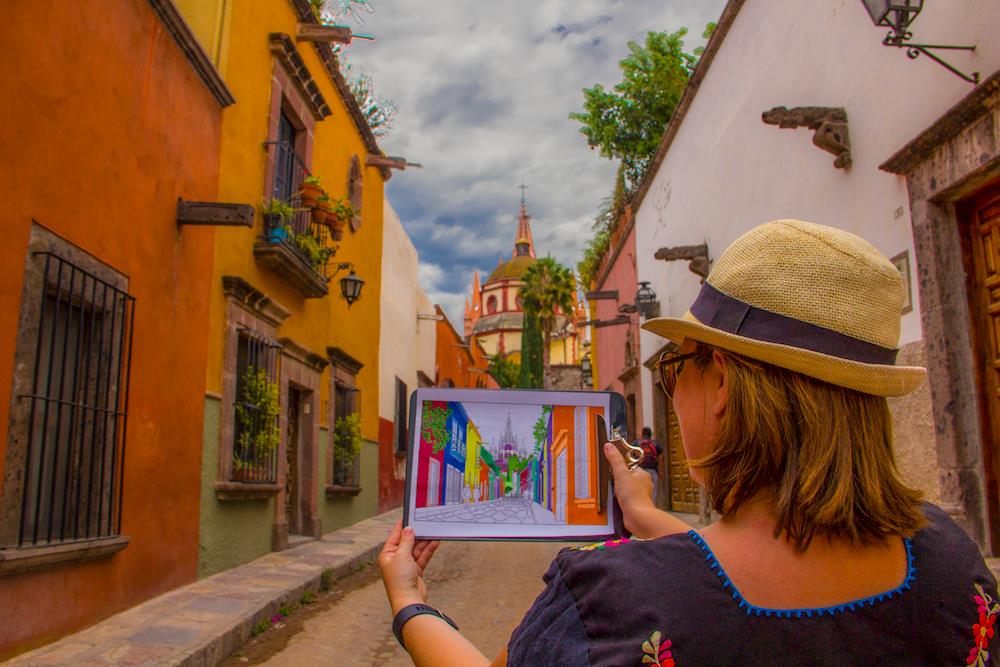 Once I thought of the concept, I started researching and had a holy crap moment when I saw how popular they were.
And that, really, was that.
Geoff took a bit of convincing…mostly, he wanted to understand what the adult in adult coloring book really means. But once he realized I was not, in fact, suggesting we go into the smut industry, he jumped on board immediately.
[/et_pb_text][et_pb_text admin_label="Text" background_layout="light" text_orientation="left" use_border_color="off" border_color="#ffffff" border_style="solid"]
The Race to Christmas
That was in mid-October 2015, about 7 weeks from Christmas. And given the looming promise of the Christmas shopping frenzy, we decided to just go for it, and see what happened.
Those 7 weeks were absolutely insane, as we talked to lawyers and accountants back in Canada, incorporated Wandertooth Media Inc. as a real business, poured through thousands of photos taken over the past decade to find the best images for a coloring book, found a freelance "tracer" to trace our photographs, and jumped head-first into the world of publishing and book marketing.
On December 18, we published our first adult coloring book, and on May 29, 2016, our second book — Coloring Mexico — hit the shelves.
Today, we're in Portugal working on Book #3 — Coloring Portugal — and our next stop is hopefully the eternal city – Rome – to create our first city-specific adult coloring book.
So far, it's been an insane ride. We have up days, when we sell a tonne of copies in a day, and we have down days, when we go for stretches without selling anything.
As my dad so eloquently describes being in small business: you're either sitting on the throne, or you're sitting on the shitter. And that really does feel accurate, to be honest.
But even on those days when we're sitting on the proverbial shitter, at least it's OUR shitter. And, frankly, the view is pretty awesome.