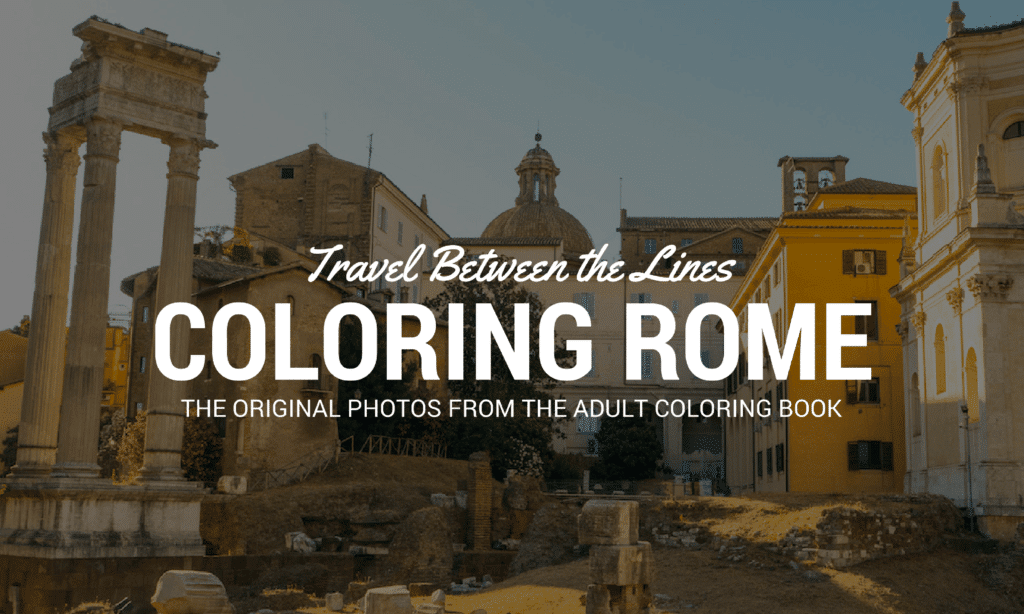 Introducing Our Rome Adult Coloring Book: Photos and Illustrations from Travel Between the Lines Coloring Rome Adult Coloring Book (Disclosure: Context Travel sponsored this book and this post contains affiliate links)
We're very excited to say our third adult coloring book, Travel Between the Lines Coloring Rome, is here, and available for purchase on Amazon!
This book came together like many things in our lives: as a happy and unexpected collaboration (see also: Travel Between the Lines Coloring Mexico).
We met Paul Bennett, the co-founder of Context Travel, at a travel blogger conference in Minneapolis at the end of May 2016. By mid-July, we were in Rome making an adult coloring book with his local team of experts, all of whom hold PhDs or Master's degrees in their fields: we visited the Ancient Roman port of Ostia Antica with an archaeologist, we visited some of Rome's most interesting churches with a medievalist, we toured Rome's historic center with an architect, and we saw the Sistine Chapel and some of Western civilization's most notable art with an art historian to guide us.
It was one of those experiences that we'll take with us and continue to digest for a long time. And we truly think it's something every traveler should at least consider when they visit Rome.
In the mean time, however, we're very excited to be able to share our experience in Rome, and Context Travel's version of Rome — a magical, bewildering city, in Paul's lovely words in the book's forward — through this new adult coloring book.
As with Coloring Mexico, we wanted to share all the original photos in one place.
We certainly understand if you're not interested, and want to color Rome from your own imagination. However, if you want to see the real time and place that led to this coloring book, page-by-page, this is the place.
This post is mostly about showcasing the photographs the book is based on. However, if you want to see each illustration in the book, as well, you can check out the gallery at the end!
We hope you enjoy Coloring Rome as much as we loved creating it.
In This Post You'll Find:
The Photos & Descriptions

(Each photo and description is posted in the same order as you'll find it in the book)
A Shop on Via del Moro, Trastevere

Tucked away from the monument-seeking crowds on the west bank of the River Tiber, Trastevere is one of central Rome's most alluring neighborhoods. Wander the tangled, colorful streets lined with cafés, shops, restaurants and bars, stop to catch a street performer, and soak in the unmistakable character as Trastevere comes alive in the evening.
Explore Trastevere in depth on Context's Jewish Ghetto Trastevere walk.
The Colosseum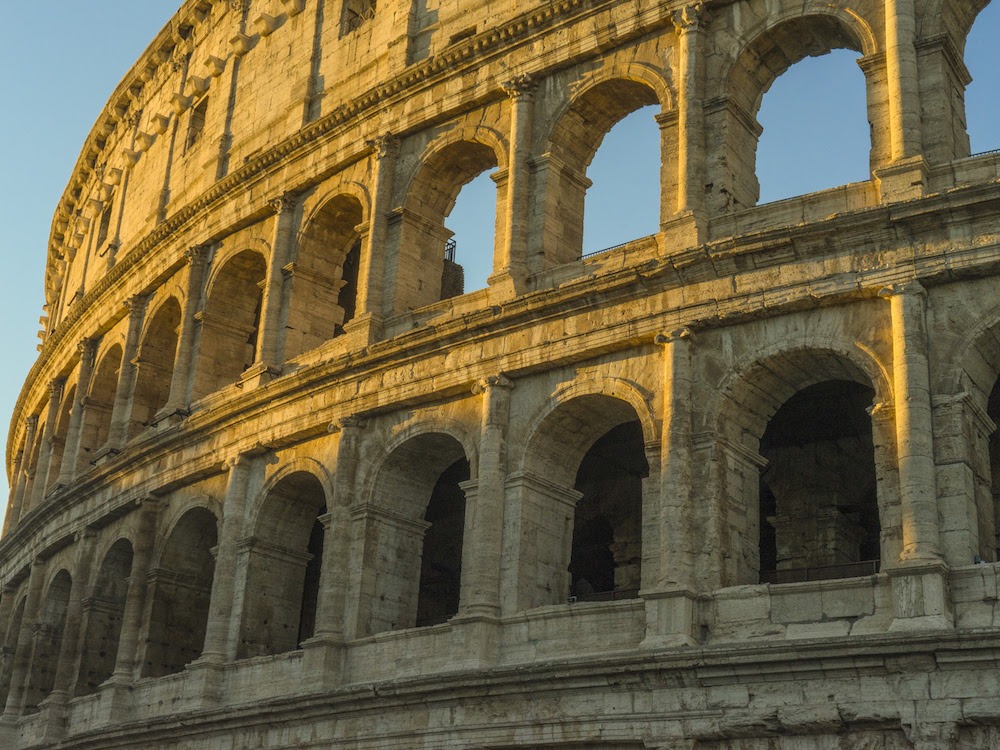 The brute and bloodshed associated with Imperial Rome's most iconic landmark played an important role in its social life, placating the general populous and projecting the strength and power of its rulers. One of the finest examples of ancient engineering that exists today, the Colosseum is a must-visit site during any visit to Rome.
Learn about life in Imperial Rome on Context's Colosseum and Imperial Rome and Roma Antica walks.
Wine Barrels and Vines in Trastevere

Walk just a few minutes from the bustling Piazza di Santa Maria, and you'll find dozens of restaurants, cafés and bars just like this, packed to the gills with locals and tourists awaiting your arrival for a traditional evening aperitivo.
Explore Trastevere in more depth with Context's Jewish Ghetto Trastevere walk.
Column in Piazza de' Massimi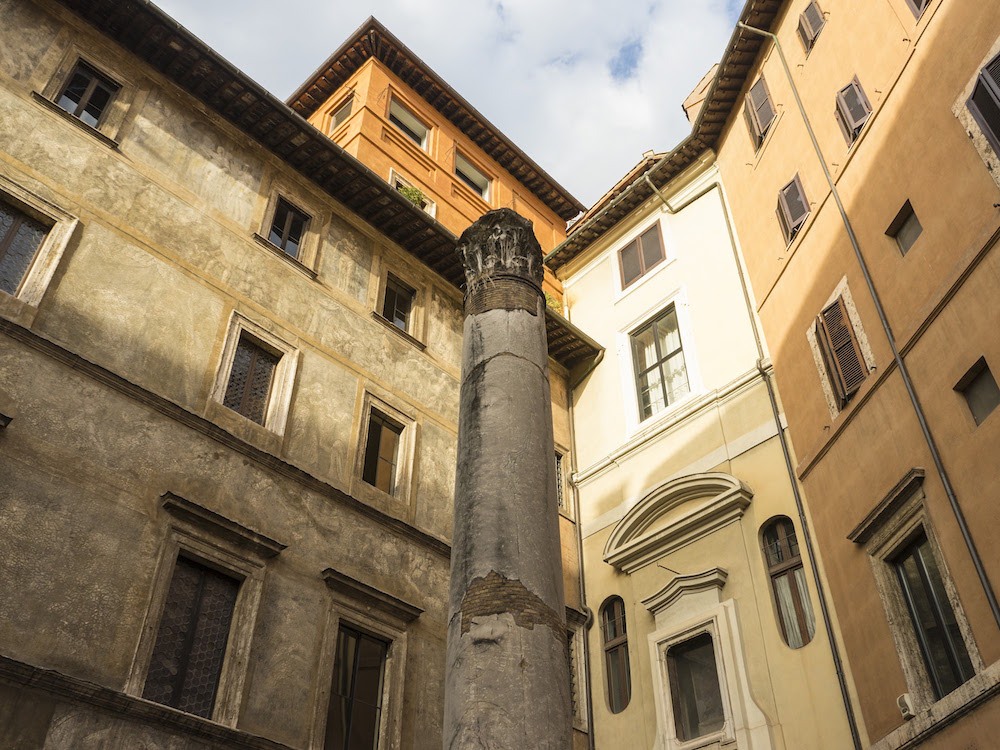 Rome is full of scenes such as this: ancient reminders woven into the city's modern life. Just south of Piazza Navona, Piazza de' Massimi sits on the former site of the ca. 1st-century Odeon of Domitian theatre. The column, placed here in 1950, is the only known remains of the Odeon. Despite the immense history of the site, today the Piazza serves a rather unceremonious purpose as a parking lot.
Via dei Cappellari near Campo de' Fiori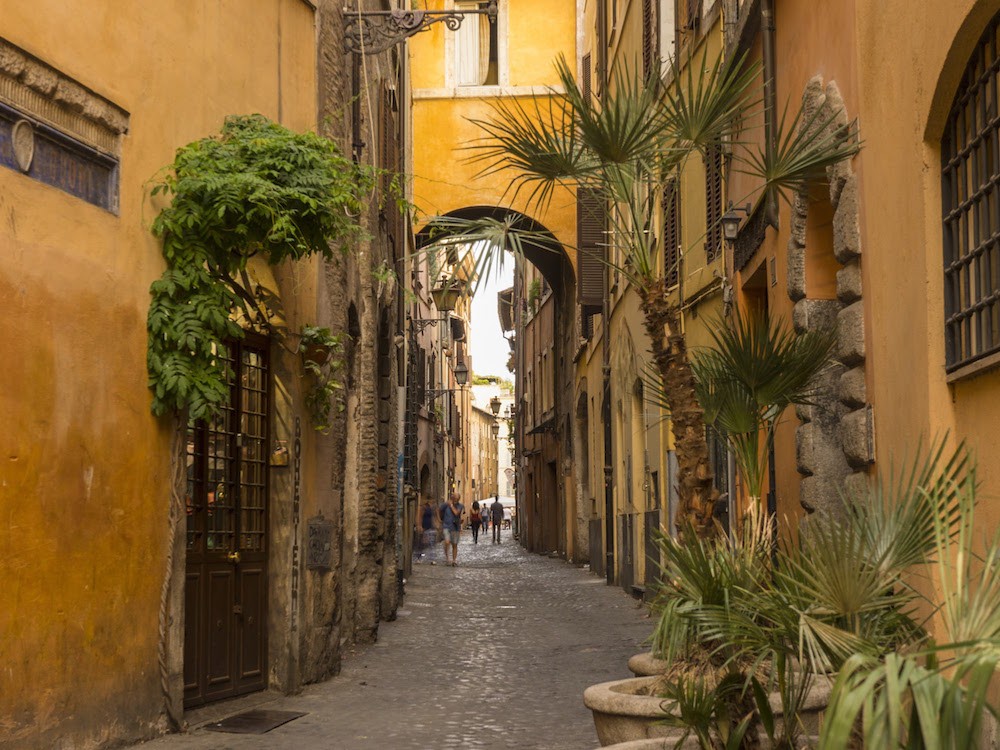 Step beyond the monuments and ancient history to enjoy the modern city burst to life in the evenings. In and around Piazza Navona and Campo de' Fiore, you'll find beautiful piazzas mixed with wine bars, boutiques and creative studios.
Get into the swing of things with Context's Evening Passeggiata walk.
Fountain and Obelisk in Piazza della Rotonda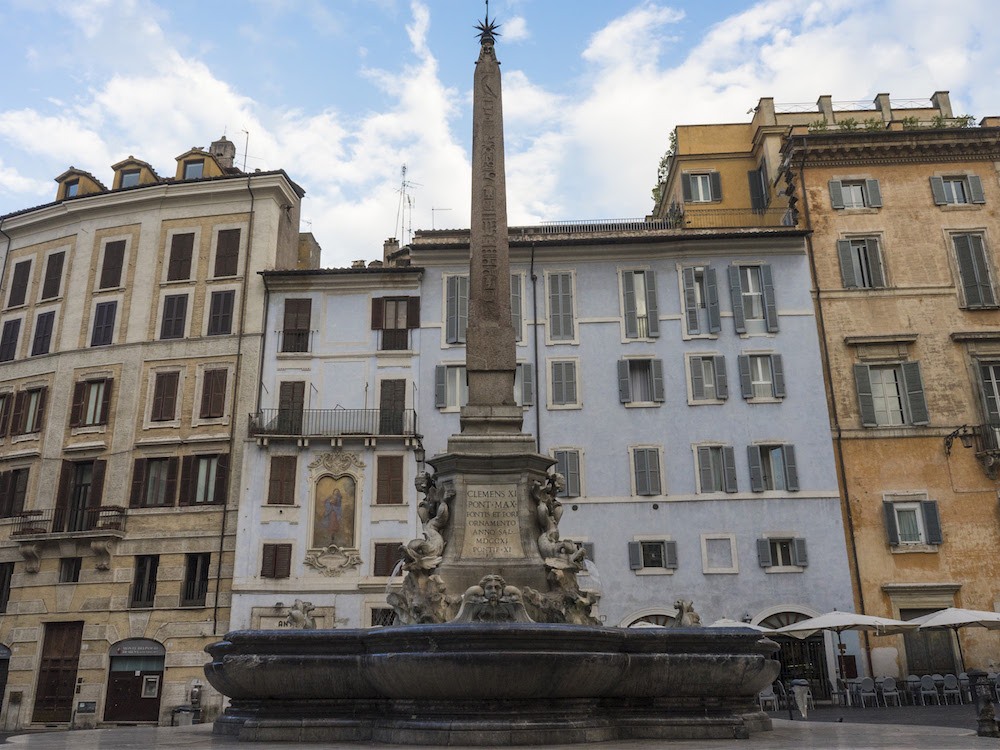 Multicolor buildings serve as a backdrop to the Renaissance fountain and Egyptian obelisk in Piazza della Rotonda, which takes its name from the round shape of the Pantheon along its southern edge. The star at the top of the obelisk references Pope Clemente XI, who ordered the fountain re-done and the obelisk added in the 17th century.
Learn more about the Pantheon and area on Context's Caesar and Empire and Building Rome walks.
Read about our experience on the Caesar and Empire Walk here!
Temples of Apollo and Bellona Ruins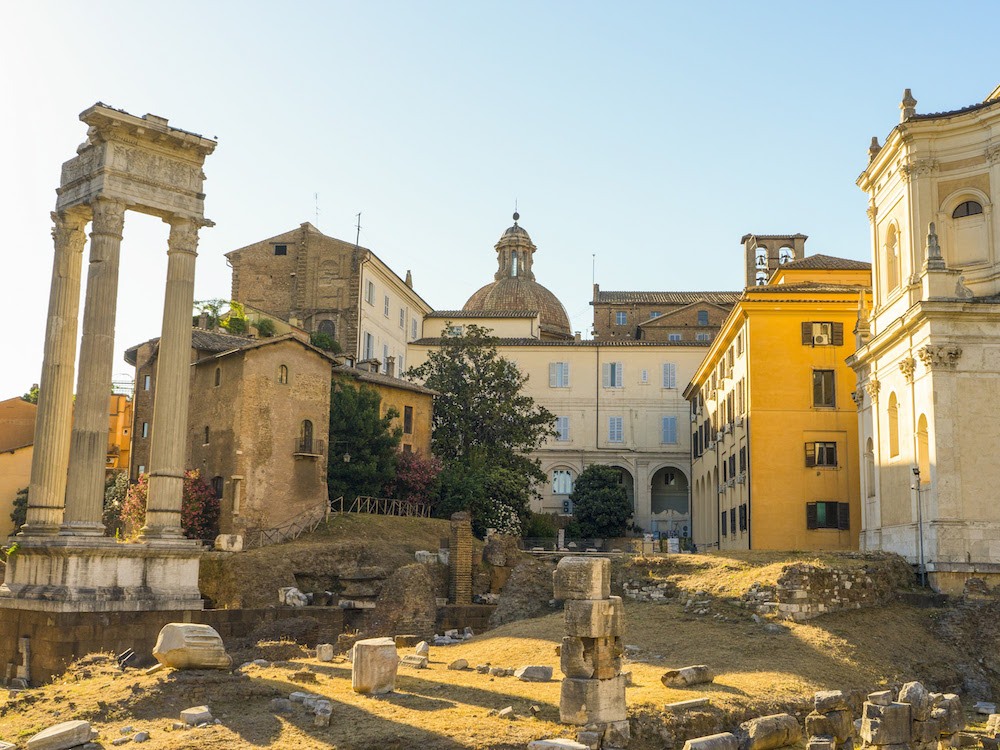 Next to the ancient, open-air Teatro di Marcello sit the three remaining columns of the Temple of Apollo and the ruined podium to the Temple of Bellona, Goddess of War. Lying outside Ancient Rome's city boundary and defensive walls, these first- and third-century BC temples served as a place to meet ambassadors from non-allied countries and armed generals not permitted to enter the city. It was also here that Roman senators met to discuss and symbolically declare war on enemy states.
Explore central Rome's ancient history on Context's Caesar and Empire walk.
Read about our experience on the Caesar and Empire Walk here!
A Fiat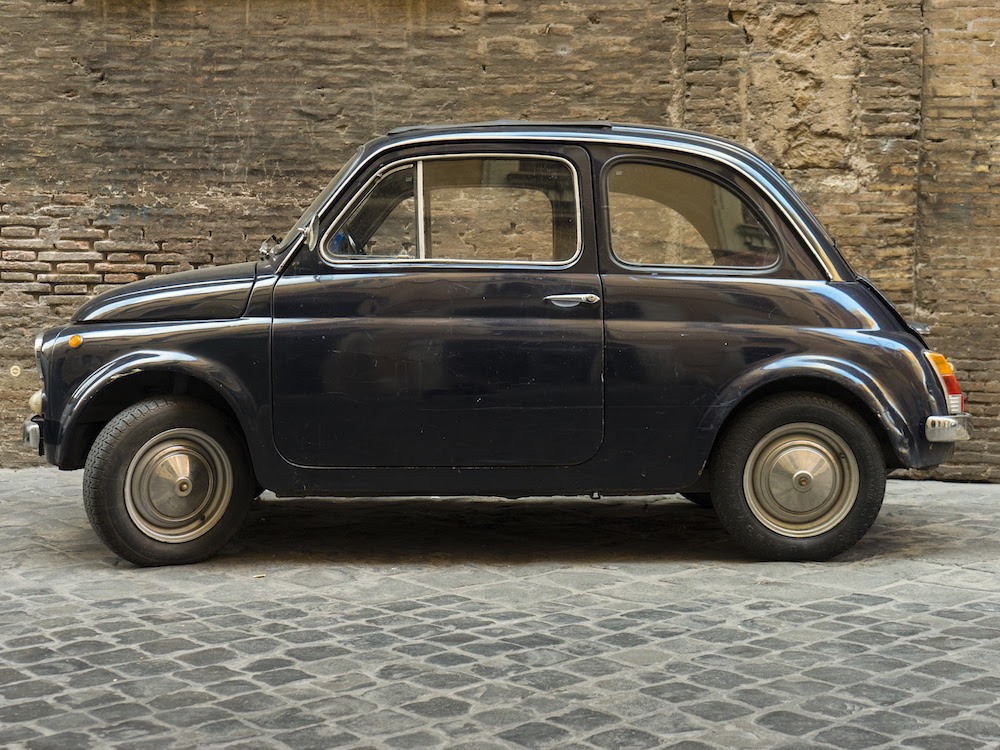 Born at the end of the 19th century as Italy began to industrialize, Fiats are part and parcel with Italy's modern identity and pride. Today, the jellybean-shaped Fiat 500 can be found all over Rome, offering bright pops of color against the muted, Renaissance colors of Rome's many cobbled alleys.
Street Scene along Via dei Banchi Vecchi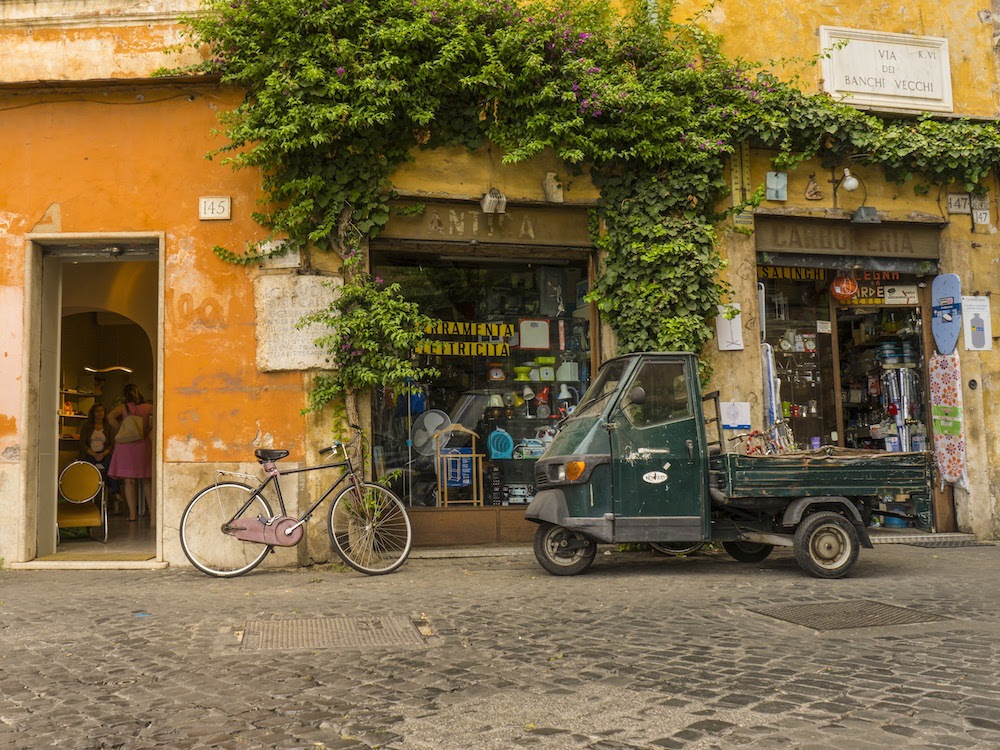 Dotted amongst boutiques, wine bars, galleries, and cafés, mom and pop shops continue to survive even in Rome's most visited areas. Here, a shop selling everything and anything sits on Via dei Banchi Vecchi, a picturesque street near Campo de' Fiore.
A Piece of History At Ostia Antica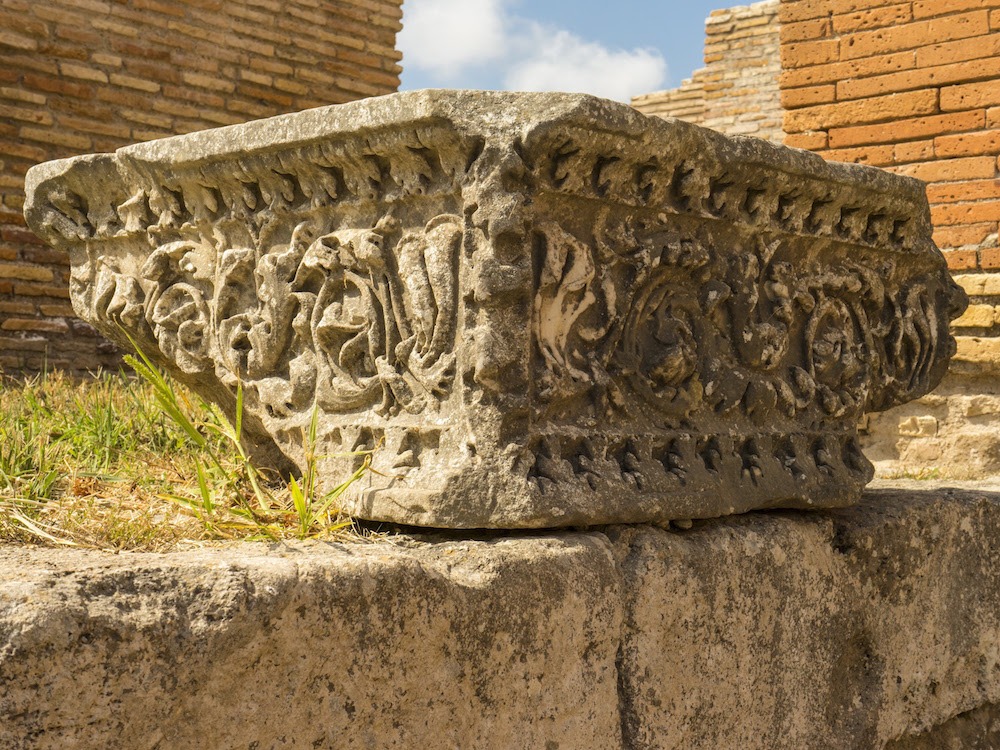 The ancient port of Ostia Antica lies just outside the city in an easily accessible suburb. Away from the grandness and the splendor, Ostia houses the clues that show how real Romans lived.
Join an archaeologist or classical historian on a half-day trip to the ancient Roman port city of Ostia Antica.
Read about our trip to Ostia Antica with Context Travel here!
A Stately Building in Trastevere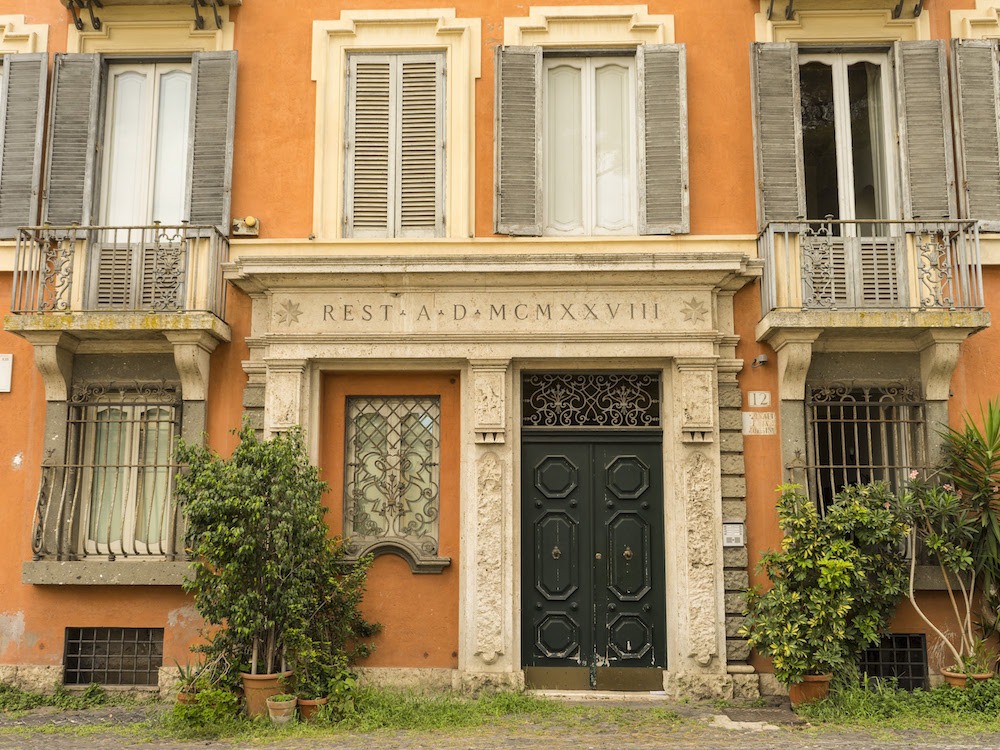 Wandering the serpentine streets of Trastevere, you're sure to come across elegant buildings and homes such as this one, which sits on Via Corsini near Villa Farnesina and the Botanical Gardens.
Explore Trastevere in depth on Context's Jewish Ghetto Trastevere walk.
An Elegant Street Near Piazza della Rotonda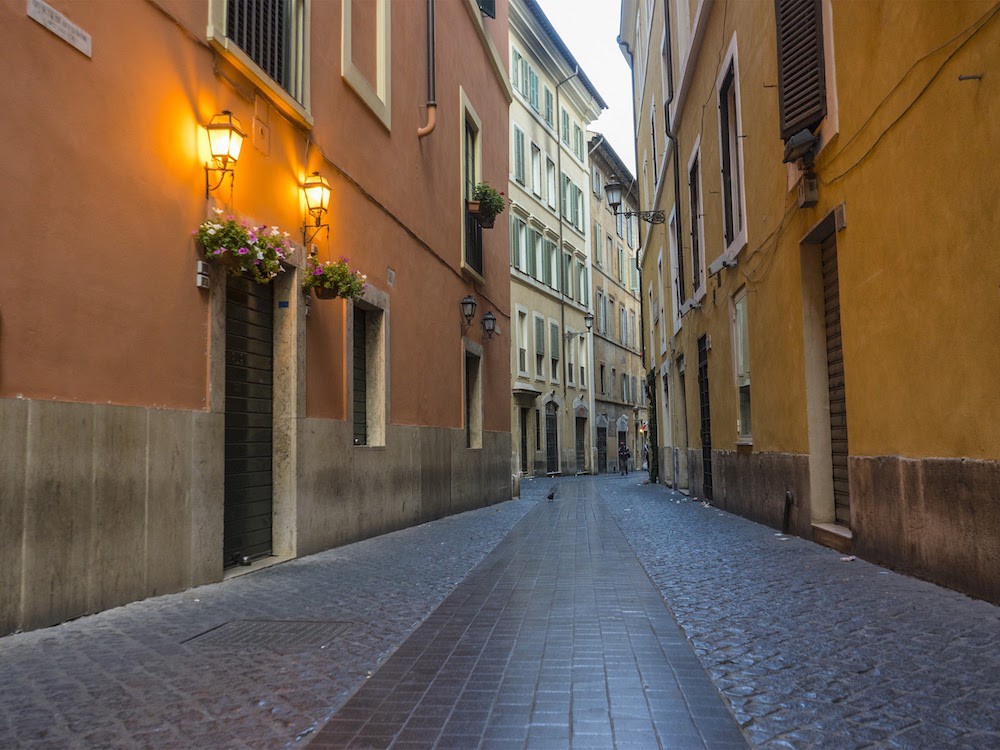 In the face of ancient Rome's most impressive structures, it's easy to overlook the undeniable elegance of the modern-day city. After admiring the Pantheon, allow yourself time to get lost in the picturesque streets nearby.
Villa Farnesina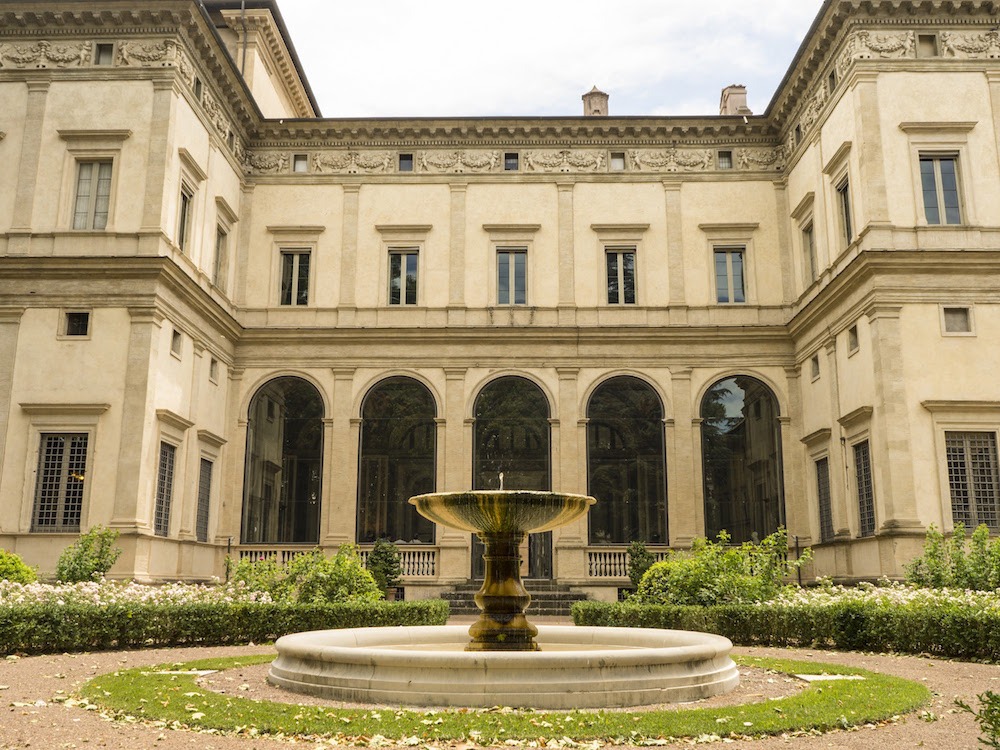 A tranquil Renaissance villa set apart from the crowds, this former private villa houses masterpiece frescoes by Raphael. Wander across the Tiber and through the elegant streets of Trastevere to find it.
Delve into the myths of Raphael's frescoes with Context's private Myths for Families walk.
(If you're heading to Rome with kids, check out Context's complete listing of family-focused walks and check out Paul's post about visiting the Colosseum with kids.)
Santa Maria di Loreto, SS Nome di Maria, and Trajan's Column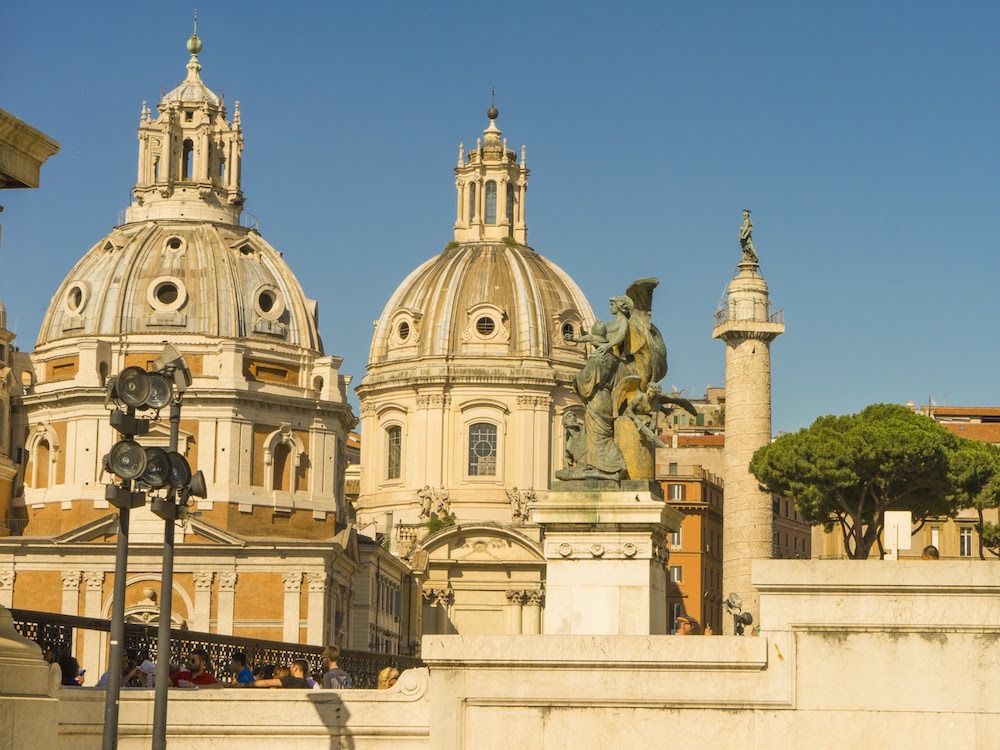 Standing on the steps of Il Vittoriano above Piazza Venezia, it's hard not to be impressed with this view, featuring Trajan's Column — a visual war diary of Emperor Trajan's victories against the Dacians in 101 and 106 AD, with a statue of St. Peter on top — to the right of the two church domes. If you want a panoramic view of Rome, take the lift to the top of Il Vittoriano while you're in the area.
Explore more on Context's Power and Propaganda and Colosseum and Imperial Rome walks.
Ivy Covered Building Along Via dei Banchi Vecchi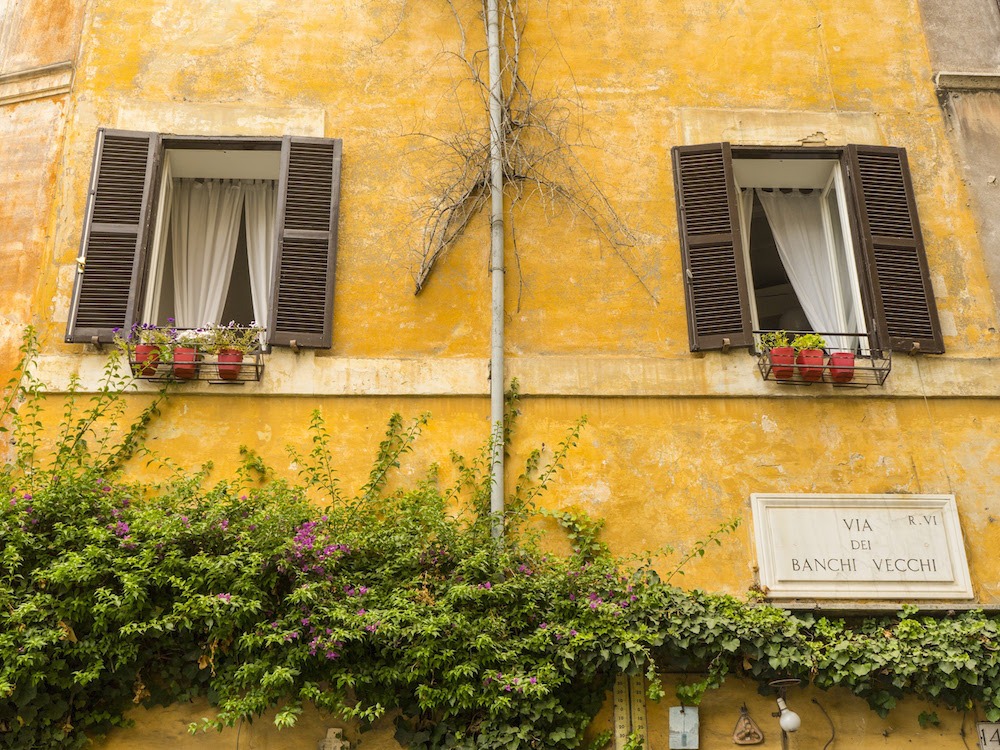 A narrow street running parallel to the better-known Via Giulia, Via dei Banchi Vecchi takes its name from the bankers who used to live and do business on this street. Today, you'll find an eclectic mix of galleries, antiques, jewellers and restaurants.
Uncover the most beautiful streets in Rome during on of Context's Evening Passeggiata walks.
Fountain and Clock Tower in Piazza di Santa Maria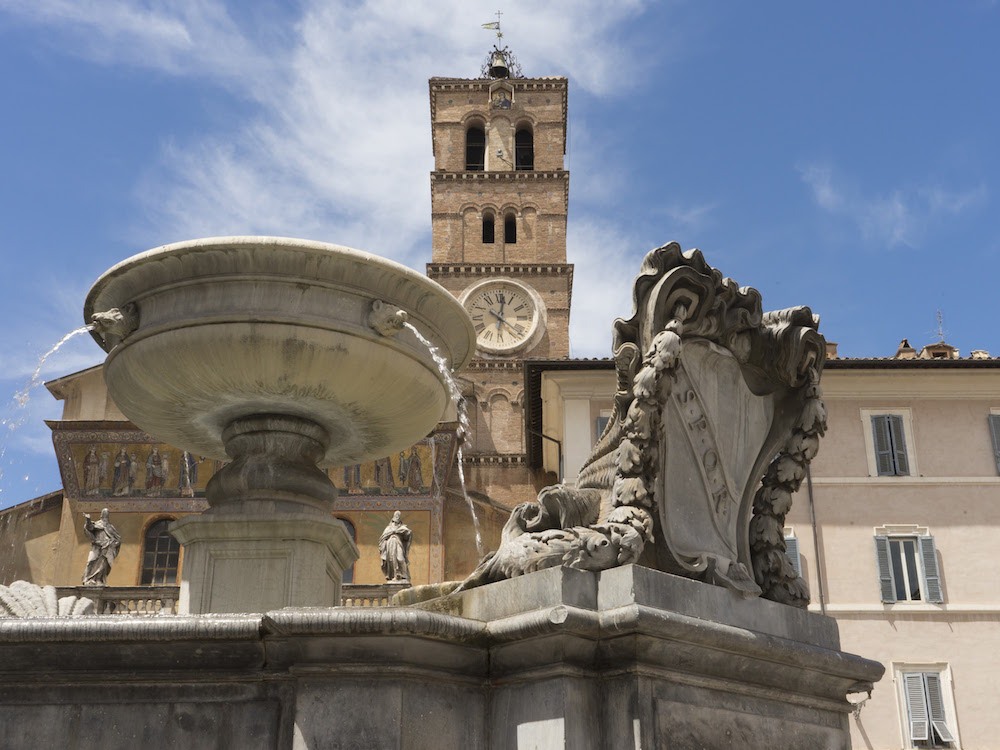 Juxtaposing modern life with the ancient story of Rome's first Christians, Piazza di Santa Maria is home to both nightlife and one of the oldest Christian sites in the world, the church of Santa Maria in Trastevere. Calmest in the mornings when you can watch locals going about their business and visitors in search of cappuccino e cornetto, the square bursts to life over the course of the day as street performers entertain and revelers move in to rest, socialize and enjoy a drink around the fountain.
Learn how early Christians and Jews shaped Rome on Context's Jewish Ghetto Trastevere walk.
Monuments and History Along the Imperial Fora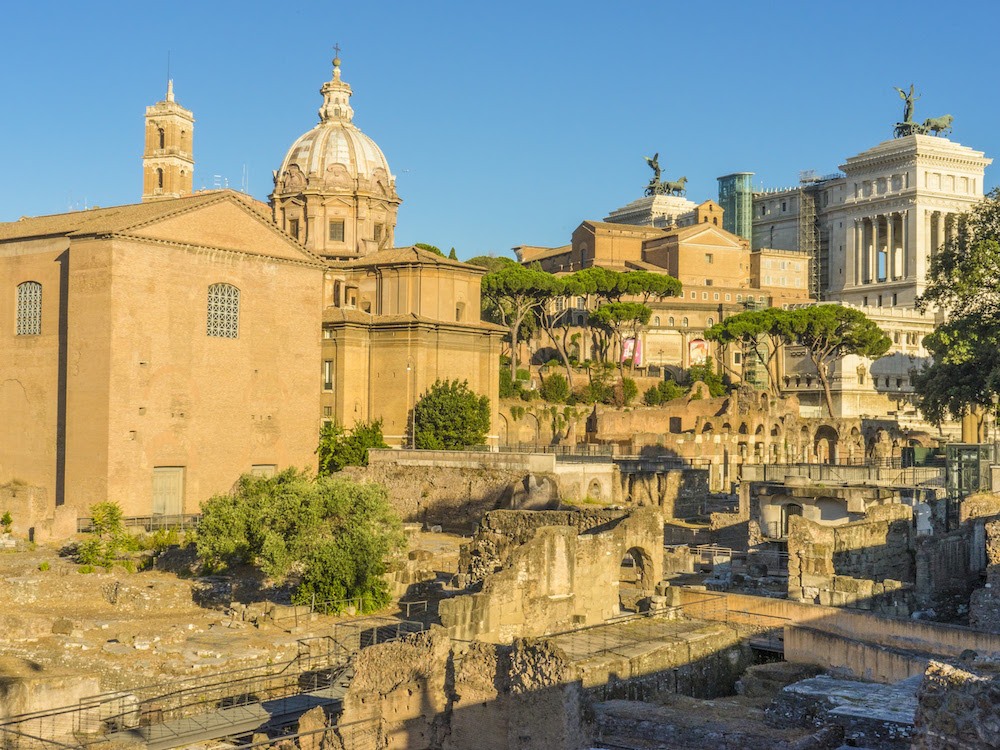 Layers of Rome, both ancient and modern, can be seen along the short stroll from the Colosseum to Piazza Venezia. Here, we can see Curia Iulia, Chiesa dei Santi Luca e Martina, Foro di Cesare, and the Vittoriano.
Spot the historical and architectural layers of Rome on Context's Roma Antica walk.
The Trevi Fountain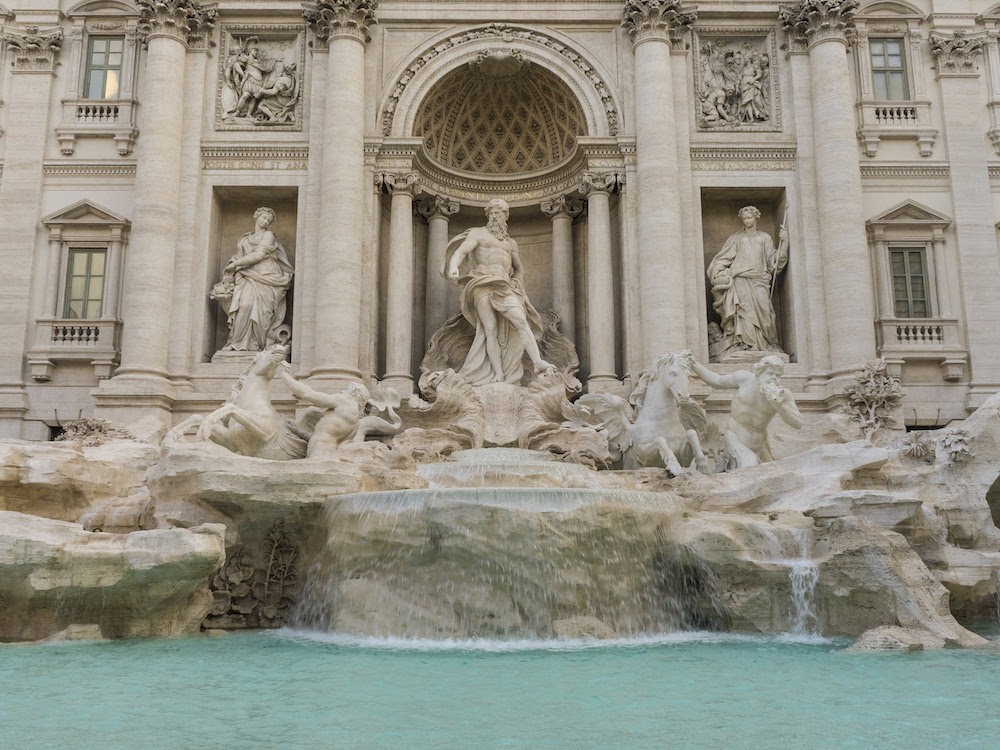 Built in the 18th century to replace an existing, more modest fountain, the Trevi Fountain marks the terminus of Agrippa's 1st century BC Virgo aqueduct, and continues to be fed by the very same spring more than 2,000 years later. Throw one coin over your right shoulder into the fountain, so the story goes, and you'll be sure to return to Rome one day.
Get to know Rome and the exquisite Tridente neighborhood on Context's Rome Orientation walk.
Trajan's Market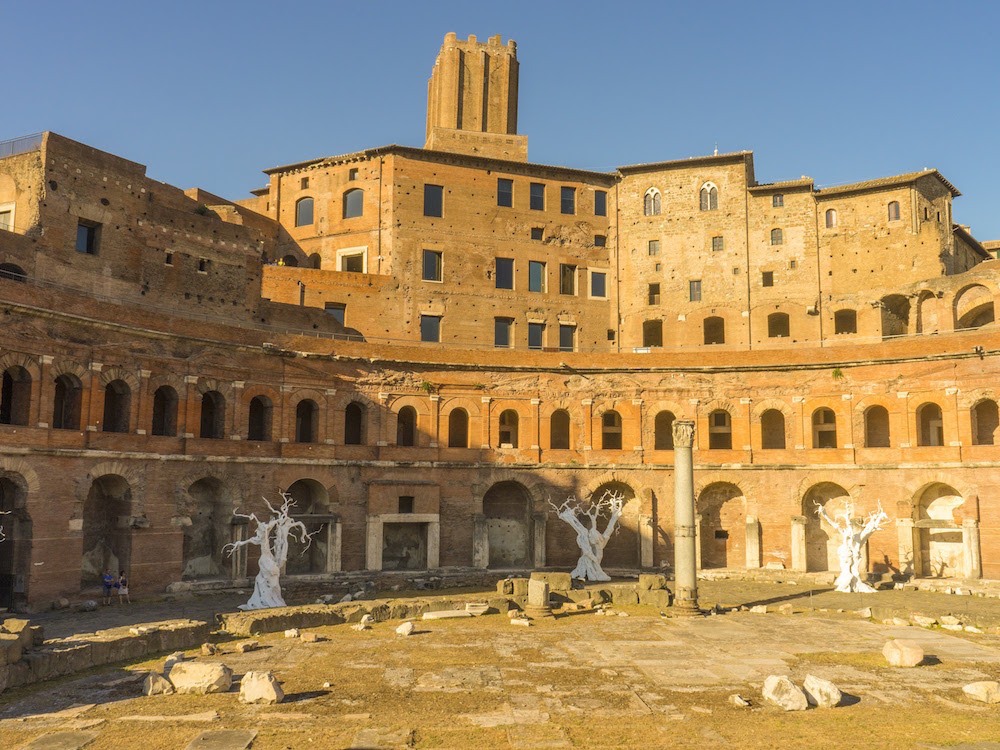 A visit to Trajan's Market hints at the everyday lives of Ancient Romans. Known colloquially as the world's oldest shopping center, Trajan's Market was part of the larger Trajan's Forum, and served for two centuries as a center of commerce and trade. Learn More on Context's Roma Antica, from the Roman Forum to the Colosseum; Colosseum and Imperial Rome; and Ancient Rome Discovery walks.
Piazza della Rotunda and the Pantheon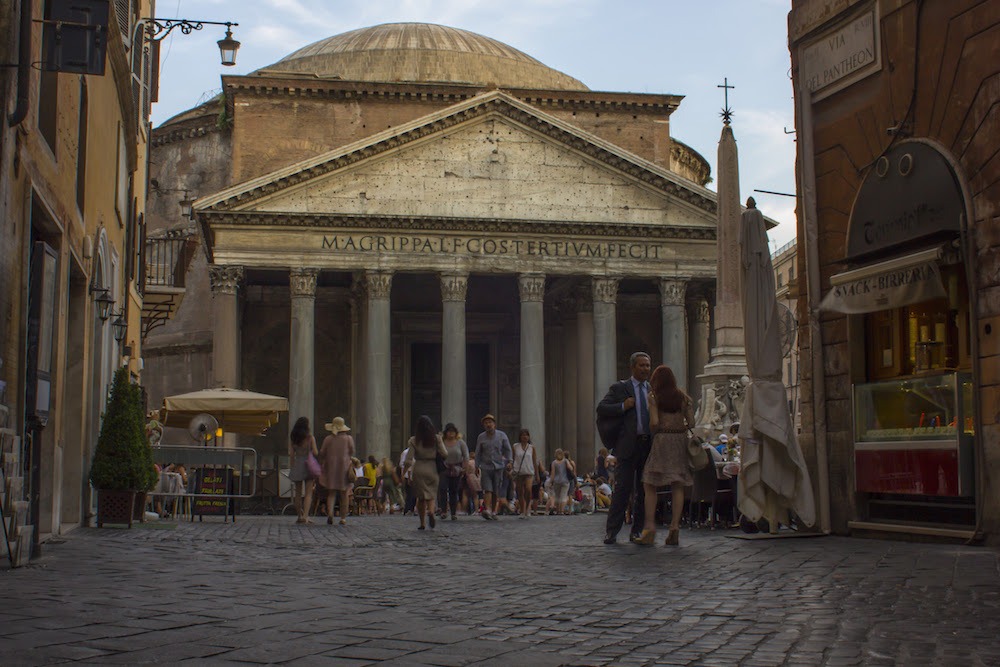 In ancient times, this scene might have looked quite different, with wide stairs leading up to the Pantheon's portico. Today, modern Rome is built above the ancient city, and day-to-day life mixes with the greatest feat of concrete construction ever: the Pantheon.
Uncover more secrets of Rome's most notable architecture on Context's Caesar and Empire walk.
Read about our experience on the Caesar and Empire Walk here!
A Café and Doorway Along Via dei Cappellari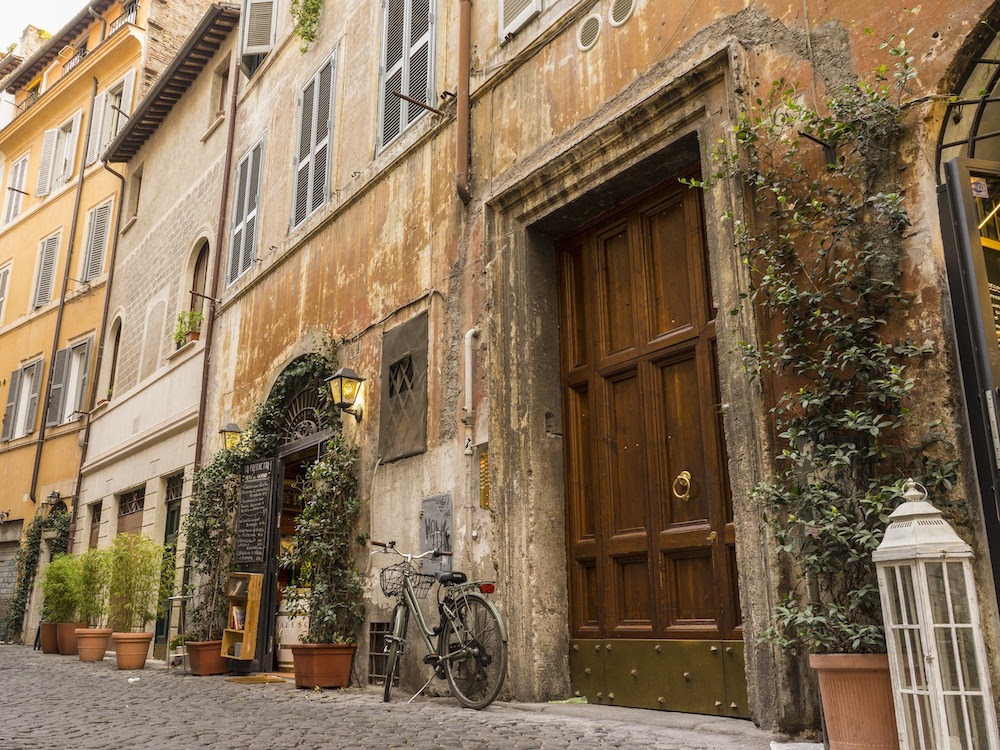 In the evenings, do as the Romans do and fare una passeggiata (take a stroll) through Rome's most beautiful streets and piazzas. Historically, the area around Campo de' Fiore was filled with tradespeople, their businesses bestowing the names on each street. Pretty Via dei Cappellari was the hat-maker's street, and is today filled with cafés and boutiques.
Join Context's Evening Passeggiata walk for a leisurely introduction to the city at twilight.
Fontana del Mascherone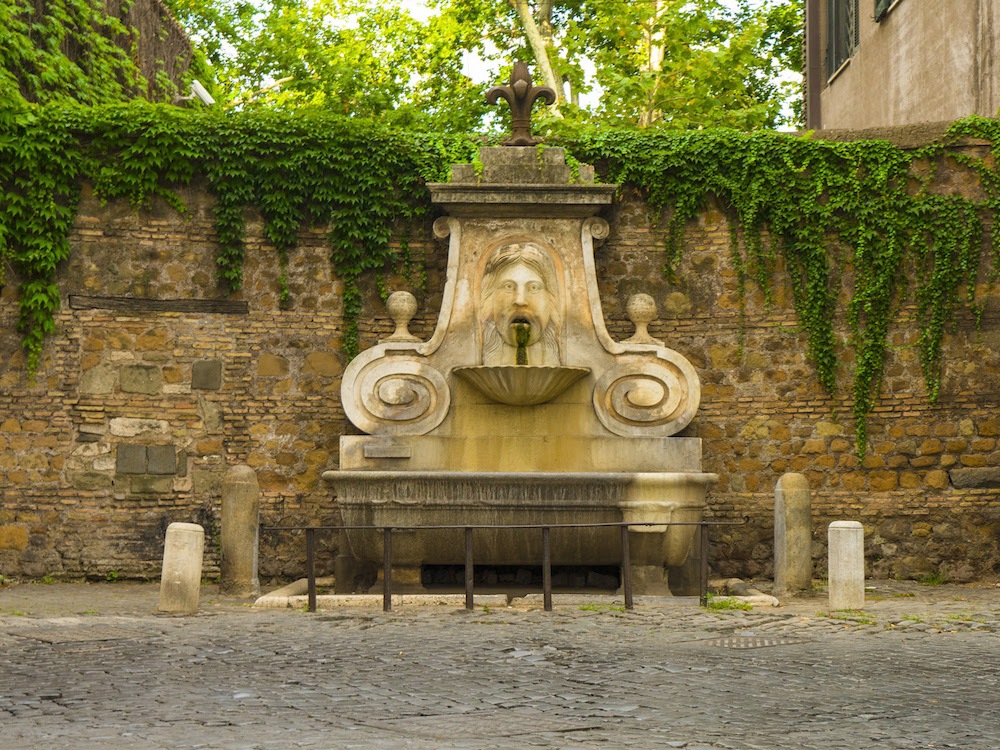 Commissioned by the wealthy Renaissance Farnese family, this grotesque mask fountain behind Palazzo Farnese near Campo de' Fiore occasionally poured wine, rather than water, during festivals, feasts, and family celebrations. The fleur de lis at the top of the fountain is a symbol of the House of Farnese.
Discover the power struggles and politics of Renaissance Rome's most influential families on Context's Popes, Power and Parties walk.
Read More:
Horrea Epagathiana at Ostia Antica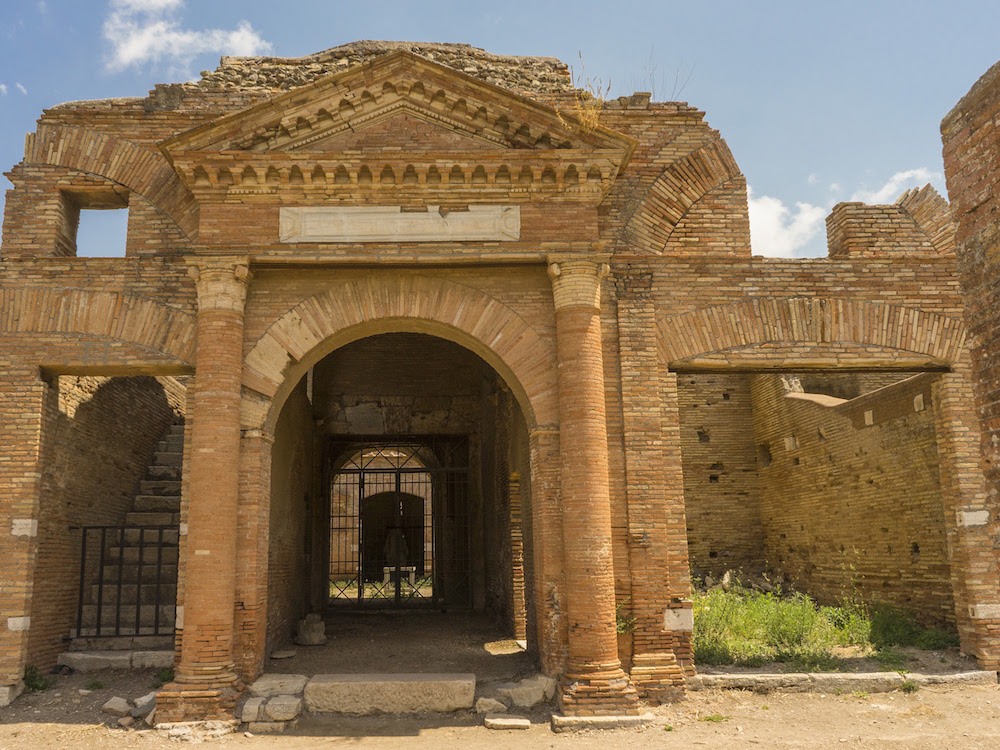 Warehouses such as this mid-2nd-century building at Ostia Antica played a key role in maintaining life in the Ancient Roman capital, storing the grain and riches needed to feed the population and grow the empire. This warehouse was owned by the freedmen Epagathus and Epaphroditus, former slaves-turned-entrepreneurs.
Learn about the everyday life of Ancient Romans on Context's Ostia Antica trip.
Read about our trip to Ostia Antica with Context Travel here!
Ruins of the Baths of Agrippa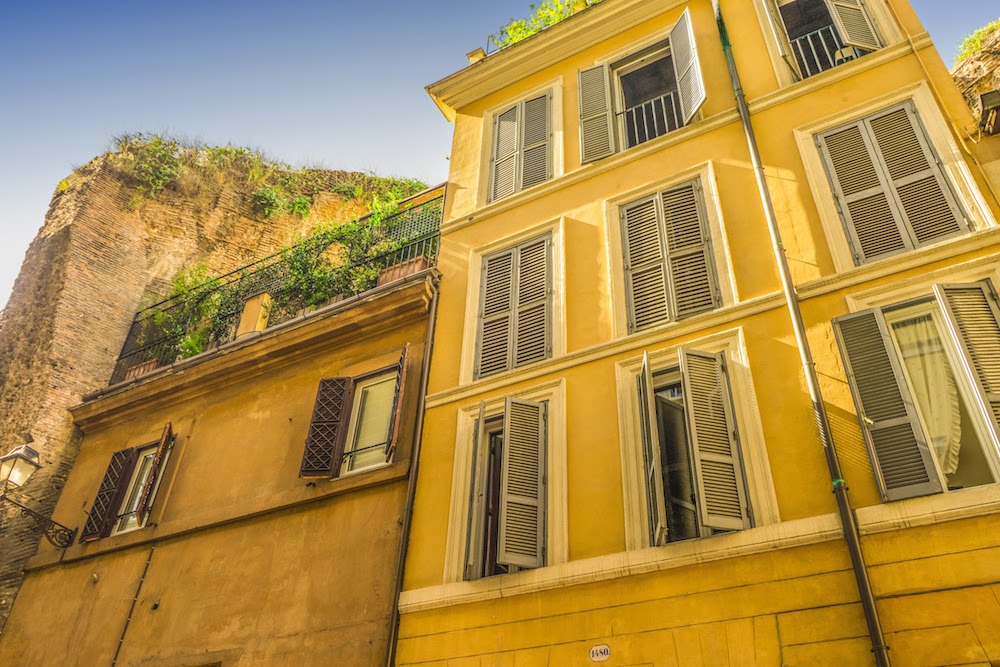 The brick remains of Rome's first public baths — the 1st century BC Baths of Agrippa — can be seen built into modern buildings along Via Arco Della Ciambella. A ciambella is a small Italian bundt cake, or Italian doughnut, and this street takes its name from the doughnut-like shape of the walls (imagination required).
Learn how Ancient Rome is interwoven into the modern city on Context's Caesar and Empire walk.
Read about our experience on the Caesar and Empire Walk here!
A Tobacco Shop in Piazza Navona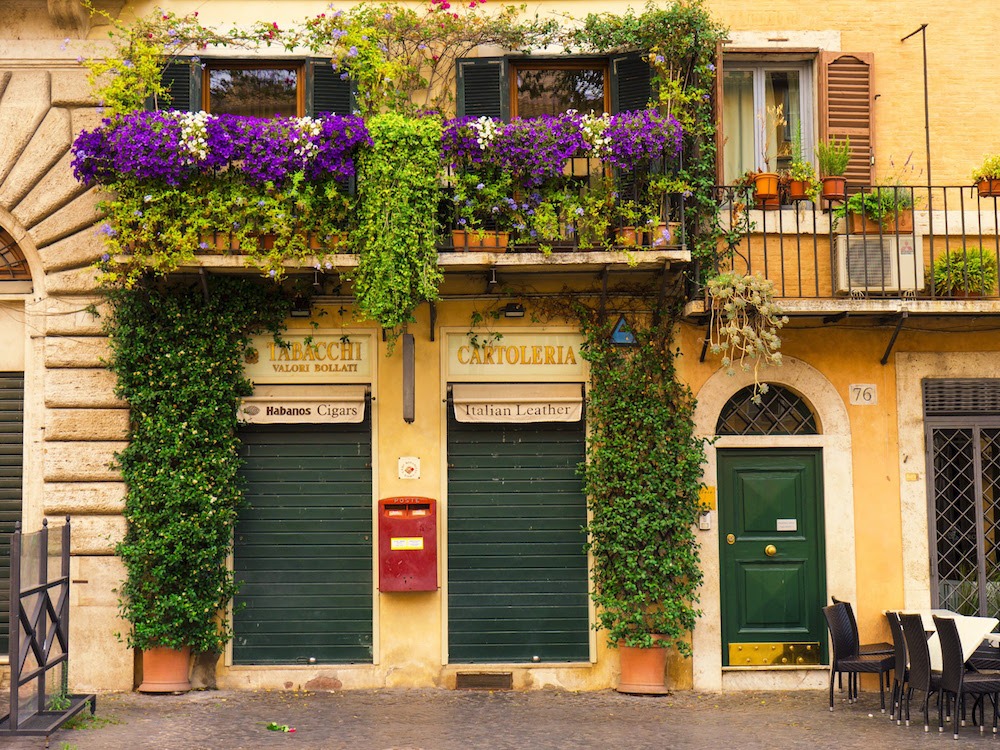 Beyond the monuments, the history, and the food, a trip to Rome is all about enjoying the little details, such as the trailing ivy, flowers and old-world details on this pretty shop in Piazza Navona.
The Fountain of Neptune in Piazza Navona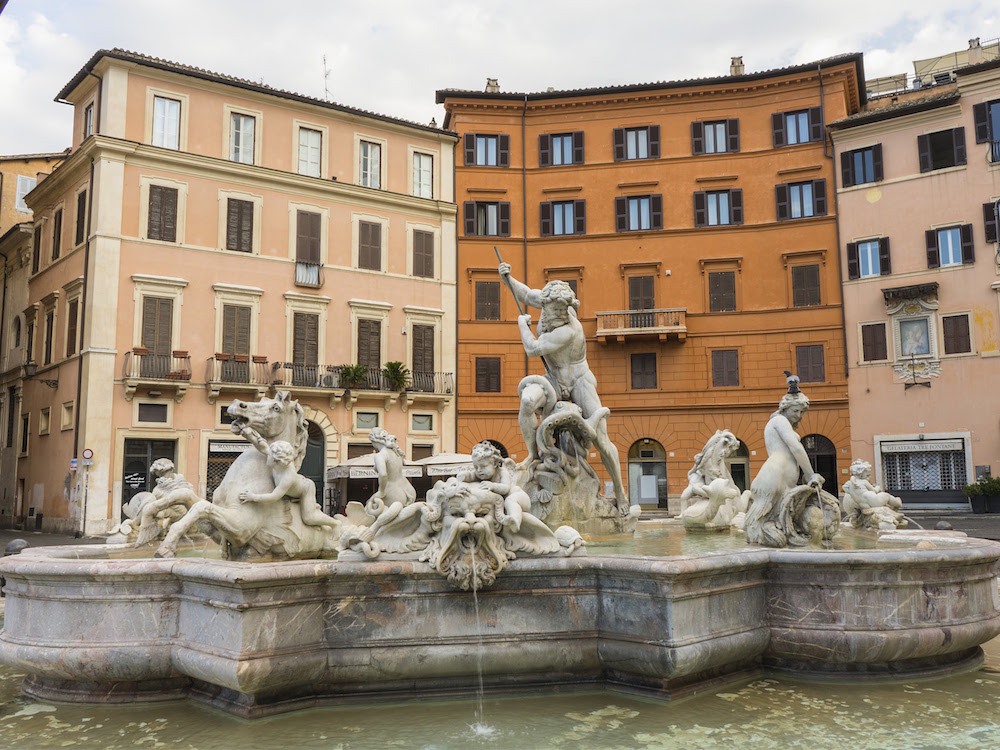 Despite the crowds, it's near impossible to not be enchanted by Piazza Navona, one of Rome's grandest and most beautiful piazzas. Grab a table at one of the many outdoor cafés that line the square for some of Rome's most interesting people watching, and then admire each of the three extraordinary fountains.
Learn about the political and historical background of Piazza Navona during Context's Evening Passeggiata walk.
Ponte Sisto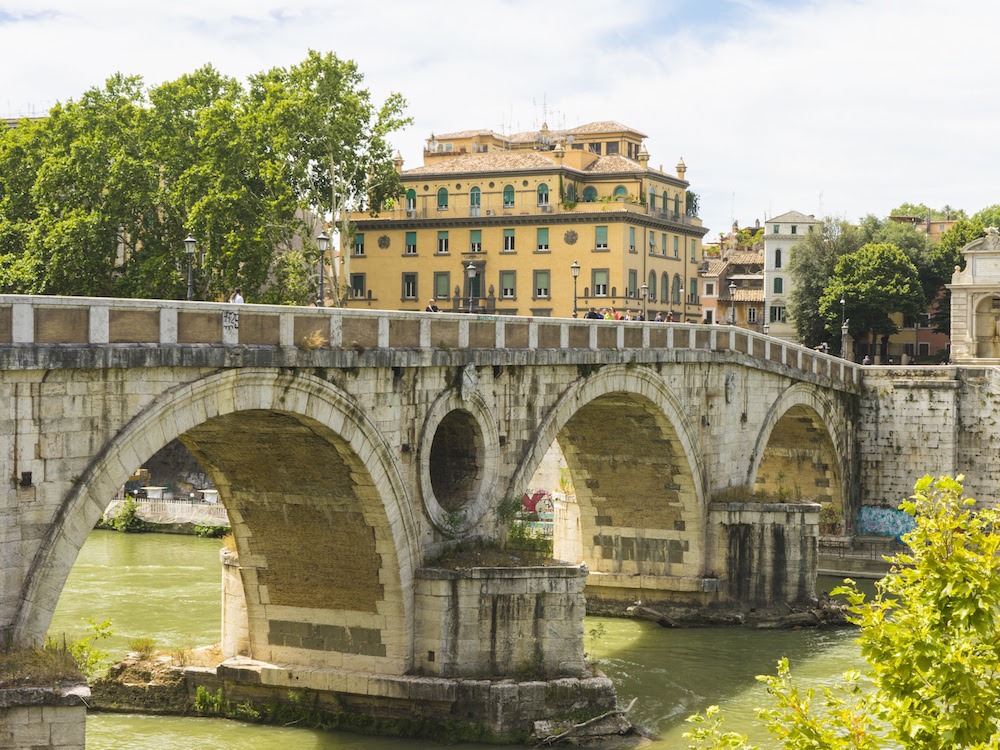 Ponte Sisto has spanned the Tiber for more than 500 years, connecting the east- bank Rione of Regola to Trastevere on the west. For a truly Roman experience, enjoy a leisurely stroll from Campo de' Fiori along Via dei Pettinari, crossing Ponte Sisto to Piazza Trilussa in the evening. If you get tired, do as the Romans do and stop to enjoy an aperitivo.
Explore this vibrant area at its liveliest with Context's Evening Passeggiata walk.
A Café in Tridente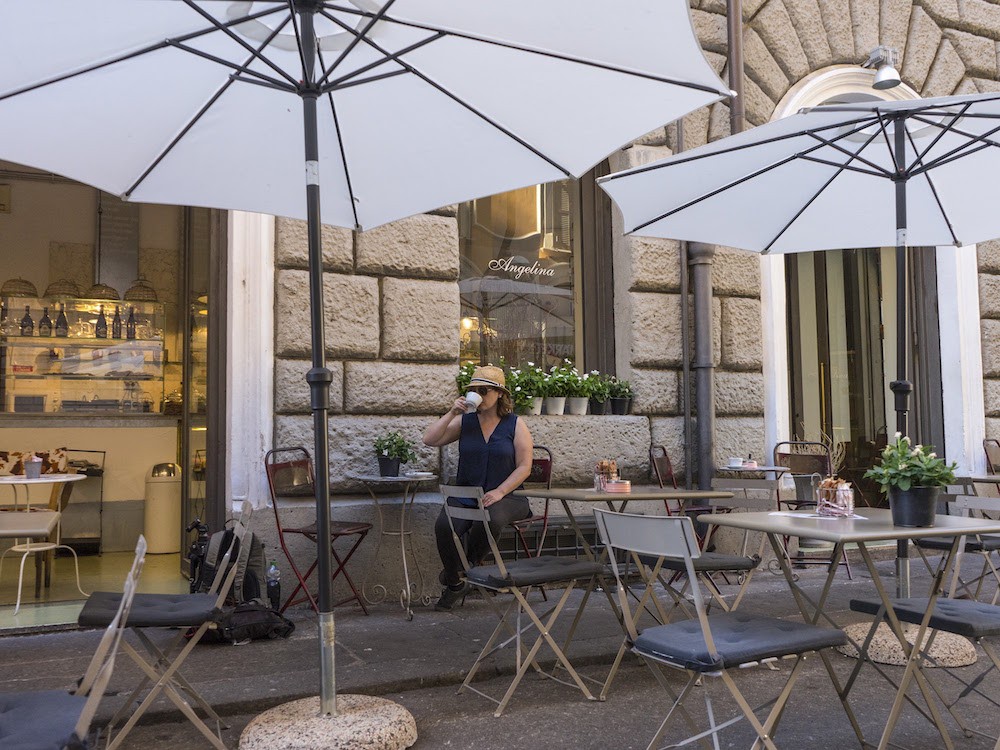 Enjoying cappuccino e cornetto (cappuccino and sweet croissant) is a simple morning pleasure in Rome. Just be sure not to repeat the same treat in the afternoon: after you've eaten, milk has no place in Italian coffee.
Explore Rome's Tridente neighborhood on Context's Rome Orientation walk, or delve into Italian food and culture on one of four culinary experiences.
Looking Up at Modern Rome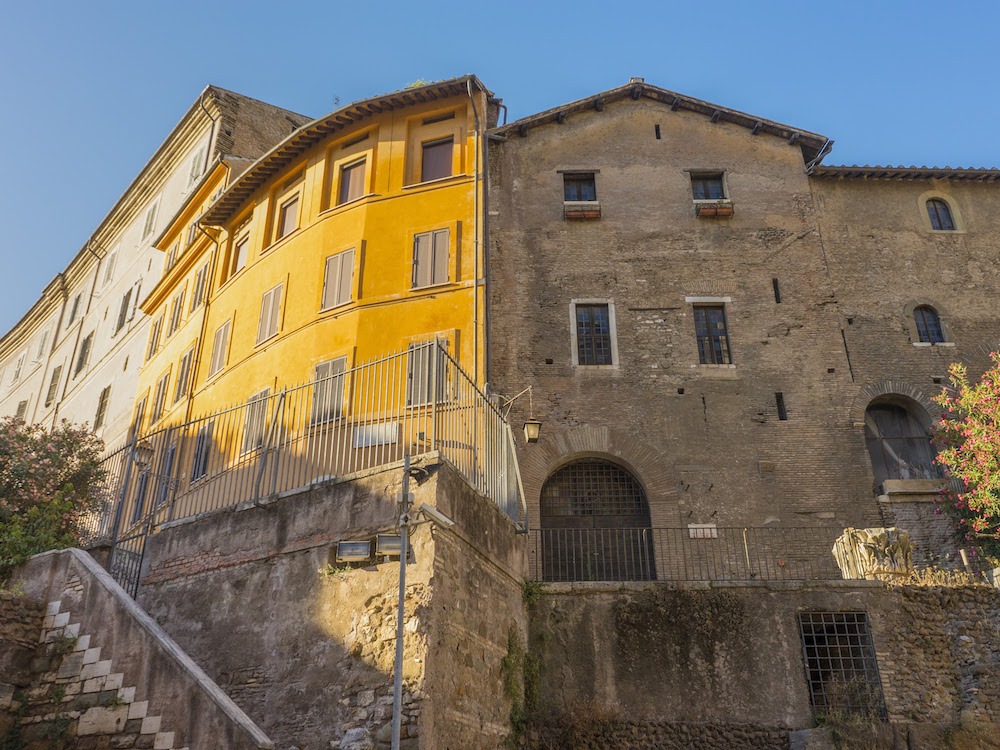 Ancient Rome lies beneath the modern city, and once you know this, it's impossible not to look for the centuries of architectural layering. Here at Teatro Marcello, it's easy to spot the modern city built atop the ancient one.
Spot the layers of modern and ancient Rome during Context's Caesar and Empire walk.
Read about our experience on the Caesar and Empire Walk here!
View of Rome from Atop the Janiculum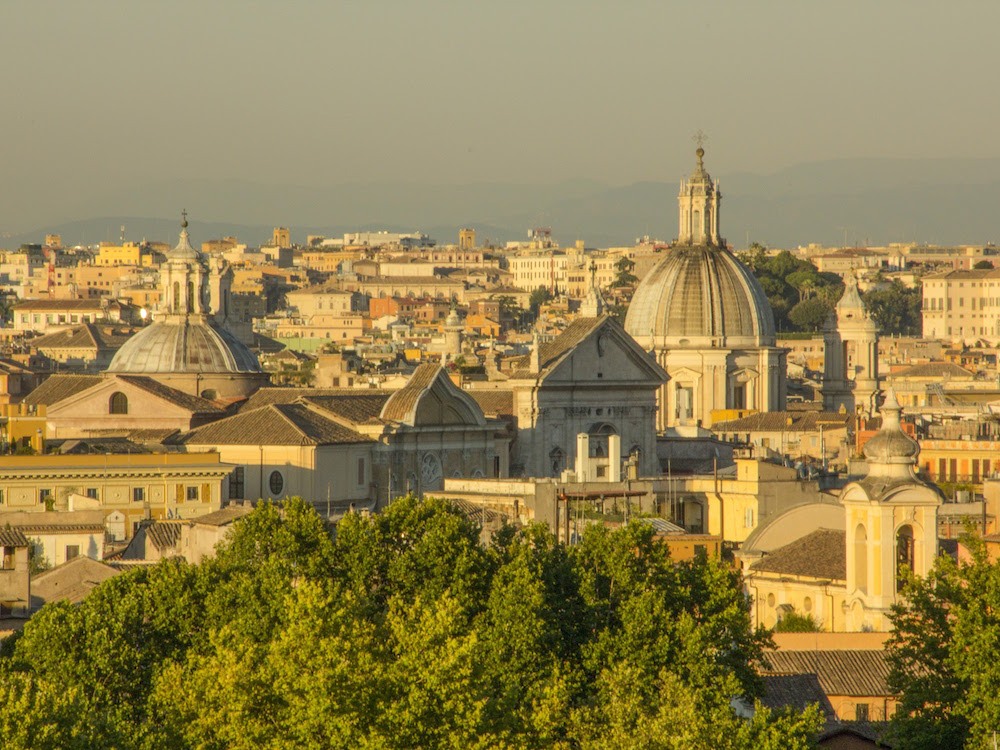 Ancient Rome was built around seven hills, but it's the eighth hill – the Janiculum (or Gianicolo, depending on spelling) – where you'll catch the best view. Pack some food and a bottle of wine, and enjoy the view from the top or at any of the lookouts on the walk down.
Want more tips for Rome? Check out our Rome Travel Tips post!
Castel Sant'Angelo and Ponte Sant'Angelo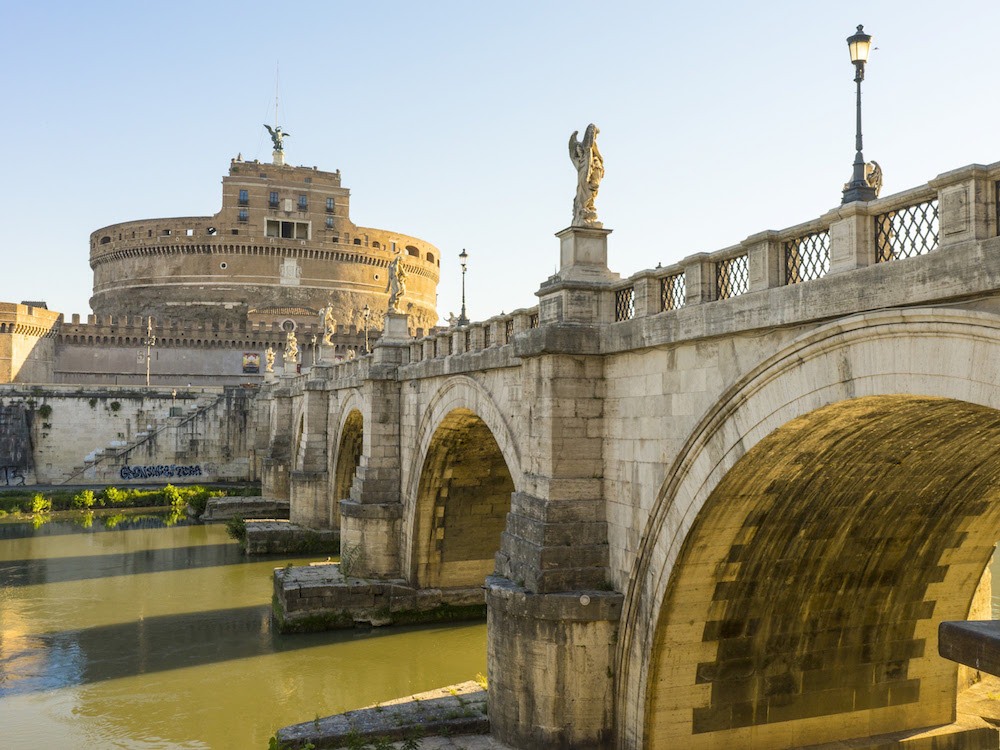 Built as a mausoleum for the 2nd-century Roman Emperor Hadrian, Popes later took advantage of its proximity to the Vatican, surviving sieges and sackings by converting it to a defensive fortress connected to St. Peter's. The eponymous angel comes from competing legends of either the Archangel Michael or a nameless angel, which appeared at the top of the fortress to signal the end of a plague.
Palazzo Mattei di Giove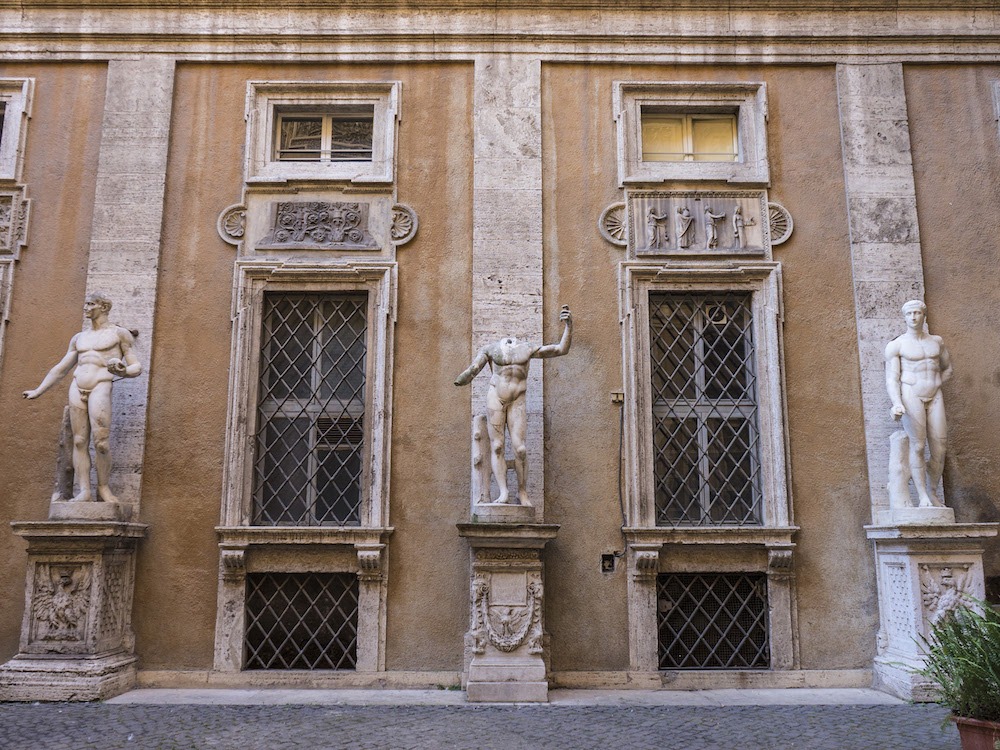 A noble Middle Ages and Renaissance family, the House Mattei were ardent collectors of Ancient Roman art and statues, modifying and displaying pieces in the courtyard of their 17th-century palazzo in the heart of the former Jewish ghetto.
Free to enter, wander around on your own or with a Context docent on the Caesar and Empire walk.
Read about our experience on the Caesar and Empire Walk here!
Mask and Sarcophagus at Palazzo Mattei di Giove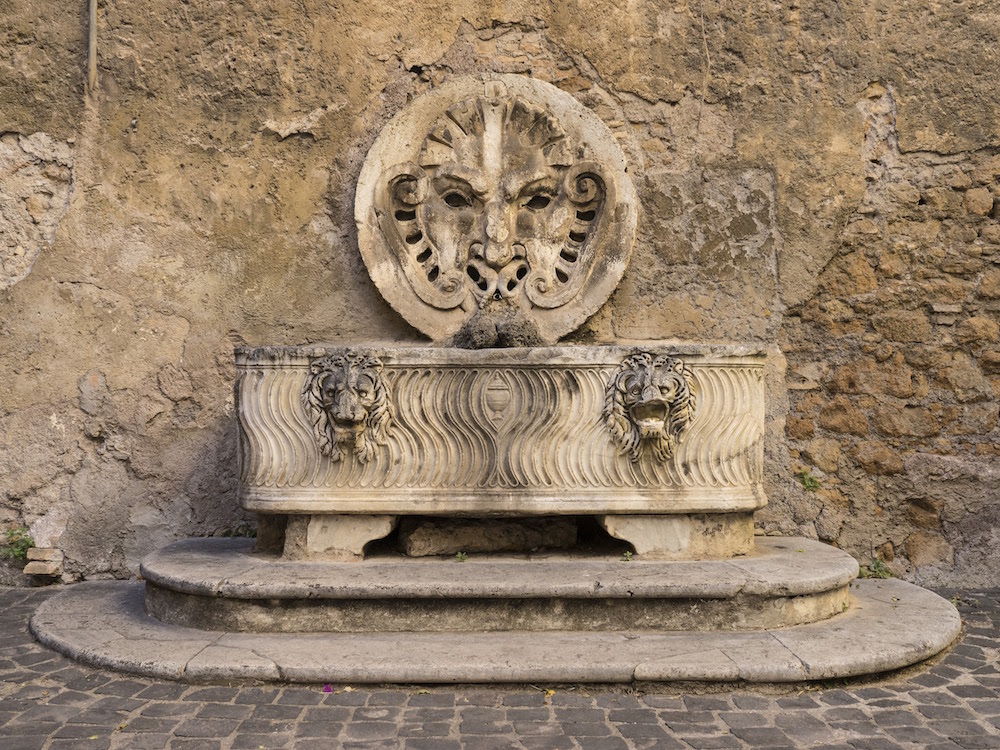 A grotesque mask and fountain spouts water above a re-purposed sarcophagus at the back of Palazzo Mattei di Giove, just one example of the antiquities recycling and repurposing that has gone on in Rome for centuries.
Fontana delle Tartarughe in Piazza Mattei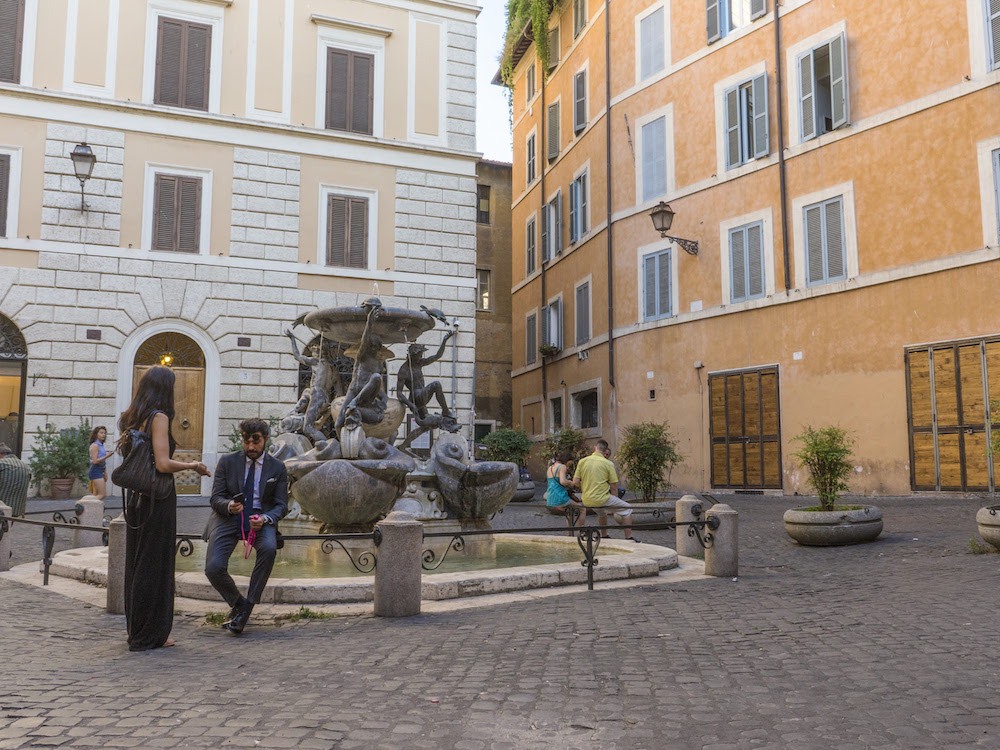 Once called "the most beautiful and perfect fountain in Rome," the Fountain of Tortoises was built in the 16th century, with the tortoises (since replaced with replicas) added in the 17th by Bernini. According to legend, it was constructed overnight to impress the father of a woman Muzio Mattei wished to marry. More prosaically, it was built for the same purpose as all of Rome's Renaissance-era fountains: to provide clean water to her citizens.
Colorful Buildings in Piazza di Santa Maria, Trastevere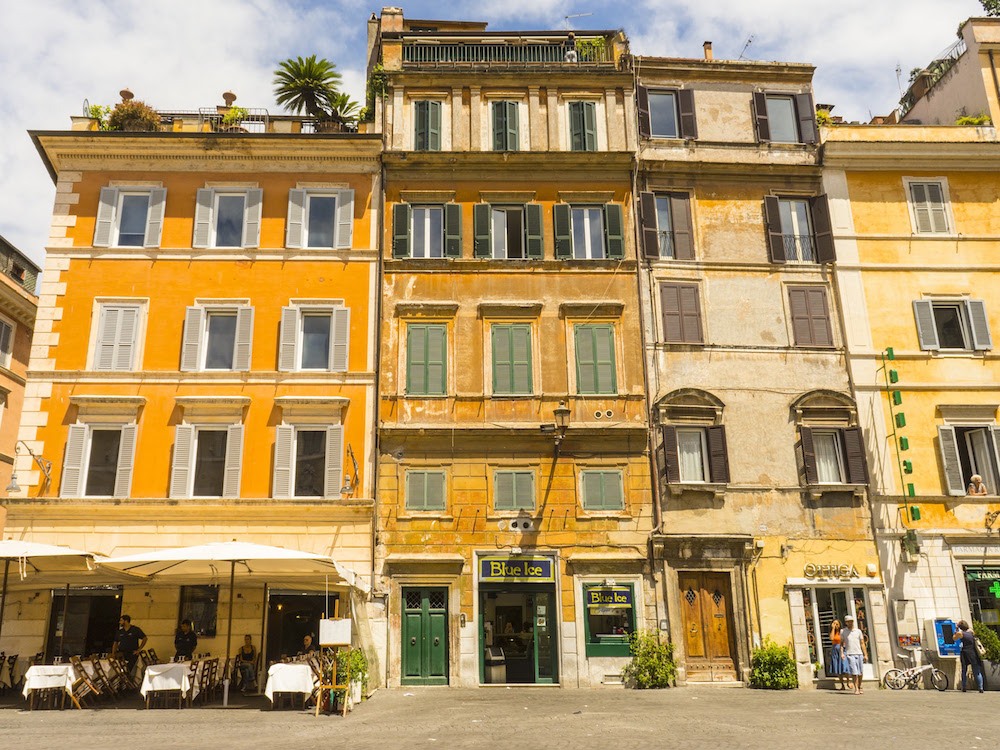 Piazza di Santa Maria is a hub of life in pretty Trastevere, where tourists and locals mingle, street performers charm, and the liveliness ramps up long after the sun goes down. Plan to spend at least one of your evenings in Rome in and around this lively piazza.
Details on the Doors in Tridente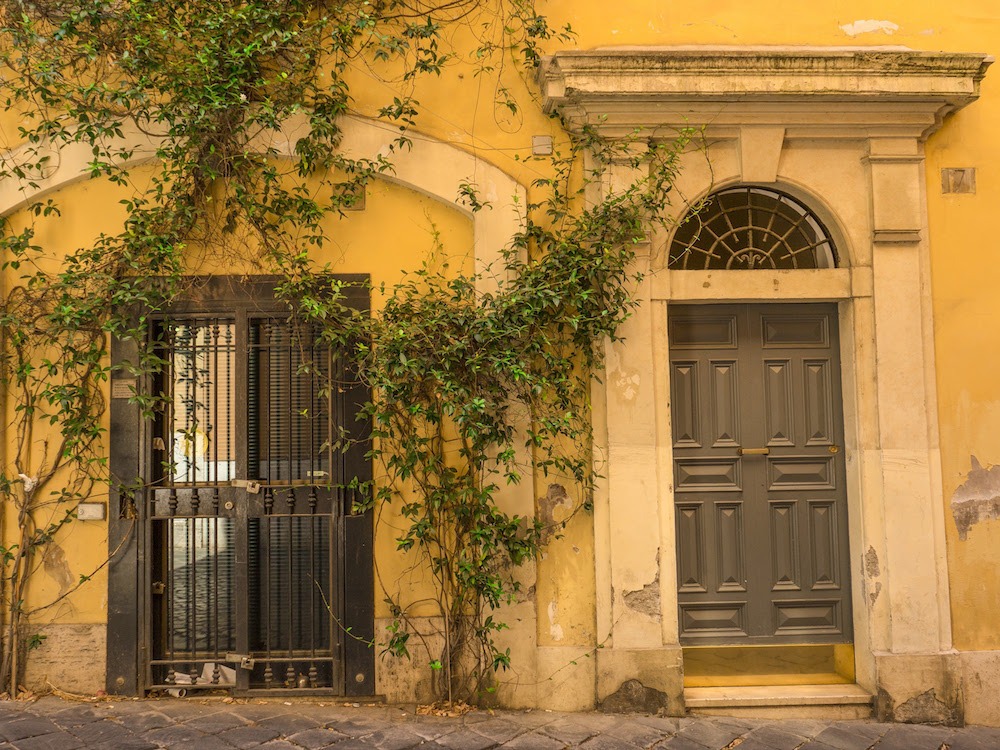 With history, art, and elegant scenes of everyday life around every corner, a lifetime isn't enough to explore everything Rome offers. Get started with Context Travel, and then wander off-the-beaten-path, getting lost amongst everyday life in the Eternal City.
An Outdoor Bar and Café in Trastevere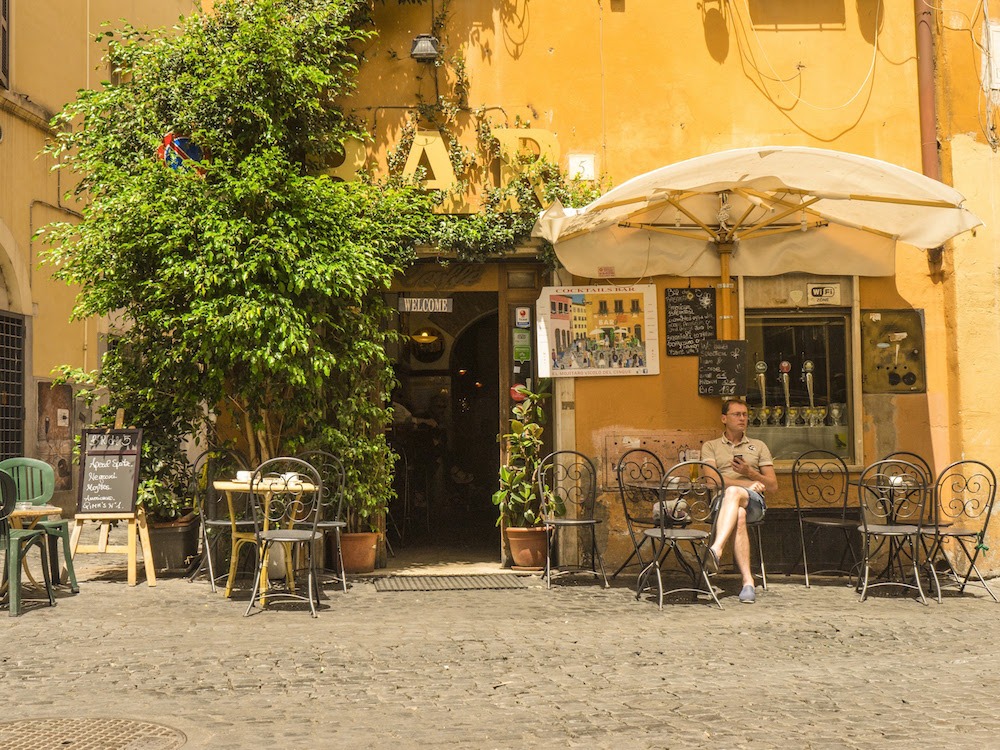 When your feet begin to ache, there's no better place to relax than one of Rome's many sidewalk cafés and bar, such as this one in Trastevere.
Staircase on Via di Sant'Onofrio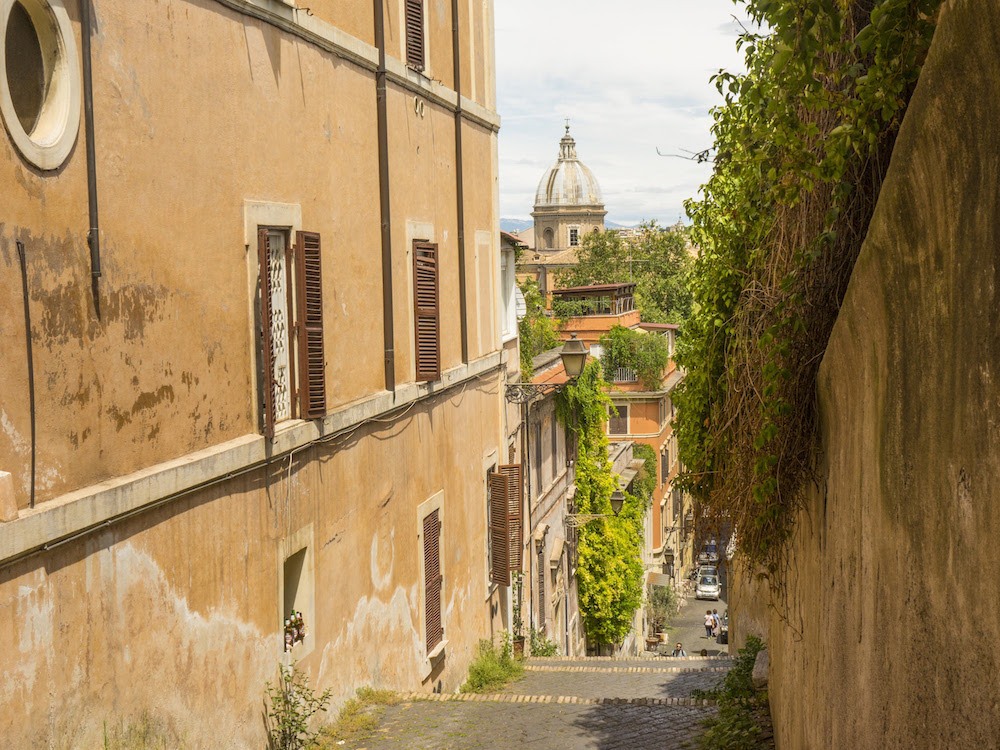 Named for the Church of Sant'Onofrio that sits at the top of the steps, this pretty street leading down from the Janiculum offers lovely views, and a stairway paved in characteristic clay bricks, used throughout the city for centuries.

Travel Between the Lines Coloring Rome: 38 Adult Coloring Illustrations
(Click a photo to enlarge!)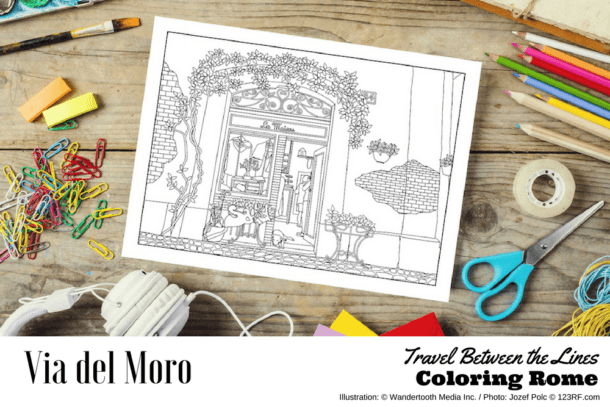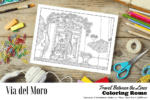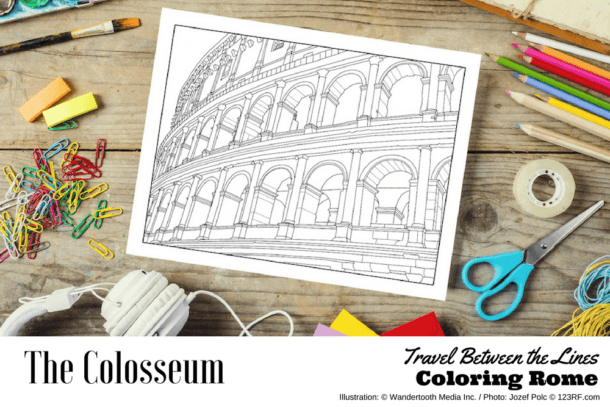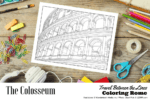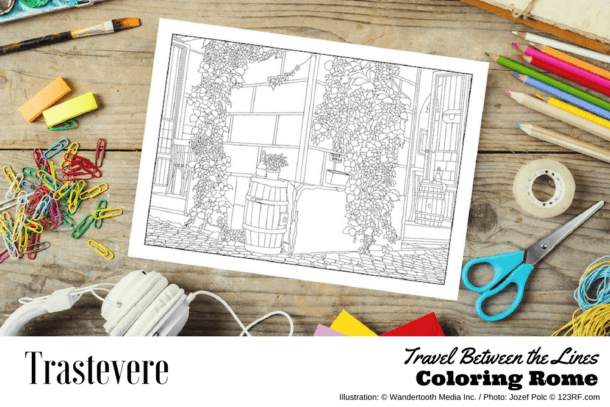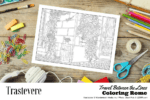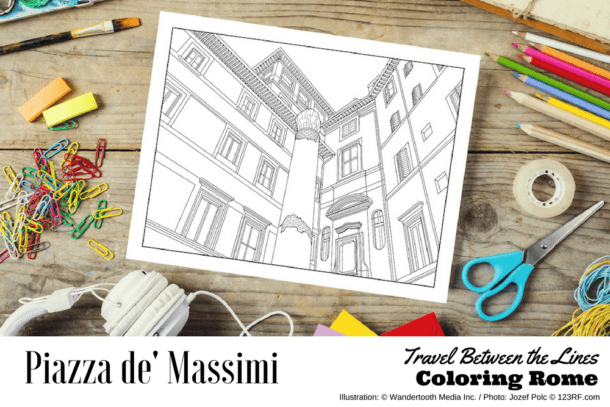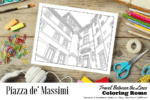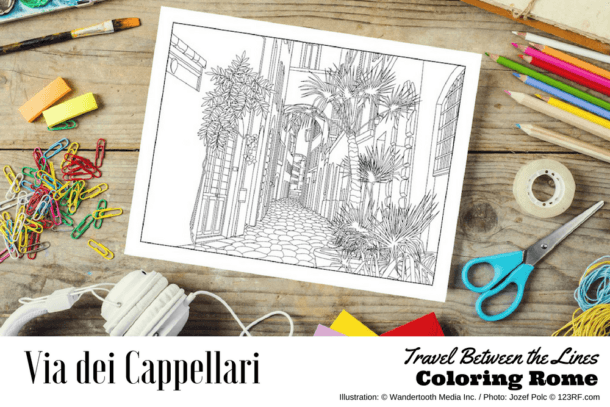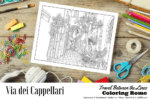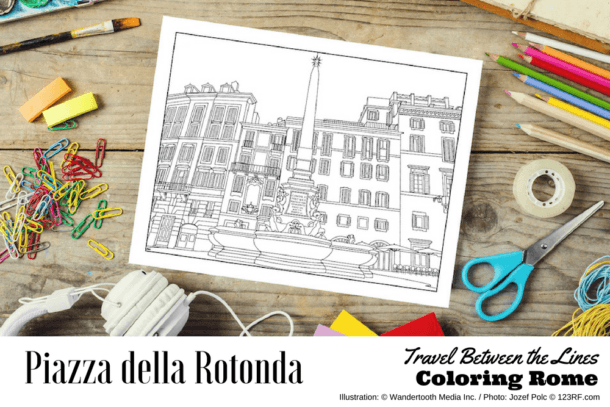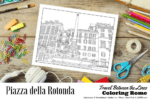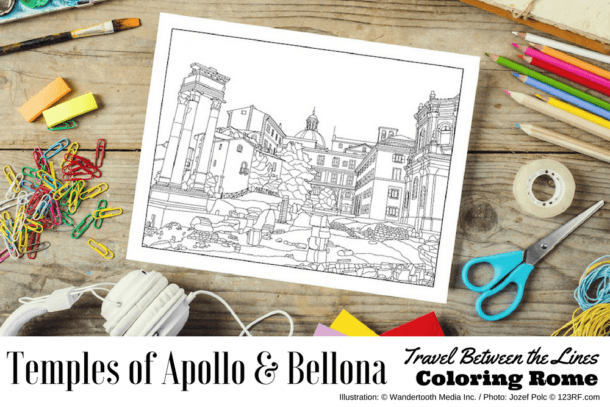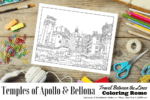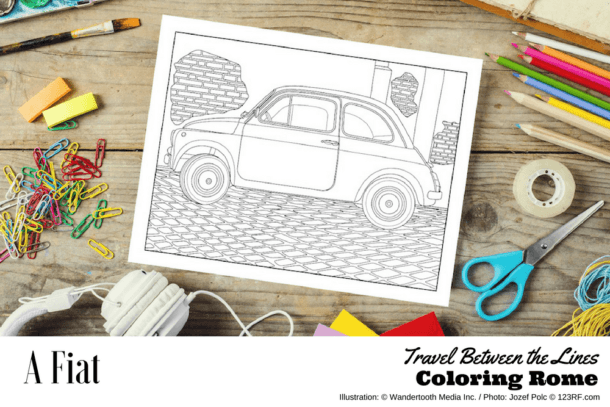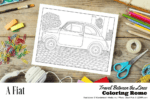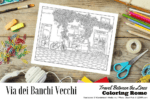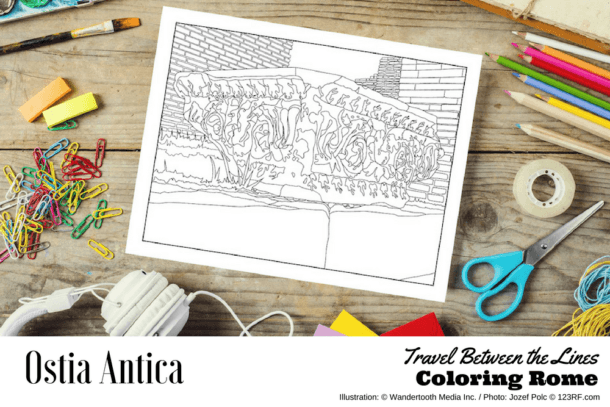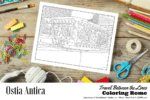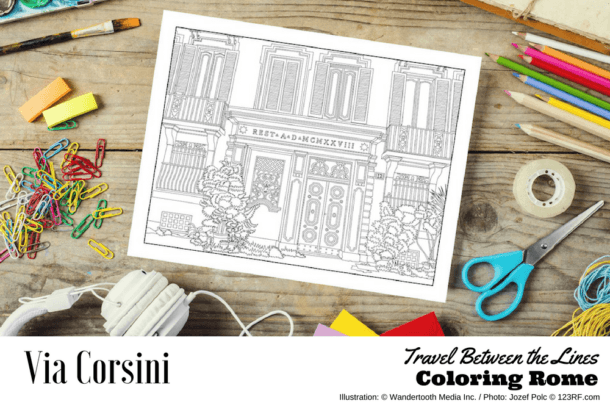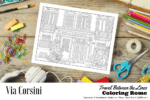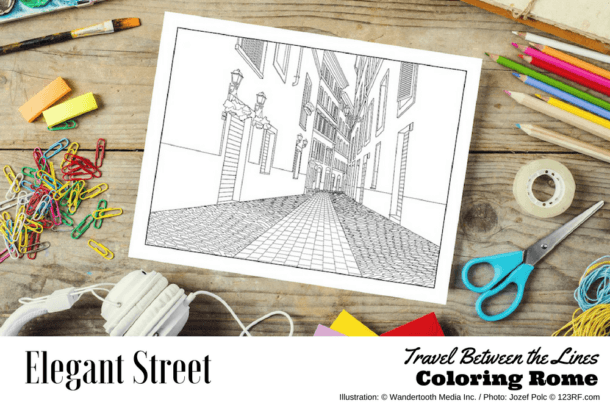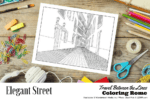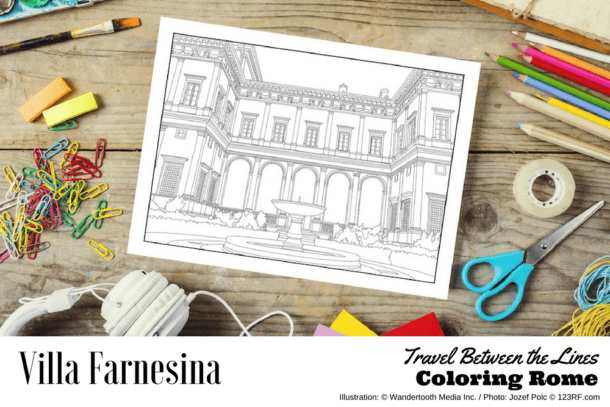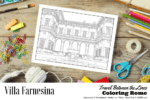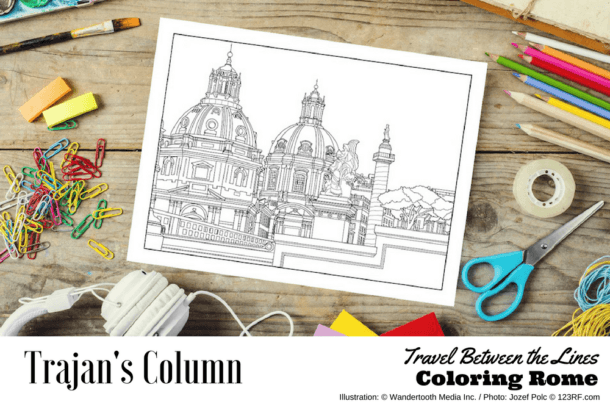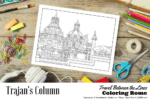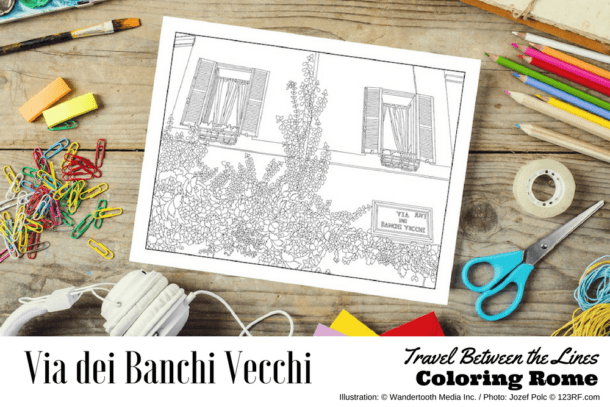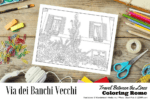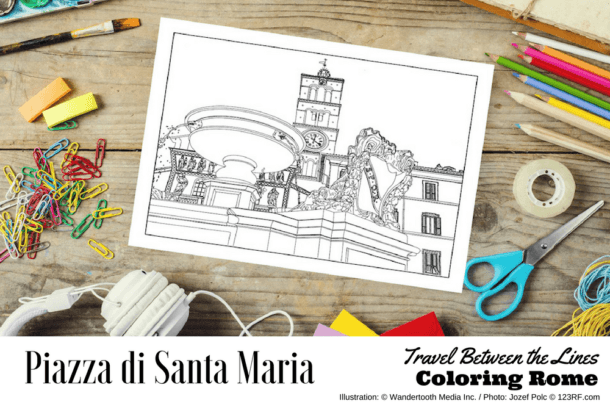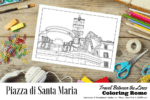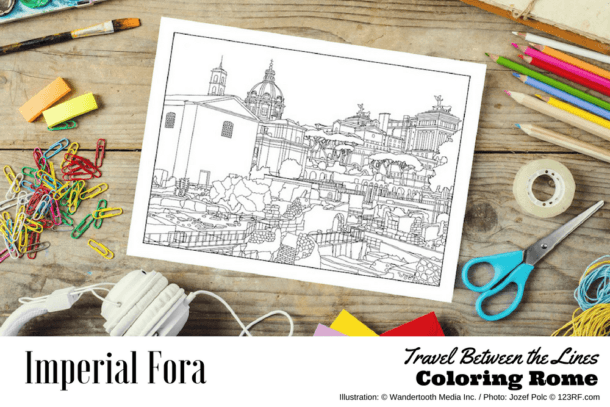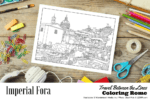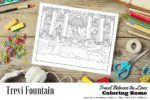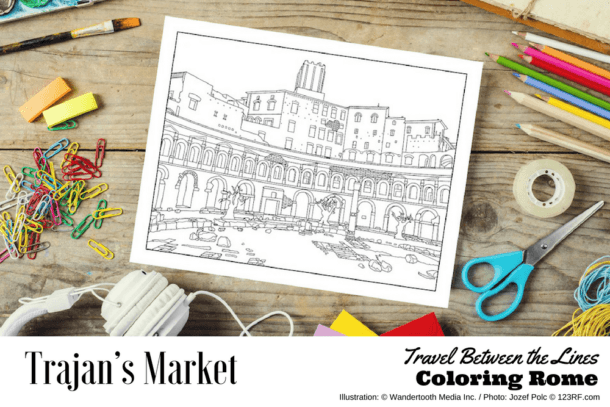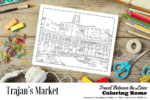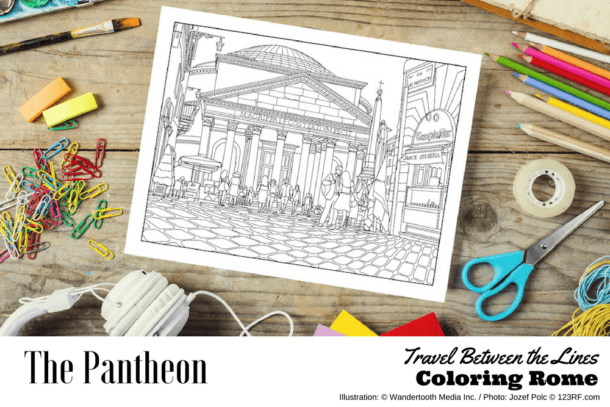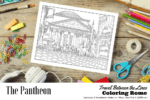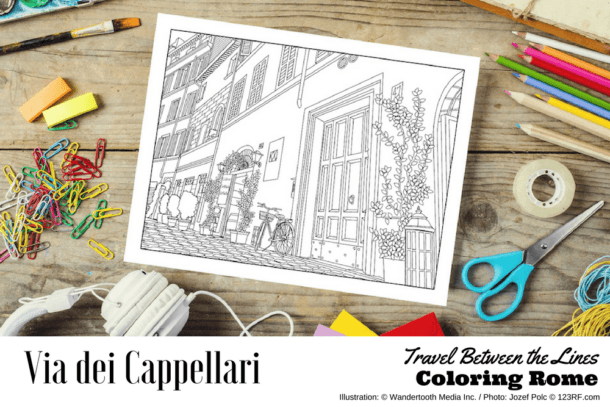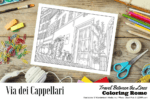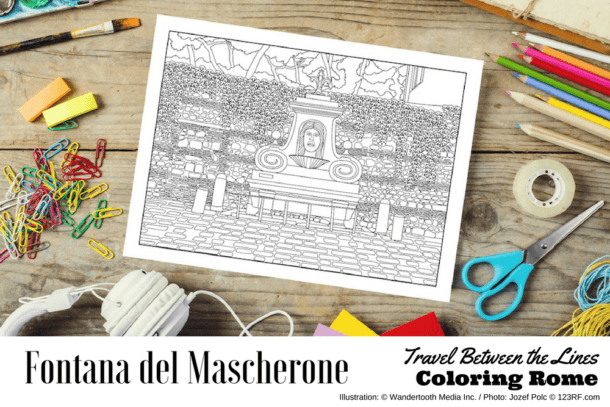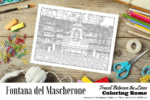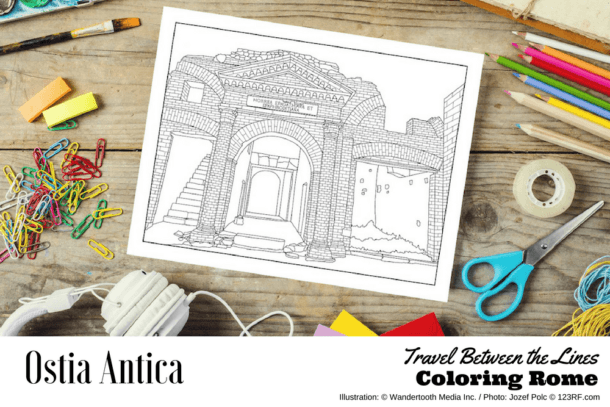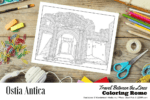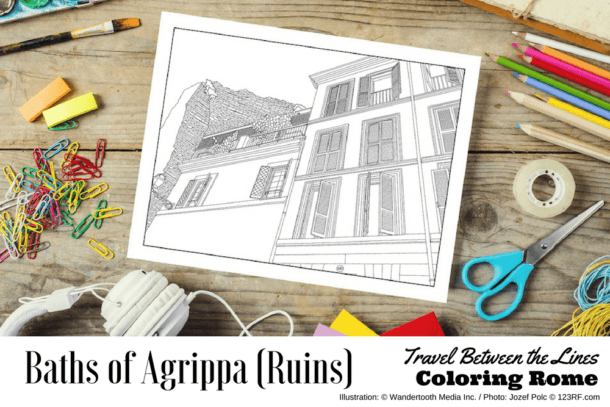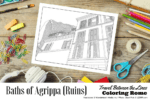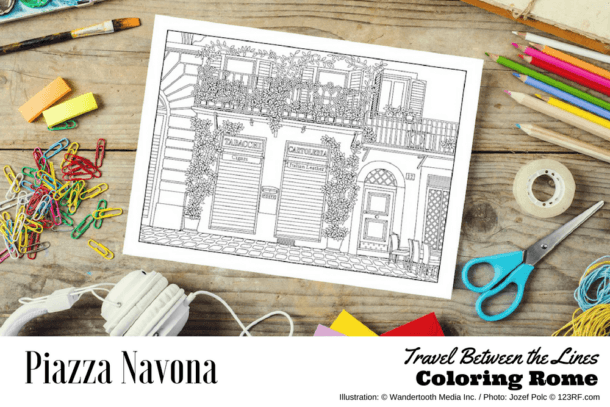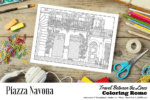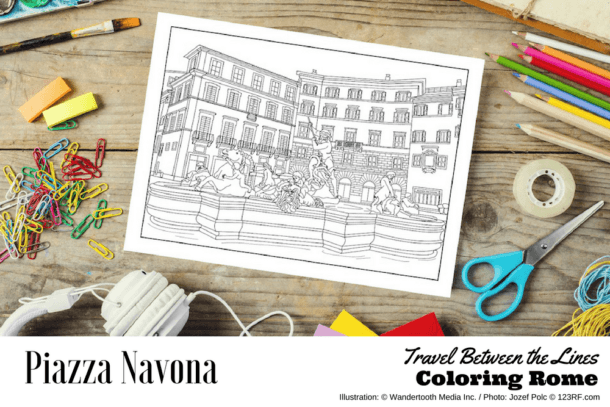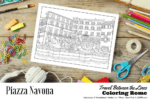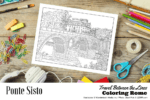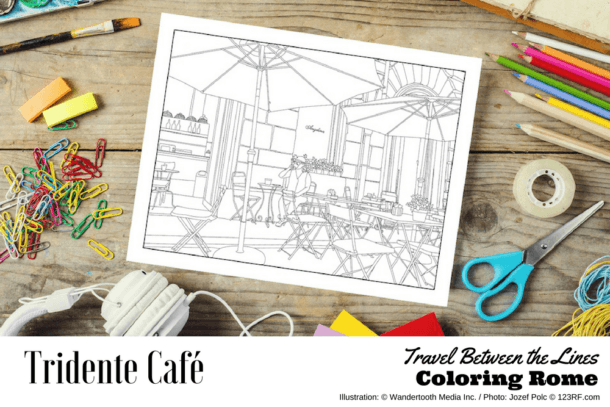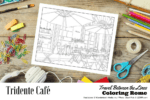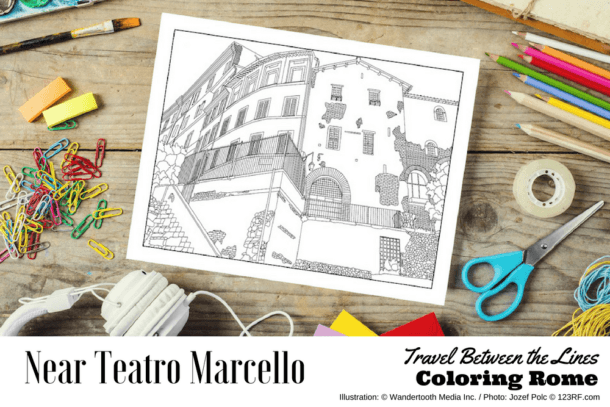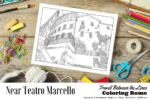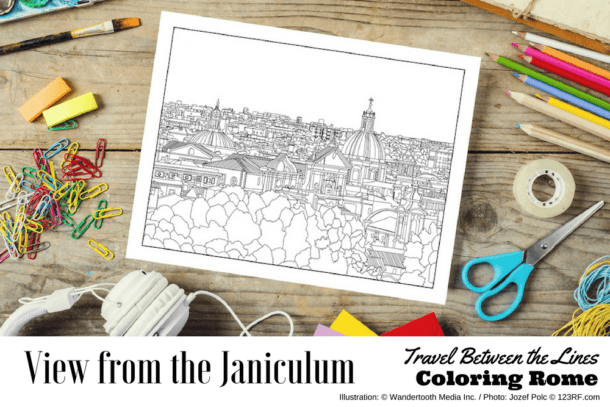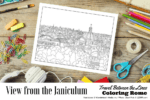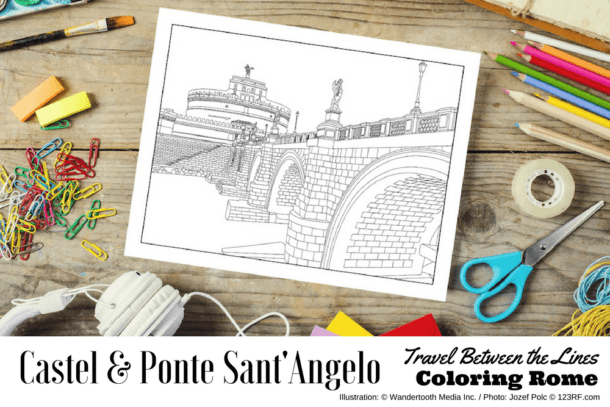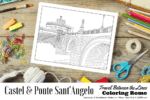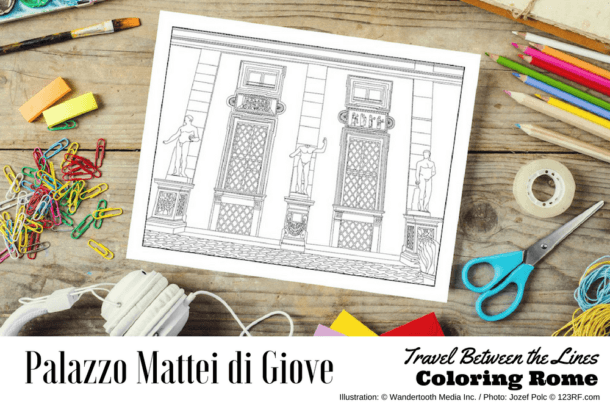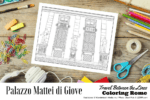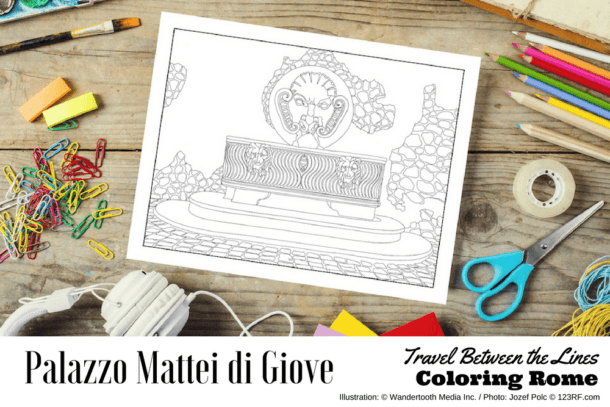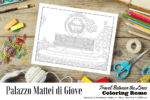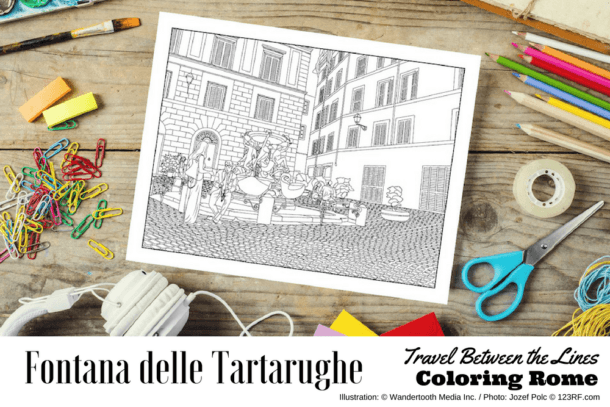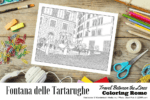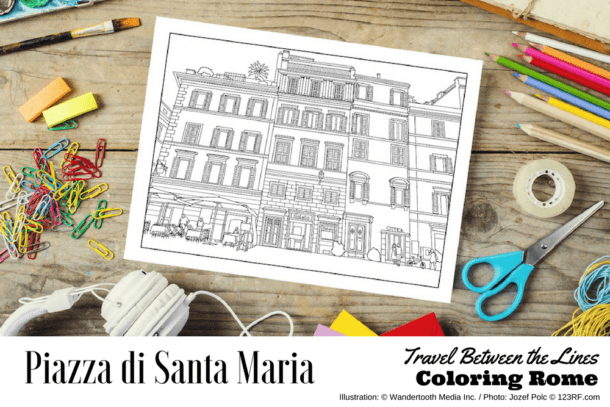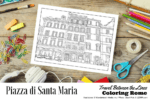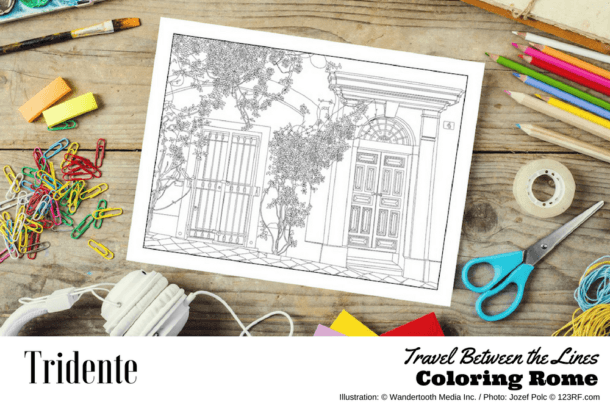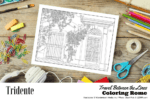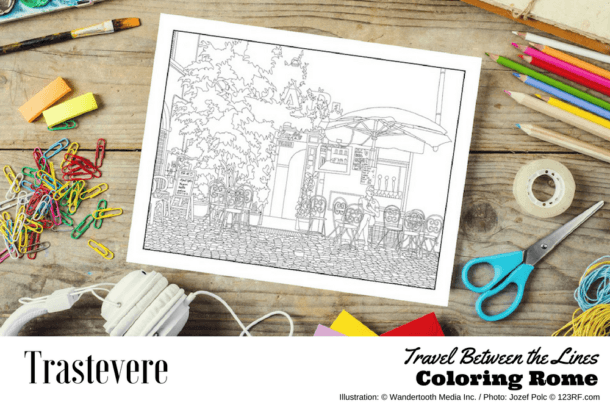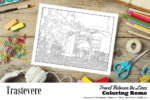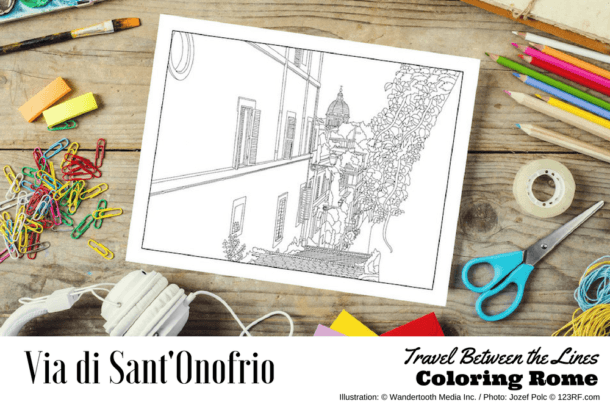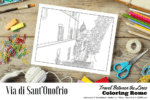 Further Reading
Did You Know? All our adult coloring books are available on Amazon. Pick up the original RTW coloring book, Coloring Mexico, or Coloring Rome today!
Like this Book? Pin it for Later!