Baixa-Chiado District Guide: Baixa Lisbon and Chiado Lisbon are some of the most visited areas of the city, and make a great introduction to Lisbon. Get to know Baixa and Chiado with this insider's guide to these two central Lisbon neighborhoods.


Disclosure: This Lisbon Baixa / Chiado district guide contains affiliate links. That means we earn a commission when you use the links on this site to book a hotel, buy your travel insurance, shop for travel essentials, etc.. You don't pay anything extra. If you'd like to learn more about how this works, you can read more under our Disclaimer page.
***
Baixa-Chiado is comprised of two distinct neighborhoods within Lisbon's city centre.
Baixa Lisbon is the flatter part of the area, closer to the water. Baixa means "low." It's considered the central tourist area of Lisbon.
The Baixa neighborhood Lisbon extends from Terreiro do Paço, where the royal palace once stood, to the super central Marquis de Pombal square.
Nowadays, Baixa Pombalina is a busy tourist hub with plenty of eateries and some important historic landmarks. This unique cavity between two Lisbon hills (Chiado to the west, and Alfama to the east) was created by the Great Lisbon Earthquake of 1755.
The adjacent Chiado Lisbon neighborhood is the hilly area to the west. The Chiado neighborhood Lisbon is also interesting for tourists, with a few of its own little secrets.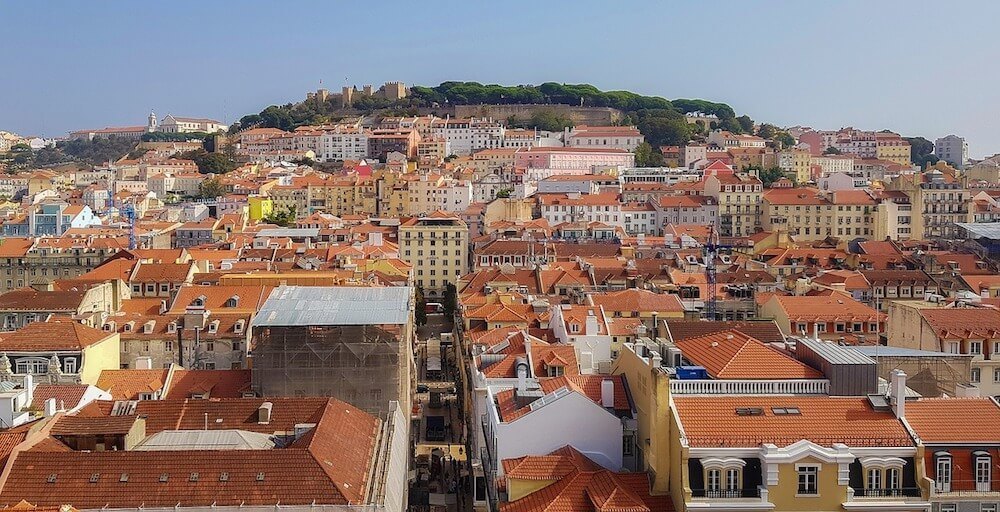 ---
What to See and Do in Baixa and Chiado Lisbon
If you start exploring from the Baixa-Chiado metro station, you will have two choices. You can walk up and explore the hilly Chiado district or stay on flat ground and discover the Baixa district first.
Things to Do in Chiado Lisbon
Starting from the top of Chiado hill gives you a nice vantage point of the city. This is perfect for getting oriented!
Walk up to Carmo Square (Largo do Carmo) and get a full view of the Carmo Convent. The Convent's main attraction is the roofless church-ruin. Besides being photogenic, it houses the Carmo Archaeological Museum.
From the Convent, walk to the Elevador Santa Justa, a 19th-century lift. The lift can transport you right down to the center of Baixa.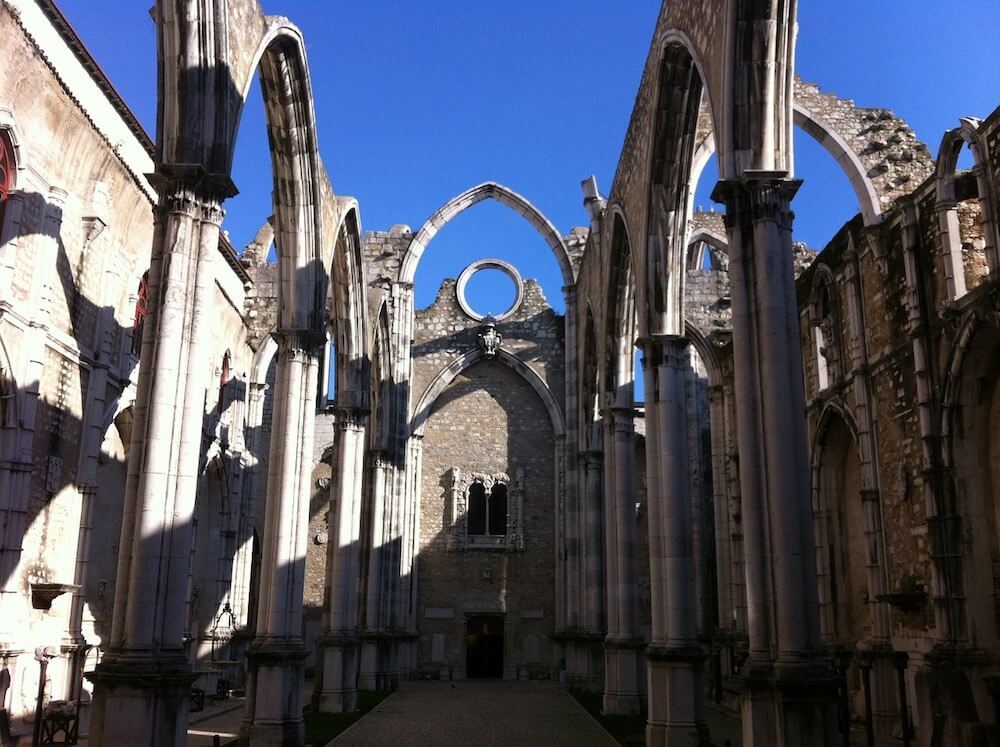 Things to Do in Baixa Lisbon
From the bottom of the Elevador Santa Justa, stroll and window-shop your way toward the Praça do Comércio and Arco da Rua Augusta.
Lisbon Baixa has thrived since it was rebuilt following the Great Lisbon Earthquake. All the streets bear the names of merchants who used to have businesses here.
Nowadays it's more of an eatery type district, with some interesting shops as well. The vintage shop A Outra Face Da Lua is worth visiting. So is the smallest bookshop in the world, Livraria São Cristovão.
At the end of the day, head to Ribeira das Naus, just beyond Praça do Comércio. From there, take a stroll on the embankment overlooking the iconic Ponte 25 de Abril and the Tagus River.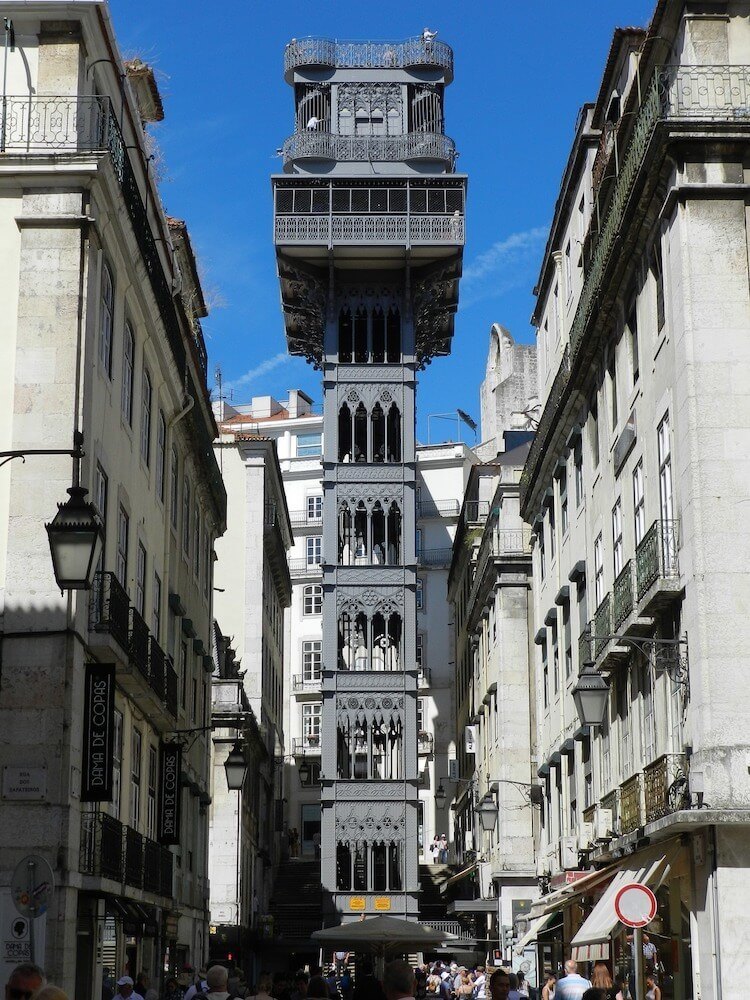 ---
Transportation and Accessibility from Baixa-Chiado to Other Sites
The Baixa-Chiado metro station has two separate entries. Depending on which one you choose, you'll get to the top of the Chiado hill (exit toward Largo do Camões) or end up in Baixa (exit toward Rua do Crucifixo).
Trams and buses run along Rua Aurea and Rua dos Fanqueiros and can take you to Praça do Comércio. All trams stop at Praça do Comércio on their way to Alfama, Prazers and Belem neighborhoods.
If you'd prefer to explore on your own two feet, note the Chiado part of the district can be a little steep. Once you've descended to Baixa you'll probably be quite happy to walk everywhere you want to go!
---
Chiado Lisbon Shopping Guide
The two main shopping streets in Chiado are Rua Garrett and Rua do Carmo.
Rua Garrett is home to Armazéns do Chiado shopping center, where you'll find modern popular brands like Zara, Sephora, and the bookshop Fnac. Fnac also has electronics, in case you forget your camera charger or memory cards (we're speaking from experience here!).
Rua do Carmo is home to local designers and brands.
If you are looking for some quirky shopping fun, look for some of the area's historic shops. Luvaria Ulisses (Rua do Carmo, 87-A) is one of the last surviving glove shops in the world. The shop is so small that it can only fit one customer at a time.
Another gem is a candle shop that was opened in 1789: Caza das Vellas Loreto (Rua do Loreto, 53).
And, of course, don't even think about leaving Lisbon without taking a trip to A Vida Portuguesa (Rua Anchieta, 11). Here's where to shop for the best souvenirs Portugal has to offer.
---
Best Restaurants in Chiado Lisbon (and a Great Baixa Option, too!)
Starting from Chiado, you can't miss A Brasileira cafe (Rua Garrett, 120). This cafe is famous for its surviving 19th-century interiors and the story behind the first coffee exporter from Brazil. It's probably the best place in the city to try a 'bica,' a special Portuguese espresso style of coffee.
Nearby is the famous Organi Chiado (Calçada Nova de São Francisco 2), which offers a vegetarian menu that changes every day.
For the typical Portuguese dessert 'Pasteis de Nata', try Manteigaria (Rua do Loreto, 2). Most locals praise this place as being even better than the iconic Pasteis de Belem.
There are also some quality Italian places in Baixa, like Dama e Vagabundo.
For authentic Portuguese cuisine and a bit of a splurge, head to Alma (R. Anchieta 15). It's a Michelin-star restaurant that will leave you speechless.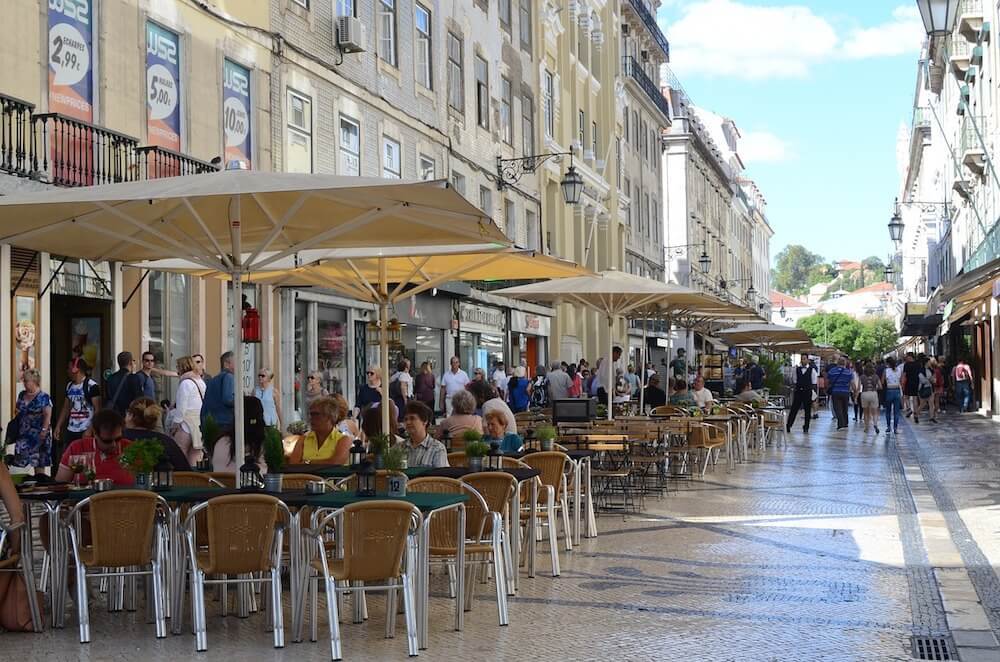 ---
Nightlife in Baixa and Chiado
Baixa-Chiado is not exactly the hub of Lisbon's nightlife, as most of Baixa closes down after sundown. That said, in Portugal dinners can start at 10pm, so whenever you choose to eat, you'll be well fed in Chiado and Baixa.
Most restaurants have their own collections of exquisite wines and ports on offer, but if you want to experience bar culture done Portuguese style, head to Bairro Alto.
If you're on the hunt for a pre-bedtime drink, head to Topo Chiado (Terraços do Carmo). It offers a great atmosphere and spectacular view of the city at night.
---
Who Should Stay in Baixa and Chiado
This area is the perfect starting ground for getting to know Lisbon.
Home to many hostels, as well as numerous luxury hotels, it's a busy hub of restaurants and truly the heart of the city!
Whether you're traveling alone, as a couple, or with friends or family, you're sure to feel comfortable in Baixa-Chiado.
So who should stay in the Baixa-Chiado District Lisbon?
Young backpackers looking for affordable accommodation.
Travelers who want to stay in a luxury hotel in a city center location.
Travelers looking for easy connection to the city's best sites.
Adults without kids visiting for a food and drink-themed city break.
Couples that are looking for a romantic holiday spot with easy access to the city's attractions.
If you are traveling with elderly people or anyone with mobility issues (knees, hips, etc.), the steep hills of Chiado could present a challenge. You may want to consider some other Lisbon neighborhoods, or stick to one of the hotels in Baixa.
Pros and Cons of Staying in Baixa and Chiado Lisbon
Pros:
Very central location & close to the main attractions
Easy access to metro, tram and railway stations
A great variety of bars and restaurants
Highly walkable in Baixa, with excellent connection to other neighborhoods
Very safe, with a lot of people on the street and almost constant police presence in more crowded areas
Cons:
Not locally populated – very touristy
Popular for going out with street artists on every corner; can get quite crowded
Even though the district is quiet at night, its proximity to Bairro Alto can lead to some noise from the streets.
Where to Stay in Baixa and Chiado Lisbon
Anywhere in the Baixa Pombalina will be safe and easily accessible.
If you choose accommodation in Chiado, stay in the area before Praça Luís de Camões. That's where Bairro Alto starts, and in the summer months and holidays it can get pretty rowdy.
Baixa Lisbon Hotels and Accommodation
3-Star Hotels in Baixa Lisbon
4-Star Hotels in Baixa Lisbon
5-Star Hotels in Baixa Lisbon
Chiado Lisbon Hotels and Accomodation
3-Star Hotels in Chiado Lisbon
4-Star Hotels in Chiado Lisbon
5-Star Hotels in Chiado Lisbon
Travelling on a budget? Try one of these Baixa Chiado Lisbon Hostels:
---
Safety Tips for Baixa and Chiado Districts Lisbon
Lisbon is quite safe and in the Baixa/Chiado neighborhood you'll find plenty of police in the area.
The main issue tourists need to be aware of is pickpocketing. This happens mostly on trams and along the crowded streets in Baixa. Make sure you only carry the essentials, and don't neglect your personal belongings.
---
Pin this Post!