Marco Island is one of my favorite destinations for a beach getaway. With wide, sweeping beaches, Marco Island feels like a remote retreat. But it's still close to the amenities of Naples and a day trip away from the Everglades. So—from someone who has spent more than my fair share of time there—here are all the best places to stay in Marco Island.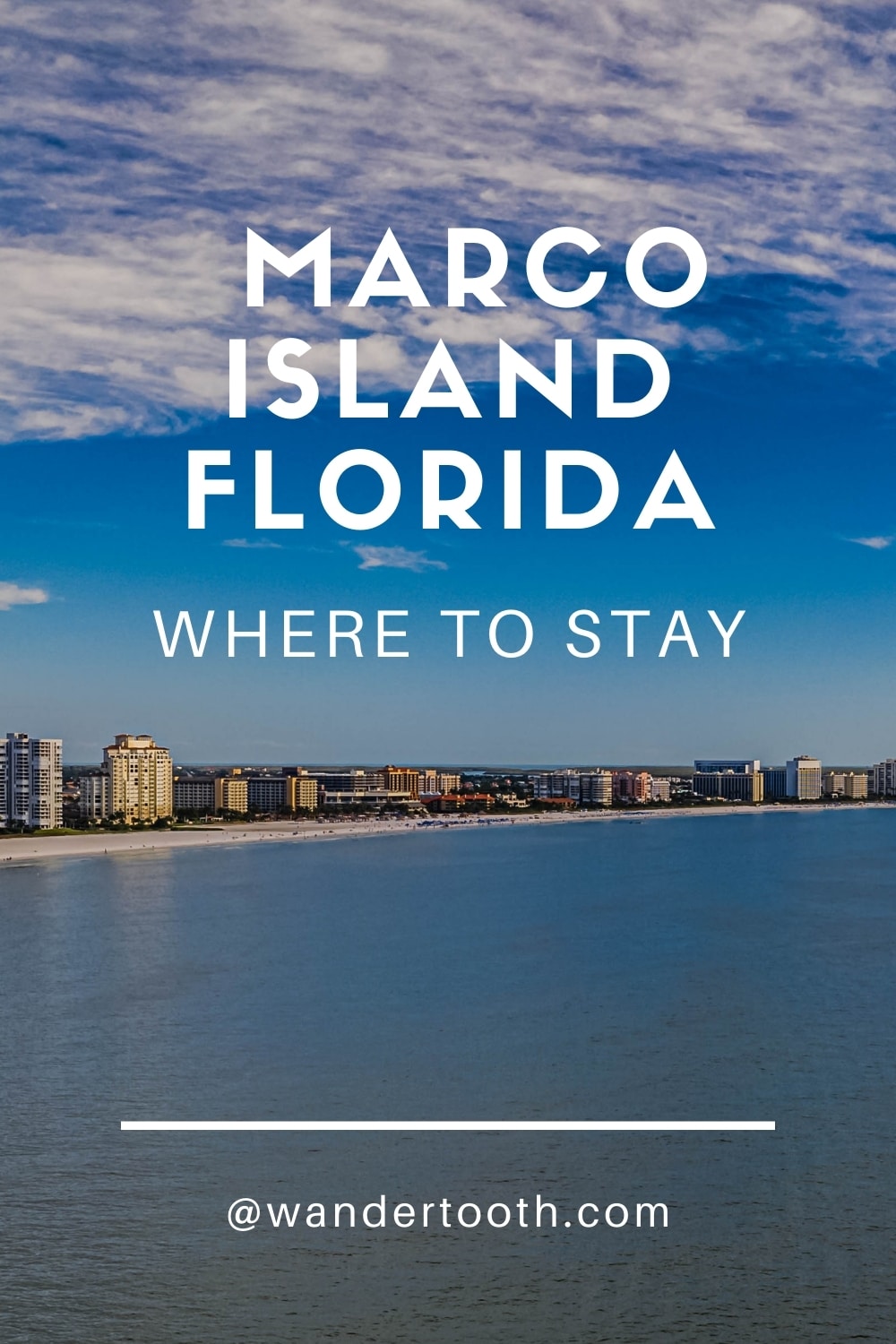 Marco Island, Florida is a beautiful, small island. With a population of approximately 16,413 people, Marco Island is the largest of the Ten Thousand Islands. Featuring an incredible 6 miles of beach and a huge number of canals, this island is perfect for boat lovers and those looking for some quality rest and relaxation.
You can find some of the best shelling in the world at Marco Island. Find gorgeous and unique, colorful shells, or get busy in the local art scene! Immerse yourself in local culture at the Marco Island Farmers Market, and find wild life at Frank E. Mackle Park! (Try to spot some turtles and ducks near the pond.)
When deciding where to stay on Marco Island, Florida, think of the activities you want to participate in. How close to the beach do you want to be? What sort of excursions and activities are you interested in?
Relatively close to Naples, but far enough to bask in rest and relaxation, Marco Island, Florida is the perfect destination to meet all your vacation needs.
Where to Stay in Marco Island, Florida
VISIT: The Briggs Nature Center Boardwalk Trail
This beautiful trail is about 1km long and perfect for exploring the beautiful outdoors! It has light traffic and is primarily used for hiking, running, and watching wildlife. This trail is accessible all year long. It's the perfect area to visit for anyone who enjoys being outdoors!
Photo Credit: www.booking.com
Best for families or travellers who enjoy having space.
This beachfront resort has everything you need to have a beautiful stay on Marco Island! The resort is only 3km from golfing, 11km from the Briggs Nature Center Boardwalk, and 200m from South Marco Beach. Past guests rated Marco Beach Ocean Resort high in comfort and views, and with so much close by, it is the best place to stay to experience it all! The resort offers exceptional services, full service spa, and private beach access. It has everything you need in order to have the best stay!
Photo Credit: www.booking.com
Best for outdoor enthusiasts, budget travelers, and those who want to be nearby water-sport adventures.
The BoatHouse on Marco Island has its own outdoor pool and sun terrace. With Marco Island Fishing and Sunshine Tours & Charters less than 1.6km away, The BoatHouse is the best place for anyone wanting to experience the nature around the island. The resort is also located only 6km from Briggs Nature Center and close to the center mall, the museum, and various water sports and golf courses.
VISIT: Cape Romano
Cape Romano is only accessible by boat. It offers the most incredible views of the Gulf! This area is a landing point for many birds, making it a great educational opportunity, too. There are many beautiful beaches that are usually quite empty, making Cape Romano the best place to go for a swim or watch some wildlife. Additonally, the Dome Homes are one of the biggest attractions to the area and a perfect place to visit if you're looking for some adventure!
Photo Credit: www.booking.com
Best for golfers, foodies, families, and anyone wanting an exquisite spa experience or to be near Cape Romano.
JW Marriott Marco Island Beach Resort is an astonishing resort with unexpected features. Balconies, fridges, private marble bathrooms, and spectacular views are just some of these special features. The resort has 10 different restaurants with various food specialties, and it is right next to the Marco Island Historical Museum, for those who want to experience the island's historical culture. The JW Marriot resort is excellently priced for stunning value—this resort is a must-visit!
VISIT: Isles of Capri Paddle-Craft Park
This location is specifically designed for launching paddle crafts, canoes, kayaks, and paddleboards. Explore the quiet waters and see the wildlife that Marco Island, Florida has to offer.
Photo Credit: www.booking.com
Best for outdoor enthusiasts and those who want to be near the water.
Marriott's Crystal Shores gives guests direct access to South Marco Beach and the most exquisite views of the Gulf of Mexico! This property is the best place to stay for so many reasons. The resort is just a short drive from the Florida Everglades, Naples Zoo, and many shops. With pools, fitness centers, and a great location, Marriott's Crystal Shores is waiting for you!
Photo Credit: www.booking.com
Best for beach lovers, families, and those who want a more secluded and private stay.
With free Wi-Fi and free parking, Tahiti69 is a great place to stay on Marco Island. The hotel is only 2km from Marco Beach and provides TV, satellite, a heated pool, hot tub and so much more! Tahiti69 also offers a full-service kitchen and washer and dryer, making this a great location for those who want to be in charge of their own vacation.
VISIT: Keewaydin Island
Get ready to experience a breathtaking beach and the most beautiful shells! Keewaydin Island is a primary barrier island that can only be reached by boat. The island includes an amazing reserve called Rookery Bay where mammals live in sanctuary and safety.
Photo Credit: www.booking.com
Best for families, those planning long stays, budget travelers, and sports-lovers.
Only 5.8 miles away from Keewaydin Island, GreenLinks Golf Villas are an amazing place to stay! Get ready to experience the island along with championship golf, restaurants, museums, the beach, the shells, and so much more! The resort has everything you need for a great vacation—pools, picnic areas, a sun terrace, waterfalls, jacuzzi hot tubs, tennis courts, bike rentals, bocce ball, golf, and a full-service wellness center!
There are so many amazing things to explore on Marco Island, Florida! Get lost in the explosions of colorful shells, explore the sand bars, and go out boating on the water!