Where to Stay in Zurich Switzerland: Advice from a local expat and travel writer about the best neighborhoods to stay in Zurich! 
Find the best place to stay in Zurich, plus everything else you need to know about visiting and staying in Zurich, including getting around, visiting Zürich Altstadt, finding the best places in Zurich to explore, and more. We've covered the most vibrant Zurich neighborhoods, the city's must-see museums, historical sights, day trips out of the city, tours and more, so you can spend your time enjoying this delightful European capital.
We created this guide in collaboration with guest author Sharon-Anne Wilcox, an expat and travel writer living in Zurich. We're so happy she agreed to share her insider knowledge of the city of Zurich, Switzerland, and help you choose the best place to stay in Zurich for your own unique trip!


Disclosure: This Where to Stay in Zurich Guide contains affiliate links. That means we earn a commission when you use the links on this site to book a hotel, buy your travel insurance, etc.. You don't pay anything extra. If you'd like to learn more about how this works, you can read more under our Disclaimer page.
Where to Stay in Zurich Switzerland: Table of Contents
Zurich Neighborhoods: Find the best area to stay in Zurich from this list of the best and coolest Zurich districts:
Quick Search:
Best 5 Star Hotels in Zurich
Best 4 Star Hotels in Zurich
Best 3 Star Hotels in Zurich
Best Value Hotel in Zurich
*according to Trip Advisor reviews
The Best Neighborhoods to Stay in Zurich
Introducing Zurich, A Little Big City You're Sure to Love!
I fell in love with Zurich after falling in love with a Zürcher (Zurich local). Leaving behind the world of women's magazines in London, I embraced Switzerland's culture and language and made Zurich my home. I found that writing travel guides – for companies like Kuoni to Fodor's – allowed me to really get to know my new home and the people who lived there, providing me with secrets of the city that only the locals are usually privy to. After all, the city that gave birth to the outlandish Dada art movement is bound to be livelier than its official banking center image suggests.
Although it's not the political capital of Switzerland, Zurich is the country's largest city with over half a million residents, and was once heralded by Swiss Tourism as "the little big city." A perfect description of Zurich is as a welcoming, not overwhelming city to visit, and one that has a big heart. Zurich is also a city full of events: during the Züri Fäscht, which is held every four years, central Zurich closes to traffic to allow a weekend of fun for all ages, from kids to pensioners; the annual Film Festival, which attracts film stars from all over the world, showcases the works of new directors; and the Street Parade, one of the most popular techno events in Europe, entices nearly a million participants per year to dress up and dance along to the sounds emanating from the Love Mobiles. Zurich at Christmas is also magical, as the city glistens with sparkling lights and magical Christmas markets are scattered throughout the heart of the city. Thanks to the Swiss' famous "Swiss precision", public transport is flexible enough to provide everyone with city-wide access during all these events, and the city's infrastructure department cleans up the city within 48 hours, even after its population swells up to 4 times from an influx of visitors!
Reliable public transport isn't around just for festivals, meaning you can choose what area to stay in Zurich without stressing too much, as you'll be able to reach all the other Zurich districts fairly easily to check off the sites on your list and explore all the best areas of Zurich!
The two most obvious Zurich attractions that you can't possibly miss are Lake Zurich and the Limmat River, but central Zurich boasts some amazing tourist attractions as well. The magnificent churches such as St Peter's (with the largest clock face in Europe), and the iconic Grossmünster and Fraumünster churches; the impressive Kunsthaus (city art collection) and Landesmuseum (Swiss National museum), and the trendiest shopping and eating experiences all top the list of the best things to do in Zurich. Happily, they are all accessible by tram, making sightseeing in Zurich very manageable. And then of course, each of the best areas to stay in Zurich also feature their own local sights to visit, providing you with many options to stay busy on your trip!
Where to Stay in Zurich: The Coolest Neighborhoods and Zurich Districts to Explore
The city of Zurich is divided into 12 administrative districts, known as Kreise, with central Zurich being District 1. These are all serviced by trains and buses which are time and energy efficient, and connect the outlying districts to the city center.
The best places to stay in Zurich for tourists are the more central districts, which offer the most in terms of tourist attractions and convenience. So what's the best location to stay in Zurich? It really depends on what you're looking for…
Best Area to Stay in Zurich Overall: City Center and Old Town Zurich
Where to Stay in Zurich for One Night: City Center and Old Town Zurich
Where to Stay in Zurich for First Time Visitors: City Center and Old Town Zurich
Where to Stay in Zurich for Nightlife: Langstrasse and Zurich West
Best Area to Stay in Zurich for Shopping: City Center
Where to Stay in Zurich Near the Lake: Seefeld
Another bonus to choosing one of the central districts of Zurich is the fact that these areas feature regular tram services from early to late. In this environmentally minded city, trams offer speedy movement with minimum pollution, and offer visitors an unparalleled view of the streets on the journey to their location of choice. Add to this a bustling network of boat travel and even some cable cars, and you can easily pep up your stay by mixing and matching your forms of public transport.
Be aware that taxis in Zurich are very expensive, costing 6CHF (~$6.25US) base, and 3.80CHF (~$4US) per kilometre (0.6 miles), but more affordable Uber services are available.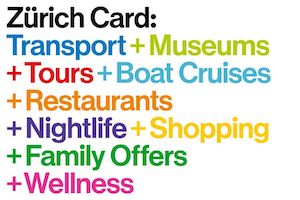 Explore the Best Zurich Neighborhoods Easily with a Zurich Card
The most price-effective ticket for a short stay is the ZurichCARD which costs around $30USD for 24 hours, and $57USD for 72 hours. It allows unlimited travel on buses, trams and trains in the region, so you can explore all the best neighborhoods in Zurich. It also includes free or reduced entry to popular museums, discounts on lake trips, and other seasonal offers.
Zurich City Center: History Awaits in Central Zurich
This is the bustling heart of the city. Zurich city center is home to one of the most exclusive shopping streets in Europe, the Bahnhofstrasse. Running from the main station to the lake, if you stroll down this mostly traffic-free busy street you will pass shops featuring the most exclusive designer labels in the world alongside high street super stars, plus a range of department stores in Zurich. Jelmoli is the "Harrods of Zurich" and its gourmet basement is well worth a visit, Globus is its "KaDeWe", and Manor is maybe its "Macys." If you're looking a shopping area in Zurich, this is it!
Situated almost in its middle, Paradeplatz is a bustling square bordered by banks and Café Sprüngli, the place to be seen enjoying pastries, teas, coffee or ice cream since 1836. Nearby, the cobbled lanes around Rennweg, full of boutique-like stores, lead to the Lindenof Hill, once the site of a Roman fort; its views of the river, lake and surrounding old town Zurich are spectacular.
The City Center is the best area to stay in Zurich for shopping, for a quick one-night stay, and for those craving a bustling and convenient downtown atmosphere. The city center is also home to some of the best hotels in Zurich.
Hotels in Zurich City Center
Hotel Storchen
Hotel Storchen – A 5-star experience that has stood the test of time, rooms here offer unparalleled views and mix tasteful classic decor with all the modern touches you'd expect from one of the best Zurich hotels: large flat screen TVs, Samsung tablets, Nespresso coffee makers, and minibars. La Rôtisserie restaurant on site gets top marks from past guests, and the location doesn't get much better, as it's practically in the shadows of the St. Peter clock tower and overlooks the fabulous Limmat River. Past guests advise reserving a river-facing room, as the church bells ring quite often. Almost all old town attractions are within walking distance, and shops, cafes and restaurants make the surrounding area ripe for exploring.
Check Pricing & Availability
Booking.com
Hotel Kindli
Hotel Kindli – An elegant boutique with rooms that feature top-shelf brand name beds and a mini bar that's included in the room rate, past guests love the cozy feel, great location, and amenities at this property. You'll find Kiehl's bath products in the modern bathrooms, coffee and tea available all day at reception, and a daily breakfast included in the room rate – a huge bonus in super expensive Switzerland! Well located in old town, it's a 3-minute walk to Bahnhofstrasse, which has plenty of shops, cafe, and restaurants to enjoy. The Kunsthaus is a 10-minute walk and the Zurich Opera House is about 15 minutes. The main railway station is just a 10-minute walk or a short taxi or tram ride.
Check Pricing & Availability
Booking.com
Motel One
Motel One – When given the chance, we'll often stay at Motel One when we're traveling around Europe, and find the brand consistently delivers excellent value for the price, great location, and a cool, design-hotel-vibe at a fraction of the price. Air conditioned rooms here are quite compact, so consider how much luggage you'll have, but know you can count on them being very clean, comfortable and modern. The hotel has a comfortable lobby lounge which also serves a daily buffet breakfast (extra). Located close to some local bars and restaurants and a 10-minute walk to the lake. Many old town attractions are walkable from here, including St. Peter (10 minutes) and Lindenhof observation deck (12 minutes)
Check Pricing & Availability
Booking.com
Hotel Glockenhof Zürich
Hotel Glockenhof Zürich – Stylish and modern 4-star accommodation located in the heart of the city center, 500 yards from luxury shopping outlets and 10 to 15 minutes walk from popular attractions like Grossmünster Cathedral. This hotel includes 2 restaurants, one with a quaint outdoor cafe, a lush garden in the summer months and a bar. Rooms feature a Nespresso coffee maker and a hearty breakfast with plenty of options to choose from. Past guests rave about the location and suggest strolling about the surrounding neighborhood is a must.
Check Pricing & Availability
Booking.com
Baur au Lac
Baur au Lac – The décor and amenities you'd expect of a 5-star hotel, including a free mini bar and rooftop fitness center with gorgeous views. Guests have the choice of onsite dining at one of two restaurants, one with a terrace, garden and bar and the other awarded a Michelin star. With views overlooking Lake Zurich and the Alps, the location is impeccable. Situated in its own park and less than a 10-minute walk to the famous Bahnhofstrasse shopping area, Paradeplatz financial district and the colorful Old Town, the setting offers endless discoveries.
Check Pricing & Availability
Booking.com
Hotel Schweizerhof Zürich
Hotel Schweizerhof Zürich – This central location is just steps from the Bahnhofstrasse and directly across from the train station, allowing easy access to famous cites around the city. Charming and traditional, with modern comforts such as adjustable beds and a flat screen TV with satellite channels. Guests seem to appreciate sound proofed rooms and complimentary bathrobe and slippers. Dining options include a superb breakfast (included with all room rates) with a wide variety of hot and cold dishes, with some made to order options, a café with terrace seating, a restaurant and bar.
Check Pricing & Availability
Booking.com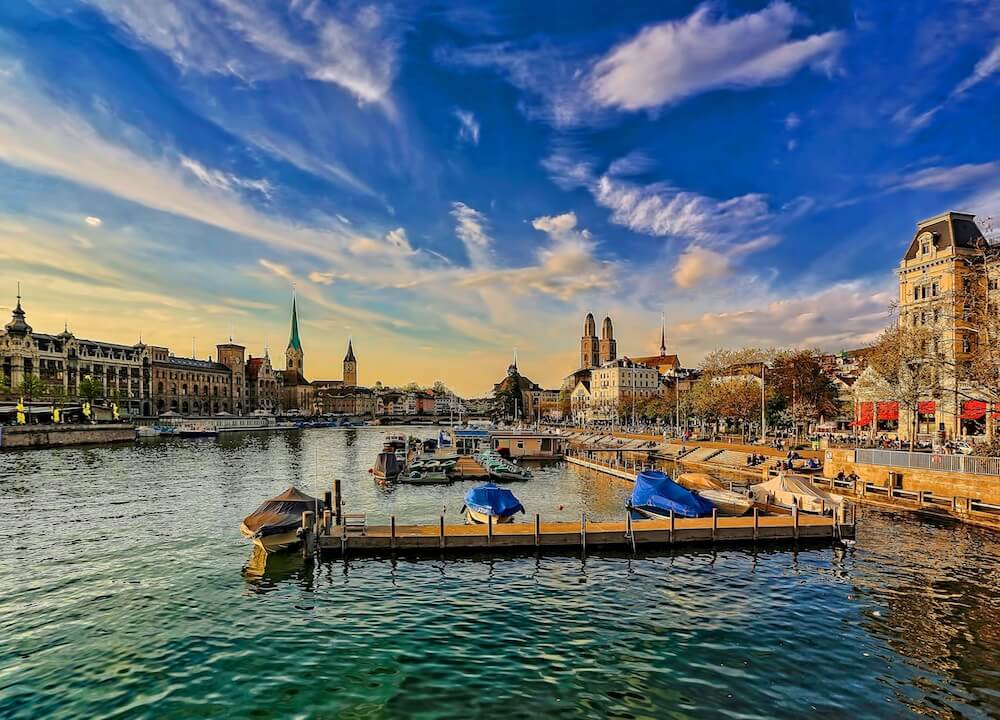 Photo by Ricardo Gomez Angel via Unsplash

Niederdorf and Oberdorf: Old Town Zurich is One of the Best Areas to Stay in Zurich
On the other side of the River Limmat is Altstadt, or Old Town Zurich. Here among medieval alleyways and squares are a host of markets, interesting shops and international eateries galore. It is also fast becoming the coffee shop center of town, featuring establishments like the incredibly kitsch Conditorei Schober and its chocolate delights, to the understated chicness of Café Henrici, with its more contemporary offering.
Old town Zurich is where the Dada art movement was founded and you can still visit its birthing place, the Cabaret Voltaire bar/café. In this area there are also many of the fine guild houses and guildhalls – many of which date back to the 14th century. Rising above the higgledy piggledy alleys is Grossmünster church, perhaps Zurich's most famous landmark, from whose towers you can look out on a 360° panorama of the city, the river, and the lake, with a backdrop of mountains in all their glory! It makes a great landmark to use while you're navigating the streets of central Zurich!
Together with the city center, Zürich Altstadt is the best district to stay in Zurich for tourists searching for the perfect combo of convenience, charm, and things to do. The city center is also home to some of the best hotels in Zurich. There are also plenty of fantastic hotels in Zurich Old Town, meaning you won't be starved for choice.
Best Hotels in Zurich Old Town
Marktgasse Hotel
Marktgasse Hotel – A beautiful boutique in a 15th-century building, this property has a nice blend of heritage meets modern chic. Found in the heart of Old Town and surrounded by charming cobblestone streets, just one block from the river and 10 minutes' walk from the train station. Complimentary tea, coffee and fruit are available in the lobby, and though it's not located onsite, guests have free access to a fitness and wellness center around the corner.
Check Pricing & Availability
Booking.com
Hotel Florhof
Hotel Florhof – With stunning views of the Old Town or garden from every room, this modern and tasteful hotel was restored from an 18-century home, yet still maintains a vintage air complete with a vaulted cellar. Quick and easy access to the Old Town, Theater and art gallery – all just a short walk away. Complimentary toiletries by Rituals are available to all guests and food and relaxation can be found in the restaurant, newly updated lounge, historic garden or cellar.
Check Pricing & Availability
Booking.com
Hotel St. Josef
Hotel St. Josef – This 3-star hotel offers an impressive value with bright spacious rooms and a minimalist design. The location is fantastic and just 5 to 10 minutes walk from Old Town and lakeshore or a 15-minute walk to the train station. Coffee/tea makers and an abundant buffet breakfast are included with all room rates. The onsite restaurant features Swiss cuisine and offers outdoor seating on the terrace during the warmer months. Convenient all-day parking is also available.
Check Pricing & Availability
Booking.com

Langstrasse is a Former Zurich Red Light Area That Is Trendy & Multicultural
Langstrasse bustles with trendy bars and influences from Zurich's immigrant population, awash with take-aways and restaurants of all varieties. It's also home to clubs and an independent cinema, RiffRaff, which shows all films in their original language.
Formerly known as the Langstrasse red light district of Zurich, today this area is quite hip and very 'en vogue.' By night, Langstrasse bars are full and lively, and the aroma of international cuisine is in the air. Elle'n'Belle is a popular Langstrasse restaurant, and possibly the most popular Vegan restaurant in the city; it attracts meat-eaters and vegetarians alike. At the Helvetia Square end, there is even a Hammam run by the city of Zurich.
If you have a preconceived notion that Zurich is a boring banking city, Langstrasse is the best district to stay to change that! Still super convenient – only about 10 minutes' walk from the train station – Langstrasse is the perfect place to stay in Zurich if you want a lively, dynamic and multicultural experience. This area is also home to the 25Hours Hotel Langstrasse, one of the more affordable boutique hotels in Zurich, along with some other affordable and stylish Zurich boutique hotels.
Top Hotels in Zurich Langstrasse District
25hours
25hours Hotel Langstrasse – A fun and vibrant atmosphere, this hotel is perfect for those looking to add color, culture and art to their stay. Rooms are comfortable and modernized, complete with flat screen TV and satellite. Located a 15-minute walk to the Bahnhofstrasse, you can also explore your surroundings on wheels, with bike and MINI rentals available onsite. Guests can enjoy panoramic views in the rooftop sauna and fitness center or relax in the sunny outdoor area. Ground floor is home to an Oriental-themed bar.
Check Pricing & Availability
Booking.com
Boutique Hotel Helvetia
Boutique Hotel Helvetia – On the banks of the Sihl River, this attractive boutique is uniquely designed, with a great ambience. Rooms are cozy and come with views of the city and river, complimentary minibar and Kiehl's products. Guests have free access to a fitness center and sauna just a couple minutes walk away. The location is well connected, with a tram stop right outside and the main train station 10 minutes by foot. Outdoor seating and Swiss cuisine is available at the restaurant and the bar is newly revamped.
Check Pricing & Availability
Booking.com
The Yard
The Yard – A cool fusion of retro and modern design on a tranquil side street from Helvetia Square and surrounded by designer boutiques, restaurants and bars. The city center and lake are a quick 15-minute walk away. The rooms come equipped with coffee machine, a desk or seating area and flat screen TV. Dining options include a restaurant and bar, with past guests mentioning the great cocktails. Guests are welcome to take advantage of reduced prices at the Hammam Spa around the corner.
Check Pricing & Availability
Booking.com
Zurich West Is One of the Coolest Areas to Stay in Zurich
This once industrial area is now the newest and hippest Zurich neighborhood. Once abandoned warehouses and factories now offer a second venue for Zurich's opera, and chic restaurants and bohemian bar/shopping venues like Frau Gerold's Garden and Im Viadukt have made their home here. If you want to enjoy Zurich nightlife, a wide variety of clubs offering everything from Salsa to 80's music can be found in Zurich West. In response to the influx of Vegan restaurants in Zurich, this area is home to meat-orientated backlash restaurants such as Brisket, offering a selection of southern BBQ pulled meats, which can be washed down with a wide variety of cocktails and beers. To be a true Zürcher means owning a recycled bag from Freitag, and it is here that they showcase their wide variety of bags in a shop comprised of stacked up old containers. It is also where Zurich's tallest building is to be found, the futuristic Prime Tower, where you can enjoy an impressive view of the city while enjoying everything from a hot chocolate to a wide variety of gins in Clouds, situated on the 35th floor.
This is not the best district to stay in Zurich if you're planning to spend most of your time in Old Town, however it's well connected via public transport, and can have you in the historic center in about 20 minutes. If you're looking for a cheap stay in Zurich, try the Ibis Budget Hotel. And if you're more concerned about experiencing the trendy side of Zurich than you are about sightseeing, Zurich West is one of the best places to stay in Zurich!
West Zurich Best Hotels
Sheraton Zürich Hotel
Sheraton Zürich Hotel – Everything you'd expect from the Sheraton brand name. Rooms come with top comforts including coffee machine, iPod docking stations, an entertainment system, and a seating area for extra space. Housed in a great location near shops, bars and restaurants, and a short 15-minute cab ride to the Bahnhofstrasse, lake and train station. An onsite fitness center and restaurant and bar featuring an à-la-carte menu are accessible to all guests and the Club Lounge with upgraded amenities for those who are members.
Check Pricing & Availability
Booking.com
25hours Hotel Zürich West
25hours Hotel Zürich West – Exuberant and brightly colored, with each room as unique as the last, this hotel is full of personality. Luxury services include free bike and Mini Cooper rentals (yes, really!), a top floor sauna and fitness center with city views, and UE Boom speakers in each room. International cuisine and summer terrace can be found at the restaurant and a distinct menu of drinks at the bar located in the lobby. On the doorstep of a tram stop, this hotel is less than 15 minutes walk to famous sites such as the Prime Tower.
Check Pricing & Availability
Booking.com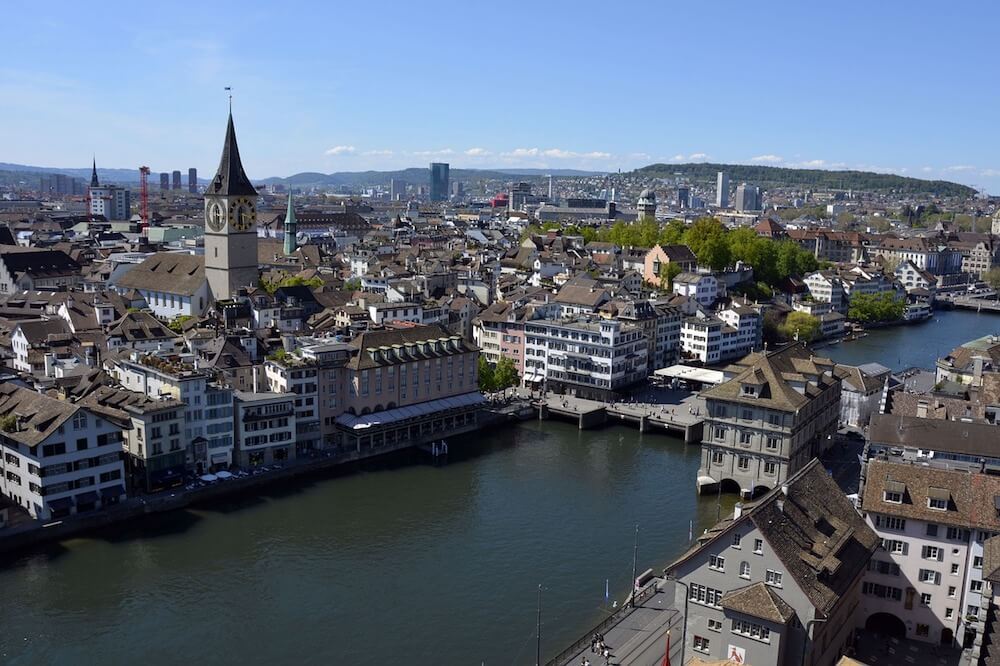 The view from Grossmünster in Old Town Zurich, photo via Pixabay, CC0 licence

Where to Stay in Zurich Near the Lake: Seefeld is a Quiet Lakeside District with Easy Access to Old Town Zurich
Still hip, but more sedate than Zurich West, the area around Seefeld offers shopping, eating and the most popular lake promenade in town. It spreads east from the end of Bahnhofstrasse to encompass a summer weekend flea market at Burkliplatz, a wide range of shops, restaurants and bars, the formidable Zurich Opera House and venues offering anything from English stand-up comedy to Shakespeare translated into German.
There are a number of Badis (allowing you access to changing rooms and refreshments if you choose to swim in Lake Zurich), and the Women's Lido (Frauenbadi) on the River Limmat allows mixed entry on summer evenings when it becomes a bar only accessible by barefoot. It is from here that boats offering scenic lake trips sail in summer, and where they are moored offering wine and whisky tastings in the winter. Walk along the lake towards the Casino at Zurichhorn about 3km (1.8 miles) and take in Heureka (the kinetic sculpture created by urban artist Jean Tinguely in 1967), the Chinese Gardens and a Corbusier house.
Although Seefeld isn't the most central area to stay in Zurich, it is the best place to stay to enjoy lakeside lifestyle, and is a great choice in the summer!
Best Hotels to Stay in Zurich Seefeld
Small Luxury Hotel Ambassador a l'Opera
Small Luxury Hotel Ambassador a l'Opera – Directly across from the Opera House and lake and only a 10-minute walk to Bahnhofstrasse, this boutique hotel also boasts stunning views of the Alps and Lake Zurich. Once part of the Uto Castle built in 1894, but with modern comforts like electronically adjustable beds and free wine, coffee and tea in the lounge. A rooftop terrace offers stunning views and a prime spot for relaxation. There is a gourmet restaurant onsite and an intimate bar providing an array of cocktails.
Check Pricing & Availability
Booking.com
Hotel NI-MO
Hotel NI-MO – A quiet night's rest and tasteful design await every guest at Hotel NI-MO. A buffet breakfast, tablets and Nespresso coffee are presented with each room. Well-located mere meters from the lake, Opera House and tram station, you can get to popular destinations like the Bahnhofstrasse in only 10 to 15 minutes on foot. Near to cafes, boutiques and restaurants, this hotel is charming and centrally located. Guests can discover sophisticated nightlife and culinary variety around every corner.
Check Pricing & Availability
Booking.com
Zurich Travel Tips
Top Zurich Attractions
Entrance fee: 5CHF($5) +4CHF to climb the tower (187 steps)
Opening Times: 10am-6pm (5pm in Winter)
Tower: 10am-5pm (4:30pm in Winter)
Fraumunster Church
Entrance fee: 5CHF($5)
Opening Times: 10am-6pm (5pm in Winter)
Kunsthaus Zürich *30% discount with Zurich Card
Entrance fee: 16CHF ($17US) adults (11CHF students/seniors) 16 and under, free
Opening times: 10am – 6pm (8pm Tues/Wed), closed Mondays
FIFA World Football Museum *20% discount with Zurich Card
Entrance fee: 24CHF ($25US) adults (discounts for youth/seniors) 6 and under, free
Opening times: Tues/Wed/Thurs 10am – 7pm, Fri/Sat/Sun 10am – 6pm, closed Mondays
Landesmuseum *Free entry with Zurich Card
Entrance fee: 10CHF ($10.40US) adults (discounts for youth/seniors) 16 and under, free
Opening times: Tues-Sun 10am – 5pm (7pm on Thursdays), closed Mondays
Top Zurich Tours
Zürich – Extended City Tour
(Walking/Coach/Ferry/Cable Car)
Duration: 4 Hours
Start Times: 1pm Daily
Main Sites: Old Town, St. Peters Church, Guild Houses, Lake Zurich, Felsenegg & More
Stories of the Old Town: 2-Hour Walking Tour of Zurich
 *50% discount with Zurich Card
Duration: 2 Hours
Opening Times: 3pm Daily (11am & 3pm on Sundays)
Main Sites: Lindenhof, St. Peter's, Town Hall, Grossmünster and Fraumünster, Niederdorf & Rindermarkt
Zurich: 2-Hour Sightseeing Bus Tour
Duration: 2 Hours
Opening Times: 10am, 1pm & 3:30pm Daily
Main Sites: Lindenhof, St. Peter's, Grossmünster and Fraumünster, Dolder Railway
Sightseeing and Gourmet Tour with Cheese Fondue
(Walking/Coach/Cable Car)
Duration: 5 Hours
Opening Times: 3:45pm *Saturdays
Main Sites: Lindt Chocolate Shop, Bahnhofstrasse, Felsenegg viewpoint, Lake Zurich, 4-course dinner
Zurich Public Transportation
The Zurich public transportation system is very highly regarded and considered one of the best in the world. It consists of a network of trams, S-bahn (urban railway), buses, and boats.
The Zurich public transport area is split into a zone system. Central Zurich is technically in one zone, 110, but it actually counts as two zones. Make sure you always purchase the 1-2 zone tickets. These tickets are valid for one hour. The S-bahn and buses travel a bit further afield and cover multiple zones. If you purchase a ticket covering 3-7 Zurich public transport zones, your ticket is valid for 2 hours.
Tickets are also sold by class, 1st class and 2nd class. However, on trams and buses, this means nothing as there are no separated class compartments. If you are taking the S-bahn multiple zones, you can choose. First class compartments have a little added comfort.
Confused? Purchase a 24hr or 72hr Zurich Card, and all your public transportation needs are covered, along with many other benefits, click here for details.
Fares (based on 1-2 zone, 2nd class):
Single Journey: 1-2 zones 4.40CHF (~$4.60US)
Multiple Single Journey (6): 23.80CHF (~$24.75US)
24hr Pass: 8.80CHF (~$9.15US)
Tickets can be purchased at ZVV vending machine located at every tram stop or S-bahn platform. You can also download the ZVV Tickets app and manage your tickets and rides within the app.

Zurich Airport to City Center
Getting from Zurich airport to downtown is really quite easy and fast. The airport is just 6.5 miles (11km) from the center of old town. You can choose between trains, taxi, shuttle bus, public transit, and of course a private car for your Zurich airport transfer, however the train is the most common.
Train
This is the most common way to travel to the city from the airport. There isn't a specific Zurich airport train, but any train going in the direction of Zurich will stop at Zurich HB (Hauptbahnhof) which is the main train station for the city. The Zurich airport station Bahnhof Zürich Flughafen is a busy and well connected train station, located directly beneath the main Airport Center check-in area, signs leading to the trains are well marked. The journey will cost 6.80CHF(~$7.05US) for an adult 2nd class ticket. This is a 3 zone ticket which is required for trips to the airport, and remember to validate your ticket! There will be a train about every 10 minutes, and the journey is also roughly about 15-20 minutes.
Single Journey: 3 zone, 2nd class 6.80CHF(~$7.05US) / 3.40CHF for children age 6-16
24hr Day Ticket: 3 zone, 2nd class 13.60CHF (~$14.15US) / 6.80CHF for children age 6-16
Public Transport
Another common method is the Zurich airport tram. Tram #10 runs to and from the airport and Zurich HB, the main train station. This route covers 3 zones, so the ticket costs are the same as above. There are no separate class compartments on public transit trams or buses, so choose  2nd class ticket. This journey will take about 45 minutes.
Shuttle Bus
There is a Zurich airport shuttle bus running hourly from Zurich airport to old town and most central hotels operated by a company called 7X7. The journey time is 30-45 minutes and costs 25CHF (~$26.00US) per person including luggage. Children under 12 ride free. There is a general meeting point on the arrivals level, and the minubus is equipped with wifi. Reservations can be made on their website.
Taxi
Zurich airport taxi ranks are located outside both arrivals terminals. A typical ride from the airport to the center should be about 20 minutes depending on time of day, and should cost roughly 50-70CHF (~$52 – 73US). The taxis are metered, but the 7X7 company listed above also offers a flat rate of 62CHF (~$64.50US) for up to 4 people, and can be pre-booked on their website. Larger luggage may incur extra fees.
Private Transfer
Of course, a Zurich airport transfer can be arranged in a private vehicle with nameplate meet & greet service. Click here for details.
Popular Day Trips from Zurich
Day trips from Zurich by train or bus are great way to see a bit of the countryside while still returning to the convenience of the city at the end of the day. Take a day trip from Zurich to Lucerne and Mount Pilatus, or one of many easy day trips from Zurich to the alps to see other famous peaks like Jungfrau or Titlis. We've listed a few of the best day trips from Zurich below, alternatively, click here to see a full list.
Zurich to Lucerne & Mt. Pilatus
Mount Titlis Day Trip From Zurich
Rhine Falls Coach Tour from Zurich
Day Trip to Jungfraujoch
Click Here to See a Full List of Day Trips From Zurich
Read More to Plan Your Europe Trip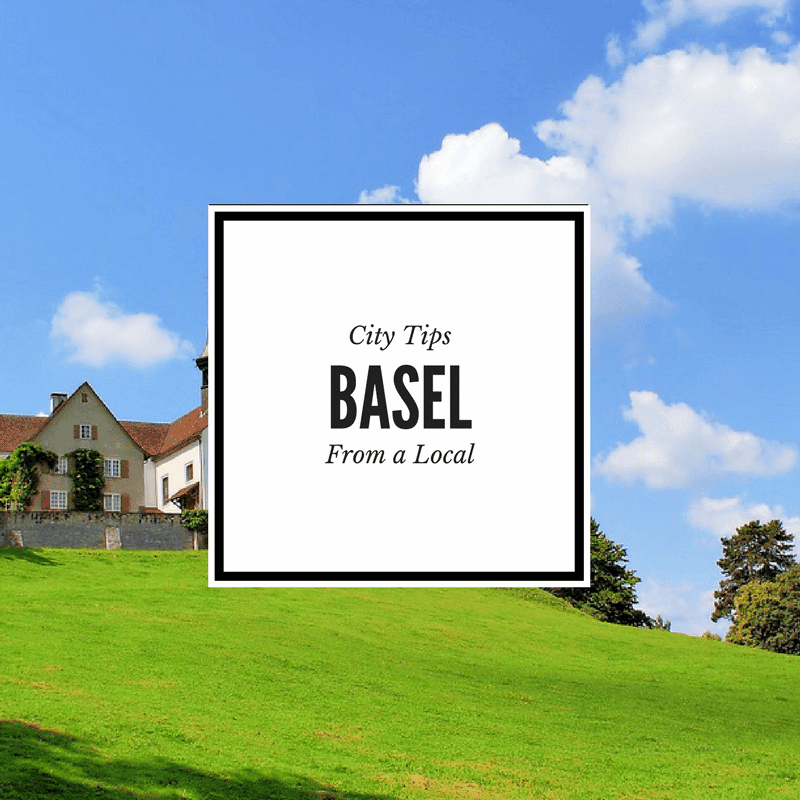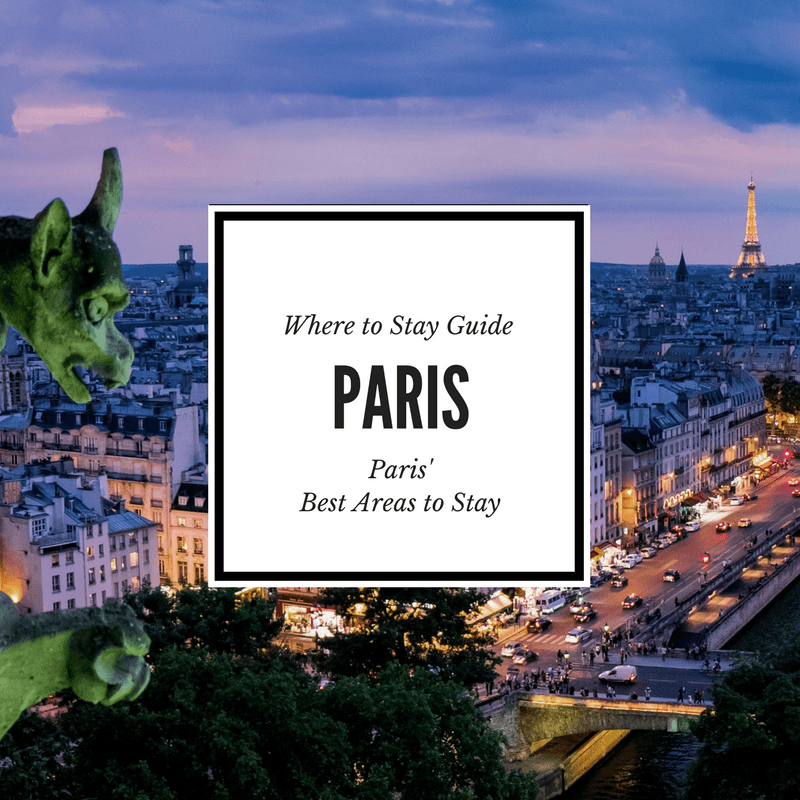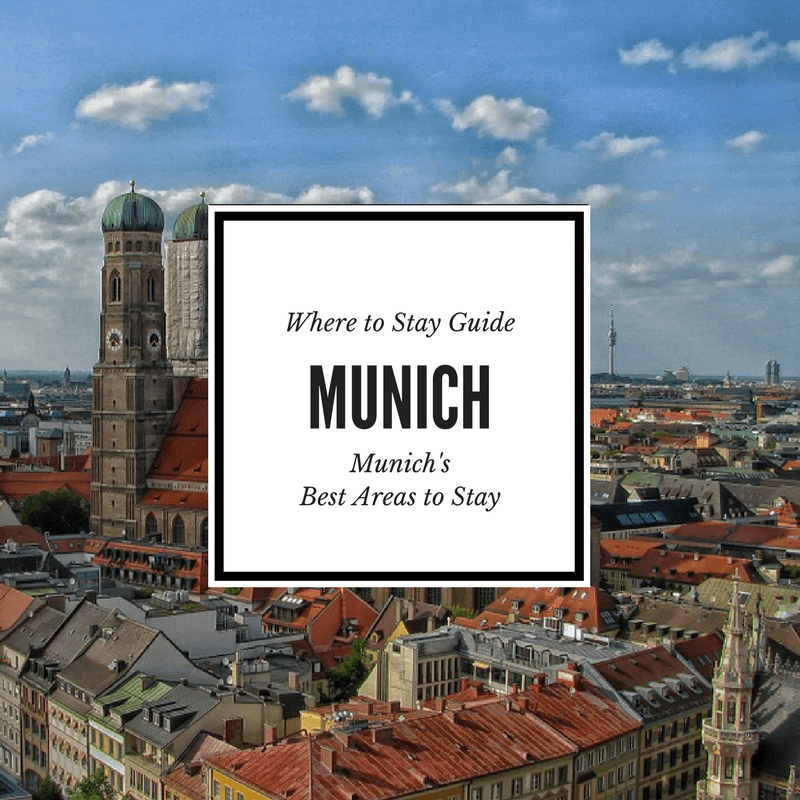 Did You Know We Have Over 45 FREE Travel Guides Just Like This One?
Click Here to See The Full List
Pin This Post!