Oahu is one of the largest islands in Hawaii. It has the highest population and it's also home to some of the best hidden treasures in Hawaii. With a shoreline that stretches 227 miles long, two separate shield volcanoes (Waiʻanae and Koʻolau Ranges), lush valleys, gorgeous trees, and some of the most insanely beautiful sights in the world, it's no wonder it attracts more than 10 million visitors every year. Hawaii is a unique place to visit. It has nearly perfect weather throughout the year, making it a great place to enjoy all types of recreation. In addition, Hawaii is the only state with two official languages, banned billboards, and allows visitors to mail coconuts. (How cool of a souvenir would be mailing a coconut?!) It's a place packed with tradition, culture, and Aloha-inspired charm! In addition, the people are friendly, warm and inviting, ready to share the island's beauty and adventure with visitors.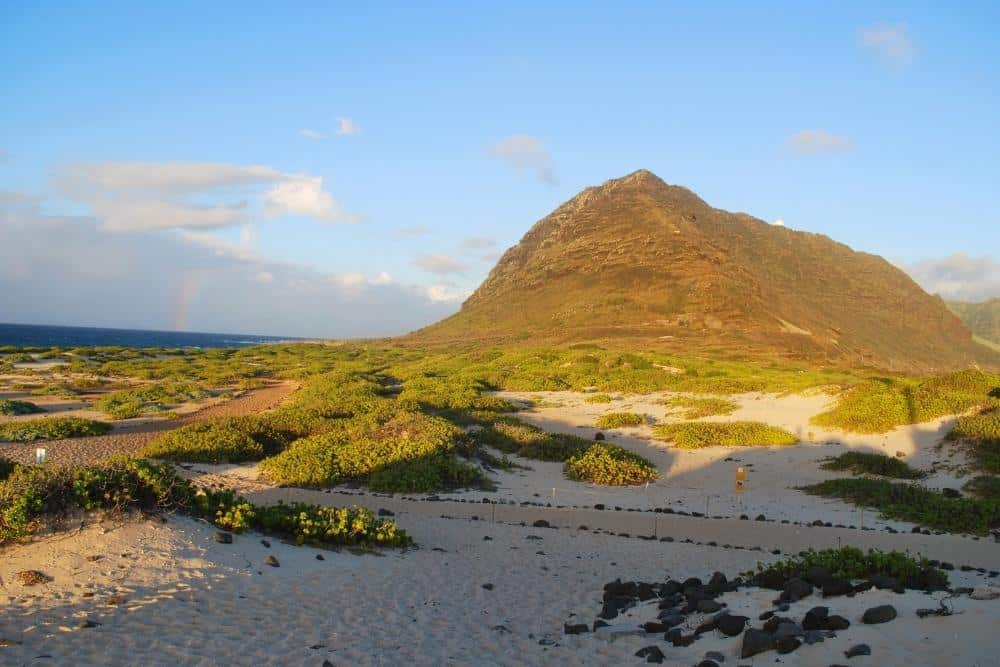 With that said, breaking loose from the crowds in Oahu isn't exactly a breeze, but if you're the type of traveler who desires to get away from the tourist hot spots and doesn't mind making an extra effort, here are some of the top hidden treasures in Oahu! So grab a pen and write these down because these are so hidden that even some local Hawaiians haven't heard of!
Kaena Point State Park
Meeting at the point where the West and North sides of Oahu island align, Kaena Point State Park is a dreamy off-the-beaten-path beach not many people know about. It is a remote state park with a gorgeous untouched coastline inviting visitors to start exploring. Although Kaena's strong waves aren't ideal for swimming, this state park is worth a visit because its hiking is out of this world. Its 2.7-mile-long trail goes along the shore and up steep rocks you must climb through, offering breathtaking views every single step of the way. There are several activities to enjoy while visiting. Visitors can enjoy wildlife sightings, snorkeling, sunbathing, hiking, and shoreline fishing. Other highlights include the volcanic coast, natural rock arches, tide pools, caves, and even a few dolphin sightings if you make it there early in the morning!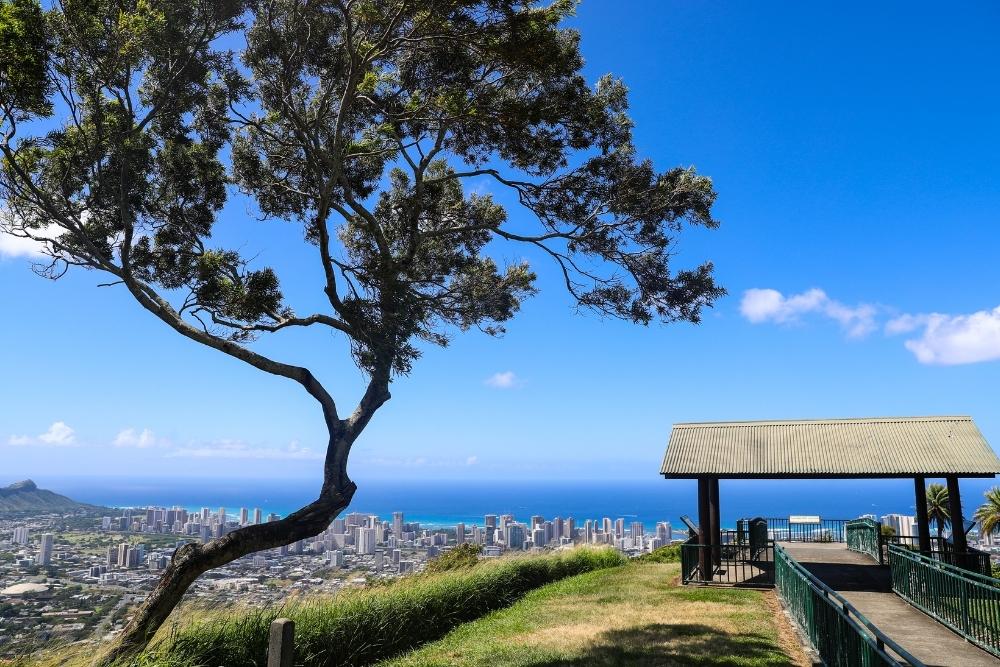 Tantalus
If epic views, giant leafy trees, and gorgeous landscapes are your things, then plan a trip to Tantalus lookout. Located only four miles north of Waikiki, the area is absolutely spectacular. It's great to explore by foot, on a bike, or enjoying the winding road in a car. Also, the views of the Hawaiian sunset from here are insane.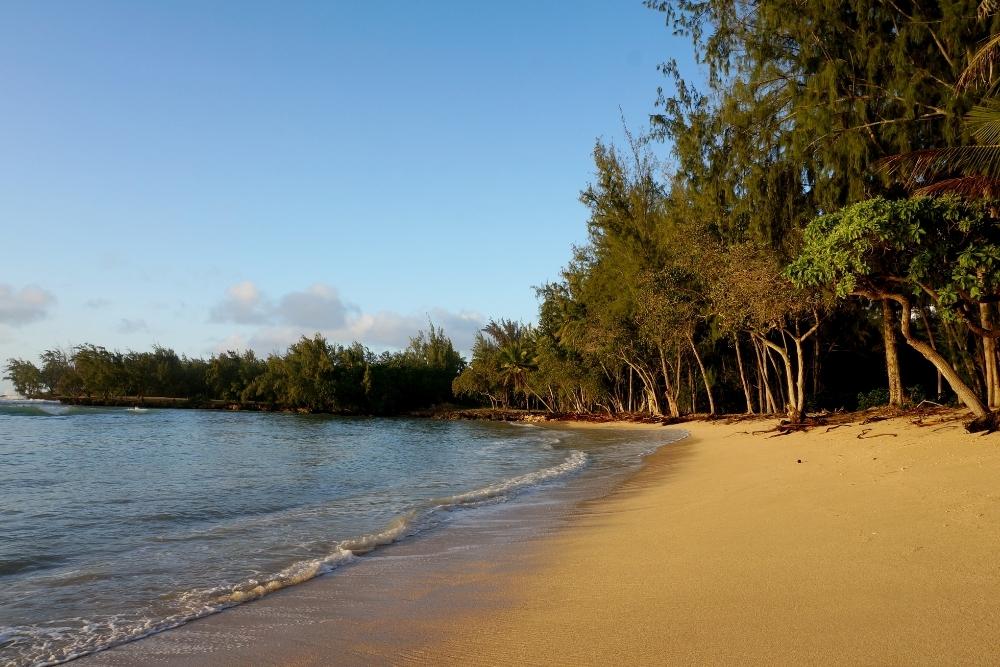 Kawela Bay
If you're not a fan of crowds, Kawela Beach is everything you could ever ask for because nearly no one visits this gem of a place in Oahu! Featuring beautiful trees lining the entire shoreline, Kawela may just be one of the biggest hidden gems in entire Hawaii, especially regarding beautiful beaches. Furthermore, Kawela's waves are very calm most of the time, which makes it a perfect Oahu beach to spend time at if you're traveling with kids.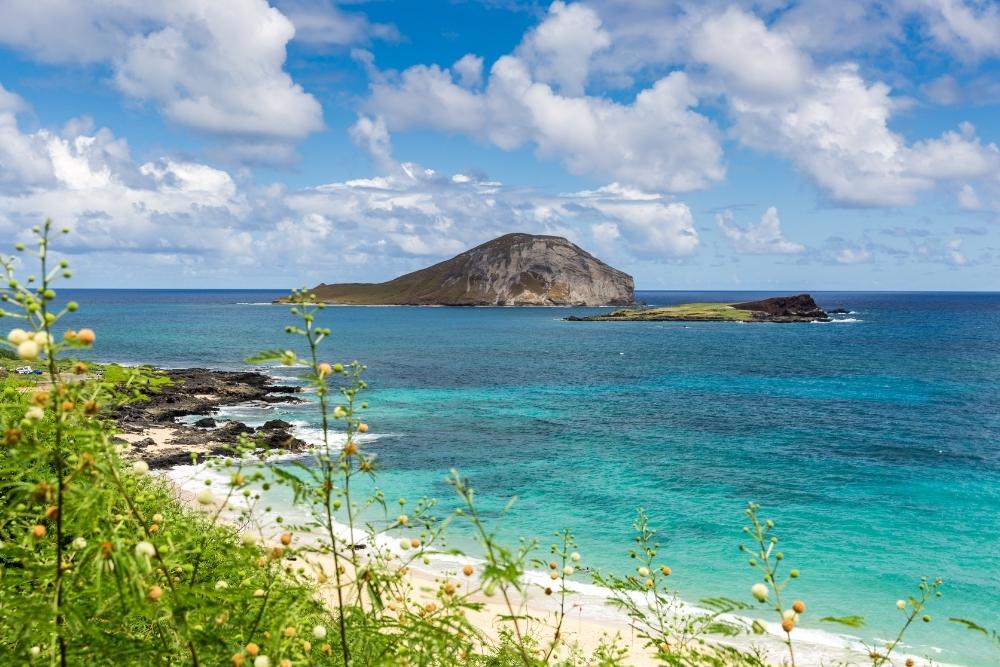 Sherwoods Beach
Sherwoods Beach is a secluded, family-friendly beach. It has perfect aquamarine waters, a soft white sandy shore, and tall leafy trees ready to provide shade. One of the best parts about this hidden gem is that it's never very crowded. Additionally, Sherwoods Beach is beautiful! Visitors can enjoy many activities, whether they want to try bodyboarding, paddle boarding, snorkeling, or just sunbathing.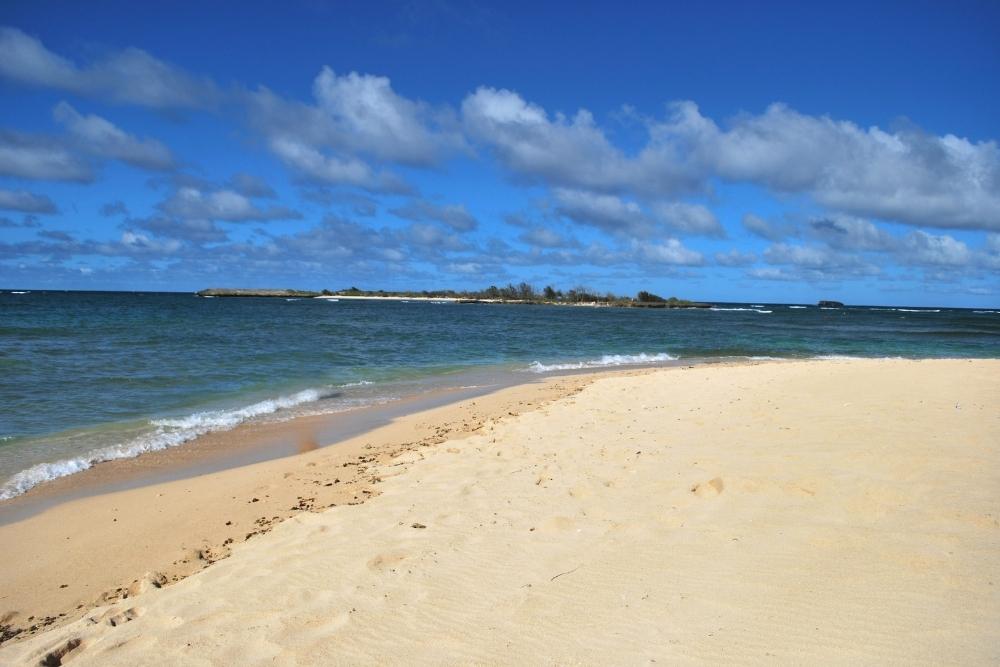 Goat Island
Mokuʻauia Island, or Goat Island, commonly called by locals, is a flat islet in Laie Bay. What makes this islet stand out from the crowds is the fact that it's made of lithified dunes, making it a truly unique sight. There are no goats on Goat Island. However, you'll find plenty of nesting seabirds!
Located only 720 feet from Malaekahana State Recreation Area, Goat Island is close enough to the beach that you can swim over. Walking there is not recommended, though, because the coral reef underneath can cut your feet and also suffer some damage. Paddling over on a bodyboard or surfboard is another option if you're not too keen on swimming!
Mokuauia Island boasts three different beaches, but the best one to spend your time in is the one located on the left side of the islet. This beach is protected from waves by cliffs, making it a perfect spot to float in super calm waters with gorgeous views of Oahu's mountains backdropping the scene.
Keep in mind, though, that this is a protected seabird sanctuary. As such, it's imperative to stay away from the island's center, where the seabirds lay their eggs.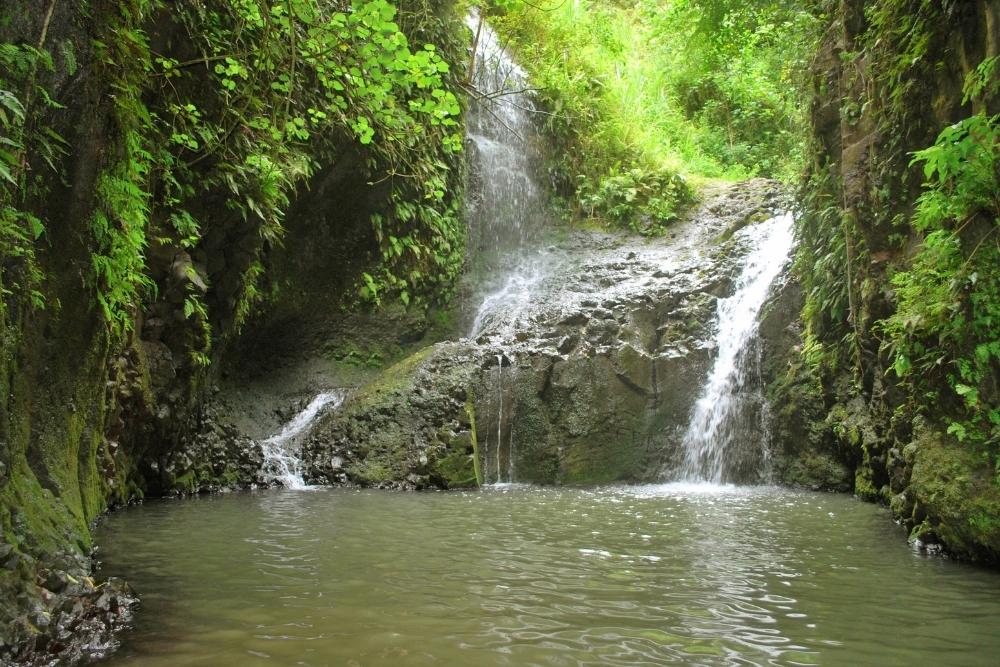 Maunawili Falls
The thrilling 3-mile round trip hike to see Maunawili Falls is so beautiful. The trail is well maintained with clear signs and arrows, making it ideal for even inexperienced hikers. However, the terrain can be a bit dicey, so be cautious and wear good shoes. Hikers climb approximately 1000 feet and see sights you can't even imagine. Upon reaching the end, hikers will climb 100 yards up large stairs and be greeted with unimaginable beauty!
Kahuku Farms
Love farm-to-table outings? If you're in the mood for a genuinely unique Oahu experience, head to Kahuku Farms, where you can tour the estate and even sample fresh fruits directly from the vine!
Back in the day, what started as a tiny roadside shop has become a great place to visit. After strolling through the farm and eating everything organic on the way, you can also check out their shop for natural beauty and self-care products to bring back home!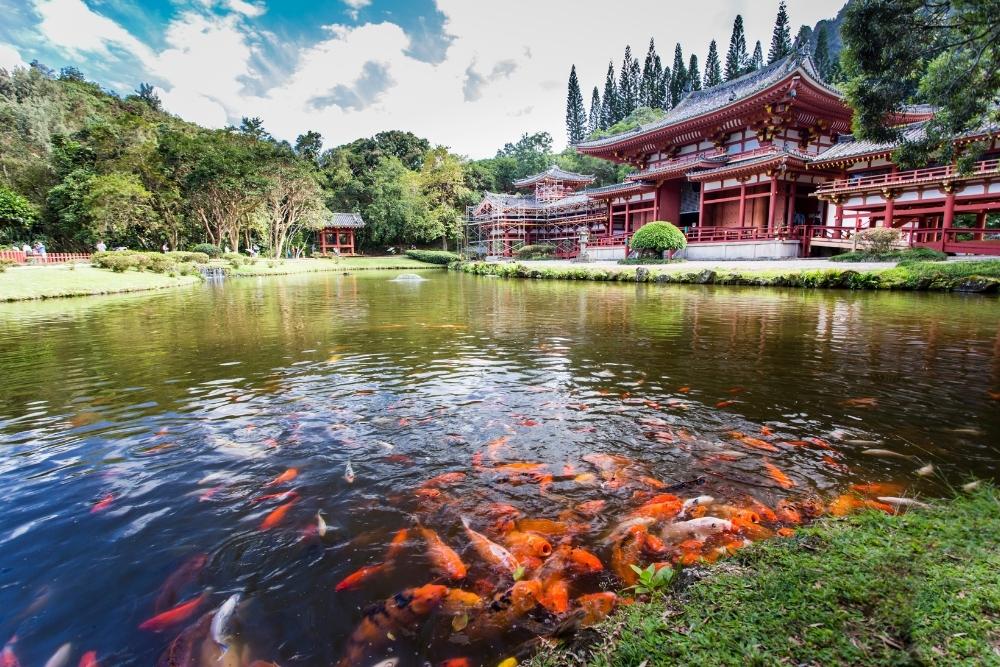 Byodo-In Temple
A tiny replica of the Byodo-In Temple in Japan, Oahu's version, was built in Kahaluu to honor the Japanese people who lived in Hawaii for more than 100 years. It is a non-practicing Buddhist temple, so all visitors are welcome and free to walk around and take pictures on the sacred grounds.
Mermaid Cove
Mermaid Cove is probably one of the most prominent off-the-beaten-track locations on the island of Oahu, so much so that no tours offer visits to this underwater gem. Instead, the hollow area of Mermaid Cove is half-submerged, and when light reflects on its walls, it creates a genuinely surreal sight!
The reason for its solitary status? It's not easy to find, but you'll have no problem getting there from Nanakuli Beach Park if you know where to go, don't mind roughing it up a bit, as you'll have to make your way through tunnels and walk under the heat for a while. Once you get there, though, it'll be worth every drop of sweat, so make sure to include it on your bucket list if you're into true adventures!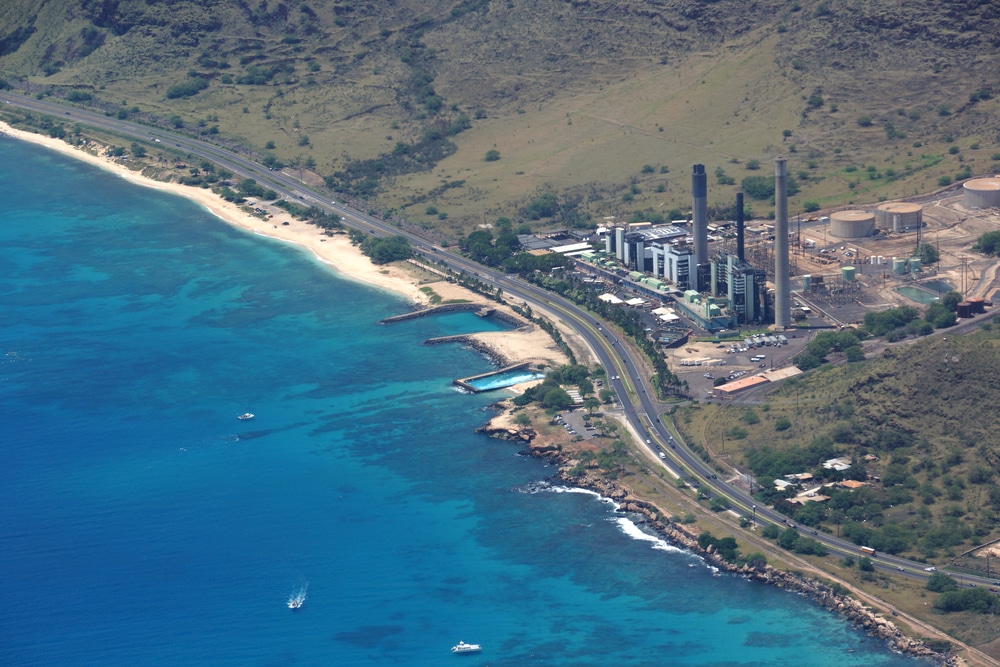 Electric Beach
Okay, so the name of this beach is pretty strange, and why this beach was named that way is pretty interesting, too. Back in the day, a power plant was built right across the street from Electric Beach, making its name pretty apt!
What makes this beach so unique, though, is the fact that the warm water emitted by the plant right into the ocean has attracted a lot of marine life, so snorkeling here is an almost surreal experience. Make sure to go close to the water pipe while you snorkel, as it's a favorite hang-out spot for many animals!
China Walls
Set in Honolulu, China Walls is a formation of rocks jutting right into the ocean, creating a mesmerizing view when ocean waves crash against its rocky walls. Another aspect that makes this post so special is the fact that it boasts excellent views of Oahu's volcanic side, making it an absolute gem to visit for unbeatable scenery!
Have you ever visited any of these hidden treasures in Hawaii? If you've got other exciting places to visit on the island that we missed in the post, let me know in the comment section below!