Although one of the first things that comes to mind when you think of the city, Las Vegas is probably loud and vibrant with parties and casinos; Sin City is a  place that's ideal for those who love a day spent outdoors getting up close and personal with nature. In addition, thanks to its location close to the Arizona, California, and Utah border, Las Vegas is a terrific place to set yourself up and explore some of the best that Nevada and its neighbors have to offer.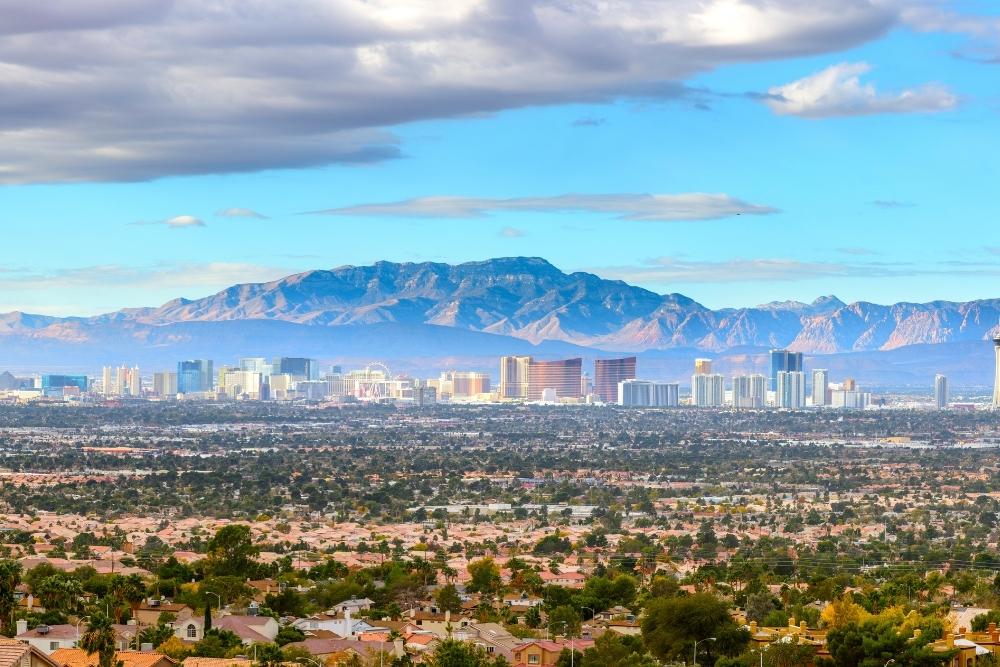 If you're craving to get away from the bustle and hustle of the city and breathe in some serious fresh air, here are 12 of the most fantastic Las Vegas day trips to add to your bucket list! Before I dive into those, here are a few Las Vegas day trip must-haves that will make your trip much more comfortable and enjoyable.
Las Vegas Day Trip Essentials:
Comfortable walking shoes
Portable charger
Filtered water bottle
Hand sanitizer
navigation/atlas
Sun hat and sunglasses
Great playlists and podcasts
Identification
1. Lake Spring Mountain
Lake Spring Mountain is a tropical paradise. Visitors can enjoy a massive variety of water sports, a well-stocked Tiki Bar serving fresh food and drinks, and equipment rentals to embrace the water. The calm blue lake is hugged by perfect soft white sand on a tree-lined island. Lake Spring Mountain is a great place to get away from the busyness of Vegas and unwind, relax and have a great time.
Distance from Las Vegas – 1 hour 6 min. drive
2. Valley of Fire State Park
Set under an hour's drive away from the Strip, a day in Valley of Fire is a truly unbelievable experience. This park will walk you into a world of red rock sandstone that will make you feel like you're on Mars, ancient petroglyphs, trees, and landscapes dripping with diverse shades of oranges, reds, and pinks. What looks like a painting masterpiece is just insane geological formations that came to be because of the weather and its extremities.
The best way to enjoy this day trip? By going on a hike! Make sure to bring lots of water along, comfortable shoes, and snacks,  and prepare for a day spent hiking in the desert (keep in mind it does get pretty hot here!) Two great hikes to begin with if you're not used to hiking in the desert are the Fire of Wave and the Rainbow Vista trails, both beginner-friendly to complete and provide some of the most epic views at Valley of Fire.
If you'd rather not break a sweat and get super warm, another way to explore is by driving the Mouse's Tank Road. The road will give you access to the park's most breathtaking viewpoints and save you from strenuous hiking. Win-win here!
Distance from Las Vegas – 53 min. drive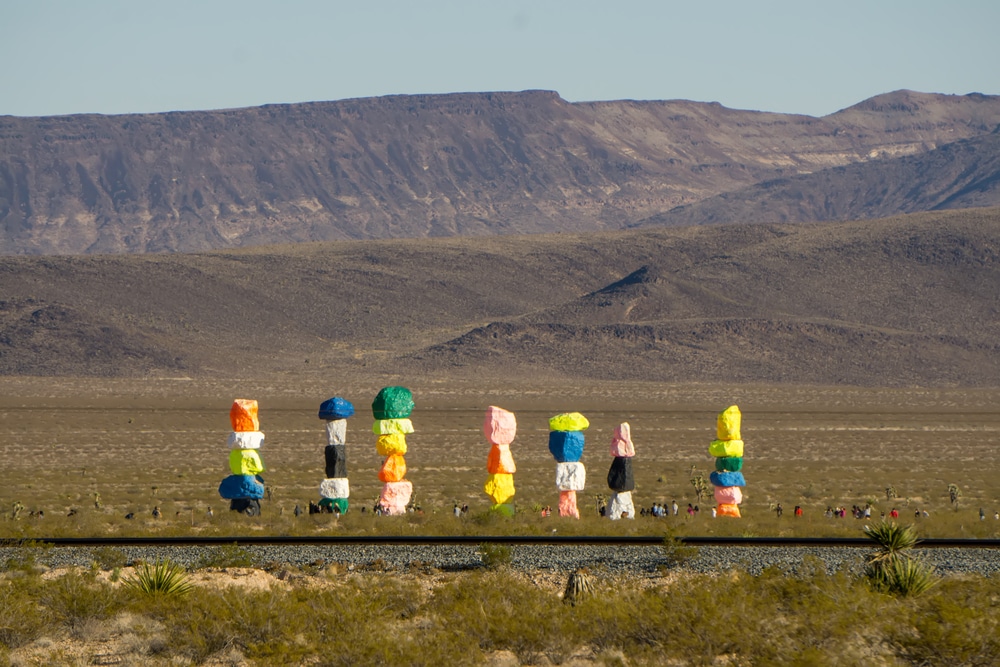 3. Seven Magic Mountains
The Seven Magic Mountains is a unique art piece set in the desert. It's a large scale, with each mountain towering as high as thirty feet. Magic Mountains make a terrific backdrop for photos and invite exploration. They're cheerful, bright, and ice-cream-shaped towers. They're located near Jean Dry Lake and maintained and taken care of by the artist themself.
Distance from Las Vegas – 13 min. drive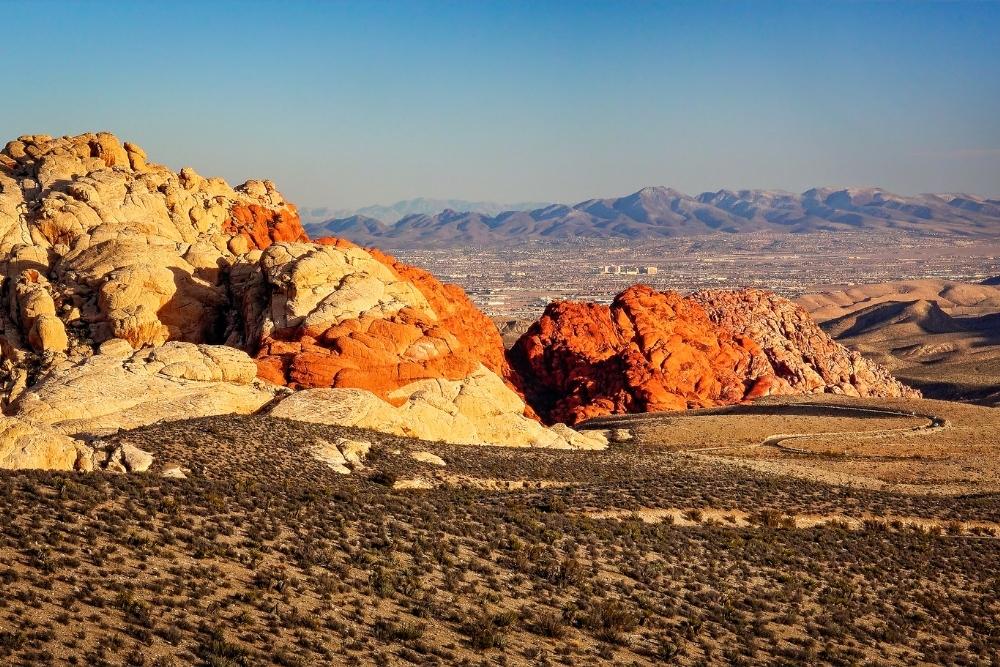 4. Red Rock Canyon Conservation Area
Even though Red Rock Canyon is just a mere thirty-minute drive away from the city, it remains a hidden treasure in the state. One of the most thrilling ways to get a feel for what Red Rock Canyon offers is by spending a day hiking and searching for epic canyon views and sandstone peaks. If you enjoy hiking, then check out the Ice Box Canyon trail, which will take you through a dramatic canyon featuring seasonal waterfalls. Then, instead of exploring from the comfort of your car, you can take the scenic Red Rock Canyon Drive. The drive is a 13-mile loop that offers some of the best views in the park. Other things to try are hiking Calico Hills, admiring the gorgeous petroglyphs, and attempting to rock climb.
Distance from Las Vegas – 19 min. drive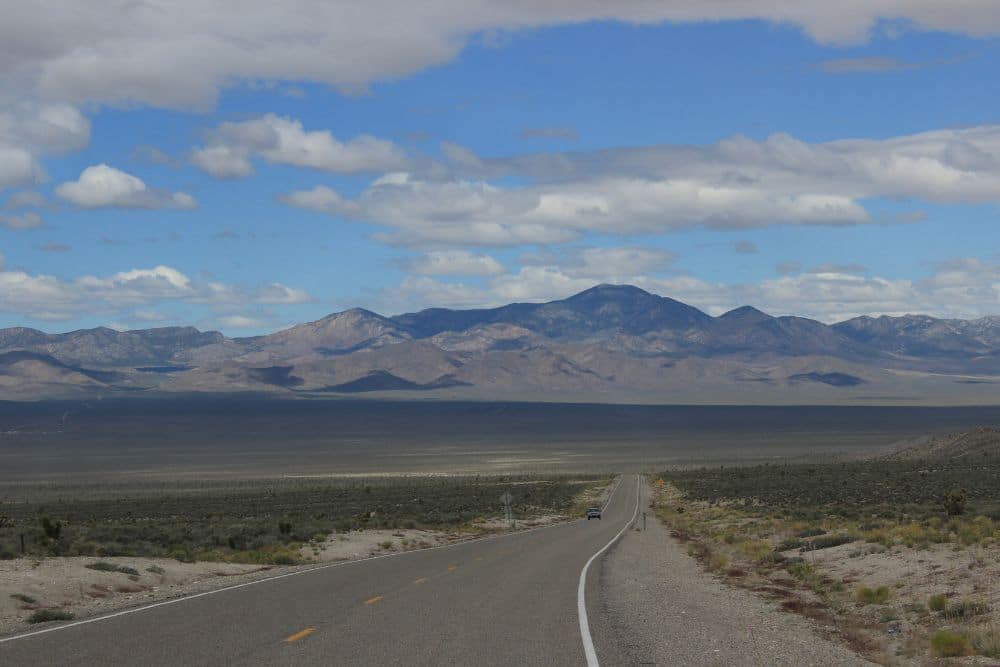 5. Area 51
Area 51 is highly classified. It's the culprit of many conspiracy theories and has taken a lot of criticism for its deep secrecy. Likely the most famous military base in the country, Area 51 is an interesting and mysterious place to visit.
Distance from Las Vegas – 2.5-hour drive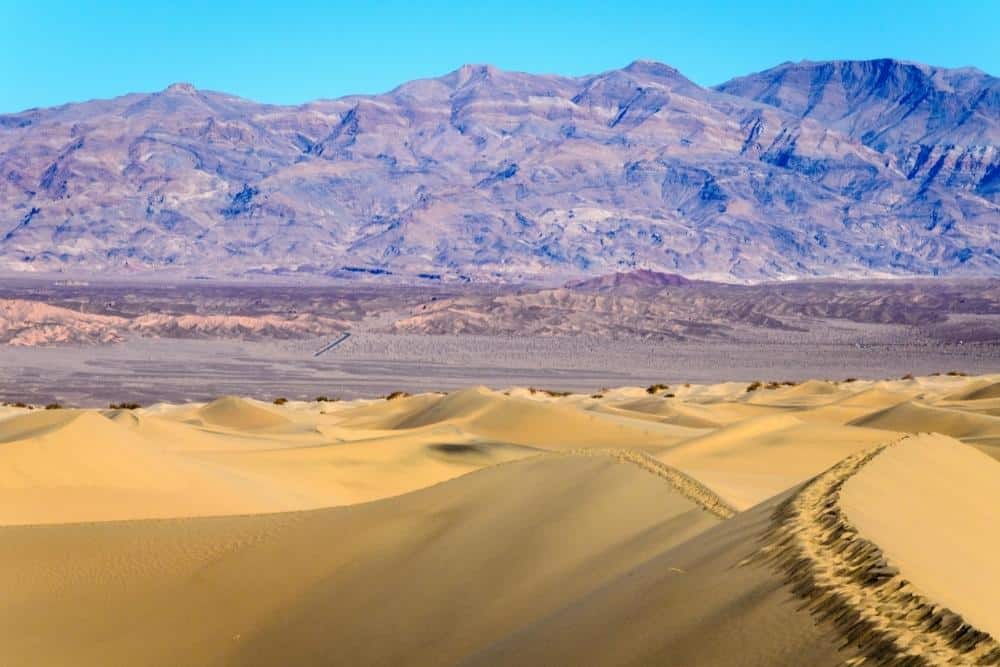 6. Death Valley National Park
Despite its somewhat bleak name, Death Valley National Park brims with life. It is located in California and is just a two-hour-long drive away from Las Vegas. A day trip to Death Valley will take you into a wonderland of colorful twisting canyons, eerie and mystical rock formations, shifting dunes, and mountains splattered in colors so lively you'll think the landscape was photoshopped! Death Valley National Park is the hottest and driest place in the country, receiving fewer than two inches of rain annually.
A few must-do activities to make the most out of a day in Death Valley include driving down Artist's Drive searching for bold, colorful mountains, standing on Badwater Basin, sliding down tall sand dunes, and hiking on mesmerizing hills.
Distance from Las Vegas – 2.5-hour drive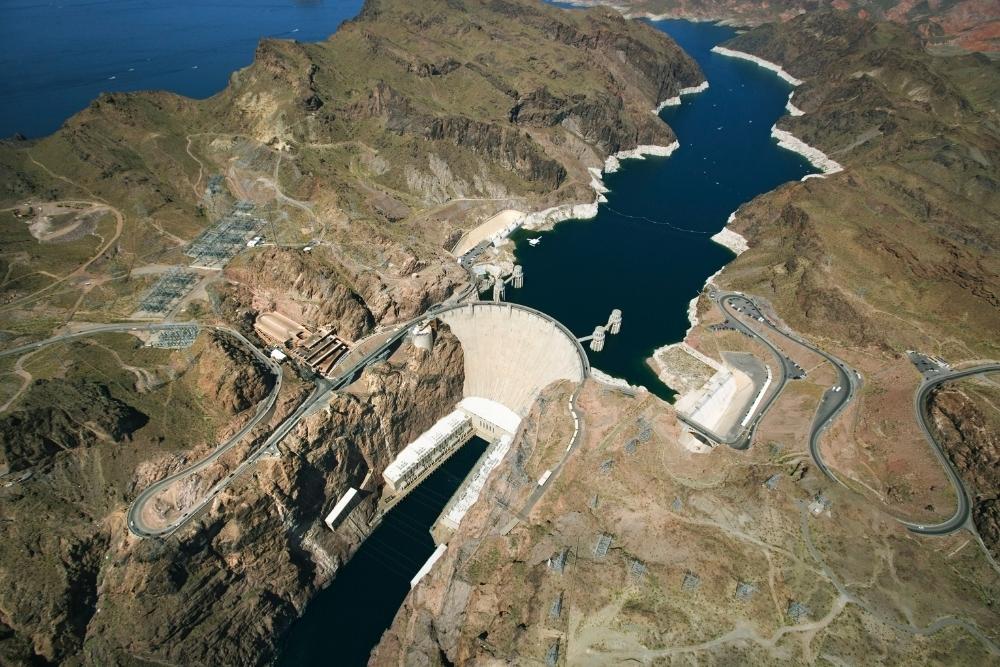 7. Hoover Dam
Hoover Dam is both beautiful to look at and also significant for the community. It is the highest concrete arch in the country and straddles the Arizona and Nevada border. Hoover Dam is used for flood control, residential power supply, and more. It promises epic views, stunning formations, and wild reddish hues painted across the terrain.
Distance from Las Vegas – 39 min. drive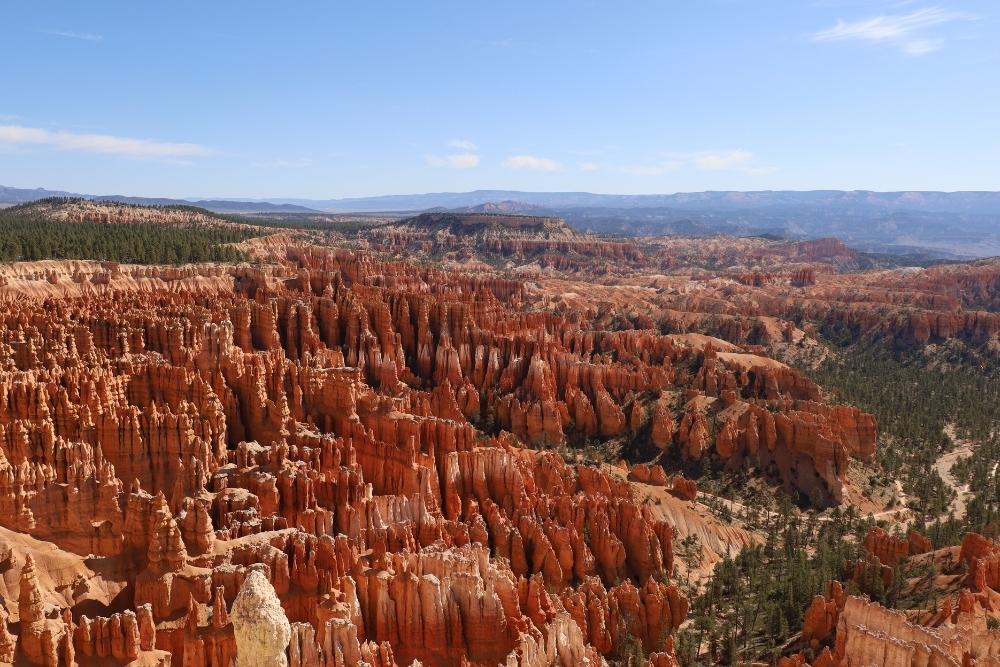 8. Bryce Canyon National Park
Bryce Canyon may sound quite far, but it's a perfectly doable day trip from Sin City if you're willing to start the day bright and early. Red hoodoos take center stage at Bryce Canyon. The recommended way to see them is by braving the famous Queen's Garden to Navajo Loop trail, which will have you twisting, weaving, and winding your way through rock tunnels, hiking through sky-high pine forests, and taking in sights at the most unbelievable views of the sandstone hoodoos that make Bryce Canyon the photogenic place that it is. The interesting rock formations invite photos, while the striking sandstone cliffs offer many exploration opportunities. The unbelievable scenery makes this national park a must-visit.
Another way to explore is by driving highway 12 to Rainbow Viewpoint and slowly making your way back. This road will pass you by 13 different (but equally gorgeous) viewpoints guaranteed to drop your jaw right to the ground. Bryce Canyon National Park is a see-it-to-believe-it type of beauty.
Distance from Las Vegas – 4 hours 2 min. drive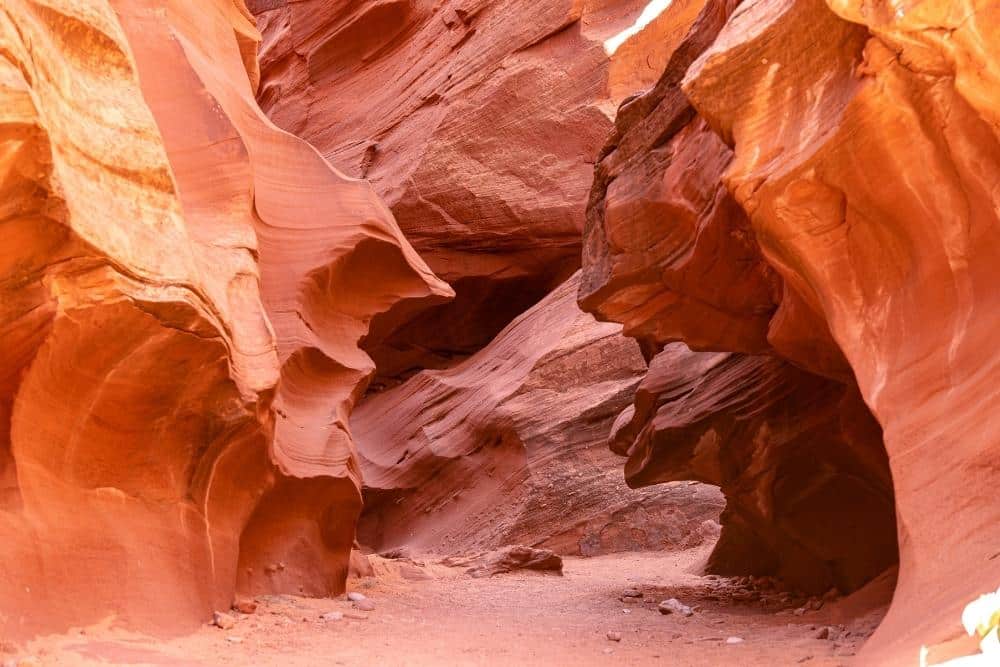 9. Antelope Canyon
Created from extreme floods flowing into cracks of sandstone in the desert millions of years ago, Antelope Canyon is a place so striking that you need to see it to believe. This mesmerizing canyon is smothered with swirls of colors that seem to come to life when light bounces off the rocks, creating one of the most exciting sights in the entire world. The hike to explore the canyon is beginner friendly and can take up to two hours to finish if you stop to take pictures (and trust me – you want to!).
If you have enough time, you can also check out the adjoining, much lesser-visited Lower Antelope Canyon, which is just as beautiful but has much narrower passages, making the hike through it a bit more challenging but worth every twist and turn you'll make along the way! Antelope Canyon is equally as dreamy as it is fascinating. 
Distance from Las Vegas – 4 hours 26 min. drive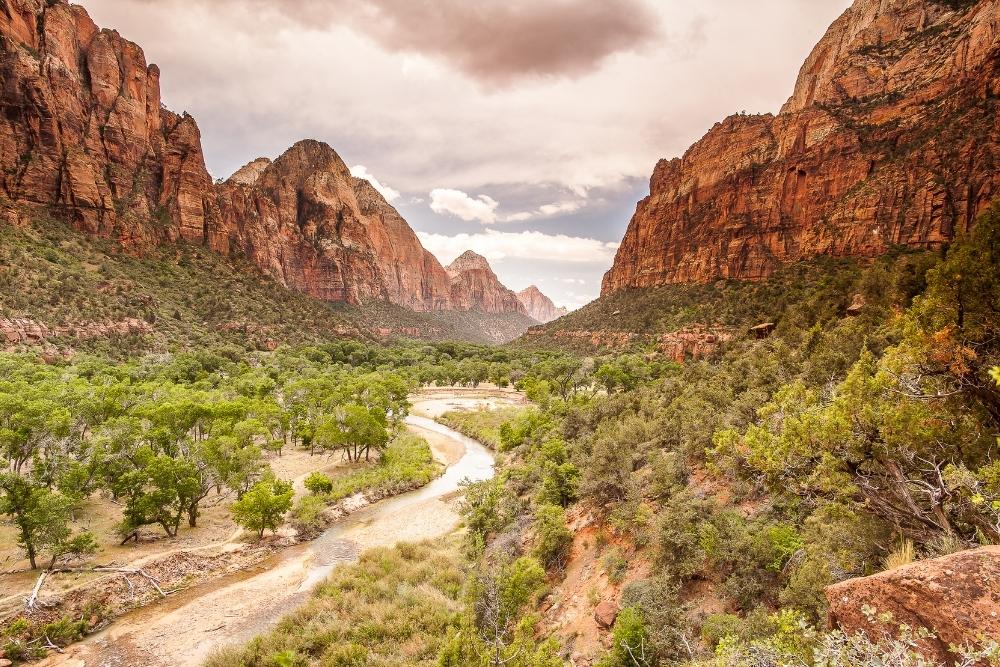 10. Zion National Park
Zion National Park is a gorgeous place to see, packed with thrilling adventures. The park stretches 229 square miles with canyon walls painted the most vibrant shades of reds, oranges, and perfect beige. Zion National Park is home to great hiking trails and sightseeing opportunities. Rock climbing, horseback riding, and exploring are just a few activities you can embrace while visiting. If you're not up to hikes, enjoy the park with a ride on the park shuttle bus or drive the Zion Canyon scenic drive.
Distance from Las Vegas – 2 hours 39 mins.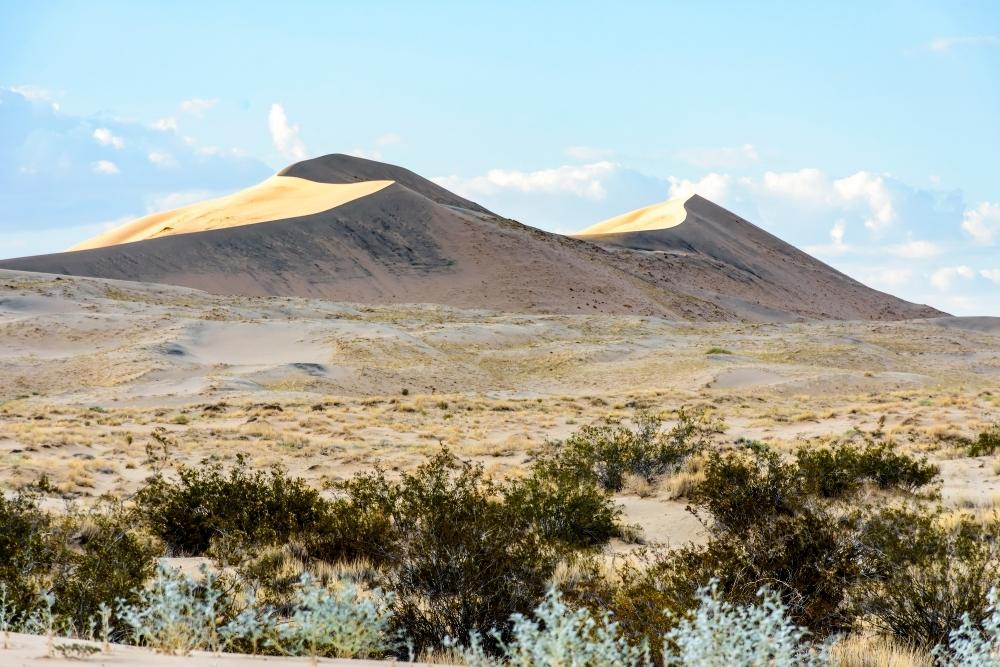 11. Mojave National Preserve
Picture this – turning sand dunes, ancient volcanoes, petrified lava covering the ground, and Joshua trees dotting every scene. You'll get a good picture of what a day at Movaje National Preserve is all about! Despite its proximity to Las Vegas, this destination remains pretty remote, making it a perfect day trip if escaping the crowds is what you're craving. 
Two of the best activities at Mojave are hiking up Kelso Sand dunes, which are famous for the music they create by the vibrations of sand when it moves along the ridges, and hiking the Teutonia Peak Trail to see the largest Joshua Tree forest in the world!
Distance from Las Vegas – 57 min. drive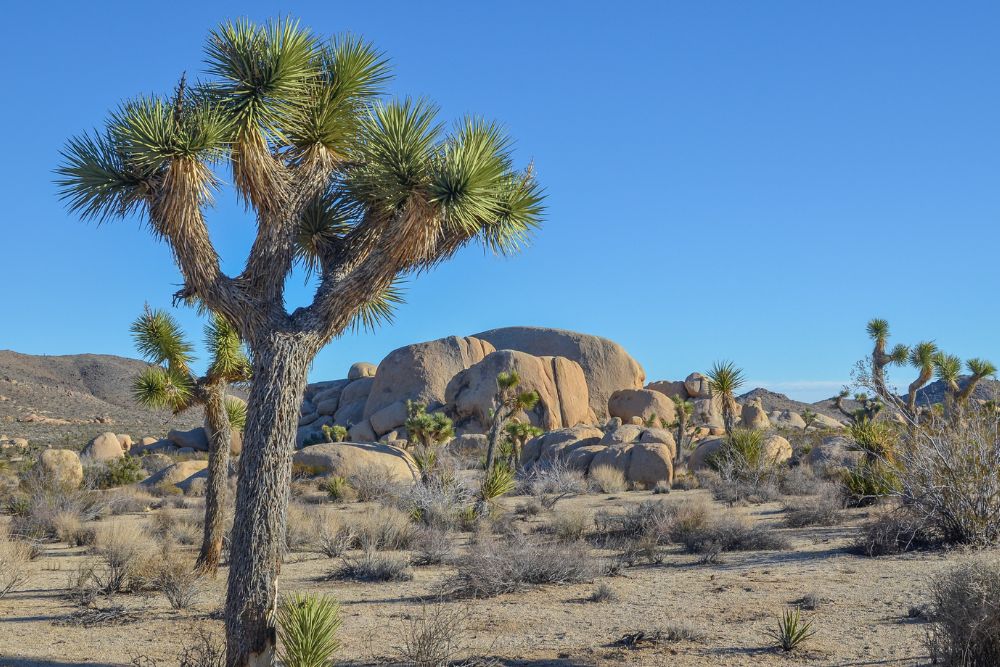 12. Joshua Tree National Park
California's desert has an enchanting charm, and Joshua Tree National Park is one of the best ways to experience it fully. Found at exactly where the Mojave and Colorado deserts meet, the mystical Joshua Tree is a combination of two entirely different ecosystems that create a unique landscape that looks straight out of this world. 
This national park is vast, but seeing its highlights is doable if you start the day early. On the menu are miles and miles worth of hiking trails, horseback riding, biking, and even rock climbing if you're ready for a challenge. Make sure you plan to stay until after sunset – Joshua Tree is considered one of the best places in the United States for stargazing!
Distance from Las Vegas – 3 hours 27 min. drive
Additional Las Vegas Day Trips Worth Taking
The Grand Canyon – 2.5-hour drive
Mount Charleston – 44 min. drive
Lake Mead – 35 min. drive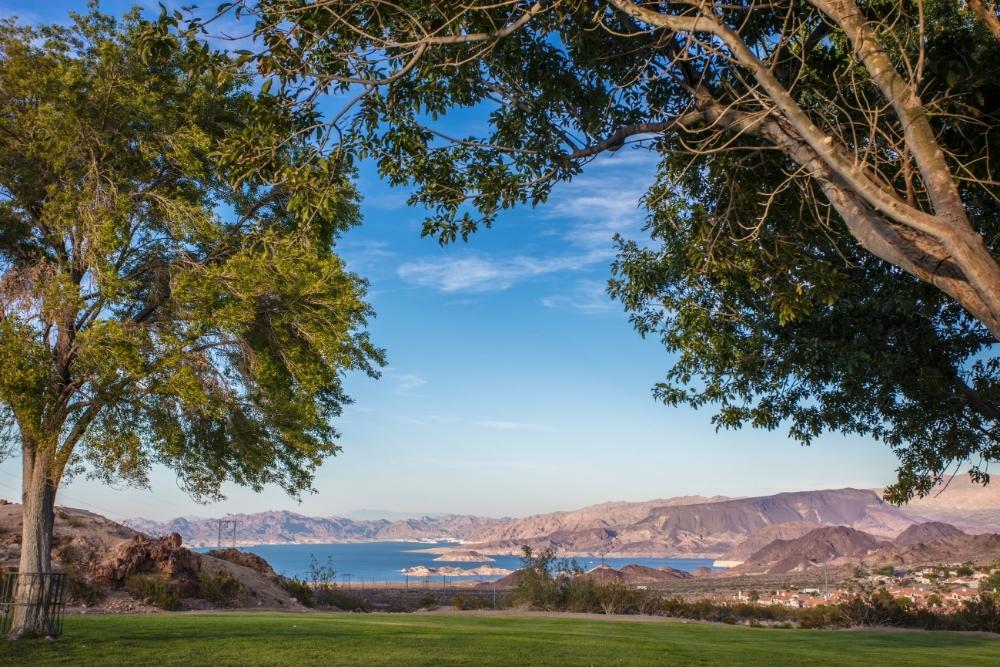 Willing to drive a little longer?
Las Vegas, Nevada, is ideally situated, providing recreation and relaxation opportunities. But, regardless of what kind of activities you're craving, rest assured, they exist here! 
Las Vegas to Phoenix – 4 hours 36 min. drive
Las Vegas to San Diego – 5 hours 2 min. drive
Las Vegas to Denver – 10 hours 41 min. drive
I hope this list of the amazing Las Vegas day trips helps you plan your next outing! Even though the city is renowned for its glittering nightlife, this list proves it's also a piece of paradise for those who love exploring the desert!