I really liked Helsinki, but I can't really show you why. Compared to the other cities we visited in the Baltic states, there wasn't that much to see or do. I sat naked in a sauna, but photography is mostly discouraged during situations in which everyone is naked, so I can't show you that. I told you about the font walk, but my account made it seem pretty lame. And to be honest, it WAS pretty lame. But — and here is the thing I LOVED about Finland's capital — Helsinki is the kind of place where people think to themselves, "let's create a font walk!" And then they actually go out and do it, and convince the New York Times to write about it.
Or, "let's stage an impromptu concert…on top of a bus stop!"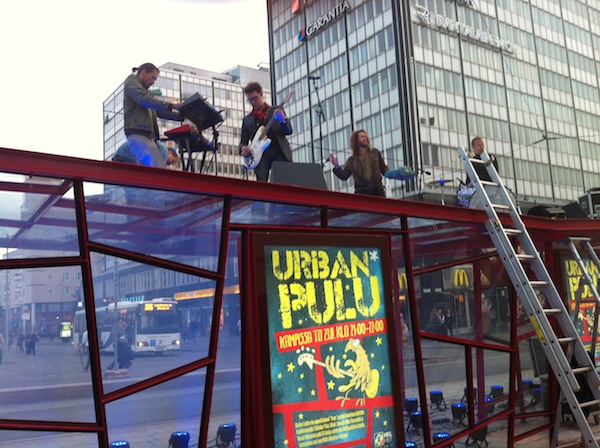 Or, "let's spray paint a car in the middle of downtown, just for shits and giggles!"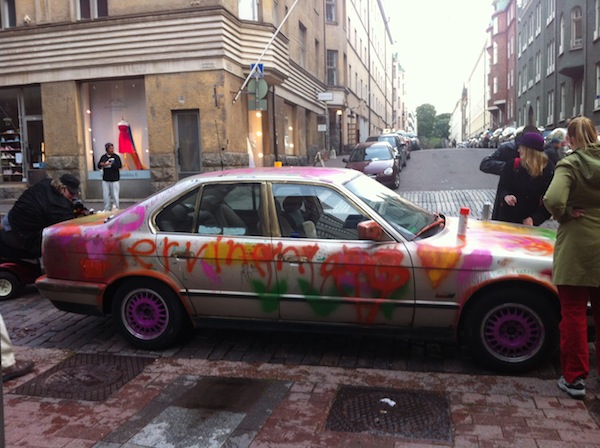 And also, "Let's build something beautiful outside that shopping centre, and then make it a temple for silent contemplation."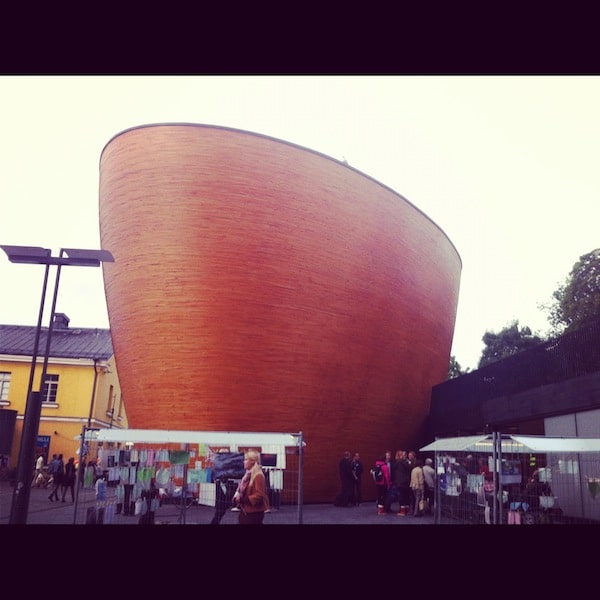 It is a vibrant, artistic and urban city. After spending a few days there, I came to the conclusion that North Americans live like peasants. The Helsinkites (Helsinks? Helsinikians?) oozed refinement and culture; it was a lively and energetic place where people looked normal – a place untouched by the ravages of acrylic finger nails and Restylane – and were fluent in multiple languages and drank champagne AT LUNCH! It was…it was magical. And to be fair, there were  few neato attractions worth checking out.
Remember last week when I said the Font Walk was the one thing I wanted to do while we were in Helsinki? I lied to you. There were two things I wanted to do (unless you count observing Marimekko in its natural habitat, in which case there were three): I wanted to do the Font Walk AND see the Rock Church.
I don't remember how I first heard about the Rock Church; it might have been from the same publication that led us to the font walk, but years ago, or maybe a design magazine. But ever since I read about it, I have wanted to go there. An underground church carved into rock? How delightfully wacky! And so I was delighted when we discovered it was a mere 10 minutes' walk from our hostel.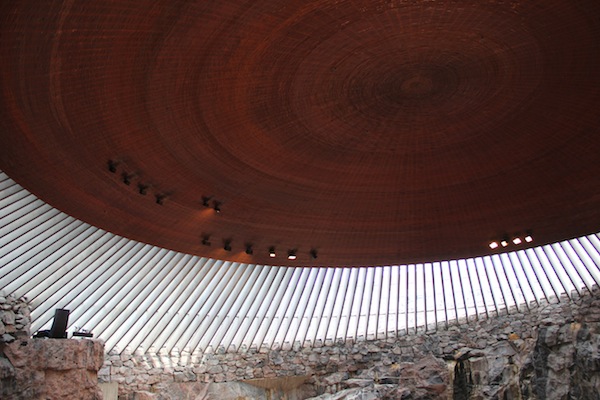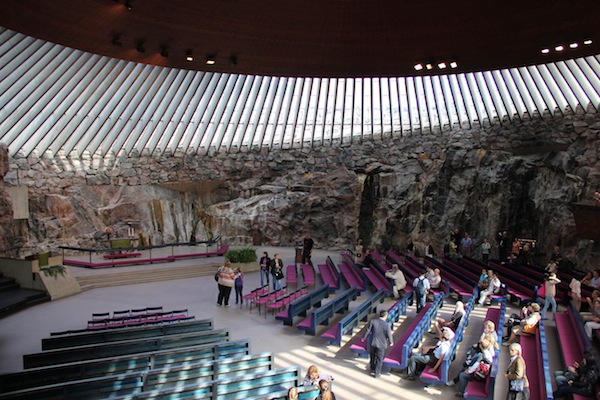 The Rock Church is in fact one of the three famous churches in Helsinki; if you go, you'll almost certainly see all three. Here's a picture of the White Church, taken from the Baltic Sea while approaching Finland from Estonia.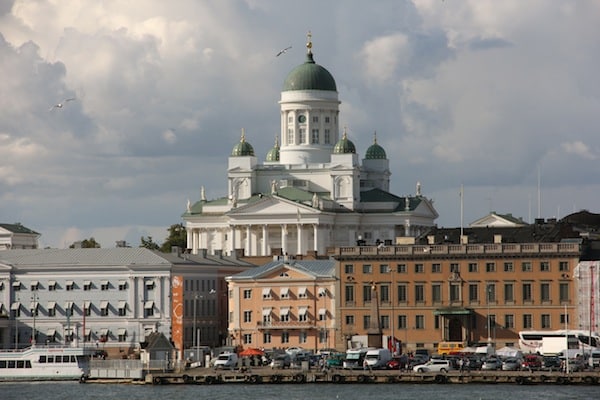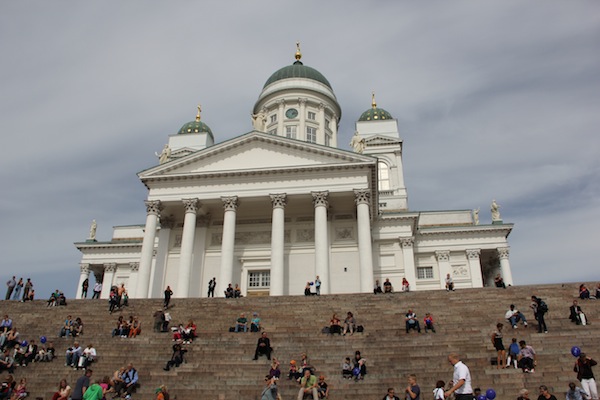 And finally we have the red church, where a wedding was going on during our visit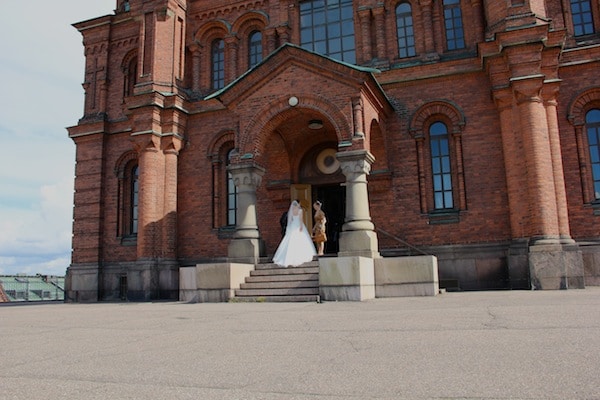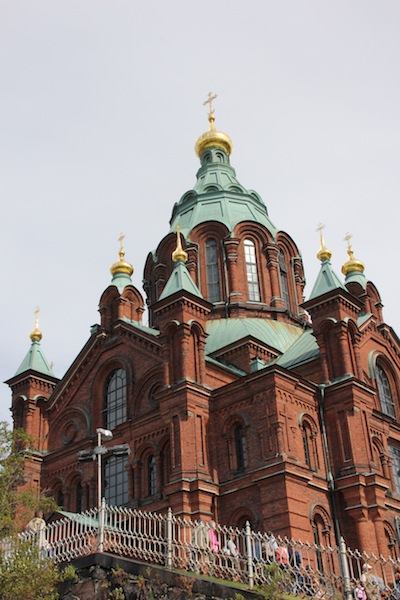 But a trip to Helsinki isn't ALL churches and typography. There is also food: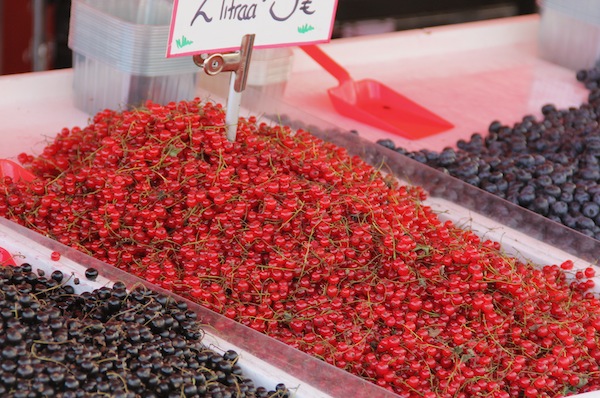 And chips with sausage for the entirely unreasonable price of 8,80 Euro.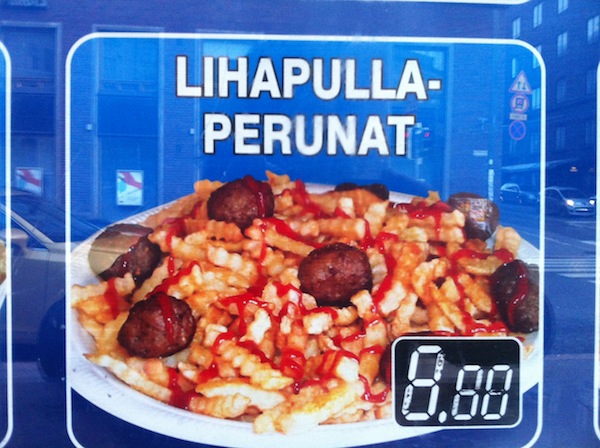 And finally, reindeer. I'm pretty sure this is mostly for the tourists, but you can get reindeer kebabs, reindeer burgers, and cold-smoked reindeer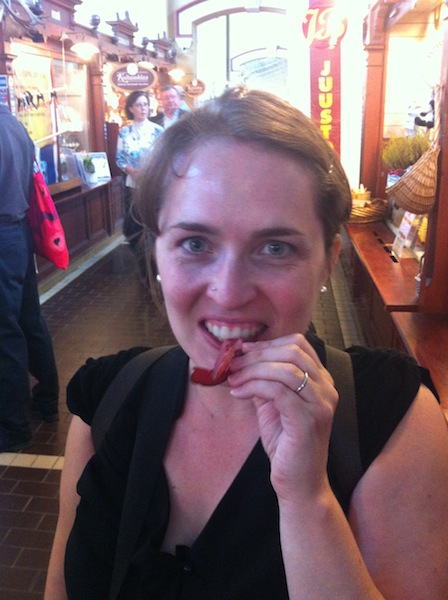 So there you have it, everyone! Helsinki: a city of whacky, reindeer-eating artistic-types, where even Honey Nut Cheerios seem more fun than at home in Canada: