Are you planning a trip to Kuala Lumpur? Don't miss the Batu Caves! In this post, we answer top questions to plan your trip: why you should visit, where are the Batu Caves, how to get to the Batu Caves, and more! Read on to learn about our guest author's experiences at the Batu Caves Kuala Lumpur, with tips for your trip!


Disclosure: This Batu Caves Guide contains affiliate links. That means we earn a commission when you use the links on this site to book a hotel, buy your travel insurance, etc.. If you'd like to learn more about how this works, you can read more under our Disclaimer page.
This is a guest post by Hayley Jones of msblissness.com
***
Before visiting Kuala Lumpur, I knew very little about it, except for the stunning photos that I had come across, all thanks to Instagram. One of the photos that had come up on my feed numerous times was the image of the colourful stairway leading up to the Batu Caves. It's like somewhat of a backdrop to Kuala Lumpur. Well that and, of course, the Petronas Twin Towers.
So I guess thanks to social media I knew that we could not leave Kuala Lumpur without visiting the Batu Caves. It's one of the top tourist attractions in this multicultural metropolis. Found just outside the city, in the North of Kuala Lumpur, the Batu Caves is a limestone hill consisting of three main caves, along with a few smaller ones that feature Hindu shrines and temples. As an important Hindu landmark, the site attracts thousands of tourists and worshippers.
The caves are thought to be around 400 million years old, and locals believe that symbols can be traced back to the earliest indigenous Temuan tribe. The main cave is known as "Temple cave," and it can only be reached by climbing the 272 stairs that lead to the top. The good news is that it's certainly worth the trek.
If you ever find yourself in Kuala Lumpur, you are definitely going to want to check out this national monument.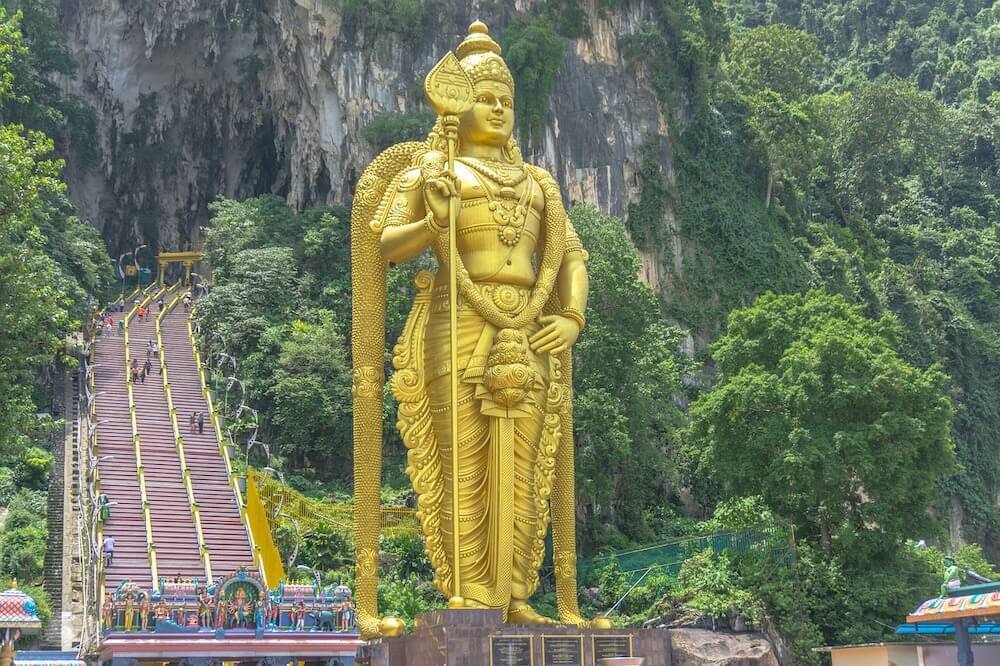 Here are a Few Top Tips for Visiting The Batu Caves Kuala Lumpur
***
Batu Caves Tip #1: Arrive Early in the Morning
The Batu Caves are open from 07:00 am until 21:00 pm and the earlier you arrive, the better. If you want to avoid the crowds and snap some incredible photos, you are going to want to arrive even a little before 07:00. I had read somewhere online that it opened at 10:00 am, so we arrived a little before 10:00. Needless to say, it was already pretty crowded by then. However, it gets a lot more crowded later on in the day. If you arrive before 10:00 you will avoid the big crowds and the heat!
If the morning doesn't work for you, make sure to visit much later on in the afternoon. After 17:00 pm most tourist groups should have already left, and it will be far less crowded than midday.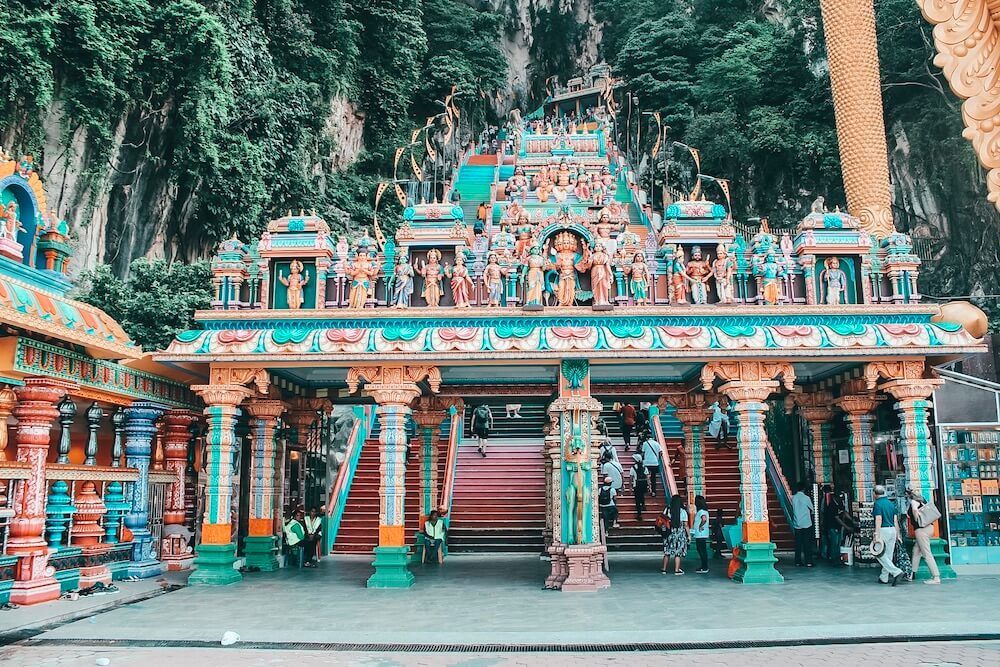 Batu Caves Tip #2: Be Prepared for a Bit of a Workout
When it comes to tips for visiting the Batu Caves, you will find quite a few people referring to it as a "hike." For most people, climbing up 272 steps is no walk in the park. It can be quite strenuous, especially during the heat of the day. But don't let that frighten you. It really isn't too tough at all. If you do struggle a little, you can stop along the way. You are most probably going to want to stop to take a few photos anyway.
On that note, make sure that you wear something light and comfortable. You don't want to sweat and carry heavy loads with you up the 272 stairs. But ultimately, it's a good workout, and you can reward yourself with a well-deserved hearty meal later on.
Batu Caves Tip #3: Paying for a Tour is Not Worth It
Possibly number one on my tips for visiting the Batu Caves is to take the trip yourself – not part of a tour. If you have a look online, you will see plenty of tour companies offering trips to the Batu Caves. Most of these tours go for around 50 USD. After our experience, I seriously cannot see why anyone would need to take a tour here. The main caves are free to enter, and you can easily explore them on your own. If you have a strong educational interest and want to gain detailed insight then perhaps a tour would be a good option. But other than that, in my opinion, it's really not worth paying all that money for a tour that you can easily arrange for yourself.
---
Not the DIY Type? Try This 3.5 Hour Tour of the Batu Caves Kuala Lumpur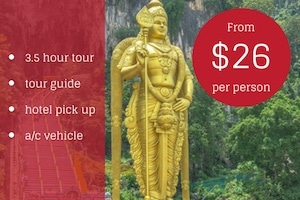 ---
Batu Caves Tip #4: Beware of the Monkeys
The Batu Caves are filled with wild monkeys. All the way from the steps and up into the caves, you will come across monkeys everywhere. I found them rather entertaining and fun to watch. But they are very cheeky and can become aggressive at times. Unfortunately, because some irresponsible visitors feed and try to touch them, the monkeys have become somewhat forceful towards humans.
Officials advise that visitors don't take any food or drink up to the caves with them – because the monkeys will steal it. You also need to keep an eye on other belongings. They will try to grab anything that they think might be food. We saw them steal a string of flowers from one of the girls walking up. There have also been stories of them stealing other things, like cell phones.
Having said, we didn't encounter any problems with the monkeys and I actually thoroughly enjoyed having them around. Most tips for visiting the Batu Caves will warn you about the monkeys. But just be aware of them and don't do anything to entice them – you will be fine.
Batu Caves Tip #5: Remember the Dress Code
Remember that the Batu Caves is a religious site – a shrine for the Hindus and it's important to respect its holy grounds. The dress code is a little stricter for women than men. It's important that your shoulders and knees are covered. However, if you don't meet the dress code, you are able to rent attire for MYR 5 at the entrance.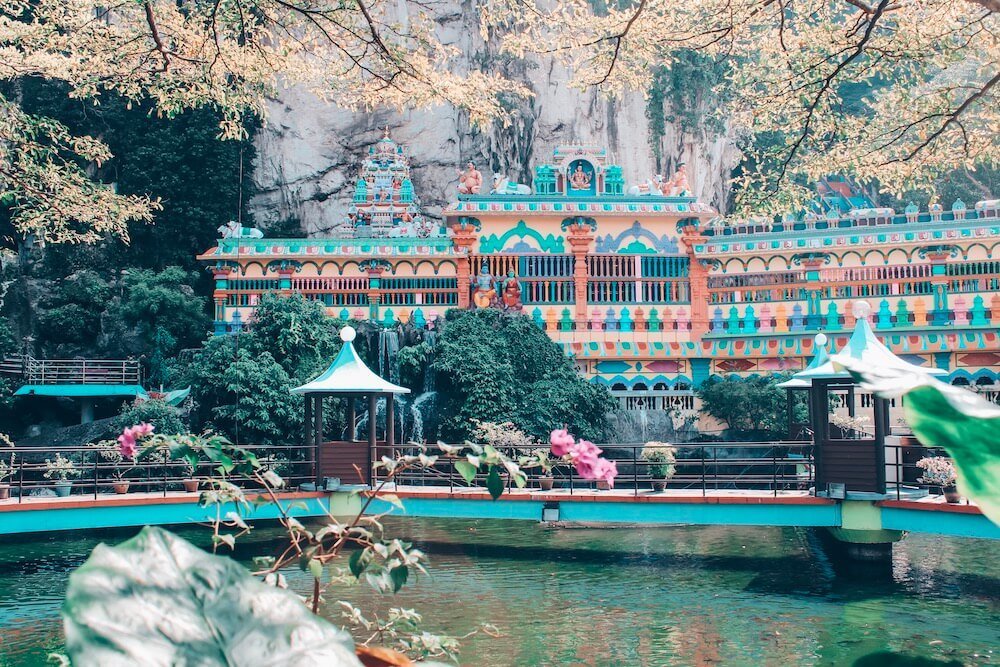 Batu Caves Tip #6: Take your Camera With You
You can capture some really stunning photos at the Batu Caves. From the golden statue of Murugan – which is the tallest in the world – to the stairway, the temples outside the main cave, and the area inside temple cave, there are plenty of cool photo opportunities. The monkeys are also great to photograph, and we got some really cute videos of them.
---
Kuala Lumpur is a city that really surprised me. Rich in culture, boasting gleaming skyscrapers, and home to a myriad of natural attractions, there's so much to love about this multicultural city. If you're looking for things to do in Kuala Lumpur in 2 days, the list is long. Having stayed in this city for almost a month, I did just about all of the "touristy" things and visiting the Batu Caves was one of my favourites.
---
Pin This Post!