Bluffworks travel jeans are far and away the best travel jeans on the market. A pair will make a great addition to any guy's travel wardrobe. These are travel jeans with hidden pockets so hidden, you'll be hard pressed to spot them. Lightweight, breathable, machine washable, and durable…perfect for travel.
Disclosure: This post contains affiliate links. That means we earn a commission when you use the links on this site to book a hotel, buy your travel insurance, etc.. If you'd like to learn more about how this works, you can read more under our Disclaimer page. Also note, Bluffworks provided me with a free pair of their travel jeans. All opinions are my own.
***
Travel Jeans, are you kidding? What does that even mean? Surely all jeans can be travel jeans. After all, the original function of a pair of jeans was that they're tough and resilient, perfect for travel, right?
Well, yes and no.
As an experienced traveler, I want durability yes, but I also want comfort, something lightweight, stretchable, easily machine washable and quick to dry, and something that won't lose its shape or become unwearable too quickly.
And with all of that in mind, it has to look good.
Can travel jeans really look good?
I'm no runway model, but to me, part of being comfortable is mental, I want to look and feel fashionable.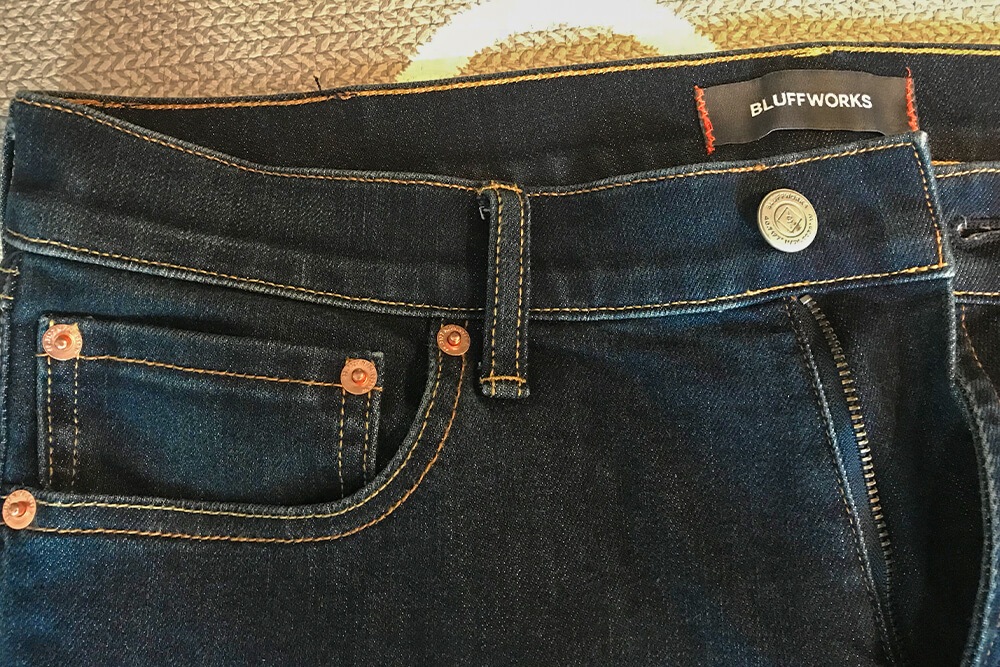 Enter the Bluffworks Departure Travel Jeans.
I've turned to Bluffworks for many of my travel clothes recently and they've yet to even come close to disappointing me. I have the Gramercy Blazer, which I love. I wear it on all our flights and train journeys, but I also wear it to local events. The Horizon vest is another piece of travel clothing that completely surprised me. I did not think I'd like it as much as I do. I also have the Meridian dress shirt, which I'll be writing about soon. The best part about Bluffworks products is that they don't look like travel clothes.
But today is all about these jeans – the lightweight jeans for travel that tick all the boxes I described above. The last box was the one that I was most skeptical about before I received them…how were they going to look?
These travel jeans actually look like jeans
Most of the big 'outdoor' companies make some version of travel jeans, or rather khakis with jeans style pockets, in khaki or an earth-tone color. These jeans look and fit like a standard pair of good old fashioned blue jeans.
To me, jeans that don't fit right look off. Again, I'm not the most trendy guy in the world, but I know when something looks off.
Fashion means something in New York City, and that's exactly where these clothes are designed. The company's founder is a fast-paced, big city exec who was tired of his expensive work clothes not standing up to his daily commute.
So you know the jeans don't just look good, they look New York City good.
But still…I was skeptical. I'm picky about my jeans. I'm not a skinny jeans guy, but I'm not a baggy or relaxed, straight leg jean wearer either. But, in NYC fashion I trust.
And I love them!

The funny part is that they're not even really denim! They look like denim, and, to some extent, they feel like denim, but they are actually a mix of materials:
Cotton – soft and comfortable
COOLMAX polyester – moisture wicking and quick to dry
Rayon – provides a bit of texture to feel a bit more like denim
Spandex – gives the jeans a bit of stretch for added comfort and durability
What does that all mean? They are lightweight, breathable and stretchy. And…I haven't even mentioned the hidden pockets yet. After all, they are travel jeans!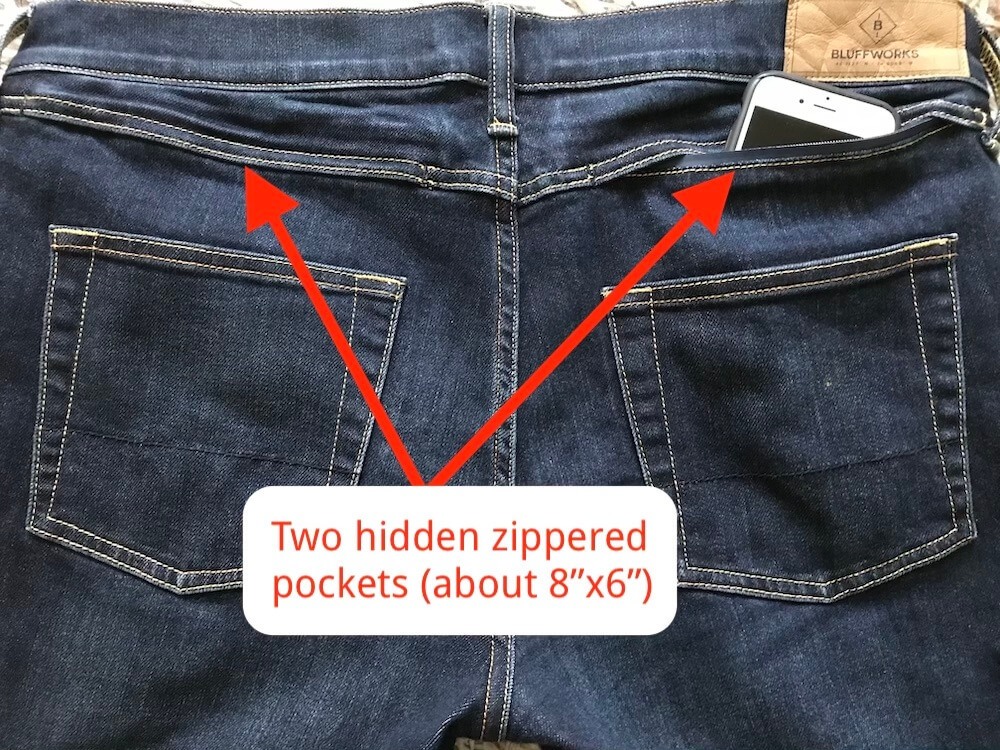 There are two hidden zippered pockets. The zippers are hidden away in the lining above the normal (and functional) back pockets. They measure about 8" wide x 6" deep, excellent for your wallet, passport or even your phone and some extra cash! All the other pockets function the same as regular jeans.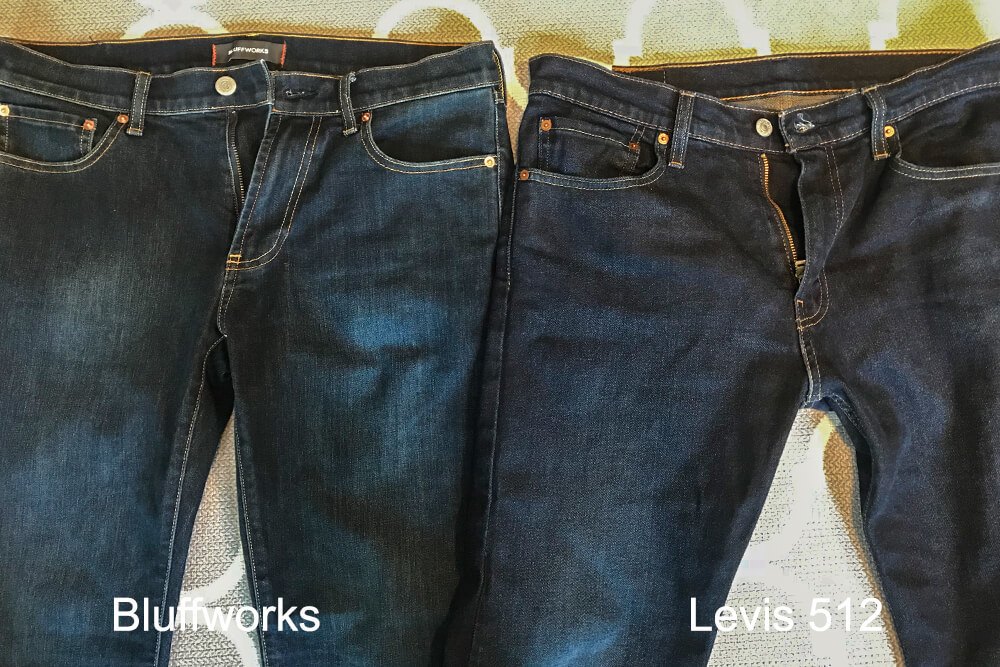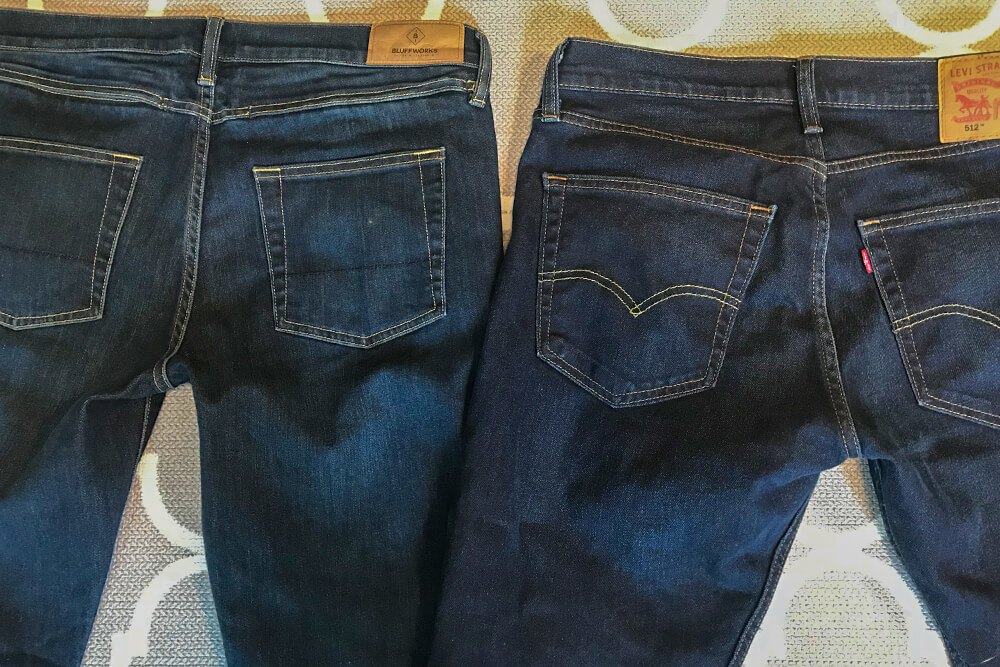 Bluffworks Travel Jeans Main Features:
Machine washable
Tumble dry or line dry
Quick to dry
2 hidden pockets
Lightweight
Breathable
Moisture wicking
Stretchy
Very comfortable
Look and function like regular jeans
Fit well
How Do the Bluffworks Travel Jeans Fit?
What do I mean when when I say they fit well? First of all, you can buy to your size in both waist and length, which is great for me because I have very short legs. Also, the jeans are available in both regular fit, or slim fit. They also have a handy fit guide, which I followed to determine my best fit, and it didn't do me wrong. Check the fit guide here.
The jeans are available in both regular and slim fit, with waist sizes from 29″ up to 40″ and leg lengths from 28″ to 36″ – for reference, in the video and the image below, I'm wearing a 32″ waist/30″ length in the slim fit.
What do these Jeans With Hidden Pockets Feel Like?
Soft and comfortable about sums it up. Most regular jeans are tough whereas these feel more like a cotton pant, and they're a bit stretchy. This combination is great, I find they don't bunch up or become too hot when sitting for long periods of time, and they're nice and lightweight and breathable if you're out for hours at a time.
Washing and Care
Bluffworks recommends washing the Departure travel jeans on a warm water setting, 104°F (40°c) and tumble dry on medium. We don't have a dryer so I hung mine to dry overnight.
Note: wash with like colors as the natural indigo dye might transfer to your whites.
Pairing Your Travel Jeans
And of course the jeans go well with the Horizon travel vest. This is me in Budapest – not traveling, just getting ready to head out to the park around the corner with my daughter…